HOME


Prohibition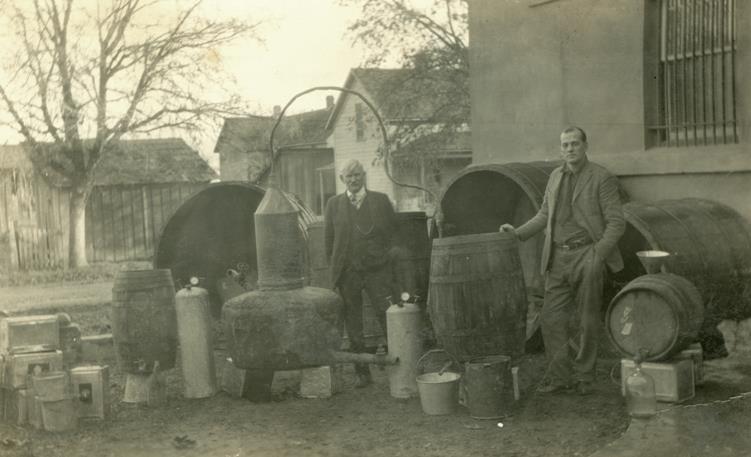 Sheriff Charles Terrell and Deputy L. D. Forncrook behind the county jail in Jacksonville, circa 1922
.

Jackson County Prohibitionists.

Prohibition Ticket in Jackson.
ANTI-SALOON CASE.

ANTI-SALOON PEOPLE PARADE

BOOZE TRAFFIC STILL ACTIVE IN CITY
Number of Dealers Greater Than in "Wet" Days
VOLUME OF SALES SMALLER, HOWEVER
Hootch Much Rarer Here Than in Days of Saloons
Legal Red Tape Is Bar to Rigid Dry Law Enforcement

On the last day of legalized selling of liquor in Medford--away back in 1916 [
the last day was December 31, 1915
], when manufacture, sale or importation of liquor into Oregon was prohibited by state law--witnessed the closing of 14 places where liquor had been legally sold. In the county there were no distilleries and two breweries.
Now, according to those who are charged with seeing that no alcoholic drinks are sold, there are many more places where alcoholic drinks can be obtained than there were prior to the enactment of the Oregon dry amendment. There are many times more distilleries and many more breweries--to say nothing of the homemade apparatus for making beer and wine for family consumption.
The only trouble is to prove it.
In this city--long known as a home-loving community, exemplifying the law-abiding calmness of Oregon--the local resident who can't chase up at least a pint of liquor in an hour is an inexperienced about-towner indeed. Even a novice can purchase the wherewithal of becoming drunk by walking into any drug store and almost any pool hall--and do it in a legal manner. All he has to do is ask for one of many "tonics" manufactured and sold under government permit. Some consist of alcoholic bitters and some of high-powered wine with a taste slightly spoiled by beer extract.
It is with the illegal liquor business, however, that county and city officers are most concerned. Although public drunkenness is rare in Medford, officials are quite aware that selling--of liquor ranging all the way from beer to grain alcohol--is going on steadily, and that there are more people engaged in the business than when it was a legal occupation.
They can even estimate fairly accurately how many people are engaged in the booze traffic in Medford.
Counting the hip pocket pikers, there are from 24 to 30 bootleggers in Medford. The estimate of illicit distilleries in Jackson County is about eight.
In addition, it is common sense to believe that more than one person is running in liquor--meaning grain alcohol, "bonded" goods and moonshine--into the county for wholesale delivery or delivery to a local list of consumers.
Of course, Medford is much bigger than it was in 1916, and your liquor dealer of today probably sells less in a week than a bartender did in a day, but the fact remains that, state and national laws to the contrary, booze is still being made and sold.
There is no "wild night life" here.
There are no "gilded dens of vice and pleasure."
There are no institutions that encourage flaming youth to strut itself and flame the limit.
A home-loving, industrious, progressive city of 100 percent Americans is Medford. The average citizen is pictured as the type that sits at home evenings and reads comfortably of the sins of New York and Chicago before going to bed at the locally conventional hour of 10:00 p.m.
There must be, however, a small population that imbibes steadily, or else a rather large population that drinks occasionally, for booze sales are not uncommon.
Before 1916, breweries made beer, wineries made wine and distilleries made stronger drinks, on the same standardized basis that Henry Ford makes cars.
Today, some of the methods need to produce alcoholic drinks would startle the old-time manufacturers, to say the least.
The conventional outfit captured in Jackson County is a copper vat and worm, heated by a gasoline plate set under the "can" and connected with a pressure tank. Corn meal forms the basis for mash. Some of the "cans" are big and clean. Some are made of wash boilers [omission] and green with filth. One still captured was made of an iron gasoline barrel and a couple of joints of iron pipe--hardy people, local inebriates, to drink the product of that still and not go blind, at least.
Once in a while the police pick up an insane drunk who melted a tin of "canned heat," strained it through a handkerchief and drank everything that strained through. There are still a few odd souls alive who believe that if you swallow some mentholatum, wood alcohol won't kill you.
And then there are the brewers and the wine makers whose product is the work of nature, insofar as it is made perilous by filthy equipment or amateur attempts to generate more "kick."
Clever fellows are the producers of "bonded" liquor. Given some labels, some grain alcohol, some glycerine and some flavoring, they can--and do--produce liquor for the "high class" trade.
The alcohol, the queerly shaped bottles, the labels, the flavoring and the coloring is all shipped into Medford, but the "bonded stuff" is a home product. That is, it was a home product. Recently a "Gordon's Bonded Dry Gin" plant was seized, and as far as officers know, there are no more of them in Medford.
With about $10 worth of alcohol--at wholesale prices--a plentiful supply of water and another $10 worth of bottles, labels and other furnishings, a gin maker can turn out two gallons of synthetic product. In short-quart bottles with four-colored labels, wrapped in fancy tissue paper and with a "chemist's analysis" printed on a slip of paper thrown in, along with a fairy tale about each and every bottle crossing the briny deep from England into Canada and then through divers perils into the United States and your private stock, the stuff sells for around $3.50 per quart, or $36 profit for the $20 invested in labels and alcohol. Considering the story that goes with "bonded stuff," the price is reasonable.
From the starting point of alcohol, water and glycerine, one manufacturer arrested near Medford some time ago was able to produce either gin or Bacardi rum. To make rum he put in coloring and flavor extract instead of juniper extract, and poured it into a different bottle.
At that, the two local makers of "bonded stuff" who have been captured haven't shown much originality. One Italian rum runner caught two years ago had 12 different varieties of "bonded stuff," eight of them made with the same flavoring. But he was a city slicker from San Francisco, and that doesn't count.
Northern California supplies a not inconsiderable part of Jackson County's liquor. In addition to varieties made here, they turn out "grappa," a drink made from grape mash and reputedly containing more alcohol than straight alcohol itself.
Police and the sheriff's office can estimate fairly closely how many house manufacturers and salesmen there are working, but catching them is a different matter.
It's hard for an officer to know all the bootleggers, but in a place of this size it's no trouble at all for all the bootleggers to know the cops. In spite of this, however, local and county officers have an enviable record throughout Oregon for their efficiency in enforcing the prohibition law, indicating that Jackson County isn't the only county with its liquor troubles.
Fundamental laws of our government designed to protect private citizens from official tyranny clash with other fundamental laws concerning an arid nation where attempts to enforce the prohibition law are concerned, with the result that enforcing the law is a sort of game of hide-and-seek in a mass of red tape.
For instance, if an officer is certain the resident of a house is selling liquor there, he must get a search warrant before he can enter the house and hunt the liquor. To get a search warrant all he has to do is get someone to swear that they bought liquor there from the suspect.
The prohibition law is outstanding for the failure of the public--both drinking and non-drinking--to aid officials. The public attitude seems to be: "We passed the law and hired you to enforce it. Tag, you're it, now try and do it. If you don't we'll cuss you, and if you do we'll cuss you anyway."
Aside from neighbors irate at being kept awake by parties in the booze joint next door, few people report a suspected house. Even fewer will either volunteer or be forced to aid in getting out a search warrant by swearing they got liquor there.
In the first frenzy to enforce its brand-new law, the state used stool pigeons to make the purchases and swear to the warrants. In many cases the stool pigeons were worse to have around than were the bootleggers. Using them was largely a matter of desperation, and officials who hired them were usually rewarded by defeat at the next election. The public added another rule to the ones the officers had to follow in the hide-and-seek game.
With all local officers known by sight to the law-dodgers, and with stool pigeons taboo, the method was evolved of using salaried state and federal officers for the undercover work. They are shifted from one place to another, are thus kept unknown to the alky boys, and because they are of a decent type have been able to function so far without a public uprising at the polls.
All the troubles of catching a bootlegger who works in a residence and more are involved in arresting one who serves from the hip pocket or makes deliveries. They must either be caught with the goods on them, making a sale, or at their cache. In this case, also, officers are under the handicap of being known by sight to the men they seek to arrest. In liquor cases, circumstantial evidence doesn't seem to mean a thing to juries--and try to catch them with the goods.
In spite of all these troubles, however, added to the fact that an officer has several hundred other laws to enforce, Medford has the reputation of being dry and getting drier all the time.
"Every man his own brewer" is no idle slogan. Beer, as a general rule, doesn't run very high in alcoholic content, in spite of the fact that the law makes no distinction between it and grain alcohol. Homemade wine, however, can be--and frequently is--far from light.
Both federal and state amendments forbid the manufacturing of intoxicating beverages and class both beer and wine as such, but again the job is to prove it. If a citizen had the facilities, kept his wine at home and didn't sell any of it, he could make a thousand gallons and drink himself to death with no greater legal danger than being suspected. Without evidence of a sale an officer couldn't come in his house to see if wine was being manufactured. Of course, if the citizen went downtown drunk he might be arrested for violating a city ordinance, or if he lent his neighborhood a bad reputation they might close the house as a nuisance, but he'd be safe from prosecution on liquor charges.
Medford Daily News,
December 25, 1928, page 1
LOAD OF LIQUOR BRINGS TROUBLE FOR LOCAL PAIR

Lee Metcalf, 35, of this city is being held as authorities following his arrest last night south of Ashland for the possession and transportation of 50 gallons of alleged moonshine, destined for Medford consumption, according to the arresting officer, Terry Talent. Mrs. Anna Neil, 24, of Medford was taken into custody with Metcalf, and it is not known whether a charge will be filed against her.
The moonshine was contained in wooden kegs and was being transported from Northern California to this city, according to officers. Last evening police searched the dwelling of Mrs. Neff and today reported the finding of 40 empty gallon jugs, which Mrs. Neff claims she purchased for a certain price in order to sell them at a higher price, making a profit of a few cents on each jug.
Metcalf was scheduled to have a hearing in the Ashland justice court today.
Medford Mail Tribune,
January 5, 1929, page 6
DUMP MOONSHINE IN CREEK TODAY
The flow of Bear Creek was enriched by wine and moonshine, valued at $1000, when 126 gallons were dumped into the creek by Deputy Sheriffs Paul and Louis Jennings at McAndrews ford in the presence of several witnesses. The liquor, with the exception of a few gallon jugs, was contained in kegs and 56 gallons of wine taken last week from Louis Sanquinetti, south of Ashland, and 60 gallons of moonshine and 10 gallons of wine seized from L. Farnaro. Both men were en route from Northern California to Klamath Falls, according to officers, and are now serving sentences in the county jail of two months each.
Medford Mail Tribune,
March 4, 1929, page 5
SHERIFF ARRESTS BEAGLE RESIDENT MASH POSSESSION
Following his arrest yesterday afternoon by Sheriff Ralph Jennings and Deputy Louis Jennings, Luke Jennings of the Beagle district is in the county jail awaiting a hearing on a charge of mash possession. The arresting officers found two barrels of 50 gallons each, filled with alleged mash, believed to have been set out last week.
Jennings has been arrested before by the sheriff's office on moonshine charges, and it is probable a felony charge will be placed against him, carrying a sentence of from one to three years in the state penitentiary. The accused is a man nearing his 60th year and operates a good farm, well stocked with turkeys and sheep. He has a wife and a two-year-old daughter.
Officers attempted to find a still on the property but were unable to find the contraband apparatus, which they believe is hidden some distance from the house. The arrested man is no relative of the sheriff.
Medford Mail Tribune,
March 9, 1929, page 2
EXPECT CLOSE OF MOONSHINE STILL TRIAL TOMORROW
Begun in circuit court this forenoon, the trial of William Goetchen and Ted Smith, charged with the possession of a moonshine still, is not expected to be completed until tomorrow, according to the present progress of the trial. Sheriff Ralph Jennings was the only state witness examined this forenoon and was to have been followed by several witnesses for the state this afternoon.
The defense, represented by Kelly and Kelly, also has several witnesses for examination. The defendants are accused of the possession of a still seized last year in the Eagle Point section, and while it was found on the property of another, they are implicated in its ownership on the testimony of others, it is said.
The jury, as accepted by both sides, is as follows: Rufus Dietrick, Earl F. Moore, Adam H. Beagle, Andrew McCallan, Harold Reichstein, Guy Randles, James Whipple, LeRoy Merson, Floyd Land, A. L. Hill and Sherman Morehouse.
Medford Mail Tribune,
March 11, 1929, page 2
CAR BONDED BOOZE SEIZED YESTERDAY BY OFFICER MOORE
The first auto load of bonded whiskey this year was seized late yesterday afternoon when State Traffic Officer Herb Moore arrested Frank Calcagno of San Francisco in Josephine County, just over the Jackson County line. Calcagno had a cargo of 13 cases of alleged three-star Hennessey whiskey, with which, officers say, he was en route to Portland from San Francisco.
Calcagno was driving a late model Chrysler coupe and claimed he was receiving $100 to drive the load to Portland for San Francisco bootlegging interests. Officer Moore, accompanied by Fred Farmer of the state public service commission, stopped the young Italian on suspicion he was driving a stolen car, but found the liquor following a short inspection of the machine, each bottle wrapped in a straw jacket. The liquor was quoted at $15 per quart.
Calcagno was taken to the Josephine County jail in Grants Pass, where he will probably be given a hearing today.
Medford Mail Tribune,
March 12, 1929, page 9
HEAVY SENTENCE METED LEABO ON LIQUOR CHARGE

L. B. Leabo of the Trail district, following his arrest at Gold Hill last Saturday night by Deputy Sheriff Louis Jennings of this city and Sam Prescott of Ashland, was fined $250 and sentenced to 30 days in the county jail yesterday afternoon in Judge Taylor's court, on his plea of guilty to a possession of liquor charge.
This is the heaviest sentence administered in this court for some time past and arises from the fact that Leabo had a bottle of moonshine in his pocket and 10 or 12 bottles in his car, presumable for dance consumption, at the time of his arrest, and also because at that time he started to resist arrest until a couple of well-planted blows of Prescott's fist caused him to change his mind.
Leabo is said to reside in the Trail district, and a brother of his lost his life some time ago when his car overturned on the Crater Lake Highway.
Medford Mail Tribune,
March 19, 1929, page 6
ARREST ROBERTS FOR MOONSHINE

Rufe Roberts of Central Point is in the county jail today awaiting a hearing on moonshine possession charge, following his arrest last evening on Riverside Avenue by Deputy Sheriff Paul Jennings.
One gallon of alleged moonshine was seized from Roberts, who was driving an old model car at the time of his arrest. The car will probably be confiscated.
Roberts had been under the surveillance of officers for a short time.
Medford Mail Tribune,
March 21, 1929, page 4
OTTO KING GIVEN HEAVY SENTENCE ON STILL CHARGE
Another example that liquor law violators may expect little leniency when they appear before Circuit Judge H. D. Norton was shown this forenoon when Otto King, arrested last month by officers for the possession of a moonshine still, was sentenced to serve one year in the state penitentiary and fined $500. The sentence might have been more severe had it not been for King's wife and small daughter, these facts being taken into consideration before sentence was passed.
King, also known as Battling King, a boxer, entered a plea of guilty in circuit court early this week, following plans to have a trial. He had been under the surveillance of officers some time before he was arrested at the same time a dismantled still was seized at his home on Benson Street, where a quantity of moonshine was also seized.
Several character witnesses, including George Porter, Verne Marshall and George Browne, testified in behalf of King, who, before sentence was passed, also spoke in his own behalf. Facts of the raid were given on the witness stand by Chief of Police McCredie.
King's wife, accompanied by her little daughter, broke into tears following the sentence and left the court room sobbing.
In passing sentence, Judge Norton declared possession of a still implied operation, making possible a source of supply for bootleggers selling moonshine to the retail trade. He indicated the only proper way to quell liquor violations is to strike the source--eliminate the maker from further production.
Medford Mail Tribune,
March 21, 1929, page 5
WOLFF HELD FOR MASH AND STILL
Charged with possession of a moonshine still, George Wolff, well-known resident of Forest Creek, is in the county jail following his arrest yesterday afternoon by the sheriff's office. Wolff is charged with the possession of a wash boiler still and 200 gallons of alleged mash, ready for use. Officers say they found three dead rats in one of the four barrels that had been dead apparently for several days.
Wolff had been under the surveillance of officers for some time, it is said, and was taken into custody yesterday before the raid was made when officers found him in Medford. Wolff accompanied them to his property in the Forest Creek district near the head of Foots Creek and after a short search they found the alleged contraband equipment and mash.
The outfit was reported as one of the most unsanitary ever seized in Jackson County.
Medford Mail Tribune,
April 7, 1929, page 8
WIMER 'SHINERS' FOUND AT STILL
Charged with operating a still two miles south of Wimer, A. H. Rose and Tom J. Owens were placed in the county jail early this afternoon by Deputy Sheriffs Paul and Louis Jennings, who made the arrest shortly before noon.
That they found 150 gallons of mash and the still in operation when they raided the camp in the Wimer district was also stated by the officers. Rose, according to Louis Jennings, will come up before Judge Norton's court charged with setting up and operating the still. Owens will have his hearing in justice court, the technical charge as yet unannounced.
Medford Mail Tribune,
April 11, 1929, page 2
RAID NETS PAIR JAILED FOR SALE AND POSSESSION
Two men are in jail as the result of raids in Medford last night and are facing liquor possession and sale charges. T. McCreary of Phipps Auto Camp is in jail as the result of selling three pints of alleged gin to Federal Prohibition Agent Terry Talent, and Fred Knox of Almond Street was [arrested] by a party of officers, composed of Deputy Sheriffs Louis and Paul Jennings, Policemen Joe Cave and William Peck and Federal Agent Talent.
McCreary made the sad mistake of failing to identify Talent when he appeared at his auto cabin to order a supply of moonshine. The officer was told there was no moonshine, but could sell him gin. McCreary did not question the officer when he told him that he was a garage mechanic at a local garage and that he had purchased liquor from him before.
"If you don't believe I work there," said Talent assuringly, "go and call the garage up. They'll tell you who I am."
"Oh! that's all right," answered McCreary, who then disappeared in some brush to get the liquor. Upon his return, he was placed under arrest.
On Almond Street, officers seized 24 quarts of beer and 300 empty beer bottles. They say Knox had been operating for some time, and is alleged to have annoyed neighbors with parties.
Both men will appear in justice court Monday to have preliminary hearings.
Medford Mail Tribune,
April 28, 1929, page 8
JAIL POPULATION INCREASED TO 26 BY DRY EFFORTS
Including four prisoners arrested yesterday on booze charges, the county jail now has a population of 26 prisoners, with indications the number may be swelled before the end of the week as the result of continued operation by dry forces.
Sam McClendon, Eddie Keeler and Clyde Atree were arrested here, and Joe Mayham was arrested at Eagle Point yesterday. Eleven men have been arrested since the first of the week on booze charges, the others including George Wolff, Autie King, S. L. Cyphert, George Reed, Winton Keeler, R. E. Burns and Fred Knox.
Keeler was sentenced to 30 days in the county jail and fined $100 for sale. Burns received a sentence of 40 days, while Knox, accused of home brew possession, was fined $50.
Medford Mail Tribune,
May 8, 1929, page 2
FRONT STREET BITTERS BARS HIT BY RAIDS
As the result of a carefully planned dry raid campaign, led by federal officers, nearly 20 arrests have been made in and near Medford since Monday, with the possibility of more this week. The raids began Monday afternoon in the Forest Creek section with the arrest of six local men, three of whom are proprietors of soft drink establishments on Front Street.
It is possible the federal government may institute padlock proceedings against the Idle Hour, Estes and Pastime pool halls on grounds of being public nuisances. Rankin Estes, Phil Rinehart, proprietor of the Pastime, W. Taylor, bartender, and Archie Sutherland and Harold Sutherland of the Idle Hour are accused of selling bitters by the drink and for beverage purposes.
Taylor and Harold Sutherland are in the county jail, and the others are at liberty pending preliminary hearings scheduled to be held this afternoon.
The sale of bitters and other medicines containing alcohol in small quantities as stimulants is prohibited by federal law and in the state is prohibited as the result of the recent passage of a law restricting the sale by only licensed drug stores.
Mrs. Jane Wolgamott, a woman of 50 years, was arrested on East Main Street this forenoon on a warrant alleging sale, and she will have a hearing today or tomorrow. Ray Sargent was arrested in the Griffin Creek section on a warrant alleging sale, and he has been released on his own recognizance, pending hearing. The release was ordered in view of his sick wife demanding his attention at home.
Yesterday Dewey Akers was arrested at Phoenix on a warrant sworn on a sales charge. His was the first arrest of the afternoon, and was followed by the arrest of Joe Mayham at Eagle Point on a similar charge. Coming to Medford, Eddie Keeler and Sam McClendon were arrested on charges of sale. The same charge also caused the arrest of A. E. Carpenter at a local auto camp. Carpenter is alleged to have been selling liquor from the same cabin where Ted McCreary was arrested last week for selling Officer Talent three pints of gin.
Arrested by the police, Winton Keeler, brother of Eddie Keeler, and R. E. Burns were sentenced Monday in justice court on booze charges to terms in the county jail. Fred Knox, arrested Saturday for possession of home brew, was fined $50 in justice court.
When they appeared for arraignment yesterday afternoon on charges of possession of moonshine, George Wolff was given until today to plead, as were the three others, L. Cyphert, Autie King and George Reed. Wolff's bail was set at $1000, while $750 each was the bail set for his three alleged partners. Officers say they found 40 gallons of alleged moonshine on the Wolff place at Forest Creek, with 15 gallons found under a woodpile and other jugs found hidden under bushes. It is possible Wolff may be turned over to federal authorities.
Evidence for the warrants was obtained by two federal undercover men who allege they made purchases from the different defendants.
The officers taking part in the raids included L. O. Shirley, district federal enforcement head; Terry Talent, Clarence Worden and Deputy Sheriffs Louis and Paul Jennings, and the two undercover men.
Medford Mail Tribune,
May 8, 1929, page 3
SALE OF BITTERS ON FRONT STREET COSTLY TO THREE
William Rinehart, Archie Sutherland and Rankin Estes, proprietors of three Front Street card rooms and soft drink establishments, were fined $250 each in justice court yesterday, on charges brought against them by federal officers for selling bitters and other medicines containing alcohol for other than medicinal purposes. Harold Sutherland and Harvey Taylor, bartenders, were each fined $75 on the same charge. A sixth defendant, Dave Lynch, also clerk, was scheduled to plead today.
The arrest of the six men came as a part of an extensive dry raid campaign, netting over 20 prisoners, principally on charges of sale. It is possible more arrests may be made.
So far, disposition has been made of the following cases: George Reed, sale, five days and $500; Lida Wolgamott, sale, $100 fine; Leland Shidy, 40 days and $350 fine; Autie King, sale, four months; George Wolff, bound over to federal court on sale charge; Joe Mayham, bound over to federal court.
Medford Mail Tribune,
May 9, 1929, page 3
BITTERS FINES TOTAL $2500
Since last Monday fines in 16 cases, amounting altogether to $2,500, have been levied in the court of Judge Taylor in his capacity of justice of the peace, for selling intoxicants or bitters, due to the raids made by Terry Talent, federal prohibition enforcement officer, assisted by deputy sheriffs. Several more arrests are yet to be made on the same charge of persons who could not be found after arrest warrants were sworn out. In addition to fines as related above, the cases of several persons arrested on selling charges were turned over to the federal authorities for prosecution.
All of the fines imposed in the state cases go to the state, as the Medford city government cannot obtain any portion of a fine imposed in a state case.
Medford Mail Tribune,
May 10, 1929, page 5
BITTERS BARS LOSE LICENSE ACCOUNT RAIDS
City Council Revokes Pool and Card Table Permits of Three Establishments--$500 Bonds Also Declared Forfeited.
Backing up their recent letter sent to the proprietors of the card and pool rooms of the city to obey the city ordinances and state laws governing such establishments in regard to games of chance, gambling and sales of intoxicants, and keeping of general order, in which letter it was expressly stated, among other things, that if any proprietor was found guilty of violation in court, his license would be forfeited, the city council at its special meeting this forenoon declared the licenses of Wm. Rinehart, A. C. Sutherland and Rankin Estes revoked and their $500 bonds forfeited.
These proprietors, who were arrested in the recent raid by prohibition enforcement officers, all pleaded guilty in court when arraigned to the charge of selling intoxicants, or "bitters."
Mayor Pipes called attention to the fact that in view of this letter it was up to the city officials to back up their warning letter, or "be made monkeys of by violators."
The council men saw the situation the same way and unanimously voted to revoke the licenses and to declare the bonds forfeited.
After doing this the mayor and council instructor Chief of Police McCredie to at once gather the licenses from the three pool and card room proprietors.
The latter can still conduct their places of business in the way of selling tobaccos and lunch, and can even continue to sell "bitters," if they want to take the chance of repeated arrests for such selling, but they cannot operate their card tables or pool or billiard tables.
This is because the city only issues licenses for operation of pool and billiard tables and card playing tables in such establishments. A license is not granted until a suitable bond of $500 for each place is accepted.
However, with their licenses revoked, the Rinehart, Sutherland and Rankin establishments are placed in a very embarrassing financial position, through not being able to operate their main sources of revenue--the card tables and pool and billiard games.
They cannot operate again in full until they seek and are granted new licenses by the city council, and it is a foregone conclusion that the city officials will not grant such licenses, with new bondsmen, until thoroughly satisfied that these three proprietors give rock-ribbed assurance of no future violation of city ordinances or state laws, and then only with airtight bonds furnished.
The next move is up to the proprietors. The city has shown its hand. On and after June 1st next the new state law which confines the sale of "bitters" only to drug stores goes into effect.
Medford Mail Tribune,
May 14, 1929, page 1
McCLUNG COUPLE FINED ON LIQUOR SELLING CHARGE
While the main raid was over last week, state and federal prohibition officers are still making arrests on booze charges, and today in the Ashland justice court Mr. and Mrs. F. M. McClung of this city, arrested on a sales charge, were each fined $150 with the understanding they leave the country. Their attorney, T. J. Enright, appeared for them in court.
George Wolff, arrested some time ago on a sales charge, pleaded guilty in the Ashland court on a sales charge and was fined $350. A heavier sentence was not recommended in view of a trial he will face here in a short time in connection with the alleged possession of a moonshine still. If he is convicted on this charge, he will be sentenced to the state penitentiary.
Arrested in Medford last evening on Cedar Street, Gene Young also was scheduled to appear in court today. He was arrested by Federal Officer Terry Talent and State Officer Buck Marriott.
Mr. and Mrs. McClung are alleged by officers to have been selling moonshine at 722 Dakota Avenue for several months past.
Medford Mail Tribune,
May 16, 1929, page 3
REOPENING OF POOL ROOMS IS DEEP MYSTERY
Mayor Noncommittal on Granting License to Raided Proprietors--
Rumor Spreads Other Places 'Tipped Off' on Raids.
Although the three pool and card room proprietors whose licenses were revoked and their bonds declared forfeit by the city council last Monday forenoon, because of their having pleaded guilty in court to selling "bitters" or tonics, by the glass, following a raid made by federal prohibition enforcement authorities, and their friends have been beseeching Mayor Pipes ever since to lift the ban and grant new licenses and bonds, on their promise to hereafter not to sell any intoxicants, these pleas have evidently had no effect.
When asked this noon as to whether he was going to permit these establishments to open up again, and if so when, Mayor Pipes only smiled and said he had nothing to say on the subject. Asked specifically if the city administration was going to relent in its attitude and permit the three pool and card room proprietors to take out new licenses on or before the city council meeting next Tuesday, he answered "no," said the meeting had nothing to do with the matter, and intimated that if ever new licenses were granted, the period would be indefinite.
The mayor has impressed on the three proprietors and the many others who have been laboring with him in their behalf that the amended city ordinance governing card and pool rooms, and which will be passed by the city council next Tuesday night, would have teeth incorporated which would make the hair curl of the card and pool room proprietors.
It is understood that the three whose licenses were revoked have all come voluntarily to the mayor and declared they would never again sell "bitters" or other intoxicants, and would obey to the limit every city ordinance, and asked to be permitted to take out new licenses and open up again. These establishments have been financially hard hit since their licenses to operate card and billiard and pool tables were revoked. They can only sell tobaccos, lunch and the like now.
The raiding of these three out of all Medford's card and pool rooms has roused much comment generally about the city, and especially as to why two such places, which had made a practice of selling "bitters," were not raided. These two places were reported to have had the heaviest sale of bitters.
The public general talk is gradually growing more pronounced as the rumor spreads that other card and pool rooms had been "tipped off" in time, so that the undercover federal prohibition agents were unable to buy "bitters" in these places and thus obtain evidence against them.
This talk about certain card and pool rooms having allegedly been "tipped off" has been so widely circulated that even a minister of the city visited the mayor and asked why the other pool and card rooms were not raided and closed.
The only general answer that can be given to this question is that the raiding authorities were unable to obtain evidence on which to make arrests, through the inability of their agents to buy bitters in them. It seems that all of a sudden sometime prior in the raid these establishments ceased selling bitters to anyone not known to them, and thus evidence could not be obtained.
Medford Mail Tribune,
May 16, 1929, page 8
The three pool halls and card rooms on Front Street, the licenses of which were recently revoked by the city, are mostly deserted places since the licenses were taken away. Card tables and chairs are empty, and billiard tables are no attraction. The licenses were revoked as an aftermath of the arrest of the proprietors of Front Street establishment for selling "bitters" by the drink.
"Local and Personal,"
Medford Mail Tribune,
May 18, 1929, page 2
WOLFF GIVEN YEAR IN STATE PENITENTIARY

The jury was out only 10 minutes before it returned a verdict late yesterday afternoon in circuit court against George Wolff, Forest Creek resident and miner, on a charge of possessing a moonshine still. Circuit court convened today to hear the trial of Luke Jennings, Beagle resident, charged with the possession of alleged moonshine mash, following his arrest last winter.
The defense in the Wolff trial attempted to show the still was planted on Wolff's property and that he had known nothing of its presence until it was discovered on his place by officers. He was sentenced to serve one year in the state penitentiary and fined $1000.
Medford Mail Tribune,
May 28, 1929, page 3
MRS. LINTT SOLD BOOZE, IS CHARGE
With the arrest of Mrs. Macey Lintt last night at a dwelling on Dakota Street, local officers believe they have succeeded in breaking up a well-organized alleged local moonshine ring. Mrs. Lintt was arrested at 10 o'clock last night for the sale of a quantity of alleged liquor to Federal Officer Clarence Worden, and was being held in the county jail today in lieu of bail. It is likely Mrs. Lintt will be given her liberty with the understanding she will leave Medford.
Officers L. A. Ackerman, Terry Talent, Paul Jennings and Clarence Worden also arrested Winton and Eddie Keeler and Earl Parker on a charge of moonshine possession. The trio was arrested near Jacksonville, accused of having a gallon and several quarts of moonshine in their possession. Parker's car, a Chrysler, will be confiscated by the government.

Medford Mail Tribune,
June 21, 1929, page 4
MRS. LINTT DRAWS BIG FINE ON BOOZE CHARGE
Mrs. Macey Lintt, arrested in Medford last Friday for the sale of moonshine to a federal officer, was fined $400 in the Ashland justice court Saturday afternoon with the understanding that she will leave Jackson County. Winton Keeler, arrested the same evening for moonshine possession, was sentenced to five months, and his brother, Eddie, was sentenced to three months. Earl Parker, arrested with the Keeler brothers near Jacksonville, will be sentenced next Tuesday.

Medford Mail Tribune,
June 24, 1929, page 2
BEER JOINT HERE RAIDED, MANAGER FINED AND JAILED
Peter Fisher, charged with beer possession, was fined $250 and sentenced to 30 days in the county jail this morning by Justice of the Peace L. A. Roberts at Ashland upon his plea of guilty.
The home of Fisher, at 19 Jeanette Avenue, was raided last night by the sheriff's office and Federal Prohibition Officer Terry Talent. Ten gallons of beer malt and 12 quarts of beer were seized. Four customers in the place were dismissed by the raiders. Neighbors have been complaining of the Fisher operation for some time, as the patrons of the "beer garden" were inclined to burst forth into song at late hours, and fight among themselves. The resort did a lively business on hot evenings, the authorities say.
It was also said that the product Fisher made and served was quite palatable.

Medford Mail Tribune,
August 12, 1929, page 3
PAIR HELD AFTER RAID FOR SALE AND HAVING RUM
In a raid on the home at Plum and Peach streets last night, occupied by A. R. Hull, he was arrested on a charge of sale and possession, and R. A. Petty was held on a charge of possession. They are held as federal prisoners, and may be prosecuted in the federal courts, Talent said.
Hull was arrested as he returned to the house with a gallon of moonshine. A half gallon of moonshine was found in a serving pitcher, and held as evidence. Hull's automobile was confiscated.
Petty was arrested when he attempted to flee the scene.
According to Federal Officer Terry Talent, the house has been under surveillance for some time. The raiders, Talent said, watched the house for an hour. The blinds were left up, and the sales and drinking viewed with ease.
Four customers in the place at the time of the raid were not detained, as they appeared to be just casual callers.
The officers making the raid beside Talent were Deputy Sheriff Paul Jennings, Ike Dunford, and policeman Joe Cave.

Medford Mail Tribune,
August 25, 1929, page 3
RAID BEER JOINT NEAR HILLCREST
Jack Harris was arrested late last night and lodged in the county jail following a raid on the alleged "beer joint" at his home near the Hillcrest orchards. Nearly 47 quarts of beer were found in the house, officers state.
C. C. Clark and H. H. Dynge, also arrested last night, were each fined $15 and costs in city court this morning when they pled guilty to being intoxicated on the city streets.
A. J. Lenton was fined $10 and costs for driving at night with no tail light, and L. B. Thorson paid $10 for having four passengers in the front seat of his car.
Medford Mail Tribune, August 27, 1929, page 3
Old Jail at Jacksonville Serves as Morgue for Confiscated Booze

Thousands of gallons of "evidence" are stored in the old county jail at Jacksonville--an accumulation of many months--some of the stuff dating back to "Sailor Jack," one of the most widely known bootleggers who ever operated in Jackson County, according to Federal Prohibition Officer Terry Talent, who transferred the 135-gallon haul made early this morning to the "morgue" at Jacksonville.
Alcohol predominates, but there is moonshine of every variety, in every stage of fermentation, included in the big stock.
Then there are stills--several of them confiscated during the last year, all stored in the old jail, which housed many famous prisoners, but now is used solely for storage purposes.
Ashland Daily Tidings,
September 17, 1929, page 1
16 DAY FINE HERE FOR INTOXICATION

The city court had a good run of business last month, which was very profitable for the city, the 30 cases bringing into the city treasury in all $414 in fines, according to Judge Taylor's detailed report to the city council.
There were 16 cases of intoxication, and of these eleven men forfeited $10 cash bail each, three forfeited $20 each, and one forfeited $15, while another was fined $10.
There was one fine of $25 for possession of liquor and one $10 for disturbing the peace, and of eleven traffic violations 8 persons were fined $10 each, two $15 each and one fine of $100 together with suspension of license.
One other case was investigated by the court but not docketed.
Medford Mail Tribune,
October 6, 1929, page 4
ARREST ONE IN MOONSHINE RAID
Following a raid at a dwelling at 638 North Central Avenue last evening, Rufus Roberts, 33, was arrested on a charge of moonshine possession and is scheduled to have a hearing in the Ashland justice court tomorrow afternoon. The raiding party was made up of Federal Prohibition Agent Terry Talent, Chief of Police McCredie, Traffic Chief Prescott and Deputy Sheriff Oscar Dunford.
Officers allege that attempts were made to destroy the supply of moonshine by dumping it in the kitchen sink, but a sufficient amount was saved for evidence. Roberts was arrested by officers several months ago on a similar charge and had been under surveillance ever since.
Medford Mail Tribune,
November 19, 1929, page 6
RUMRUNNERS ARE CAPTURED IN SISKIYOUS
A portion of the holiday liquor of this season will never reach its destination, following the seizure early this morning on the Siskiyou Mountain of two alleged rumrunning cars and 50 gallons of alleged moonshine. Three men were arrested and were to appear before United States Commissioner Chauncey Florey this afternoon, when they will probably be bound over to the federal grand jury at Portland under heavy bond.
Laddie Mann, said to be well known in the Southern Oregon bootlegging world and a former resident of Medford and Ashland, was arrested with Thomas Yokum, both of Roseburg, for the possession and transportation of 20 gallons of moonshine. Mann's car, a 1928 Chevrolet, will be confiscated by the government. Joe Resaro of Chico, Calif., was arrested in a second automobile, a new Ford coupe, with 30 gallons of alleged moonshine whiskey.
The arrests were made by Federal Agent Terry Talent and Deputy Sheriff Sam Prescott of Ashland, who say the two cars were traveling together and bound for Roseburg. There are small liens against each of the two machines but they will be confiscated nevertheless, it is claimed.
Medford Mail Tribune,
December 16, 1929, page 1
STIFF SENTENCES ON RUM CHARGES
Several stiff sentences were meted out by Judge Taylor in his court last Saturday afternoon, two on liquor charges and one for reckless driving.
Fred Gravelle was fined $300 and given a 30 days' sentence in the county jail at his hearing on a liquor selling charge, and Harvey Wilson received a 60 days' sentence and a fine of $300, also on a liquor selling charge. Because of the feeble health and advanced age of A. V. Wilson, father of Harvey Wilson, the liquor selling charge against the former was dismissed. The arrests were made by L. M. Ackerman, state prohibition officer.
A fine of $50 and jail sentence of 15 days was imposed on Harvey Mondrell for reckless driving last Friday night when his truck struck the wrecking car of the Lewis Super Service Station on the Pacific Highway and seriously injured Mr. Llowd.
Medford Mail Tribune,
December 23, 1929, page 2
ANOTHER VICTIM OF SISKIYOU RUM TRAIL
William Tietjen of San Francisco was arrested in the Siskiyous this morning about four o'clock by Federal Prohibition Agent Terry Talent and Officer Sam Prescott of Ashland. Two gallons of gin and a new Oakland coupe were seized. Tietjen was bound over to the federal grand jury this morning by United States Commissioner Chauncey Florey.
Medford Mail Tribune,
December 23, 1929, page 2
LOCAL LAD LANDS IN BIG CIDER VAT AS COPS PURSUE
A cider bath on a chilly February night is not the most enjoyable way of spending an evening and is not the best for clothes, is a discovery made by Floyd Sullivan, who accidentally fell into the cider-vinegar vat at the Rogue River Canning Company factory on South Front Street last night. Sullivan was accompanied by a friend, V. Bergman, and the pair were quietly occupied in dipping cider out of the vat by means of a bucket and rope.
The fruit juice was fermenting and perhaps was being sought by the two as a beverage. They probably had not meant to stay long or do any damage, but some neighbor living near the cannery must have seen them on top of the factory roof, as the police were summoned to the scene.
The arrival of the officers startled the boys, and officers declare Sullivan started to run but his foot slipped and he fell with a sickening splash into the sticky fruit juice a few feet below. Shivering from dampness and uncomfortable because of the glucose nature of the liquid, Sullivan was ushered into the police station, the floor of which today still bears mute testimony of dripping apple cider. Two jugs that officers say were found in the boys' possession are also in the station and are filled with cider.
The two were placed in the county jail and will probably be charged with petty larceny.
Saturday night the police were called to the cannery because of alleged attempts of three other youths to help themselves to the cider. However, these young men did not know where the vat was located and, not having any cider, they were released shortly after they were brought to the station.

Medford Mail Tribune,
February 10, 1930, page 3
MOONSHINER GETS 2-YEAR SENTENCE
Arrested last week six miles above Jacksonville on Jackson Creek by the sheriff's office for the possession of mash, William Fairking, 49, was yesterday afternoon sentenced to two years in the state penitentiary on his plea of guilty in circuit court. Aaron Rhoten, 18 years of age, of Jacksonville, was also sentenced to two years on the same charge, having been arrested with Fairking. He was paroled and his fine of $500 was suspended. Fairking was fined $1000 in addition to the jail sentence.

Medford Mail Tribune,
April 11, 1930, page 6
YOUNG TRIO PLEA GUILTY TO BOOZE; MUST PAY FINES
A trio of local youths, T. H. Snider, William Drumm and H. J. McFarland, who Monday morning entered a plea of not guilty in the city court to having a pint of moonshine and were released on $50 bail each until their hearing today, changed their plea to one of guilty in the court this morning. Each was fined $10 and costs, and as they were broke, each was given a limit of 15 days in which to obtain work and pay his fine, else be sent to jail.
It seems that the boys were driving around the city Saturday or Sunday drinking until they and their bottle fell into the clutches of the police. Fortunately, the driver of their car was not intoxicated.
W. C. Moore, also arrested over the weekend on an intoxication charge, forfeited a cash bail of $10, which he had put up with the police, by failure to appear for trial in the city court yesterday.

Medford Mail Tribune,
April 22, 1930, page 2
DEPUTY SHERIFFS NAB ALKY RUNNER ON PHOENIX ROAD
The third big alcohol seizure to be made by the sheriff's office in a week occurred this morning when Deputy Sheriffs Louis Jennings and Charles Bennett arrested W. Free of San Francisco for the possession and transportation of 170 gallons of alleged alcohol. The arrest and seizure were made on the Pacific Highway south of Phoenix.
Free was to have a hearing in justice court this afternoon. His car, a big Master Six Buick coupe, has been confiscated by the officers.
The man claimed he was en route from San Francisco to Seattle on a regular trip. He was accompanied by his wife, against whom no charge will probably be placed.
The cargo of alcohol, with the exception of a gallon, was to be poured into Bear Creek this afternoon. A law passed by the last legislature makes it impossible for state officers to save any of the alcohol for the benefit of hospitals or physicians having a legitimate use for it. Any violation of the law by officers means a penitentiary sentence. Alcohol captured so far by officers in this county has been destroyed, with the exception of a small amount saved for evidence.

Medford Mail Tribune,
May 2, 1930, page 4
HUGE STILL DISCOVERED IN B.F. AREA
Hundred-Gallon Outfit Declared Most Unsanitary--
Alleged Operator Is Taken in Raid by State and County Officers.
Believed to be the largest moonshine still ever captured in this end of the state and possibly one of the most unsanitary, a 100-gallon moonshine still was seized by state and county officers early this morning in the timber country between Prospect and Butte Falls. E. A. Sutcliff, 65, was arrested as the alleged operator.
Officers had watched the outfit for the past two weeks and for two or three days preceding the capture, camped a short distance away from the outfit, awaiting the arrival of mash to be run off into moonshine.
Sutcliff, while arrested as the operator, is thought by officers to be working for unknown owners of the still. Officers are attempting to locate them.

Medford Mail Tribune,
July 2, 1930, page 1
ALENDERFER SAYS YANKEE TIPPLERS AIDING CANADIAN
Customers in the United States make the manufacture of liquor in Canada a lucrative business, O. O. Alenderfer, recently returned from a trip to Toronto, told members of the Kiwanis Club at the Hotel Medford at noon luncheon today. Despite the fact that there is no prohibition law in Canada, the speaker said he saw less intoxication there in the ordinary course of events than he would see in the United States with prohibition.

Medford Mail Tribune,
July 21, 1930, page 8
Last night, the police arrested Florence Aller and Gene Austin, two local women, for the possession and selling of gin at a dwelling on Narregan Street. They were accused of selling gin at a certain price a drink, but the arresting officers were unable to find sufficient evidence on which to file a charge. The women were released this forenoon. The officers say they destroyed a number of empty bottles, seized a 12-gallon crock, an empty container that is believed to have held alcohol and quite a number of glasses.
"Transient Youths Steal Bread,"
Medford Mail Tribune,
August 14, 1930, page 3
The Shame of Medford
To the Editor:
Your editorial in Wednesday's paper entitled "The Shame of Chicago" was very good, but it would have been slightly more pointed and convincing if it had not followed quite so closely on the heels of Medford's recent racketeering assault. I refer to the slugging of a 20-year-old youth, a few days ago, for the high crime of refusing to be forced into the service of Medford's most prominent bootlegger.
As a reward for thus respecting the laws, Wesley Coggins, day clerk at the Holland Hotel, found himself one evening last week staggering along Ivy Street with a mouthful of loosened and broken teeth wrenched from a horribly drooping, shattered jaw.
Unable to talk or eat, he has spent almost two weeks of agony at the Sacred Heart Hospital, while dentist and doctors have been doing all humanly possible to relieve his sufferings and patch torn ligaments and broken bones. Their services have already loaded Wesley with a debt of from $400 to $500, his job at the hotel is gone, and at the very least he has before him the prospect of eight gloomy weeks of invalidism.
Where are the scorching editorials, where the merciless publicity that would at least force our eminent booze purveyor to pay the boy's doctor bills and land his slugging henchmen behind the bars? Where are our vigilant police chief, our efficient district attorney, and brilliant sheriff? Are they all right on the job, filled with a fury of activity, making our streets safe for decency?
Are the two thugs--one, the brother of the bootlegger, drove the car; the other, an ex-prize fighter, did the actual maiming--are they hunted down by an enraged populace like wild dogs, and like wild dogs hunted to extermination?
Well, at this writing these ruffians are not even comfortably lodged in jail! A very careful search will reveal a couple of guarded references of the assault in the columns of your oh-so-impartial sheet, written in the usual stereotyped newspaperese of the jaded police reporter. And apparently the decent citizens of Medford do not realize the seriousness of a situation wherein a quiet, law-abiding youth fighting his way in an absurd and and impossible civilization is broken and maimed for daring to refuse to do the bidding of a booze runner.
All the participants in this little affair are well known to the police and to many others. The matter is no carefully guarded mystery. However, perhaps it is just as well that our wealthy peddler of prohibited beverages be not too greatly disturbed, for a list of his customers would read like "Who's Who" in Medford; and it is possible that the disturbance might cause more talk to rise on the surface than had better be allowed access to sunshine and air. And then, too, Wesley is still in his teens. His friends don't count as yet. Politically he weighs just zero. Perhaps a lesson or two like this may put the fear of God into others of these white-collared, stiff-necked bell-hop bosses, and serve to point out clearly to the bell-boys themselves just what they had better do when the guest in room so-and-so demands the town's best.
"The Shame of Chicago," say you. "Shame begins at home," say I.
Justice,
(Name on file.)

Ed. note: If the above facts are correct the victim has only to bring criminal action and he will receive ample publicity as far as this paper is concerned.
"Communications,"
Medford Mail Tribune,
August 24, 1930, page B5
S.F. BOOTICIAN ARRESTED HERE, FINED & JAILED
George Clements, San Francisco, arrested early this morning in Ashland by Traffic Officer Sam Prescott, was fined $750 and sentenced to 30 days in the county jail on a charge of transportation and possession of alcohol. Clements was driving a new DeSoto car, purchased yesterday in San Francisco, loaded with 60 gallons of grain alcohol, said to be of the highest test ever seized in Ashland.
Clement appeared in the Ashland justice court this forenoon and was placed in the county jail this afternoon. His car will be confiscated by authorities.
The rum runner told officers he had two other cars running liquor but said business was not as good this year due to more competition keeping the price lower than in the past.
Medford Mail Tribune
, September 23, 1930, page 2
SENTENCE INDIANS IN FEDERAL COURT FOR BOOTLEGGING
The federal jury at three o'clock this afternoon in the trail of Dan Weeks and Elmer Glennon, Klamath Indians, charged with a still operation on the reservation near Kirk, returned a verdict of guilty on two of the three counts after four hours deliberation.
Bill Barkley, a Klamath Reservation Indian, and his stepson, Silas Barkley, entered pleas of guilty to violation of the prohibition act in federal court this morning and were sentenced by Federal Judge Robert S. Bean.
The elder Barkley was sentenced to serve three years in McNeil Island prison. Sentence was set aside and he was paroled to the superintendent of the reservation.
The younger Barkley was sentenced to serve six months at the federal road camp at Fort Lewis, Wash., and to pay a fine of $500.
The Barkleys were represented by attorney Allan Bynon of Portland of Portland, who was accompanied on the Southern Oregon trip by his son, Allan Bynon, Jr., age 8 years. At the conclusion of the business before the federal court, father and son will fish in the Rogue.
Trial of Alfred Glennon, alleged associate of both Indian in liquor operations on the Klamath Reservation, was started this morning. The defendant is represented by attorney T. J. Enright of this city.

Medford Mail Tribune,
October 13, 1930, page 2
DRINKING PARTY MEMBERS FINED
With the imposing in Judge Taylor's court of a sentence of seven days in jail on Dick Painter, 20, after his plea of guilty to being drunk on a public highway, the aftermath of a drinking party on a suburban road one night recently has been cleaned up. Albert Calhoun, 21, driver of the car, was fined $100, given a three months' jail sentence and suffered the suspension of his driver's license, and Jim Clark, 22, was given a 10 days' jail sentence in the same court previously.
It is alleged that after reaching the lonely spot the young men endeavored to persuade three young girl companions to drink liquor, and upon one of them refusing and slapping one of the men, the three youths had a free-for-all fight.

Medford Mail Tribune,
October 24, 1930, page 4
CONVICT FLORES OF MAINTAINING MOONSHINE STILL
Joe Flores, former Front Street lunch counter operator, was found guilty yesterday afternoon in circuit court of the possession of a moonshine still, found by officers in an abandoned mine tunnel on Blackwell Hill last September. Flores' case went to the jury late in the day, and a verdict was returned in less than 30 minutes.
Flores claimed he knew nothing of the presence of the still and hardly ever visited the tunnel, but officers claimed there was mash brewing and saw a fairly well-defined path between the tunnel and a cabin, where the defendant is said to have spent a portion of his time. He was arrested shortly after the attempted holdup of the Central Point State Bank during activities of the sheriff's office to locate a green sedan that had been used by the bandit in making his escape from Central Point.

Medford Mail Tribune,
November 5, 1930, page B4
EAGLE POINT MAN MURDERED AT STILL
POSSE NABS THREE MEN NEAR SCENE
Everett Dahack's Body Found During Raid on Reese Creek--
Red Smith, Raleigh Mathews and W. A. Goetjen Held
Death stalked a moonshine still raid in the Reese Creek section this forenoon. Everett Dahack, 34, single, of Eagle Point, is dead as the result of a bullet through the top of his head. His body was found near six barrels of mash containing approximately 250 gallons. Ted Smith, Raleigh Mathews and W. A. Goetjen, all of the Eagle Point district, were arrested near the scene of the killing and are held on open charges.
The three men were surprised by officers as they were in the act of moving a 60-gallon still from a point near the mash. Joe Cave, deputy sheriff, who with Deputy Paul Jennings was lying in brush west of the still location, surprised the men. Smith stopped immediately, but Mathews is alleged to have started running through the brush. After refusing two commands to halt, Deputy Cave fired in his direction to stop him. The shots did not take effect.
Mathews ran down the hill and was apprehended by Deputy Louis Jennings who, with Roy Parr, was in hiding south of the hill. State Officers Cy Herr and H. H. Hogan were north of the still. Goetjen was some distance behind Mathews and Smith when they were carrying the still and was apprehended by Officer Hogan.
The officers had arrived at the scene around 9 o'clock and were lying in wait for the alleged owners of the outfit. They saw four men arrive. With three apprehended, they looked for the fourth. Officer Hogan found the body sprawled on the back with legs outstretched and arms at the side. He claimed the blood had already clotted, indicating to him that death occurred before the officers began firing.
The bullet entered the top of a grey cap and tore off the back of the skull. The cap was found several feet from the body.
Goetjen claims he saw Dahack fall just as he was about to stir a barrel of mash and about the time the officers were firing. However, the officers claim Goetjen was in no position to see Dahack at the point where he was standing. They further claim that they never saw the man until his body was found by the barrels.
Smith and Mathews were caught with the still around 10:30 this forenoon, and before that time, officers allege, a quarrel was taking place. Mathews is accused of being intoxicated and was in a surly mood. He had nothing to say concerning the affair.
A
"Krag" rifle
was found on the premises, said to be the property of one of the three men brought to the county jail this afternoon.
The sheriff's office and members of the state prohibition department had located the still several days ago. Sheriff Ralph Jennings with other officers were near the place last night and during the past week had made five trips to the section to complete details for the seizure of the outfit and possible arrest of its operators.
When the officers went to the scene, leaving Medford at 8 o'clock this morning, it was thought that the still would only be seized and brought to Medford. The alleged operators were not expected to make their appearance.
An inquest will probably be held tomorrow in Dahack's death.
Medford Mail Tribune,
November 14, 1930, page 1
RAID STORY TO BE TOLD AT INQUEST
Slaying of Dahack at Reese Creek Moonshine Camp Will Be Probed by Coroner--Officers Tell Version of Hill Tragedy.
The coroner's inquest into the death of Everett Dahack in the Reese Creek section yesterday forenoon will be held at 7 o'clock this evening at the Conger funeral parlors. It will be open to the public. Nothing new has developed since the first reports of the shooting.
----

The hills of Reese Creek held a secret that a coroner's inquest tonight will attempt to learn. An alleged moonshiner, Everett Dahack, died from a rifle bullet through the head. The body was found by a party of raiding officers yesterday forenoon after they had arrested Raleigh Mathews, W. A. Goetjen and Ted Smith, of Eagle Point, following a well-prepared plan to raid a still, alleged to be the property of Mathews.
Officers claim they fired but twice. Joe Cave, deputy sheriff, fired at Mathews when he attempted to make his escape by running after he had been ordered by the officer to halt. Mathews and Ted Smith were carrying a 60-gallon moonshine still. Mathews tore through brush in an opposite angle from the location of six barrels of fermenting corn mash, where Dahack's body was found after the three men had been apprehended.
Deputy Sheriff Louis Jennings and Officer Roy Parr were stationed approximately 200 feet away down a hill in a southerly direction. After Cave had fired once, Deputy Jennings fired into the air to bring the fleeing one to a halt. However, Mathews practically ran into the officer's arms and was brought back to the point where he had broken away. Smith did not run.
Deputy Paul Jennings had been secreted in the brush in a westerly direction near Officer Cave when Matthews and Smith were seen walking toward them. Cave arose in an effort to stop them. The officer related that Mathews ran and the former fired at him with a rifle. He shot only once, fearing another shot might endanger the officer located in that direction. Broken brush, [and] branches apparently broken off by Mathews' plunging body, indicated the path he had taken. It was due south. The mash was northeast.
Deputies Cave and Paul Jennings only saw Smith and Mathews and did not see Goetjen, third member of the trio arrested, until State Officer H. H. Hogan, hidden in the brush with State Agent Cy Herr north of the barrels of mash, had apprehended him in brush near the barrels. The officer said he fired no shots.
When a search for the fourth man was begun, Dahack was found on his back with a bullet through the head. Evidence at the scene indicated Dahack's head was hardly more than three feet above the ground when struck. He apparently was stirring mash. The leaden missile struck the center of a gray cap he was wearing.
The cap was on the ground several feet from the body. Small pieces of lead were clinging to the cloth when examined by the officers. The caliber of the bullet was not determined. A rifle was found at the scene fully loaded. Officers today are looking for another gun that they think may have been thrown into the brush.
Deputy Paul Jennings rushed 25 miles to Medford for Sheriff Ralph Jennings, who returned to the scene with Coroner H. W. Conger, District Attorney George Codding, Cal Wells, United States deputy marshal, and a
Mail Tribune
reporter. Deputy Coroner Joy Walker followed and the group of officers was joined by C. P. Talent and Burrell Baucom of the state traffic department to offer any necessary aid.
The road to the Mathews still led from the Butte Falls Highway a few miles from the Crater Lake Highway junction. It was a typical hill country road and passed by no farm houses, but went through acres of brush and occasionally cleared areas. Large rocks in the center and along the side made hard traveling. Brush scraped the side of the car and resulted in countless scratches. An old Durant sedan was parked along the side of the road within a few hundred yards of the Butte Falls junction.
Reese Creek, flowing full with surplus irrigation water, was crossed and then several marshy spots.
A short walk was necessary before the actual scene was reached. The prisoners, Mathews, Goetjen and Smith, were standing handcuffed together near a bonfire, with one or two smoking cigarettes. The still, a copper affair, was on the ground a few yards away and was surrounded by other equipment, including a gas burner and tank. Several gallon glass jugs were nearby. The mash barrels were a few yards north of the fire, with bubbles of fermentation making faint noises.
Dahack's body was on the ground north of the barrels, his feet almost touching one. Blankets and sacks, previously used to cover the top of the barrels, hid the body. Their removal revealed a gruesome sight, and it was first thought the head had been cleft with a sharp ax, but later investigation revealed the bullet hole and small bits of lead in the cap.
Sheriff Jennings, Coroner Conger and District Attorney Codding carefully took in the situation and listened to versions of the affair from the different officers. The three prisoners said but little, with the exception of Goetjen, who claimed he saw Dahack fall to the ground during the shooting. He was a nervous man, white haired, probably in his sixties.
The scene presented a typical moonshine hideout, stuck away in brush, scrub oak and pine that would have been hard to find by a person who did not know its exact location. Officers had been searching for the still for some time but did not gain knowledge of its location until the past week. Five trips were made there by Sheriff Jennings, and he was there the night before the raid. As a result of the visit in the dark, he sustained an injured eye when he ran into brush.
The mash was destroyed with the exception of two gallons held for evidence and the still and other equipment were moved to Medford. Officers were back at the scene today making measurements which will be given at the inquest tonight.
Goetjen and Smith were acquitted of a moonshine still possession charge in circuit court here during the past year, and Mathews was arrested several weeks ago on a moonshine sale charge upon which he had been at liberty on $500 bonds. He had been suspected of still operation for some time, but no evidence could ever be obtained on his alleged operations.
When the officers left for the scene at 8 o'clock yesterday morning, they did not expect to find Mathews in the vicinity. They thought he was too shrewd to make his appearance, but with three others he arrived a short time after the officers hid themselves in the brush.
Medford Mail Tribune,
November 15, 1930, page 1
CIDER SEEKERS CAUSE LOSS OF 7000 GALLONS
Rogue Cannery Gives Up Vinegar-Making
in Face of Annual Raids by Hard Cider Addicts.
Unknown vandals broke into the Rogue River Valley Canning Company plant on South Railroad Ave. late Tuesday night and by malicious carelessness caused the loss of 7000 gallons of vinegar valued at $1500, by leaving the tap to the vat open, causing the vinegar to run off into a sewer.
The culprits were seeking apple cider, and as the vinegar had not started to "mother," it was in prime condition.
Manager R. U. Boutelle of the canning company said that as a result of the vandalism--the same thing occurred last year--no further efforts would be made by the concern to make vinegar. He said this year he had placed safeguards around the vinegar vat to thwart the marauders, but they had come armed with monkey wrenches and undid all his work, in a spirit of mischievousness.
It has been a quaint local custom for years to raid the vat, and five years ago a youth nearly drowned when he fell from the roof into the vat, to be rescued by his pals after a good ducking.
There are no clues in the latest depredation, and the authorities are baffled. A watchman in the neighborhood heard someone in the plant early Wednesday morning, but from the sounds thought plumbers were at work, and made no investigation.
When the vinegar that was lost was ready for bottling and shipping, it would have furnished labor to ten or twelve persons.
The cannery management stated they have always experienced more or less difficulty in their vinegar making from those with a thirst for cider in the hard stage, and that losses had been sustained, besides the annoyance of not knowing when they were going to be burglarized.
"It seems that we just can't make vinegar," said Mrs. Boutelle this morning, "and after our experience this fall, we have decided to cut it out in the future. What they drink they were welcome to. It's what they wasted that hurts."
Medford Mail Tribune,
December 5, 1930, page 1
LIQUID CHEER AND ALLEGED RUNNER SEIZED NEAR TOLO
One load of alleged alcohol that will not reach its destination landed its three accused owners in the county jail this morning as a result of a car crash on the overhead bridge on the Pacific Highway at Tolo. Harry W. Yap, 48; Courtney Yapp, 24, and R. J. Stowe, 41, of Eugene are in the county jail facing charges of liquor possession.
The trio, arrested by the sheriff's office and state traffic officers, are alleged to have been en route to Eugene with a load of 60 gallons of alcohol when their machine left the highway on the bridge and turned over several times over a steep grade. After hiding the alcohol under the bridge, the men found their way to Gold Hill, where they attracted attention because of being in an intoxicated condition.
The sheriff's office was called and the men were brought to the county jail. Several cans of alcohol is said to have been destroyed as a result of the crash, which completely wrecked the car, an old Dodge touring.
The two Yapps are father and son and, while claiming no address, are believed to have been making their headquarters in California.

Medford Mail Tribune,
December 16, 1930, page 6
BEAR CREEK FISH TASTE MOONSHINE
Every so often, Bear Creek flows rich with alcohol and liquor inspired by the destruction of intoxicating beverages, seized by officers from bootleggers and rum runners. Yesterday afternoon the sheriff's office poured quite a quantity of liquor out at McAndrews ford in the creek in the presence of witnesses.
Some of the beverage may have been good and the rest of poor quality, but it all came to the same end. The liquor had been used as evidence in cases tried in court the past several months and included all the county had, with the exception of 10 cases of whiskey seized Wednesday in Medford from two Italian rum runners.
The liquor included the following: Eight quarts of wine, 83 pints of moonshine, three quarts of moonshine, three gallons of wine, 20 gallons of alcohol and 28 gallons of moonshine.
Medford Mail Tribune,
May 22, 1931, page 8
FATHER RELEASED ON BEER CHARGE
Because of his assertion that he made and sold beer to support his family, including several children, H. A. Smith, who resides on East Jackson Street, was given a sentence of 30 days in jail in Judge Taylor's court yesterday afternoon and then was paroled on condition that he will observe all laws in the future.
He had pleaded guilty to the charge of possession of 58 bottles of homemade brew. The parole was given in order for him to obtain work, as with him in that the family would be without support.
Medford Mail Tribune,
June 16, 1931, page 4
RAID BEER JOINT IN JACKSONVILLE
State police, the sheriff's office and federal prohibition aides early last night raided the home of Mrs. Mark Finney, 40, Jacksonville, and seized 275 bottles of beer, two crocks full of beer mash and a number of empty bottles. William Deathread, 29, was also arrested. Mrs. Finney, a widow, is held in the women's ward of the county jail.
The house is classified by the authorities as a "beer joint," and has been under surveillance for several weeks. The building is located in the rear of the pioneer Beekman Bank building, and a short distance from the Jacksonville dance hall.
The couple are scheduled to be given a preliminary hearing this afternoon.
Medford Mail Tribune,
May 27, 1932, page 1
To the Editor:
In one of Art Perry's recent
Smudge Pot
s we find an article dealing with a raid the
K.K.K.s
made on some communists of Long Beach, Cal., who were peaceably assembled in one of their homes. When we were afflicted with the Klan in these parts a few years ago, no virtue whatever was found in them, and we were surprised that praise should be given them for their activities in the land to the south of us.
Mr. Perry does not believe in using them only for special occasions. Of course not, none of us do. If the recent breakdown of everything in Jackson County could only have been accompanied by the activities of such a bunch of self-appointed bigots--w't-a-mess! Were it not for the fact that sauce for the goose usually proves to be sauce for the gander also, this theory might be more palatable.
We are told they are the cat's whiskers in dealing with the bomb-throwing, government-cussing bolsheviks. California should not need their assistance to enforce their bomb-parking ordinance, judging from the way they handled
Tom Mooney
, the notorious bomb-thrower, which he was not.
As for cussing the government, that seems to be the most popular outdoor sport at present. "Everybody's doing it, doing it, doing it," at least prior to November 8, A.D. 1932.
We all, no doubt, have moments when we are so overcome with righteous zeal that we would be willing to turn things over to Tom, Dick and Harry, or even the shirttail gang, provided they agree to always work on the other fellow and not us, and our pet notions and cravings.
We have a
national law
that has given us considerable concern. It has almost been decided that we, a great race of red-blooded, two-fisted he-boys, can't enforce. So we have started to wipe this one off the books before the public discovers our weakness and they try violating some of our other laws. If the Klan can cope with the reds so efficiently, before we throw up the sponge, why not sic them on our gangsters and bootleggers who have been giving our wet friends so much worriment?
BERT HARR.
Jacksonville, November 27.

Medford Mail Tribune,
November 29, 1932, page 4
To the Editor:
The Bible tells us that "Out of the abundance of the heart the mouth speaketh." This is true; it is also true that out of the abundance of experience the mouth speaketh.
My experience of the evils of drink has not been confined to one county nor to one state alone, but has been nationwide.
Near all the army posts the saloon men plied their disgraceful traffic. These men made it their business to know when the paymaster was due to pay off the soldiers, then they were enticed into the saloons and given drugged whiskey and robbed.
Nothing could be done, for these saloonkeepers were licensed to sell liquor. Since prohibition became a law this has all been done away with. True, prohibition has not been as great a success as we had hoped, but I know from my own experience that it has not been a failure.
We need a change, new and more drastic laws, but we must not do away with prohibition. Many tell us that conditions are wore than they have ever been. I know positively that this is not true. People seem to think that the speakeasies came in with prohibition. This also is not true; these we have had always with us, but they were operated under another name. In the days of the open saloon they were known as "blind pigs." Here is an example: In Allegheny County, Pennsylvania, there were 2000 blind pigs. Saloons were running wide open, but the men who operated the blind pigs were selling liquor without a license. This is authentic information--think it over.
Let us hope that the thinking people of Oregon will not vote for the repeal of the 18th amendment.
Do away with prohibition and just as sure as the sun rises in the east and sets in the west we will have again the open saloon, an evil most truthfully portrayed by the following poem:
"THE SALOON BAR

"A bar to heaven, a door to hell--
Whoever named it, named it well!
A bar to manliness and wealth,
A door to want and broken health.
A bar to honor, pride and fame,
A door to sin and grief and shame;
A bar to hope, a bar to prayer,
A door to darkness and despair.
A bar to honored, useful life,
A door to brawling, senseless strife;
A bar to all that's true and brave,
A door to every drunkard's grave.
A bar to joy that home imparts,
A door to tears and aching hearts;
A bar to heaven, a door to hell--
Whoever named it, named it well!"
--Anon.

"Communications,"
Medford Mail Tribune,
June 11, 1933, page 6
CONVICT FLORES OF MAINTAINING MOONSHINE STILL

Joe Flores, former Front Street lunch counter operator, was found guilty yesterday afternoon in circuit court of the possession of a moonshine still, found by officers in an abandoned mine tunnel on Blackwell Hill last September. Flores' case went to the jury late in the day, and a verdict was returned in less than 30 minutes.
Flores claimed he knew nothing of the presence of the still and hardly ever visited the tunnel, but officers claimed there was mash brewing and saw a fairly well defined path between the tunnel and a cabin, where the defendant is said to have spent a portion of his time. He was arrested shortly after the attempted holdup of the Central Point State Bank during activities of the sheriff's office to locate a green sedan that had been used by the bandit in making his escape from Central Point.
Medford Mail Tribune,
November 6, 1940, page 4
Last revised September 19, 2023