J. W. Att, who conducts a meat market in this city, was arrested today on a warrant sworn out by Joe Deik, charging him with assault. He was taken before Justice Walton and fined $15 and costs, which he paid.
"Rogue River Road,"
Morning Oregonian,
Portland, January 3, 1895, page 2
The 12-year-old son of W. E. Finney met with an accident at Medford which will disable him for some time. He was playing on one of the numerous ice-covered ponds about town when he slipped and fell, seriously fracturing the right thigh bone. He was assisted home and Dr. Geary called to reduce the fracture. The boy will likely be disabled for several weeks by the misfortune.
"News of the Northwest,"
Morning Oregonian,
Portland, January 3, 1895, page 4
Representative-elect Geo. W. Dunn, of Ashland, the only Republican elected, was here New Year's looking up his constituents and finding out all those wanting a committee clerkship. He will undoubtedly receive the chairmanship of some important committee and will have a number of clerkships to bestow on somebody.
Medford is making a response to the
Nebraska sufferers
' relief fund in both money and other material substances, the arrangements being conducted by Mayor Haskins. Medford was settled up principally from residents of that state.
J. B. McGee, H. Klippel's former partner, is now receiver of the International Nickel Mining Co. of Riddle.
J. W. Plymire, at the age of 56 years, passed away to the other world Monday evening just a few hours before the dissolution of the old year. The funeral took place Wednesday under the auspices of the A.O.U.W.
While two lads were playing with a 22-caliber pistol the "gun" in the hands of young Crystal was discharged in the calf of W. Edwards' leg. A physician soon quieted the fear of the family by pronouncing it merely a flesh wound.
Chas. Robinson, committed to the asylum last week, had been in the employ of Canyonville Lumber Co. in Douglas County.
Pat Donoghue was down from Ashland buying poultry for his Pullman buffet business.
The piano recital of the class of Mrs. Sayre, who was ably assisted by Miss Ora Adkins, an accomplished musician, proved a very pleasing entertainment and was much appreciated by the audience.
Mrs. W. H. Simmons spent New Year's with Ashland friends.
John W. Smith's family of Big Sticky have been having quite a siege with the measles. Mrs. S. and four of her boys, Rollin, Louis, Leroy and John, have all had them. Dr. Stanfield was called in and gave immediate relief. They are now in a fair way to recover, and Mrs. Smith, though she has been very ill, is convalescing.
Mrs. John Schneider of Big Sticky is in a critical condition with inflammatory rheumatism.
Valley Record,
Ashland, January 3, 1895, page 3
J. W. Wiley, of Medford, shipped another consignment of hogs from that point to 'Frisco. Medford is the great hog market of Southern Oregon.
"Late News Items,"
Capital Journal,
Salem, January 4, 1895, page 3
Geo. M. Love of Jacksonville is after a job from the incoming state officials.
Miss Effie Caster returned Tuesday from a visit with Ashland friends.
Baker, the coal miner, spent Sunday with Ashland relatives.
R. V. Beall, Jr., returned Sunday to resume his studies at the state university, Eugene.
J. L. Wigle was in Ashland Wednesday on business.
Ira Purdin was doing the Granite City yesterday.
The eight cars of cattle and hogs Hockersmith has ready for San Francisco were sold and shipped to the Union Meat Co. of Portland.
The Jackson County Republican bosses are not noted for very successful political management in their own county, but when it comes to wanting something from the state of Oregon's 16,000 Republican majority they are decidedly "in it." The penitentiary, for instance. Ever since it became popular for a judge to "break into jail" there are five Jackson County Republicans who want to "get into the penitentiary.'' Henry Brophy, now of Salem, wants the wardenship, and A. P. Talent wants the carpentership. H. W. Shipley of Table Rock wants to be superintendent, and G. F. Merriman, Geo. M. Love and Nat Langell are making a race for the wardenship. There are committee clerkships galore, with chances in favor of Mrs. Plymale and A. N. Soliss of Jacksonville, J. A. Whiteside of Medford and Mrs. C. W. Ayers of Ashland securing places.
At any and all times public halls, opera houses, churches, etc., where the public are induced to assemble should be structures of unquestioned safety. The columns of newspapers are almost constantly filled with reports from all parts of the world of the fatal consequences attending mankind's stupidity along these lines. The springing of the
death trap
at Silver Lake, however, has driven home with a terrible death blow to the people of Oregon the importance of having such matters remedied before precious human beings as well as property are sacrificed at the shrine of greed. This session of the legislature will undoubtedly pass a law making it a felony for any owner knowing the safety of a public or semipublic building being in question and allowing it to be used. No hall should be without two means of egress and built in a substantial manner. There are many halls in this state that are panic breeders as well as death traps.
Valley Record,
Ashland, January 10, 1895, page 3
Sam'l. Willmott, of San Francisco, arrived in Medford last week and at once entered into negotiations with G. W. Bashford to take charge of the brewery department in his Southern Oregon Brewery. Work, such as cleansing casks and making malt, is now in progress at the brewery and within a couple of weeks brewing proper will commence.
Architect Bennet has leased living rooms in the Halley Block and office room in the Hamlin Block. His family is now at Roseburg but will be here soon, and from the date of their coming they will be permanent residents of this city. Mr. Bennet's intentions are to make this his headquarters but he expects to do work in various parts of the valley.
Medford Mail,
January 11, 1895, page 5
Mrs. Lippincott visited Ashland Tuesday.
B. F. Crouch was in Ashland Saturday.
J. A. Whiteside is in Salem after a female clerkship.
Chas. Nickell is in Salem working the soldiers home.
Geo. E. Neuber is in Tacoma to sell the Reid & Neuber mine on Elliott Creek.
C. W. Palm, the real estate rustler, was in Ashland Tuesday.
A son was born to the wife of Chas. Prim in Jacksonville the 10th inst.
Geo. Justus, Chas. Hocum and Dick Perry are on Siskiyou with intention of buying Hosley's saw mill.
Rev. E. E. Thompson, now an enterprising and wide-awake business man of the firm of Thompson & Meeker, was in Ashland today.
Jerry Nunan, the Jacksonville merchant, is in Southern California for his health and Mrs. Nunan joined him last week.
J. A. Whitman was at Ashland the first of the week shipping a carload of apples from Bert Tozer's place, the Houck ranch, to his warehouse. Mr. Whitman shipped another carload of apples to Texas Tuesday.
The branch railroad survey as outlined in the
Record
in November has reached nine miles from Jacksonville. Coul and Jones stopped work and platted it for estimates on cost and have now commenced surveying the balance of the route to Sams Valley.
Valley Record,
Ashland, January 17, 1895, page 3
FOR SALE--TAILORING BUSINESS. Well established, at Medford, Oregon; value $500. For information address Tailor, box 154.
The Morning Call,
San Francisco, January 19, 1895, page 7
Mounce & Schermerhorn of Medford have dissolved partnership, I. A. Mounce continuing the business.
"Pressed Bricks,"
Valley Record,
Ashland, January 24, 1895, page 1
Geo. H. Tyler has become possessor of the Wirth Photo Co.'s gallery in Medford as well as the plant which he owned, in Ashland. Mr. Wirth is badly involved. Miss Cora Baldwin is in charge of the gallery in Ashland and Tyler is running things at Medford.
"Personal and Social,"
Valley Record,
Ashland, January 24, 1895, page 3
Geo. H. Tyler, the photographer, went down to Medford last evening to look after his business there. Mr. Tyler now owns the Wirth gallery at Medford as well as the Tyler gallery in Ashland, both of which were recently conducted by the Wirth Photo Co.
"Personal,"
Ashland Tidings,
January 24, 1895, page 3
Mrs. P. W. Olwell of Central Point goes to San Diego this week for her health.
Chas. Newstrom and Maggie Nussbaum of Lake Creek were to be married this week.
C. M. Talbott has been appointed agent for the State Insurance Co.
Postmaster Howard of this city is in Ashland again rejuvenating himself with the medicinal sulfur springs in the Granite City.
W. L. Badley and Miss Effie Laws, daughter of Henry Laws, were married near Woodville on the 17th inst. The grandparents of the bride acted as bridesmaid and best man.
The survey for the proposed extension of the Rogue River Valley Railway from near Jacksonville to Sams Valley via Central Point is completed and engineer Coul is now figuring on the estimated cost of construction, etc.
Misses Kate Hansen and Fannie Ralph, two Ashland belles, returned home Monday from a visit with Miss Ida Naylor and Mrs. Lippincott, respectively.
L. D. Ward and Miss Maggie Manning, both of Klamath County, were married on the 20th at the residence of Miss Kate Lemberger in Jacksonville.
Brooks, living in the county jail at Jacksonville until April term of court for maliciously destroying engineer McCarthy's house near Talent, attracts lots of attention by his mouth. He has a strong voice and sings all classes of religious hymns with a great deal of lyrical pathos and noise. He declares that he will not remain in jail until April and is allowed no extra freedom as he is such a crazy lunatic as not to have any more sense than [to] leave the jail these hard times and in this weather.
Valley Record,
Ashland, January 24, 1895, page 3
MEDFORD SQUIBS.
F. M. Mingus has had a new plank walk built at the Union Livery Stables and also made other improvements to the property.
G. C. Wirth has rented a portion of the building occupied by attorney White and will represent an eastern picture-enlarging firm.
W. I. Vawter was the fortunate individual to get the fine overcoat offered by A. Fetsch, the tailor, to the customer who would buy the most goods during 1894.
L. B. Warner, agent of the Albany nursery, is selling a great many fruit trees, shrubbery, etc. He makes frequent visit to the county seat on business.
The social entertainment given at the M.E. Church, South, on Monday evening, was a success. A large crowd was in attendance and the proceeds were about $20.
Mrs. Wm. Ennis returned a few days since to her home at Yaquina Bay. Her husband will remain in this section for a while longer, as his health is much better in this altitude.
J. A. Whiteside of Medford has been appointed by Representative Dunn clerk of the committee on mining. There are very few bills ever referred to this committee, and the people are rather curious to know how the clerk puts in his time to earn the salary.
Democratic Times,
January 31, 1895, page 2
Medford is improving, and aside from the number of bad things she is accumulating there is also some desirable institutions, the latest being a Y.M.C.A.
"Pressed Bricks,"
Valley Record,
Ashland, January 31, 1895, page 1
John B. Griffin returned Tuesday from a trip to Hornbrook.
G. P. Lindley and wife have returned from a trip up north.
D. D. H. Yeager, the Jenny Creek timber land man, was here this week.
R. F. High, the tonsorial artist, visited his parents and Ashland friends Monday and Tuesday.
Harry R. Barbour, the carpenter, and Water Supt. Ira Dodge of Ashland were in town Tuesday.
David Payne, who moved to Redding from the Trinity Center mines, came up Tuesday on a business trip.
Chas. Fronk, formerly railroad agent in Medford, and now holding a similar position in Albany, recently purchased a handsome residence in this city.
Bids for the erection of Hotel Nash on the Hotel Medford site will be opened on the first and work will probably be commenced by the 15th of February.
Ex-Mayor M. Purdin and family left Wednesday to locate at Oakland, Cal., where Mr. Purdin expects to do something when the new railroad from San Francisco to Bakersfield starts up. Mrs. Helen Jackson left on [the] same train to visit her daughter at Santa Rosa.
Mrs. D. A. Huling of this city slipped and fell last Friday morning and broke her left arm at the wrist. This is a great misfortune as the lady is not very stout, and it may go hard with her.--
Myrtle Point Oregonian.
The Hulings formerly lived in Medford, Mr. H. being engaged in the hardware business.
Valley Record,
Ashland, January 31, 1895, page 3
The mills of Ashland and Medford, Or., are purchasing wheat from the Umpqua Valley.
"Northwest News,"
Pullman Herald,
February 2, 1895,
page 7
Medford Items.

That Medford will have a real live boom this year that will make the hair stand on end there is hardly any doubt. Among the buildings, besides Hotel Nash, will be a brick block by S. Rosenthal, the pioneer merchant; a two-story brick by W. B. Roberts with a possible third story by the K. of P. for a hall. W. H. Parker and Capt. Nash each contemplate the erection of elegant and costly residences.
Valley Record,
Ashland, February 7, 1895, page 3
A herd of wild cattle has been roaming the mountains between Rogue River and the south fork of the Umpqua in Oregon for twenty years, and it now numbers in the neighborhood of 500 cattle. They are wild as deer and difficult to approach. The practical harm they work is that gentle cattle belonging to farmers are enticed off and join this wild band. It is proposed to round them up and kill them.
"Animal Life,"
Oelwein Register,
Oelwein, Iowa, February 7, 1895, page 2
Miss Adella Vertrees returned home to Oro Fino, Siskiyou County, Tuesday.
Fred Wright died Sunday of consumption, aged 28 years. The funeral took place Monday.
W. J. Fredenburg, the enterprising young fence manufacturer, was in Ashland Saturday on business.
Jos. W. Hockersmith returned Tuesday from Gazelle, having accompanied a shipment of stock to San Francisco that far.
A. J. Fredenburg has returned from Red Bluff after an absence of some time and noted with pleasure the progress of the town.
Gen. Thos. G. Reames, the Jacksonville banker, returned Tuesday from a business trip to San Francisco. In going to the bay city he got caught at Edgewood and was right in the blockade, unable to go either way until it was broken.
That Medford will have a real live boom this year that will make the hair stand on end there is hardly any doubt. Among the buildings, besides Hotel Nash,will be a brick block by S. Rosenthal, the pioneer merchant; a two-story brick by W. B. Roberts with a possible third story by the K. of P. for a hall. W. H. Parker and Capt. Nash each contemplate the erection of elegant and costly residences.
A. N. Soliss of Jacksonville went to Salem Monday to copy the assessment roll of Jackson County in the secretary of state's office. There was a misunderstanding between county clerk Jacobs on one side and the county court, assessor Jackson and the late assessor over the matter, and Jacobs would not allow anyone to copy the roll in his office who intended charging the county for doing the work, claiming the late assessor was the party to do the work as directed by the law.
Valley Record Supplement, Ashland, February 7, 1895, page 5
Thompson & Meeker are making a splendid display of fine goods for little money. Look as you pass bay.
The oil tank for the Standard Oil Company's station has arrived and is being placed upon the brick foundation.
William Johnson has rented the building formerly occupied by Fetsch's tailor shop, on Seventh Street, and will occupy the same with a restaurant in a few days. The rooms are now being fitted up. Mr. Johnson lately came from western Washington and is accompanied by I. Hansen. Mrs. Johnson is expected in a few days.
C. C. Pletcher again calls your attention to the fact that he is here, permanently located in Medford for the practice of dentistry. He does all classes of dentistry in a neat and careful manner and does an artistic as well as a durable piece of work and with the least possible pain, which can only be proven by giving him a trial. Satisfaction guaranteed. Office in McAndrews block.
South Oregon Monitor,
Medford, February 8, 1895, page 3
Mrs. James Wright, of Roseburg, is making an extended visit with her daughter, Mrs. Wm. Churchman.
"Personal,"
South Oregon Monitor,
Medford, February 8, 1895, page 3
J. S. Schott and S. L. Jessup of this city are preparing to give stereopticon entertainments at different points throughout the valley. They are well equipped and we predict a successful tour.
W. L. Townsend removed his barber fixtures to a room on Front Street yesterday afternoon. The room formerly occupied as a barber shop in the hotel building will be utilized by the proprietors for accommodations in connection with the house.
C. C. Pletcher again calls your attention to the fact that he is here, permanently located in Medford for the practice of dentistry. He does all classes of dentistry in a neat and careful manner and does an artistic as well as a durable piece of work and with the least possible pain, which can only be proven by giving him a trial. Satisfaction guaranteed. Office in McAndrews block.
South Oregon Monitor,
Medford, February 12, 1895, page 3
RUNAWAY ACCIDENT.--F. M. Mingus met with an accident Friday evening which has confined him to his home most of the time since. While returning from Gold Hill with two companions his team became unmanageable and he was thrown to the ground and run over by the buggy. The accident occurred at a bad place on the hill just this side of that town, and Mr. Mingus was badly bruised about the head and on his side. The injuries are not severe, however, and he will be around attending his livery business again in a day or two.
South Oregon Monitor,
Medford, February 12, 1895, page 3
Al Strobridge left on the northbound train Sunday evening for a trip to his old home in Michigan.
Mrs. W. J. Plymale, accompanied by her daughter Miss Mary, went to Salem Saturday evening to remain until the close of the legislative session.
"Personal,"
South Oregon Monitor,
Medford, February 12, 1895, page 3
A. Fetsch, the Medford tailor, has moved to Grants Pass and gone in business with his brother.
"Pressed Bricks,"
Valley Record,
Ashland, February 14, 1895, page 1
The Clarendon Hotel has again changed hands.
Mrs. C. W. Palm is visiting Ashland friends.
W. A. Rummel, the Klamath River miner, was here this week.
W. H. Parker has let the contract for the erection of a fine new residence.
L. Larson of Ashland is frescoing Neuber's new saloon at Jacksonville.
Miss Mollie Miller, a Jacksonville belle, has taken a legislative clerkship at Salem.
Capt. Nash is in Portland and expects to open bids for his new hotel when he returns.
I. A. Webb and wife celebrated their crystal wedding at their home Saturday evening.
Miss Jessie Langell is visiting at Klamath Falls, the guest of Mrs. Judge Hale and other relatives.
John Crawford, a mining man of Scott Valley, Siskiyou County, was here this week, returning Wednesday.
Circuit Judge H. K. Hanna returned Monday from a visit of several weeks with his family at Oakland, Cal.
Assessor Geo. A. Jackson was in Ashland yesterday preparing to make his assessment and census enumeration.
Wm. Ulrich, manager of the pork-packing company, was doing Ashland Monday. He will give $1000 towards a court house to have the county seat moved to Medford.
P. J. McGee returned Sunday from a visit with his sister, Mrs. John B. Taylor, in Ashland precinct, whom he had not seen in four years.
Miss Jo Nunan who was at Vancouver, Wash., paying Miss Wall a visit, was called home and came Tuesday morning, while Miss Fannie Nunan, who had just resumed her studies at an Oakland, Cal., school arrived home Tuesday evening.
County Recorder Rawlings spent Sunday in this city with another newcomer from Iowa. Mr. Rawlings is worse than a real estate agent in bringing new settlers to Jackson County from his old Iowa home.
The R.R.V.R.R. have formally announced to the Jacksonville town trustees that in order to extend their line to Sams Valley the town must buy 10 acres of land in the neighborhood of Hanley Butte The matter is under advisement.
Walter S. Moss was here Monday in the interest of the Calhoun Opera Co. of 60 people who appear at the opera house Saturday evening. This is the only opera co. of any size that has exhibited in Jackson County. Moss will next season bring to Oregon Iola Pomeroy, a clever soubrette and daughter of the celebrated Brick Pomeroy.
Valley Record,
Ashland, February 14, 1895, page 3
Buy your cigars, tobaccos and candies at Lee Cown's, opposite opera house.
The county court has established the following rates of peddler's license: 2-horse vehicle, 3 months, $20; 1-horse vehicle, 3 months, $15; 1 pack animal, 3 months, $10; foot peddler, 3 months, $5. They are entitled to a license for a shorter period of time by paying to the county treasurer 25 cents per day.
South Oregon Monitor,
Medford, February 15, 1895, page 3
S. L. Jessup and J. S. Schott went to Talent Wednesday, where they gave a stereopticon entertainment in the evening which was well attended.
Mrs. D. High of Ashland, who has been visiting at the home of her parents, Mr. and Mrs. F. B. Barneburg of this city, returned home Wednesday morning.
Misses Etta Medynski, Minnie Worman, Jessie Benson, Edith Van Dyke and Messrs. Robert Faucett and E. E. Van Antwerp, of Medford, are among the applicants for teacher's certificate at Jacksonville.
"Personal,"
South Oregon Monitor,
Medford, February 15, 1895, page 3
NEW LAW FIRM.--Capt. W. S. Crowell has purchased an interest in the legal business of attorney W. H. Parker and entered into a partnership with him for the practice of law. Mr. Parker has been practicing his profession here for some years and been a resident of Jackson County many more, consequently is widely known. Mr. Crowell has been residing near Medford about two years, arriving here from five years' service as U.S. Minister at one of the ports of China. Previous to receiving the appointment to that position he had for many years enjoyed a lucrative law practice at his old home in Ohio. He stands well with the profession, and his large experience will add to the public confidence in the new firm.
South Oregon Monitor,
Medford, February 15, 1895, page 3
NEW FIRM.--John W. Thomason and Jas. Gilchrist have formed a partnership and purchased the interest of T. A. Ireland in the Clarenden Hotel. The firm will be known as Thomason & Gilchrist, and as the gentlemen are experienced hotel men, are well assured of a successful business.
South Oregon Monitor,
Medford, February 15, 1895, page 3
Mr. and Mrs. G. W. Needham have sold their beautiful home in this city, and will depart in a few days for Medford, Or., where they expect to reside in future.
"Society: Vancouver,"
Sunday Oregonian,
Portland, February 17, 1895, page 10
The second-hand store of John H. Morris was broken into last night and a number of articles taken. Among them are three revolvers, six knives and a Winchester rifle. Entrance was effected by breaking the glass in the front windows. No clue has yet been discovered which would lead to the identity of the burglars, although every effort is being taken to apprehend them.
"Another Globe-Trotter,"
Morning Oregonian,
Portland, February 18, 1895, page 3
W. H. McGowan is making preparations for putting in a complete stock of groceries with his China Bazaar.
It is reported that gray wolves, driven from the mountains by the snow, have been heard in the neighborhood of Prospect.
School Clerk Garl T. Jones is taking the census of this district, as required by the law providing for apportionment of state school funds.
J. H. Norris, who has been a resident of Medford only a few months, has purchased an interest in the hardware store of J. Beek & Son, and the firm will hereafter be known as J. Beek & Co.
The big patent from the United States to the Oregon & California railroad company has been placed on record in the recorder's office at Jacksonville. It fills over twenty pages of the records and includes 152,4099.43 [
sic
] acres.
The Y.M.C.A. held their regular meeting at the M.E. Church South last Sunday afternoon and will continue to meet at the same place every Sunday afternoon at 4 o'clock until other arrangements are provided.
O. U. Husted, of Central Point, was in Medford the first of the week. U. M. Damon has the agency for Mr. Husted's system of electric bells, and that gentleman was here to assist in putting in two services. I. A. Mounce and E. Wilkinson each had bells put in their business places.
South Oregon Monitor,
Medford, February 19, 1895, page 3
Store Burglarized.

The second-hand store of J. Morris on the west side near the Clarenden Hotel was entered by burglars last Saturday night and about $20 worth of goods stolen.
The discovery was not made until Sunday morning, and the thieves had ample time to cover their tracks leaving no clue.
The articles taken, according to Mr. Morris' statement, were three revolvers, a Winchester rifle and a lot of spoons and knives. Marshal Churchman is making an effort to apprehend the robbers. This is the first burglary reported to the Medford officials for several months.
South Oregon Monitor,
Medford, February 19, 1895, page 3
STOCK SOLD.--Assignee D. T. Lawton has sold the stock of groceries in the Wilson store to W. H. McGowan & Co. This firm has moved them to the stand occupied by the China Bazaar opposite the Clarenden Hotel, and will add to the stock. The fixtures of the Wilson store have not yet been sold, and the assignee states that it will be at least three months before final settlement is completed.
South Oregon Monitor,
Medford, February 19, 1895, page 3
BORN.--Neil H. West, a former resident of this city but now a sturdy rancher of Reno, Nevada, was presented by his wife, Mrs. Julia West, on the 14th inst. with a 10½-pound girl baby valentine.
South Oregon Monitor,
Medford, February 19, 1895, page 3
VETERINARY SURGEON.--Dr. G. M. McDonald has located at Medford permanently. During the next few weeks he can be found at the Hotel Medford or either of the livery stables in this city. After that time his headquarters will be at the fairgrounds racetrack near Central Point, although he will make regular trips to accommodate the Medford practice. His work so far has shown that he has a thorough understanding of his profession, being unusually successful.
South Oregon Monitor,
Medford, February 19, 1895, page 3
Miss Carrie Roper was the guest of Medford friends Saturday.
Ex-Senator Cameron is taking in the closing days of the legislature.
Seymour Palton was up from Grants Pass having his eyes doctored.
W. I. Vawter was a visitor to the legislature this week, as also was Chas. Nickell.
The second-hand store of J. Morris in Medford was burglarized out of $20 worth of goods Saturday night.
Rev. E. E. Thompson has been doing Grants Pass in the interest of the proposed $10,000 Y.M.C.A. block.
H. T. Booth of the state insurance company has appointed C. M. Talbott agent for Ashland and Mr. C. will soon move there.
The free silver anti-Dolph Republicans here were put in great excitement when Senator McGinn went to Ashland Wednesday and all kinds of rumors and speculations were rife.
The bond of Sheriff Patterson as tax collector has been approved in the sum of $20,000, with the following sureties: W. F. Songer, $1000; John Murphy, $1500; John Holton, $2000; D. B. Provost, $4000; S. U. Alfred, $1000; W. C. Butler, $1500; Joshua Patterson, $2000; Fred Hansen, $3000; O. Harbaugh, $2000; B. F. Myer, $2000.
Valley Record,
Ashland, February 21, 1895, page 3
Mr. and Mrs. G. W. Needham departed last Tuesday for Medford, Or., where they expect to reside in future.
"Out of Town: Vancouver,"
Sunday Oregonian,
Portland, February 24, 1895, page 10
Mrs. Sarah Justus, wife of George R. Justus, died at her home at Medford Thursday evening of heart disease. She had done the washing and cooked supper, of which she ate heartily. Soon afterward, she said to her husband that she would make her mother a dress. She started to cut out the cloth, but complained of feeling faint, and died immediately. She was twice married. Her first husband, George McKnight, died here of heart disease about 15 years ago. She leaves a grown son by her first husband and an adopted daughter.
"Little Boys and Gunpowder,"
Morning Oregonian,
Portland, February 25, 1895, page 3
Medford is to be blessed with a new band.
"Late News Items,"
Capital Journal,
Salem, February 26, 1895, page 2
The diphtheria cases at Medford and Phoenix are being treated by the anti-toxin method, a bottle of the serum having been procured in Portland, and the result is highly gratifying.
"News of the Northwest,"
Morning Oregonian,
Portland, February 28, 1895, page 4
CLARK.--Died, at the home of his son, J. A. Clark, in Big Bend, Feb. 21st, Reuben Clark, aged 88 years, 8 months and 21 days. Deceased was born in Shutesbury, Mass. April 30th 1806, and emigrated to Ludlow, Vermont, at the age of 18 years. He was married Dec. 2, 1828 to Lucy K. Dodge, daughter of Moses Dodge of Andover, Vermont, with whom he lived fifty-one years, more than thirty years of which was spent in Rutland County. In 1862 he emigrated to Wisconsin, where several of his children were settled, and made a home in Big Bend. He was a constant attendant of the Free Baptist church, where he partook of communion a short time previous to his death. He leaves fifty-six living descendants, and the children who still survive are Mrs. H. P. Jackson of Lebanon, Dakota; B. F. Clark of Beulah; Carrie Damon of Medford, Oregon; Emeline Jackson of Muskego; W. R. Clark, J. A. Clark and Miss L. A. Clark of Big Bend.
"Deaths,"
Waukesha Freeman,
Waukesha, Wisconsin, February 28, 1895, page 1
Wm. Ulrich was in Ashland and the south this week.
W. S. Barnum returned Tuesday from a two weeks' sojourn to Los Angeles, Cal.
Morton Lindley of the Lucky Bart arrived from Sacramento yesterday, to remain 10 days.
Representative J. A. Jeffrey is announced to speak at Central Point Saturday evening on the work of the legislature.
The populists are well pleased with the splendid manner in which the Jackson County People's Party legislators acquitted themselves during the session.
The sum of $7000 for the proposed Y.M.C.A. building has been subscribed and a building association will soon be organized to begin the construction of the edifice.
Fisher & Kaufman have closed their store and shipped the goods to Centralia, Wash. S. Rosenthal has leased the room vacated and will use it while he is building his new brick block.
The soldiers home was properly investigated and makes racy reading. Perhaps if other state institutions were also investigated by a freelance committee similar results might be probed.
A cup of Parks' Tea at night moves the bowels in the morning without pain or discomfort. It is a great health saver and blood purifier. Sold by E. A. Sherwin.
Valley Record,
Ashland, February 28, 1895, page 3
Dr. E. B. Pickel, of Medford, Ore., was the first doctor in Oregon to use antitoxin in a case of diphtheria, securing a supply of the product from Dr. Mingus, of this city.
"Personals,"
The Medical Sentinel,
Portland, 1895, page 207
The Medford brewery has started up again, after being idle several months.
"Oregon,"
Omaha Daily Bee,
Nebraska, March 4, 1895, page 5
The well in Odd Fellows cemetery at Medford is down 246 feet and still there is not enough water to supply the demands of a windmill, but the lodge has given orders to go deeper and keep going until a sufficient supply of water is found. The well has cost thus far $371.25.
"Northwest News Items,"
Capital Journal,
Salem, March 6, 1895, page 2
There is another dry goods and grocery establishment in Medford, or at least there will be one in a few days. The new firm is made up of W. L. and P. J. Halley, and firm name and style will be "Halley Bros." Their place of location is in the McAndrews block--recently vacated by the big T store. Tuesday morning workmen were at work removing partitions and calcimining the walls. A large amount of the new firm's goods are already here, and about March 15th they will be placed on the shelves and counters and in shape for inspection--and sales will then open, or at least the boys hope they will.
Get a sack of Snowball flour--Lumsden & Berlin, grocers, our agents.
A little precaution sometimes, in fact ofttimes, prevents a considerable amount of unnecessary inconvenience and perturbance. In this line of thought we want to suggest to the people of this city that it would, right at the present time, be a very sane idea not to use the water from the city water works for laundry use or any other domestic purposes so long as there remains a case of diphtheria at Phoenix. The water used by the city is taken from Bear Creek and flows through the above place, and it is possible that germs diphtheric may be contained therein. As a precaution don't let's use it, for a few weeks at least.
M. Purdin, ex-landlord at Hotel Medford, who is now in California, has decided to return to Medford and ply his vocation of former days, that of blacksmithing, he having purchased G. F. Merriman's tools of trade. Mr. Merriman, we understand, will leave for Salem, his new home, in about two weeks.
"News of the City,"
Medford Mail,
March 8, 1895, page 5
Medford has a board of trade, Captain Crowell, president; J. A. Whitman, secretary.
Capital Journal,
Salem, March 9, 1895, page 1
Medford school district is $10,633 in debt.
"Northwest News Items,"
Capital Journal,
Salem, March 12, 1895, page 2
Oregon Pioneer Kills Himself.
PORTLAND, Ore., March 13.--William M. Sells, an Oregon pioneer of 1852 and member of the family of circus renown, committed suicide at Garfield, Wash. He served in the Indian wars of Rogue River Valley in 1853 and 1855.
Clinton Morning Age,
Clinton, Iowa, March 13, 1895, page 1
Miss Ora Justus is visiting in Seattle.
Francis Fitch was in Portland this week.
Mrs. Maggie Harris was visiting Ashland Monday.
Crescent City, Cal., had three shocks of earthquake last week.
Mrs. Lippincott returned from a visit with Ashland friends.
The infant child of Allen Bish died last Thursday, aged 9 months.
J. W. Beatty left today for Ethel, Mo., to take charge of a farm.
A. C. Dixon, the Ashland lumber dealer, was here yesterday.
Mrs. I. L. Hamilton was dangerously ill this week with heart disease.
Fred McCullough, a relative of the Stewarts, is studying medicine with Dr. Geary.
Mrs. Lon Walbridge left Sunday to visit her mother, Mrs. Crain, at Galt, Sacramento County.
Rev. Father Desmarais, of Marshfield, has succeeded Father Faber and has assumed charge of his parish.
For a clean shave or neat haircut and bath go to I. E. Deboy. who repairs watches and jewelry, Gold Hill.
Gen. T. G. Reames returned Sunday from a business trip to San Francisco in the interest of Wm. Bybee.
Medford has a Commercial Union with W. S. Crowell, president; Henry Klippel, vice-president; J. G. Whitman, secretary, and J. E. Enyart, treasurer.
Mr. and Mrs. S. F. Morine, of Tolo, have taken up their residence in Medford, Frank having postponed their moving to Arizona until he makes another trip there.
J. B. McGee was in town Tuesday from San Francisco, and intends throwing up the receivership of the Riddle Nickell mines if something does not turn up soon.
M. Purdin returned Saturday from Oakland, Cal., and is having a dwelling house built on his lots. Mrs. Purdin and the children stopped at Sisson and will remain there until their new home is ready. Mr. Purdin has bought Merriman's blacksmith shop and will go into his old trade again.
E. D. Rose, well known in Jackson County, returned Tuesday from a trip to his old stamping grounds in Iowa, Kansas and Nebraska. His numerous friends were somewhat surprised to learn that he did not return home alone, but brought with him a fair bride, the lady's name being Mrs. Hibbard of Creston, Iowa, and the wedding occurred there about the middle of February. They will live in Medford.
Valley Record,
Ashland, March 14, 1895, page 3
Medford, March 12.--Roadmaster Galvin has been at work the past week fencing the Southern Pacific Company's right of way north of Medford, and today was compelled to cease operations. He built a fence upon land owned by H. L. Hollingsworth last week, and it was pulled up and destroyed, and today Mr. Galvin went down with three crews of section men and again put up the fence, and was met by Mr. Hollingsworth with two shotguns, who threatened to shoot the first man who set foot on his land. They then went on to the land owned by John Oconder and put a fence across his land, but he pulled up the posts as fast as they were set. The company put up this same fence about a year ago, but it was all pulled up, and it is understood that legal assistance will be asked for and the fence built again.

Valley Record,
Ashland, March 14, 1895,
page 3
Prof. Head is having a new house built.
Phil Klippel of Kansas is visiting his relatives in this section.
Lawyer Crowell went to Ashland Monday on professional business.
Architect Bennet was in Ashland this week planning the work of a large brick block.
An A.P.A. council with 25 members was organized at Medford last week by a delegation from Ashland.
A letter from Kaspar K. Kubli denies the report that he has been converted or intends going to China as a missionary.
Landlord DeRoboam is having the U.S. Hotel at Jacksonville painted, which greatly improves its outward appearance.
Weeks Bros. are putting up some very fine furniture at their shop at Phoenix. You can get just what you order and things just to suit.
F. J. McHenry, state deputy head counsel, Woodmen of the World, is in Medford organizing a lodge, after which he will visit Ashland on the same business. He is from Portland.
Jacob Pheister leaves this week for a visit at his old home in the East. Robert Leonard, the rustling agent of the N.P., ticketed him through.
Day Parker is again about Medford, having closed a successful winter's term as principal of the Gold Hill public school with Miss Rosa Griffiths as assistant.
Dr. C. Minnis, formerly of Medford. was taken up by the police for insane in the railroad yards in Kansas City, Kansas, while wandering aimlessly about. He was from Portland on a business trip.
Senator Holt returned Monday from Oregon City and Portland where he presided at the farmers alliance convention and at the conference of labor clubs in Portland. The
Oregonian
of Thursday and Friday gave the labor meeting and Senator Holt's speech quite an extensive notice.
Henry Blackman, a U.S. internal revenue collector for Oregon and Washington, was here this week, being accompanied by Col. W. H. Yarborough, connected in the same service at Washington, D.C., and his, Blackman's, deputy, Col. A. J. Barlow of Gold Hill.
Rev. Father J. Gibney, of Portland, one of the ablest pulpit orators of the Catholic church in the Northwest, will in the near future be placed in charge of the Catholic church of the Southern Oregon parish with headquarters at Jacksonville to fill the place now temporarily in charge of Father Desmarais of Coos Bay
The case of the state vs. G. W. Hamlin, charged with assault with intent to kill his sister, Mrs. Rosanna Wilson, was tried before Justice Walton Friday and resulted in a dismissal, Dist. Attorney Benson having made another brilliant failure. Crowell & Parker ably defended Hamlin. The scrap occurred over the marking of the division fences and is one of the links of the bitter contention of the heirs of the late James Hamlin. It was demonstrated that both sides to this family quarrel are well-equipped with pugnacious fighting ability.
Valley Record,
Ashland, March 21, 1895, page 3
Near Medford, last Wednesday, a 4-months-old baby of Mr. and Mrs. George Garrett was lying in a rocking chair near the fireplace, in which a hot fire was burning, when another child, 2 years old, came up from behind and tipped baby, chair and all into the fire. The child was quickly rescued, but not until one side of its face and neck were badly burned. For a time it was feared the child would not live, but it is now improving.
"Northwest News Items,"
Capital Journal,
Salem, March 27, 1895, page 1
Frank Hays has gone to his home in Eastern Oregon.
R. F. High, the tonsorial artist, was doing Ashland Tuesday.
Pelton Bros. shipped beeves to Portland from Central Point Monday.
Jos. G. Pierce spent Sunday in Medford en route from Seattle to Klamath Falls.
Judge W. H. Reid of Tacoma arrived this week to look after his mining interests.
A. N. Berlin, of the enterprising firm of Lumsden & Berlin, was at Montague this week on a business trip.
J. F. Bragg was here this week arranging for the appearance, April 10th, of Miss Carrie S. Rudolph, the elocutionist.
Miss Meta Woody, the amiable daughter of J. H. Woody, one of the solid farmers of this section, was married to C. E. Hukill this week.
Al. Bell and Wm. Pruett left Tuesday for Reno, Nev., to work on ranches until fall. Henry Richardson, son of Jesse Richardson, is there.
J. W. Thomason turned the Clarendon Hotel over to T. A. Ireland and the latter disposed of the same to S. S. Wilson, who will conduct it hereafter.
The residence of Mr. Jones on the Henry Pankey place at Table Rock was destroyed by fire together with its contents last week, during the absence of the family.
Gottlieb Elksnat, the skillful and experienced surveyor, went out to Klamath agency again Tuesday to remain until fall surveying out the government allotment. There are about 800 allotments to be made yet.
The city council has awarded the contract for the extension of the city water works to J. Beek & Co., the enterprising hardware firm, for $1332.79. They are to furnish the material and complete the work. There will be 1520 feet of 4-inch pipe added to the system.
Father Desmarais preached his farewell sermon Sunday morning and took his departure in the evening for Jacksonville, where he will locate. He leaves many friends here who regret to see him leave, but wish him abundant success in his new field of labor. Rev. Father Gibney, formerly of Astoria, will have charge of this parish. He is here and will no doubt be very well liked.--
Marshfield Sun.
Valley Record,
Ashland, March 28, 1895, page 3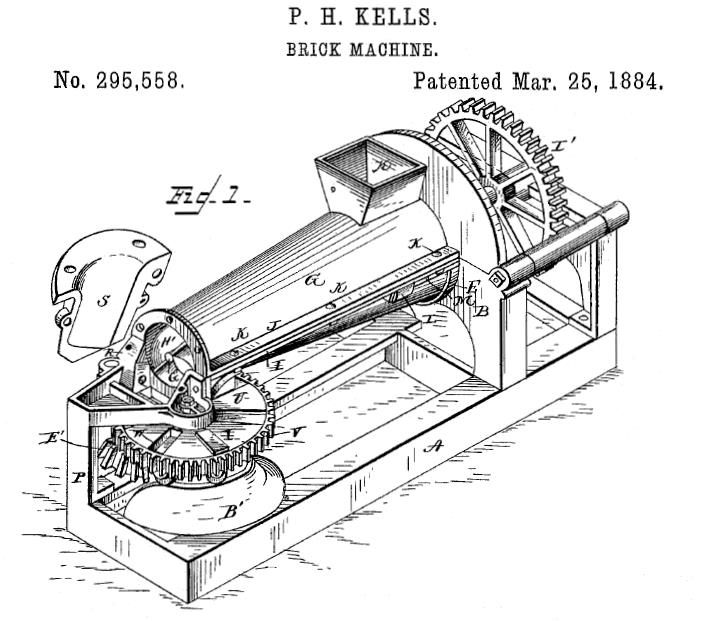 Spence Childers is making ready to manufacture brick in quantities great in number. This week he received a Kells & Son brick machine, which has a capacity of 20,000 brick per day. The machine arrived Tuesday and was taken at once to the brick yard, east of Medford, where in about ten days' time it will begin grinding. The machine is so constructed that very little water is required in its use, in consequence of which the customary drying process is done away with, the brick only requiring about two days' airing while stacked up in "hacks" before they are ready for the kiln. Mr. Childers will operate the machine with steam power, he having rented Mr. Cock's engine for that purpose. Twelve men will be employed. A kiln of 20,000 will at once be gotten ready for burning, after which a second one to contain from 400,000 to 500,000 will be filled and burned.
"News of the City,"
Medford Mail,
March 29, 1895, page 5
Notes from East Medford.

While every individual spot in Medford is taking on some new garment of beauty and improvement this spring it is a noticeable fact that East Medford is a pace or two in advance of some other localities. A brief mention of the condition of affairs as they exist east of the Bear Creek bridge would doubtingly be of interest to many of our readers. With this thought in mind a
Mail
reporter wandered thitherward last week, and this is what he found:
The first place on the right as we cross the bridge is where W. D. Beidleman, the harness maker, has an eight-acre tract of land, well fenced, well cultivated and in excellent condition for small fruits and vegetables. The house is occupied by Mr. Belknap.
Next east from this is an eight-acre reserve owned by P. B. O'Neil. This is a fine building place, and many admiring glances are cast that way by the gentle sex as they pass. It seems a little strange that Barney should reserve one of the best home sites on that side of the river, unless he has some designs upon the affections of some of Medford's fair daughters.
H. Tripp is next east with an eight-acre tract, which he is fitting up in splendid shape. He is at present living in a building which will eventually serve as his barn. During the coming summer he will erect a fine dwelling house on his property--one that will be an ornament to any locality. The gentleman is putting out several fruit trees and much shrubbery this spring. His will be a beautiful home when fitted up as mapped out.
J. S. Hagey has the adjoining eight-acre tract. Upon this he has erected a small dwelling--to be the kitchen part of his proposed new residence--and a large barn. The place is well put out to fruit trees. These grounds are being well cared for, and if persistent efforts, money and a good soil can make a home of beauty, his will be such an one.
Next east is an unimproved acre tract owned by J. R. Brown, and alongside of this is Perry Stewart's place, of two acres. Mr. S. has recently built a new house on his property, and in due time he will be strictly in the surf with his neighbors, with fruit trees and flower garden galore.
Mr. Shott has the adjoining acreage, upon which is a small dwelling, fruit trees and a vegetable crop. The place is now occupied by T. J. Lewis, the miner, who is one of the best informed gentlemen upon mining matters in these parts and who has traveled extensively throughout the mining districts of nearly the entire world--and is nothing slow in proclaiming this is the garden spot for the product of the golden fruit. He now owns a rich mine west of Medford about eight miles.
Hy-as ty-ee Betseyannspikes John R. Hardin lives next east, and is at home to all friends. His place embraces two and a half acres of land, and it is well cultivated and planted to fruit trees and shrubbery. He has a fine residence and is daily adding improvements to his splendid home. John is a miner in every sense of the word, and turns many an honest dollar to good use from that direction. His congeniality knows no bounds, and he continues to make new friends.
One notch farther east is the four-and-a-half-acre tract owned by G. P. Lindley. Upon this place Mr. Lindley has built a fine large residence, to which he has recently added a 14x18-foot addition. His other buildings are in keeping with the dwelling, and the entire surroundings show plainly the marks of the gentleman's industrious hand. Walks have been laid, fruit trees set out, and all is a promise of much beauty.
The Russ nursery comes next, but it is too elaborate an institution to give mention of in connection with this brief writeup.
Next week we will round up the people on the north side of East Medford's main street.


Medford Mail,

March 29, 1895, page 8


Walter Plymale went to Salem Saturday.
C. H. Pickens is a resident of Boise City, Idaho.
Jimmy Wilson, son of the Jacksonville postmaster, has returned to San Francisco to prosecute his pharmaceutical studies.
Mrs. Taylor Payne has returned from a visit with her father at Junction.
G. Elksnat, who went to Klamath County to do the allotment surveying, had to return on account of the winter hanging on too late out there.
W. L. Miller, of the Oregon City land office, is visiting his home in Jacksonville.
A. J. Stewart and wife have returned from their Old Mexico residence.
T. K. Roberts expects to start a newspaper at Gold Hill,
The Miner,
in about two weeks.
Deputy Head Consul F. J. McHenry, of the Woodmen of the World, organized Medford Camp No. 90 with the following officers: Geo. F. Merriman, Consul Commander; W. J. Bennet, Adviser Lieutenant; J. H. Redfield, Escort; W. H. Meeker, Banker; C. E. Wolcott, Clerk; John Bellinger, Watchman; Lee Cown, Sentry; A. S. Hammond, Gus Newbury and Dr. E. P. Geary to constitute the board of camp managers. Dr. Pickel was recommended as camp physician.
Valley Record,
Ashland, April 4, 1895, page 3
Report reaches us that boys, who would like to be men, and who want to act like men--real bad ones--are in the habit of congregating in old sheds and various other unused buildings about the city, and there put in their time playing poker; of course in a mild way, with only a nickel ante, but the habit is sufficiently alluring to take the boys from their homes and make gamblers of them. Parents should exercise the greatest possible vigilance in this matter and break up these little gatherings, which if diligently followed up cannot fail to result disastrously to the young men of our city.
Hon. J. D. Whitman suggests that it would be a good business proposition for the fruit growers of the valley to unite and thoroughly test the efficiency of smudging for the protection of fruit from possible frosts. If all were to prepare for such an occasion by piling straw, manure or brush through and along the sides of their orchards, and when the thermometer reached a certain degree at which frosts might reasonably be expected to appear, touch[ing] a match to the heaps, a cloud of smoke would o'erspread the valley that would keep back a frost of more than ordinary severeness.
"News of the City,"
Medford Mail,
April 5, 1895, page 5
Notes from East Medford.

Last week time and space put up the bars against our finishing the brief writeup of East Medford which that locality so richly deserves and which we had promised our many readers thereabouts. We fixed up the south side of that part of town last week. We will begin our return to the city on the north side--first assuring our readers that none of the beauty and general worth of the locality has fallen away from itself during our week's rest.
The first place we come in contact with is the very fine ten-acre tract of land owned by S. W. Speas. Upon this property is situated a very snug little residence, something of a farmhouse style, and located upon a slight eminence surrounded with other buildings in keeping with the general neat appearance there abounding. The gentleman has a splendid orchard, all of which is now bearing fruit. This property is on the market in tracts of from one to five acres--and a most desirable purchase it will be for he who gets any part of it.
Next west is a two-acre tract owned by J. C. Ferguson and recently purchased from Mr. Speas. Upon this Mr. Ferguson will erect a dwelling house during the coming summer.
One of the largest and most beautiful residences in all Medford is situated adjoining Mr. Ferguson's property, the same being the home of attorney G. W. White. The gentleman has 2½ acres of land which he is now fitting in splendid shape for nature to put on the finishing touches of beauteous green. In speaking of Mr. White's residence we could not do it justice if less space than half a column of type was taken; suffice it to say that it is a structure of much beauty, convenience and grandeur throughout. It was built last summer at an expense not small in figures, but its appearance and general usefulness of today evens up with the expense very nicely.
L. G. Porter's home comes next in the line of our progression. Mr. Porter has five acres of land, all under splendid cultivation, and well set to fruit and shrubbery, and all carefully cared for. His residence is not as large as his immediate neighbors, but it is equally as beautiful and quite as convenient.
Merchant Wm. Angle's large new house looms up most prominent and grand next in our path. This residence, like most others on the east side of the river, is new, fresh and beautiful, while the surroundings are being put in excellent shape both in way of added beauty and wealth of productions of fruits. Mr. Angle can justly lay claim to a home second to none. He has 2½ acres of land, all of which is under splendid cultivation.
Adjoining Mr. Angle's home is an acre tract of land owned by B. F. Crouch and upon which he soon expects to build.
In the interval of our writeup last week and this week one new residence has been built on the south side of the street, by Mrs. Butler, recently from Harrisburg.
Medford Mail,

April 5, 1895, page 8


Miss Alta Brous, of Medford, Oregon, is visiting her uncle, A. H. Brous, for a few weeks.
"Prairie City,"
Newton Record,
Newton, Iowa, April 5, 1895, page 10
Mrs. Thos. Roberts has returned home to Ashland from a visit with her sister here, who has been ill.
Mrs. Wm. Slinger and Mrs. Nicholson have gone to Hastings, Mich., and Grinelle, Iowa, on a visit. Robert Leonard, the Northern Pacific ticket agent, was here Monday ticketing them over his lines.
Col. D. D. H. Yeager, the Jenny Creek timber land cruiser, was here last Saturday and took Dr. Jones and L. L. Angle out to Jenny Creek Sunday.
Mrs. Fred Klippel and children are here from Omaha to spend the summer with Hon. Henry Klippel.
Chas. C. Chitwood, an experienced druggist of Ashland, is engaged in G. H. Haskins' drug store and also assists at the hello-ing on the telephone.
The pork packing company are shipping their second carload of pork to Portland this month.
S. Rosenthal's brick block is going upward.
Rev. E. E. Thompson of the firm of Thompson, Van Dyke & Co. returned Sunday from a business trip to San Francisco.
J. A. Whiteside came down from Salem Monday and left yesterday for California.
The Southern Oregon Presbytery is in session here.
Valley Record,
Ashland, April 11, 1895, page 3
Grand Opening.
Goldstein & Nudelman, the proprietors of the Eastern Second Hand Store, are prepared to sell you anything in the line of second-hand goods. They also have a large line of new house furnishing goods, which they will sell at lowest cash prices. Store, corner of Eighth and F streets, south of Clarendon Hotel.


Medford Mail,

April 12, 1895, page 5


W. L. Miller of Jacksonville returned to Oregon City Sunday.
S. F. Morine of Hotel Medford went to Ashland Wednesday.
Mrs. Robt. Taylor of Ashland visited Medford friends Wednesday.
Gold Hill is to have horse racing, foot racing and a dance on May Day.
The Barneburgs shipped a carload of their fine beeves to Salem Monday.
The Medford public school observed Arbor Day with appropriate exercises.
John Reuter, a Portland medical student, is visiting his family at Jacksonville.
Mayor Haskins and B. S. Webb were over their telephone line to Ashland Saturday.
Mrs. K. Kubli has been elected a delegation to the state Rebekah convention from Jacksonville.
Miss Bertie Jones and her escort were visiting Ashland Sunday, taking dinner at Hotel Oregon.
Mrs. H. K. Hanna and son Leon returned to Oakland, Cal., after a visit with the judge at Jacksonville.
Miss Mollie Barneburg and Mrs. John Barneburg were visiting Ashland friends this week on horseback. The ladies make a dashing appearance riding fiery steeds.
The Eldrianna townsite boomers have sold $8000 worth of lots in their paper city on Butte Creek. The buyers are all in the neighborhood of Chicago.
J. C. Hannah, of Rogue River, is supplying the valley towns with some fine ornaments of various descriptions manufactured by himself out of the potter's clay of Evans Creek. John Nyswarner is delivering it.
E. Henrietta, of Portland, died in Medford Tuesday of consumption, aged 35 years. He was accompanied to Medford by his wife and they had been there only five days.
Valley Record,
Ashland, April 18, 1895, page 3
Miss Irene Chitwood, of Ashland, has moved to Medford to keep house for her brother, C. C. Chitwood, who is running Mayor Haskins' drug store. Miss Lillie Watson was visiting them this week.
Mrs. C. W. Palm returned Sunday from a visit with the Johnson family in Ashland.
Mrs. R. S. Taylor of the Taylor house at Jacksonville has been at death's door the past week with pneumonia.
J. H. Wilson, son of Wm. H. Wilson, died near Medford Monday, aged 23 years, 4 months and 21 days. He was buried at Jacksonville Tuesday afternoon.
James McPheren, who bought 40 acres from W. Griffith on the old Jacksonville stage road, is having a neat residence built thereon by B. F. Crouch.
Geo. Isaacs, the tonsorial artist, is off on a trip to Siskiyou County.
H. B. Miller has sold a two-year-old pacing Altamont filly to Fred Farmer of Portland for $500.
Ed. Helms of Eugene has returned to Jacksonville to remain.
There was a three-cornered business deal in Medford this week by which Isaac M. Muller retires from business in this city, and his stock of furnishing goods are taken by Thompson, Van Dyke & Co., who will also take his stand, and Chas. W. Wolters takes Muller's groceries and Wolters turns over to Thompson, Van Dyke & Co. the goods he kept in their line. Mr. Muller will soon move to Gold Hill and take charge of the store of Dr. A. C. Stanley, of which Max Muller is assignee.
The ownership of the distillery is now in the circuit court. G. W. Bashford secured a one-sixth interest in the property two years ago, Medynski & Theiss being the original owners and the parties who started and built the distillery. They owned the big distillery that was finally driven out of Des Moines, Iowa, by the prohibition law, after fighting the cold water people of Iowa several years. But the cause of their present trouble is not cold water people. The gold bug with his gold basis prostrated and sandbagged the prosperity of the country and debts contracted a few years ago cannot be paid now. F. V. Medynski applied to the circuit court for the appointment of a receiver and a dissolution of copartnership, B. P. Theiss and G. W. Bashford being defendants to the suit. Medynski accuses the defendant of wrongful and fraudulent mismanagement of the firm's business.
Valley Record,
Ashland, April 25, 1895, page 3
Miss Lillie Watson returned to Ashland Tuesday.
W. P. H. Legate was in Ashland Tuesday on a mining deal.
J. A. Hanley was doing Ashland Tuesday on a business trip.
Mrs. D. L. Minkler of Ashland was visiting Medford friends this week.
Ex-Marshal Wes Johnson and Miss Hallie Hoyt were married at Grants Pass yesterday, Wednesday.
Col. and Mrs. Edward Hill left Monday for Edsons' at Edgewood, after which they will visit San Francisco.
Geo. W. Francis, who recently retired from the grocery business at Nashville, Mich., is here looking for a location.
Supt. Newbury will hold the quarterly examination for teachers' certificates in the Medford public school house on May 8th.
S. Rosenthal has purchased Dr. Stanley's Gold Hill stock of merchandise for 50 cents on the dollar and will add it to his Gold Hill store.
Representative John A. Jeffrey went to Ashland Tuesday to defend Mrs. D. B. Reame in a criminal action against her by Epps & Co., of Phoenix, over a mining claim ditch.
Geo. S. Howard while returning home in Sunday evening stumbled and fell on the railroad track, breaking the large bone of his right leg, above the ankle.
The contract for the erection of another addition two stories high and alongside of the Hotel Nash was let to Fred Patterson of Roseburg for $6500. The work of erecting the same will begin at once. Capt. Nash will then have a fine piece of property.
Valley Record,
Ashland, May 2, 1895, page 3
Miss Gertie Wheeler of Fort Jones, Siskiyou County, is visiting Medford friends.
A. C. Squires, who returned from Missouri, will move to Kansas with his family soon to locate.
W. P. H. Legate returned Wednesday from a trip to Klamath River towns and Sisson, on a mining deal.
Chris. Thompson, who has been in New England for several years, is visiting pioneer friends of Jackson County.
Miss Mamie Isaacs returned Tuesday from a two weeks' visit with Ashland friends, the guest of Miss Elsie Patterson.
Miss Emma Howard, Wells Fargo's agent at Ashland, and Thos. James, the mining expert, attended the concert Tuesday.
The May dance at Rose's hall on Applegate was attended by about a hundred dancers. Rose's hall is celebrated as a successful place for first-class country dances where pleasure reigns supreme.
Valley Record,
Ashland, May 9, 1895, page 3


There is some talk of establishing a circulating library in Medford. That all cities the size of this need such an article isn't questioned, but the how to get it is a problem difficult to solve. It has been suggested that a subscription paper be started and, if an amount equal to $200 can be raised, start the library with this amount and add to it as money can be secured from various other sources. There is no doubt but that a library would be self-sustaining, in fact, it ought to return a revenue. This amount could be applied to the purchase of new books and ere many years had been numbered with those already gone we could have a library of which each of us would be proud. Perhaps some of our people would make donations of books to the library, or perhaps they would loan a few copies of different works. Agent Lippincott and attorney Crowell are fathering the library proposition, and any suggestions or donations you have to offer will be received by these gentlemen.
Photographer H. L. Miser has been taking pictures of other people's babies for a time without date, but now there is an opportunity given for him to do a little work of this nature in his own family. Last Saturday there arrived at his home "one of the cutest little subjects" for a picture in the city--a girl baby, and all parties are happy and healthy, and H. L. is a "bigger man as Grant."
The ad of Mackey, the photographer, appears in another column of today's

Mail.

The gentleman is here for a couple of months' stay, during which time he will give our people a chance to procure some of his excellent work. He comes well recommended, both as an artist and a gentleman of strict, honorable business principles. See the tent, near the Clarendon Hotel.

"News of the City,"

Medford Mail,

May 10, 1895, page 5


B. B. Griffiths of Henley was here this week.
A. S. Hammond went to Klamath County Wednesday.
Grant Eggers, the Ashland barber, is paying his folks a visit.
Gen. T. G. Reames went to California Tuesday on a short trip.
Wm. Ulrich was in Portland last week on business with two carloads of meat.
E. L. Bashford was over in Siskiyou County this week working up the beer business.
Miss Clara Hurst has gone to Ashland to take charge of the Hotel Oregon dining room.
Fred. T. Fredenburg, the enterprising landlord of Hotel Oregon, was in this section Monday.
Jacksonville is figuring on a city water works system and the trustees have engineer W. E. Coul figuring on the costs and plans.
Geo. Parker and Fred McCulloch were seeing the Ashland bloods Sunday and escorted Sibley and Warner down from the Granite City.
Jacob Neathammer reports that he lost $7200 instead of $5600, as reported, by someone who discovered the hiding place of his money. Mr. Neathammer has a clue to the thief. He is having considerable trouble and is advertising his wife, having left his bed and board, he will no longer be responsible for her debts.
Valley Record,
Ashland, May 16, 1895, page 3
There was a right smart skirmishing of people off of the streets last Saturday when C. Mingus & Son's team came prancing around the corner of W. H. Meeker's store, hitched to a gravel wagon. Frank Mingus and Will Ferguson were hauling gravel with the team when a fool notion happened to catch them just right (the horses), and they started to run. They rounded Meeker's brick store very nicely and removed the underpinning from that gentleman's street display stands. When in front of I. A. Webb's furniture store they collided with an awning post and there left the hind wheels of the wagon and Will Ferguson. The latter was thrown about a rod and struck on his head and shoulder in the street, but fortunately received no serious injuries. The team took the fore wheels of the wagon out on Seventh Street at a very swift pace, and when they arrived at the M.E. Church, South, they began gyrating about that edifice like they were bent on corralling all possible of that which is good, as a standoff for the evil doin's they had been a-doin'. The team was uninjured.
There is something in the atmosphere of Medford which seems to have a bad effect upon the equine populace of this Hub City of ours as well as those of the same family who come "a-visitin' of us." Saturday evening a couple of the Mayborn boys were driving down Seventh Street when "without cause or provocation" their horse began bucking and kicking, about two kicks to each buck--and the bucks were right close together, and so severe were the kicks that the dash, thills and headboard of the buggy were cycloned, as it were, into kindling wood. No damage further than as above stated. The horse was caught in doing its double shuffle kick act. Another horse escapade was "cut up" Tuesday morning when a team belonging to Thos. Baldwin, of Brownsboro, while standing in front of Wolters' grocery store, took a flying leap into a distant uncertainty and didn't land squarely into a condition to be easily handled until they had torn up the dust for about a mile out on the Jacksonville road. No particular damage.

Speaking of the aroma from ripe apples reminds us that it was nothing of so wholesome a nature that came from the rear of Hotel Medford [
the Nash
] last week, during the process of removing refuse matter and the accumulation of a dozen or more back number closets. The building of the new hotel will positively have one good effect--that of disinfecting that particular locality, but it would have been more agreeable to the denizens of this little city had the work of removing this refuse been performed at night, when the streets were not filled with people and when the warm rays of sun would not be there to encourage a greater unpleasantness. However, the work is done and we are all glad, not only of the cleansing, but of the occasion which brought it about.
It was a nice little compliment which the Mitchell, Lewis & Staver Company a few weeks ago paid their local agent at this place, Mr. D. T. Lawton, it being that of appointing him general superintendent of all their business in Oregon south of Roseburg. Mr. Lawton is a very capable gentleman, and his appointment to this more responsible position is a deserved tribute to his excellent business qualifications. The change keeps him on the road between the various local agencies the greater part of the time. The company, he reports, is doing a fine business this spring.
The Medford public school will graduate a class of fourteen this year. Following are the members of the class: E. Maud Johnson, W. A. Squires, James Stewart, Lawson G. Bradley, Walter D. Cofer, Carl J. Crystal, Francis M. Barnes, Orton H. Wiley, M. Grace Amann, Virgie A. Woodford, Jess G. Wait, John G. Van Dyke, Edith A. Van Dyke, M. Maysie Foster. John G. Van Dyke has been chosen salutatorian and Walter A. Squires valedictorian. The graduating exercises will be held at the opera house on the evening of Friday, May 31st.
If you see "Studebaker" printed on the box, that wagon is all right. J. A. Whitman, Medford, sells Studebaker wagons, carriages, hacks and surreys.
The new school district, east of Medford, which has been christened Morton, began its first term of school last Monday with seventeen pupils in attendance and Miss May Earhart as teacher. A new school house has been built, and everything is moving along nicely.
Saloon building, billiard table and saloon fixtures for rent. Inquire of S. A. D. Higgins, Medford.
The Jacksonville
Times
is responsible for the assertion that "Jimmie" Murray, the painter, has gone to California and left unpaid bills in Jacksonville. He is a brother of Charlie Murray of this place. We didn't figure he would do that sort o' thing.
Fine chicken dinner at Star Restaurant every Sunday--for families.
"News of the City,"

Medford Mail,

May 17, 1895, page 5


Dave Payne is up from Redding on a business trip.
Francis Fitch and wife are in the eastern states on a trip.
S. S. Aiken of Prospect has been appointed a notary public.
B. F. Crouch left Monday for Oakland, Cal., to remain a month or more.
Miss Kate Chitwood was visiting Ashland friends and relatives this week.
Ralph Bunch has returned from Ashland and is running W. L. Townsend's barber shop.
D. T. Sears, U.S. government store keeper of the distillery, and M. Purdin, the blacksmith, spent Sunday in Ashland.
Miss Alva McDowell, the school teacher, returned Sunday from a visit with Miss Minnie Predmore and other Ashland friends.
Hon. B. F. Harding, a prominent citizen and public man in Oregon's history, is down from Lane County visiting Jackson County friends.
Valley Record,
Ashland, May 23, 1895, page 3
C. A. Henry and J. D. Gagnon, a Montague saloon man, were here last week.
W. Honeyman was out from Portland this week looking after the R.R.V.R.R.
D. Van Horn and wife of Butte Creek have gone to Pennsylvania to settle up Mrs. V.'s father's estate.
Fred Harbaugh of Portland died Tuesday at the home of his brother, O. Harbaugh, of consumption.
Major J. B. Brockenbaugh and W. A. Forbes left Wednesday for an inspection of the Jenny Creek timber belt.
Capt. Nash is not feeling very good over the city council's refusing to put in a proper sewerage for his new hotel and is figuring on turning the hotel into store buildings.
District Attorney Benson, A. S. Hammond and Judge Hale rode from Klamath Falls to Lakeview on bicycles last week. The cyclometer on Benson's wheel registered 103¾ miles.
Mrs. Neathammer, Billy Bateman, and Wm. Ennis have been bailed out of the county jail, James Coets, Hamilton & Morine, C. O. Damon, and W. J. King going their bonds.
Dr. B. F. Adkins and Mayor Haskins, with their families, leave this week in private conveyance for a camping tour of several months down in California and home via the coast and Humboldt and Del Norte counties.
The livery business in Medford has been consolidated. W. P. H. Legate bought out the Davis & Shearer stable and then went into partnership with Frank Mingus in the old reliable Union Livery Stables. Mingus & Legate are well-known and popular with the traveling public.
Kate Kehm Smith, the secular lecturer, in her address in this city denounced the A.P.A. and J.O. of A.M. as dangerous to true patriotism, contending that it is an effort to organize the Protestant church prejudice against the Roman Catholic church and would turn the world into a bigoted, fanatical religious war between sects.
Valley Record,
Ashland, May 30, 1895, page 3
There is an ordinance which prohibits cows running at large within the city limits of Medford, yet many of our people are compelled to build boxing about the young trees they set out along the street in front of their places of residence. The ordinance made to keep cows off the streets ought to be enforced. A law not enforced is worse than no law, because that people expect their property to be protected by it and do not apply the precaution they would if no such law existed.
"News of the City,"
Medford Mail,
May 31, 1895, page 5
Marcus E. Jones left Thursday for Medford, Ore., in which place he will make his future home.
"South Whitley, Ind.,"
Fort Wayne Gazette,
Indiana, May 19, 1895, page 2
Marcus E. Jones left Thursday for Medford, Ore., in which place he will make his future home.
"South Whitney, Ind.,"
Fort Wayne Weekly Gazette,
Fort Wayne, Indiana, May 23, 1895, page 12
Sam'l. Murry has severed his connections with the Southern Oregon Pork Packing Company and is soon going to commence selling goods from a wagon among the farmers of the valley, his line being dry goods and groceries--in fact a general business of buying and selling among the ranchers. E. W. Tryer has taken the position with the S.O.P. Company vacated by Sam.
Saloon building, billiard tables and saloon fixtures for rent. Inquire of S. A. D. Higgins, Medford.
Wolters, the grocer, is laying in a large stock of fruit jars, which jars are to be sold so reasonable that they will not jar the purses of purchasers to any great extent. Charlie is always alive to the desires of his customers, of whom there are not a few, and which number is increasing daily, because--he treats everybody alike, and square.
Wm. Barnum is building a 13x36 addition to his planing mill, the same to be used as an engine room. Mr. Barnum has men at work placing the twenty-five-horsepower engine formerly used by Skeel & Son.
Work on Hotel Nash is being pushed ahead at a rapid pace. The second story wall is being put up this week, and by another Saturday night the brick work ought to be very nearly completed.
Rev. E. L. Thompson of McMinnville will address the Y.M.C.A. at the opera house next Sunday at 4 o'clock p.m. The Gore Bros. quartet will furnish one or more musical selections.
If anyone was to tell you that D. H. Miller is not going to have a gem of a home when his recent improvements are completed, you can call them prevaricators without a fear of contradiction.
The hose company ordered a fire bell yesterday. It is to cost about $100 and will weigh 800 pounds. Of the above amount the hose company pays $36, and the town the balance.
W. E. Phipps was brought before Recorder Webb Wednesday and fined $10 and cost, amounting to $13.50, for carrying concealed weapons. He pled guilty and paid his fine.
G. W. Priddy will do the mason work on D. B. Soliss' farm residence; A. P. Green will do the painting and Klippel & Marcuson will furnish the lumber.
"News of the City," Medford Mail, May 24, 1895, page 5
Mr. and Mrs. Francis Fitch of Medford, Or., registered yesterday at the Lick. Mr. Fitch is an attorney and a son of the "silver-tongued orator," Tom Fitch.
"Personal,"
The San Francisco Call,
May 27, 1895, page 6
Chas. C. Chitwood spent Sunday in Ashland.
Geo. B. Robertson, Esq., a Yreka lawyer, was doing Medford Wednesday on a business trip.
Mrs. W. H. Parker has been quite ill and her daughter, Mrs. Jas. Slover, is up from Grants Pass.
The latest sale of the Hotel Nash lease was from S. F. Morine to I. L. Hamilton on Tuesday of this week.
Judge Hanna was holding a special term of circuit court at Grants Pass this week for Josephine County.
J. E. Pelton was here from Ashland Wednesday, having sold 110 head of cattle to Hanley for the Montana buyer.
G. L. Schermerhorn has bought the Medford planing mill plant and property for $2000. He is a practical mill man.
Sheriff Patterson sold the Applegate Valley Hop Co.'s property on Applegate Saturday to Calhoun Bros. and others for $775 all told. The judgment called for $1384.
Conductor Al Morris moved out Wednesday with a trainload of stock bought by J. A. Hanley in this county for J. C. Lonergan, representing the Burk Cattle Co. of Montana.
Jacob Isler, of the timber section of Jenny Creek, was in Medford this week. He says the trip from Pokegama over the Siskiyous at this season of the year reminds one very decidedly of the scenes in old Switzerland.
The Medford school board has elected the following teachers for the ensuing year: Principal, N. L. Narregan; vice-principal, Miss Elva Galloway; assistants, Misses M. M. Coleman, R. L. Warner, Viola Brandon, Ellen Bursell, Bessie Wait, Adele Pickel and C. Grace Foster.
Evan Reames, who has been going right along making a brilliant record in school, the practice of law and all other walks of life, has made another dash and swooped down on one of Oregon's fairest daughters and made her his bride. The large circle of friends of this native son of Jackson County soil wish him supreme happiness and continued prosperity.
F. M. Plymale returned Wednesday from his placers on Beaver Creek, quite ill. Torrey, Angle & Plymale have 30 feet of ground stripped to high points on their back channel, but their drainage is not low enough. They have considerable work to perform yet to get their claim in good paying order.
Bud Johnson, the well-known young blacksmith now of Pokegama, surprised the natives Sunday by getting married to Miss Lucinda Anderson, an amiable and worthy young lady of Medford, the daughter of one of Southern Oregon's pioneer families. They left Monday for their new home in Pokegama.
Capt. J. T. C. Nash is standing the town of Medford on its head, though himself but a quite recent comer. He is putting an addition to his hotel and wants the city council to put in a sewerage system. The council does not want to put the town any further in debt and would rather smell the common plebeian garbage of the town than pay interest on bonds that could never be paid. Capt. Nash don't like it at all and the latest ukase issued by him is to sell all his property at cost while he leaves the town.
Valley Record,
Ashland, June 6, 1895, page 3
The
South Oregon Monitor,
published June 7, 1895, is another of Mrs. [Mamie Isaacs] Riddle's prized possessions. At that time,
G. H. Haskins
was mayor of Medford,
B. S. Webb
was recorder and
Charles Strang
, who now makes his home on Medford Heights, was treasurer of the city. Charles E. Wolcott was editor and publisher of the paper.
According to the
Monitor
the good citizens of Medford seemed to be having an argument over the building of a sewer. In an editorial, Captain
J. T. C. Nash
, owner of the Nash hotel (now the Allen Hotel) was bringing pressure to bear upon the city fathers over the sewage question. The editorial reads, in part, "And why, forsooth, should the City of Medford build a sewer for Capt. Nash's hotel, or for anyone else for that matter. Let Capt. Nash throw his slops it the street, even though it smell to high heaven. Our forefathers have stood as bad and who are we that we should be more holy than they."
In the same publication a paragraph by McKarrehan Wilder reads: "My brow is in sack cloth and I sit down in ashes. There is wailing and sorrowing within the gates of the city. Jacksonville avenue is being fixed and my wheel won't whirl."
An announcement in the
Monitor
told of the appearance of E. M. Keith at Strang's drug store to display Edison's wonderful invention, the kinetoscope. The article described the performances on the stage as being accurately pictured before the eye.
"Old Newspapers Give Sidelights on City History,"

Medford Mail Tribune

September 24, 1940, page 2
Mrs. Emma Dunn arrived from San Francisco Monday to visit her family at Jacksonville.
Wm. Ulrich has returned from the Willamette Valley and left Tuesday for Northern California counties in the interest of the packing company.
Francis Fitch returned Tuesday from San Francisco and the East. Mrs. Fitch was visiting her sister, Mrs. Bilger, at Olympia, and in San Francisco.
Drs. Parson, Geary, Waite and Pickel Saturday performed a delicate operation for the removal of a cancerous condition on Mrs. J. G. McDonald of Tolo. She is recovering nicely.
A Bimetallic League with about 100 members will be organized in Medford Saturday night at the opera house. A delegation from the Ashland league will be present and some interesting addresses on the live question of money are anticipated. The league is non-partisan and Republicans, Democrats and Populists can work with it without interference, just as the gold bugs always do when the interests of plutocracy are at stake.
Grant Eggers, Geo. Markle, A. D. Kenyon, Clint Austin, F. D. Wagner, H. J. Hicks, W. C. Bevington, Will Fox and E. J. Kaiser, of Ashland, and Sheriff Patterson and W. C. Engledow, of Jacksonville, were the members from Granite Lodge, K. of P., that assisted Talisman Lodge in the burial of Gen. Schmitt Sunday at Jacksonville. Talisman Lodge brought the remains home from Crescent City, Cal., and conducted the lodge burial exercises at the Jacksonville cemetery. The funeral was largely attended.
Valley Record,
Ashland, June 13, 1895, page 3
When Medford "fellers" run themselves short of ways and means to provoke a little sport it must be when the temperature is decidedly chilly. Last week they were running short of material to work upon and there was a chance for a big gap to appear in their before-unbroken program when a happy thought showed itself upon the inventive surface of their fertile brains. Over in Hamilton & Palm's real estate office office U. M. Damon has displayed several varieties of electric call bells, which goods he is selling. These bells were brought into use in perpetrating their jokes. An unsuspecting gentleman passing on the street would be invited in to look at the workings of the bells and by invitation he would press one one of the buttons and a call number would show itself in the glass front. This, the crowd, which was standing around, would declare was "call for beer." By prearrangement Dave Crosby, one of the caterers for Hotel Medford [

predecessor to the Nash Hotel, at Main and Front streets

], would be standing on the corner by the hotel and at a given signal by someone standing in Hamilton & Palm's office he would at once proceed to draw a bucket of beer and forthwith appear in the aforesaid office with his several rounds of beverage, and with the remark--"who rang for this beer?" The victim always paid for the treat and not until five rounds of treats had been indulged in did the passerby come to the conclusion that the opposite side of the street was a safer and more economical thoroughfare.

The Mail

is not, ordinarily, given to biting at another man's game, as Charlie Wolters will attest, but this one seemed so easy that one of its publishers walked right in--and pushed the button. "Rosy" [

haberdasher Simeon Rosenthal

] was another of the victims, but he likes those things--so long as the boys have fun.

"News of the City,"
Medford Mail,

June 14, 1895, page 8


Judge Dunlap returned from his California trip Tuesday.
Dick Perry has gone to Sisson on account of an attack of asthma.
Alex Ireland and his dogs have returned from the headwaters of Chetco River with his horse loaded with bear and panther hides.
Mrs. Hill and daughter, Mrs. W. I. Vawter, are visiting Eugene friends and attending the commencement of the state university.
Mrs. Carrie Sletter, who has been visiting A. S. Eride's family at Willow Springs, has returned homeward to St. Paul via Los Angeles.
J. Darneille, the 18-year-old son of J. K. Darneille, died Monday night of consumption. He was buried in the Jacksonville cemetery Wednesday.
The silver organization has reawakened interest in the populist club. At their meeting on Saturday, June 29th, S. S. Pentz will deliver an address on "what should our money and banking be." Everybody invited.
Taylor Payne has bought out the Chappell truck business and gone into partnership with Johnny Bellinger, making only one truck firm in the town. Mr. and Mrs. Payne moved to Medford from Jacksonville this week.
C. B. Watson, W. N. Luckey, D. High and T. J. Howell were down from Ashland Saturday assisting in the free silver meeting. There was too much speech-making for organization, which has been postponed to Saturday of this week.
J. A. Hanley and J. L. Demmer arrived home Wednesday from Klamath Falls, where they had been as witnesses in the Swingle murder trial. Demmer had the pleasure of being "held up'' by the stage robber in going to the Falls.
W. B. Million, S. G. Eggers, E. A. Sherwin, Clint Austin, Wm. Fox, F. D. Wagner, J. H. McBride. H. J. Hicks, E. B. Myer, L. L. Merrick and Geo. Markle, a delegation from Granite Lodge, Knights of Pythias of Ashland, visited Talisman Lodge of this city Monday night.
Mrs. Chas. J. Laird and two children arrived Wednesday from Little Klamath Lake to visit her folks east of Medford, this being her first visit since she left the parental roof on her wedding day. Mr. Laird was formerly in the stage-driving business but is now a well-to-do stockraiser.
J. R. Rice, the "cowboy preacher," who preached on the streets with his wife in the valley towns last week, was raised in Jacksonville and was in his boyhood days the largest size as well as most incorrigible hoodlum in the county. He worked in printing offices and hotels, his father being a pioneer citizen.
Valley Record,
Ashland, June 20, 1895, page 3
V. L. Holt is home from Drain state normal school.
Carl Narregan is home from the state university to spend his vacation.
Mr. Pendleton of Shasta County is visiting his brother, J. C. Pendleton of Sams Valley.
W. H. Parker and Ed. Worman are at Colestin. A lot of others will be there this week.
L. McClellan of Portland is putting in a steam laundry plant in Medford which will be in charge of O. O. Smith.
J. K. Darneille and wife were again stricken with a death in their household Sunday, their infant son Ralph having died of bowel complaint.
D. T. Lawton returned Wednesday from a business trip to Shasta and Scott valleys. He reports fair crops in [the] latter, but Shasta Valley is all dried up and no crops at all.
S. V. Sheffner, representing Baker & Hamilton of San Francisco, has recovered from his sick spell and arrived Tuesday to take up the creamery proposition in this valley in the way of inducing farmers to organize and buy plants.
About 40 A.P.A.'s from Ashland, representing the leading and influential business and professional men of the Granite City, came down last Thursday night and had a powwow with their Medford brethren. Nearly all the well-known politicians of the two old parties seem to be high muckamucks in this growing order. The boys are piling over each other to get a comfortable seat on the band wagon.
Judge W. N. Luckey and M. F. Eggleston, president of the Ashland Bimetallic League, were down from Ashland Saturday evening and made some racy remarks on the money question at the free silver meeting. Chas. E. Wolcott, editor of the
Monitor,
the Republican organ, was elected president of the Medford Bimetallic League, D. H. Van Antwerp vice-president, G. W. White secretary and treasurer, and G. W. White, S. S. Pentz and F. V. Medynski were appointed to draft constitution and by-laws.
Valley Record,
Ashland, June 27, 1895, page 3
The 4th of July celebration at Medford will be a grand affair. A huge liberty car will be in the procession, as will Co. D., O.N.G., and the Ashland public school cadets will fight a sham battle. The Ashland band will furnish the music with the Medford band. Hon. Chas. W. Fulton will deliver the oration and Miss Genevieve Reames will recite the Declaration of Independence. There will be a grand ball in the evening. In the afternoon there will be five bicycle races, one of which will be for the championship of Southern Oregon and the other for championship of Rogue River Valley. The celebration has been gauged on a grand scale, and everything connected with it augurs well for an immense success.
Valley Record,
Ashland, June 27, 1895,
page 3