Diary of Fred Alton Haight, 1877-1966
Medford, Oregon, 1918 and 1920-21
Ms. 338, Southern Oregon Historical Society, Medford, Oregon
Transcription, editing, annotations © 2006 Ben Truwe, truwe[at]mind.net. All rights reserved.
Last revised October 24, 2013

Please contact me at the e-mail address above if you have any information to add about Haight or his friends.
The words, the spelling and the punctuation in the following entries are those of the original. Blank lines in the transcription are blanks—omitted names—left by the author. Editor's notes are placed within square brackets: [ ].

Ben Truwe
Medford, Oregon
August, 2006


Names, Places and Abbreviations in the Diary
Ages, occupations, residence addresses, populations and most other information is from the 1920 Census, supplemented by the diary, the 1921 city directory, the April 1920 telephone book and the Medford Mail Tribune newspaper. Street addresses are located in Medford unless otherwise indicated. A small amount of guesswork was involved in matching a few individuals cryptically identified in the diary with the correct census entry. I have more information about many of the people below.
A.S.W.: "All Seems Well." Telegraphic abbreviation.
Helen Adamson: 17, daughter of Edward Adamson, bank cashier, and wife Ester, Ashland
Lillian Ahrens: 14, daughter of Melvin Ahrens, department store merchant, res: 516 Grant Avenue, Astoria
Mr. Antle: Richard F. Antle, manager of the Rialto Theatre; George Hunt's partner
Applegate: A hamlet 20 miles west of Medford by road.
Ashland: A town 13 miles southeast of Medford, on the Southern Pacific railroad and the Pacific Highway. Population 4,283.
Margaret Anglin: "Clearly our most eminent actress," The Nation, Sept. 25, 1920
Baptist Church: 16 South Laurel
Beagle: A hamlet in Sams Valley, 21 miles north of Medford by road.
Mr. Bergner: Oscar T. Bergner, 38, res: Allison Street, Ashland, owner of the Vining Theater
Blackstone: Magician Harry Blackstone Sr., "The Great Blackstone"
Bliss: see Heine
William J. Bolger: 54, theater flutist, res: 130 West Main Street
Bernice Bolger: 30, violinist, "teaches in Conservatory of Music," wife of William J. Bolger
William P. Brooks: 27, piano tuner for Palmer Piano House, res: North Pacific Highway
Buncom: A hamlet in the hills above Jacksonville, 19 miles by road southwest of Medford
Butte Falls: A town 33 miles northeast of Medford by road. Population 166.
C.S.: Christian Science
Roland Carless: Rolland C. Carless, 16, son of William Carless, farmer, res: First Street, Phoenix
Central Point: A town 5 miles northwest of Medford, on the Southern Pacific railroad and Pacific Highway. Population 582.
Florence A. Chaney: Haight's ex-wife, remarried and living in Anapolis, Maryland
Richard G. Chaney: Florence's current husband. The 1920 Census lists him as unemployed, yet employing a maid.
Leland M. Charley: 19, farmer, son of Emogene Charley, farmer, Lake Creek
Mrs. Clark: Beulah Clark, 32, wife of auto mechanic Herbert B. Clark, 33, 403 North Grape Street
Jim Clarke: James E. Clark, 35, railroad agent, res: First Street, Glendale
Keith M. Cole: 14, son of Pythian Charles S. Cole, warehouseman, res: Alder Street
Judge and Mrs. Crews: Wren E., attorney (Liberty Building) and Louisa Crews, 58 and 56, res: 707 Ivy Street
D., Doris: Winifred's sister, violinist. Possibly Ora D. Walker, 14, daughter of George W. Walker, orchard manager, res: 627 North Central
D.O.K.K.: The Dramatic Order Knights of Khorassan—the recently established "fun" wing of the Knights of Pythias
DeVoe's: DeVoe's Grocery and Confections, 436 West Main Street
Dorothy: Lillian Dorothy Haight, Haight's 8-year-old daughter.
Mrs. Duff: An early teacher of Haight's in Mount Vernon, New York
Eagle Point: A town 14 miles north of Medford, on the road to Crater Lake. Population 128.
C. L. Earsley: 58, teamster, res: 910 Eleventh Street
F.A.H.: Fred Alton Haight
Fifer: Turner A. Fifer, 54, bank cashier/clarinet player, res: 921 Reddy Avenue
Shorty Garnett: Henry C. Garnett, 52, hardware merchant, res: 208 Clarke Street
Garnett-Corey Building: Also known as the Liberty Building. Haight's place of work and residence, built ca. 1910 at 201 West Main Street
Delroy Getchell: 45, banker, res: 1121 Oakdale
Glendale: A town 56 miles northwest of Medford, on the Southern Pacific railroad and Pacific Highway. Population 548.
George W. Godward: 52, high school teacher, res: Oregon Street, Jacksonville
Gold Hill: A town 15 miles northwest of Medford, on the Southern Pacific railroad and Pacific Highway. Population 422.
Ed. E. Gore: Pythian, 50, grocer with Warner, Wortman & Gore at 307 East Main Street; res: 116 Geneva Avenue
Jay Gore: Pythian, 25, farm laborer, amateur magician, son of W. H. Gore, banker, First National Bank
Mrs. Gore: Hattie Gore, 47, piano teacher, wife of Ed. Gore
Grants Pass: A town 31 miles northwest of Medford, on the Southern Pacific railroad and Pacific Highway. Population 3,151.
Gusher: A café in the Nash Hotel building on South Front Street, at Main Street
Ruth Haeckler: Probably R. Beatrice Hackler, 16, daughter of S. Lorenzo Hackler, farmer, Talent
Hamson: Possibly Pythian James P. Hansen, 69, farm laborer, South Pacific Highway, Medford
Rene Harrel: Irene Harrell, 12, daughter of William A. Harrell, gardener, res: 518 West Second Street
Charlie Harrison: Pythian C. W. Harrison, 34, life insurance agent, res: 118 Geneva Street
Mrs. Harrison: Juanita Harrison, 28, music teacher, wife of Charlie Harrison
H., Hazel: The diary tells us she's 19 years of age, has a younger sister, and lives within walking distance of Haight's studio. She "has no father, and is a high school girl," but there are no Hazels of any last name listed in any class in any of the Medford High School yearbooks for the years 1920 through 1924. She could have been a St. Mary's Academy student, though according to their records no Hazel graduated in the 1920s. The only fatherless Hazel with a younger sister in Medford's (unreliable) 1920 Census are Hazel and Myrtle Avery, ages 16 and 11; they do live just a block away from St. Mary's at 431 Eleventh Street. Let's hope Hazel's age was misreported—a very common circumstance in census records. I've been unable to find further information on Hazel and Myrtle.
Dr. H: Thompson G. Heine, M.D., EENT, 56, res: 916 West Tenth. Offices in the Liberty Building.
H.C.L.: High Cost of Living. An abbreviation in common use in the years after World War I.
Harke: Henry Harcke, 40, theater manager, res: 6th Street, Grants Pass (upon January 1920 census enumeration)
Mr. Heckman: Probably Dr. William H. Heckman, 53, Central Point
Heine: Pythian Bliss Heine, 27, musician, res: 916 West Tenth Street
Hillis: M. V. Hillis, superintendent of Medford schools ca. 1915-1918. Later with the World Book Co., Yonkers, N.Y.
Hoover: Charles Hoover, 30, dairyman, North Pacific Highway. Married to Elsie, also 30
Harry Hamilton Howell: 48, leader of the 15-piece Rogue River Valley band
Hunt: George A. Hunt, 34, owner of the Rialto Theatre; lives at the Hotel Medford
Imperial Orchestra: The New Imperial Orchestra debuted at the Natatorium in Medford Jan 31, 1920 with piano, banjo, sax, marimba, drums and traps.
Mr. and Mrs. Isaacs: William F. "Toggery Bill" Isaacs, 38, and his wife, piano teacher Irene Hampton Isaacs, 29.
Jacksonville: The county seat, 5 miles west of Medford. Population 489.
Mr. Janes: Carlton Janes, violinist.
Joe: Apparently Haight's brother Joseph S. Haight, then a patient in a sanitarium somewhere back East
Mr. Joy: Probably Pythian Benjamin F. Joy, 76, horticulturist, Union precinct
K. of P.; K.O.P.: The Knights of Pythias. Haight belonged to Medford's Talisman Lodge, No. 31.
Ethel Keith: 13, daughter of James M. Keith, logger, Talent
Helen King: Helen M. King, 19, daughter of Joseph J. King, farmer, res: Phoenix-Jacksonville Road, Phoenix
Klamath Falls: A town 76 miles east of Medford by road. Population 4,801.
Launspaugh: Pythian Herbert G. Launspach, 26, leader of Launspach's Orchestra, res: 211 Jackson Street
Mr. Leach: Frederick R. Leach, pastor of First Baptist Church. Wife Helen H. Leach., res: 16 South Laurel
Lewis: Probably the driver of the Eagle Point jitney.
Leverhume: Pianist. The name may be incorrectly transcribed.
Liberty Building: The Garnett-Corey Building, 201 West Main Street. Built 1910, still standing today at the southwest corner of Main and Grape.
Liberty Theatre: 224 East Main Street
Leonard I. Lindas: 14, drummer. Son of Pythian Benjamin F. Lindas, attorney, 485 F Street S.W., Washington D.C. Moved to Medford in July of 1920.
Mr. Linn: Eagle Point (?) city official
Carey F. Martin: 49, attorney, res: 697 South Liberty Street, Salem
Thelma McDaniels: Thelma F. McDaniel, 17, daughter of William H. McDaniel, farmer, Applegate
Mrs. McCorkle: Mrs. Genevieve McCorkle, musician, res: 921 South Oakdale
Mrs. McDonald: Eagle Point treasurer Mrs. Clement Macdonald
Mrs. McDonough: May Jordan McDonough, Mrs. A. J. McDonough, piano teacher
Mida McIntosh: Mida Mackintosh, 22, pianist/teacher, res: 1005 West Main Street
Burton J. McPhee: 44, listed as a "painter" in the 1916 city directory. Haight published his songs "The Valley of the Rogue," "America," "City of Perfect Peace" and "Twilight Hour."
Fred W. Mears: 46, lawyer (Liberty Building), res: 401 Newtown Street.
Medford: Haight's Oregon home. Population in 1920: 5,756.
Doc Mitchel: Harry Mitchell, 46, general practitioner, res: Hotel Nash (southeast corner of Main and Front)
MMT: Medford Mail Tribune
Mt. Vernon: Mount Vernon, New York, Haight's home town.
Murphy: A hamlet 38 miles west of Medford by road.
Natatorium: Entertainment complex with swimming pool, theater, meeting rooms, ballrooms at 104-118 North Riverside
Mrs. Newbury: Probably Maude, 39, wife of lawyer Gus Newbury, 49; res: Medford
Optimo: Optimo Café, 18 North Front Street
John Orth: 47, bank cashier, res: 610 Central
Page Theatre: 420 East Main Street. Burns in December 1923.
Mr. Palmer: Burton J. Palmer, 50, Palmer Piano House, 234 East Main; res: 211 Oakdale
Roberta Pearce: 20, office stenographer, res: 217 North Riverside
Peck: Emil R. Pech, 46, meat cutter at West Side Market, 213 West Main; res: 60 Quince Street
Peerless: The Peerless Bakery and Lunch Room, a café at 135 West Main (corner of Grape Street)
Lottie Patten: Charlotte Patton, 17, fruit peeler, daughter of Victor Patton, bank janitor, and Mary S. Patton, res: 435 Grape Street
Pelicans: Apparently an informal name (a reference to their drinking capacity?) for a group of friends that "meets frequently" and "hangs around"
Perl: Pythian John A. Perl, 44, undertaker; res: 229 Apple Street
Phoenix: A town 4 miles southeast of Medford, on the Southern Pacific railroad and the Pacific Highway. Population 159.
Pickle: Lyle H. Pickel, 31, truck driver for Jackson County Creamery, res: 504 Edwards Street
Doc. Porter: Pythian Elias H. Porter, 56, general practitioner, res: 321 West Sixth Street
M. A. Rader: Pythian, composer of "The U.S. Flag."
Mr. Reno: Probably Jesse K. Reno, 34, locomotive engineer, res: 220 Guthrie Street, Ashland
Jack Reter: John Reter, 42, barber, Jacksonville
Rex: Rex Café, 121 East Main Street. The Rex Rooms upstairs of the café was a brothel.
Rhine: Probably Harry Rhine, sausagemaker, of Helena, Montana
Rialto Theatre: 110 West Main Street
Roberts: E. N. Roberts, drummer with the Amphion Orchestra
Mr. Root: Pythian Edward Charles Root, music teacher, clarinet player with the Amphion Orchestra
Rowley: Probably Herbert H. Rowley (wife Lucille), fruit distributor, Hotel Nash
Salem: The capital of Oregon, 230 miles north of Medford, on the Southern Pacific railroad and the Pacific Highway. Population 17,679.
Sears: Probably Pythian William Sears, 55, highway supervisor, res: 727 Central, Medford
Mrs. Stanard: Ada L. Stannard, 40, primary school teacher, res: 43 Church Street, Ashland
Stewart: Probably Pythian James Stewart, 42, beekeeper, res: Medford
Talent: A town 8 miles southeast of Medford, on the Southern Pacific railroad and the Pacific Highway. Population 278.
Mrs. A. C. Taylor: Probably Irma, 44, widow of farmer Albert C. Tayler, 58, Pacific Highway
Carl Y. Tengwald: Pythian, 30, manager of the Holland Hotel, Medford
Toggery: Haberdashery at 129 East Main Street, owned by Pythian W. F. Isaacs
Trail: A hamlet 25 miles north of Medford, on the road to Crater Lake.
Margaret Van Scoyoc: 13, daughter of Charles Van Scoyoc, dentist (Liberty Building), Medford
Vawter: William I. Vawter, 25, bank bookkeeper, director of music for First Presbyterian Church, res: 10 Quince Street
Vina: Apparently Haight's sister-in-law Alvina, wife of Joe. Possibly Haight's sister—Geneve/Genevieve.
Vining Theatre: 275 East Main, Ashland
Viola: Viola M. Atkinson, 18, Peerless Bakery waitress, daughter of William E. Atkinson, barber, res: 533 Austin Street
Andrew Walker: Music director of the Baptist Church; see newspaper article below
Wellen: A hamlet 14 miles north of Medford.
Mr. White: E. A. White, trombone player with the Amphion Orchestra
George Wilson: Musician, vocalist, aspiring songwriter with "years of experience in theatrical work"
W., Winifred: Doris' sister, violinist. Possibly Winifred A. Walker, 21, doctor's office girl. See "D., Doris."
Witham: James Witham, 25, violinist from Absarokee, Montana, until the July 1921 fire living at 305 South Riverside
Genevieve Wortman: Mrs. Genevieve McCorkle, musician, res: 921 South Oakdale

1913

"Haight music studios, summer term; special courses in piano, voice, harmony, sight reading class. 116 S. Laurel St. Phone 726-R." [MMT, May 10, 1913, p. 5]

"Fred Alton Haight, teacher of piano and harmony, specialist in correct principles of touch and technique for beginners or advanced pupils. Faults corrected. Summer term. Haight Music Studios, 116 S. Laurel St. Phone 726-R." [MMT, May 15, 1913, p. 2]


1918

"After some music by brothers Haight and Rader, lodge adjourned with the understanding that we meet Wednesday evening, Jan. 2nd, 1918. . . ." [Talisman Lodge minutes, Dec. 31, 1917]


— ONE YEAR —

1918
— in the —
—The book of Life —

Chapter the First
— January —

By
— Fred Alton Haight —

What will the year bring forth to you?
Whate'er you will if you are true.
If you live true to-day your card
Will read, "To-morrow," in reward.
The promise of another day
To live and learn and store away
Truth's Treasures is a promise worth
The living of To-day on earth.
F.A.H.

To the author of this book
To you I would give admonition and advice, even exacting certain demands of you in warning that this book shall not be written unless you accede to these demands. Remember that you are to read and re-read what you write in that you may improve your expression and not forget wisdom: that you may be wiser and possessed of more of the power of knowledge to-morrow than you are to-day. Get your house in order from top to bottom within and without, and have a system with every thing in its proper compartment. Sharpen your tools for work and have them ready and at hand. Develope to completion those things you started to do years ago. If you cannot tune and repair a piano learn how. Gather the bits of knowledge of 20 years together for use and add to the weak places; learn and strengthen your knowledge by study and practice. Do not let this year go by without gathering the results of your experience in teaching into a method, a system, a course of study that is psycological as well as technical and musical. Rise to higher atainment. Exercises, technic, pieces, from the hundreds used must be wisely selected and knowledge and example imparted in a stimulating way. Look after your own growth in performing from note and from memory. Your composing, continue it but systematize your work and perfect it. Complete all ideas that are laying in the dust waiting for you to make them into music. Develope this great means of expression. Learn to speak in words orally also. You have begun; continue it until both your tongue and mind with something to say can say it clearly and correctly as well as logically. Then again, your school work, see it to a finish. Learn all there is to it. Study more about vocal music and also the violin. Your arranging work. There are possibilities ahead. Gather together your knowledge and experience dont lose any of it. And dont cease studying and experimenting in Harmony. Work toward perfecting your correspondence course in harmony. Certainly give a recital of your own piano pieces as soon as you can. And the publishing business. Give more attention to it, but arrange it in order. Dance music and organ playing dont do unless forced; but be ready in the first by getting aquainted with popular music and in the second keep up your piano technic in Bach. Be ready to play for a moving picture show if you have to, by cataloguing a list of music; but get into the mind a clear knowledge of songs and pleasing pieces, not the half-way knowledge you have had for 25 years. Work at class work in music by blackboard in your studio. Work constantly and dont be idle a moment and watch you yourself and your work that you may always add improvements to it and increase its influence for good upon yourself and those [with] whom you come in contact. This is expected of you in return for the gifts that have been given you but which you have only begun to use properly after years of wasted time. You are nothing yourself in that which is good but of a power beyond you that would use you for good; so throw off mortal mind and heed the voice of Truth that has been beseeching you for 40 years and been trying to use you wholly and all the time, instead of only those times when you loosen the God given forces and unlock the door to suit yourself and use above mortal mind. You can never subdue the gifts that have been give you to the extent of crushing them. They never can be crushed after having been


Fred Alton Haight Jan. 1st. [1918]
1.
These papers are the leaves of a book of the year 1918—the thought and actions of a man during that span in his life from Jan. 1, 1918 to Dec. 31, 1918 at midnight. At the age of forty life presents its most interesting and wonderful aspects and thus at the pinnacle this should be a great year in thot and deed as it promises to be a great year in history. Thought, knowledge, and education are all there is—take them away and we would return to mere animals, to fight with our fists, which would be better and more human than the great war, if men had to fight. The most remarkable thought is found working in this war, but it is the thought of a few minds which millions of other minds follow in ignorance. And in self defense thought and knowledge play the chief role and will be used this year in a mighty way.
These pages, however, will deal with thought, knowledge, and education, mostly, of the younger generations growing up and to make the world better for all mankind toward the ultimate triumph of good over evil. (error)

2.
Medford, Oregon. Room 402 Garnett-Corey Building. This is the last day of vacation spent in bumming around town and in K. of P. rooms. Book III of original compositions begun five years ago in Oakland, Calif. was finished up, and two new pieces composed: To-morrow work begins in the Talent School, which has been closed three weeks by an epidemic of measles. There is a disinclination to begin teaching again. What the year hold[s] in business cannot be guessed. No word was received from F. [Florence] or the child this Christmas. A letter sent to Salem three weeks ago came back yesterday from Chicago. Last Christmas we were all to-gether in Salem. That was a long period of heavy snow and I remember coming back here thru country white with snow with five inches in Medford and cold. This year has been just opposite mild and spring-like, but with lots of heavy fog. The first day of the year was mild with thick wet fog at night coming on early, about 4.20 P.M. The day passed in getting up late after a sleepless night, taking dinner at Earsley's, attending a picture show, playing my pieces, and in feeling generally lonely discontented and unhappy mostly.

3.
I am inclined to give up writing this "book" and have thrown it aside and was about to tear it up, even. It will probably amount to nothing at all. My own life is not and [sic] inspiration to myself at all, and it is doubtful whether it can be made so. F.A.H.

4.

— Financial —
Broke on Aug. 1st 1917.
Jan. 1, 1918 Banks 132.
Owing
117.

$249.

Money Paid out during Nov. and December 1917

Nov. 15 for D. [Dorothy] 15.
Dec. 12. W. P. Brooks 5. Tuning
Carey F. Martin Blu. Office 15.
Dec. 13 for D. 15.
19th Presser 15. Music
24th Rent 12.
Crews 10. Fee Balance
27th. Mail Tri. [Tribune] 6. ad
31 Printing 3.75
K. of P. __
6. due
$102.75
[illegible] Insurance 9.50
[illegible] le " 12
[illegible] ident "
3

$127.25
and I still owe about $50.
5.
As the fog lies over the land to-night so does the fog hang over my life, and how easy it is to lose the way and fail!
6.
Jan. 2, 1918
Peck is killing his chickens just below my bedroom window. How beautiful the music in there anti-mortem [ante-mortem?] agonies! And then the "chop" and the "flop." Oh would that the rooster that sings that delicious melody at 12.30 A.M. could be canned otherwise or elsewhere. There has been and still is one which, while I wish him no harm, I hope will be banished from this neighborhood soon. Like filing a saw it sounds oft thru the chilly night.
7.
Did Adam sing his do, ri, mi
To Eve to get some jam?
And did his Eve cooingly reply
I do not care a-damn.
7.
When Adam sang his do, ri, mi
To Eve to get some jam
How cute the coo in her reply
"I do not care a dam"
8 Note.
Certain papers written in haste during 1917 containing thoughts and ideas on various topics will be included in this book.
9. Books:
Few books—and no great books were read in 1917 the mind being absorbed in music and the war. Great Thoughts seem to have been at least temporarily discarded, except in where the[y] center on war. Patriotism seems to be emotion more than thought. This year books should be read but only great books.
A copy of the Mail Tribune for each day of 1917 is piled up in this room—a pile at least 1½ feet high. This year it will be this book.
10.
Often I long to pack my grip
And softly steal away
To some far distant land to live
Life's swift declining day
At rest beneath the cocoa palms
Upon some tropic isle
To there just loaf and—how sublime
It is to dream awhile
11. Lecture
Ladies and gentlemen
Moments do come, as you know, in the life of everyone when he or she is called upon to perform some sort of stunt to suit some particular occasion that may have inspired or compelled the aforesaid stunt, or in other words, the exhibition, planned or spontaneous, of some daredeviltry, wherein thru that impulse to show off the ability is put to the supreme test. I feel to-night somewhat as tho it were up to me to do a stunt, and looking back to as early in life as I can recollect, and following down the line from youthful days, I believe I am safe in saying that I never attempted to perform quite as difficult a stunt as the one I shall attempt to pull off to-night. No, I have never done a thing just like this, and possibly will never again if by chance I live thru it—or rather if I am permitted to live thru it. So I admit being a little nervous, but I hope none of you has come here armed with anything more dangerous than than a sympathetic curiosity.
Have I a message or is this merely an act of self exploitation.
12.
Before you standardize the teacher standardize the pupil. The rest will be easy.
13.
One of my pupils brot her sister and mother with her to the studio. Something brot the subject up about my work in the schools and I mentioned the fact that I would have to take an examination to qualify to be a regular teacher or supervisor of music in the schools, and that one of the subjects necessary to pass in is geography, which caused some amusement on the part of my visitors, as there seems absolutely no connection between the two. When the lesson was finished they asked me to play and [I] did so, play—"Defiance" March. The sister remarked, "hey! I couldn't play like that in a hundred years." The mother said, "Now, Helen if you study your geography good you might learn to play as well as that."
14.
A trip to Talent was made in rain as school will not open until Jan. 7th. 35 cases of measles. However, a stop at the Phoenix school on the way back may lead to teaching Piano and Theory there. Supt. Hillis of the Medford Schools was also seen to-day and we had a conversation concerning teaching music in school. At the last Teachers' Convention a few days ago, requirements were adopted for music teachers.
One lesson was given at studio.
But one new pupil has come in this year. Usually there are seven or more new ones at the beginning of the year.
K. of P. and Pythian sisters held a joint installation to-night. "Brother Haight" was called up on to play and gave three "original" pieces. "Brother Haight" also played for dancing until 1.30 A.M. for the first time in about ten years, and gave his services as a donation to the lodge.
The most popular pieces now are "Over There" one step; "Hail Hail the Gang's All Here"; "Where Do We Go from Here" Eliza Jane etc etc.
Fog again this night.
15.
Jan. 3 1918
Copied. (Dec. 25 - 1917)
1.45 A.M. Christmas morning year 1917 finds the writer just getting into bed with some resentment in his heart, perhaps, against the order of things this year, even tho the beauty of sentiment and love and Truth the birth of which the Christian observer in this annual celebration of the birth of Christ remains the same. It is a time [of] joy and happiness that comes from love and kindliness working for a time thru the whole social fabric, and especially in the homes where there are children. The home without a child must be a sad home at Xmas. I am supposed to have a child somewhere in America but no home. Not knowing where she is thru the workings of the satanic mind (mortal mind) I have sent her no gifts nor have I heard from her. I have made no presents to anyone this year, in fact this Christmas time is altogether different, partly in that the evening and night up to 1.30 was passed in the K. of P. rooms with the fellows playing pool (1st time) etc. About 14 hours was spent Sunday and Monday finishing up my last book of pieces, a book I began 5 years ago. (I did this instead of going off Saturday nigh[t] to Frisco on a vacation.)
If I had gone to Frisco I would have been here while there, as my mind would be here and my body there. As it is my mind is there and my body here so I am here and there. Wherever the child is I am there but not knowing where I am nowhere; and being no where is probably worse than being dead tho I cant say, never having been really exactly there, whether being dead is just being here there anywhere or nowhere.
16.
New Pupils 2
Pupils stopped 2
17.
A suit of clothes costs to-day from 40 to 50 dollars 10 dollars above the price for same goods a year ago, and in fact the same goods cannot be obtained at any price: yet everyone has been spending money freely paying the high prices without complaint with a patriotic conviction that it has to be. It seems to me a time to save but such a thing is almost impossible here these days for most people.
18.
After a long period out of the dance work, about eight years, four dance jobs were played in December, at Phoenix twice, Applegate and Murphy each once. We got into Medford from the last job at 7 A.M. next morning. To make hay while the sun shines i[s] all right; but this way of making extra money while the rooster crows is all wrong. No more.
19.
The purity of a child's mind is about the only good thing in the world to-day, and it is certainly a privelege to be a teacher and thus associate with children.
20.
Wh[at]
I
do matters little to the world so that my diary or record is time wasted. Unless this book is a help in writing, in study and a means of increasing and storing up knowledge for the author, improving his mind, it might as well never have been written, for it never will be of any use to anyone else.
21.
The tone of the piano seems harsh and all out of tune following these ten days of special indulgence in playing and "composing." What seemed beautiful a week ago is not so now, and the muse seems to have come, used me as a tool & worn me out and fled away and left me taking the music of me away. It is always this way. That which I think is mine and me is not mine or me but comes and goes from and to afar off place. A composer is a medium a priest of spirit.
22.
The taunting voice of memory speaks, adding to the complexity and unhappiness of your life; for, unless you are so much bigger to-day than you were that your mind is above memory, remorse points its finger at you and jeers, and laughs covering with soot the whit[e]ness of the lilies. Upon the ladder of life the looking back makes you dizzy so interfering with you[r] natural purpose upward so that, if you do not actually fall you can just barely hold on where you are. Progress is more tha[n] just holding on. It means pulling up, upward; while if you let go it is easy to fall down, downward. If you are in one spot just barely holding on and dizzy that moment is near when you must either let go and fall or look up and arise to the beckoning hand of progress that leads to that summit called Truth towering eternally over the valley of the shadow of death.
23.
The Moving Picture has come to play an important part in the life of the people depicting stories with wonderful accuracy and scenes we read about miles away. Several pages of a book would be necessary to describe a scene which a picture can show in a few seconds. While the book would fall short of describing a scene to appeal to every mind the picture thru the eye seldom fails. In "The Moth" Nor[m]a Talmadge and company act the play about as perfectly as it could be. Pictures of the Halifax disaster [explosion when two munitions ships collided Dec. 6, 1917] show ruins almost heartbreaking and evidence of suffering and death cast before innocent people by Fate. And the snow and biting cold on the scene? The world cries out to God, Why?
24.
M[r]. Isaacs brought up two good songs to-night "Israel O Israel" by S. Buck and "Abide with Me" by Liddle (Boosey).
25.
— Friday, Jan. 4, 1918 —
The year now madly racing in its couse
Upon the wheels of time, relentless mores
To strike innocent men and leave them dead.
26.
— Books —
Light is the enemy of fear and ignorance; and knowledge is the true light. Good books supply that light. Fear and ignorance fly before the light of knowledge. Therefore, read good books, but first study the tool of the mind—the English language, in Shakespere above all. Complete mastery, and marvelous use of the language is there.
Study history. "Not to know what happened before our time is to remain always a child. What does life amount to, if we do not combine the memory of past centuries with the events of the present day." (Cicero) Read history to know what has happened what has been done during the centuries past.
Note: For further information on Books see File 26
27.
The weather is worth giving more than this passing thought, namely: that the day was like a cloudy day in spring, mild if not warm. There has been in fact no winter yet meaning a big saving in fuel when fuel is high.
28.
Four piano lessons, and a little playing for Mr. Root's pupils at the Woodman Social K. of P. Hall, a little dance playing afterward to help them out, and then pool with Hamson, Sears, and Stewart kept me up until 1 oclock. It is better and more healthful than the sin of worrying and that lonesome deathlike atmosphere tha[t] falls upon me like a heavy fog when alone. God save me from any more of it. To describe it, would be impossible so I shall not attempt it lest the thinking it over make it so.
29.
This book must work itself into a system. Books, papers, etc, up to now collected will be arranged into what will be called "The Library" to which reference may be made for further information on any subject discussed here by number, each paragraph being as already noticed, numbered. For example 26 refers to an excellent article in the San Francisco Examiner in the Editorial section, on books. Some great books are referred to there. It is not necessary to rewrite the article or give the list here.
— SATURDAY JAN. 5th 1918 Medford, Oregon —
30.
Eat and the world eats with you
Starve and you starve alone.
31.
Eight full piano lessons and three part lessons given at the studio to-day.
32.
Unless the desire or sense appetite for tobacco is overcome the desire or wish to give up the habit receives little or no help from Divine Mind even tho mind suggests the good resolution. To effect a cure, the desire, taste, & sense which belong to mortal mind, error, and suc[h] must be destroyed by a stronger power only or else they cannot be destroyed at all. Is there a stronger power? Is it the will? The will might stop the actual habit but can it destroy the desire for the pleasures of sin? Mortal mind and Divine Mind cannot exist at the same time. While the desire exists for tobacco or coffee or other stimulant you are not in time with, or receiving help from Divine Mind, the power which can alone cure the desire and overcome any evil habit. Christian Science is looking up and above to God thru Christ always, concious and subconcious, and in faith, receiving a steady flow of power which overcomes mortal mind causing materiel to become imateriel banishing sin and sense for in Divine Mind these are
not
. Such is health wherein Mind overcomes sickness by throwing aside mortal thought of it; and just so can bad habits be stopped.
33.
"Science and Health with Key to the Scriptures" contains exactly 700 pages. Was this by design or not? Seven is a prominent number in religion. The Bible contains complete about 1300 pages. To anyone with higher thoughts these two books reveal the highest truths and philosophy ever given to the world, and certainly no harm can come to anyone who reads them. For those who have not the time or inclination to read or study these books systematically it is an interesting thing to select a verse from each book occassionally, at random; this way for instance: —On square pieces of paper or cardboard cut small write the numbers 1 to 9 and 3, 0s, as:
1 2 3 4 5 6 7 8 9
1A 2A 3A 4A 5A 6A 7A 8A 9A 0
1B 2B 3B 4B 5B 6B 7B 8B 9B 0
1C 2C 3C 4C 5C 6C 7C 8C 9C 0
Mix the pieces up and draw a number. If 1 is drawn that means page one of the book. If 1A is drawn that means draw another number and combine it to form a number in the tens, as, if 5 were drawn (any 5) combined with 1 would be 15—page 15. The B numbers mean to draw twice more and form a number in the hundreds, while the C numbers mean to draw thrice and four a number in the thousands. The resulting number orders to open the book at that page, then with eyes closed place finger on the page and read the verse you land on. Let us see how this original plan works and the result; first from the Bible, then from Science and Health. And compare the verses.
The first number drawn was 4B meaning to draw two more. The two drawn were 6 and 5. Turning then to Page 465 in the Bible and placing my finger on the page without seeing the following verse is the result of the first trial in this scheme.
I. Chron. 28V.
"At that time, when David saw that God had answered him in the threshing-floor of Oman the Jebusite, then he sacrificed these."
This verse is from some historical records, and except that Daniel was in close touch with God, it reveals no greater truth. Perhaps there is no greater truth necessary than to be in close touch with God.
The first number drawn for selection of verse from S. & H. was 7A which means to draw another number to combine with it. 0 being drawn 70 is the page. The verse touched is: "The divine Mind maintains all identities, from a blade of grass to a star, as distinct and eternal. The questions are: What are God's identities? What is Soul? Does life or soul exist in the Thing formed?" These are some questions. I doubt if David could have answered them. The mind of each living person retains pictures of and identities of other persons who are dead, and mostly good if not all the good which may prove that mind or good exists not only in the individual but is shared by others and in a broad sense all is one mind. And it seems all minds
are
of one substance or force forming collectively one mind.
And yet again have we another illustrious book upon which this course of study would be tried were the pages numbered: yet it will be tried by drawing and estimating the page and landing on a word. Page 661, word landed on is
remunerative
: "yielding an equivalent return for outlay: lucrative: profitable." —Would it be a
remunerative
expenditure of time to thus study these three great books daily? Note: The 3 book[s] and disk of numbers are in the Library.
Some interesting things are likely to get into this book yet. Dont quit. Even the style may improve and become literature. By all means stay with it—earning a living is nothing. Money. Bah!
——V——
34.
Sunday Jan. 6th 1918
"To look up and not down.
To look forward and not back.
To look out and not in.
And, to lend a hand."
Edward Everett Hale
The optimistic philosophy of the author of "The Man Without a Country."
From an editorial in The Oregonian Sun. Jan. 6 this, and the following which fits my own case in my visions and dreams of my own possibilit[i]es that have never come true owing to lack of character or something worse. My experience in the Public Schools has helped me, however, and I can repeat these words of Dr. Hale: "I owe to the public school and to this now despised exercise of declamation that ease before an audience that I share with most New Englanders." I may owe in a different way, begun late in life, yet I never could speak before an audience at all until a few months ago.
"He read a good deal, studied history and practiced gardening, hunted wild flowers and made philosophical experiments, always for all these avocations were worth. He made everything a mental occupation." Mental efficiency. A man with a great mind force partly aquired, for good for church and country.
"For the truth is that what a man needs is to live as much as he can. 'Life more abundant' as the Savior says is the great object: that I may live more earnestly and vigorously and efficiently than I did last year."
And such is the object of this book.
35.
The three books and the tickets of admission. Gen. 6-20. "Of the birds after their kind, and of the cattle after their kind, of every creeping thing of the ground after its kind, two of every sort shall come unto thee to keep them alive."
I was just discussing my own single life with a man. It seems it takes two to really live according to Nature and Nature is the command of God. I am not living in accord to the command. Living alone and against nature means death.
P.539-3
"Error begins by reckoning life as separate from Spirit. Thus sapping the foundations of immortality, as if life and immortality were something which matter can both give and take away."
Some sentences need to be read over many times and studied in this book. Somewhat similar to Shakespere. This may have to be given up: yet all
is
really Spirit. Spirit does not decay like the materiel body. Life is spirit and not the body which is materiel governed by spiritual. There can be no immortality in materiel, only the spiritual mind idea can endure.
——V——
ACCEPTABLENESS, the quality of being acceptable or agreeable.
The future success of my work in the schools depends upon my acceptableness more than my opportunity.
Sunday I got out of bed about two in the afternoon, getting a complete rest in mind and body after weeks of sleepless nights; but how lonesome the day has been! —that much of it seen. And the rain seemed to intensify the lonesomeness. By the way, this does not seem destined to be a dry year or a cold winter. Heavy rain fell today and the weather is very very mild. In the confines of my "home" life seems to wrap me into, and press me like a jumping-jack, into a box from which I would jump were the lid lifted out into a look at the big world instead of sleeping against my will in this place. I need more work and outlet to certain energies and I need to be married also. This keeping away from a woman for 2½ years because of a principle has done me no good perhaps and I doubt if I shall continue it.
36.
"America," the latest song written for McPhee, is selling well locally. The music is a good one-step. McPhee told me to-day that he heard the orchestra "ragging" it up in the Moose Hall last night. He stopped
and listened and heard them play it five times. This is the first time I know of where any music of mine has been played for a dance in this town. The "Valley of the Rogue" keeps on selling.
37.
Mr. Root is busy teaching violin, and all string instruments orchestra instruments and band instruments, directing two pupils' orchestras and a boys band, and playing at dances besides. He told me he earned $134. in Dec. and that the income four the dance work pays the interest, taxes etc. on his home, which they bought five years ago. Mr. Root is a Christian Scientist, and in fact went out one day and got this book of Mrs. Eddy's [Mary Baker Eddy, founder of Christian Science] which I have right at hand on my table. He does not smoke, and is growing in efficiency all the time thru Mind plus work or work plus Mind.

38.
The man from the Middle West would introduce me to the girl in the next house any time. "She is clean and pretty as a doll," he says. The door between is not kept locked any more, he said, "But, I'll bring her in here. She'll come. I'll just tell her I want to introduce her to a friend. There is a cot in room 106. I'll bet if the most beautiful woman in the world offered herself to you you would run away scared to death. I know that one of the leading men in this town went in there last night and if I were not married I'd go in myself. You are free, with no wife, and nothing to hold you and I can't see what harm there is in it."
39.
It was the phrophecy of the writer last summer that peace would come in February 1918. The Russian situation, the manuverings of the Kaiser, and the recent speech of Lloyd-George, which makes a number of concessions seems to emphacise that prophecy. It only remains for the German people to rise and throw off the Prussian Military dictators, and guarentee reparation as much as possible to Belgium, France, and Servia and there will come peace to the world and possibly a lasting peace. The peace negotiations, however, owing to the immense task, involving so many nations may not be completed for seven months, but actual war and murder may cease next month. Germany had best quit it, now.

40.
Where there is love, respect, and companionship in married life, the intimate relations tend to vitalize life in both parties with a steady growth in force giving greater vigor day by day and working every hour of the day up to the actual sex intercourse which is the culmination of it and the relief in order that Nature may work in her way and renew again and again and forever while life lasts. Love is the magnetic force but to be perfect it must be mutual not one sided. Promiscuous intercourse cannot take the place of this activity of nature. Constancy is by far preferable. The mere satisfying of the passions of lust is wrong in that it fails to satisfy, but rather, disturbs the concience, injures the morals, and therefore destroys instead of building up. One is Heaven—the other Hell.

41.
The last thought before getting into bed is a decision to stop smoking. This is followed by another smoke, in bed. Then more resolutions to quit. This goes on every night, after smoking a pipe all day when ever there is a chance, and Sunday all day. In the morning when the drunk has worn off my pipe is in my mouth before breakfast and another day of slavery to a habit goes on. Thus it has been for 20 years, probably causing the present ruination of life in that it has held me back always and kept me from reasoning clearly in many ways. Smoking can be a sin and downright dissapation and to continue it against the will is but to give in to sensuous desire and weaken the will. It is mortal mind, error, which must yield to devine Mind in some way or the habit will continue. There are various ways. Christian Science is one way revealing Devine Mind through thinking rather than thru emotion. "There is nothing either good or bad, but thinking makes it so." Appetite and desire and passion are not thinking and they hold mankind in bondage. O to be free! "Ye shall know the truth and the truth shall make you free."

45.
Monday Jan. 7 1918
8.30 A.M. With my pipe as usual and up to late to get to Jacksonville school for the class. Alarm clock woke me at 6.45 but I refused to get up as usual. Thru excessive smoking and coffee I get to bed late and cannot get to sleep for hours. Hundreds of times I have laid awake all night. This is a disgraceful situation. I had to phone to Jacksonville that I would come up on the next car [of the Interurban Autocar Company] and postponed the class over to tomorrow morning. Shame! Shame! Shame!

[46.]
Resumed my work in the Jacksonville school after three weeks away from it. The piano is up in the assembly hall. Five private lessons were given in the school and two outside. The violin is played with all pupils in the school. To-day each pupil was given some EX. from Phillipp's Technic and assisted with the pieces they are to play at a musicale the date of which is set now for Jan. 17 in the evening at the school. Programme will appear soon. The plan of listing and filing all work done by each pupil with a view to looking after their future and individual requirements was begun to-day and papers are in "Library." Miss Wendt has decided to leave the school so all the music now is to fall upon me. The experience will be good. School singing of patriotic and other songs will be tried next Monday. Here is an important address given me by Mr. Godward the principal: J. J. Krapps, Capital Normal, Salem Oregon, from whom for 35 cts a copy of sample questions us[ed] in state e[x]aminations can be obtained to assistance in passing the necessary examination for music teachers.
Lottie [Charlotte Patton] asked me to give her lesson at her home. An optimistic child, happy as a bird and always smiling. How can it be in a house that is a shack, and while not dirty is old and furnished very poorly. A few old rugs on an old board floor, (many houses in Oregon have yet only board floors, however, and house some sturdy fine folk) and things scattered about in disorder apparently. There are five children and the mother, and there is her secret—the mother. She is foreign, French I believe [born in Poland, according to the Census], dresses poorly and is poor, yet a lady. I'll bet she is a good woman with character. It shows in her children and in her face, and even in her speech. Tho this is the way she handles the English language. "The leetle one do better than beeg one. He take lessons if not cost so much. Think sometime stop beeg one and little one (sister) play. He no count. He play from heart."

47.
Copy of letter received to-day from a little girl, one of my former pupils here. She is twelve years of age now. Library 47

Astoria, Oregon
Jan. 5, 1918
Dear Mr. Haight
I have been thinking about you every time I play on the piano. I have not taken many lessons since I have been here, but I can never find such a good teacher as you. I never can learn as much with anybody else. We have been having quite rainy weather here w[h]ich I guess will last until Feb. They most always have three months of continuous rain here.
How is the weather at Medford, and how are you. I hope that some time you will come to Astoria for a visit. In the summer time you couldnt find a better place than Astoria, it is so cool and nice the ocean breeze freshens the air. Astoria is a much larger town than Medford, twenty thousand inhabitants. I will close for now to hear from you soon if you get this note.

Miss Lillian Ahrens
516 Grand Ave.


This is some letter; and I feel highly honored as well as pleased to be so remembered by a child. She left Medford two years ago and this is the first time she has written me. Children must remember good in people forever. I am proud.

48.
This book is coming right along. Something real interesting will be met before long. Be patient.
This was a beautiful day. Mild and springlike and sunshine part of the time. The grass is getting green. The cattle have not come down off the hill ranges yet. The paper describes a reall blizzard in Chicago, and cold weather in the east. The war shows no great change, only 1800 British casualties the past week—

only

.


— Tuesday Jan. 8th Medford, Oregon —

Who named the dawn, "The chariot of day"? instead of the roosters' picnic.

49.
See Library no 49 for a beautiful poem to set to music.

50.
Can a man live on 25 cts a day for food? Instead of .80 cts and save in a week 3.10 in a month 13.50: in a year 150.00? My larder to-night to start on is 1 pint of milk: some pot cheese: a loaf of bread: 1/3 can cocoa: 1/3 box of tea: 2 apples: 15 nuts: ½ cup full of coffee; and 3/4 box of Imperial Granum. Fuel is free in electric stove. Drink more water and less coffee.

$1.00 was spent for food to-day because getting out of bed at 7.50 to catch the 8 oclock car leaves little time for breakfast. A light breakfast was gotten in Jacksonville. Five lessons were given there three at school and two outside. The work is all getting into shape fine again and preparations are being made for the recital. The bustling around beats the awful Christmas vacation where I overdid things in composing without outdoor exercise with smoking and drinking coffee. The piano has not been touched by me since. Playing and composing make me think of a toothache. Coffee and I have parted company for a while. The weather keeps mild and spring like. Tho to-night is colder.

Wed Jan. 9—
The teaching of piano was resumed to-day in Talent school with seven full lessons. Plans for the new semester were outlined, and will include school singing of patriotic songs. The class lesson period was changed at my request from 8.30 A.M. to 12.30 to 1.30. School work is uplifting and the atmosphere most inspiring indeed.
For piano work see records of each pupil filed in "library."

Thursday Jan. 10
Applied to-day for position as supervisor of music in Medford Schools but not having a teacher's certificate will not probably get it. It is too much as it is now, and unless some system of living other than the present is adopted—am likely to go under. The details that have to be kept in mind at present are many.
Private teaching at studio: A Recital in Medford; Talent school and preparation: Recital at Talent school: Jacksonville school preparations: Recital there: my composing: my own pratice: Piano tuning necessary to keep school pianos in condition: studying necessary to pass examination in June for teacher's certificate; and a thousand and one things that go with all this: the violin, finances, this book etc. etc. An attempt will be made to get things arranged in order under separate heads. It is all mental which interfers with my sleep and causes that horrible worry over death. With severe pains in my left back and neck, and a slave to coffee and tobacco, unable to relax except from 5 A.M. to 10 A.M. when I ought to be up and the general complexity, worry, and anxiety, I am held back against my will by mortal mind and sensuousness, and though away from actual sex gratification I am probably held in bondage by that. The fire is not out but burns in an insidious way. The desire for the child may be sex first.

Jan. 11
Self examination reveals so many defects of mortal mind so many errors so much that is rotten that the more careful the examination the more magnified become the defects especially when compared with the given knowledge of truth. Divine Mind fights for its own by making itself more real and convincing, proving that in sin there is suffering while in Truth there can be no pain of mortal mind for mortal mind is not in Truth but at the extreme distance from it. To one whom the vision of God has been made manifest all else but Truth is pain. Truth is in order, work, and system of living. The writer ate supper last night at 8.30 and without further indulgence got into bed at midnight but sleep was impossible it seemed tho with God all things are possible. He was still awake at 5.30 A.M. He finally got to sleep and awoke at noon. This is the 4th morning this week he has failed to get up and attend to a prospective opening in the Phoenix school. A feeling of discouragement and lack of confidence has again invaded his life, and a feeling that he is unfitted for the work he is doing. Smoking is injurious but even if it were not the fact that the habit cannot be given up has an injurious effect upon the life and work of him who is its slave. The realization of this slavery is demoralizing and as death. The[re] need be no death. So called health is divine mind at work unhampered by error and mortal mind with its sickness and desease; but there can be no health when mortal mind is master. Divind Mine must be master giving health, life, and heaven here and hereafter, with no death.

Jan. 12, 1918

Summary of week.

The week stands as the beginning of the year and resumption of teaching in the studio and in the schools of Jacksonville and Talent. Most of the time was spent in getting things going again. 36 lessons were given during the week. The piano was not touched and no composing done. Composing and playing were overdone during vacation, wearing out the energies which must renew themselves. Lots of work in arranging old pieces yet remains. The tone of the piano sounds harsh and the action seems to rattle. My ears got terribly sensitive to tone. Some thought was given to the violin in examining a number of instruments with a view to buying one to use in school. Under the intense mental work, each night has been a sleepless night, making it difficult to get up early. Getting into bed and laying awake from 10.30 P.M. to 5 A.M. is nothing unusual. Coffee and tobacco. The weather has been mild with considerable rain. There has been no winter yet this year. The war has given no new startling horror to the world this week: just the steady killing in the various ways. Peace terms have been published by America following Great Britan but peace can come, most people think, only by defeat.
Attention has been given to the matter of teaching music in school as supervisor, and in the matter of accrediting teachers and the giving of credit to pupils of High School studying music outside of school. See papers on this mater in Library under "Education."

The writing of this book is helping the author to think clearer and more logically. Now something must be done to cut off the thinking at the time when it is necessary for the body to relax and sleep.

If this book is worth writing it must be worth reading. The entire book must be read by the author at least once a month. This rule is imperitive. Read it or quit writing.
"Under Good of the Order Brother Haight favored us with several very fine Instrumental Selections." [Talisman Lodge minutes, Jan. 13, 1918]
— Mild —

— Sunday Jan 13 1918 —

— Rain.

There can be derived from this book little benifit unless each week shows an improvement over the preceding week. Life is to be more than just the mere living. It should be trying, doing, watching—to do better and think better.

A rainy sort of day, a cold room, and [being] alone drove me over to the K. of P. rooms. Inviting Hamson to go to a picture show was buying companionship.
And again at midnight in a cold room you see me washing and ironing clothes. And you may have seen me smoking all day and drinking coffee so that sleep will be impossible yet with work to do to-morrow. It is some life, this. But it is better not to adorn the pages of this book with very much more personal matters. The study of ones-self does no good in my case, at least. No, not a sound out of my piano to-day. The sound is avoided as harsh and disagreeable, and to be dreaded: yet some of the phonograph records on the Edison sounded beautiful to-day and also the organ at the Rialto. Music effects me more than ever, so that the hard hammers, uneven tones, and rattle of keys on the Steinway caused by constant use probably is really disagreeable. More beautiful tones are heard in my head than from the piano. If there was not a piano, or any instrument, or human voice anywhere near now just a book on harmony, some compositions of the masters and plenty of music papers, some music might be written by me.

——V——
"In a few well chosen words P. G. C. Brother Wortman, on behalf of Talisman lodge presented brother Haight an official lapel button in token of the esteem and appreciation of this lodge for his services and ability on our behalf." [Talisman Lodge minutes, Jan. 14, 1918]
Friday, Jan. 18, 1918
The[re] has been little time or inclination amidst mental confusions under which the author feels almost crushed, to write in the book the last few days. The crushing influence is not work, but the thot that I have no friend above; no help to give up smoking and coffee habits. There is a feeling that God has certainly deserted me, and that only thru myself can I regulate my life to fit my work. To-day, after debauching myself with sleep has been impossible, and some work neglected that could have been done, a new attempt is being made to overcome the habits. Up to three oclock only was I successful, which is something at least. With no bodily aches or pains, yet unhappy because I am not free from fear, bondage of sin, and slavery to habit.

In the analysis of the cause and effect of tobacco and coffee and in the examination of myself relative to the use of same, it seems, a tremendous problem, as big as life itself, is presented, for these two narcotic stimulants become such a part of life that mortal mind has no life in its sensuous self without them. To continue their use is to give in to and be absolutely controlled by mortal mind and error and sin that leads to death, instead of that freedom that leads to life and which is the only true life and mind. Speaking of myself, to-day I resisted the desire up to 3.30 P.M. but found it difficult to think unless under stimulant so had to (mortal mind had to) have my coffee at 4 oclock, after which the world brightened up again, proving that the nerves thru heart action are a slave to coffee and tobacco from years of such indulgence. Stopping off these things suddenly is therefore difficult I believe, yet to be free entirely it is the only way.

——V——
[page missing]


once bestowed only their developement and usefulness can be retarded by mortal mind and error and sin. Yet they will rise again out of the dirt. But Truth expects you to rise now. This is the year to settle your account, for what you are to be next year depends on which compartment is most clearly in order. There are many other things in your life which you must regulate, and sins and habits you must overcome. You must read Science and the Bible and good books and rise above small things and petty worries. Give no time to worry over money and death. It is time wasted and time thus wasted is sin.
So here you have been advised with the voice of wisdom by an angel of Truth. Mind has spoken. Heed it; kick yourself to the divine principle fully: believe that all is harmonious: have faith and all success and happiness are yours. But having spoken and you having listened if you depart one iota from the offerings and demands of Truth you will suffer, and it were better you had never been chosen and that you had never heard. And get up out of bed even if you have not slept. You have not taken exercise enough to get fatigued enough for sleep to be of use to you. Mind knows no such thing as fatigue. Until you have attained that all mind state you are yet mortal and mortal mind requires sleep when mortal mind gives that sense of fatigue. Mortal mind deceives you if it tries to convince you that you should sleep when not fatigued even tho fatigue be an error itself.
Saturday Jan. 19, 1918.

Summary for the week.

Unless a man thru Mind is in command of himself, he is a failure. The only fruit of victory is the peace that comes thru the absolute conquest of himself. All else is of death and leads unto death, real, or a living death. By constancy, it is not proven that a man is free from desire. It is simply more economical. The writer of this book has failed this week, even tho six new pupils came in, 37 lessons were given, and a new line of teaching singing in school to the whole school was put over. No piano practice, or composition; and no study. Attended a dance but did not dance. The K.O.P. decorated the writer with a pin as a mark of appreciation. Isaacs was up once, and a new arranging job was tackled for Miss. B. 14 children came into the studio to-day and 3 new pupils applied. Work ahead is rather stupendous. My rooms are in disorder and so is everything.

Jan. 19th, 1918 —
Financial.
Accounts, including all that is owing amount to $287.00
My debit account is again up near $75. and beyond my understanding to know where the money goes.
Pupils number 48 now, some take, however, every two weeks.

Opportunity stares at me from every side while hours of precious time in a beautiful world are wasted in fear, worry, remorse and bad habits, generally, all under error and downright sin. This book had better not be further written. Self condemnation is another error, error added to error until all seems error when only I am at fault. No more need be said ever again about it. Were I worthy I would not be deserted by wife, child, and by God. I am unworthy and must continue as I am.

——V——

To-night is clear, and rather cool and a bit frosty but the week has been mild and springlike.

Sunday, Jan. 20, 1918.
This begins a rather busy week with less confidence in myself than a fool.
"Christian Science demonstrates that none but the pure in heart can see God, as the gospel teaches."
"Narcotics quiet mortal mind, and so relieve the body; but they leave both mind and body worse for this submission. Christian Science impresses the entire corporeality, —namely mind and body, —and brings out the proof that life is continuous and harmonious. Science both neutralizes error and destroys it. Mankind is the better for this spiritual and profound pathology."
"Right and wrong, truth and error, will be at strife in the minds of students until victory rests on the side of invincible truth."
The above were picked out at random from "Science & Health with Key to the Scriptures," by Mary Baker Eddy, and show in a few words the condition or state of war the writer is in.

My mind is as large as I can see, hear, imagine, reason, feel and remember, and the more I do these the larger the view extends from the atom of my being out over the earth into heaven.
From the top of a mountain my mind is of all I survey yet in body I am but an ant. The materiel mind of the man who runs a great factory is physically but a speck compared with the material business while his mind is bigger than the entire works. As the mind of man runs the factory so the mind of God which is All-Mind runs the world and universe. Natural laws are Gods laws—man [illegible] system and natural law is harnessed.

Now, the writer is not disposed to brag or hope judgeing from thousands of similar resolutions, but the pipe and tobacco have been laid away, quietly, but near at hand, however, where he can conveniently get out his pipe in about ten minutes which is all the time allowed.

Jan. 25, 1918 Friday
This book is coming along like a lot of things the writer has undertaken but never finished in his life. FAILURE will be written after his entire life. Always behind in everything—a sort of hook-worm or tape-worm victim; but there is such a thing as being too busy to write a book. It would not be wise these times to be too busy writing this book to be doing that which feeds and clothes and shelters in other words working and for money, so if the book fails it is partly, at least because the writer under mental stress in teaching music privately and in schools, with some 50 private pupils is unable to apply or is incapable of applying his concentrated attention upon anything but that work.

The fact that the writer has had a bad cold this week [o]ught to be mentioned and curses go with this honorable mention for of all the damed things that Hell has inflicted upon the human race, colds and their varieties including catarrh, pne[u]monia, and consumption, are about the rottenest. Poor man has too many odds against him in this world, that pull him down constantly from God to spite His revelation and truth.

The mercury registered 24 one night, the coldest weather of the year and following the rainy spell; but outside of two other nights cold, but hardly below 30 the weather has been mild and the days warm and bright. The pussy-willows have been out for two weeks. To-day is a warm spring day. A most remarkable winter; but a man who has lived here 54 years said this is the kind of winters they always use[d] to have—just a normal year.

Jan. 26th.


Fear. Fear. Fear. The writer eats, breathes, sleeps, thinks, dreams, and lives every moment in Fear. Fear of sickness and insanity; fear of losing pupils (6 new ones this week) and fear of competition; fear of adverse financial possibilities and future poverty; fear of other peoples opinion; fear of failure; fear for the world and all mankind whom God appears to have deserted on earth; and fear of death present and ultimately. Add to these other fears of child and home folks and it is a complete life of fear itself instead of a life of happiness thru; faith, hope and love; of thankfulness and harmonious thought with all things and with God. A life of suffering is mine when it should be a life of great joy. Failure, sickness, death should never be entertained, nor mortal mind to reach the acendency it has reached falsely ruling me with its lies, lies, lies, for fear is a lie.

The writer of this book decides one moment by all that is holy or unholy to quit smoking tobacco, and the next moment he is smoking more than ever. This has been going on for years—this dammed nonsense; but recently the fight has become simply a fight for life or death and consumed his attention until he seems insane in the desire and loss of will, and weakness of mind. This worry, this feeling of slavery, and confession of weakness with the attendant despair, misery and remorse are doing more harm than the tobacco itself upon his mind and body. Christian Science has not succeeded probably thru not enough study, yet no man is a law unto himself alone and he cannot succeed alone. Then how can the habit be given up, especially when the mental strain seems to demand the apparently quieting influence of tobacco? The more the brain work the more the craving for tobacco. Add coffee to tobacco and you have the physical wreck. Were sexual indulgence added, what would the result be?

Diary Jan. 26 1918 Summary of Week
Springlike weather with sunshine and no rain.
40 lessons: 7 new pupils: conducted the singing in Talent school, 200 voices, first experience in such a large way: sick all the week with a rotten cold in the head, but never gave up: got back at piano after a months absence from it, fingers did not know where the keys are: tuned the piano in Jacksonville School Sunday evening 5.20 to 9, and being the coldest night of the year and no heat in the building, got very cold—all thru, in fact nearly froze rather than give up, which accounts for the week of suffering from the leaking of the nose, and washing handkerchiefs and cursing everything generally. The tuning was a bum job. There is enough work ahead to keep me busy for a hundred years—truth.
At 11.45 Saturday night the writer resolved that he would not allow himself to get the best of himself, and allow himself to be forever laughed at by himself, so quietly laid on the shelf his pipe and tobacco, which has been up to the aforesaid hour the chief cause of his misery and despair in the midst of success in teaching, and outlook into the future. It is now 12.05 and the utensils are still on the shelf but calling to me softly, each minute louder, until it is to be presumed, in order to stop the vociferous clammering of error and mortal mind, I will take them down fill my pipe, light her up and be in "bliss" once again. Well, I'll be damed if I will! Is there no God to help man in times of stress; or is man supposed to be more than his creator; or has man been left, & deserted, to shift for himself? What a discouraging, what a disappointing, hopeless condition it is when I must overcome the habits myself—tobacco and coffee. I cannot alone. Willingly would I give God the credit could I win, if I only knew. If I have not received truth I have not deserved it by wanting it. Wanting is asking; but wanting is not always asking.

O joy! O joy! What is the joke?
Tis one A.M. and not a smoke.
The pipe and dope is on that shelf—
I kept them there all by myself.



Sunday, Jan. 27 Medford, Oregon
Oh! wifey, Oh! wifey, how can it be true!
I once thought I never could live without you
While now rather than ever take your hide back
I'd take out my old pipe and smoke my tobac'.

To 12.20 Sunday afternoon, no smoke
1.10 After dinner cigar, "Little Bobbie."
The writer of all this self-denunciation, condemnation, etc, must continue the self-examination and state and explain just why he smokes tobacco. Why did he right after dinner (1½ cup of coffee at meal) buy a cigar. Admiting that after dinner is the time to smoke if there is any time when the indulgence is least harmful, did the writer think by leaving his pipe and tobacco on the shelf and smoking a cigar he could fool himself and effect a compromise with opposing forces? True, he seldom smokes cigars, once a month; and true this one has gone out twice up to 1.25; and true, "Bobbies" are advertised as least injurious and "recommended" by doctors: true, he ate a chicken dinner and drank coffee: true, he felt lonesome: yet to get right to the point of the question, "Why smoke? Why?["] it has yet to be answered. Perhaps the only answer to the question, "Why smoke?" is to stop smoking. It would seem that the human machine in throwing off nicotine and caffene was given a job, with enough extra work to shorten a mans years as sure as can be.
The cigar has gone out again. The pipe & tobac' are still on the shelf.


Report of work in Music
at the Jacksonville School
Singing Theory Class

Jan. 28 1918
Upper grades assembled in one of the class rooms. Names of songs given. Drill on scale and internal work in C and G corresponding to the songs, Sweet and Sour and Aloha. Sang America 4 verses which all know, words and music. Had them all read words of each song or recite them as in the case of America, before singing. I recited the 4 verses of America with them. Flag salute and Oath of Allegience were begun and closed with Star Spangled Banner one of the piano pupils presiding at the piano thru the period. The plan is to have a different one play each time going around. Also violin pupils of school play with the singing of America. During the absence of any singing teacher for lower grades, I offered to do it gratis to get experience. This means some more studying up.
The piano pupils in the school number 10, outside the school 6.
The violin pupil Rene Harrel is doing fine work. Mr. H. is pleased and absolutely thunderstruck at his own daughter. Parents some time have no faith in the ability of their own until a teacher shows it up to them. I am using the same individual drawing out process in teaching violin as teaching piano, and gaining or regaining experience.
Use the violin and piano in directing the music class in singing. Also play with piano pupils.
Mr. Rader's U.S. Flag is liked in this school.
SEVERE STUDY MUST BE CONTINUED to aquire a complete knowledge and understanding of this music work in the public schools. It is big because it is broad.


Jan. 30, 1918 —
Spoke before the whole school at Talent 200 pupils and teachers and principal to a greater length. I was too scared to be nervous during the whole 30 minutes, and there was no time to think of oneself as everything had to move fast. While not entirely at ease I did better. It must be borne in mind that this is a new thing for me and it is quite a thing to do for any man and prove equal to the occassion. In Jacksonville half of the school assembled in a class room Jan. 21 & 28. In Talent this is the second time. The first time was only 15 minutes. It seems an opportunity has come to me in these smaller schools preparing me for a larger field.
Sleep has been impossible as the mind seems constantly thinking, and smoking and coffee drinking have been resumed and hit up at a furious pace.
Two pupils quit this month Helen King and Helen Adamson. The latter said she was going to take of another teacher that is her mother wanted her to but it is only a case of laziness or loss of interest. She seemed delighted that she would not have to work for credit in school. I replied saying that she should keep up her music anyway and take lessons from some one and not quit it. I just called the mother up and found that they were not thinking seriously of changing teachers. The mother is — (her phone just rang again and I booked a new pupil Bartney this is the 10th in ten days) as I was saying the mother said she was tired of urging Helen to practice; that the girl resolved to get up and practice 60 minutes but failed to get up. I said that I could not get up my self and many others were the same, and said also that perhaps she was worrying about it interfering with her music. I asked that she come in Saturday for a little talk and that I would advise her what to do, to take of another teacher if necessary but I wanted her to play at at a recital. Mrs. Adamson thanked me, and in fact this is an interesting sort of incident anyway.

Divorce does not kill love, and the first marriage endures always, even though many are happier in their second adventure, which is more a companionship than a marriage so agreeable that it subdues the first love and true marriage. The divorce is the act of one party usually, and in a woman it is the overpowering force of error and sin exemplified in the extreme opposite of love which is truth, in hatred which is error and sin and untrue. Hatred cannot endure, though it seems to endure and subdues truth by its malignant fire from the fuel of error, burning in mortal mind's furnace. Divorce intensifies this hatred in most wom[e]n. Hatred of the man, hatred of conditions, hatred of themselves, until hate grows into the most monstruous pile of errors that can be gathered to-gether on any one point in life. The more the woman is to blame the more hatred. Really she is hating herself all the time. Yet love could overcome all and cast out error while hate cannot kill love. Love is truth and lasting; hate is falsehood and cannot endure. Therefore divorce is error, and sin and wrong. Love is right, and every marriage is love to some extent, and should not be broken by divorce. Love should grow stronger and if both parties had right thoughts and Mind it would grow stronger. Religion should be in every marriage, & sincere in both parties. God must be above all, in all and of all and all.

Smoked two small cigars Sunday up to 11. P.M. when certain work, namely: writing out 24 papers with words of songs; ironing shirt, and trousers had to be he[m]med. Under the stress of this the pipe and dope were started again and continued to 2.30 A.M. It is found that stress of mental work demands the soothing influence when that work is behind and has to be hurried. The ever lagging behind thinking instead of doing; worrying instead of getting the cause of worry off the mind incites the desire for tobacco. Get at the work and get it done and there need be no necessity for tobacco. Work overcomes the thought and desire. Mind overcoming the physical sense entirely results.


January 31 1918 Thursday.
The month has come to its close. Is it worth looking back at; and does the good so outweigh the bad that I am entitled to live a month of to-morrow[s]? Probably never in my life have so many opportunities so clearly presented themselves to me and so many visions opened. No month has been so broad in its aspects, probably. Thus the inspiration gotten in the public school work. Private pupils number over 50. Whiel there has been neglect of my own personal expression, time has hardly been wasted in giving out to others my concentrated thought and benefits of experience.
Financially the $300. mark has only just about been passed in my savings from Aug. 1st 1917. It ought to show up larger but $23. has gone out the last week. Balance is $314. with about $35 owing. After all, $50 a month may be all that can be saved.

—————
My way. An "ad."

A Memory

A composition for Piano by Fred Alton Haight and published by The Fred Alton Haight Co. of this city.

Note

.

This composition is not for sale in Medford but will be gratuitously distributed to my friends in sincere appreciation of the support and confidence they have given me; and to those who are not my friends if there be any such, with a kindly spirit to all. For all who call at the Haight Music Studio on Sat. from 3 to 5 I will play this piece as often as required.

Add to above. I have played A Memory many times for people of all classes. Everyone seems to like it therefore I wish to announce that this composition X X X appreciation of the support and confidence they have given me in the teaching of music and the encouragement in composing and I shall be pleased to play this piece for any of those who call at H. M. S. [Haight Music Studio]
Garnett-Corey
Bldg. Saturdays from 3 to 3.30.

January closes with every room in confusion, with music, books papers, clothes, dishes, dirt, etc in disorder.

A new addition to the catalogue of the Fred Alton Haight Co. goes out to the printer to-night. It is Mr. Raders U.S. Flag. This song is liked in the schools very well and the tune while rather reminiscent is catching.

Come unto me and before me, mine enemies—that in the enmity we may be as friends; and as hath been ordained, do only as we would be done by even in the enmity according to the law. For me, I would be forebearing, charitable, kind and just always; and wise; for love is of these things even unto the end, which is love. All men are brothers, not to hate but to love, each one the other even as himself.
F.A. H.
The foregoing sounds almost musical, somehow, and can be used as a creed or peace terms between the warring nations.

In the progress of the war the points that stand out are many, but probably the most important are: The great strikes and unrest in Germany and Austria among the people; the uncertainty of Russia which held back the intended massive drive in the Western theatre of war; secretary Baker's report of the wonderful strides the country has made toward war; and the placing the whole country on war-bread diet to save 70 000 000 bushels of wheat for the Allies in Europe. Food may, as has been said, win this war.

So closes the first chapter of this book. It contains some interesting reading, but February's chapter can be an improvement and be made more interesting.
Reports of; school work; studio and all private teaching; and other subjects will be found under seperate cover on file in their respective pigeon holes.

Fred Alton Haight


April 1918 Chapter IV
Probably by working Sunday something might be accomplished in this fast moving life. The writer refused to work yesterday—that is to-day—it is 12.35 A.M. which is really 11.35 P.M. actual time altho it seems what the old clock says it is in spite of every effort to look at it the other way.
April 1 and 2d

Teaching in Jacksonville. Resumed class work. Class work is exhausting. Cold nights. Heavy frost morning of the 3d. Smudged for pear blossoms which are partly out. Apple and other trees have more sense than to come into full bud and blossom yet so the country looks bare of leaves yet. The floor of the valley is green.
April 3d.

Trying to reconcile myself to failure. Instead of going to Talent I slept all day up to three oclock, and feel so well that I think I needed the rest. Pains in my left back, shoulder and neck have been severe since Sunday, with a cough, and weak eyes and those horrible deathlike nervous attacks Monday and Tuesday. There has been no rest of mind for a week so it had to be made up. Yet there is bitter disappointment in the fact that I failed to get out and there is so much other work to do also! Teaching must be first however.
—————
To show what sort of climate this is for fruit, the temperature this morning was 22 and in some places 19. Only twice has it been cold this year. The peaches were badly hurt and also pears when they failed to smudge. Apple buds were hit some. The valley was a mass of nasty smoke this morning and everything exposed was black hands and face included. The coating does little damage however, is easily washed or brushed off leaving no scar.
April 4th. 12 Noon

After giving only one lesson yesterday the writer feels he has been idle a month. There are 7 lessons to be given to-day Smudge stink the whole valley again this A.M. increasing the spring lassitude or hook-worm feeling.
April 4th. 1918

The utter confusion of things has reached a point where thought refuses to go further and seems to have stopped and as for inspiration and love for music it has quit me cold. Financial matters earnings, savings bills etc. engross my attention. All such thought is thought wasted. As for bills they should be paid and gotten off the mind giving room for better mental employment. No thought should be wasted on clothes. Suits, shirts, shoes, etc. should be ready to put on instantly for the occassion. This valet service can be attended to personally by a system. At present and for several years the writer has washed his own underclothes, handkerchiefs, socks, sheets and pillow cases and towels, washed and ironed his shirts, and pressed his suits; and shaved himself also. Some money should be saved in fact none should be wasted, but too much thought can be given to financial matters to the extent of losing sight of the beautiful, and God. In fact as much money will be saved as possible during the five year program mapped out—1918, 19, 20 21, 22, as this is a critical period in a man's life during which, if he is ever to have any capital ahead, he must earn it and save it or go to the poor house at fifty. With no money saved at fifty is a tragedy indeed, yet the world is filled with such men. Life is a queer thing anyway. Almost cruel it certainly is. All men are made of the same substance and brothers yet in their material views of power some hold themselves ever superior. In the sight of the Creator it surely is not so. One man of more mind or more in tune with Divine Mind is not superior to a lesser since he is of no greater substance tho more of it than the lesser. The one is not different to the other. Only that man who is more in tune with God is more fortunate than I in the happiness he enjoys. I have the same chances. We are equal in that.
Friday April 5

So many missed their lessons this week and especially to-day that it was not worth while waiting around for the few that came. Measles, mumps and beautiful weather caused it, beside illness of the writer who does not feel like doing anything but lay around. Probably a reaction after the exciement over the war which reflects upon the whole world. Four lessons were given to-day and a copying job 40 cts. One of the lessons was in payment in part on a debt.
The piano presents a problem to me, and a problem very hard to work out. Elsewhere this matter will be found discussed at length. To allow a piano to beat me into a frazzle is humiliating. This piano beats me. After spending ten dollars on it, while the action is better and well evened up and the hammers filed, yet the rattle is there yet and several hammers strike with that dead way. Formerly it was [musical staff] only now it is in [musical staff]

while the D is cured after tormenting me for several years. It gets on my nerves, this difficulty in locating the cause of it and having tuners tell me I dont hear it. Rats!
Saturday April 6th

A great many lessons were missed this month and this week especially. The number keeps around 55. One new V. [violin] pupil added to-day. I presume a couple have dropped out. Measles and mumps are holding four or five in quarenteen nine lessons to-day. Liberty Day. What it means to this old world! What a bright picture the future holds after the Prussian Devils are crushed out! The remnants, the poison of Hell, that must be wiped off the earth. Heaven dawns ahead and visions of a new world, different in the freedom of its people in its brotherhood and relations to God are appearing. It must be reached by sacrifice, suffering and death. Death is really the least of all tho appearing the worst.
——V——
April 8 1918

Owing to time given to certain experiments with the piano found elsewhere these pages have not been written.
War, Liberty Bonds, pupils, and the wonderful beauty of the spring as seen from the windows of the Jacksonville school especially has occupied the attention of the writer of this "book." The floor of the valley is like gorgeous lovely colored carpet [of trees in flower], rich beyond description. Like a gem or gems set in neath hills and mountains of contrasting shades and strength all beneath the wonderful sky. And yet the trees are without their foliage. Soon they will fairly burst out and the whole valley will be a garden in riotous life, giving, willingly itself. A[t] such a time it does seem indeed that the Creator had tried to see just how beautiful He could make a world, "When every prospect pleases and only man is vile."
April 9 1918

Three pupils excused because of illness to-day and one carried over from yesterday could not be reached in J. [Jacksonville]
The writer never has felt for years easy in mind after any day passed without at least two hours having been devoted to playing the piano, yet days and days even years of uneasyness have been suffered. The last few evenings were spent at the piano after several months away from it. Probably the beauty of the spring inspires it proving that music is beautiful. A pupil played Chaminades Flutterer yesterday. It reminded me of beautiful spring flowers and I told her so. Improvising has assumed a growth in power into larger forms broader and more depth in tone and phrase.
Why do shoes freshly polished feel lighter and easier and the step more bouyant—imagination.
Why did old Jacksonville, the dead town, about double her quota in the Liberty Bond Drive the first few days while Medford is away behind? Are there not just as many wea[l]thy people in proportion to the population in this city as there are in Jacksonville? and are they not as patriotic. The writer signed up for $200. But by the way the money is coming in it seems that the American peple are more educated to-day in the knowledge that the country is really in the war to stay until it is finished properly. It takes money to plant upon nations of slaves over their masters the flag of freedom; but the Kaiser can never now blow out the torch of Liberty. Strange things have happened these 3½ years among all nations and all peoples. An upheaval which has not yet upheaved all it is going to upheave. There is a great underlying force in the minds of men that will break thru, and that force is right, Mind.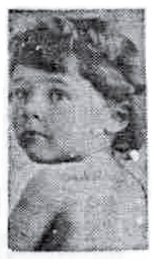 Lillian Dorothy Haight, June 21, 1914
Sunday Oregonian
April 25, 1918

After a long period the writer again takes his pen in hand but any attempt to record the multitude of observations, impressions, depressions, expressions experiences etc. of that period must fail. Spring came until now there is a burst of blossoms, leaves and plant life and all is clothed in real green. To-night there will be a freeze according to the predictions of the weather-man and smudging will be resorted to generally. The weather has been perfect, so perfect that the appeal of spring to the sensuous has over come the mental so that teaching music became a bore. Besides about every pupil has had the measles or mumps as many as ten each week being excused. They are coming back but for every one that comes back, a new one drops out. Such an epidemic has never been seen and teaching has been knocked to piece[s]. The writer has been sick, probably mentally but ill nevertheless unable to concentrate his mind on his work and almost failing in it. The class work in the schools has been given up the writer not feeling that necessary sense of fitness. The private lessons have continued, however. Toothache, backache, blues and general depression all around have marked this period and a feeling of exhaustion and of age even declining into discouragement with nothing really to be discouraged about. Yet the lonesomeness without D. [Dorothy] and no home life is deadening. There is no peace, no rest. Sleep is a nightmare, and with excessive smoking and coffee drinking, and irregular meals, altogether forcing the conviction that life must end under such conditions, and thus thots of death appear until the realization is horrible, because it is unnecessary. And so this blank period has been one of worry, illness, and slackness in things. Life has really been hard to bear and a burden, yet death in its uncertainty is no release to look at.
Financial matters have also acted as a detriment. Investing in $80. worth of War Saving Stamps and $200. Liberty Bonds brings money to the front in the mind strongly interfering with higher thinking.
The war is depressing and absorbing until at times no thought but the horror of it all is apparent; yet it is inspiring in the righteousness of our cause and the wonderful work done in a short time by America. The hope of the entire world lies strained with anxiety and tearful eyes and broken hearts across fields of blood and the graves of the dead. To this great land—that country that has been ordered by God to make all men free upon earth now and forever.
The writer in being a slave to tobacco and the stimulating effect of coffee has felt many times that God has deserted him—an awful feeling; but the desire for these two things being stronger than the desire to quit them the mortal sense keeps in power. Mind can overcome mortal mind if appeal[ed] to thru the spirit not thru sense. If the wish to give up tobacco is a wish for more power in health of the physical senses, this habit might just as well be continued for some other would take its place, and maybe sin in a worse form would appear; but if the desire is spiritual to attain more perfection spiritually and to overcome error, and sin of mortal Mind devine mind will not fail, for he that asketh in spirit will be answered in spirit. The writer, looking into himself, should not feel the discouragement of being forsaken, but more the discouragement of lack of understanding of truth which is faith of spirit and soul, wherein is found God. Mind is not of the physical senses. Man has ever made the mistake of expecting to find God in sense, when God is only in spirit. Spirit is above sense overcoming sense.
—————
The writer speaks here of a very beautiful thing and wishes he could say all he feels. This room is in the center of the city at the top of a building on the main street. A swell park is near. Birds congregate there but it is of the lark I would speak. That wonderful musician that warbles a wonderful song in [a] most wonderful way these spring mornings. Over and over he sang the same song the last two notes pitched do to mi and in tune with the major scale. Then he changed it to another tune, a thing never before noticed. How small is man beside the beauty of those pure tones. The world becomes at once a beautiful world when such music is heard—Gods music.

April 28 1918 Sunday

The writer of this "book" is down in the dumps again. While this is a state of mind "enjoyed" every year toward the end of the season of teaching, where, from the feeling that h[e] has not done as much for his pupils or himself as he should, tho probably in both done well, comes a sense of failure thru his entire being until it permeates everything even destroying every belief in immortality. Fear results and the old Devil looms up a a reality. Self is the cause of this condition very largely—thoughts of self. Only when the spirit mind is above all conversing with truth that is beyond can one be happy.
Yet, thoughts and dreams of D. [Dorothy] are in mind as never before. Just to see her again! The loss seems more painful than ever. She is always near. Other children and locations and objects remind her to me until the desire for her becomes more than one can endure.
Playing and teaching do not agree. So much of the former of late detracts from teaching altering the course of those necessary thought channels. It is very noticeable. Playing must be stopped as it has been stopped before for months at a time. My success in teaching has ever been thru not playing. Teaching is mental [illegible] not a gymnastic exhibition of emotions and whims. Then again the playing of so many old pieces of late has brought up so many old memories that it seems like living in the past again.
"Memory is a tricky and at times an exasperating blessing. We may believe that the past is a book that is closed, sealed and forgotten, but give us no more than a familiar date line in a newspaper or perhaps the glimpse of a pair of eyes in the passing crowd—and lo, the sealed book opens at the very page we wish to forget, nor will it suffer itself to be put away unread."
Charles E. Van Loan, S. E. Post
The foregoing paragraph fits the case of the writer in several ways. The old pieces and their countless associations that return with them: the vivid remembrances and again a letter appended brings up the old things supposedly forgotten—namely the letter from Mrs. T. from whom no word has been received for 8 years yet it seems yesterday, the city and its people and associations. All that has been passed thru these 8 years since leaving Mt. V. [Mount Vernon, New York] seems a dream. Lifes reality is back there which seems to prove the unnatural , unsettled state the writer has been in. The experience seems like a nightmare, a dream impressed upon the mind, and in the awakening the writer finds himself back to the fatal day he left home and wandered out to Seattle. Thus the past is brought vividly forward overpowering the present for the time with such force that the future is paralyzed and there appears no future but death no happiness on earth or beyond—nothing. Which is about the way the writer feels and paralized is about the right expression.
The writer in looking at his own attitude toward things which is generally pessimistic and noting especially his seclusion this entire day reading and sleeping thinking and dreaming away the time with a hundred things scattered around waiting to be done, doubts very much his sanity. Body and mind are out of gear somehow.
"Reason is not always a safe spiritual guide. —There must be a conciousness of the supremacy of the soul. The most valuable asset of life is faith. I can lay hold of Christ through faith and not by reason. A pile of books on infidelism as high as the Washington monument does not make infidelism so. The soul is supreme over the body: Faith is supreme over reason. Life is a continual struggle between the body and the spirit. The body dies and the spirit lives only through rebirth of the soul."
Dr. James H. Taylor
from sermons Central Pres. Church Washington D.C.
The foregoing sentences are clear-cut truths containing and expressing several important elements.
—————
The fourth chapter of our "book" is closing. It has been a failure; but out [of] these "darkest hours" may come brighter days new hopes and success. The greatest failure of the month came through money matters. While some would believe that purchasing $80 worth of war savings stamps and $200 in bonds was the greatest success, the writer feels that thought placed upon these investments and the figuring up wealth is thought wasted.
The failures were: Loss of about 70 lessons thru measles; Failure to keep up in school work owing to lack of time chiefly, as it would have been necessary to give up private lessons to properly attend to the schools; Ill health—not a day without pain of some kind; Failure to stop smoking and coffee; Failure in neglecting things that could be done through "illness" caused by bad habits of smoking, coffee drinking, and eating at all hours.
There were no successes worth speaking of during this month, rather have all plans fallen through or been temporarily set back.
—————
As a man rises financially, he is in danger of falling spiritually.
Once married always wed once.
(Read above backwards)
— April 1918 —
1st $7.00 $1.00 $6.00 $6.00 $476.00
2nd 6.00 1.00 5.00 11.00 481.00 Bills paid: Music Supply Co. $2.38
3.60
6.40
5.

$493.62
2.38

$496.00
8

$504.00
No more thought will be wasted on money matters. All money earned now after the $500. has been reached goes to pay all, (every cent) I owe, to get bills off my mind forever; and as the money owing me comes in above the bills it goes into War Savings Certificates and Liberty Bonds. Amount on hand is $350. while $150 is owing me.
——V——

"Our committee on entertainment surprised us with a musical treat of rare Excellence consisting of Instrumental Solos by Miss Elizabeth Gore & Vocal Solos by Mrs Scudder." [Talisman Lodge minutes, Aug 18, 1919]




1920
"A popular informal dance is scheduled for tonight at the Medford Natatorium. The large hall with its excellent floor is all in readiness to take care of the crowd and everyone is looking forward to a fine time. Launspach's syncopated orchestra will provide the latest in popular music. Dancing will be free to all from 9 to 9:30 p.m. and prize dances will be featured from 9:30 to 10 p.m. As usual there will be no admission charge at the door."
["Local Briefs," MMT, Jan. 14, 1920, p. 2, col. 2]


"Because of the great growth of the farm bureau and its activities and of the county agent's work the headquarters of C. C. Cate and the farm bureau will be enlarged and housed in the entire north end of the fourth floor of the Liberty building, and will take in the rooms occupied by the Haight studio, which will move to a lower floor, and the north end of the hallway will be partitioned off for a general reception room. When the new arrangement is completed the office of Roland Flaharty, secretary of the farm bureau and manager of the farm bureau exchange will occupy the rooms vacated by the Haight studio. Thus the offices of Mr. Cate, Mr. Flaharty and Miss Poole, home demonstration agent, and the reception room will all be compactly connected, as will be the office of Floyd Young, the frost expert stationed here in the spring."
["Local Briefs," MMT, Feb. 9, 1920, p. 2, col. 2]
Current Events
Feb. 19th 1920—
A cough hangs on me and a cattarhal condition almost virulent but I am not sick even tho I have little appetite.
Ten lessons were given to-day—eight in Talent school and two here in the new studio.
The sun has been shining now for a long time. No rain has fallen scarcely since the big snow of Dec. 12th. Such a dry winter has never been known. No rain is in sight.
The flu has been going around. [This is only two years after the deadly 1918 influenza pandemic.] The paper tonight gave 600 cases in Klamath Falls and ten deaths in one day. There have been several deaths here and a great many cases mostly in a milder form than last year, yet many bad cases. Grants Pass is closed up and probably Medford will be closed. As it is Phoenix School is closed and they are about to close the schools in Talent and Jacksonville. Some call this the grippe but I call it the flu because I had it last week and this cough is what is left behind.
Hunt is figuring on placing the orchestra on at the Rialto as a special feature. I was just over there discussing it. The more we discussed it the more impractical it appeared; but the idea is to play a twenty minute concert on the stage. It must be done right, with a snap and not drag. I think we will go on Sunday as a try out anyway.
The first of the month I was asked without a moments warning to vacate rooms 401-2 where I had been located for about five years (at $12 a month)—where I became a sort of fixture and in a rut, and take other rooms. I looked at the new rooms, considered the matter from every point of view, and decided very soon to move to 317-8 (at $20 a month) away from the beautiful view, the seclusion, and the awful heat of summer. I dreaded the moving but realized it was a good thing to change now—get into new quarters now while the opportunity was open. Fighting the dread and disinclination to move I went ahead and moved. I moved lots of stuff down the one flight myself, making many trips. The sorting of papers and music and getting the thousand and one things down here, the dust, the waiting for plumbers, tinters, etc to fix up the new rooms—the great amount of work, thought, worry, and always the dread of it all simply made me sick. I hated the new rooms and felt I had made a big mistake, but I wouldn't go back now for anything. I gave lessons up in 401 up to and including Tuesday Feb. 10th. Feb. 10th 1920 was the last day in 401. The stuff from 401 was all down except the heavy pieces. Wed. the 11th Eads moved the piano and the rest of the stuff, and I began teaching at 10:30. Nora Wolfe was the first. Only three lessons were given that day. Some were out thru the flu and I excused the others, next day I excused all. In fact I had to stay home from Talent. On Friday I did the same. I had the flu or something. It began Tuesday morning Jacksonville with chills, yawning, and a tired feeling. All very strange and peculiar. After always being active and standing up straight, to feel chilly, tired, aching, and with a desire to lean against something denoted a change. I had not been well for weeks, I knew that. I was getting very thin. Probably it was coming on then. I kept getting worse Tuesday. Not much cold by creeping chills and fever and some depression with headache and palpitation—just feeling different and rather rotten all around. I had been exposed to flu and colds. The exposure and the moving with the hard work and anxiety brought it on. Fatigue is the most dangerous thing. Mr. Joy up in the K. of P. had been down with it. I was with him quite a little never fearing I would get sick but Tuesday night I realized I was sick. I was up in the K. P. rooms and Mr. Joy was there just recovering. I remarked, "I wish I had some quinine." He said "I've got some, a five gram capsule right in my upper right hand vest pocket hanging on that chair." I found it and took the five grams then and there and hugged the fire until one A.M. I was everlastingly chilly and feverish at the same time. Well I went to bed drinking some warm water. I had a bad night with little sleep. The fever was broke when I got up. I should have stayed in bed but had to get out at seven to see about the moving. I went back to bed and rested until 9.30. Then I got up again and began fixing up the room even beating the rug up on the roof. For a while it was fine but I over did it. I was sick and while giving a lesson at 10:30 chills began again. I felt awful all day Wednesday. Wednesday night I couldnt sleep. Thursday I was very sick in bed most of the time. Thursday night like Tuesday and Wednesday nights I could not sleep for the chills, the fever, the dreams, the constant sound of a tune I was forever making up. The flighty state of mind. And withal the utter lonesomeness and hopelessness of life. I almost wanted to die. There seemed nothing more to live for. Friday I was in bed all day, restless and feeling fierce; but at six oclock Friday evening I went over to the drug store and got a bottle of saline laxative. Now on Tuesday I quit drinking coffee and kept this abstinance up; but I made a mistake, I believe, in deciding to not take a physic [laxative] or any medicine. I did take two Cascarets, however, on Wed. and one on Thurs. but had no movement. One of the peculiar things about my illness was the pains and aches in my abdomen as tho something was stuck there. This condition prevented me from sleeping. Well after going three days and a half without a passage I gave in and Friday evening at seven I took a big dose of the salts and at 7.30 same evening I took a second. By nine oclock I was all cleaned out. The pains and the obstruction that seemed to be in the intestines disappeared. Saturday I gave lessons as usual but was far from well. Sunday I was so weak I couldn't walk hardly and to climb a flight of stairs was a palpitating exertion—and my head was far from being right; but things all changed very suddenly. Mind you I was not myself and had not been for nearly a week and I was still not myself at seven oclock Sunday night when I went to supper. I ate my supper and presto everything changed like magic. My head came back to normal, my heart beat stronger, strength came back with a rush and I felt again like myself. Even climbing stairs was a joy. I will never understand this but it is a fact. How my strength returned this suddenly is a mystery unless it was the mind that from some causes returned to normal and brought the body around. At any rate I have been normal ever since feeling strong as ever with no palpitation or suffering, tho I have not gotten out of the rough yet. In fact I do not feel thin as I did.

I write all this to keep it for study, to see if it can't be shown conclusively that the mind is the healing power, the normal health force. During my illness I lost my mind temporarily and while lost was sick. The sudden return to strength that I experienced came from the mind again asserting its supremacy. This is evident from the facts because the material body could hardly change so quickly, while the mind is capable of instantaneous change. Had the condition of my mind been different properly supported by C.S. [Christian Science] the immensity of thought aroused by the moving job would not have crushed those elements of health and strength as it did. In placing my mentality so strong upon the material, so intensely upon the task at hand, the spiritual that is really my sustenance was for the moment over balanced submerged and I became subject to error which held me down sick until mind could again assert itself and banish the thought of sickness. At that moment I became well again. This cough that hangs on is error in another form. It may have come thru the error of the larger illness but is not a part of that because that has fled. This cough will disappear just at the moment I say it must go. It cannot exist a moment if the mind says it is not, and denies its existence. Health thoughts make for health first, last, and always. C.S. encourages those health thoughts through divine mind and material sickness cant exist but must vanish absolutely before Gods greater power.

——V——

This new studio becomes more attractive every day. I was unable to start fixing it up until Tuesday, or rather Monday. I oiled the floor and by Wednesday had it [in] fairly good shape. The room is one third larger and gives the orchestra a chance to meet. The piano sounds entirely different in a larger room which I'll say it has needed. More of the sound stays inside instead of going outdoors to the park and beyond. Room 317 contains the junk. I have not yet gotten around to fixing it up. I[t] may be days, it may be years. Here's hoping greater success will come to the new location of the Haight music studio. 401 was successful 318 will be.
Feb. 20th.
Things are going in a strange way. It is the orchestra that is now stirring. To-night Mr. and Mrs. Hunt and Mr. Antle, managers of the Theatres here were up to this studio at my invitation. The orchestra was booked instantly for the Rialto Sunday afternoon and evening and Monday & Tuesday evening. Mrs. Bolger was booked for violin solos there thru the rest of the week, as we are at the Page two nights Thurs. and Friday. The managers said it was the only orchestra music they had heard in Medford since they have been here. Now there are other things, various details in getting the orchestra to-gether, etc etc, about which I could speak. Nobody knows the work and worry as I do. I worried for several days about it as one member was sick, two others had engagements, and to-night two members almost refused to play Mon. and Tues. unless all played. I had a hell of a time for a moment. I was mad that they should desert after having booked the orchestra allowing for the vacancies Mon. and Tues. I almost threw it up but finally insisted that we play at least Sunday. Even now I do not know where I am at except that I believe all will be there Sunday. I fear it is too much for me with all the teaching work going right on. For years they have wanted a good orchestra here now the opportunity has come. Hunt intends to try it out not a few nights but permanently so here it is. It is now up to the boys to decide if they want it or not to continue. I claim that if Mr. White had the objections in mind he should have voiced them before the job was booked not after to cause more trouble for me. I would have listened to him then all right and considered his objection before the meeting not after. I had enough running around and enough worry surely without this last knock.
Sun. Feb. 21.
The orchestra under the name, "The Amphion Concert Orchestra," eight pieces made its professional debut this afternoon on the stage of the Rialto Theatre. First the piano was in bad shape at the rehearsal the damper pedal wouldn't dampen. I had to fix them. Then we moved the piano from the hall down thru the theatre to the stand lifted it up onto the stage. Then I set the piano in position arranged the chairs and got everything set up. We rehearsed our number then moved the piano, chairs, and stands off. Each musician was to remember his place so that when we were to go on we could get set up quickly. Well at three forty the curtain was drawn and we moved on in about two minutes and were all ready at 2.42 [?]. Hunt pulled the curtain and we played our three numbers. It went fair for the first time, but at the evening performance we played better and got lots of applause giving an extra number. The audience was surprised that such a[n] organization existed in Medford in fact many people inquired where we came from. Some of us were recognized of course. It was Hunt's idea to surprise his audience just this way. We are booked for Monday and Tuesday evening. I am probably booked to play at the Page for pictures, for road shows, for the orchestra, in fact booked at a salery to manage the whole thing. Well I've been sort of out of my element anyway ever since I quit the Rialto last November. I need something bigger than teaching. I am getting experience all right. It is coming easier to handle. It seems to be up to me in spite of myself. I seem to have gotten in and fit in so strongly that I can't get out because I am needed in this position, but we'll wait a few days and see before making such an assertion. So far it has been a success thru me, but not entirely. Mr. and Mrs. Bolger and Mr. Rowley must be given credit since we could hardly do without them. Mrs. Bolger is the violinist, Mr. Bolger is the flutist while Mr. Rowley is just Mr. Rowley lover of music and a man who knows just how to keep a bunch to-gether and cheer them up and encourage them. To a bunch of temperamental musicians such a man is very valuable. Everyone in the orchestra I'm sure appreciates Mr. Rowley. He seems to thoroly enjoy the association. He is at home with music and musicians. I picked him up and have never lost confidence in him. My judgment was right as proven.
"RIALTO ORCHESTRA MAKES BIG HIT

"The music lovers and theater patrons are grateful to the management of the Rialto theater for having helped to introduce such a fine new concert orchestra to Medford this week, and which plays for the last time at tonight's performance. The orchestra which won much praise at its first unannounced appearance Sunday night appeared to better advantage if that were possible last night.
"The Amphion orchestra, for that is the name of this newly organized body of eight excellent musicians, including some of Medford's best, is a permanent concert organization which will give the music lovers of this city many delightful moments in the future, and was organized by Mr. and Mrs. Bolger, artistic professional musicians well known thruout the northwest, who recently located here and have purchased a small ranch east of the city. Mrs. Bolger is the accomplished leader and violinist of the orchestra and her husband plays the flute.
"The other players are F. A. Haight, piano, F. C. McReynolds, 'cello, E. C. Root, clarinet, T. A. Fifer, cornet, Ed White, slide trombone, and E. N. Roberts, drums.
"While the orchestra does not play at the Rialto after tonight, its leader, Mrs. Bolger, will render violin solos every night the remainder of the week." [MMT, Feb. 24, 1920, p. 2]
Tuesday, Feb. 24
The engagement at the Rialto with the orchestra for three nights and Sunday matinee came to an end tonight [see MMT 2-24-20 p.2]. I am rather sorry because just as soon as a big thing comes to an end everything just seems dead as a door nail. It was so when I quit playing pictures. There is something fascinating about it all compared to which teaching is awful slow work. The members of the orchestra were all pleased and everybody was pleased as well as surprised. To-day I sent Mida McIntosh down to the Liberty [Theatre] for Mr. Hunt. He said she was working to-night there. To-morrow and for the rest of the week Mrs. Bolger plays solos at the Rialto. The orchestra will go on probably week after next again. We put it over anyway.
Five pupils were out to-day because of the flu. Well it all fitted in right. Moving at a time when I could move, getting the flu myself and this orchestra stunt which took a lot of attention just when I had it to give because of the slowdown in teaching.
Last night I played at the K. of P. Lodge two solos. Now for teaching again and fixing up this room. I have not touched it owing to diversions above mentioned.
Wednesday was an off day. I began fixing up this room and did in partly [sic].

"An enjoyable night was spent last Monday night by the members of Talisman lodge, Knights of Pythias. Following a short lodge session during which two new applications were received and five others voted on, Captain A. J. Vance gave a very interesting talk about his war experiences in France and Italy. At its conclusion an invitation was voted Captain Vance to repeat his experiences lecture before Ivanhoe lodge, K. of P. at Portland. His talk on the war was pronounced as the best of its kind ever heard by the local lodge members. The rest of the entertainment program was made up of a piano solo by Mr. Haight, some card tricks by Jay Gore, a vocal solo by Mr. Gaylord, a social session and the serving of lunch." ["Local Briefs," MMT, Feb. 26, 1920, p. 2, col. 2]
Thursday Feb. 26.
So many interesting things do seem to come up that I simply have to record some of them. Unless a man gets out into things life is just work, eating and sleeping. I look at people and see in them the same forces that are in me. We could change places and go on yet their thought seems dull like the animal. Their minds are not applied in any great activity. I can enjoy the same things they enjoy but perhaps they enjoy more than I. I often ask, "What are they doing in life." Looking deeper perhaps every one has a place wherein he and she fits.
To-day I got up at 7.40 and went to Talent on the 8.25 car [bus]. School was in session when I arrived at 9, but was dismissed because of the flu. I came back and was sick all day practically. Gave two lessons, took on a new pupil and played for Blackstone show at the Page in the evening, a hard job.
Now Feb. 27th.
Started a new pupil.
Gave six other lessons out of eight.
One pupil dropped.
Phone rang about all day.
Hunt called up asking me to locate a cellist, Mr. Reno of Ashland.
Mida McIntosh has been placed at the Liberty [Theatre] by me. Hunt said to-day she is better than the girl who played there.
Mr. Bergner manager of the Vining called and later phoned from Ashland booking the orchestra to play for Blackstone there tomorrow night. He invited me to play the show in the afternoon. I thot it over and decided that there was a limit to what I could do in one day. Pupils being first I engaged Mr. Howell to play in the afternoon there.
In the evening played with Root and Fifer for Blackstone at the Page. There is a lot of music and cue stuff.
Went into the Optimo [Café] for supper for the first time since last June. _____was in there waiting on the counter. I've got to get married as a protection against that girl and other women. It's the only way out of a dangerous situation. I see my danger. Vampires [predatory females] are all around a single man. I have met few here though. So far I have been fortunate. I do not blame a woman for using any means to get married except seducing a man to get her into a condition where he would have to marry her. That act I would never excuse. I would kill myself under such rotten conditions; but being human, and single, and sexually normal, in the case of _____who seems to love me passionately I am in serious danger. I can only look to C.S. to keep us apart. C.S. can protect us by always leading us away from such a temptation just a[t] the moment when human desires would give in to sin of this kind by the mere force of sexual attraction, which would go blindly on unless held in check and apart from the contact of flesh.
There was a girl in the show to-night (I believe she is Blackstone's daughter) [Blackstone apparently had no daughters] to whom I fell. It seems as though I would give worlds for her. Nothing else in existence would count beside her. I longed to know her but what's the use, I never shall. To me she is perfection. I'll bet she is, for I seldom make a mistake. I seem to know her. No desire of sex, just a pure feeling of wanting her always. This sort of love is all right but the other is rotten.

[pages missing]

"Another musical organization has been recently added to Medford's already long list. It has chosen the name of 'The Gem Concert Orchestra,' and is headed by Mr. Bliss Heine as violinist and leader. The other members are Miss Helen Philbrook, piano; Adrian Lofland, clarinet; R. J. Petty, cornet; Miss Evelyn Dew, 'cello; Chester Baker, trombone and George Stewart, bass. The first Methodist church is the first to claim the services of this orchestra. The 'Gem' will be a regular feature of their Sunday evening services." ["Local Briefs," MMT, 3-6-20, p. 2, col. 2]
[diary resumes]

names. Of course if she used her husband's name I had no way of finding out anything so gave it up. But at that time the name Chaney was so prominant somehow in the paper that it somehow stood out. Later she wrote me giving her name Chaney. To-day I found her paper and list and see that a Richard G. Chaney is a liveryman located at 159 West Str. Anapolis. The list gives Mrs. R. G. Chaney 130 West Str. as one of the singers of Anapolis. Her last letter came from Baltimore but I have no doubt that I have now found her right address and I intend to write her and find out for sure. The address is,
Mrs. Florence A. Chaney [Haight's ex-wife]
(Richard G.
130 West Str.
Anapolis, Md.
The pile of old papers discarded has already reach[ed] immense proportions. Many letters etc etc I have saved to add to my library. It is some herculanian job this sorting out the accumulation of years. I am by no means thru it yet.
Nine P.M.
I have before me now on this table literally thousands of papers of every variety the accumulation of years. About four fifths of this junk is going out. It has held me down by the weight of thought it represents. Each paper is a thought. Why bring up old things?
1.30 A.M.
After a mile walk, I returned to this job and kept at it until now. I am no where near done. The papers I am keeping are piling high. There must be a second sorting out. Old memories return and I am now living elsewhere. "Gather memories," yes but these are mostly not specially agreeable memories.
March 15th.
Never such a job as this sorting out of papers. Not the work of hours but of days. Papers by the thousand and by hundred pounds. Four hours solid work tonight and I am no where yet. It will be a week before the stuff can be arranged in order out of chaos. In the meantime everything else except necessary lessons is held up.
March 16
Job suddenly suspended. Mother passed away to-day. Received a note to-night to that effect. She has passed from earth but not from my heart soul and mind. Her memory is the most precious thing I have. In the last few years I have lost my father, sister, wife, child, all my money. Now I have lost my mother. (I have lost V [a local "vampire"?] who is to be married Tuesday some los[s]es are good.) But my music and the memory of my mother I shall never lose. All else may go, never these. She gave me all I have.
March 19
The time has come, it seems when failure stares me in the face. When the mind crowded with disturbing thoughts is about to break. Everything in the world is different to-day from what it was a few days ago even and the realization of my deficiencies is the worst blow. What it was that brought it all so suddenly upon me, I dont know except the sorting of old papers, letters etc. but something has opened my eyes vividly to many things. My friends R. [Root] and F. [Fifer] putting one over on me with the orchestra, and the orchestra as a whole has affected me. I have not seen either of these men. Lack of the diversion gone from them has no doubt given me more time to think especially about how they fooled me into thinking I could play. I can't play. And this is the next thing that troubles me. I have not played for months. I have neglected it all my life. Times have changed and one must play well to be a teacher. People expect it. The feeling that it is too late, in fact the knowledge that the time has passed for me to learn to play is depressing, and yet I understand the music better than many teachers. But I am behind. The world moves too fast for me. My work seems to be fizzling out. I am in a rut. Yet, Leverhume played Rakoczy March and Leschetizky Left Hand in sextette this morning at the High School. Surely those pieces are old enough. And so blue was I to-night over affairs back in Mt. Vernon, and about my playing, and about my taking twenty tickets for the Gray-Leverhume recital and getting stuck to the tune of $4.50 that I did not go to the recital like a crazy fool—a nut. And Mr. Palmer has come up here twice to get me out to the church revival services and I have not gone yet. My clothes worry me again. A new suit to wear around bumming is needed. And smoking—I smoke everlastingly these home-made cigarettes like a darned fool. And I am not making much money now—pupils dont show up half the time. The last week this retiring mood has got me, backing me up to that insecurity that runs in the family and now old memories aroused by Mt. Vernon find me living in another world—that past terrible world. God, how terrible life was. I have been able to cease thinking of it for years but now here it is again to crush me. I dont want to go back. I'd rather die tha[n] go back there. It is thus to-night—this living there again and the thought of going back that drives me crazy. It overpowers me. All in all there is no bright outlook on the remainder of life's sea to be crossed—nothing but a dismal journey. The fact that I missed deliberately that recital to-night convinces me that I am crazy.
FAH
March 21st, 1920
Life is ever changing. Every day this fact is noticeable; but since I left [room] 401 and got down here it does seem as tho the most decided changes have occurred. I am a different person. The environment has completely twisted me around and pulled me out of a rut, lifted me until I am simply seeing things with a broad view. Tho I smoke a great deal, all my catarrh and cough that held on after the flue has gone. I was sick, I realize now and might have died; and I have been insane. Maybe I am now. If I spend $70 for a suit of clothes you will know I've surely gone nuts; and trying to sort ten thousand pieces of paper is enough to send anyone to [the state asylum in] Salem. But I'll do this job or die. I gave three and a half hours to it tonight and results are showing up some. There remains a lot to do yet. Will add that I gave ten lessons to-day.
I have been over to the lodge rooms and from there I went down to the Gusher for coffee and plum pie. As I look out my window now I can see the lights of the Gusher Cafe and it is a fact I can hear that phonograph playing "Clarinet Squawk" a beautiful composition of the jazz school.
It is a lovely warm spring night. A warm soft rain has been falling just enough to wet the pavement. There is something very gentle about this climate as tho it were protected by the encircling mountains from all extremes.
March 21st
[
sic
]
After resting all day, I returned to my job of sorting out stuff. I may get it all done for now the west side of the room is in order after about four hours hard work. This is the hardest kind of work and curtains are now up before the door and clothes are hanging from the hooks hung from the picture moulding, both these last jobs being very ingenious. The big box of F's [Florence's] junk is under the bed out of the way. Books and music are where I know where they are and the trunk is in order. The entire west end of the room is a mass of music, papers, and books. Those will all be resorted and much more discarded. The east side of the room is in an awful condition—newspapers three feet high and thousands of papers sorted but yet to be placed in order. Until this is all done I will not know just where I am at. By fast work I will clean up this week and know where to resume my composing, my writing, my playing and how to go on with my teaching more successfully.
Mar. 21
Resumed sorting out stuff up to 12.30 A.M. It seems a phenomena [
sic
] of life that I should be doing so many things that have lain idle for years like getting out my dress suit from the dresser where it has been for over two years and packing it away in the trunk. The dresser is now cleaned out of the mass of little articles and papers. The top is cleaned off and only necessary articles remain. My razor strop has a place now after years of not thinking where to tie it. I tied it to the faucet of the lavatory. Then I starched three shirts and a bunch of things are in the wash. There is a lot to do yet. Why am I so intent on doing it now and never before—not in six years. It may be the spring cleaning bug that has got me or I am crazy.
"Short talks on Good of the Order. Some choice musical Selections & the Eats occupied the time till the small hours of the morning. All expressed themselves as having been well entertained & voiced the hope that they might be permitted to attend many Roll Call meetings of Talisman Lodge." [Talisman Lodge minutes, March 22, 1920]
March 22
Jacksonville lessons. Rain. Two pupils disappointed me here. Attended lodge [at their annual "roll call" meeting]. Playing piano with a pick-up orchestra. Some guy aided by some other guy got up and called for a vote on going into the chamber of commerce as a body at $25. per member. Perl presented the matter and made the motion and Carl Tengwald seconded it but neither voted in favor of it. The thing made me so mad the idea of saddling each member for 25 bucks that I got up on the floor for the first time in my life and protested vigorously saying it was entirely an individual matter. No one voted in favor of it. I got up again and objected to serving of a banquet to about 250 people next Monday night. Later I rescinded my objection not having understood the matter. I thought they intended to serve an elaborate lunch of salad, coffee, cake and ice cream at a big expense. I would still object to this; but ice cream and cake is a different matter and being on the committee I agreed to this later after the big spread idea had been voted down. An entertainment and ice cream and cake will be all right served a la cafeteria. I always get my foot into it when I go up there anyway.

March 26
It is of little or no use to write any more on lines of thought as penned above. During the years it has been kept up off and on. No benefit has been derived. I am no better for it as the matter penned is never read. Lessons learned as soon unlearned and I revert to the common streak that is in me now as it always was and always will be. If I could stop smoking, stop smoking and had no sex desires I would then have made a start toward something but all my life I have never started these things, holding me back among other things as well for after all these are only the outward expression of rottenness within. I believe I have hookworm or tapeworm. I believe I am half crazy. Music I have little use for—it is too good for such a[s] I.

"Bert Sullivan is happy over the report made by E. L. Melton, deputy state dairy and food inspector, who this week completed his inspection of the Gusher cafe and in his report says: 'This restaurant is clean and well kept. Some real improvements are being made in the kitchen and back room.'" ["Local Briefs," MMT March 27, 1920, p. 2, col. 1]
March 27 Saturday
One minute I am almost dead while the next moment I am down at the Peerless chatting with daughter Viola [not actually his daughter]; from the serious thinking of the lonesomeness of a mans soul and the inevitable to the frivolous. It is all just to bring forth smiles to cover death and death's hopeless outlook. One day I am sick and giving three lessons is a burden; next day I begin at 7.45 on 2 doughnuts and coffee and just go on through 14 lessons with no dinner, an increasing grind that ends at seven P.M. and feel better at the finish than at the start. Idleness is the cause not work. There is some mental work in giving 14 lessons in piano; yet to the manual laborer well trained muscles count and so does a well trained mind take one pupil after another, conquering those desires to quit and overcoming the cravings of an empty stomach. So it goes.

"K. P. MEETING AT PYTHIAN CASTLE MONDAY EVENING




"Prof. Haight will have charge of the musical program at the Pythian castle hall, Monday evening, Mar. 29. The Pythian orchestra composed of musicians of ability second to none, will be heard in several numbers.
"The address of the evening will be delivered by Grand Chancellor Hurley of the grand domain of Oregon.
"This session will be an open meeting to which all knights are expected to bring their families and acquaintances whom they wish to interest in Pythianism. Candidates for the ranks are also expected to be present.


"N. B. – Chancellor Commander Stewart says, 'Tell the ladies they can go home by 11 o'clock. If their husbands won't go at that time, the Pythian jitney will be called into service.'" [MMT, March 27, 1920,
p. 6]

"This Meeting was the Occasion of a visit by Grand Chancellor Julian A. Hurley also an Open Meeting about 250 Knights & Wives Sisters Daughters & Sweethearts. Grand Chancellor Hurley made the talk of the evening. The Programme consisted of Readings – Music – Stunts – followed by Ice Cream & Cake." [Talisman Lodge minutes, March 29, 1920]
Monday March 29th 1920
A beautiful day—perfect as could be. The green of spring, a carpet of soft shades, and above, the deep blue of the sky without a cloud. The cool morning air; the almond blossoms, white against the blue as one gazes up in wonder and listens to the hum of a million bees: the green hills and snow capped mountains. There are few places as beautiful as this valley now. But the rivers are low and the small creeks are dry. The roads are hard and dusty. The grain is not as high as it should be. There has not been sufficient rain as yet.
I went to Jacksonville—gave only four lessons. Returned to studio at 4.20 rehearsed with two young people for an evening entertainment, and gave two lessons. Bathed, changed clothes, ironed trousers, practiced and got to K.O.P. Hall at 8.40, and put on the entertainment, getting back at 1.10 A.M. This was our first entertainment I ever put on. It was a good programe, they said. The affair ended with refreshments and dancing. I think myself it was some evening. I played two piano solos, and the orchestra played four numbers. Mrs. Harrison sang; and Jay Gore gave some "Blackstone" [magic]. There was a trombone solo, a violin duet, a violin solo and Mr. Rowley gave a talk which was fine. Chancellor Com. Thurley [sic] was the visitor. He spoke for twenty minutes. I got there all right and had a cup of coffee after it all and here I be.
I was introduced as follows: "This lodge is fortunate in having as a member a master of the piano—Brother Haight, who will be heard in a piano solo." I played "Il Trovatore" and "Believe Me X X X," and certainly got a hand. I laugh all over myself as I write this. "Master of the piano," is going some I'll say.

"State Sen. Julien A. Hurley of Vale, Ore., grand chancellor of the Knights of Pythias, was a guest at the Holland during his stay here. This afternoon Mr. Hurley accompanied by a number of Medford knights including Ben Trowbridge, Harry Wortman, E. E. Gore, W. Y. Crowson, James Stewart and Frank Lindley went by auto to Grants Pass for his official visitation of the K. of P. Lodge in that city tonight." ["Local Briefs," MMT, March 30, 1920, p. 2, col. 1]
March 31st
Address of Mrs. Florence A. Chaney was found by return of card of registry signed by her. I recognize her signature on the receipt card.
Got up early. The morning sun pouring into my window wakes me—had an early breakfast, and gave lesson at 7.45 and another at ten thirty. There were three pupils out to-day four rather—a bum days teaching. Did considerable writing. Played "A Memory" for Delroy Getchell the banker-poet—he did not like it and refused to listen to any more saying he did not understand it there fore could not enjoy it. Fell in love with_____. She said she liked me frankly and I told her the same. Then I called at _____'s but she was in bed. ____is getting after me again and it is a sort of blackmail. She is determined I marry her. I called at her request but was evidently unexpected so many times have I disappointed her. Later I flirted (no it is not flirtation for I like her) with _____. A fine wholesome girl who thinks a lot of me. I dropped into the lodge-room and found Mr. Joy there sick. He wanted a physic [laxative] and drug stores being closed I came over here and got him some stuff I had and locked myself out of my room leaving the key inside. Well I tried every scheme to get in but nix—nothing doing. It is surprising the number of schemes one will think of under such circumstances to beat a Yale lock. I gave it up and went back to the lodge room and stayed there until 12.45. I was going to a hotel but did not want to so I came back to the building and tried some more. Finally [I] got working at the transome and reasoned that if I worked it enough it would simply have to loosen up and it did—it broke. That is the rod broke and the transome was free to be lifted in. The way was clear but I had never climbed thru a transome before. All along I was about to give up and I was about to give up now, but no, I got two boxes and raised one leg up put it thru and then crawled over and dropped down on the other side. Whew! Here I am at 2 A.M. with my privates in bad shape but otherwise sound. Loosing four lessons, trying to pacify a vampire, flirting with a young girl, smoking about fifty cigarettes, learning a rumor that I was a dope-fiend, drinking four cups of coffee, having my compositions called rotten, falling love with a married woman, and climbing thru a transome is enough for one day in this century A.D.

April 1st, 1920
After climbing thru the transome I got to bed and to sleep somewhere toward four oclock. At 7.15 I got up against natures will and went to Talent giving 8 lessons there. Returned and gave three lessons here and felt fine. It is now after midnight. Played six games of pool over in the lodge rooms and spent the evening there talking. Some talks over there, believe me! It is good for a man; but do you know I have been hoping all day that ____ will come in to-morrow and now I am wondering, will she come in. If she does it is a plain case for she will come in just to see me because she wants to see me. Playing with fire, surely this may prove to be the fire of desire. "I didn't mean to make you blush" got me. A woman is an ex[h]ilaration, without a doubt.

April 2d
I began shortly after nine oclock this evening to clean up this table and sort papers and got considerable done; but to show the time it takes to accomplish anything here it is 2.15 A.M. Every minute I was busy since 9.15—sorting papers, cleaning studio and oiling floor, ironing trousers, washing handkerchiefs, mending socks, sewing on buttons on trousers and sewing bottom of trouser leg, putting in new shoe laces and ironing handkerchiefs. This is Friday night too. My insanity [probably used as a synonym for "indigestion"] seems to have left me. My head is clear and I threaded every needle without [g]lasses, read without them and am now writing without them; but in getting over the transome last night I must have injured myself in my left testicale—otherwise I never felt better in my life. I have stopped eating at the Peerless and am now eating at least two good meals at the Gusher to which I owe my better health chiefly.

April 4th.
Many hours of labor are being expended in sorting papers and cop[y]ing notes on music found all over the place. I am by now means thru but am progressing.

"Our creamery men were both on time Monday, and Mr. Pickel, one of the drivers says that the volume of cream is increasing, that he is getting fifty gallons of cream a week now . . . ." ["Eagle Point Eaglets" by A. C. Howlett, MMT, April 5, 1920, p. 3]
April 5th.
I am getting things cleaned up but am not done yet. There seems no end to it especially notes on teaching which I am copying.
I have been in excellent health especially of mind for some time. Imagine my surprise to enjoy the coming on of a rotten cold in my head. To-night it is pretty well on and I am using some profane language. I can't understand such a thing. I had never felt better up to this morning, now a rotten cold in my head.

"In a peculiar accident Monday afternoon one of the Jackson County Creamery autos driven by Lyle Pickel was almost totally destroyed by fire near Tolo. The gas tube leading from the engine to the spark plug broke and the gas escaping caught fire. Before the flames were extinguished the body of the car had been burned away. The wheels, engine and running gear were saved, due to a favorable wind." ["Local Briefs," MMT, April 6, 1920, p. 2, col. 3]
April 6th. (Tuesday)
After feeling, as I bragged, without knocking on wood, tho what that can have to do with it is beyond me—after feeling better than I had ever felt in my life, stronger in body and in mind, to have a rotten cold in the head come on next morning like a cloud out of a clear sky is certainly hell. Yesterday morning it began and to-day it was well on, nose running, sneezing, blowing, and head ringing. Later coughing began, and no movement of bowels to-day. It is all natures way of expelling impurities out of the system accumulated on the other hand by nature furnishing a good appetite. More regular eating and more [omission] I thought was improving my health. What a dirty deception! A sudden drop in mind force with some mental depression manufactured the cold but I have not lost any lessons. I figured that lack of exercise caused this cold and sluggish circulation is no way to get rid of a cold. If it is I cant see it that way, so to-night I tried another remedy. After the last lesson, I dressed in other clothes, got my wheel [bicycle] and started out for exercise and fresh air cure. I rode to Central Point and back—ten miles and felt fine just as soon as I got well outside of town, the highway under the wonderful mass of stars. I enjoyed the ride. Part of the way I walked. My headache had disappeared and a big appetite was on when I returned to town. At the Gusher I ate a sirloin steak, potatoes, bread & butter and coffee and here I am at 11.40 feeling just fine for the present. I fear the results that may show up to-morrow but I have the supreme satisfaction of having tried an heroic treatment for a cold. I cannot believe that exercise, fresh air, and good eats can ever kill a person since these are the very thing God gave us to sustain life. How can that which sustains life kill it. Yes, I know too much water will kill a pear tree but what sense has a pear tree.
Mrs. W. was in this morning. When she left she smiled again—a smile like all the flowers in flowerdom. She said she would think about me and pray for me. "And I have had my prayers answered too" she said. I agreed with her on that. Now here is a girl who to me is heaven. A spirit of beauty, love and kindness: of a great sympathy; who likes the birds the sunlight, the flowers, the trees, the streams the mountains of the great out-doors, and reflects them and when the reflection harmonizes as it does from me there is a sweet friendship that is adoration, respect, and love and love's great longing of soul for a spiritual companion such as she could be. But no.

April 6th.
I have an idea ever in my head that that girl is going to phone me to-morrow to ask how I am as she knows I was not very well this morning. I simply have this idea in my head, and it is partly expectation and partly a hope that she will. Lets wait and see if I am right in reading her mind and heart. I shall not know how to answer her. I have done nothing to encourage her to do such a thing in fact. I kept a respectful distance from her this morning. I did say, however, that it seemed a long time since she had been in, a thing I should not have said. It seems almost an impossibility to make a friend of a woman. It is love before either realizes it which is one cruel thing added to natures list of cruelties. Nature contrives and schemes, and makes man sin for the one purpose of propagation. It is her main theme. She is simply nutty about propagation; and immediately after she accomplishes her purpose she starts to destroy what she started, with germs of desease. Either germs are a myth or nature is absolutely heartless and cruel. Nature has nothing to do with the spirit and soul of man, however. Other forces have controll of the inner conciousness and sub conciousness of man. A spiritual friendship can be carried on between a man and woman but is so rare as to be almost nil; but it can be and should be so. It is not for me, such a beautiful thing I fear. With this lady nothing else should be thought of in our acquaintance except the higher mind and spiritual friendship. She is too fine a nature for me or any man. A girl to worship from a distance like a star in the sky, unattainable, but very beautiful and wonderful. But those I love go their way one after another, and I see them away off some, and some coming, now one has come near soon to go on her way down the distant path. Mary has gone and Hazel [h]as deserted me. They do not come in any more. Everything seems to pass on in the night like ships on an ocean of dreams. For me there is no real friendships, no love, no relations—I am alone: born alone, lived alone to die alone and it is the destiny of all men.

April 7th.
Not much was left of that cold this morning, not any headache or other aches either nor any cough nor sneezes or running nose. I got up at 7.20, breakfasted gave a lesson at 7.50. Bowels moved naturally. Took no medicine. All of which proves that, at times if not every time by assisting nature with exercise, rubbing, and not lying in bed all day, to keep up circulation and move bowels assisted first by mind sickness can be cured.

"Dance at Beagle Sat., April 10. Music furnished by Majestic orchestra." ["Local Briefs," MMT, April 10, 1920, p. 2, col. 2]
April 12
I am sorely troubled: anxious and worried. It seems as though life has come to a stop and year[n]s back to where I was born, for out of the memory the old days come so vividly that I am living not here but there not now but years ago, for I am there in mind, heart, soul and spirit. That seems my real self and my real home my real tomb. Here I am but a visitor a stranger in the West for eleven years an interval in my life. I have never gotten away from there for now I am back there and what I do here counts for working. It is all what I must do back: [in New York] and what must I do? The question is hard to answer indeed. I cannot write my thoughts which are not thoughts so much as deep emotions, feelings upon which it has never been my policy to act. In this perhaps I have done a great wrong to my mother and sister.
Saturday night I played all night at a dance with Heine and Jennings, at Beagle. I dont know where that is. We went out and back in a car. It was a hard job but did not tire me except to cramp my hand. Coming back I near froze to death. Crossed Bybee Bridge in the cold morning I couldn't see how a fish could live in that cold water. The sun came up bright and Mt. Pit [Mt. McLoughlin] was a magnificent sight; but the air was cold and I was cold. Why did the larks sing such a cold morning, and the birds everywhere wake evidently happy? Yet man could easily freeze to death. Surely it was cold enough to freeze his soul. A cold world. We are booked out there every Saturday night at $8 per each. I dont know about going again but I am no weakling, however. I got in at six oclock, fell asleep at once and woke at three oclock feeling fine.
To-day I kept on the go all day giving seven lessons at Jacksonville School and four here. Hazel was in and Mary called up and I had a little talk with her. It is now 11.40. I am about there after dropping in to the Gusher. The K.O.P. the Rialto and writing two letters one of which was an [i]nnocuous letter to a party in town who is circulating a seriously false report about me. I did not sign the letter but the party will call me up I bet a dollar, for I got on the right track of her I feel positive. I have to keep moving to forget back there: otherwise I would be thinking thinking all the time. My music and other places, my hobbies of composing, etc are all knocked to thunder for a time at least, and there isn't any use writing any more stuff here.

April 14th.
I got in 10 lessons to-day in Talent and here. In the evening I attended a Hard Times social [a party in hobo costume] at the K. of P's. given by the sisters. The affair was a success—a short programe and a longer dance. I played four pieces; and Doris and Winifred played. I was there all night but did not dance so missed a lot of innocent fun.
Those who attended wearing regular clothes were fined two-bits. I paid my fine but Ed. Gore refused to pay anything. He carried the thing too far in his refusal, for before he knew it or the crowd realized it he was out in the ante room down on top of Doc. Porter who somehow in the scramble was downed first. But Doc. held on to Ed. just the same all right until Palmer and Beach got his silk socks off. The socks were offered for sale at auction before the crowd who fairly yelled at the situation. No one took them so sock and shoes were returned to Ed who went home—without paying his fine. He will probably stay home from the K. of P. for the rest of his life. It was rather a raw deal the roughest I ever saw pulled there. Ed. is no doubt sore. He can be a damned mean cuss one minute and a good fellow the next as the spirit moves from his physiological organs and materiel side and directs by many influences his spiritual side. It was rather embarrassing for Mrs. Gore who was there. They were both enjoying the dancing to the limit when this sudden punch sent them home. The boys of the younger set are running things somewhat which is all right if they dont overdo their prerogatives.
The cherry blossoms are out and also the pear blossoms mostly. Considerable rain has fallen the last two days and everything looks fine and dandy as spring usually looks presenting herself all so beautifully dressed up. The birth of growing things is a great occassion indeed. How proudly the flowers proclaim their power and beauty in the perfection of natures gift. Yes, indeed the valley is all dressed up; and a song is in the hearts—a song of welcome to the bright days of God's bounteousness that knows no limit. Surely He can give no more freely than He does; and is not His love as bounteous spiritually? As the flower is nourished by the rains from the sky so is the spirit nourished by God's bounteous love to the faithful. God is without limit and [illegible] is part of the bigness of the Universe and an essential part of it physically and spiritually.

Sunday April 18
I claim it is a day of rest when one sleeps to two oclock and bums around the lodge rooms the rest of the day and night up to eleven thirty eats two meals at 50 cts per and smokes a package of burley. I sure keep away from music on Sundays. Music is my work: for others it is amusement and pleasure and restful. I rest by dropping it completely when others enjoy it most on Sunday.
Many times during the last few years I have wondered whether or not I was really sane. I dont wonder very much of late but I will say in order that one may draw his own conclusions that I played at a dance again last night from nine to three, slept until two this afternoon wasting about twenty four hours; and a moment ago threw out seven pint bottles of milk that I had not used. It was delivered daily but for one whole week I never drank one drop of it. Wasted it with 56 cents. And to-day I spent 100 for two 50 ct meals when I would have saved half of it. Oh it isn't the first time. No: this has been going on since Christmas, paying out for milk never used and throwing the stuff down the sink. It is a crime both ways and in every way. Of course I spend absolutely no money on anything in the way of luxuries, very seldom going to a picture show. When it comes to eating, I simply have gotten into a habit of always when eating having someone to talk to or someone to see. It used to be just the opposite way, and I always had indigestion then. Now I have little trouble from eating. I cant eat alone yet realize I could save a little money by so doing. The crazy thing is having that milk come every day and not using it. I might as well play dances and used the money earned for good meals for good eats never hurt anyone. This idea is not insanity for I know if I am ever sick it is only because of actual starvation. There have been periods when I could not eat because I did not eat. But I must discontinue the milk for some reason. I and Myself are arguing this thing all the time. I want to quit it but Myself would allow it arguing that I should get my own breakfast here in this room: or drink a pint of milk for lunch, and even keeps suggesting that I get my own supper here and quit the resturants and save every cent I can as I shall need it surely later. But I answer "not if I am dead." I've got to see people and talk with them and eat with them and not stick alone so much. It gives me indigestion to eat alone. The thought of it is even sickening! Myself is awful mean, stingy, and economical anyway wanting to hoard up money for what reason I can reason out. I am glad I dont allow Myself to rule me entirely and seclude me from association with my fellow men and women completely as could be, the case if I submitted to the various suggestions. Myself would soon plant me where the daisies grow in the summer above my toes. "I and Myself."

Monday April 19th—[drawing of an eye] & Myself
I and Myself got on fairly well to-day though as usual Myself wouldn't let me do something I wanted to do especially this evening. Myself did not want me to keep a certain engagement with H. Howell who is trying to sneak the Page Orchestra away from me. I overcame the prejudices and busted into the band room twice and into the Rialto and fixed it up; but once in Myself would hang around with the Pelicans and journey down to the Rex for coffee. The consequence is that I neglected some work that I could have done and here I am feeling not so good all through the foolishness of Myself. I prefer to leave those Pelicans alone for good. Their roosting places dont agree with me however it may suit Myself. I and Myself are out at present over this thing.
Even this morning I wanted to get up early but Myself would stay in bed until I almost lost the 9.30 bus to Jacksonville. Once started however we got along fairly well. Whenever I really show I am master Myself gives in and goes along peaceably enough so I got in ten lessons to-day in spite of Myself. Myself didn't show any signs of quitting probably feeling that it was no use to protest, but if I had lost that case we would certainly [be] fighting the rest of the day. So we got along fairly well as I said. Speaking for Myself I will say we can sometimes be very excellent friends and neither one really wants to give the other up; but I must be master of Myself to be happy and for the good of Myself. Myself doesn't know this yet, but will learn I hope.
Hazel came in at six and Myself got unusually stuck on her. I was affected also, somewhat, I will admit, but my better judgment rather prevailed and altho Myself held her hand a long time as she was leaving I couldn't object to that proceeding. But Myself was crazy about her for an hour after. Myself seems to love the girl and I sometimes wonder if I do. I like her but it is not the way Myself likes her, for it is spiritual the same way I like a flower. Myself never likes flowers and beauty of character. I do. Hazel is above all girls to me now. She just wanted to talk to me from six to 7.30 and did not want to play at all. A pupil interrupted our talk and she had to play. It was just as well. Myself might after abused the rare privelege of talking with a lovely girl. I would have been ashamed of Myself if the proprieties of friendship had been in the least broken. I have got to watch Myself all the time with Hazel, and it keeps me so busy that I wish sometimes she would not come in any more. I would feel bad if she didn't come in yet if Myself is so darned foolish as to fall in love with a child nineteen years old. I must hand Myself a remonstrance.

April 20
I and Myself have not gotten along well the last forty eight hours and here I admit it a thing I never should be compelled to do by that cad, Myself. He makes me small, makes me suffer, is the cause of all sorry, pain, and misery. He is all that is wrong and always wrong when he gets beyond the control of the great law of mind that ever guides me. I would like to so force the teachings of devine law through every nerve of Myself until he is absolutely subdued to Truth. Pain, hatred, sorrow, dirt, and lust, I can conquer them all with a little more power. I must draw upon Supreme Mind for special power to meet the rotten conditions Myself is continually forcing upon me holding me in bondto vanity, pride, sense. Anger is of me not of Myself. Anger is right. Jesus Christ showed anger and Supreme Mind possesses this emotion with love. It is not anger that destroys but hatred and jealousy. Myself never gets angry, I do, and at Myself only. Myself tries to show resentment and thinks other people are injuring me and tries to get me to approach his level and retaliate. I will not allow this for it would injure me and Myself both. Those who try to injure or hurt me have not learned the wisdom of Supreme Mind or they would know that they through themselves are getting the only injury. Above all themselves can do, I am, and refuse to allow Myself to argue with them or fight them. Myself can and does argue and fight with me. Thats enough carrying it outside of the brain court is going too far and breaks the law of the Supreme Mind. Therefore I shall stay at peace with all things forever firm in the knowledge of Truth.
Myself, for the first time in over a year did put one over on me this morning and kept me in bed until noon while pupils came and went until the janitor opened my door to see if Myself was dead. I was up by three, however. Why Myself acted so I dont know. I can reason it out. Myself may have needed more sleep, and I usually try to give him as much freedom as is needed in that respect but this morning he just hung on and would [not] let me get up. I should have been up teaching at 7.30. Myself is a damned fool at times, anyway, if I do say it.
Six lessons were given during the afternoon, and evening beginning at two fifteen Myself made no complaint except he wanted to smoke every half hour and even dragged me into the next room twice to take a sniff. [?] Why I go with him is a mystery. I wish he would act decent. Such actions bother me. And I wish he would wash his feet or let me do it; and I wish he would let me get these papers in order in this room and sweep the place up, but he keeps pulling me down.

"MYSTERIOUS AIR PLANE LANDS IN CITY 8, DEPARTS 10

"The first aeroplane to be seen in Medford and the valley since late last fall arrived here about 8 o'clock this morning from Redding, Calif., en route to Spokane, landing at Gore field. The two young men in the plane at once found their way to the weather bureau office, where they made inquiries of C. C. Cate about the weather.
"They were evasive as to their identity and what they were representing in their flight, but asserted that they came through from Redding this morning, passing over the Siskiyous at an elevation of 7000 feet, and encountered very cold weather at that altitude. They said that their next stop was Eugene, and after going on top of the Liberty building with Mr. Cate and viewing the landscape and sky, during which they spotted a wide rift in the clouds to the north, through which they stated that they would fly, left at once for Gore field and departed from the city.
"The arrival and departure of the plane from the city, together with the familiar hum overhead, aroused much interest and considerable speculation." [MMT, April 21, 1920, p. 8]
April 22, 1920—
Some say it is a cold spring. I dont notice it for lack of time. There is too much else to think about. It was a cool spring day, sunshine and clouds. Snow is on the mountains and hills. The scenery south of Talent was classic to-day, beautifully carved and richly colored in young green below the deeper shades and white above against the blue and the clouds. Eight lessons were gotten in. I have so much ahead that I am swamped. Two new pupils to place: a rehearsal with a singer to-morrow night: a dance Saturday night: Christian Science church on Sunday and orchestra rehearsal Sunday afternoon all immediately following a hard day teaching on Saturday. Then Monday a long day to be finished off with a show at the Page 6:30 to 11 ["Woman of Bronze"]. If Myself would only show some sense I would easily get thru it, but that fool gets me.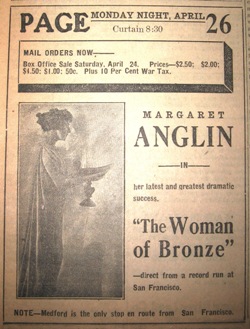 "MARGARET ANGLIN PLAY PROMISES A DRAMATIC TREAT

"Theatergoers are promised a rare treat in the coming performances of Margaret Anglin, when she presents at the Page theater on Monday night, April 26th, her latest production 'The Woman of Bronze,' a remarkable play, adapted from the French by Paul Kester.
"In portraying the leading character, Miss Anglin brings to her audiences a picture of emotional strength great depth of understanding, and that rare personal charm which has always distinguished the work of this artist.
"The story of the play deals with the life of people of today, who must conform to conditions as they exist. In it we have comedy, brilliant dialogue, and thrilling emotional situations. In the working out of the life history of three people, we have almost a tragedy, saved only by the heroic sacrifice of one, that a great work may be given to the world. Surrounding these central figures, we find the lesser ones, those who play at life and one of two genuine friends.
"Miss Anglin has chosen her company with great care and has achieved a result which is able and effective. The setting which is the work of Livingston Platt is beautiful and gives the atmosphere of reality which only master hands can create." [MMT, April 22, 1920, p. 3]

April 23 1920
That fool, Myself, would not get out of bed to-day until noon for the second time this week I straightened the matter out by pleading illness before my pupils. I am always condoning the actions of Myself and apologizing for his sins. It keeps me busy. We really are enemies so at variance are our views. I have no desire or wish to destroy him—in fact it is the other way; but he would destroy me utterly. He hates me. If I show him kindness and feed him he ferments in my stomach and forms poison in my intestines and blood and gets himself all mixed up. If I clothe him comfortably enough he objects and cry for a new $75 suit when overalls are more comfy. I become concious of his existence and the power of his errors at such times, and am weak before it for a time. I am too weak to appeal the case before the supreme Judge who would quickly set Myself right for thats His business in part. But he is never too busy to answer all appeals from his own. The whole matter of disagreement and quarrelling between Myself and me will be threshed out some day and Supreme Mind will grant me a decree of absolute divorce. I shall get nothing more than freedom and nothing more will be desired. Myself can go to Hell and take his____ with him.

"NEW ORCHESTRA IS BEST EVER HEARD IN SOUTHERN OREGON

"That the new musical organization, the Rogue River valley band of 30 musicians is going to be the finest in the valley's history, is well believed by the large audience as the Page theater Wednesday night that was so delighted with the music of the orchestra of 12 under the leadership of Harry Howell. This music was a veritable treat to Medford theater goers who did not know that the musicians were all picked from the new valley band.
"Six musicians only were engaged by the management to play, but the band threw in six more for good measure. After the performance of 'Three Faces East' was over the star and other members of that splendid company, could not conceal their pleasure over the orchestra music and its help in rounding out the presentation, and loudly proclaimed that it was positively the best orchestra they had ever heard outside of New York city.
"The same orchestra, with the addition of three more players will be heard at the dance the valley band will give at the Natatorium next Wednesday night, which will be given to raise funds to help outfit the band, and that event for this worthy cause is well worth very liberal patronage from the public." [MMT, April 24, 1920, p. 5]

Sunday, April 25th. 11.30 P.M.
Delightfully pleasant spring day neath a cloudless sky with the earth a picture of purity of young buds, leaves, and flowers painting the landscape and thru fresh odor permeating the cool breeze to the music of birds. While playing at the C.E. Church [Church of England] a bird outside sang a beautiful song. I felt how small was my effort to that song of happiness. So far I have finished all that was marked out to do. Got home from Eagle Point dance about 2.30: got up at 7.45 play in church; and rehearsed with orchestra here. The bunch came around all right after 6 weeks.

April 25
Received a distressing letter from my only sister, Vina [his sister-in-law Alvina]. Its up to me to make some move soon. Now, it should be; but three weeks ago I should have gone East. Last week she wired me for $100. I sent it on. Now she is sick, and no wonder after all she has gone thru. As I ponder over the memories my sister's letter brings to mind I sit lost in deep reflections. Time already hath wrought many changes and many more are to come as sure as night follows day. This strange world is filled with surprises and gravestones: of sweet songs and sorrow.
"The Wall Street Melon Patch is still warmed by the sun of privilege; fertilized by the perspiration of labor; and watered by the tears of poverty."

——V——

"Fear ye not: for I will not forsake thee nor thine."
April 26th 12 A.M.
Carried thru all my plans successfully to-day finishing eight lessons; postponed two lessons to rehearse at Page Theatre, and played the show "The Woman of Bronze." Margaret Anglin with 7 piece orchestra. As this may be my last engagement there I chose to finish off in style losing money on it for the moment; but that's me. I look ahead—way ahead in things of this kind to make a good impression that will last and bring returns in prestige. There is money in prestige, that keeps coming in like interest right along days after an event like this. The play invited good music and the association was nothing to be ashamed of. The show was a high class society play poorly written but well acted and well staged tho only one scene clear thru the three acts. I doubt if everyone got his moneys worth at 2.50, 2.00, and 1.50 plus war tax. People dont give a rap how they blow in their money these days of easy come easy go.
"Margaret Anglin's presentation of 'The Woman of Bronze,' Monday night was highly emotional, and for a wonder no plain citizen and taxpayer lustily blew his nose, during a tense and dramatic climax." ["Ye Smudge Pot,' by Arthur Perry, MMT April 27, 1920, p. 4]

April 27.
Regular day. Mrs. W was in. Myself took no chances flirting with her, obeying very strict orders; but she did look pretty. We kept our respectful distance. But with H. who came at one thirty matters turned out different. Even I was surprised at the turn of events myself. I will say did not act greatly out of the way. I can blame him for I like this girl too. She surprised me by expressing a liking for us that was undeniably sincere. This the 4th great surprise in such matters I have had in my life and I feel younger in this than I did at least in the last two. Still Myself had better not go in too deep even in this. These "surprises" have not held permanent.

April 29th
The weather is very beautiful and the scenery is extremely lovely, but there is something that excells even the weather, the scenery and the charm of spring—it is her presence in this studio. She has made it the most beautiful place in the world. Her presence and what she said to me linger like the sounds of the greatest music. She has inspired the room. It has become truly a shrine. She is everywhere in it. Yes, it is hers and her. Her voice speaks forever, her eyes like diamonds light it from mysterious depths, her presence is ever by my side, ever with me. I am not alone for she is here—she whom I worshipped as supreme for over a year never dreaming that she cared. Surely nothing more beautiful could come to a man than this—the loyal friendship and regard of a young woman.
Eight lessons were given and a new pupil taken on. There is no end to new pupils. Another new one was started out Wednesday—that's yesterday. The new pupils are new people recently come to town in fact people are coming in. This building is about filled up now which hasn't been the case for about ten years. Rents are being raised too and going higher. There is no building going on because of high costs of materials and labor. Clothes, sugar, and flour are away up and spuds nine dollars a hundred. Hell! Where is the end of this H.C.L. anyway. No relief is in sight. Clothes are going higher, partly thru underproduction and partly thru high wages, and the higher the wthe less work. Labor is certainly getting its rake off now and we are paying. Always the common people are paying one way or another. Labor unions are very strong and they are playing the game to the limit using every ounce of their gigantic power to hold down industry and thus keep the value of their services up. Thus prices are high for a manufacturer must increase the price to meet the increase demanded of him in cost of production by deegos [sic] who cant even speak the American language. To be an American is like it once was to be a Roman.
As I said the weather is beautiful, but—

April 30th.
Each unto himself hath things to perform Mrs. ____ came in this morning but I wont say more. Some women are a real pleasure to talk to. She thanked me for helping her and said she would bring me, me mind you, some flowers if there were a florist in town. This is strange. I rather like her. Myself growls about it but he can shut up. This is a different matter and concerns mind not sense. Myself is all sense. Nothing else appeals to him; and of course unless he is gratified some he wont live with me. I have got to keep him but with this girl I say hands off. She is too good. From that middle ground by which both Myself and I, flesh and spirit, body and soul are reached, the brain, all in this acquaintance inclines to the spiritual side.
You no I am seeing and living life as never before. Everything is different and so much better. I am only a child with vision visualizing. All tends toward good and the joy of the hour is trying to make some one happy and being happy in doing it, for what did I get out of these things to-day. First, I helped Mrs. ____ in her music without charge; second helped Mida with her picture music and some original waltz she is trying to get up: third visited my girls in the resturant; fourth, gave five lessons and helped free one pupil in duet playing: fifth got Keith Cole up here and tried over two violin pieces and took him up to Jacksonville school where he played and I played for the entertainment. I paid him $1.50 and paid the driver 1.50 out of my own pocket; sixth, promised Mida I would play for her at the Liberty Sunday; seventh, engaged a tuner at my own expense to tune and fix up the piano at the Liberty; eighth, engaged at my own expense two young people, Winifred and Doris to go to Talent and play for entertainment there at school house. All these things I did costing me money, but what is money good for. And I even told Rowley I would like him to come up next week to studio, which I have not done since he put one over on me some time ago. But what is the use feeling sore [at] any poor human being. We are all so frail. It is our weakness that makes enemies, our strength holds friends. So it goes. And the weather is very charming, as well as everybody. Why not keep in tune with the weather and the flowers. The last pupil brought me some lilacs. How the flowers do try to keep up this world and brighten it. And here in the spirit of this girl who brought me those flowers and in the spirit of the girl this morning really there is something very high. So life goes on beautiful if you see it with love and kindness everywhere if you are lovable and kind yourself. It is simple. Some learn it, many do not.

May 2d Sunday at 11.40 P.M.
Myself is about worn out. I have him on the go and he kept right up without a whimper. I will say so much for him. Yesterday I gave nine lessons, went out to Beagle at night and played for a dance until 4 A.M., slept from 6 to 12.15, played at the Liberty Theatre in the afternoon and evening. I had the C.E. Church [Church of England] also but Mrs. Isaacs consented to play. I played at the Liberty to let Mida go off for a good time. It took all day and all my strength. The feature was a hard one with no cue sheet. [Terror Island, starring Harry Houdini] There is so much action in it that not a piece written would fit it anyway. Improvising was the way I got by. This is the first time I ever played in that place during the years I have been here. I have always feared it before. No one needs to fear anything. Myself was the one who feared not I. But even at that one has top lay well to do a stint like that also to play a dance one must play well and be strong.

"PRICES WILL FALL WHEN EXPORTS TO EUROPE DECLINE


"NEW YORK, May 3–Bankers educators and economists of the United States and Europe discussed the facts and causes of inflation and high prices and their remedies at the semi-annual meeting of the Academy of Political Science, which opened here today.
"Dr. B. M. Anderson, Jr., of the National Bank of Commerce in New York, declared that the shortage of goods and the attendant speculation is the prime cause of present high prices in this country.
"'When our enormous export balance disappears and when our domestic markets are called upon to absorb three or four hundred million dollars worth of goods a month which they have not been absorbing we shall see lower prices,' he declared.
"The speaker said that the increased production had been expected when the five million men withdrawn from industry for the army and navy, returned, but that it had not come.
"Dr. Anderson declared bank expansion has been 'more a passive result than an active cause of the rising prices.'
"Edwin T. Kemmerer, professor of economics and finance, Princeton university, after reviewing the two groups of causes for inflation the country has experienced which he classified as 'non-war causes and war causes,' he said: 'We won our independence nearly a century and a half ago in a war financed predominantly by paper money inflation, we maintained the union a half century ago by a war financed extensively by paper money inflation, we have just preserved our political inheritance by a war financed in the United States largely by deposit currency inflation and yet we nearly all condemn inflation as a most inequitable method of financing a war.
"'The great difficulty has been, and I fear will continue to be, that financing a war by inflation, with all its injustice and with its necessary aftermath of economic and social problems, none the less both politically and economically, during the war itself, the line of least resistance.'" [MMT, May 3, 1920, p. 6]

May 3d.
Last night myself, tired out, went to sleep at once at midnight. We were up at nine A.M. this day and in Jacksonville at ten oclock. I began teaching at that hour and returned to studio for two lessons (two out). There has not been a minute waste of time since Friday afternoon til now at 5.30 waiting for [a] pupil. I look back at the three months I played at the Rialto with wonder. How did I ever stand it?
Hazel came in late—6.30. I made her understand she was to work and not talk or hold hands so I did not even smile at her. She took on and worked with her mind on the lesson. I followed her out and as Winnifred and Doris were in the studio and took her hand and told her she looked very pretty. I walked down with her and said good night after a little talk with her. Hazel is a splendid girl.
Doris and Winifred played here for an hour. Some violin playing I'll say. Wieniciski's Legende; Indian Lament, Dvorak; Tanitorine; Violi Concerto, etc etc.
Supper, a talk with Fifer, Rowley, and Doc Mitchel and a walk home with Mida finished the day up to 11.23½ P.M.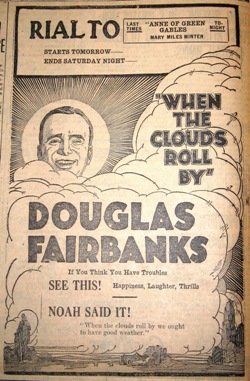 May 4th.
I got up at 7.30 gave lesson at 7.50 another at 9.45. Mrs. W did not come. Six lessons in the afternoon, made one pupil cry and it hurt me. Started playing for D.O.K.K. and later went to Rialto and played the organ preparatory to playing there to-morrow night. This is the first time I have played that organ since last November when I quit a three month engagement. It all came back at once as tho I had played there right along. You bet I never will or can forget that job. It was the hardest job I ever did and out of sympathy for this girl I consented to relieve her one night. She cant play that organ anyway. Love scenes and sad scenes she improvises some stuff and once in a great while puts on a roll. This is speaking of the feature. She plays from memory and improvises all the time and plays nothing. No descriptive work of any merit. For the comedy she plays rolls entirely. They sound like dirges, no life at all.

" 'DOUG'S' IN TOWN IN GREAT PICTURE AT RIALTO


"If you are beset by clouds of whatsoever nature, when you sit down to view the latest Fairbanks creation, which opened this afternoon at the Rialto theatre, be assured that they will have vanished ere the first reel has trailed its last subtitle through the projectors. The Eighteenth Amendment [Prohibition], the H.C.L. [high cost of living], the w.k. [woman kind] 'unrest' and the peace question will have been forgotten when this point in the picture's progress is reached.
"Fairbanks has made nothing so good as 'When the Clouds Roll By' since 'His Picture in the Papers.' Even this early classic, considered by many his best work, might not compare favorably with the present production if the two were projected simultaneously upon screens juxtaposed.
"This picture has in rich measure the qualities that citizens expect when they lay their money on the box office window-sill of the theatre exhibiting a Fairbanks photoplay. It has the sparkle of unusual situations, the animation of brisk action properly causated, the finish of splendid photography and the snap of close-cropped footage.
"Furthermore it has a plot daring in its departure from the usual. A fanciful story, be it granted, but a story told in deeds, not words, and an interesting one from beginning to end." [MMT, May 5, 1920, p. 3]
May 5th.
Lessons 7.45, 12.20, 2.30, 3.20, 4.10, 5. Nora W. [Wolfe] came back. Played at Rialto in the evening for the first time since November last. The work was play. Of course with more playing I would have done it better; but the picture was all mixed up anyway and one roll was as good as another in my opinion. During the storm scene I made the old organ roll and roar. One of life's novelties. I'm satisfied. I dont care to play any more. Just once is enough to know that I can do it—that I have not lost what I learned about picture playing at that place thru the kindness of Moran and Percy.

May 6th.
Up at 7.45. Dressed, shaved, packed music, swept up a part of room and ran to Front Street catching the car [bus] for Talent just as the door closed, all in just 17 minutes from the time I got out of bed. At 8.30 I was giving the first lesson at the piano in the Talent school on a breakfast of two pieces of chocolate gotten at store in Talent. Only four lessons there and two here. Dinner there. Results were not good from rushing around. Very warm day. Hazel was in. Supper and playing for D.K.K. Took up until ten oclock and here I am again having filled all of my engagements.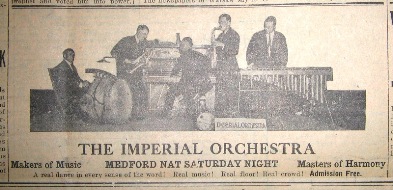 May 7th.
A very strange day in which Myself dragged me down again into that strange world of his depression. Not my depression, for I never feel blue any more. Still I feel a conciousness of Myself having taken on that old attitude again. There is something rotten about it and dirty wherein I feel so utterly ashamed of Myself I rather not carry him among decent people therefore I retire somewhat away from the company where I ought to be. Myself doesn't know how to be decent—the damned fool! Fears came on to-day again but I was not long in squashing them out. Myself has got to quit causing me all this imaginary misery through fear using our mutual brain to bring up before me all sorts of pictures. I have gotten so I can crowd Myself out of the court-room and not let him speak but even then I cant always prevent him from hanging around me being part owner of the law machinery through inheritance from Supreme Mind. I do not care to argue with Myself, however. It is too painful, so many cases go by default and Myself wins. Supreme Mind is ready to help me but as I do not appear the evidence of error must be given the verdict while had I fought I could have in all cases have won. The evidence of right is so overwhelmingly right that wrong can not win except in underhand insidious ways. When I am off guard then Myself starts out to destroy. He seems to hate me somehow. I do not hate him exactly for I am incapable of hate but he forces me by his actions which are so queer at times so outside of all reason and just the opposite of truth and love. Myself hates love, truth and right and seems to delight in trying to destroy the indestructible. He will succeed only in destroying himself—not me. Sin is the destruction of sin, for it burns itself out by the fire of sin and goes out while I am the spirit of Supreme Mind which cannot be destroyed. Myself will not, I shall grow and grow on forever. Myself is a damned fool—I am all wise unto Wisdom that made me and great and glorious as that thought of thoughts.

"The next Elks lodge dance will be held next Tuesday night. Launspach's orchestra which has furnished such splendid music in years past for Elks dances and which had been engaged for Tuesday night's dance, because of Herbert Launspach having given up his orchestra work on account of recently having engaged in the grocery business, the Imperial orchestra will play instead." ["Local Briefs," MMT, May 8, 1920, p.2, col. 1]
May 8th.
Life is ever changing and new things do come from without. Here it is 3 A.M. and raining. It has been raining for hours. I have just gotten in from Eagle Point which finishes up the fifth successive Saturday night dance I have played earning enough money to pay not only my increased rent but all my rent and phone. It is work but work is good for one. The orchestra work has all changed. I was here for four years before I could get in somehow on the playing game, dances, The Page, entertainments, and pictures: now it all crowds upon me. I played [illegible] two weeks everything—dance, church, accompanist orchestra at Page for "Woman of Bronze," piano solos, Liberty Theatre, Rialto Theatre, and K. of P. work. Launspaugh [Launspach's Orchestra] is out, Howell [Rogue River Valley Band] is back, the Imperial Orchestra has taken everything big in the city, playing good dance music, and so we all fit in. I am strong for the country dances. The novelty is wearing off though. The ride in the car is why I like to play out of town. —After a long long silence ____ called me up asking when she could see me. I told her to come in any time. I might be busy but that wouldn't matter. She said she had something important to tell me. She came up and looked real pretty. I never saw her look so fine. I gave her a check for $30.00 which is what she came for partly. She came up to just let me see how well she could dress up. She did it well for a fact.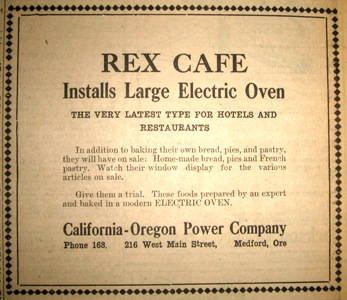 May 9th.
After a real rain the Sunday was cool and the creek muddy. With everybody and his wife owning or partly owning or owing for a car a guy on a bicycle appeared so out of harmony that I came back after a short start and went to bed. Sleep does rest one and start the composing wheels going fresh. After a sleep of many hours when I am filled with sleeps recuperation then by means of music my thought concentrates on themes and effects trying to express in sound what I can't express in words; and no matter if I never compose for months when I do compose I find I have grown and have new things to say in tone—but I never say them aloud. This composing, that is the writing more than the thought takes special time and concentration of mind to the exclusion of all else. I am no longer exclusive; my hours of contemplation have been few, yet I have not changed. I am still that which I have been but more so—inwardly. With so many things to detract ones mind little actual outward composing can be done. A composer must get away, alone with only his music. Nothing else has any place along with what he is writing. The composition is the all and requires all and demands it to be done.
Very few understand the financial part of their government. 99 percent of the people know that six cents will buy an ice cream cone and that's all they do know or care to know. When one ice cream cone is eaten they will work until six cents is gotten to buy another ice cream cone and so on, and kick because big business who made the ice cream cone slips one over on them.

May 10th. Monday.
By far the most beautiful day of the year. The whole landscape after the rain is one big green growing world in the happiness of youth. The maples in Jacksonville are a mass of big leaves. These are the most beautiful trees in Oregon—the Oregon Maple. A heavy frost is predicted for to-night. Usually it is this way after a rain, invariably so. My work was six lessons in J'ville on one doughnut and a cup of coffee, and two lessons here. H. did not come nor could W. & D. [Winifred and Doris] for rehearsal of program. So here at 6.30 I am free and dont know what to do with all the times on my hands.

"The Sanitary Beauty Shop will be opened Wednesday, May 12, in quarters formerly occupied by Marinello Shop, in the Garnett-Corey Bldg. Hair dressing, manicuring shampooing, massages and scalp treatments. Full line of toilet articles, hair switches, pompadours and transformation made of cut hair and combings. Rooms 405, 406, 407 Garnett-Corey Bldg. Phone 841-R. Mrs. Maybelle Priddy." ["Local Briefs," MMT, May 11, 1920, p. 2, col. 1]
May 11th.
I have been going about all day and then some. First lesson 7.50, next 9.30. Then 1.30, 2.30, 3.20, 4.20, 5, (6 out), 7 then playing for D.O.K.K. then a walk in the refreshing rain. It is now 11.55 P.M. A lot of time I've had to play, or compose or do the bunch of jobs piled up. Every day is about the same. Fooling with the girls in the lunch room offers me a great deal of diversion. I ate supper with Viola a girl of 19 who probably thinks she thinks more of me than anyone—girls are that way if you are good to them. They dont get any too much kindness after all. Nowadays nearly all the girls and women seem to work instead of attending meetings of the lady aiders and strawberry festivals to sit around and gossip. Girls dont have much time for gossip these days and in this the world shows an improvement if in no other way. To-night I ate my supper with Viola & Isabelle on my left and Irene and Buelah on my right. Could there be any more diversion than such a situation. Well what's the use keeping secluded. I am getting out more and more hob nobbing with the other sex and with senators, theatre managers, picture players, musicians and other freaks. Rowley eats at the Peerless regularly and signs a I.O.U. regularly. He cant eat in any other place in town without money. That guy is a card, a sort of soldier of fortune, an adventurer living on other people whenever and wherever he can. I took him to the picture show last night; and to-day he went off fishing with Harry, all expenses paid. He does fool some people a long time but he never fools anybody all of the time consequently he loses his friends as fast as he makes them. He knows he is going to lose and it doesn't hurt him when he does lose since at that very moment he is roping in a new "friend" from whom he plans to borrow a dollar or so some fine day. He usually gets the dollar or so and it's some fine day when the said "friend" gets that dollar or so back. He may get the dollar but not the so. Fifer I have not seen for a long, long time. He seems to like his home pretty well. Pity the homeless. He was home less than any married man I ever knew except Charlie Harrison. Harrison is never home and dont give a damn how late he stays at the K. of P. rooms since wife is sleeping anyway.

May 12th.
Knowing where one stands financially and matrimonially is valuable. Financially I am about where I was in 1907 [before he got married]. I should from estimates of my standing then and prospects that might have worked out had I lived, be in the $50.00 class to-day. As it is I am in the 8000 class. However, I possess $100,000 worth of experience and I earn 2½ percent interest on it right along. The principle is mine. No one can take that away. I paid dearly for it in hard work and worry.

May 13th.
A death like depression, revived by letter from East, has hung over me all day. There comes to each of us times when if we only knew how to act and what to do to lift the clouds hanging dark over those dear to me we could go ahead to do so much to avert impending calamity, but it does seem that some [of] us are so constituted mentally, so situated in business and finances, and so mixed up generally with various interests that we are devoid of sufficient wisdom to know what is best to be done. Vina is partly dependent now on someone. I must sacrifice my living here: yet to do that I sacrifice the means of protecting her financially. By going East I could probably protect her interests while losing my own. Which and what shall I do?
I got on my wheel to-night at ten oclock and rode all over the town to try to think out the mode of action best to pursue. I am not much nearer to it. This is a strange town with residences scattered out all around and miles of paved streets that are partly lined some places for blocks and blocks with shacks and vacant lots. A peculiar town. I cant see any great future for it. Even now houses are very cheap. Real estate has come back to a sort of normal condition and will increase some yet. This ride about the town made me more depressed. I can hardly realize I am in such a small place for the city is thinly populated. The census will show a decrease in population, which is rotten for any city. Drawing on the valley and county it is rich enough; but that is because it is the only city outside of Ashland in the county. And Ashland is a wealthy little city, for the same reason.
But I am pessimistic. Even the lovely spring weather and beauty of the scenery fails to appeal to me. God has disappeared because Myself has again dragged me down to the depths of discouragement. I must extricate the mind and spirit of this dual form—the I am from the is not and appeal to the supreme judge for guidance.

"Dance at Beagle, Saturday, May 15. Music by Majestic orchestra." ["Local Briefs," MMT, May 15, 1920, p. 2, col. 1]
May 16th 1920
Everything is in rotten shape with failure stamped in big letters upon life in general and upon my head in particular. When a man's hair just falls out of his scalp then the jig is about up. His charms are in the decline, sadly so. My hair is about half what it was and I am thin as a rail and worried again about sister now. I'm just about gone to the dogs. Things seem to be getting away from me and isolating me from the real issues that make life worth living. I have no home to speak of and the rent on what I have is going up. I have lost all will power and am in a state of dreams when from memory things creep through in my conciousness and disturb me. I have not the will to close that door and draw only what I need. But what can a man expect who is an inveterate smoker and coffee drinker. Such a man can not expect any will power or any guidance from divine source without which he cannot succeed. Without tobacco and coffee a man might do a worse thing, chasing after women, yet I doubt it. If a man is dirty he is dirty all thru; if clean he is more apt to be clean minded.
While I am always depressed at the end of a teaching season with the prospect of losing 25 pupils in view, this season's closing finds me especially so with its added burdens and fears and loss of confidence in myself.
Last night I played a dance again getting in at six A.M. I got up at four in the afternoon. I was not worn out at all and am not tired, in fact feel fine except this depression. Events seem to be trying to drive me from Medford back East or somewhere. Often these influences are wrong. If I were a good Christian Scientist and could quit this smoking and coffee relying upon mind for guidance instead of this confusion and almost insane condition that exists more intensely thru partial knowledge of the power of faith, I would be rightly guided and at peace; instead I am all up in the air and as I said above everything seems to be in rotten shape with failure stamped all over me. Even the song of the birds that I once loved sounds out of tune and I have reverted to a condition from which I thought I had grown away from forever; but no—a man never can get away from his rotten self. Himself is all the rotten things he has done, the mistakes he has made and the sins he has committed and they are always with him. The[y] stick around eternally it seems.

May 17th.
Just an ordinary days work except that H. came in which is always an event.

"After the [high school] sketch 'High Cost of Living in 1950,' was finished at the Liberty last night Herbert Gray, the leading lady and Russell Sherwood, another actor, walked up Main street to DeVoe's in their stage costumes, entered and seating 'Miss' Gray at the soda fountain counter Sherwood leaned over and asked 'What will you have to drink sweetheart' thus greatly astounding the other people at the counter." ["Local Briefs," MMT, May 20, 1920, p. 2, col. 2]

May 20
Hazel, dear Hazel came in this evening. The idol of my dreams of womanhood. There is none other. Imagine how I feel with grey hairs, and getting bald, and getting on in years, loving this girl. Isn't it awful? Isn't it disappointing that one can't go back to meet the bloom of a lovely woman, instead of being even now placed a way beyond in years where she cannot catch up.
A week ago last Saturday they wanted us to play at a dance at Gold Hill. Heine had booked Eagle Point so I advised him to send subs. He tried to but somehow it worked around so that Howell got the job, taking his wife, Mr. Root and Mrs. Clark down there. I was sorry Howell had gotten it, for if there is any man I want to keep down it is he. [Howell's 15-piece Rogue River Valley band was major competition.] Well, we thought we had of course now lost every chance of playing there. But last Saturday night there was no dance there and we wondered why. For this coming Saturday they came for Heine, saying they wanted us—that the other "orchestra" would kill all the dances down there. Quite a knock for Howell; but you can't play dance music with any old pickup orchestra. We are to play at Trail this coming Saturday but Heine gave them what dates he had open June 5th. and 19th. It is history repeating itself for that was what happened back East. Wherever I played they wanted me, and no one else and I speak of it here not that I am proud of the achievement but for the rather interesting moral, which is: "What ever you do can it be done better than the other fellow can do it."

"Dance at Trail Saturday, May 22. Music by Majestic orchestra." ["Local Briefs," MMT, May 17, 1920, p. 2, col. 1]

"There will be a big dance at Trail hall, Saturday night, May 22. Orchestra music from Medford. Come every one and bring your supper and have a good time." ["Trail Items," MMT, May 17, 1920, p. 6]
May 23 Sunday
I slept all day after getting in about seven A.M. from playing a dance up at Trail a place about thirty three miles out toward Crater Lake to the northward. This was a real dance. Where the two hundred people came from I cant figure out, but they came and the floor which is a good hard wood floor by the way was filled. We played from nine to 12.20 then had supper. At one we began again and played until four. The pay was $8. It was a pleasant trip up there by auto and a beautiful trip back in the early morning. Of course Sunday is all broken up but as I never have done much on Sunday but get sick and evidently never will go to church I might as well rest the entire day while I am at it—make it a genuine day of rest. It is queer about this playing for dancing. Even up to two years ago from 1908 I feared it and dreaded the thot. I dont know what's got into me anyway. I rather like it allowing all to have a good time. Why not?

May 24th.
It does seem that I in my old age have really and truly fallen in love and with a girl in her nineteenth year [Hazel]. There is nothing good which she is not. He[r] place is beside all the flowers that God tried to excell Himself in making each more beautiful than the others; and my love is as pure as a flower. Every thought of her is a high and spiritual thought—perfume of roses from the flowers of love, that lift my soul to spheres above where beauty and purity reign supreme, where heaven is real and not a dream.
I have known this girl over a year. She has always been true blue and noble in character, qualities that attracted me until I fairly worshipped her. She came into the studio to-night, I was in doubt about whether she would come in again after the incident of last Thursday. She was some embarrassed perhaps but not more than I; but it shows how fearless she is—it shows also the trust and confidence she has in me. She is master of herself. She said to-night she liked me and came close to me to allow a repetition of the incident referred to. I refused to allow it and let her go out alone. "You will never come in again" I said. "Yes I will. Look for me on Mondays about a quarter to six. Good bye."
She paid me to-night ten dollars for lessons. I had refused to take it positively and had told her to pay me some other time; and had tried to get her to put it in the bank, to open an account and I would add to it, telling her she might need some money some time. "You are my daughter," I said referring to the time I "adopted" her, "let me do this." "I wish I were your girl." "Do you really." "Yes, I do. You earned this money, its yours, you must take it—there." "I would give you anything you wanted." "But you wouldn't and it wouldn't be right anyway." I saw it was no use so almost in tears over the situation I took the money, but I'll get it back to her some way in its value.
I gave her a credit for her work in music done outside the school. She seemed to appreciate it, and said she had been thinking about me a great deal since last Thursday and came up to tell me how good I had been to her. I said I owed her a great deal. She claimed I didn't. I accused myself of being an old fool; she said I wasn't at all. I know I am, however. She proved herself a real girl to-night. In no way did she fail to show her high principles and character. I admire her beyond anything I have seen and am not ashamed to say so. All who know her must say the same of her. She seemed more like a grand woman to-night. Well so it goes.

May 24th
There were 9 lessons this day exclusive of H.. I have thought of H. with a wonderful stimulating and invigorating way continuously, since last Thursday. I knew that wouldn't last. I am still thinking of her and have been all the evening but it is in a discouraging hopeless way, that accentuates my rather than tending to keep me young. The hopelessness of hoping deprives me of all hope; and, with none in the world like her, burdened with the knowledge that I must lose her, crushed is the love already, so I am down and out for I cannot ever be happy without her nor ever happy with her. Yet I must be true to all she gave and ever hold it sacred for hers is a wonderful friendship that must never be abused, but carefully nurtured, preserved and absolutely respected.
Verily every canine hath his morning noon and night. Born on soft rags, he goeth out to chew his bone in the sunshine by flower beds and then creepeth away into the alley of tin-cans and dirt to die. To die thus is the bone worth having passed thru that day into the darkness again. Ah! Who knoweth.

May 25
It is almost a ridiculous condition where a man of 42 cannot like a girl of 19 without the girl of 19 falling for the man of 42. Imbued by the kindness and friendship of the other sex regardless of the barrier the girl thinks she loves this guy and would, as her instinct directs in matters of sex if she is a good girl, be willing to marry him and she even sets her heart and mind on that outcome. I refer now to the first girl I called "daughter" about a year ago so there are two. H. I adopted later but I am sure she has no such intentions in her head as marriage with me. She has better sense; but ____ [Viola] is in earnest about it. She doesn't hide it. To-day I saw her and I said that I may go back East in a week or so and I may not return—may never see her again. "Well, if you are never coming back I'm going to get married." Later she said, "Then you'll have a daughter and a son-in-law." "What a lot of things I am getting in my old age," I returned. She seemed ready to accept a proposal of marriage right then and there judging by her attitude. She is a good girl but while she may foolishly love me because I have alway[s] been good to her, it takes two to love. With my love centered on ____ [Hazel] and her love [Viola's] centered upon me this is a funny triangular state of affairs. It would be different if H. were so foolish as to love me with matrimonial possibilities. She has no such intentions I believe and hope.

Tuesday, May 25th
Heck! and darnation! A cold, eyes bothering me, and hair all coming out. Feel generally bum except while giving lessons, which so directs my mind from myself that I am at ease; but after lessons I revert to myself again. My ailments and worries come on until I can get down to the [Peerless] bakery and talk with the girls who kid me even more than I kid them. I am not sick that I know of, and that's it, not that I know of. It's what I dont know that worries me, and not what I know for I know nothing neither does anyone else. (When I dropped this pen on the floor point down I ruined a good pen, I know that.) I dont want to get ____ out of my mind, even yet such should be the case. The love I have for her is really above everything I have known. It equals love for ones child in its purity yet with the sex element added I presume.
[musical staff with five notes] A poet is a damned fool.
Please keep in mind that little rule.

"It is a pleasure to announce that Kernel Tengwald had abandoned his mustache, owing to his time being occupied with other details" ["Ye Smudge Pot" by Arthur Perry, MMT, May 27, 1920, p. 4]

May 27th 1920
This is a different country out here in the West than where I was brought up. In the East a man of 42 and a girl of 19 marrying would be look[ed] upon as at least an unconventional if not an immoral act of both parties but especially on the part of the man. It seems, however, an ordinary for young men and young women to look upon a woman or man much older than themselves. I did back there, but never thought about what the girls thought. Young people evidently like association with older minds never considering the sexual side of married life. Back East I do not believe it is general for young women to incline toward a man twice their age—not as it is evidently, from my experience out here, for I have now talked the matter over with a third young woman of 19. There are three now—no more. These three represent three types: The first [Viola] has no mother and works in a resturant; the second [Hazel] has no father, and is a high school girl; the third [Roberta Pearce] is a stenographer in the Court House. The first would marry me, I know, but I do not love her. The second I love a great deal but do not know about her marrying me; the third says she expects to marry a man twice her age as young men of her age know nothing; and a woman gets older faster than a man. I thus used the first and last to find out the possibilities of getting the second. I seem to me a strange state of affairs. Each girl is a splendid girl, and probably all three would take a chance. The last girl however is a wonderful girl.
It is very strange. I think sometimes about girls. They really are conscientious about desiring to love a man and marrying. All of them. They seem to have ideals about men that throws aside. A girl will like a man and that's all there is to it, and she will marry him right off without considering the future intelligently for she is looking for emotional happiness of affection. There is nothing mental in her action, no plan, just a home and to be loved and treated with kindness by some man she imagines she loves whom she imagines would continue to be kinder even to her after marriage than before. She is willing to give all for this, to sacrifice everything, and if the man is kind to her and loves her she will willingly be his slave if necessary. Kindness and love one or both will win any woman in this world barr none. I have won these three girls by kindness, courtesy and politeness, which beyond the shadow of a doubt is what has induced them to lose their reason, that is, two of them, and offer themselves for marriage. Not of course openly and crazy about it, not proposing, but just by expressing a willingness to marry me. So I repeat that things in this line are different out here in the West when an old bird can pick a chicken young and tender for his mate. It doesn't seem right to me. There is one other woman in Ashland, a teacher, who to me is an angel, but she has a son eighteen. I have had such an experience with one son I want no more otherwise I would follow this woman up. She is about thirty six, a lovely woman. A man should not live alone. It is not only terribly lonesome, but unhealthy and a continued disgrace to the community. There is always some woman for every man and a good wife is life's greatest blessing.

"Piano pupils of Mrs. E. E. Gore will be heard in two programs at the Presbyterian church, Monday, May 31. The hours are 3:30 and 8:15. The public is invited to hear these recitals." ["Local Briefs," MMT, May 28, 1920, p. 2, col. 1]
May 28
When a mans hair falls out he then, if never before, begins to really feel old; and when illness comes it comes suddenly and downs him as it never used to down him. He is likely then to cave in completely since recuperative forces are not the recuperative forces of youth but slower in action. Before these forces can act the man is dead. Believe me, pupils are dropping now. It is the close of the season. Pupils at Talent school and Jacksonville school have quit. Tomorrow five will quit here. One quit to-day. All told it comes to about 23, with 3 new ones only to enter so far.

"Mr. Fred Alton Haight, teacher of piano and harmony. Accredited teacher. Composer and arranger. Summer classes. Haight Music Studio, 318 Garnett-Corey building. Phone 72." ["Local Briefs," MMT, June 2, 1920, p. 2, col. 2]
June 2d. Wed.
After the rottenest ten days of my life here at 12.30 P.M. this day I am again normal, but I have not been normal since May 23d. Previous to May 23 I had enjoyed good health generally, but have felt periods of decline since Feb. This last week everything seemed to go to pieces my head especially. Causes are not one but many: Dance playing, worry over back East, worry over smoking and coffee drinking with their ill effects, a rotten cold, eyes weak, hair falling out, imaginary bowell trouble, dropping off of 25 pupils, etc, all coming at once rather knocked me over and about drove me insane. My head was paralyzed it felt, a dull feeling with pain and aches at intervals. Well, things are different to-day. I'll speak of it again later. Not now. I dont care to think about it. I forget to mention H. on my mind is enough to carry.

"The Majestic orchestra will furnish the music for the school dance at Applegate tomorrow night." ["Local Briefs," MMT, June 3, 1920, p. 2, col. 3]

"School dance at Applegate, Friday, June 4th. Tickets including supper, $1.50. Heine's orchestra." ["Local Briefs," MMT, June 4, 1920, p. 2, col. 2]

"Dance at Trail Saturday, June 5. Music by Majestic orchestra." ["Local Briefs," MMT, May 31, 1920, p. 2, col. 1]
Sunday night June 6th 9.30
I never felt better in my life. Without pain or ill of any kind, head ache gone and circulation normal, I seem to have awakened from a week of insanity during which time I neither smoked or drank coffee. The effect of this sudden breaking off of these habits placed me in a half paralyzed condition on the top of my head—a dull feeling which at times would turn to an ache more or less severe. Always that strange feeling was there with an inclination to revert to childish ways. I had three emissions during that week and wanted to sleep a great deal. It began with sleeping all day last Sunday and on until Monday morning. On Monday last in a half dazed state I took a long ride awheel keeping away from coffee and tobacco, a thing I had not done for two years and with that new days start I kept away for a week from the habits. That was a wonderful trip, down to Gold Ray [Dam], then on down the old road along the river to Gold Hill and back via the highway. I stopped a number of times to sleep an hour or so, three times beside the beautiful river. The day stands out and always will, tho I went thru it as one dazed, with a clouded mind partly caused by the rotten cold I was recovering from at the time—a cold so rotten in phlegm and mucus from nose and throat that it made my thoughts rotten and everything in life rotten, and I was out to see if the natural world was rotten, I found it was not, but very beautiful. With this truth supporting me I was able to keep the faith thru the week until Saturday A.M. when returning from playing for a dance over at Applegate my head ached terribly so terribly I hardly knew where I was. Here is where I took my pipe and inhaled about 15 puffs until it got running thru my veins. That was all. I went to sleep without a headache and at ten, after 3½ hours sleep I was up again teaching. I smoked no more until midnight when out at Trail during the intermission of another dance I smoked a cigarette. Later on my way home I smoked another cigarette and a cigar. That was all until now when I began smoking my pipe. On our way out to Trail I chewed tobacco a thing I have not done in years. A book could be written about these habits of smoking and coffee, by me from my experiences this one week, but why write it. Suffice to say that I am feeling fine now after sleeping all day and this pipe seems to enable me to think. That peculiar insane head has all cleared up and I am normal for the first time in two weeks. That cold has gone also and my eyes are in good shape. But I will say that an hour from now it is likely that all may be changed. This is the lucid period for which I have waited. My time to enjoy it may be brief so I had better enjoy it to the limit for one is a long time dead. It is all rather beyond my understanding anyway. Often I think by looking over the pages of my life that there is something radically wrong in the mental makeup probably coming from some physical traits inherited which dominate me at times—depressions, fear, peculiar passions that overrule me.

——V——

"Mrs. C. E. Goble, teacher of piano, 221 West Main, upstairs to right." ["Local Briefs," MMT, June 4, 1920, p. 2, col. 1]

"A business office change of local interest is the fact that E. J. Hurd has moved the farm loan association office and his real estate offices from 313-316 Liberty building, to the suite, 411-15 M. F. & H. bldg. [Medford Furniture and Hardware, now known as the Woolworth Building], formerly occupied by E. N. Wilson and the Medford Irrigation district, and the latter offices have been removed to the suite 314-316 of the Liberty building." ["Local Briefs," MMT, June 4, 1920, p. 2, col. 3]
June 7
Be it disrespectfully, herewith profiteeringly stated, with all the cuss words known to the writer, that this day the said writer for the second time paid out fifty "now even" for a suit of clothes. Eleven months ago he did the same fool stunt with his hard earned money after wearing his old clothes until the[y] wouldn't stand any further wear. This suit I am now wearing bought eleven months ago is about done. It stood the patches in the seat, of the trousers, the sewing up of three breaks in the collar, but now with the sleeves edges wearing thru and worse than all the crease in the left front trouser leg actually worn thru a new suit had to be gotten for the good of my business. I could have worn the suit longer, but the wearing thru of the crease (a thing that never happened to any suit I ever had) was too much for any man to overcome, so just as soon as I discovered this my mind was made up which was yesterday. To-day I went down to the Toggery from which place I swore I would never buy anything more and in ten minutes I tried on three suits and selected one I liked best and laid the money and darn if the fifty out means fifty in, for a music teacher can do more well dressed than otherwise, more so than any other profession because of the class of people he meets and the association which is in a way rather close. A music teacher is being watched constantly and judged according to his outward makeup as much as his inward.

——V——

"Holy smoke! Vodyville, Vodyville. You'll haffto laff. For its fit to kill. With artists all at your beck and call. A one night's stand. They are going to fill—for a purpose—Hark! A ployground and an auto park."
"The society vaudeville stunt of the year."
"Vaudeville, all star cast, auto park and play ground benefit. Page theatre, June 10th." ["Local Briefs," MMT, June 7, 1920, p. 2]
June 8 1920
This is a rotten story. I am smoking again worse than ever. And yet my eyes, if not my life, were saved by some power always over me protecting me. I even felt the presence of this power ever since I was engaged to play for a vaudeville showing being staged here. I was to play three or four rehearsals and put on an orchestra of four and arrange a lot of music. I never worried over it nor did I start to arrange the music until last night feeling that something was going to happen. I could never have finished the music without staying up all night and going blind and I knew it. Well, something did happen just as I felt it would—I was let out and Howell has it. He can have it, for of all the mean jobs it is the playing for amateur musical shows. Last night I played a rehearsal at the theatre [for the Society Vaudeville]; to-day Mrs. M. the director called for the music. She said she wanted to play for the chorus rehearsal in the afternoon. That is all she said. I gave her all the music and said good-bye to it, to myself praying I was right. I was. She called me up in the afternoon and told me thru some misunderstanding Howell had been engaged and gave excuses etc. etc. I dont know exactly what to make of it, and dont care. I know the rehearsal was not a howling success, but I played the music as well as anyone could for the first time reading a poorly written manuscript. Howell or no one else can do better with it and he will have to go some to get those parts written for the dress rehearsal to-morrow night. I doubt if he can do it, unless he has more time than I have and better eyesight. As it is my eyes have been miraculously saved and I am really very grateful to that power which so guided matters to thus let me out. But I was let out of another big event this week also. I was to play for the D.O.K.K. ceremonial at Yreka but gave up my place to the band. They wanted to play the whole show after I started them in so I stepped out; but they need not have acted nasty and cocky about it as tho they took a joyous delight in putting Haight under. I was to play part, but the band wanted to has it all so I quit entirely. They've got some work to do, believe me. They will get plenty of practice. Tho I willingly backed out, I firmly believe that two meaner men do not walk this old earth than White and Waite; and for a third Ed. Gore may well be thrown in.

——V——

But something very sweet happened to-day and a number of pleasant things. I gave eight lessons starting one new pupil and booking one new one. But the sweetest thing was the visit of Lydea to say good-bye to me. She came in and went out all smiles. She is not pretty but she is beautiful. Her spiritual and mental make-up shine out above all else. Winifred came to-day and Esther, two rather unusual girls. The former is a wonder while little Esther is a sort of angel. Oh it is a great thing to have the respect and friendship of young people and little children. Life is nothing without this. Children never go back on you if you are kind. They see good in everything, but older people are crabby and despicably mean and enjoy being so.
—————

One thing came out of that engagement to play for the Society Vaudeville—I bought a new suit of clothes, which I might not have otherwise done. I really intended to go thru with it well dressed at least so I got the suit; but I have not worn it yet. It all makes me laugh. I took a chance that I thought was sure and lost which is the way things will happen at times all thru life. In thinking that "society" would allow me to associate with that class I was mistaken. They never took me in and never will. Snobs are everywhere. They know I have no use for them.
——V——

Over an inch of real rain fell yesterday which was unusual for June.
—————
The D.O.K.K. can go to H. and the G.M.C. along with them. Some enemies were working against me for my good which gave me an evening of leisure, thank you. There are, however, some things working against me that are injuring me judging from pupils I have lost to other teachers. Only last week Mrs. Blackburn went to Mrs. Gore. How many more I dont know, but there are many who are not taking of me this summer namely Margaret Van Scoyoc. There is a big bunch of them.
——V——
"D.O.K.K. PLANS HIGH TIME AT YREKA

"Fuhat Burkan Temple No. 224 D.O.K.K. is making great preparations for their journey to Yreka, Calif., next Saturday. The drill team consists of 40 members and is supplemented by a band of 30 pieces. The new uniforms have just arrived and the members of the Temple are enthusiastic over the trip.
"The team and band have been actively at work for several weeks on the ritualistic work and it is the proud boast of the temple that it is the only drill team that uses a complete band in its regular initiation. The ritualistic work of the Dramatic Order of Knights of Khorassan is conceded to be the most spectacular and beautiful of all orders.
"About 20 candidates will be taken from Medford, 10 from Grants Pass, and with 50 or more from Yreka are fully expected to give satisfactory entertainment. It promises to be a great day in Knights of Pythias circles." [MMT, June 10, 1920, p. 8]

"There are many faces missing on the streets today due to the exodus of local Knights of Pythias to the big D.O.K.K. doing at Yreka." ["Local Briefs," MMT, June 12, 1920, p. 2, col. 2]

"Dance at Beagle, Saturday, June 12. Majestic orchestra." ["Local Briefs," MMT, June 8, 1920, p. 2, col. 1]
Saturday June 12, 1920
Everything seems in rotten shape. Myself is bringing Hell upon me. I have no control over him at all. He has resumed smoking and coffee drinking, and worrying and everything rotten in thought crushing out the light of my spirit, dragging me into darkness where such as he only belong. The destiny of Myself is destruction and he is dragging me along with him.
Pupils have fallen off to an unprecedented number and fewer new ones have come in than any summer known here. To hang around doing nothing is more than I can endure very long. What the future has in store is an unknown thing beyond me to even imagine rightly. Pupils whom I thot would take lessons this summer are not taking of me which is the rub—some are taking lessons of another teacher. Just what the matter is I dont know. Some dirty work perhaps. Next Sept. will tell. I will wait until then. I am hardly making expenses now and such a condition makes me sick. I am not far from the bug house. Myself will take me there. Nothing good or decent ever existed in Myself. From within all seems rotten. What ever good I ever got came from without. —While finding fault with conditions two new pupils were listed; and a friend of mine wanted me to visit Agate Beach during the time she is there this summer. This rather cheered me up. In this life it is woman that moves the world by inspiring me to deeds of every kind good and bad. I say bad notice.
It looks now as tho I am to play at the Rialto for two weeks June 30 to July 13th. But will it pay?

Sunday A.M. 5.30 June 13th.
Impressions on the return from playing a dance out at Beagle. —What's the use.

—————
Slept all day long. Rainy. Played the dance last night piano and drums only. It was a hard job, lasting from nine P.M. to 4 A.M. Tom had a good crowd. Where all the people came from I dont understand, away out there in the country with a little store and a hall and two barns without a house in sight anywhere, but this is the age of get-there-by-auto. If a man doesnt earn and save money now he never will at 43. This has been the hardest years work I ever put thru, beginning with playing at the Rialto and Page last August right thru with school work and various changes in life generally.
June 13
To be in a condition of mind such as I am now experiencing is to be in a sphere where life is not worth while. It is all in my mind. Thought makes conditions as they are. If one thinks right things will be right. My trouble is wrong thought about everything with loss of will power. I see nothing right anywhere in anything. I do not care to discuss it here, so pass it up.
—————
I have not and never expect to become so affluent that I will allow my underclothes and sheets to be washed and ironed at a common laundry. Mixed with the filth from bodies of all sorts of dirty people, and returned to me with the smell of their perspiration—no, my clothes are mine. I dont want other's dirt and they dont want mine, so I am now ironing two shirts.

(Hour later) Two shirts ironed as good as the local laundry does them. Done by the cold-starch electric iron process on an ironing board which I kept out of the wreck of a home in 1917 [after his divorce]. When I moved into this building I brought the ironing board and electric iron.
I had breakfast out at Beagle at 12.30 A.M. Ate next about 8 P.M. to-night. I am not much on eating it seems. Without smoking or coffee I eat so much that I get constipated which is a worse trouble than smoking and drinking coffee. Over eating is a curse that causes more illness than anything else. Smoking reduces the appetite about one third and coffee stimulates the digestion of that. It is over stimulation but over eating over taxes the system all the way thru so there you are. Whichever way you go thru life, without great care and will power and infinite wisdom, you will go down and destroy yourself and be destroyed for man, in spite of all cannot live in this world. It was not made for man. There are too many enemies. Man is ever combating enemies that would destroy him and only partially succeeding. It is no place for man to live long. He cant do it. Always has this earth been a battle ground, one thing consuming another down thru the ages, and one element destroying and changing another. We live by the remains of destroyed or changed vegetable and animal molecules. It is all chemical change. The animal and vegetable world to-day is a survival of the fittest and a survival of those things that could adapt themselves to altered conditions. Man has come forward thru mind and rules many things and some enemies he controlls but not all especially the small enemies, so small he cant see them. This is an injustice.
"A few more fine rabbits for sale. Bliss Heine, 916 W. Tenth St., Medford." ["Local Briefs," MMT, June 14, 1920, p. 2, col. 1]



"CLARENCE CLEVER, SLIM ATTENDANCE




"

'Clarence' by Booth Tarkington, presented at the Page Monday night was one of the most delightful comedies Medford theater goers have ever had the pleasure of seeing, and one of the slimmest audiences ever known was in attendance. There was a dearth of legs and slapstick stuff which accounts for the empty seats.


"'

Clarence' is full of funny lines and novel situations, portrayed by a company of actors of high reputations, and the audience was kept in laughter throughout. The plot is woven around a returned soldier (returned from Texas) and the capers and traits of a young boy and young girl, and a better cast never appeared here.


"The management of the Page is to be congratulated on bringing a play like 'Clarence' to Medford, and that those interested in good productions introduce a 'Go to a Good Play Drive.'"

[MMT, June 15, 1920, p. 3]
June 14th
Well, the D.O.K.K.s went to Yreka and put over their first ceremonial without a hitch so I heard.
I took on three new pupils to-day, played a hard rehearsal for a song recital to be given to-morrow evening, received a letter from Joe [Haight's brother?] and played for "Clarence" at the Page to-night (5 pieces). It rained hard to-day—harder than I ever saw it rain in this valley. A very unusual spell of rainy weather. The show was excellent. I never saw a better comedy. It was different from all the rest that ever were and was certainly well acted. I have not played at the Page for a long time the last two shows having been musical shows.
H. has never come in again since the once following that "eventful" time. I think of her constantly which is foolish. She probably has forgotten me. I hope so. The girl is too sensible. Still—to-day was her day and I looked for her from force of habit intensified with a desire to see her. She promised to come in but I told her I did not believe she ever would. I have not changed one bit about her. There is no girl like her that I know or have known.

June 15th, 1920.
Myself and I have never been good friends. A sort of antagonism has always existed, trying to destroy every good thought with selfishness and sin, spitting upon Truth and derisively casting slurs upon every high principle and upon love. Myself has taken a fiendish delight in his hellish power that would rule me. To think that I—I of the great Mind Force, should be governed in my lifes actions by such a thing as Myself, a thing that has gathered all the rot, the error, the sin and sickness that has ever been concocted in this world to throw in my face, always when I [am] about to be free from such filth.
Nothing exists except in your thought. Sin exists in your thought concious and sub-concious.

June 15
I played for a song recital to-night. Got thru twenty song[s] fairly well. The recital was by Mrs. Marion Palmer-Pierce (a former pupil of Mrs. H. [Harrison] now a pupil of Mrs. McDonough) assisted by Mr. McDonough. Some of the music was tough, darn it! I havent done enough of that kind of work the last few years to be in shape to get by with it artistically. Orchestra playing kills one; and dance work is a knock-out. Picture-playing is not specially good either.

June 17th
Starting and taking on new pupils; waiting in as secretary as well as instructor—always on the job hanging round never knowing when some one will call or from where, keeps me "busy." After all playing for dances is the only real live business that carries action all the time, and in six hours work more money is made than from my teaching. As I am out for money necessarily, like most people worth while, why, what matters how I get it as long as I work honestly for it. Somehow making money seems to be lifes most interesting game to a majority of the population of the country. Wealth, however, and riches are not entirely in money by any means. Money can represent wealth in property and property rights to man but his wealth and riches is in his character his mind and spirit and happiness and in health. If he has not these he is poor indeed and no money can atone for the lack of them. A clean heart, freedom from the temptation to sin which is sins, and the spirit of God within is worth more to any man absolutely and positively, than all the wealth in gold and property and material things in this world. Material wealth becomes a burden; spiritual riches lifts a man into heaven. Money is man's material God. Man cannot serve God and Mammon. In our attempt to break this truth, ignore this rule we cause all the trouble and misery in the world: a dollar represents the labor of my brain. A kindness shows the wealth of God's spiritual gifts. Rather live with kind thoughts tha[n] dollars.

—————
And so again I am enjoying a contemplative mood after a long period of work during which I had no mind to contemplate anything except that I was not able to contemplate a contemplation that was contemplatively rotten. As usual my contemplations have begun with writing verses. They will get into music composing soon then end in a riot the effect of which will make me think for a long period after that this is a hell of a world—at 7.40 I started out to play for a dance way out near Wellen. The dance was in a barn and a big crowd got there from miles around. The piano was so out of tune I could [hardly] tell when I was playing right. They danced until 4 A.M. Here I am after a breakfast at the Optimo writing at 5.30 A.M. Hell it is I'll say so.
"The Majestic orchestra will furnish the music at the Carlton barn dance at Wellen Saturday night." ["Local Briefs," MMT, June 18, 1920, p. 2, col. 4]

"Another real barn dance at Harry Carlton ranch on Antelope, Saturday, June 19. Last one of the season like it. Town music. Everybody come." ["Local Briefs," MMT, June 19, 1920, p. 2, col. 1]
June 20th.
Considering my life I would say the conditions are rather a disgrace than otherwise. I believe, however, nine tenths of the nutty aspects would be removed via marriage, yet it seems that marriage would be one foolish move. That's w[h]ere I am most nutty. Alone I want to be married; married I want to be alone. Women spend most of their time boosting a man: the more they succeed the more they boost—there's no end to it. They dont know where to stop; but it is one sure thing a man responds and acts by this stimulus a great deal. That's where he is normal—being active, and a woman spurs man to activity as nothing else can. This is my great trouble—no woman to spur me on. The result to-gether with hot weather is a stagnation that cant seem to be stirred into any activity along lines of composition and playing. It is now just making a few dollars. I know none of the other sex to compare with the one I shall never have—H. which rather than being a stimulant is a constant disappointment. This foolish trait of looking too high is one of the insane things I have inherited. Who my ancestors were I'd like to know. In sex matters they were off. The mental high strung nerves burned out the animal. Except for Dorothy the family I came from dies out—burned out. It is horrible to think of; but it is the inevitability of the age that is destroying the race. Many people now can claim the destruction of being the last of the branch some may recuperate a new branch with branches depending on their marriage but many branches are coming to their end. Stanley was the end of the Browns and Dorothy is the end of the Haights but through the Hallidays a very prolific family these two may perpetuate the branches. The mothers stock may go on. So it depends on the mother often.

June 21.
One new pupil so far to-day which makes 15 this summer to-date. I figured 20. Hot day 96. H. did not come in. Nothing much doing. Just bumming. Two lessons.

"Dance at Beagle, Saturday, June 26. Music by Majestic orchestra." ["Local Briefs," MMT, June 21, 1920, p. 2, col. 1]
June 27th.
Any man of my age and in my position is crazy to go out and play all night at a dance and get back to a lonely room at 5.15 A.M. just as the sun then well up above the hills is starting to warm up the chilly atmosphere. The evening was lovely and the ride out to Beagle was fine. It was also a wonderful night with the moon almost full; and they gave us a first class supper at midnight. I played "Turkey in the Straw" a thousand times for a Germania if I played it once. The dances were observed dances a rest of 20 minutes when an old style fiddler and wife played. Such breaks I never saw outside of Barnum's Museum. They had a good time, no doubt, but I am crazy to be in such nonsense.
I am in a mix up with lines leading off in several directions from a given point, one line which must be followed, and which one and which ones to pass up confusing me. I say I am in a mix up. First comes the teaching. I have a class offered in Eagle Point, but how can I get there. Surely I ought not to resume riding of wheel out there these hot days in the dust? It is hard on tires, strength and clothes. There is no other way. If I go out there I cant play at the Rialto July 6 to 21st. If I play at the Rialto I will have to give up the dance work which pays for the time more than the teaching or theatre. Eagle Point pays $8.00. If I play the theatre I cant go to Eagle Point either. From a financial point I would make more by going to Eagle Point and keeping the dance work and the pupils which I must give up to play at the theatre. So there is hardly a cent to be made by playing at the Rialto. Then there is the matter of a vacation. Should I take a month off or keep on growing rusty? Then again, should I go back East? Then again is it going to pay to keep the Page Theatre work? Will anything ever come out of it? Anything that injures the teaching work which is the only steady income must be thrown out or handled very carefully so there is where the mix up comes from. I am no fool in that knowledge gained from years of experience. Managers throw you down; dancers do not come to dances; but there are pupils always. So one should hold on to them.

June 28
Well I turned down the Rialto and the Eagle Point pupils, subject to a change of mind or in the case of the theatre subject to compulsion, because I stated I did not care to play if some one else could be gotten. The organ is going to be all fixed up for me however, so I presume I would enjoy playing after all; but the short period eats into my teaching in such a way I will lose money and work awful hard. If the job were for two months steady I would take it since I could so arrange matters then to make it pay in the end but this wont pay. And again I am enjoying a rest. My mind seems to be getting settled. I am reading considerable also. Perhaps a rest will be a good thing—perhaps I need it after the long grind of steady teaching, playing, even dance music a relaxation.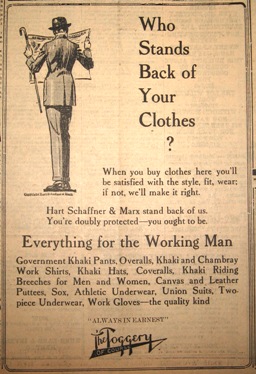 July 6 1 A.M.
This is the date—Dorothy's birthday [Haight's daughter]. As customary according to modern laws, and common ways I have, as yet heard not a word from her or of her. This has been the common practice now for three years [since the divorce]. I am very lonely. Mine is a loneliness almost deathly if not deadly. It is deadly in the slow but sure way it is eating the heart out of me conciously and subconciously. And there are additional things that are assisting in the slow killing process. Vina and Joe seem to take a lot of life out of me. I can do nothing with any inspiration. This should not be. I have only myself to blame; but I can stop the thoughts of them that come, and at times it is like a great cloud upon my mind that tests my sanity until I doubt whether or not I am sane. But not hearing from Dorothy, and not having the privilege of writing her is lifes greatest tragedy for me. Then there is H. I never see her and she will probably never come in again. There is also the tobacco habit and coffee habit which seem to be destroying me along with the other things. Being subjected and enslaved by these devils of appetite to such an extent that I can do nothing without them in my blood is what discourages me. Then there is the sex desire by which I infer all that is natural including particularly the instinctive desire constantly with me for a mate of the other sex. It is not sexual desire but sex desire, but without either there is sexual starvation and a lack of life's greatest stimulant as exemplified by the fact that the best men and women marry and keep married in spite of death and divorce. Again my hair has been actually falling out for months and is still falling. This is real worry, I'll say. And my eyes are weak which is also real worry. Once more—this suit I have on cost 50 dollars. The first pair of trousers I wore about 3 weeks until I couldnt wear them any longer because of the discomfit. They were too short and I had to take in the waist about 3 inches. Toggery took them back and gave me a new pair which in the last ten days have caused me more worry than the first pair and more discomfit than any pair of trousers I ever had on. They were a rotten fit and still are for that matter. The suit is a well made suit, really high class but the trousers dont fit, thats all. They are too short yet even tho they were altered and made as long as they can be made. And they were so tight in the seat I could hardly sit down, or climb stairs. Or even live a moment anywhere in them without being uncomfortable. The trousers are not so uncomfortable now. I am not a tailor—in fact I never learned anything about that art, yet, now, the seam in the seat is wider by two inches, the buttons have been changed and there is a slit just below the waist about eight inches across which has lowered the seat considerable so that when I sit down the slit opens about 2½ inches allowing the body of the garment to give instead of tightening as it did. I did this work—took out the seams and stitched them up again. The opening is like this in the rear just under the waist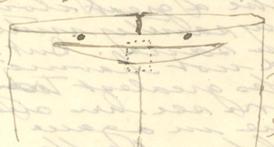 This opening could be used on all trousers. It is a new thing—an invention that could be applied. Where the dotted lines are could be an elastic band. I know in my case I got a great deal of relief from this invention applied to this pair of trousers. The seat is now loose and comfortable but the darned trousers are too big in the legs and too short—a rotten fit.
Last Saturday night the "Majestic Orchestra" played a dance in Butte Falls. I would like to say a lot about this trip because it was a fine outing for me. The country was new to me—the climb up there in the lovely evening in Parker's new "Franklin" which rode like a Pullman: the thirty mile an hour drive thru the big timber as the night closed down: the open air pavilion with the big crowd: the moonlight; and then the morning and the ride down. I might mention the ten dollars I got for playing; and also the two hours wait on the road from lack of gas. The tank went absolutely dry a mile from home. I wouldn't have missed the trip for anything.
Sunday was the 4th of July. Ashland is celebrating. The weather is warm. I vowed I would [not] join that crowd in Ashland, but I did. I went up there late tonight and was glad to get back. I have written these two pages since I returned.
Medford never since 1910 has been so prosperous yet the people are sore over the census returns which show a decrease from 8500 to about 5000. Many have left. Many come in.
"Dance at Beagle Saturday, July 10th. Majestic orchestra." ["Local Briefs," MMT, July 6, p. 2, col. 2]

"Talisman Lodge Knights of Pythias will hold an open meeting at the castle hall, Monday, July 12th. Officers for the ensuing term will be installed, followed by a good program. Refreshments will be served and the evening's enjoyment will be brought to a close by dancing. Music for the occasion will be furnished by the Pythian orchestra." ["Local Briefs," MMT, July 10, 1920, p. 2, col. 2]

July 14th.
A day is full of interest some times to be sure. Out of one day a whole book could be written. Six lessons were given. I imagined I was sick, appendicitis and cancer of the liver part of the time. Played a volume of Grieg then smoked, fixed up this room, in places that had not been changed since I moved in. A part of a box of rotten apples which had been puzzling me a long time as to how to get them out was gotten out by taking the apples and throwing them one at a time out the back window over a barn into a vacant yard. Each apple made a thumping noise and some hit the barn. I had to quit for although it was 10:45 my way was attracting attention. The rest I put in the paper barrel. A big box of cherries was given me a week ago. They were rotting so I cooked them up. But I dont feel like writing any more about things now.

July 15th.
I stayed in bed until two oclock, owing to a kink in my side which has gone. I had planned to go fishing. Wrote nearly all the rest of the day.
Another telegram for another hundred bucks from Vina.
____ came up this evening—the first visit she made in a year. It is still a dangerous thing for her and specially so for me. I played for her.
For the first time in six months I did not visit a resturant to-day but ate "at home," bread, peanut butter, beef, canned cherries, bananas. I dont get enough to eat at the resturants and it is very expensive. In fact my expenses are heavy. I thought it out and am surprised at the amount of money it costs me a month just to exist. I've got to cut down in some things. It may cost more to eat at home than in a resturant.

"Big dance, Majestic orchestra, Butte Falls open air pavilion, 40x80 ft. Sat. night [July 17]." ["Local Briefs," MMT, July 13, 1920, p. 2, col. 2]

"Open air dance at Butte Falls, Saturday, July 17. Majestic orchestra." ["Local Briefs," MMT, July 14, 1920, p. 2, col. 1]

"The few idle men left in town [Butte Falls] are now very busy, even the merchants lending a hand to help put the top on the large dance floor that was laid on the Fourth. They will add a lunch counter and cloak room. A large crowd is expected here Saturday evening, July 17. Medford music for the occasion. Everyone is welcome to our mountain resort." ["Butte Falls," MMT, July 14, 1920, p. 6]
July 17 1920
What's the use.

"Dance at Beagle Saturday, July 24th. Majestic orchestra." ["Local Briefs," MMT, July 19, p. 2, col. 2]
Sunday morning July 24th.
Really it is beautiful this morning at 4.30. The day has been quietly breaking a soft and balmy midsummer morning. The shadows are lifting from the hills; and the world is awakening in colors and to a music of birds and crowing of roosters. There is no other sound. Nature is still, yet ever moving.
Last night I went to Eagle Point and played for a dance quitting about three oclock.
We left here about 7.40.
Quite a few changes have been going on in the orchestra of late. This is the bunch at present : Leland Charley, trombone; Riley Davis, violin; Leonard Lindas, drums; Wesley Drevitson, vocalist; and myself. This combination will not last long as Leonard is going back to Washington this week, and Riley Davis and Leland are going to school in Sept. Witham is away and is not likely to come back and Drevitson leaves Tuesday probably not to return, so there are some drastic changes scheduled even worse than the constant changes of the past four or five months. I am the only one that stuck it out from the start. I have gained a lot because here I am this morning not tired in the least ready to go fishing or anywhere to-day. The playing has given me remarkable strength. There was a time when it was hard but by sticking at it here I am stronger than I have ever been. Probably a state of mind for I am not younger to be sure. And I have made some money out of it and gained lots of experience all of which no doubt is well worth the effort. But the dances do disgust me even as much as they amuse me. Life is so queer. Why do people young and old dance? There can only be one answer—sex desires. There is that magnetism of the sexes that is expressed in this way as in no other. It is a pleasurable sensation this magnetism and there is where the enjoyment comes in. Without this natural law of sex magnetism there would be no dancing. It seems to be a natural expression of a natural law and therefore not wrong unless abused. All natural laws may be abused. That is the sin and there is the danger—there is the evil—in the abuse—in allowing the passions to rule the senses above the will, for sex magnetism is the foundation of sexual desires. Even sexual desires may not be wrong, the sin is in gratifying those desires. The dance can lead to this very easily especially the fox-trot which is a wicked invention in my opinion. The waltz is not so nor the one step. The dancers are too busy to get aroused.

"Dance at Trail Saturday, July 31st. Medford music." ["Local Briefs," MMT, July 28, 1920, p. 2, col. 2]

"Dance at Beagle, Saturday, Aug. 7th. Majestic Orchestra." ["Local Briefs," MMT, Aug. 2, 1920, p. 2, col. 2]

"Mr. And Mrs. Ed Gore leave in a few days for Shasta Springs, Calif., where they expect to camp for several weeks." ["Local Briefs," MMT, August 3, 1920, p. 2, col. 2]

"Ice cream, lemonade, Majestic music, Eagle Point, Sat., Aug. 14th." ["Local Briefs," MMT, August 9, 1920, p. 2, col. 1]

"Dance at Eagle Point, Saturday, Aug. 14. Majestic orchestra." ["Local Briefs," MMT, August 9, 1920, p. 2, col. 1]
August 13 Friday
On this odd date I resume for a short period these conversations. It is almost a month since I wrote about things and during that interval things have happened.
At not time in my life have things in general and things in particular been so wonderfully strange, and, as will be observed, so away beyond any powers of mine to express in words. Everything seems so big, so broad, yet so confused, that while I ache to express what I observe it is beyond words or music—my technic falls short.
But what started me writing to-night? In a few hours I am a changed man, with inspiration, with happy thoughts, where roses seem to bloom everywhere. It is a world of beauty now when it has been anything but that. It is because the most wonderful of all wonderful things appeared in person—Hazel. After over two months of longing just to see her, just to hear her talk, to hear her laugh and to touch her hand, I was rewarded. I worship her. She is a devine creature, a fine flower that casts its beauty before us and blesses us by making us happy in pure, spiritual beauty and life.
But I did a strange thing. After looking in vain for her for two months to-night I saw her go into the Rialto with her younger sister. I timed the show, and while waiting came up here and shaved, brushed my teeth, put on a clean collar and cleaned my shoes and walked out to where I thought she lived, judging I would meet her on my way back. I got away back to the park without meeting her, and had begun to think I had missed her—that she had gone another way. Anyway I sat down on a seat in the park and in a short time I saw her walking up on the opposite side with her sister. I almost lost my nerve. In fact I let her go by not wishing to attract attention by deliberately walking over in front of the Hotel Medford. They went in DeVoe's. I figured I was out but I walked up to the corner and down Oakdale. I looked back and saw them come out of DeVoes and down Oakdale. I walked back and while I regretted to do it I crossed over. Mind you I wasn't sure it was Hazel even at that but it proved to be she all right. I took her hand and apologized for approaching them thus, and asked if I could walk home with her. She consented "You certainly may." So I walked out to her home. She is the same Hazel. There is no girl like her anywhere. Every word she spoke was a tonic to me. The walk seemed so very short and it was all so pure and so wonderful. It is strange. I thanked her for letting me walk home with her and begged her to let me see her once in a while. She promised to call me up and said that she had intended to call me up last week. I thought I had lost her forever and have been discouraged and depressed over it. This little experience seems to have been a great tonic to me, showing what the opposite sex can do and does do for a man. The incident was small in itself yet was an outlet to thousands of doubts which I had entertained. I would do anything for her, but nothing to injure her. Marrying her would be wrong. For her I must give that idea which is a right and perfectly natural idea up.

——V——

New pupils have come in all during July, but now are thinly scattered owing to vacations, picking fruit, the hot weather, etc. To-day it was 108. There have been some hot days. I have not played or composed anything. The affairs back East have worried me acting as one of the chief causes of my unsettled condition. I dont know yet whether I am here or there. The Pelicans meet frequently these summer evenings and the evenings are always cool and fine. Everything seems to have been mixed up so. I could write all right. But there is after all nothing worth mentioning compared to Hazel. So far is she above all else that all my worries, cares, etc. etc. have faded away. She now again shines as a guiding star of great beauty and to see her, to talk with her, is to look far beyond the petty things of this world and to dwell in realms where life is worth living mentally, physically, and spiritually. That is what Hazel is to me. Am I a fool? I think not. Wiser men than I have fallen only to rise to greater things that a girl inspired.
"There is a well grounded report in circulation that it was hot Friday, and there is some grounds for the report.
"Mr. Kort Hall reported that he was roasted.
"Mr. Wig Ashpole stated that he was baked.
"At 3 p.m. Mr. Emmett Barkdull asserted that he was fried.
"Dada Dunlop alleged that he was a dishrag, and Uncle John Westerlund issued a statement that he had melted, however the alleged evaporation not being noticeable.
"Mr. Edd Brown said he was cooked, but unable to say whether he was baked, fried or roasted.
"The village Never Sweats violated their obligations, and did something they never do, of their own free will and accord. The exuding of perspiration was entirely beyond their control.
"A 200 pound beanery chef, located between a kitchen table and a cook stove remarked that his range was giving forth more heat than usual, and drawing exceedingly well.
"Another such a canine day, and the church attendance will increase faster than the price of pants." ["Ye Smudge Pot," by Arthur Perry, MMT, August 14, 1920, p. 4]
Aug. 14th.
After my experience last night as mentioned it is fitting to mention the visit of a former pupil toward whom I had been entertaining doubts as to her friendship and appreciation. After a period of three years during which she has been around quite a bit (one year in Alaska) Mrs. Percy Wells called to-day. She looks the same and was a[s] pleasant as ever. She is a lovely woman—kind and loyal. I was glad to see her. So most of them now have come back. But there are some who seem to keep away for some reason. I hope there is not one whom I have offended but trust I have helped all who have ever sat before this piano even if for only a few lessons. What a great thing that is—that feeling that thot that conciousness that your mind reflecting the divine Mind has brought good closer to them. If any good has reached others through me my life has not been lived in vain. Perhaps it is this way that every man and woman lives ever for some great purpose the perfect fulfillment of which will be attained, that live here and hereafter is growth never ending. The attaining is Gods stimulus planted within us. And it is a blessed belief to know that we shall all grow and attain a higher and higher plane of spiritual life.
This was an awful hot day. The thermometer registered away up over 100. Two new things occurred. The first thing was that for the first Saturday in six years only one lesson was given. The second thing was being a party to giving a dance. Of all thing[s] this is the last I ever expected to do. The "Majestic Orchestra," Heine, Jennings and I (Heine did the work) rented the hall at Eagle Point for $10.00 advertised the dance and went up there and played until two A.M. We took a chance, each willing to win or lose on it. We came out $5.00 each ahead of the expenses. Pickle took up soda, lemonade and ice cream, and rigged up a counter and sold stuff. It was an awful hot night. I nearly melted. The dance was an experiment. We decided to rent the hall up to Oct. 1st. and run dances every two weeks there and announced that to-night. Butte Falls is the cause of our action. They turned us down for some reason they won't explain. We caused them to pos[t]pone their dance to-night and we will hit them hard again.

"A new musical combination has been formed consisting of three well known Medford musicians. Mrs. Willets at the piano needs no introduction, having played in different orchestras in the cities for several years and also as an accompanist. Miss Ruth Campbell, one of the finest violinists in southern Oregon and Mrs. Clark at the traps, whose whistling adds a touch of novelty. This organization plays at Butte Falls Saturday night." ["Local Briefs," MMT, August 20, 1920, p. 2, col. 1]

"That the old-time 'jazz' is on the wane in Medford as well as in the eastern cities is shown by the increasing popularity of the latest modern dance music at the Natatorium dancing parties each week. The rattle and bag of cowbells and brazen blare of tin horns is conspicuous by its absence in the Imperial Orchestra, having been replaced with the delightful harmony of piano, banjo, violin, saxophones, marimbaphone, bells, drums and traps. That this modern interpretation of dance music as it should be played is appreciated by Medford music lovers is shown by the many favorable comments heard on every side." ["Local Briefs," MMT, August 20, 1920, p. 2, col. 3]
Aug. 16
In the fulfillment of His promise all things will be made right.
The best purpose of all education is to open up thru the mental new visions of the spiritual and to strengthen hopes, belief, and faith in God; but it does everything but that. Thru man's mind the world is confounded; while God's mind which is that equality among all men, the spirit, the soul, is subdued. It fails to function as it should and would if man allowed it to. The spirit is all right—it is perfect as God is perfect for it is of God. It is nature. It is that which goes on within our bodies every minute. It may be called health and it may be called love. God is not in our mentality, He is in our physical bodies and in our sub-concious spirit which is ever present and is eternal. Our physical bodies are not eternal in form but eternal in the force and power that moves us, and that power is invisable spiritual force of God. Our bodies do not sin our spirit does not sin. All sin is in the mind the mental main force. Man's will to sin, sins and destroys the body. Sin is to destroy your own body more than to destroy other bodies. Every sin is destructive to the sinner himself and as all men are equal destructive to others who are brothers to him. The selfish view is the wrong view, for no man lives unto himself alone. Man's individuality is proper but man is collective also.

—————
They continue coming back and coming in which fact [is] convincing me of having after all made many friends my way, warns me not to make any sudden move upon the advice of others relative to going East. When I feel within, me guided by Principle, that I must go to East I will go, otherwise He will protect all that bears upon the matter in their desires to work out all thing[s] rightly.
But returning to my former pupils coming back some of those who owe me money particularly. Last week Mrs. A. C. Taylor called me up saying Mr. T before he died had made out a check to me. She asked me if I got it. I may have but doubt it very much. However this desire to pay after several years is commendable. To-night I met Lottie Patten. She is looking fine with the same eternal smile. She has been so out of my sight for two years that I lost track of her. She said she had been up several times to pay $5.00 [but] I was out. The last two weeks, therefore has been especially noted for payment of old accounts and return of former pupils as friends—pupils whom I imagined were disatisfied with me in some way.
To-day four new pupils were booked.
It is a funny world after all. Often we fail to understand it but no one can fail who does right and does his best honestly and sincerely. President Wilson, tho he may from all appearances and Republican propaganda be down he is not out. As long as right endures in the hearts of men and as long as history is read by generations to come Woodrow Wilson will live—live beside the eternal stars. No rotten bunch of grafters can down his work. I detest the Republican party with its old-fogy partisanism and political schemers. I will never vote a Republican ticket as far as national affairs give me the opportunity. And I doubt if they have any cinch of it Nov. 3d. It is not going to be so easy to elect Harding. It won't be any walk over. I dont concede Harding's election by a long shot. No one does now. Cox has a good chance and his chances are growing better every day. He is standing out stronger than his opponent and making friends that mean votes. Harding by his front porch speeches is killing himself and not making friends by mingling with the common people. There are millions of common people in this country who will vote for Cox with sufficient force to elect him. His majority will be small but he will be elected. Mark my words.
——V——

"Dance at Beagle, Saturday, Aug. 21. Majestic orchestra." ["Local Briefs," MMT, August 16, 1920, p. 2, col. 1]

"Big dance at Butte Falls Saturday nite! Big crowd. Latest popular dance hits by Majestic orchestra. Open air pavilion." ["Local Briefs," MMT, August 19, 1920, p. 2, col. 1]


"Special cold lunch for these hot days at the Gusher Cafe." ["Local Briefs," MMT, August 19, 1920, p. 2, col. 1]

"The Majestic orchestra will furnish the latest hits at Beagle dance, Saturday night, not at Butte Falls as stated last night."
"Dance at Butte Falls, Sat. nite." ["Local Briefs," MMT, August 20, 1920, p. 2, col. 1]

"The Gusher cafe just a whisper off Main street."
"Dance at Beagle, Saturday, Aug. 21, Majestic orchestra." ["Local Briefs," MMT, August 20, 1920, p. 2, col. 2]

"Eat where the eats are good. Gusher Cafe." ["Local Briefs," MMT, August 20, 1920, p. 2, col. 3]
Aug. 24th
Six new pupils were started this week which is rather unusual. = Cool weather fell on the valley to-day—almost cold. = New organ is to be installed in Page. I did not get the job and have been disappointed. Harke will play but he wont hold it. = Mida was let out of the Liberty Aug. 31. She is very discouraged over it. It seems there is something fascinating about playing pictures. = I have not seen Hazel since I last wrote her up. This is disappointing. = I am not feeling well which is more disappointing. = I am worried over affairs back East. = Just sent yesterday $200. making a total of $600 to date. = Mrs. Y. died a week ago. She was a real friend. = Am getting up some new tunes inspired by reading "Messiah." You know association with good music does no harm. That reading seems to have started me anew. = I am still playing for dances. Last Saturday we took a fourteen year old boy [Leonard Lindas] out to Beagle. He did fine. = I will not get any vacation as usual. = The P. and E. R.R. [Pacific and Eastern railroad to Butte Falls] sold yesterday to lumber interests which means a lot for this valley and Medford. = Musically the town is nothing flashy—just ordinary and steady like. Popular music seems to hold the cards. Some of it is very good when played well. = I have four girls now Hazel, Irene, Viola and Roberta [Pearce] which is all of four too many, I'll say. But they all are, as a flapper described Mt. Shasta "cute." But you know there is great strength of beauty in these "cute" girls as in a "cute" mountain. Both are wonderful works of nature and beautiful. = So life is the same old scheme of constant change of colors the variety of which becomes monotonous—paradoxically.

"Dance at Eagle Point, Sat. Aug. 28. Majestic music."
"Ice cream, lemonade, Eagle Point, Sat. Aug. 28th."
"O! Yum yum sandwiches. Eagle Point, Sat. Aug. 28"
"O boys! Cakes and pies at Eagle Point, Sat. night." ["Local Briefs," MMT, August 23, 1920, p. 2, col. 1]
Sunday 4 A.M.
Returned from playing a dance at Eagle Point with Heine & Lewis. We cleared $8.00 each this time. I "tuned" the piano just before the dance in 55 minutes. It was a rotten job but something had to be done as the middle section was a half tone lower than the bass and upper treble. I never worked so fast in my life and really it was an improvement.

——V——

"Dance at Beagle, Saturday, Sept. 4. Majestic orchestra." ["Local Briefs," MMT, August 30, 1920, p. 2, col. 1]
Sept. 6th. Sunday
Back into the pace that kills again I found myself. Upon Saturday's lessons followed by the dance job at Beagle from which I got back here at 5.30 A.M. Sunday only to continue the pace by playing at Babtist Church at eleven after three hours sleep. I slept three hours this afternoon and played for the evening service which was a real job calling for one who is experienced—piano solos, hymns, anthem, accompaniment to singer, and soft music for babtism. The work was not painful no[r] was I nervous or confused on[c]e but rather enjoying it; but the headache that followed was fierce. Something is pulling me down in health, while I have more strength to play and more confidence than I ever had. I am not nervous or as depressed yet something has got me in the head and left leg.

" 'Heap Big' eats at Eagle Point Saturday, Sept. 11."
"Majestic music at Eagle Point Saturday, Sept. 11." ["Local Briefs," MMT, Sept. 6, 1920, p. 2, col. 1]

"BAPTIST CHURCH SECURES FAMOUS EASTERN SOLOIST


"The First Baptist church have secured Mr. Andrew Walker, recently of New York city, as soloist and musical director of the church. Mr. Walker will be a strong acquisition to the musical forces of our city. He comes very highly recommended. Mr. Walker was for several years soloist and director at St. Johns Episcopal, and the Matthewson Methodist Episcopal churches of Providence, R.I. He was also soloist at the Catholic Cathedral in the same city. He was at one time soloist and director at the Trinity-Hedding Methodist church at Jersey City, and festival soloist at the Jewish Synagogue of New York city. He has also been with 'Girl of the Golden West' grand opera; also with the 'Chu-Chin-Chow' opera.
"Mr. Walker has studied with Dr. Jordan and Prof. M. W. Whitney of Boston, America's greatest bass, and with Pucicanni of Milan, Italy. As a teacher Mr. Walker has to his credit scholars who are prominent.
"Mr. Walker came to the coast last September ill with rheumatism and gastritis and finding no relief in California cities by the advice of physicians sought inland towns. He is enthusiastic over the climate of Medford.
"The Baptist church in engaging Mr. Walker intends to feature the musical side of the work in a large way. Various classes will be formed in the church, which will be open free to all interested. In he fall announcements will be made of plans which will interest the musical public. Mr. Walker sings at all of the services of the church. Next Sunday at the morning service he will sing 'Singing in God's Acre' by Dr. Jordan." [MMT, July 15, 1920, p. 7]



"Leonard Lindas, the phenomenal boy drummer formerly of Washington, D. C., has been engaged to play with the Majestic orchestra at Eagle Point, Saturday, Sept. 11.
" 'Peter Gink' and 'sweet Kentucky Sue' from Boston will be at Eagle Point Saturday night.
" 'Waiting, Lorayne, For You' at Eagle Point, Saturday night.
"Hear the phenomenal boy drummer at Eagle Point Saturday, Sept. 11.
" 'Heap Big' eats at Eagle Point Saturday, Sept. 11.
"Majestic music at Eagle Point Saturday, Sept. 11." ["Local Briefs," MMT, September 7, 1920, p. 2, col. 1]

"Leonard Lindas, who plays with the Majestic orchestra next Saturday night at Eagle Point, is a friend of the famous Al Jolson." ["Local Briefs," MMT, September 9, 1920, p. 2, col. 1]

"Mrs. C. E. Goble, teacher of piano and music. Consultation hours 12 to 1 p.m. and 5 to 6 p.m. Extra good organ for sale. 219 West Main." ["Local Briefs," MMT, September 11, 1920, p. 2, col. 1]

"The choir of the First Baptist church gave a sacred concert Sunday evening, which drew an audience which filled the house. The people who were present were very expressive of their appreciation and enjoyment of the music. Much credit is due Mr. Walker, the director of the choir. Prof. Haight presided at the piano. Mr. Janes rendered two violin selections to the enjoyment of all. Mr. Walker sang a selection from the Messiah: he also sang a duet with Mrs. Leach, which was a feature of the service. The anthems of the choir showed training and were all rendered in a very pleasing manner. The pastor, Rev. F. R. Leach, gave a short but pointed gospel message. The choir will give a concert each month, and the next one will without question be attended by a still larger audience. Next Sunday evening will be 'teachers night' at the Baptist church, when Rev. Leach will give a special sermon to the teachers in Medford." ["Local Briefs," MMT, September 13, 1920, p. 2, col. 2]


"The Hoyt show at Eagle Point ["The Two Hoyts Vaudeville Road Show"] was well attended and a clean, high class show. They will give a different program tonight and the Majestic orchestra will furnish music for the dance after the show." ["Local Briefs," MMT, September 15, 1920, p. 2, col. 2]
Sept. 15
Sin, sickness, sorrow all all those so called sufferings that make for unhappiness come from without, not from within. There is an outward conciousness composed of things seen, read and heard that has formed thru impressions upon the mortal mind from which all physical and mental disorders emanate. From the subconcious memory these errors unless checked will at times arise like an army of devils and overun the concious mind causing one to "think" sin, worry, sorrow, etc etc. Insanity is the result of an almost complete mastery of the sub concious over the concious mind and will. The will belongs to mans spiritual side. The spiritual side is as it always was but subdued since the will has become over powered. The will is truth. The will is the gate way to the spirit. Truth knocking at the door enters day by day hour by hour in some form and keeps men as well and sane as they are; but when the devils begin to become masters then more truth is needed to fight error. Here Christian Science with its mass of arrows can fight the battle and win since Devine mind is all truth and never fails to guide us, defeating error every time and will destroy it as we allow ourselves to be led.
Last Sunday night I played at the Babtist Church for a sacred concert given by Mr. Walker the new director and the choir assisted by Mr. Janes.
Yesterday a young Jewish pianist from San Francisco visited the studio and played five pieces for me. Judge and Mrs. Crews brought her in. Her playing is a treat to hear. A missed note is hard to notice. Every note and tone means something to her. I am ashamed to say I could play nothing else for her except two of my pieces.
I find myself rather overun with pupils of all sorts—new and old ones resuming. The few new ones, however, is the surprise that is absolutely new. There are but two or three. All the others are pupils booked during June, July and August with those resuming. As yet I have not been asked to teach in either school—Talent or Jacksonville. I hope I shall not have to. There are more pupils in Medford than last year.
I might mention that by request of Mr. Walker I played Melody in D Flat at the church concert as a solo following the Hymn. I haven't heard anyone say they liked it so it must have been played bum.

Friday Sept. 17
The work has gone very fast. Here it is bordering on Saturday again with the musical nightmare that begins at 7.45 A.M. and goeth right on day and night and then again. Things certainly are in a most distressing condition. Here I am loaded down with pupils and holding or trying to hold a responsible position not knowing whether I am here or back East. With them pulling at me I dont know where I am at. Music teaching started up this year with a rush right on time. There are some old pupils coming back whom I would like to refuse as they took of other teachers the last two years and now they are coming to me to save money or because the old teachers left town. These pupils should be told a thing. I dont mind being busy but being worried along with it is killing.

"Dance at Beagle Saturday, Sept. 18. Majestic music." ["Local Briefs," MMT, September 13, 1920, p. 2, col. 1]

"That wonderful boy drummer will be heard at Beagle Saturday night."
"New floor manager at Beagle Saturday night." ["Local Briefs," MMT, September 16, 1920, p. 2, col. 2]

"A special service for the teachers of Medford and vicinity will be held Sunday, 7:30 p.m. at the First Baptist church. Rev. F. R. Leach, the pastor, is to address them on the theme of interest, 'The World's Greatest Teacher.' There will be special music. Many will no doubt be interested and attend this service." ["Local Briefs," MMT, September 17, 1920, p. 2, col. 3]
Sept. 19th.
Things are going on the same as ever yet ever changing. Life is kaleidoscopic to be sure. In this existence there is infinite variety in the scheme of things. That the flow of ideas and the impressions that come from without are different day by day with me making of each day a book by itself is pressure in the regular order of a man of my age and in my position and is not to be considered unusual by me. But it is interesting surely. Work adds to the interest in life. Saturday morning I started at eight A.M. and gave 12 piano lessons up to six P.M. with ten minutes only for lunch. Before starting I felt sure I could not do such a thing which shows how the mortal mind entertains fear and false belief in ones own powers for I was better at the end than at the start partly because I could not smoke while teaching. But that wasn't all. I knew I had a dance to play Sat. night and church work the following day, and fear tried to down me in to thinking I could not possibly get thru. But I got thru the teaching, then got thru the dance at four A.M. and got thru the church work at eleven A.M. to 12.30 and got thru the service in the evening also feeling fine all the time. My head, body and hand were steady all day and are now—in fact I never felt better. I slept three hours early this morning and three hours in the afternoon and I would just as leave not go to bed at all now. So you see work is good and righteous for body and mind is strength and gives increasing strength. Fear and laziness are evil, error, and are destructive absolutely. To be idle is to sin, absolutely so, idleness breeds sin and sickness for in the stagnation corruption is bound to form in the scientific order of things.

"Watermelon hop at Eagle Point, Saturday, Sept. 25."
"'Waiting, Lorayne, For You' at Eagle Point, Saturday night."
"Majestic orchestra with that wonderful boy drummer at Eagle Point Saturday night."
"Oh! Yum! Yum! Carload of watermelons at Eagle Point, Saturday night."
"'Peter Gink' and 'Sweet Kentucky Sue' will again be heard at Eagle Point Saturday night."
"Oh! Boy! 'Chili Bean' at Eagle Point Saturday night."
"'Dance Again With Me' at Eagle Point Saturday, Sept. 25." ["Local Briefs," MMT, September 20, 1920, p. 2, col. 1-2]

"100 fine rabbits for sale this week. Bliss Heine, 916 West Tenth St., Medford." ["Local Briefs," MMT, September 21, 1920, p. 2, col. 1]

"Last Sunday evening was teachers night at the First Baptist church. There was a good representation of the teachers of the schools present to listen to the sermon of Rev. F. R. Leach on 'The World's Greatest Teacher,' which drew forth much favorable comment. There was a pleasing innovation in the service. Mr. Walker, the choir director, led in an enthusiastic song service, which was enjoyed by all. This feature will be continued Sunday evenings hereafter and will interest many in the evening services. The music is making the church a musical center as it never has been in the past." ["Local Briefs," MMT, September 21, 1920, p. 2, col. 2]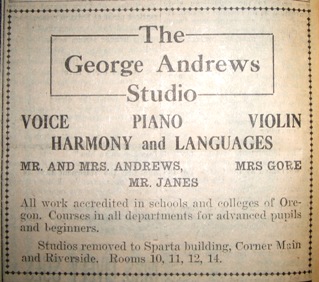 Sept. 24 continued [sic—a page is missing]
Even tho my hair is coming out by the barrel, and my eyes are weak, and I have a cold and have headaches, and those terrible attacks of fear; and even tho they call me yet to come East I refuse to give up, work being my only virtue. Saturday 15 lessons are booked. Yesterday I gave ten. 12 will be the average. At night I played at Eagle Point for the dance and to-day played in church. This is now the usual order and we have rented the Eagle Point Hall for another year at $216. My school work this year will be in the Talent, Phoenix and Jacksonville Schools, and believe me I hate to get up and go out to those schools. I am here but should be there in N.Y. I am lining up my work independent of all else refusing to recognize failure that would break it all up in an instant. All summer and now impending failure of this work has hung and hangs over me. Why should I fail? Wherein am I doing wrong? Perhaps my health is failing. I weigh 138 the same I have weighed for seven years. I feel weak only when I think of failing in business, thru fear of outside influences that would wreck me. Within myself I cannot fail ever, so must constantly watch the forces materiel that are ever attacking me from without. All sin and sorrow, and suffering is from without. Pain is different. Pain is warning of some physical unharmonious condition which must be adjusted, by care and thought—your own thought or the thought of a physician with Divine mind directing the whole business. Pain is a danger signal to stop which God created in man for his own protection. Man can, however, after reading the signal and heeding it, call upon Divine Mind to not only heal the condition but to cease the pain. Man will never reach the plane where pain will not warn him but he can over come the physical pain and direct a return to harmony by faith in God's power supreme.

Sept. 26th.
There is so much doing that I cant find many moments to give to this writing. These days, those able to earn money most any way can earn it, but as usual work is the main requirement. My work is getting into line in such a way that there is little time to be idle. Idleness breeds worries and worries cause unhappiness and illness.

"Talisman lodge No. 31 Knights of Pythias held a social session last night which developed into a talkfest with the avowed purpose of erecting in the not distant future a Pythian temple. The wonderful growth of Pythianism in southern Oregon during the past year including the institution of its offspring, Fuhat Burkan temple, Knights of Khorassan, has rendered such action almost imperative. A building committee was appointed to report on the matter in the near future." ["Local Briefs," MMT, September 28, 1920, p. 2, col. 1]

"Bert's chili con carne at the Gusher Cafe."
"Chili con carne season open. Get it at Gusher Cafe." ["Local Briefs," MMT, September 28, 1920, p. 2, col. 2]

"OCTOBER 2ND WILL BE RED LETTER DAY
FOR PYTHIANS CEREMONY AT NATATORIUM


"Next Saturday, October 2nd, will be a red letter day among the Pythians of southern Oregon and northern California, and the event will to a somewhat lesser degree be just as interesting to the general populace, who are fortunate enough to see the big parade to be held at 3:30 in the afternoon. Various committees are at work devising stunts to exhibit in the parade, while the officers, band and Brigand patrol are holding nightly drills in preparation for the big event. Some big surprises are promised by Fuhat Burkan temple when the members make their first appearance in their Arabic costumes, and a general invitation is extended to the public to be on the street on Saturday afternoon to see them show off. The order of Knights of Khorassan somewhat corresponds to the Shrine in Masonry, and it is the ambition of all Knights of Pythias, as with the Masons, to become a member of the highest degree of their order. There are but three temples in the state of Oregon, the first being installed at Portland, and the other two at La Grande and Medford. The jurisdiction of the Medford temple extends to Redding, California, on the southern and to Marshfield and Tyros from these and intermediate cities will be in attendance at the ceremony, which will be put on at the Natatorium next Saturday evening. Among the notables in the Pythian order who will be in Medford for the ceremonial are Mr. Guy Mees, Imperial Pasha of the Knights of Khorassan, of Spokane, and J. H. Clark, general vice chancellor of the Knights of Pythias of the domain of Oregon. Representatives from the Portland, La Grande, Oakland and Stockton, California temples have also sent word that they will be present.
"The concluding event of the ceremonial will be the banquet at the Medford hotel, for which three hundred reservations have been made, and Host Emil Mohr has promised to surpass all previous efforts in the banquet line in honor of the 'Dokies.'" [MMT, September 29, 1920, p. 6]

"A hundred wild untamed candidates for initiation at the big K. P. ceremonial Sat. nite will be halter broken partially and subdued by the soothing music and fair damsels at the community dancing party all being held in the same building." ["Local Briefs," MMT, October 1, 1920, p. 2, col. 1]

"TOMORROW WILL BE BIG DAY FOR PYTHIAN KNIGHTS


"Tomorrow will be the big day in Pythian circles for southern Oregon and northern California lodges, when the first ceremonial by Fuhat Burkan temple, No. 224, of Medford, will hold its first ceremonial at the Natatorium building. The activities will begin immediately after noon by holding a kangaroo court at the Pythian hall, at which any wavering K. of P. member will be haled before the presiding potentate and there be required to sign up for the big Khorassan degree and ceremonial to be held in the evening.

"Promptly at 3:30 the 'dokey' parade will start, headed by the D.O.K.K. band, Brigand patrol and officers of the temple, in all their Oriental splendor of gold lace and Arabic costumes. The Brigand patrol will execute their intricate and fancy drill during the parade, while the grotesque features of the procession will furnish the amusement for the occasion. Between two and three hundred members of the temple will be in the parade, including the one hundred Tyros in chains, who will be initiated into the order at the evening ceremonial.

"The visiting members from distant points are already arriving in Medford and by Saturday afternoon the D.O.K.K. fez will be conspicuous on the streets in great numbers.

"A general invitation is extended by the local temple to everybody to witness the parade and inspect the gorgeous costumes used by the officers, band and patrol. The parade will form promptly at 3:30." [MMT, October 1, 1920, p. 3]

"ANNOUNCEMENT BY PYTHIAN ORDER


"Furat [sic]

Burkan Temple No. 224, which celebrates its first ceremonial today in Medford, desires to have it known that the public dance advertised in the papers yesterday has no connection whatever with the temple, as the advertisement seemed to indicate. While the D.O.K.K. degree of the Pythian order is considered the play ground of its members, it does not resort to public dances to sustain the popularity or success of its ceremonials, which are set on the highest plane of fraternal institutions."

[MMT, October 2, 1920, p. 1]

"The ceremonial held here today and tonight of Fuhat Burkan temple, of Medford, Dramatic Order of the Knights of Khorassan, is a big event in southern Oregon and northern California Knights of Pythiandom, with many outside visitors present, most of whom arrived by auto this forenoon, and the many blue fezzes worn and the D.O.K.K. decorations of Main street, give the city a holiday appearance. The big parade of the temple and the candidates who are to be initiated tonight was scheduled to start at 3:30 p.m. Tonight's initiation at the Natatorium will be followed by a big midnight banquet at the Hotel Medford by the several hundred knights." ["Local Briefs," MMT, October 2, 1920, p. 2, col. 2]
Oct. 3d 1920
Life seems like a dream—not a clear dream but a daze overpowering in its bigness and intensity. It is all too big for me, this world. I cannot learn its various ways. Everything effects me from without and rules me by engulfing me in the eddies and tides, until there comes over me that great desire, that longing to be free, yet here I remain a slave to outside influences. I have known those precious moments when wrapped in my own spirit and soul with my own thoughts I was happy in contemplation, in beautiful thoughts, and with my music or with God. The world to-day is just a rush in other directions. Men really have no time to give to themselves. They forget their own spiritual selves in the following of rituals, routines, along lines all mapped out by man to enable the earning of money all a materiel mad scramble to live and get a few pleasures from a cut and dried order of things. Men have little original thought or action and no time to encourage the little they may have.
It is now 4 A.M. I have just returned from a D.O.K.K. ceremonial held at the Nat [Natatorium] by the local temple, the first put on here by us. It was splendid, big, and a success, but what nonsense it all is after all—men following again a ritual the order of business which is the same old stuff hashed up. True in the 8th order of business some original stunts were put on but it was all childish after all. I saw it all thru including the $2.00 bum banquet [a "hard times" costume social?] at the Medford [Hotel] at twelve oclock. Over 200 plates were set and it was a fine crowd of [illegible] to be sure. The music by the band at the ceremony was fine and indeed. I saw, heard, ate, and laughed with the crowd but all the time—and here is the strange thing—all the time I was thinking of a woman. How absurd! It is strange. Later I will tell about it. Some one ought to kick me for this latest infatuation and ought to kick me good and hard.
Oct. 3d, 1920
I am a hopeless case. Here, after attending the D.O.K.K. ceremonial last night and hearing particularly that part of the ritual which protects the virtue of woman and sanctity of the house and after attending two services in church and listening to and agreeing with two sermons, here I am wishing I could go away to-night with a married woman and be always with her forever. Just think of the rottenness of life and the awful morality of some men and some women also since she desires the same as I. Of course this act would never occur as she is cautious and I am wiser but it is the desire and longing in the face of marriage that is the sin. It is good there are laws for such degraded people, for this leaning toward her is just a desire for her body, perhaps, but I wont say entirely for she is a fine girl and there is some strange attraction not understood by either of us. Yet I presume these attractions occur frequently and it is simply up to the parties magnetized to fight against it when it comes. I told her she would forget me soon and asked her to but she said she did not intend to at all. She would not say "Good bye" but "au revoir." It is rather funny. I am interested and naturally rather stirred up by such a thing which accounts for my desires tonight to go with her. Well, I presume any single man a divorcee no matter how good he wants to be would feel the same as I do under the circumstances especially when the woman is a real woman with a refined feminine make up. It's not easy to over come at once but time will kill it in both. The absurdity of the thing will dawn upon us after an absence of a month or so. This girl [Mrs. W.] is one of two I really fell in love with the last year. Hazel is the other, but she has fortunately deserted me. This girl will also so it is all a hopeless dream after all. Dreams are not dangerous—realities are especially in these affairs.
Oct. 6th
Pupils of all ages and stages, with church choir and dance business to divert my mind somewhat from the grind. There is no time for playing or composing and no place for either. I am just living a shameful disgraceful existence—smoking, drinking poison coffee and worrying. The spells of extreme worry still cover me at times but I keep throwing them off. It is purely mental I realize from the sudden power to change in an instant from deathly fear to a condition of normal repose just by switching the thought from serious to commonplace.
I do not seem to be piling up a great deal of money. I[t] appears I have been kept at a standstill for several months. My expense account is heavy. To meet it I took on dance work and church, still I am not getting ahead fast. This must be looked into and instead of incurring additional overhead the overhead must be reduced by more efficient financial management some way. $25+$4+$1.50+$1.00+$1.50=$33 a month. I cant get away from + a few other expenditures necessary. But $60 a month is rather large. I estimate $60 a month but it is undoubtedly much more. I do not spend any money on picture shows, however. $32.00 is all I can figure up, even by stretching it which is the savings including interest for three years at which rate I shall never become rich. It is as usual the little things that take money from us. Yesterday and to-day 10+160+10+3+10 etc. little amounts that mount up in a month to considerable. The eating account is 20+35+35+8. Lessons to-day were $1+$1+.75+$1+$1+$1+$1+$1+1=8.75. Earnings for week 28.25 so far.
"Majestic orchestra at Eagle Point, Saturday, Oct. 9."
"'Lucky Spot' dances at Eagle Point, Saturday night."
"Interurban cars leave for Eagle Point Saturday night at 8:30."
"Moonlight dances at Eagle Point, Saturday night." ["Local Briefs," MMT, October 4, 1920, p. 2, col. 1-2]
Oct. 12
Follow me around to-day. 8.45 car to Talent. 4 piano lessons there. Singing class 12.15 to 1.30. Car to Medford. 4 piano lessons 1 organ lesson then a piano lesson. Then orchestra rehearsal. One new pupil. No I am not sick only crazy.

——V——

"SECOND SACRED CONCERT BAPTIST CHURCH SUNDAY

"The second monthly Sacred concert given by the First Baptist church chorus choir under the direction of Mr. Walker will be given next Sunday 7:30 p.m. The first concert illicited [sic] much favorable comment, and many have manifested a desire to avail themselves of the privilege of hearing the next concert. The program Sunday evening is of a more varied nature and will be superior to the first concert. Much time is being given by the choir and the musical director to the music of the church and the community is to be congratulated on the musical programs from time to time given by the Baptist choir, as well as the music each Sunday at the regular services. The program for Sunday evening will be as follows:
"Hymn, 'America,' by the congregation.
"Anthem, Semper, 'Praise the Lord.'
"Violin solo, Massigni 'Andante and Prayer.' Mr. Edward C. Root.
"Scripture lesson.
"Male quartet, Nevin, 'Some Blessed Day.' Mr. Hoover, Dr. Carlow, Mr. Barr, Mr. Walker.
"Bass solo, Dressler, 'Thy Will Not Mine O Lord.' Mr. Walker.
"Prayer.
"Anthem, Shelley, 'There Is a Holy City.' Miss Davis, Mrs. Neff, soloists
"Piano solo, Haight, 'Memory,' by request. Prof. Haight.
"Offertory and announcements.
"Violin, solo, Regnard, 'Meditation' Mr. Edward C. Root.
"Ladies' quartet, Hipsher, 'Now the Day Is Over.' Miss Davis, Mrs. Neff, Mrs. Newbury, Miss Steiner.
"Address, 'The World's Greatest Question,' Rev. F. R. Leach.
"Anthem, Gounod, 'Jerusalem' from 'Galilee.' Mrs. Newbury, soloist.
"Benediction.
"A. Andrew Walker, choir director. Prof. Fred Alton Haight, pianist." [MMT, October 9, 1920, p. 6]

"Dance at Beagle Saturday, Oct. 16. Majestic orchestra." ["Local Briefs," MMT, October 11, 1920, p. 2, col. 2]

"NEXT CONCERT AT THE FIRST BAPTIST ON NOVEMBER 1ST

"The second monthly concert by the First Baptist church choir was given Sunday evening before an appreciative audience that taxed the seating capacity of the church. The auditorium and session room were used and chairs were also brought into use. Some left not being able to get seats. The people present showed their appreciation of the musical work of the church by giving over forty dollars in the offering. A special service was announced by Rev. Leach for October 24, which will be 'Young Ladies' Night' with special features of interest and extra music. The next concert will be given the first Sunday in November.
"The work of the choir was especially meritorious, showing real form of what a choir should be, and the master hand of Mr. Walker was again demonstrated. The ladies and male quartet singing gave much pleasure to all. Professor Haight repeated his success of the first concert by playing his own composition, 'Memory' on the piano. Professor Root added very materially to his reputation as a genius on the violin, and the solos by Mr. Walker's pupils plainly proved his splendid method. Mr. Walker's own number was rendered only as an artist can sing." [MMT, October 12, 1920, p. 3]
Oct. 19th.
Always doing new things has been my way the last three years. Recently; I played one of my compositions, "A Memory," before a large audience in Bab[t]ist Church. I started going out giving lessons to a pupil in a rooming house a thing I never thot I would ever do. Joined in on leasing a hall in Eagle Point for dances—think of it! To-night actually played for a dance in town in Odd Fellows Hall with Heine & L. Lindas. Instead of going backward this year I am doing just the opposite showing I am crazy. Insane people usually have shown such propensities just before they become hopelessly gone. There is a[n] over excitement of the mental faculties just before the break—a cheerful view of it, I take. But what else does it mean. I never did such things before. When not working I am depressed.

"Hear 'Little Jo' from Seattle and 'Irene' and 'Skookum' from New York at Eagle Point Saturday night [October 23].
"That wonderful boy drummer from Washington, D.C., will be at Eagle Point again Saturday night with the Majestic orchestra.
"Yum! Yum! Big eats at Eagle Point Saturday night.
"'Moonlight' and 'Lucky Spot' dances at Eagle Point Saturday night." ["Local Briefs," MMT, October 18, 1920, p. 2, col. 1-2]

"Regular social meeting of Olive Rebekah lodge will be held Tuesday evening, Oct. 19th, at which time Mr. Walker will entertain with a song service after which refreshments will be served. Mr. Haight's orchestra will furnish music for dancing after returning from banquet room." ["Local Briefs," MMT, October 18, 1920, p. 2, col. 1]

"Prof. Haight corrects the statement in yesterday's issue that Prof. Haight's orchestra would play for dancing at Odd Fellows hall tonight. Prof. Haight will play at this affair but he has no orchestra under his name." ["Local Briefs," MMT, October 19, 1920, p. 2, col. 2]

"'In the Dusk' we rescued 'Little Jo' and cross the 'Rio Grande' into California where we found 'Skookum' who guided us to Oregon. Upon arriving in Oregon we were royally received by 'Peter Gink' and 'Sweet Kentucky Sue' who will escort us to Eagle Point Saturday night where we will dance 'Underneath the Dreamy Oriental Moon' with the jolliest crowd we ever saw." ["Local Briefs," MMT, October 21, 1920, p. 2, col. 1]
Oct. 23d
Fifteen piano "lessons" were given at this studio. There were sixteen and could have been seventeen, one waiting to get in on Saturday; but I failed to get up for the first one due at 7.15. The clock was set for 6.45. When I got up at 7.45 I examined the clock and found the alarm off. I must have turned it off in my sleep not knowing what I was doing. It was fully wound up. Such a thing is disgraceful but that is not the worst—three mornings I refused to get up at all and go to the schools Tues, Thur and Friday; and Wed. I had to be waked up by Dr. H. [Heine] pounding my door. It shows the work and living is getting me. Pupils still keep coming in and accompanying work, again with Mr. Isaacs after two years, and with a violinist Mr. Rhine.
This was the most beautiful day I ever saw. The colors of hills, mountains, sky, and foliwere wonderful. I saw very little of it. Winifred playing Racmaneff [Rachmaninoff] Prelude in G Minor and The Two Larks Lechetisky [Leschetizky] was another beautiful thing. And there is a note on my table from X. Very beautiful. The night was gorgeous. I went to Eagle Point. XX was there, the most beautiful of all. We only made 6.50 each and there was a mix-up besides. Well, a big event down near Gold Hill took the crowd. So it goes. It is now 4.15 A.M. Sunday.

"'Skookum,' 'Polly,' 'Irene,' 'Sweet Kentucky Sue,' 'Peter Gink' and the whole bloomin' crowd will be at Talent Saturday night. Interurban cars leave Hotel Nash."
"Big supper at Talent Saturday night."
"Masquerade ball at Talent, Saturday, Oct. 30. Cash prizes. Majestic music." ["Personals," MMT, October 26, 1920, p. 5]
Oct. 30 Saturday
Well, I got up on time in spite of not hearing the alarm; or I turned it off in my sleep or something—anyway I never hear it go off of late. Twelve lessons were gotten in out of 16. I[n] the evening the Majestics went to Talent each dressed in a Yamah Yamah suit and hat [from the 1908 song hit "Yama Yama Man," about a masher]. I never wore such a thing before. The interesting thing about this dance work is the influences of youth that direct my actions getting me out of old fogy ways in spite of myself. My playing is mature, however, there is no childishness ever in that nor in my advising Heine on most matters of business. All else is living on my part in an atmosphere of youth and I would miss it were I to give it up. This dance was a masquerade given by the orchestra. There was a big crowd there and many fine get ups. H. left the awarding of prizes to me. I acted quickly upon it out of difficult job owing to so many worthy of the first prize but I think I was right at that. Our expenses were $34. yet by selling over 60 tickets cleared $9. each at that. This was the first dance and expenses were higher than they will be later if we continue giving dances there on the plan of renting the hall for a year like the Eagle Point. We played until three oclock. Everybody sure had a time of it.

Oct. 31st.
I was awakened by Fred Mears this morning and got to the church in good time playing the service with little trouble. Walker has an idiocincracy now of singing every Sunday a song we have never tried out at all, causing me to read at sight. He could not get by with this peculiar way with any other accompanist in the world—he or she wouldn't stand for it. I have to stand for anything and be ready. I am expected to do what others can't or wont. Others can do rotten and get by but I can't.
Accompanied for a violinist one hour 3.30 to 4.30 then gave E. her organ lesson. Without these things Sunday would be the day of horrors it has been for years, and after an hour playing over music I played the evening service at the Babtist Church. Mr. Walker sang a song we tried partly once some time ago. I played a beautiful piece from Beethoven. Sunday night is hard. Somehow I cant listen to the minister without criticizing him. He fails to explain Jesus Christ tho ever talking of him as though he and Jesus Christ were personal friends in the flesh. Jesus Christ to me is the spirit of God sent to the world in a man in the perfect form to follow not to chum up with. God is all and God is Jesus Christ just a million of them.
Jesus Christ tells me how much God can reflect of Himself in a man. Jesus Christ is not God but of God and therefore Godly. The Devine man, yes, who intercedes for us and the king of this world against error, appointed by God. God could not come to this world and leave the rest of the universe to function as it may, so he sent Jesus Christ to represent Him, to teach His love, power, and purity in such a way that men could see God in Christ, and know that death can be conquered. Thru Christ man has learned immortality, thru the ascention. Jesus Christ is but a small part of God, The Supreme Ruler but the average man is but an atom too small to see God by far so Jesus Christ stand[s] between for man to ascend nearer by stepping up. Jesus Christ was the only man without sin and unapproachable, but man thru Jesus Christ is pardonable.
So I wish this minister Mr. Leach would get down and explain the thing. If explained men would accept Christ, but no man or woman will venture to make a fool of himself this day and generation by emotional conversion. The church must tell what we want to know but the church seems as much puzzled as we are. They have members and pastors who are good Christians and want to do right and they do because they are in that work. But we cant be all in that work so directly. We want to be in sympathy with it all, if we could only understand there is something fake somewhere. God is all power, all good, the creator, just, loving, kind and very big, and Jesus Christ His creation and His purpose, but the way the pastor of this church has it Jesus Christ gets too much attention. Christ gave all honor to God and spoke of the bigness of God. And "I and my Father are one," it seems to me means one in Principle and the Principle is the spirit, God above all; Jesus in Christ who showed the way; and—the spiritual power of communication with God's power. Prayer, faith, and loving thankfulness ever present is and ever-present wire of communication that can protect us and the whole world every second.

November 1st.
I would like to keep a diary but have not the time to write it; but such days may never be again and never were. If I ever have a chance in the later years to sit down and look at the years that are gone, then a diary might prove interesting reading to me, and especially a record of the present period, for one ambition of my life has been fully realized—the ambition to have at some time more pupils than I could handle. That time seems to have arrived for of all seasons this season is supreme. Eleven were booked for to-day and Mr. Isaacs—[illegible] making really twelve. Two had to be excused because of bum fingers. It must be noted that none are excused thru any laxity on my part these days. I gave a lesson to a new pupil at eight A.M., caught the 8.45 car to Phoenix gave five lessons at school returned and gave four, and then Mr. Isaacs came and stayed an hour, so you see I was on the go all day. The day was so fine tho a man could do anything under the stimulating coolness and snap in the air and the sunshine. It was cold this morning. Mrs. W. came in. She is a fine woman, believe me, and a new pupil applied. To-morrow is Election Day, a big day for America. Wilson gets my approval thru my vote for Gov. Cox for a president.
X is always in my mind and she is a wonderful help to me and a real stimulant. She is such an all around good girl.
"Majestic music at Eagle Point, Saturday, Nov. 6."
"Oh! Boy! More 'Lucky Spot' dances at Eagle Point Saturday night."
"Nearly 100 couples enjoyed the masquerade at Talent Saturday evening. Excellent music was furnished by the Majestic orchestra."
"Extra fine supper at Eagle Point Saturday night."
"The whole bloomin' crowd will be at Eagle Point Saturday night."
"Everybody's going! Where? Eagle Point! When? Saturday, Nov. 6." ["Local Briefs," MMT, November 1, 1920, p. 2, col. 3]
Nov. 7th Sunday night eleven P.M.
Here I am lonely as can be. The preacher sermonized this morning on the lonesomeness of men without God. He referred to Pres. Wilson, who after having given his very life for his country, is a lonely man indeed, deserted by his countrymen. But no; in my opinion Pres. Wilson is not suffering from that any more than from other things. At nine oclock I played my last accompaniment and the concert at the Babtist church was over—I was free with an attack of indigestion on. This attack of indigestion and palpitation came on the beginning of the concert and lasted all through it interfering with my playing. I never have indigestion but the coffee I drank just before going to the church was the cause chiefly though Baer came up at 6.50 and interfered with my plans. And Wilson (Geo) came in too.
Those two interfered with my plans and caused me to hurry after having planned to the minute with no hurry. Rhine came in at 3.30 then followed the organ lesson at the church then an hour and a half so I figured would be my own. I had played the morning service and a rehearsal following already and had eaten dinner, looked over my music and visited the lodge rooms a few minutes. There wasn't much time open since I got up which was at 10.25. I felt frustrated I was forced to hurry. Darn it! I got through the concert however fairly well.
Friday morning I started lessons about nine and kept going all day then went out to Wellen and played for a dance in the packing house. The dance was over at 3 A.M. and I was back here at 4. Having to get up I did not get more than 2½ hours sleep and did not take my clothes off in fact as soon as I got in I shaved and dressed ready for teaching and lay down thus all prepared. I failed to hear the alarm or knocking on the door so was a half hour late. What awoke me I dont know. Such a thing! To teach all day Friday then play all night. I never could do such a thing before and I feared a little that I couldn't do it; but fear as I used to fear, is gone. I really did thru mind what was impossible.
But the worst was yet. I gave lessons all day Saturday and with no rest other than those 2½ hours went out and played another dance in Eagle Point until 3 A.M. The lessons and the playing were no more difficult than if I had had 9 hours sleep. The ride in the car, the cool air, and the change are restful. I noticed this when I played at the Rialto. The change was beautiful instead of otherwise as one would suppose. Before doing things like these fear makes one to do it. Unless fear is over come it is impossible as it was once with me. While a little doubtful I decided to try this last escapade at least. It would not do for regularly diet perhaps. From 4 to 4.30 I pressed my trousers got to bed at 5. Mears was to awake me at 9.30 but I never heard him if he tried. I doubt if he tried. The alarm I turned off as usual asleep. In spite of all I awoke and got up at 10.25 got to the church and played the service and rehearsal. But after all this going successfully here I am with indigestion.
Nov. 9th.
It is amusing the way things are, yet is there in the amusement tragedy—the tragedy of too much doing and more to do than can be done by any one man. The weight of it all is fast making me a marble top. Teaching, church work, dances, accompanying, and directing a class of 20 girls in the Talent school. To add to it all here comes a real writer of songs and song lyrics, a man who I have been wanting, a collaborator who in the game might net me a fortune—the game of song writing. To work with him right would require lots of time—I have not the time and I cannot take a chance for in that game no matter how good the song there is the element of chance. But this man—George Wilson—is good. He is very enthusiastic as well as possessing through years of experience in theatrical work good sense and a good working knowledge along with musical ability.
Monday and Tuesday were full days—every day is a full and overflowing day. To-morrow is another big day. Then there is that troublesome weather back East pulling at me. To-day I got bills amounting to $361. from the Sanitarium that they had sent my sister. To pay out any more hard earned money without surety of getting it back I hate to do for a fact. I will wait until I hear direct from the institution before acting now. I have already sent my sister without question $600. believing that part of this was for J's care, but as not a cent has been paid it is a case of misrepresentation which has the effect of causing me to be cautious. If your dearest friend or relative misrepresents instead of coming out frankly and honestly you are forced to use caution henceforth and forever. There is no middle ground in such matters—no extenuating circumstances, so to speak. So besides the teaching, the playing, and the composing I have this situation back there to hang like a lead weight upon me—but I will work it all out. I have refused to go back there, choosing to work. Up to the present how I do not see where I was wrong in using my own judgement for what could I have done other than use up every cent of money I had worked for under greatest difficulties. Yet, God will settle this matter all right guiding every act of human thought toward a right outcome.
"Majestic music at Talent Saturday nite."
"The happiest crowd in the valley at Talent Saturday night."
"Follow the crowds! Where? Talent! When? Saturday, Nov. 13."
"Big supper at Talent Saturday nite." ["Local Briefs," MMT, Wednesday, November 10, 1920, p. 2, col. 3-5]
Nov. 14th. Sunday again.
It is all nonsense writing about Myself. The real self is not pictured anyway. I should be in Salem [in the state asylum]—that is Myself should. What I do is done for me by others. I teach because my pupils direct me to teach them as they want which is usually the wrong way. I play in church because the church and Mr. Walker command me. I play dances because I am so ordered to. So I am working and rotting spiritually. Yesterday it was 14 lessons $14. and 6 hours dance work $15. Money, money, but of that I have not a great deal. I haven't sense enough to collect what is owing me and I lose money every day on music. Four hours sleep then playing in church four more hours sleep in a chair in lodge room then church again. And right before me a weeks work that is enough to drive any man to the asylum. Without a moment to compose or enjoy music or any thing. Hell with it.
"Grand masquerade at Trail, Thanksgiving night [Nov. 25]. Box supper auctioned off, the proceeds to go to the home demonstration of the Farm Bureau. Coffee free. Majestic music." ["Local Briefs," "MMT, November 18, 1920, p. 2, col. 1]

"Another one of those popular dancing parties at Talent Sat. nite [Nov. 27]."
"'Lucky Spot' dances at Talent Sat. nite."
"Majestic music at Talent Saturday night."
"'Stepping to the Scale' at Talent Sat. nite." ["Local Briefs," MMT, November 22, 1920, p. 2, col. 1-2]

"The death of Harry H. Howell, the well known musician, notice of which appears elsewhere in this paper, will be regretted by thousands of residents of the city and valley, where he contributed so much musical enjoyment. Especially will his loss be felt in the Rogue Valley band of which he was the leader, and which so delightfully entertained the people of Medford and Ashland with weekly concerts last summer." ["Personal," MMT, November 29, 1920, p. 6]

"HOWELL—Harry Hamilton Howell died at the Dow hospital November 28 after a short illness from typhoid fever, complicated with blood poisoning, at the age of 48 years, 7 months and 20 days. He was born at Black River Falls, Wis., April 8, 1872. He was a well-known professional musician, who started at the age of 13 years studying music and was the leader of the Rogue River valley band at the time of his death. He was a Spanish war veteran, having enlisted at Superior, Wis., in Co. I, 3rd Wisconsin, and served under General Miles throughout the war.
"In the death of Harry H. Howell, Medford and the community at large have suffered a real loss. For years he had been a moving factor in all city and valley musical activities. A musician of first class attainments, he was widely known as an orchestra and band leader and freely gave of his time and work, much of the time gratis, in the effort to build up permanent and varied musical interest in the valley. He always showed splendid tenacity and enthusiasm in his work, and was at the beck and call of any musician who needed him. As a loyal friend he is mourned by all who knew him.
"Mr. Howell leaves his wife, Florence, one son Harry, and one daughter Roberta. He is also survived by a brother, Cheney, and a sister, Mrs. Margaret Sevler, all of Medford, Ore.
"The funeral services will be held at the Perl Funeral Home Tuesday, November 30, at 2:30 p.m., Rev. D. A. Millard officiating. Interment in the Medford I.O.O.F. cemetery." [MMT, November 29, 1920, p. 6]
Nov. 29. Sunday once more
Died: Harry Howell at four oclock this morning. Mr. Howell was a musician not at the time following music exclusively, however. He played piano, and trombone and was a leader of orchestra and band. He could compose music for piano and arrange music for band in a clever way not a correct way. He was more a leader than a soloist on the piano in fact he admitted he had no technic. He had traveled as pianist with opera troupes. A wife and baby girl survive him with no insurance of any kind. The boys of the City Band of which he was leader last summer will play at his funeral Tuesday.
I have little time to write anything. Thanksgiving came and went as usual. I have been taking on more pupils and playing at dances as well as playing in church keeping on the go from morn til late at night. We have big crowds at the dances and make from ten to fifteen dollars out of them. We rent the Halls and do the advertising. We have a regular floor manager and caterer taking the same outfit along each time. The attendance has kept growing. Thursday night we played at Trail. This was not our dance. We made $9.50. It was a rainy night real rain but they had a big crowd there. Last night we played Talent. The Hall was packed full up.
"Mrs. Herbert B. Clark and little son Douglas arrived from Medford last night to make their home in Klamath Falls. Mr. and Mrs. Clark are managing The Gift Shop and Millinery, the new shop opening with Miss Callahan on Main street. It was very disappointing that the goods failed to come in time for the opening Saturday as advertised, but they are here now and will be placed in time. Mrs. Clark is a well-known musician.—Klamath Falls Herald." ["Local Briefs," MMT, November 27, 1920, p. 2, col. 2] "Majestic music at Eagle Point Saturday, Dec. 4."

"Lots of 'lucky spot' dances at Eagle Point, Saturday night."
"'Boobie' dances at Eagle Point Saturday night."
"Your friends are going! Where? Eagle Point! When? Saturday night!" ["Local Briefs," MMT, November 29, 1920, p. 2, col. 1-3]

"E. Short of the Wrecks Kawfay [Rex Café] has got the hole in his doughnuts back to pre-war size." ["Ye Smudge Pot," by Arthur Perry, MMT, December 2, 1920, p. 4]
Dec. 5th.
The Christmas month has now begun. Red Cross stamps were on sale yesterday in full force. The churches are preparing their Christmas music. Even I am preparing some such in the Talent school. The weather has been wet; to-day was cold and partly cloudy. The building was awful chilly impossible to stay in it. More rain seems to be coming as it is not so cold to-night as it was this morning. Came in from Eagle Point at 4 A.M. Got up at 10.25 for church. Spent a lot of time in K of P rooms near the fire.
When a kid a[t] school years ago
Miss Duff played piano while we marched
I wondered at it.
Up to last Monday I, even I, years later
Had never done that stunt.
But last Monday I played
While the pupils marched in at Phoenix.
And they said afterwards
They wished I could play every day
Which is the attitude of honor
To have satisfied the kids.
This year has been full of new stunts on my part and was the greatest year. I am wondering now what is coming. Some big event sure. Here are some things done in the past year that I never had power, nerve or ability to do before. Moving picture playing; Theatre Orchestra work; dance work playing piano solo; church work; three schools; giving lessons before school every day; playing pool; adopting daughters; finding favor with X; and a thousand other things—there is no end of work ahead.
"There was a very large attendance at the regular meeting of Talisman Lodge Knights of Pythias Monday night, it being the occasion of the election of officers for the ensuing term. E. E. Gore, one of Medford's most popular business men was unanimously elected chancellor commander as a fitting tribute and recognition of his loyalty and untiring efforts in the cause of Pythianism. The other officers elected were: W. R. Gaylord, vice chancellor; J. T. Perry, prelate; Ben J. Trowbridge, master of exchequer; C. W. Harrison, master of finance; E. F. Robinson, keeper of records and seals; Carl Fichtner, master of arms; C. B. Watkins, inner guard; L. L. Damon, outer guard, and George Gould, trustee.
"After the election of officers the following candidates were found in waiting and were duly introduced and initiated into the mysteries of the rank of page: George Gates, George W. Laidley, Glenn Laidley, A. W. Lewis, and George W. Maddox.
"In keeping with the principles of the lodge to put sunshine and gladness into the hearts of men, and in order that the children of this community might be the recipients of a practical exemplification of that principle, the lodge has decided to hold a public reception with a Christmas tree for the children of Medford at its Castle hall on December 24th at 2 p.m.
"In view of the fact that the lodge membership is increasing very rapidly, it was decided to hold a membership contest by dividing the present membership in two teams, and the losing team to treat the winning team to a banquet the latter part of January. Ben J. Trowbridge and John Palmer were elected as captains of the opposing teams. The proceedings of the evening were concluded by a short recital by the efficient kitchen patrol consisting of Messrs. Cooper, Perry and Reed." [MMT, December 8, 1920, p. 1]

"The Majestic orchestra will furnish the music for the big dance at Grants Pass Saturday night." ["Local Briefs," MMT, December 8, 1920, p. 2, col. 1]

"Quite a number of people from Medford and vicinity are planning on attending the big ball at Grants Pass tonight. The Majestic four-piece orchestra will furnish the latest music." ["Local Briefs," MMT, December 11, 1920, p. 2, col. 1]
Dec. 12th Sunday once more.
Last week everything went wrong beginning with Monday and kept getting worse as the week progressed. The nastyest cold that ever landed upon me and the strangest and most peculiar. P[h]legm yellowish way down near my stomach not so much in my head. The plegm gathered there in bunches and had to be coughed up forcibly, tho I had no cough. Pains and aches while coughing made more aches and sore spots. Monday and Tuesday were sleepy drowsy days. Wednesday the thing seemed to burst out and start with sores in lower bronchial tubes, and then the rotten plegm, headaches, fever and hell. Why such rotten things in the body? Why ever have a cold? It seems I was not the only one by any means. About half the people are affected. This is Sunday night and while I feel pretty good after coughing up all the plegm I don't know how I really am. I do not feel ill at all. Starved myself all day eating practically nothing until a milk toast at 9 P.M. It seemed that everything I ate turned into that yellowish phlegm which disgusted me against eating. A strange thing about this cold was that I never lost my taste for tobacco. I took no medicine other than one dose of cascara. Hot water and light eating were used.
Last night the Majestic Orchestra with a good saxaphone player added played at Grants Pass and after paying all expenses amounting to $50 cleared $100. It was a rainy night. We went down by auto—I came back by train the 9.15 was late anyway at 12.40 A.M. I was home at two oclock. The train ride was a great rest the first train ride in 16 months, think of it. Getting in I put on the electric plate and sat in a chair close to it with the light out until I got sleepy then lopped down with my shoes, trousers, collar, the vest, shirt all on and got a fine sleep. The alarm went off at 9.30 but it was 10.30 when I got up. I got to church in time. The reason I kept my collar on was the job I had getting it on made me fear to take it off. One of those slit collars. Walker sang a hymn as a solo. I doctored up the accompaniment for him. This evening the ladies said, [illegible]ly during a consideration of my expressed desire to be released from the church the 19th, that that was simply beautiful. I didnt try to show off—just a few arpeggios and finishing touches to the cadence you know. Of course you know but who else but me would dare do such a stunt and get by with it.
Monday
While feeling stronger after 14 hours in bed the plegm that had gathered in my chest was disgusting. Big bunches of whitish yellowish dirty mucus were coughed up and blown out of my nose. Breathing is not as easy, and coughing has not the strength it had. What a rotten thing to come to a man, God's creation. It make[s] me hot to think of the thousand afflictions that man has to suffer from the cradle to the grave and for what. Why should he suffer. He is not here of his own will nor does he live by his own will a second. It is the law of nature. Why illness, desease. Oh poor man.
"'Swanee Moonlight' at Eagle Point Saturday night."
"Big supper at Eagle Point, Saturday night."
"Majestic music at Eagle Point, Saturday, Dec. 18."
"More of those popular 'Lucky Spot' and 'Boobie Prize' dances at Eagle Point Saturday night." ["Local Briefs," MMT, December 13, 1920, p. 2, col. 1]



"CHRISTMAS CAROL TO BE GIVEN AT FIRST BAPTIST

"Elaborate preparations have been made to celebrate the Christmas season at the First Baptist church. Rev. F. R. Leach will speak at 11 a.m. on 'The Manger and the Twentieth Century Problems.' The male quartet will render 'The New Born King.' The choir will also sing two anthems, 'When Christ Was Born,' and 'Come Unto me.'
"A Christmas Festival concert will be given 7:30 p.m. by the choir under the direction of Mr. Andrew Walker with Prof. F. W. [sic] Haight, accompanist." [program omitted] [MMT, December 18, 1920, p. 6]

"FESTIVAL CONCERT IS MUCH ENJOYED

"Sunday evening the chorus choir of the First Baptist church gave a Christmas Festival concert of unusual merit. A congregation was present which taxed the seating capacity of the church. Mr. Walker's leadership and training of the choir for the months past, showed itself in a striking way at this concert.
"Mrs. Bolger's playing on the violin last evening elicited much favorable comment. The two selections by the chorus choir of fifteen girls were greatly enjoyed, as also the singing by Pauline O'Neill. Rev. F. R. Leach gave a short talk on 'If Christ Had Not Come.'
"Rev. Leach made the announcement that next Sunday evening the choir will give a second Christmas Festival Concert, when the program will be practically new." [MMT, December 20, 1920, p. 4]
Sunday Dec. 19th.
9.15 P.M. Just returned from the Babtist Church were I played for the Christmas Concert. I had command of the thing this time thru not eating or putting any coffee into my stomach before going on as I have usually done. I ate a big dinner at 2.45 and drank a glass of hot water and soaked my hands in hot water. Result circulation was good and entire absence, complete absence of any nervousness whatsoever. This is remarkable. I should write an article on this under "Individual Piano Playing." I had a lot of work and sure perspired. Program is elsewhere. Walker calls me his "right hand man," and the music has built up the church. I am learning that Walker tried everyone in town before I finally came and begged me to play. He had asked me many times before. I told him to bring some stuff around and he did, actually, having found so many who failed even began to doubt me. I remember I played his stuff right off, and he then insisted I was the one he needed. I got into it and now it is hard to extricate myself. I see that, and would be embarrassing to the choir, to Walker, and to the church, if not to the city, for where a man fits in a place he becomes part of the thing. The church is a big part of the community. I did not figure this way at the time I began it but see it more clearly now. I defy any one else to do better work there and I defy anyone to play the dance music I am playing.
Dec. 21
Yesterday I resumed teaching at Phoenix school feeling better than I felt before I was ill. That internal bath [enema] did me more good than I can tell. To-day I resumed teaching at Talent school and took on two new pupils making eight there. I will probably continue the vocal class. I certainly stirred things up unusually there. The boys determined to outdo the girl[s] I believe. Mrs. Stanard drilled them on a song similar to the one I drilled the girls on. At the rehearsal to-day for the Christmas programe the boys did fine. I played violin for them. The school sang Silent Night. All the suggestions of mine will be carried out namely: girls chorus three song[s]; school one song; boys chorus one song; and a solo by Ruth Haeckler. The program is to be given to-morrow night and they want me there so must go by all means. It seems funny for me to be in this school work. I did not hurry back to studio so lost some lessons but I had to see this thru. Snow, rain, and slush came in the after noon. The mountains about Talent were wonderful in colors when it let up. A most beautiful picture. It is beautiful at that school always.
Dec. 22d.
I dont know whether I made fool of myself to-night or not; but I attended the Talent School Christmas program primarily to assist them as accompanist and to help out by play[ing] violin with the chorus. I found my violin was broken at the very beginning that is I loosened the neck as I tuned it up. It was weak through a fall yesterday. I played the two first songs rendered by the girl chorus Hark the Herald Angels and Midnight Clear, but something was wrong. The finger board I discovered after was down flat on the belly. I fixed it up and played with the school and the closing piece fairly well. I was to play piano for Ruth Hackler but instead she asked me to play violin obligato while Mrs. Stanard played piano. Well I did this tho I expected to play the accompaniment. Mrs. S. played just the melody "The Birthday of a King." I got thru fairly well. The playing I was to do for Mrs. Hall's brunch was given over to a lady who played rotten. I did not play violin with the boys. During the 2d and third number I played two piano pieces unexpectedly. Everything I did was different from what I expected. The show was fine but as I say I dont know whether I made an ass of myself or not. I am no violinist and not in trim for piano solos. The children and audience were a sociable bunch I'll say and I wish I could have stayed but had to catch the last car at 9.50. This was a funny thing and a merry thing for me to do, but I am getting so I dont care what I do now. I never get nervous anyway. Lots of nerve is my strong card.
"Big Xmas ball at Central Point."
"Oh Boy! I'm going! Where? Central Point! When? Xmas night!"
"Your friends will be there! Where? Central Point! When? Xmas night!"
"Majestic music at Central Point Xmas night."
"Xmas prizes galore at Central Point Xmas night."
"Hot Chicken Tamale supper at Central Point Xmas night."
"Grand masquerade! Eagle Point! New Year's eve!" ["Local Briefs," MMT, December 20, 1920, p. 2, col. 1-2]
Dec. 25
Alone, and resting all day having refused all invitations to dinner—there were three. Played Christmas night in Central Point. This was our second failure in the dance business. At Grants Pass we came out even, but I dug up 75 cents at this one to pay expenses. The crowd simply did not show up tho we may have had our share at that of the five dances held on this night—Medford, Ashland, Applegate, Wimer, and ours. We took advantage of the opportunity however, to advertise strong the big dance New Years Eve at Eagle Point and the big opening dance in Jacksonville Jan. 1st.
1921

"'Hot Chicken Tamale' supper at Jacksonville Saturday night."
"Meet me there! Where? Jacksonville! When? Saturday night."
"'Beach Balloon' dances at Jacksonville New Year's night."
"Coney Island high jinks and carnival at Eagle Point New Year's eve."
"'Snowball' dances at Jacksonville Sat. nite."
"'Lucky Spot' dances at Eagle Point Friday night."
"Oh! Boy! Some party! Where? Eagle Point! When? Friday, Dec. 31."
"Lots of those popular 'Lucky Spot' and 'Boobie Prize' dances at Jacksonville Saturday night."
"Majestic 4-piece orchestra at Eagle Point Friday night."
"Ring out the old, ring in the new! Where? Eagle Point!"
"'Snowball' dances at Eagle Point Friday night."
"4 grand prizes for 4 best costumes at Eagle Point."
"Grand opening ball at Orth hall, Jacksonville, New Year's night."
"Grand masquerade! Eagle Point! New Year's eve!" ["Local Briefs," MMT, December 27, 1920, p. 2, col. 1-3]

"Coney Island high jinks and carnival at Eagle Point New Year's eve." ["Local Briefs," MMT, December 28, 1920, p. 2, col. 3]
[Jan. 1, 1921]
The time about which I write was the last few hours of the years 1920 and the first few hours of 1921 with special emphasis intended to center upon the midnight as it came and went. The hall at Eagle Point was packed at that hour—over three hundred people—dancing, confetti, serpentine, balloons, and dust, dust, dust. Lights were dimmed and a "moonlight" waltz was on until 12.05 from 11.48. This was the big time. It was pretty big, a big crowd and the whole thing put on in a big way including a saxaphone player who cost ten dollars. He was worth it. The money taken in was big $188.00. I had it all in my pocket and it weighed big. But the expenses were too big—$76. The shill floor managers got 9.50 each. My share figured $37.33. I handed over to Bliss 4.33 and voluntarily reduced my share to $33.00. As I look at this money before me now as I write at 6.30 A.M. after I think the whole thing the strangest thing I ever got into in my life, barring none. A partner in a dance business for it is a business pure and simple. There are three in it. Bliss, myself and a 14 yr old boy, Leonard Lindas. The latter had $35. a pocket full of silver—more money than he ever earned in his life. He thought he was in a dream. The reason he got 35 was that I suggested he turn $2.00 over to Bliss who worked hard and retain $2.00 more than I for the work he did in the hall preparing for the dance. I did nothing. But this is bad for that kid. He is too young. This is a man's job. Well, to cut this short, they danced until four A.M. We gave away some fine prizes for the best costumes. I forgot to say it was a masquerade. I was sole judge of the costumes and everyone seemed satisfied. To-night we give another big dance in Jacksonville—in a hall we rented and fixed up.

——V——

As I look over to my left this morning I see something I must mention, a wash hanging on a folding clothes rack. Shirts, underclothes, pillow cases, towells and socks, this I did yesterday.
I must mention the great vacation I have had all this week, doing nothing but eat, read, and sleep as long a[s] I wanted, and I feel fine. Oh, but I must mention the wonderful book I read, "Carmen Ariza" [a Christian Science novel by
Charles Francis Stocking]
sent to me by X. I couldnt leave it. I got simply absorbed in it. Practically two whole days I feasted on it. The book affects me strangely and it may influence my life surely for good for it is all on the principle of love
—
the love of God. A wonderful wonderful book.
"Jacksonville got back on a pre-war social basis Saturday night, with the first public dance in seven years at Orth's hall, and it was a well attended affair, with leading citizens on the floor. The last dance in the county seat was in 1914." ["Local and Personal," MMT, January 4, 1921, p. 2, col. 1]

"The 'moral lapse' that is sweeping the earth hit J'ville last Sat eve., when that burg gave the first shindig since the first battle of the Marne. This is some of Lefty Louis Ulrich's work." ["Ye Smudge Pot," by Arthur Perry, MMT, January 4, 1921, p. 4]

"There was a masquerade ball given here Friday night and I heard one man say that everybody in town was there except 'Dad Howlett,' but I think that he was mistaken, nevertheless there was evidently a large crowd for a small village like this. I have inquired of several who were there and tried to find out how many tickets were sold but no one seemed to know but it is estimated that there were at least a hundred tickets sold and some place the number at one hundred and fifty. At any rate there was a good attendance and the different costumes were very attractive and some of them were very pretty. Some of the young men dressed as school girls and that caused considerable mirth when, after they had removed their masks it was found that the girls had been sitting in the boys' laps and vice versa. Lunch was served in the hall and I judge by the amount of stuff thrown along the sidewalk, especially the tamales, for there were quite a lot of them thrown along the street that had never been opened, that the 'splendid supper' that had been advertised was not up-to-date, but all speak of the affair as a good dance and everything passed off quietly. Along about 4 o'clock this Saturday morning the dance broke up and as the bunch of young folks came into the Sunnyside it sounded to me as tho a large part of the crowd had come over to sleep in the hotel." ["Eagle Point Eaglets," by A. C. Howlett, MMT, January 4, 1921, p. 5]

"C. J. Morris, a taxi driver of Ashland, made the mistake of not adhering strictly to business, when, along with a load of passengers, he transported a liberal supply of booze to the New Year's dance at Eagle Point on Saturday night. The subsequent actions of the men who sampled the 'hootch,' excited much comment, as a result of which, Morris was arrested. He appeared before Justice of the Peace Bagshaw and was fined $50 and costs, which he paid.—Jacksonville Post." ["Local and Personal," MMT, January 10, 1921, p. 2, col. 3]

"There was a dance in the new hall both Christmas and New Year's. The latter was the best dance, as every one present reported a fine time, and the 'moonshine' was not so plentiful, so the word goes." ["Turkey Shoots in Butte Falls Are Popular Pastime," MMT, January 4, 1921, p. 3]
Jan. 1 1921 & Jan. 2
Were I asked to express an opinion in regard to dancing parties I would say that the young and old seem to enjoy themselves—the young stay young and the old have their youth revived to the fullest possible extent. I am for anything of that kind. There is no harm in being physically able to dance all right. We quit at two oclock this morning in Jacksonville after giving a party in Orth's Hall such as that dead town hath not seen for many days—years would be more to the point. There was a goodly crowd present and the collection amounted to $88. After expenses were paid and other expenses and some more expenses I got $4.00 which will eventually go out for—expenses; but to open a hall fix it up after it had lain for ages—well you know it takes expenses. The next time we give a dance there we shall not—positively not—have so much expenses. Considering all things, therefore, the party was a success—a big thing for Jacksonville. The Hall is ours for six months, the lights are ours, and the confetti, serpentine, plates, papers and dust that must be cleaned out—they are all ours already yet. Leonard was disappointed in getting only $4.00 but I said to him "Dont always reckon your wealth by the money you have in your hand." I trust he will remember it. The $35. he got last night turned his head I know. This will surely steady him down a little and be good for him.
"ESTIMATE FIRE LOSS IN LIBERTY BLDG. $25,000

"Basement Blaze in Office Building Gives Firemen a Stubborn Fight—Handicapped by Lack of Equipment—Origin Unknown.

"Fire of unknown origin which started in the basement of the H. C. Garnett hardware store in the Liberty building, and which was only discovered at 7:30 o'clock p.m. Sunday apparently after having smoldered for hours, practically gutted the rear of the hardware store, damaged the rear part of the Geo. L. Treichler Motor company sales room next door on the same floor, and filled the offices and halls thruout the four story brick structure with smoke." [remainder of long article omitted] [MMT, January 3, 1921, p. 1]

"The tenants of the Liberty building are much inconvenienced because the heating, sewer and water supply systems of the structure were put out of commission by Sunday night's fire. It will be several days yet before the complete service will be restored. The elevator is operating as usual. The insurance adjusters will begin work today or tomorrow adjusting the losses occasioned by the fire. The tenants are using oil and electric heaters to heat their offices." ["Local and Personal," MMT, January 4, 1921, p. 2, col. 1]
[Jan. 3, 1921]

At 12.40 A.M. Sunday night I am here. Where? In a room in the Holland Hotel Medford scribbling this for what purpose I dont know. I usually sleep in room 317 Liberty Bldg. In fact I have slept there in that room every night (or day when I got in from a dance in the morning) for eleven months plus a few days. But I did not care to sleep there on this particular night. Conditions are not conducive to quiet slumber by a long shot. The air is impregnated with the fumes of smoke which is on everything and in everything.
I have lived in that building now a long time, about four years I believe, and every day at some time the thought of fire struck me in one way or another; and even tonight when I rushed out to get over to the church at 7.25 I looked back into my room to make sure the match I threw down after lighting my pipe had not ignited any papers. I always have done that. So when, after playing the hymns just before the sermon there at the church, Mrs. Hoover came up and whispered, "The Liberty Building is on fire" the first thought was that I had set it a going. I was in the studio from 6.30 to 7.25 and Geo. Wilson's coming in at 6.55 and talking made me hurry and perhaps I had not been careful. At any rate I rushed out of the church with such thoughts in mind. Hoover took me up in his car. On the way I recollected that the fire whistle had blown just before service at 7.35 and the thought flashed into my mind then that I had done at last what I had been so careful not to do but I forgot all about it as soon as the service began.
When I arrived at the Liberty Bldg. at about 8.15 there was an immense crowd watching the masses of smoke pouring out but not thank the Lord out of my window. The smoke was coming out of the cellar and the firemen were busy. At first I thought it would soon be put out but after a moment's thought realized that a basement fire is a hard one to get at, so I did not return to the church.
Smoke poured out from the cellar wherever there was any opening and worked itself up through the entire structure. As it increased in its volume and density I began to lose hope and for a long time I thought the building was surely doomed to destruction. Windows were smashed to get at it through Garnetts store and other means used to get at the fire. I walked around the block then walked away from it. When I came back the color of the smoke had changed to white indicating steam and the volume was reduced which proved that the source had been located.
I give the boys credit. The fire was practically out by eleven oclock. They had gotten it and saved the building an almost unbelieveable feat. They confined it too the basement and luckily caught it just as it started to burn its way up to the second floor at the south west corner. Catching this saved the building. Shorty Garnett's store was wrecked and his stock and the stock in the basement all messed up because they had to get at things through there as it was the only way. His loss is largely through water for certainly all the water that was handy was poured into that basement over Shorty's stock. His is the greatest loss. The other losses in the reckoning were through smoke which filled the entire building. The furniture and papers in every room are covered with a coating that may never come off certainly never off the papers. My piano is dulled. All the lustre that remained on it is lost and much music marked with that brown mark.
I went up twice to my rooms before the smoke had all gotten out and barely came out alive. The first was a short trip but awful. The lights were off. I groped my way up by match-light, entered the studio where the smoke was as thick as could be, stumbled over three hundred chairs and managed to get to the window and opened it.
I stuck my head out of the window but got little releaf. I decided that was no place for me so hurried out and down the stairs making it all right. Later I made a second trip up. The studio was unhabitable but not the next room. A mass of smoke filled the room making it difficult to open the window. After several attempts I got my composing book, money and bank book and insurance policy.
Well the fire was put out. Now after the refuse, water and smoky order [odor] are cleaned up the walls re-tinted the building will be in good shape again.
I slept at the Holland as said but got to sleep so late that I could not get out until ten oclock. Lost a whole day's teaching on the first day of the year. Like everyone else I cleaned up Monday bought a new rug and the studio looks better than it did. The studio escaped better than probably any room the building. The piano keys, however, may never get back to their former whiteness. Monday night I was at lodge.
Tuesday [Jan. 4] at 9.15 A.M. I gave the first lesson of the new year to Ethel Keith at the Talent school and followed with four other lessons. Returning to Medford I found no heat in the building yet nor any water. None of the pupils came anyway. It is now about six o'clock.
Last night I slept in the building as usual, tho I did not intend to. It took some courage in the terrible lonesomeness—a deathly something that follows a fire. But I let the light burn all night and kept my shoes on.
It is now six oclock P.M. The future looks black, as I have a new cold, and am worried about Eastern [family] matters. The shock of this fire hangs over me.
"The latest addition to the Premier Novelty orchestra is Mrs. Harry Howell, violinist, who has had years of experience in dance and theatre-orchestra work and is generally conceded to be one of the leading violinists of southern Oregon." ["Local and Personal," MMT, January 6, 1921, p. 2, col. 3]



"The water and heating systems of the Liberty building, which were put out of commission by last Sunday night's fire, are again in working order much to the gratification of the tenants."

["Local and Personal," MMT, January 6, 1921, p. 2, col. 3]
Jan. 7th.
Wednesday and Thursday were full days of teaching etc. tho sick with a rotten cold and disgusted with the smell of smoke.
Friday Jan. 7th [Friday should be the 9th; Jan. 7, 1920 was a Wednesday] after a clear cold day and the heat going again the smell is getting out of this place fast; but I am ashamed of myself. Here it is 2.30 P.M. and I have not started teaching. The cold which is better to-day is the queerest I have had in that it is different. Every cold is different in some ways I notice. This cold is in my nose with a cough. Well last night I got my first real sleep over in K. of P. [Knights of Pythias] room. I slept there in a chair for two hours fine. Then I came over here at 2 A.M. and slept with my clothes on until morning. Got up to answer phone. Postponed a lesson, decided not to go to Talent, lay down again and slept until 12.30, getting up disgusted. But I was exhausted through shock caused by this fire mostly.
To-day the insurance adjuster was around. I collected $94 insurance which is about right, although the studio escaped damage very luckily. The smoke injured the piano and music some. The keys got the worst. They are dark. I may be able to fix them up to some extent.
Jan. 7th
The rain has let up now for two days. The cold weather, which is not cold only colder, is fine, I'll say. Teaching music has resumed itself.
"K.P. COMMANDER GORE ANNOUNCES 1921 COMMITTEES

"The following committees are announced by Chancellor Commander E. E. Gore for the coming six months term in Talisman lodge, Knights of Pythias:
"Entertainment—Bliss Heine, F. A. Haight, H. H. Williams.
"Banquet committee—Homer Reed, E. C. Rice, Jess Brownlee.
"Reception committee—R. G. Beach, W. G. Laidley, Jr., J. B. Palmer.
"Relief committee—Aside from standing committee, Earl Webber, J. W. Wakefield, B. J. Trowbridge.
"Publicity committee—N. W. Borden, Jas. Stewart, W. R. Gaylord.
"Members are especially reminded of the lecture next Monday evening by Frank Grant of Portland, in connection with the initiation of the class of seventy-five new men into the first rank." [MMT, January 8, 1921, p. 6]

"Good supper at Eagle Point Saturday night."
"'Majestic' at Eagle Point Saturday night."
"Some party! Where? Eagle Point! When? Saturday, Jan. 15!"
"Another big dance at Jacksonville, Friday, Jan. 14."
"'Dinty Moore' dances at Jacksonville Friday night."
"'Majestic 4' at Jacksonville Friday night."
"Hello boys! We'll be there! Where? Jacksonville! When? Friday night!"
"Good eats at Jacksonville, Friday night." ["Local and Personal," MMT, Jan. 10, 1921, p. 2, col. 1-2]

"H. C. Garnett, whose store was partially burned out at the recent Liberty building fire, has effected a settlement with the insurance companies, and is now arranging his stock for a big fire sale that will be held soon."
"Those having unpaid accounts with Shortie Garnett would confer a great favor by calling at Geo. L. Treichler's office and paying same. Shortie needs the money." ["Local and Personal," MMT, January 11, 1921, p. 2, col. 1]


Grace Brown, October 3, 1921 Medford Mail Tribune

"Henry Harcke left Tuesday evening for Fresno, Cal., where he has a position as an organist in one of the moving picture houses. Mr. Harcke resigned a similar place at the Page theater. His place will be taken by Miss Juenesse [sic] Butler, and her place at the Rialto will be taken by Miss Grace Brown." ["Personal," MMT, January 12, 1921, p. 8]
Jan 14th 1921
Only four lessons were given out of seven listed but I worked otherwise to kill time if not to kill myself. I made two M.S. [manuscript] transposed copies of "Patches" without pausing, a task that really requires some concentration, some knowledge and some ability. The fee is ridiculously small considering about $2.50, yet high compared to the cost of the sheet music.
Then I did a lot of little jobs like sewing on a button and gluing my violin and getting some articles needed at the store.
Directly from the last pupil I went to Jacksonville with the "Majestic 4," and played the second dance. The hall was filled. We cleared 11.50 each and there are now four in the orchestra instead of three. Everything is paid up so that now we can figure $10 to $15 each out of that hall. The business is growing. Heine wont let it stand still now that he is playing safe. He can't lose much if we all lose. To see such a crowd in old Jacksonville was surely great after so many years of nothing doing in that town. People came from all around and they had one big time of it I'll say. But what I wanted to record is the three distinct lines of work I persued in one day of 24 hours. Variety is the spice of life.
Saturday there were only eight lessons somehow, four not coming. I went to sleep a few times so by night I was quite rested. A large crowd was not expected a[t] Eagle Point but over one hundred people were there just the same. We quit at three oclock clearing 9.33⅓ each. Sunday I was feeling very fine. The exercise playing was beneficial. The church work was easy but that was all I did in the whole day. This week there is more work outlined than I ever had a thousand things to do beside 65 lessons, three dances, K. of P. and a choir rehearsal. Arranging work is on again. I refuse to do that or give lessons on Sunday. I believe in Sunday. The preacher to-day got in his narrowest licks. He is very disturbing. The "unsaved" are not attending the church. He had a small congregation Sunday night. When every man is as good as the other fellow—thinks he is at least and has a right to, he doesn't want to be told he is an outcast among the unsaved sinners booked for Hell, sure. He wont come to church to be criticized. Criticism is not what he wants. He wants knowledge and love. Under stress of mental turmoil aroused by this preacher I ask is there not some other way to help the people, since they refused to accept the methods of the churches—is there not a new religion dawning where the unseen forces the Unseen Ruler of us will proclaim to man a clearer conception, a truer vision, where faith and love shall rule unto a better world. The time is here for it and it is coming. Even now the change is here in every walk of life—in every relation, and the material slavery is relaxing everywhere now that the climax of attainment has been reached. The religion of the present and future is "love." All else is crumbling.
Jan. 17
Six lessons in Phoenix school. I stood up before the assembly and tried to play the violin for the songs. The kids would not sing because they listened to the violin. They all applauded for a solo but I had to refuse. Anyway, it was very funny.
There were four lessons here when I returned. K. of P. work kept me up late so that I did not here the alarm clock Tuesday morning. Instead of the 8 oclock car I went to Talent on the 9.30. One pupil being sick enabled me to get in the other seven and then by running catch the car back to Medford. Three lessons were given here and all this was followed by a dance in Odd Fellows Hall. One new pupil was started yesterday; one applied Saturday and one to-day; a new one will be started Thursday and another new one was started last Saturday. Two old ones I had given up will go on again Friday which makes seven. The two Budges girls, Thelma McDaniels and the two new ones in Talent make nine this year already. Several pupils quit as they always do after Christmas. It is a peculiar occupation this teaching and a teacher must expect to lose pupils just when they are well started and progressing.

[The following occupies a separate sheet and may not fit in here.]

Life is a trip up stream, not down.
He who would follow the current must perish in the rapids.
The ocean is filled with derelicts who have drifted down stream; those who seek the source are strong and dwell upon the mountains.
Resistance developes character. Life is a treacherous river that will carry you down unless you fight the forces that would destroy you.
Therefore, journey upward and rise toward God who is the source of all things.

Feb. 2.

The immensity of the task of writing the thousand and one happenings into "current events" where they would be interesting, simply stuns me. Things have been going fast of late. Thousands of things coming up that are new things that are different from any other period in life.
It is now 1.20 A.M. of the 3d. I have not been out of this building since the morning of the 2d except for a few minutes for eats. I have just finished ironing, rinsing clothes and pressing pants. These have to be done between.
One new thing. I did (and I commend myself for it as I hated to do it) this evening and last night namely arrange a song for 4 hands for Vawter. Last night I made the pencil sketch and tonight and to-day put it down in ink. It was a job, but my determination won and I did it. It is the first 4 hand arrangement I ever made and a good experience; but had I not been forced by contract and promise to do it I would have never written a 4 hand piece. I always wanted to do one, too. And tonight I spent an hour in Wilsons room playing his little pocket organ to his singing of grand opera.
The insurance $94. was paid to-day.
My playing and teaching experiences in schools, the choir; the violin, the arranging co. we started. The dances, the K. of P. doings etc etc etc all could make interesting reading but I
have not time
.
And, A.S.W. ["all seems well"—telegraphic shorthand]
Feb. 6th.
There are many mysterious [omission] in this—much beyond my understanding in that—and puzzles that I cannot solve. Friday morning I started teaching at ten A.M. and continued all day. A once upon a time tiresome job alone. That night I played a dance in Talent going directly from the studio to the hall. I got to bed at 3.30 A.M. At 8.10 A.M. I was up again; an impossible thing only a year ago. Without any discomfort, I gave lessons all day and without a stop continued work by playing a dance at Gold Hill in a cold hall. I got to bed at 2.30 after a lunch. The lunch did not keep me awake, another unprecedented thing. At ten twenty A.M. I was up again. I shaved, dressed, selected music and was at the church at eleven. Now one would think a man would be a dead one after going that way. Instead of that I felt just the opposite—fine. It must be that the playing being a direct change from teaching and physical exercise and getting out riding about the country is all a rest for me for my nerves are steady and I have no headaches or pains worth mentioning. A few fears now and then but very few. My mind is depending on the higher mind more and more. Then which pains, aches, sin, fears, worry etc. etc. errors have been conquered about 90 per cent.
Eating is a sign of one's condition, so I will say that for dinner [I] ate chicken frigazee and ate it all. My, but wasn't that sleep from 3.30 to 6.30 delicious! I was asleep at once, got up at six, played over some music, got to church at 7.30, played the service, ate supper, and then bummed around the K. of P. rooms until now 11.45.
It is all very strange to me. I figure that wrong thinking is the trouble with the world. I can think my self into sickness and death, or I can think myself into hea[l]th and success. The former thoughts are suffering, a condition of mind. The latter thoughts are happiness also a condition of mind. Suggestions will breed error, but dependence upon Divine Mind and Truth will fight these suggestions like the corpuscles in the blood fight desease, without one knowing it if we believe in them. We believe in health subconciously so we must believe in God constantly. Wrong thought destroys health.
Feb. 9th.
Events move too fast to write their history. At the present time I am giving ten lessons a day with new pupils coming in constantly. I am arranging a lot of songs for the Elk's Minstrel Show making six orchestra parts for each. I am a different man and wish I had time to write that a contrast very great might be drawn and causes analysed.
Feb. 15th, 1921
I'll say that up to 2 A.M. Monday morning the 14th, from a beginning ten days back things moved so fast that not a minute was given to relaxation other than sleep which averaged 5 hours out of each 24. To pay for it I had to remain in bed for practically two days losing 12 lessons. The pupils seem to be increasing all the time and besides the teaching, I had the church, two services and two rehearsals, three dances, and 40 orchestra parts to arrange so I guess I was trying to over do it, all right. But I finished it all up, was right on the job and saw it thru. Well, I feel all right—a little weak. An internal bath probably saved my life again. The stuff that can gather in the bowells is almost unbelieveable. Until it is cleaned out this way one does not know of the waste and impurity he is carrying about. Constipation or even a slight inactivity of the bowels is a curse. I took no other treatment—no drugs. 99 percent of the medicines are unnecessary these days with advanced knowledge such as osteopathy, chiropra[c]tic, internal baths and C.S.
Feb. 17th.
Well, last night, for first time in weeks I was free—alone in my home. All thoughts of illness fled and I relaxed for about an hour and a half reading "Wide, Wide World" [the 1850 novel by Susan Warner?] and drowsing feeling fine. At ten thirty I began to do some necessary little jobs with an inspiration which I had not felt for a long time. I kept steadily at work until two A.M. enjoying it being free from any thought of a lack of harmony in my body. Now as near as I can count up this is a list of what I did. Cleared up the accumulation of papers, matches, tobacco ashes, dirt etc. that had gathered on the floor and emptied it in the barrel, cleared off this table of orchestra music I had out during that arranging riot. Cleared off the dresser placing soiled collars away. Selected a tie for next days wearing. Ironed one shirt and two pairs of trowsers. Washed my hair. Shaved. Sewed a pair of socks. Sewed up the backs of my shoes. Cut my toe nails. Bathed my feet. I think that is all. It keep [sic] me moving. Without the little electric stove and iron I could not have done it. I should not do it anyway; but it diverts my mind this kind of work does. I was tired when I went to bed. When I realized I had to get up at 7 I worried some which kept me awake awhile. Next morning I got up at 7.30 exactly. A very cold morning with ice and no fire in the building but clear as could be. Since it was some time ago that the sun held his sway over the moon the beauty of the day overcame any chillyness that was in the air—but it was cold. At first I did not feel inclined to get going but this was only a natural feeling, same as when in good health and I found that I really had the old "go" in me so I went. Breakfast; lesson at eight; car to Jacksonville; 5 lessons at school; return to Medford; dinner; all just like old times again and a beautiful day. Did not feel so good after dinner. Played for Mr. Thomas three to four. Three pupils out because of illness. Two came. Choir rehearsal at 8.10. The "Nat" at 9.40. Played for Mr. Thomas interpolations. The D.O.K.K. ball was on. We mounted the musicians platform in the center of the hall in the bright lights before the crowd—a new place for me and quite a prominent one. Mr. Thomas sang first "On the Road to Mandalay"; encore Dear Old Pal of Mine. Later he sang again. "Gipsy Love Song" from Herberts The Fortune Teller. Encore Perfect Day. After this I came away. Wishing to be alone away from a crowd; but the crowd there will hardly pay expenses. The price was rather high. I dont know but it did not seem anything like the big success it should be.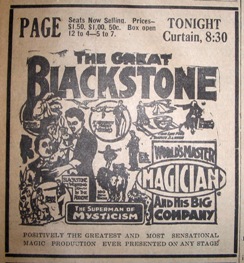 Feb. 27 Saturday
Isn't it strange how things come about though? I just returned from Ashland on the 12.15 bus with Mr. Root and Mr. Fifer. We played at the Vining Theatre for Blackstone. You know I am the only musician who had not at some time played Ashland. I had thought many times about it. I had been in the Vining Theatre once but never expected to play there. Up to a year ago I was always filled with fear about playing. I never felt able; but now why everyone treats me so fine I cant understand myself as I was compared to now. I simply went to Ashland, walked into the theatre, met the manager, attended to locating the orchestra talked with the cast, and as the call, "Overture" went to the photo player piano and without ever before having played in that house started right and played the show. Such a performance as this was impossible a year ago. Nervousness was an unknown thing. I am more disturbed playing a solo than playing a show in fact there is no nervousness at all in theatre work.
The show was better on the Vining Theatre stage than at the Page, and the audience was more appreciative. Blackstone himself seemed to do better. He seemed to enjoy it and appeared more at home.
The company is made up of nine people—a clean bunch. I wonder if I shall not run across some one of them again; perhaps one of the women.
The orchestra was certainly busy this week, playing seven engagements, six nights and a matinee; and I had this afternoon making eight but sent [Mrs.?] Howell to the Vining Theatre in my place. I had to do it owing to the pupils here demanding my attention. The bills for music amounted to about $150.00. Strange to say, I lost money on it all getting out of it six dollars less than the cornet player after attending to the business of it all. This wont happen many more times I'll say. In order to establish the Amphion Orchestra I lost; and in order to establish connections with Bergner of the Ashland Theatre I lost again and lost on Howell. I gave my word that the engagements would be filled. Those things that came up later to my mind could not be allowed to alter my contract or change the considerations. I would have lived up to the bargain even if I had not gotten a cent. As it was I lost about six dollars. In the end I will profit by keeping my word and by filling the engagements. The strangest thing of all, however, is that I am dealing with business people who do things and doing things with them and they all act just fine. I have learned the human side of theatrical people met them under the stage and talked with them about their travels and work. The bareness behind the scenes never any more destroys the portrayal on the stage. The[y] have become seperate. To meet the members of the company personally while they are making up and getting ready is as fine now to me as seeing the performance staged. Years ago all was so different; and only a year ago it was different. It is a great experience to live [to] forty and pass it. I dont have anything to do sexually with women and have not had but I seem to love about every fairly good looking girl or woman I meet while a handsome woman who is a good woman just takes me off my feet. It isnt lust or passion or lewdness just a sympathy or sort of love. They seem to attract me. I seem very susceptible—I realize it is my age and the springtime of the year and my lonesomeness and the perfectly natural innocent of wrong desire for the companionship of the other sex. I could make a fool of myself, and I may, I dont know. I could think a lot of a good woman anyway I know that; and I am always thinking just beyond to a child. When I think of any woman even a moment there is always a child in view asking to come to life, which is all very strange too. I am changed and changing, and with one woman I am always in danger of having an illegitimate child which would be a terrible blow to me. It is the child of marriage that I see—that my instinct wants; mine and no other and thus marriage. I cant see any child thru adoption or adultery that I could call mine—me. It is my child that a man wants; our child—child of a true marriage of love.


Feb. 28
I only wish I had time to pen a real story of the last ten days wherein I figured prominantly in all the scenes that fate staged. The play is over and the crowd has left the theatre and I am alone to-night at peace. There were no great tragedies, other than Bliss Heine being down sick. Many tragedies were feared but not transpired. I had a funny cough like everyone else seems to have all the week with no appetite but was not sick. It seems a long ten days grind with church, lessons, and five dances to look after. Loss of sleep and hair and flesh were a few of my annoyances. Counting the money was a job. And a lot of other details connected with giving dances with which I was not familiar but had to get familiar with suddenly made it appear bigger than it would have been. The Talent dance Feb. 18 was my first to manage then came the Glendale mix up. I managed that affair all through in such a way that we did not lose money as we might have done. The trip up there is long, an all night affair since there is no train down until 6 A.M. I was about half sick. By canceling lessons I lost money on this. Next night we lost on the Central Point Style Show and Dance about 16 dollars—lost it selling only 24 numbers. The next night we each cleared 10.55 after paying all expenses including the loss on Central Point. Witham played Central Point and Jacksonville, and we took him to Eagle Point Saturday. We did well at Eagle Point, taking in $60. but having to pay the rent & light we only cleared $6.60 each. But we fell behind on Witham at least Bliss or someone did by $7.00. Bliss did not make anything by getting sick, that's sure. It was awful getting up Sunday at ten thirty to play in church. Never was it so hard, but I did it and instead of sleeping Sunday afternoon I worked four hours over the dance accounts to send a report to Bliss and a check for 57 dollars. I came out O.K. After church I went to K.P. rooms and slept deliciously in a chair before the stove until 2 A.M. then came here, and got up at 8 and went to Phoenix school.

March 6th 3.15 A.M.
I have just returned from Grant's Pass. We made another trip to that town giving our third dance leaving Medford last night about 6.15 by auto. Charley had charge of it. Witham and Leonard went. Bliss is still sick. Pickle took us down and back. I enjoyed the trip. The first dance given over two months ago netted each 00; the second dance gave us about 1.30 each. Out of this dance we each cleared $7.00. We earned it as we worked steady from 8.40 to 12. I am not tired in fact this dance work is a rest to me when there is a trip by auto. A year ago I could not do it I had to learn something by hard work. A hundred times I might have given up. Before going to Grants Pass I gave ten lessons here and I am expected to be up and playing in church at eleven oclock.
I would like to write about the peculiar colds people have now. Everyone has a cold and a p[h]legmy cough. Lots of people are down sick. It is strange. No one calls it "flu," therefore the fear being eliminated few cases are fatal. I have heard of none. But it is all very strange. Something is wrong. Hardly a person is free from a cold.
Well there are many things going on—my hair is still coming out; I am not getting stouter by any means. I have heard not a word in months from Mt.V. I am buying Liberty Bonds 4½ at 88; I have saved up between four and five thousand dollars; I am ashamed to say how long it is since I have taken a bath; this room is in disorder almost indescribable; the spring seems here but the sun has not come out to stay for it still rains in a mild, gentle warm way every other day or so; X is coming back to Medford next week; I dont know about it. I am still teaching piano in the schools without which work would not be earning much. 18 pupils in the schools is quite a lot.
Well, again there is lots of write about but I cant stay up all night.

March 9th.
Yea this is the spring of another year
And I laugh at it all for it doth appear
That life is a joke after all that it seems
And living a round of continuous dreams.
Impregnated with caffene and smoke
Dead to the beauty of truth, 'Tis a joke
This tossing of humans twix heaven an[d] hell
And what of the morrow one never can tell.
Oh it is funny this thing we call life
And it would be funnier still with a wife
For then it would be real unquestioned strife
So thanks be to Heaven I'm a bachelor.
Problems arise daily now for me to answer. I am in the thick of the fight. Oftimes I think of retiring from the fray, but I am no coward hence cannot if I want to leave it all. To die fighting is best. My enemies are crowding me. And what are those enemies? I have few but they are strong. One is damned foolishness that has been in me since I was born, result of lack of spiritual will power to look out for myself physically. Tobacco and coffee are my enemies and have been for years. My enemies are the little things which I cant rise above and my greatest enemy is Myself composed of the five senses and a few more. Hell, with it all.

March 10
Yesterday I bought two Liberty Bonds at 86. This makes $750. recently placed in Liberty Bonds.
To-day I was offered an investment yielding 7 percent on $1700. Strange it should be on that corner store in Jacksonville. Jack Reter cleaned up $10,000 there in four years. I did not have the cash.
Wilson went off and started a concert for Talent the 18th and placed me on the bills which he got printed without getting my positive consent. I told him point blank I would not have anything to do with it being tied down to a dance the 17th and 19th. Surely I cannot play any piano solos, on that night. I have not the strength to work that way—all day Thursday lessons with dance at night getting in at three oclock. Friday up at ten, lessons all day then play a concert knocking me out further for a long day Saturday with playing a dance up to 3 A.M. Sunday. Then, up for church. Darn it! I cant do it that's all. It is not in my line just now. Wilson is a capable man if he could use his wide knowledge on some direct line and stick, but he wont. He is crazy on giving concerts as that is what he has been doing for years, gambling on cashing in on a lot of easy money. But he can't sing at all. He is hopeless. I sent him to Talent to take the school music. They want him but no he had to adhere to his craze and spring this concert thinking I would follow in giving up every thing else. Hell and damnation!

March 14th 1921
Well, I presume things are moving in their predestined, regular order, just about as arranged so why worry since one can not alter the order of events. What's the use? Man is a slave to fate and walks the path prepared for him tho blind to his next step. Apparantly he cuts his own trail, but no he does not. Conditions, circumstances and people outside of himself lead him on. He removes the obstacles by the sweat of his brow; or climbs tediously over them, or stands still. Man is a slave to influences outside himself.
If I go to Phoenix, give 6 lessons, play for Wilson, return and give 5 lessons, and play for M[r]. Isaacs, going all day and on into the night, it is because I am led on by other minds to work myself to death. But this didn't hurt me. I had quite some rest yesterday (Sunday) and last night. I am not even tired a little bit. Worry and coffee knock me out. I have not to time to worry and have quit coffee, giving all my energy to smoking now. I do not find time to sin otherwise which I deplore for a fact. I dont think sin even. I see more love, kindness, and friendship than sin by far in this world. Fate has so led me. What sinful thought had I to-day? None at all.
Small Pox is not a desease in reality. It is a condition of mortal mind wherein fear has brought about a condition that exists only in mortal mind and nowhere else. Sickness can be explained in no other way since doctors can't explain it. No one knows what the flu is because it is not anything that can be known materially. It is error and fear in people. A case of small-pox developed in the Talent school this morning so I can sleep until noon to-morrow as the school will be closed. Every year that school is closed for some thing—measles, scarlet fever etc. Now it is small-pox because the doctors will it by implanting into receptive minds the desease. Its symptoms are published and how to treat it and all about vaccination etc. until by education someone becomes a victim to all this knowledge that is thus spread about. A child may get small-pox thru his own fear or from the fear of others. An innocent child does not in him self get the desease conciously but subconciously through others. A child catches not the material desease by the thoughts and fears and from others succumbs to the influence. We should never think sickness. One['s] thoughts pass to others and we give it to them.

March 16
With only two lessons given out of twelve and bumming around all day "resting," I prefer working to that. But I presume this rest and stopping coffee have aided in curing the rotten cold I have had—the rottenest dirtyest cold that mortal mind ever conceived—different from every other cold ever imposed upon me. Well, it has mostly gone leaving some catarrh. But if I should speak of all the petty ills that have beset me the last year it would be time wasted. Eyes, hair, colds, pain in my right abdomen, testicle trouble, left leg bothering me, catarrh, but no sores of any kind. No teeth trouble, ear, stomach, etc etc; free from the thousand real ills to endure just a few petty transitory aches and natural bodily changes. I am not however thinking of them but once in awhile as every day my hair gets thinner and thinner a feeling of utter discouragement strikes me and for a moment I do not want to live without hair on my head. Then I laugh it off and more hair off with it. Age—that is it—age; and nothing can prevent from falling grimly upon us. Who would want to prevent it, anyway. It is the years that open new vistas of thought, new visions, and new scenes where the mind is ever young but so wonderful in thot development where there is joy in everything through mature understanding. Truth is nearer.


—————

Visions of untold wealth
Have blinded the eyes of many a man
Dreams of luxurious living have driven
Thrift and economical methods
That pertain to life from his thought.
He becomes a fool and drinks
Of wine, woman and song
All extravagance as long as his cash lasts
When he awakes from the stupor of
His intoxication
He sheds many tears of sadness
For in the reality of wakefulness
There is now much sorrow.
Verily life is not wine, woman, and song
And the glitter of material things
Life is not the tinsel or the hour of play
It is serious business, it is work
Life is eternal vigilance
He who leans upon the current perishes in the rapids

March 30th.
My teaching work is first not the dance work. To keep the dance work up indefinitely—the thought of it makes the future look hopeless. I could not do it. If I took over the piano, the leases, and Bliss's share it would tie me up for a year to a thing I dont want. I must feel free to get out any time and not bound to continue in it. Life is worthless to me if tied down to such a business. Not that I am against dancing but this is not dancing, hugging a girl close and moving about to music. Why music. Why don't they go out and—get it, whatever they want. It should not be allowed and in my opinion the halls in Eagle Point and Jacksonville will be closed down soon. Heine hasn't lost anything, nor I, nor any one so far, as it has been, but if I take over the thing I stand a chance of losing about $100. if not more. This matter bothered me more than I can tell. It seemed to absorb my attention to such an extent I forgot my pupils. My teaching has suffered some already. So this morning I simply had to cast it off and tell the boys I couldn't put up the money giving the one real chief reason which is that owing to the probability of my having to go East soon I could not assume anything that would tie up any money here because I might not return. After all this is the biggest reason of all. Were I fixed here and family matters settled up I would not care what I did here as far as reputation is concerned in these playing for dances. Tho I rather not be in it, still, some one must play so there you are.

March 31
Yes, things are changing especially the appearance of the top of my head. My hair is coming out more now than ever. It began a year ago to-day to come out and has kept on coming out. The worry I have suffered about it is beyond words to tell. I have felt like going off and hiding away from the world rather than be bald headed. Last night it seemed as though it were all coming out. Nothing has done any good toward stopping it. Washing makes it worse so does vaselene. Hair tonics have no good effect and if I leave it alone it comes out just the same. It is hell!
The friction in the Majestic Orchestra is really fierce. That damned fool of a kid [Leonard Lindas] is the cause of it chiefly. Charley has caused some friction but not in any unjust way. I can find no fault with him to amount to much, but the kid is the limit. Back of him is his mother. On the program to-night at the Jacksonville school where the pupils gave a play was this: "Music by the Majestic Orchestra, Bliss Heine director." This fairly caused a riot as far as the kid was concerned. He couldn't stand it at all and said, "Something will have to be done now. My mother is disgusted with Bliss. I'll have to get out." The boy is bothered with the "swell head." I have tried to pacify all but shall probably fail.

April 1
Nature may have fooled us by land[ing] a swell chunk of weather right here with six weeks of possible frost ahead. Why this day was like midsummer! Such weather makes the blossoms pop out only to freeze later the fruit that is forming on the pear and peach trees. So nature may have played an April Fool joke upon this valley. The country look[s] beautiful surely. After all I have gone thru this year without succumbing it was a joy to get out on my wheel, go down to see the creek and have a fine appetite for dinner—to realize that, after it all, after all the teaching and playing, I am not dead, nor yet blind. Some how that watering of the eyes which I had for over a year has gone. I wish I could understand why it left me. I went thru a long stage of it—a peculiar eye trouble. A twitching and watering which was embarrassing as I seemed to be weeping all the time. Tonight my eyes are clear of water and strong. It came from something else. Perhaps the stomach. What strange thoughts we have. But now that I am also free from any bad taste in my mouth, tho smoking as usual, I am sure eating every night late before going to bed was the cause of that eye trouble which came from the stomach or liver. I am also sure that the cause of my hair coming out so i[s] lack of sunshine. People in offices all day away from the sunlight are the ones who become bald. I am sure of this. The hair need sunlight any growing thing to kill the parasites that breed in dark places. Ever since I left [room] 401 where there was sunlight all day, my hair has been coming out.

April 2d-3d 1921
It is now just one year since I began playing dances and getting in early in the morning. I began at Beagle and played from nine til four A.M. for seven dollars. I recollect how weak I was then how hard work it was—how it tried my hands, eyes, and mind. I could not play the music then. After two dances I vowed I would give it up but pupils were not so many then and my rent hard jumped to double what I paid in 401-402. And again I wanted to get out and see things—to study the dance business. Oh but it was hard and the mornings were cold. It was a dreary task, but I stuck.
My hair began coming out then and has continued. I have learned a lot. After playing many dances all is different from what it then was. X X X

April 4th.
Right in the midst of this again there came the reversion to my old self the thing I constantly dread, those old things I can't shake off. Sunday I got up at eleven, and reached the church at 11.17. My watch was 5 min. fast. This was the first time I was ever late there. And upon this instead of getting up this morning at 7.00 I said the deuce with it and remained in bed until two oclock asleep when I should have been in Phoenix. The staying in bed caused a return of eye watering, caused more hair to come out of my head and skipped a regular movement of the bowels so here I am back to my old self and disgusted generally. I may have needed the rest at that, I dont know. I felt fine yesterday. Besides the ailments stated above catarrh has returned. This sleep business can be over done it seems. Everything that the body needs to maintain it can be overdone which is queer. Food and sleep are necessary for life yet they can destroy life. This is the limit. Mind must regulate the amount of food and sleep. A man must be quite intelligent I'll say to get by in this world. Yet with me tobacco and coffee continually interfere with my intelligence. Thought[s] are not normal but stimulated or deadened by after effects, so until I am free from those two things I am incapable of a right opinion or conclusion about anything, therefore it is not for me to say that food and sleep actually destroy. Nature says they are builders of the body. Builders of body may act against Mind, however, without minds.

April 9-10
This is Sunday morning April 10th—4.35 A.M. I just returned from the Rex Cafe with a cup of the rottenest coffee, and a piece of apple pie, in my stomach, to give me awful dreams if I ever get to sleep; but I feel fine. I wouldn't be writing this otherwise. I have been resting—my way—which seems to be playing dance music for five or six hours. Really it is restful for me. I do not feel tired, one bit; not as tired as when I started last night from here at eight oclock. I had already given lessons most of Friday, had played a dance in Jacksonville, had given eleven lessons yesterday upon about three and a half hours sleep (in my clothes). It would appear that when Saturday night came enough work had been done, surely; but while teaching is work, dances are play. At any rate, the $19 received from the Eagle Point Dance last night and the $11. from Jville the night before was more easily earned than the same amount from teaching could have been, hours considered. Witham is playing with us now all dances. He took over Heine's interest. I took the piano at $150.00. They are each to pay a fourth at $5.00 a week to me until paid. When I am paid 112.50 the piano belongs to the "4." The instrument is worth about $90. By my putting up this money we were able to negotiate the deal. Heine is now out. The Majestic "4" Orchestra is no[w] Witham, Charley, Leonard Lindas and Haight, and it is a fine dance orchestra. Witham is the best ever. He draws the crowds. It is easy to play with him. His time and tone are perfect time. The violin is a part of him and becomes so closely associated with his whole make up when he plays that he and the "fiddle" are one. Now that I fixed it so he will stay here and play I gave up the church at once. My being late last Sunday had a lot to do with my discharging myself. I did not resign—I simply kicked myself out; but it was necessary to act owing to the dances always coming on Friday and Saturday nights. And pupils! My! Three came in Saturday. There are between 70 and 80, and it is quite a job. Time to play or compose I have not a bit. That is another reason for giving up the church work—I had no time to work up new solos. There were several reasons for giving it up beside these dances.
(I quit right here and went to bed. I was asleep in a few minutes and awoke at two oclock; but did not get up until 7 P.M.)

Sunday April 10th
I "rested," for the first Sunday since last fall. Mrs. McCorkle (Genevieve Wortman) will take my place at the Babtiste Church.

April 22d Friday
I guess Friday is an unlucky day. All that happened I dont know but at least four pupils failed to come for no reason known to me. Especially X. She did not come nor did she let me know she would not come. For a man of my [age] to feel such disappointment and in a love affair is ridiculous, but somehow there is no woman in the world like X. I am crazy. It is a long [time] since I have loved this way with a longing for one. In fact never have I felt before like life would be useless to live without her. Never have I felt that death would be preferable. Here is where I am crazy. She brings a vast empty lonesomeness over my whole being when I realize she will never be anything to me but a friend, and the feeling this day that I have destroyed the friendship was terrible mental pain. Perhaps I have not broken this up, but if so it is best for I must have her or nothing of her. I must forget her. She is exercising a powerful influence over me, more powerful than, as I say, I have ever known. It is as strange as it is ridiculous. It is mysterious or else I am nutty, not at home in my dome.
Then the weather was rotten and I was not feeling just right. And there was another fight at one of our dances, this time in Jacksonville. Booze was the cause. A guy was knocked out through heart trouble and taken to the jail. McMahon the deputy hit him. It took an hour to bring him back to life. Someone got in wrong and there is a case for the court. I must get out of this dance work. Life is too short to waste it thus. The world seems crazy. It is sad indeed. Life is tragedy camouflaged. Everywhere it is so. One may pass along a lovely lane in the beauty of a May day and hear the wonderful song of a bird and stopping to listen is but to look down at his feet and see the stilled form of the same species, dead. Life and death ever side by side going on hand in hand. And the hand plays over the shroud and the cradle, but always the hand plays until the end.

Sunday A.M. [April 24, 1921]
The morn is breaking. (next evening of the same day) I fell asleep in my chair my pipe falling out of my mouth to the floor waking me. "This morn is breaking" was as far as I got. Right there is the secret of my endurance under the strain of this dance work—I go to sleep at once and sleep. This sleep rests me naturally and I recuperate and do not even have a bad taste in my mouth when I get up. Otherwise I would have a restless sleep which is a sickness. The body gets full of desease germs which the blood tries to th[r]ow off, but this dance playing seems to be simply a healt[h]ful exercise. The system functions more normally. The getting out—the ride in the car, the change the fresh air the meeting people and the exercise of playing create hunger and sleep is natures call to rest—just as simple as a childs life, all play and sleep.
Friday morning I was up at 9.15. I gave lessons all day and played a dance in Jville that night getting in at three thirty and asleep at about 4.30. Saturday morning I was up early at 7.30. I gave lessons the entire day—12 lessons (sold a value for $10. took on two new pupils; bought two liberty bonds) and played at Eagle Point from nine to 3.30 A.M. I cleared $60. in this one day figuring the value of the bonds plus a years interest. The bonds are surely worth that to me. This is the way I figure my income for Saturday April 23d, which is the most I ever made in one day. Lessons 12; dance 10.50; interest .50; value $10; $25 & 8 on bonds = a total of $66. For the week my income was $120. Well, I got in from Eagle Point about 5 A.M. One would think after all this work that I would be tired out and sick. No, I wasnt tired or sick, but felt fine. Not the least ache or pain in my hand or anywhere. My hands and fingers are steel filled with wonderful power. But this I know is all a state of mind yet the going right to sleep was a wonderful thing. I awoke at three in the afternoon the intervening hours seemed a minute. This is a great thing indeed. I tried, but I could not make myself feel sick or tired in any way, so I got out and rode my wheel six miles before "breakfast." What [I] have just written is all very remarkable. A year ago I could never have done it; in fact I know of no period in my life when I could have done it or anywhere near it. It is a state of mind, of which I must write fully that the world may be helped by my experiences. This poor sick world is all wrong from the false beliefs in it. The worlds mentality is mans and filled with error. God, Mind, Spirit all is right as it always was and will be. The material mental mortal mind antagonistic to spirit is the cause of trouble. Until man in his mentality works in harmony with God's spirituality the world must remain a world of war, sickness, sorrow, function and hell.
And so I look forward to another week busier than last thankful that I passed thru one trusting it will be my lot to safely weather the next. If prosperity gives unto us strength then such is my affliction; but of myself there is no strength for God is all prosperity. Prosperity is an enduring thing and is of righteousness endowed—luck is but a fleeting smile of fortune. Oh give me the enduring strength, and the Mind force, to work with clean hands with the everlasting power that is of the spirit.
Precedent has been knocked into a cocked hat. Mind can do that. The error of the past will not make truth out of the present. Because a thing was according to man's ideas can never prove to Mind that it is. The false is always false as long as man believes in it. Ceasing to believe in lies brings truth automatically to the front. Truth is the foundation of all and cannot be destroyed. It will destroy falsely as man employs it for that purpose directly and in the end absolutely of its own accord naturally; no matter how man may apparently disregard truth he will yield to it in the end even if it requires death to bring about the inevitable result.
Throw aside any error and you can prevent truth from taking its place. You are bound hand and foot every minute by truth in a thousand sub concious ways. Error is truths irritation. The irritation is truth not error.

April the 27th.
WHAT A RELIEF! We—the Majestic "4"—were going to Glendale to-night, seventy-five miles north by auto to play for a dance and probably to lose money; but we are not going. Charley phoned saying he just received a telegram from Jim Clarke stating that the town was quaranteened because of the "flu." (Which bids me say here that there is considerable pneumonia around.) Well, this job—thinking of it gave me the jim-jams since there are three other dance jobs this very week on Thurs. Fri. and Sat. Not being able to figure where much sleep could be worked in I was trying to steel myself for the ordeal sort of gathering the courage of my reserve forces into battle to meet the test. I have met many such and repulsed the enemy—fear; but there is yet much fear in me that sneaks upon me when I am not looking. And there are many enemies yet.

April 28th.
Now, if I had gone to Glendale last night and played I would have been exercising, would have had an appetite, and would have relished the little sleep which I might have gotten in by going right to sleep; instead I lay awake all night—an awful night of restlessness and dreams when I did sleep an hour toward morning. While awake concious dreams tormented me. A night of mental torture which I never would have suffered had I been out playing. Nor have I been well all day. Mentally sick more than physically ill. With me it is all mental, often agony beyond description, my sub-concious mind is off the handle.




April 29th
This was the strangest day of my life. I must not speak of illness as there is no such thing, but my mental condition was just on the edge of going off all day. No one knows the will I use to prevent a breakdown. Playing a dance in Jville at night saved me as it got my mind right again. Playing from nine to 1.45 was easy—not the slightest trouble yet I suffered from imaginary illness all day and went thru death itself a few times. These times lasted only a second—a flash of realization. I started two new pupils. But the thing was X. She came in to-day. Now I cant explain this mystery but she is to me all that a woman could be. The strain of self control in her presence is exhausting to me. She affects me hours after she leaves. She gets in my blood and stays there in my heart and soul—she is all thru me, a strange influence. It is silly too.

May 4th 1921
To-day I looked down from my window to the street lined with people who were watching the circus parade pass and saw X on the corner, wearing her red hat. I saw little of the parade. X interested me more. It is impossible to see beyond her a thing that is worth anything for she is all there is. And here am I almost an old man tho feeling young as a boy, knowing she is outside of my hopes, yet thinking the world of her.
Yes this was circus day—Barnes Animal Show. Crowds of people were in town but it all made me blue looking back a few years when D. went to this same circus—the first circus she went to. After all it is the enjoyment of the children that pleases the grown ups; but I was alone and sick. I excused all who asked me, therefore, gave only one lesson the entire day.
But a new stunt was staged to-day. I played at a resturant, the Rex Cafe, with Charley and Witham. Not in years has any resturant here had music. The thought of cheapening myself playing at such a place cast a gloom over me all day and up to 4.45—I was due there at 5—I hesitated about wading in and in fact had decided not to play, but they called me up and I reluctantly went down and played for three hours. It was not so bad. Perhaps it will be all right. The saxaphone player was drunk—so drunk he could not keep in time. Here is the curse of disaster coming upon the orchestra. I feel sorry for him. He is mixed in with a bootlegging bunch. I wont stand for it.
I got thru that job without saying anything a[t] the moment and at night from nine to 12.15 played for the Woodmen with Heine—six hours playing in one day. Fortunately it came on a day when I did not have the usual bunch of lessons. I am very lucky that way. All my life I have been guided provided I worked hard at the opportunity offered. This day was a case at hand, yet I was sick—lots of lessons, depression caused by seeing the kids out [at the parade], loneliness from seeing X and then the worry over this playing at a resturant—all tended to pull me down mentally. The resturant job however, turned out, as I said, to be not a cheap job by any means.

Friday May 6th.
was one of the few wonderful days that come to a man when through the mysterious laws of his being he by utterance makes a fool of himself to a woman. X was in which is enough said. The inspiration of the stimulant helped me through a day of teaching, a night of playing, and after 2½ hours sleep, anther day of teaching, more playing from 5 to 8 at the Rex, then more playing at a dance at Eagle Point from 9.30 to 2.30 A.M. A woman can do all that. Sunday I over slept so could not play at the Rex. We played Sunday evening from 5 till 8. Monday was a blue day after all this going. Even my hair started coming out again after a week's let up. I slept until noon instead of going to Phoenix. But I could not have gone there. The recent loss of a former pupil who passed away in the East and whose body was brought back was too much for me. I was a coward not attend the military funeral. Roland Carless.




May 10th
was rather full—eleven lessons—nine at Talent school and two here. Things are in a very disorde[re]d shape especially this room. One million papers have accumulated on me. Not since the fire of Jan. 1st have I had time to sort out the papers. Things may let up now a little—yet note this list of dances next week: 18th Woodmen; 19th Glendale; 20th Jacksonville; 21 Eagle Point. There are still many pupils. Next Tuesday will be my last at Talent. Then Eagle Point begins so I have no rest. It is impossible to keep up with it all.



Friday May 13th
This is the only day on the calander of 1921 where Friday & 13 come as one—and it was a day to remember. Lucky or unlucky I cant say but it seems lucky to me. Charley the sax player was put in the coup [coop] this morning. We played to-night at Jacksonville without him. Roberts took Leonards' place for the first time, and the three of us, with the bells now added to the drum section and Withams singing, got by fine.
Charley is in the pen on forgery charge for being drunk and on suspicion of being mixed up in a bootlegging job. Last night he got nabbed with a fast bunch and while drunk he wrote out three checks for ten dollars each. Owing to the fact that I would not put up bail for $250.00 and owing to the fact that his folks could not raise it he is in jail to-night in Jacksonville. There are several charges against him which will come out at the hearing in the morning. I have noticed several times during the last two month[s] when he has been about half stewed. I spoke to him about it once. And I suspicioned him of being in with a bootlegging crowd and spoke to Witham about it. Witham was of the same opinion. The poor fellow has lost all sense of morality. He is sick and not responsible. He cannot tell the truth or be honest because of that booze desire. The appetite for drink is above every other thought. He is contaminated with error. The result is we find a lot of little bills to pay which he failed to attend to. I refuse to be in the orchestra longer if he ever gets out of jail and wants to resume his place. I am sorry for him, not angry. Charley is unfortunate, that's all—very unfortunate. I will do anything I can to save him from two years in the pen but I must draw the line in regard to this orchestra business. He is out or I am out. From this decision there is no appeal.



May 14 Saturday.
I'll say life is amusing. Such doings as doth do! I laugh. 'Tis as a continuous joke. And Friday the 13th! Whew! I was not looking for it therefore fear did not suggest the bad luck; but I am out $20.00 and to-night the momentum seemed to fall upon Buncom, so that I lost $3.50 more.
I got in from the Jacksonville dance at 3.30, in bed at 3.50, asleep by 4.20, up at 7.30. I slept in my clothes with my collar on even. Imagine how an ordinary mortal would feel starting out a day's teaching on three hours sleep following a day of lessons and a dance! I am an extraordinary mortal. With a day of lessons and a long dance a head I began the lessons. The lessons were out, which was bad good luck or good bad luck.
Charley was still in jail this morning. Witham came up to see me. He said $20.00 would take up two bad checks Charley had written out and given Brown and Geides and save him from a two year sentence in the pen. It puzzled me why Charley's friends did not put up the twenty and I spoke to Witham about it. And Brown and Geides why should not they help a man out by not prosecuting him for a measely little money. And why did not Charleys folks put up the twenty. I told Witham I would put it up to save Charley but would rather his folks or "friends" put it up. Well Witham went back and told McMahon the deputy who made the arrest. In a short time McMahon came up and explained the matter to me saying that twenty dollars would clear Charley as Geides and Brown would drop the matter if they got their money. Well I dug up the twenty and gave it to the deputy. Later I learned the result which was that the forgery matter was dropped and kept entirely quiet. Charley was fined ten dollars for being drunk he pleading guilty and before noon he was free. What I wanted to say only is that I am out twenty dollars and whether it is good luck or bad luck to be privileged to help a fellow I don't know. Well things kept moving all day—visitors, a new pupil, etc and at 5.15 I was at the Rex Cafe. Roberts, Witham and I played there until seven, Roberts played his marimba fine too. From the Rex we three went to Buncom and waited at the hall for the crowd that never came at all at all. We called it off at twelve oclock and took in no money. The owner of the Hall Mr. Heckman and the man who put in the piano stand out as white men forever—they did not charge us a cent as we made nothing. We were back here at two oclock. Can you imagine me now? The ride was a rest. I really enjoyed the whole trip and the whole thing. Do I need sleep? Maybe. Well, I'll tell you the last one piece of bad luck on this cursed Friday that was the worst then I am thru. It was this. X did not come in or let me know why. Not to have seen her was the reall bad luck. Outside of these things I am feeling fine. No, I am not blue at all.



May 17th
If some one took me out and horsewhipped me thoroughly it would be no more than what I deserve and it would do me good—bring me to my senses. In the face of God I have disgraced myself. I have desregarded his councils and deliberately sunk myself into a mire of rot. It is wrong thought that has mastered me and holds me in its power against the wisdom of God and the teachings of Jesus Christ. This is hell I am in or insanity. And what is insanity but hell an overbearing power of wrong thought, of error. My thoughts are wrong and disgraceful, bordering on lust, procrastination, sensuality and fear right in the face of a knowledge of right that has been given.
To-day I finished up the year at Talent School giving credit certificates to four pupils. There were no lessons here because I excused the only one that came because of illness brought on by my own foolishness. Hell is here I'll say. Hell is mental agony not physical pain.



May 18th.
An amazing number of things came up in a day to handle. I dont wonder my head swims. Charley came up to-day—the first time I had seen him since the fracus he got into last week. I am sorry indeed for him. I would help any way I could but not to the extent of injuring my profession.
I experienced opposite emotions when X called up with "Good morning." I recognized her voice—the sweetest in the world.
Then XX called which added to the wonders of this day.
And there were talks with pupils and a dance at night.
And Mr. Earsley called. I went to supper with him. I was glad to see him.
And Wilson got at me again for being mean with my money—tight he calls it—because I dont advance a thousand dollars to get out his songs.
A line of tremendous thought radiates from these personalities who I meet to-day. Witham was up twice. He is a study. Emotions, vis[i]ons, beauty, friendship, love, sorrow, recollections and future things planned all made in the thought composite a book a period of years back and forward aroused by persons from X to Bliss Heine and Leonard Lindas. It is all very funny and after all interesting. Of all personalities X stands out supreme. In her I see all that is good and beautiful in this world. She is the breath of flowers, the green shades of the trees and the sparkling streams. The stars are brightened by her and heaven is nearer. Visions of all the love that exists I see in her. God pity me and forgive me.



May 19th
The end of the teaching season finds me as usual drifting where tides meet waiting for the turn of the currents into the summer season when I will know where I am at. At present I do not know where I am at. About twenty five pupils stopped this week and with the dance business and the confused state of the orchestra I really am at sea with some of the depression that always hangs around at this period. I am mixed up in so many things that I have few of those moments for reflection that are so precious, where with me music gathers form and starts growing willing to burst out into the fair bloom of expression. It is not for me to be thus blessed but rather to be connected with the cheap side of music and the wrong thought that is the sensual rather than God's spiritual realm. Man degrades music as he degrades everything when he lowers it to material beliefs. Spiritual understanding is what man lacks, yet it is here if he would but seek it instead of going out of his way to avoid it. Man is the murderer of his own soul when he heeds not the councils of the Almighty God, the infinite Mind who created all and is all good. In Him there is no evil thing, and in evil man cannot find Him. But in all good, there God is ever abiding. Man can abide there if he will and roam through the eternity of peace and love which is the sphere of God. Good is as big as the heavens; evil is small lurking in the dark corners. Evil is not of the mountains, the sky, or the stars firm in their enduring strength; but is small and hidden in darkness awaiting destruction with fear. The stars are proud in the strength; evil steals away from their company.
In God alone is the armor of truth to fight evil in the hidden places. He bids you put on the armor and fight evil unto destruction—that He may be in al places where He is not, that out of darkness may come light.

May 19th.
I slept until noon neglecting my Jacksonville lessons and got in five lessons in the afternoon in two hours starting out on a job at Glendale on which I lost money. I had to sleep knowing I would be out all night. I took the job for the orchestra and after all the trip was the most wonderful I ever experienced in this country excepting perhaps Crater Lake. We left here at 5.15 and reached Glendale at 8.30 through most wonderful scenery and finest roads, either paved, macadem, or graded. The state has done wonderful work. It opened my eyes to the state I am living in. The scenery is wonderful at this time of the year especially when the dog woods glistened at evening in the dark forest or shine against the brilliant green of the hills. Rivers, mountains, hills, meadows, forests, canons, made a wonderful panorama like going through a great park all the way. A wonderful trip and without accident of any kind. Pickle drove the car an Oakland Six. We played until two A.M. and got back here about six oclock. I was up, just barely up, when X came for her lesson. I was ashamed to see her and apologized for my condition as I only had a few hours sleep. I wont speak here of her except that to me she is the most wonderful girl in the world. There is a mysterious something about her that goes thru me when she looks right at me. It is more than a thrill, it is a strange magnetism. She seems to know that she starts the current too. But I am beyond her in years and must, as I do, check up on myself.
Eight lessons and a dance in Jville. Charley played both Glendale and Jville. He asked me for another chance. He acts as though he appreciates my giving it to him. It was up to me. I could not give him a kick when down. He may keep his promise to keep away from the booze and bootleggers. Such fellows are often too smart for the one who helps them up. MacMahon the deputy who saved him from 2 years in jail assisted by my $20. said to me to-night that he sort of believed Charley would double cross him. Mac said he would not let him off next time but would send him over. Well perhaps it will go that way.

May 21.
I did one of the queerest, it seemed to me, things of my life—I paid to John Orth Banker a check for $60.00 for six months lease on his old hall in Jacksonville from next August to following Feb. 1922. Some look ahead.

May 26
I'll say there is some class to the town this week if things doing can give class.
Foly and Burk Carnival started Tuesday and runs all the week; A. Jolson was here Tuesday night; a Chatauqua began to-day and runs six days; Dr. Bulgin is still raising a row with the Christian Scientists and the sherriff; the High School gives five nights of events of various kinds; and besides there are dances Wed. Friday and Saturday—a whole string of them on Saturday. As for me, I am playing at the Rex twice and thrice a day; and am booked at two dances Friday and Saturday nights. With all this going on teaching is out of the question until the riot ceases. To add to the doings I bought a new suit a hat, etc—total cost about $70, and got fresh with X. I feel that someone ought to whip me for blowing in that money and acting like a dammed fool. Besides all this I have not been successful in making myself feel any too well.

May 27th.
A jazzy day—four lessons—played at the Rex twice and at Talent at night. The dance was a failure. 43 numbers sold. The ladies of Talent put on the lunch and made out fairly well. Our expenses were heavy. We have not been making much out of the dance business of late for some reason; but we are game—we wont give up the ship. It may wreck me.

Saturday May 28
After about ten months was a week end without the rush of lessons that usually gather up to be gone thru that day of the week; so there were only four lessons. I played twice at the Rex—at noon and from 5.30 to 7.30, then a dance at Eagle Point. The night was sure wet. Rain fell all over the valley, a soaking cold, wet, rain. We had lots of fun going out, playing, and returning. None of us seems to know fatigue, the bunch seems to get along so well. One doesnt ever tire another. Some people actually exhaust you in conversation or just by their presence—others rest you or stimulate you just right. In this bunch, each seems to possess enough sense not to drag upon another. The result is the playing is a rest. One is less tired after the six hours playing than before.
I do not read newspapers, or go to picture shows or other shows, or attend the revival meetings, chatauqua, or church—that is I have not been doing those things; and I imagine I am better off, and it is better not to crowd the mind. Books make such an impression on me that I seldom read them. My own compositions take precedence over those of Beethoven or McDowell. Maybe I am getting far behind the times; yet had I been chasing women, I never would have gotten thru the year. One has to rest upon some things to do the things at hand. The teaching and dance playing were immediately at hand this last year. I did them; and I did the church work for seven months straight. I have much to do now ahead—oceans of agreeable and disagreeable work. I shall have no time at least to read the paper—other things I may indulge in, but reading newspapers like the Oregonian is a waste of time.

May 30th
Things are funny. Now this Decoration Day I did strange things—different things. Things out of the ordinary. I crawled out of myself and mixed with the common herd and forgot every care and every piano pupil. First I played for Walker at the Page. This was the first time I had been in the Page in six months since the new organ was put in. I played the piano at the organ the lower keyboard. From there I played with Witham at the Rex. Then it was Wilson. I wrote his song out. Then more playing at the Rex. Then the open night at the K. of P. At the last moment we got a program up. Mrs. Newbury, Wilson, White and Witham. Witham made the hit tho Wilson was close with his readings. Wilson sang the new song. Then we played it for dancing which tickled him. I'll say so. Witham played some of the dance music. Refreshments were served.

June 1
And now June hath come forthwith the forty fourth time. Funny isn't it. Yea it be tragic this journey from the zenith on, on to what. And yet to-morrow I am supposed according to my own plans to ride out to Eagle Point and give lessons there as I used to do five years ago. How time flies! The children of that time are now grown almost to womanhood. But I will never get out there to Eagle Point. It is now midnight. How in thunder can I pull such a stunt. I should start the night before which is an idea. Why not do it. Stay at the Sunnyside [Hotel, Eagle Point]. Well—and there is the Rex. That job is a corker at 15 per. I've been losing money right along darn it; and now I am smoking cigarettes at 25 cts a box, sporting around in a new suit, and Stetson and in love besides. Can you beat it? Acting like a millionaire under thirty five, buying more liberty bonds feeling fine, so fine I am ashamed of myself; loving everybody, willing to do anyone a good turn. Isnt that ridiculous. I must be crazy. X was in to-day and I am crazy I know it. After each of the last three times she has been in for hours, I am possessed of a determination to migrate afar, give up all here, to get away from her. She torments me. Her eyes play the mischief with me; but it is her mind—no it is everything about her—everything. Her entire self and what she wears materiel and spiritual mental mind and body—I worship all that is her, hers or of her. So there it is. Crazy? I should say. She is worth going mad about to me. But everything seems so changed now I dont understand it. I am never depressed any more, never have blue spells. I can only say, from which conclusions may be drawn ad libitum that I am constantly playing the light music rather than serious music. That I am alway[s] thinking C.S. I believe God is love; mind is immortal; and that good is in everything; that the natural state is health and happiness.
There is something in this world that should not be here. Error is as good a name as any.

Friday June 3d
Seven lessons; played twice at the Rex; played for the graduation exercises in Jacksonville school; then a dance in the hall. This kept me going all day until my head fairly flew out of gear. No time to eat. Heck what's the use of running around so.

June 6th.
One of the "busy" days. Something doing all day and on into the cool of the night. Alarm set for seven A.M. Abbott pounded the door at eight. I was not up and a pupil was waiting. I began at 8.25 and gave lessons straight to noon then rushed down to the Rex. Left there at 1.30; gave lessons here straight up to 5.30 rushed down to the Rex again. Then after an hour's rest I played for the 1st at the K. of P. After this I went down to the Rex and played an hour.
But great events occurred to-day. The pupils brought lots of flowers. A girl of ten was in my arms a moment and X. I can't speak of X. The thing was too sacred—it is too sacred to let out from my heart. It is very wonderful and belongs to the dreams that come true once in awhile in this old world, when all that is beautiful centers down and concentrate into one short second of time. X is all there is and all that ever was or can be.

June 7th.
I am in love with a child now. Just a little friend of eleven. What a wonderful thing this is! There is nothing like it. Her mother works in the Gusher. Think of it! A child's mother having to work hard up to one o'clock at night to support her children. Damn it! Something is rotten somewhere if not everywhere. This woman has two other children and their father is an invalid. Oh the cruelty of life. What can I do for this child! Her confidence is worth all I've got. In the freshness of childhood she is love, frankness—all that is good; and looking ahead for her and seeing the path she must trod my heart is sure touched. Her case is different. All my other pupils have good homes, excepting perhaps one; but this child has practically nothing but what is in herself. And now I pause in my rather active life to think and to dream of this child and I wonder has God placed her in my care to look out for her. Oh I hope so! And isn't this funny? Never have I been so hit as this. That is why it is odd. It surely is one of the blessings come upon me blessings which seem without end pouring upon me. Perhaps it is my age; perhaps I am growing foolish. Yet I am sure she is an exception to all other children: She is different. It is not an ordinary case. And the family situation is different. Perhaps she needs me. I want her to need me. I need her.

June 26th.
This is one of the many perfect summer days that bless this region—warm, with bright sunshine, yet with a cool breeze persistently tempering the air. Nature is near the height of her exuberance. There is a brilliancy in the beauty of things the various colors and hues seem to glisten in the sunlight. Even the more staid hills quiet in their vigilance smile in their changing shades. The growth and maturing of things this year borders on perfection, from roses to grain. There is that fullness and joy—the happy smile of nature, for nature smiles when she fulfills her mission fully. In her smile there lies all that is beautiful materially yet back of all is the love of God—the spiritual forces that impell all toward good. God is health, strength beauty, and the soil is yielding forth now just those things in perfection.
In the midst of such man profanes God in numerous ways. There were 160 people at the dance last night in Eagle Point. With few exception the boys and older men all got "lit up" with moonshine. The sherriff of the county was there the whole night. Besides this several of the girls were taken out and ____. The bunch that attended this dance was comprised largely of the lowest type of women as well as men—not all, but largely so. A general moral laxity seems to be the rule. This and the fact that the dances run until three A.M. draws the crowd. The city of Eagle Point should close down on us, or allow the dances to run until one oclock only. Charley got drunk again. I told him it must be the last time. He apologetically promised never to drink again at these dances. In fact my playing at these dances has broadened my outlook tremendously in a thousand ways as nothing else could have done. I am grateful for this as the knowledge may be useful to help the world in some way.
And thus I am fixed in a position where on the one hand I see the beauty of God's great worlds; and on the other hand I see the rotteness of men and women—perhaps, rather, the foolishness and lack of morals. But right here there shines forth a star which is ever before me lighting my way toward all things that are good. In this star all my faith is centered as to human possibilities. Beyond this star there is no human reflection of good—only God. If this star should go out then the world is dead as far as its people are concerned. Of all people I have selected one and that one is above all. In her is all the good that is; and all the hope that is in me is in that star.

June 29th.
Herewith cometh the reaction following a period of most excellent health and spirits. I was too happy for such a state to endure so that when the crash started it carried me down, down, down before it stopped and quickly too. I believe I have struck the bottom, however and must now pull up again.
An unusual number of really distressing things happened all practically at once. The load was too heavy; but things started Monday when the hopes I had foolishly entertained about a trip to San Francisco were squashed. I cannot speak of this matter here but for some reason I was knocked out right then and prepared me for the ill effects of the letter from the east concerning my sister and brother bringing this distressing tragedy up; the experience with Charley—his getting drunk and subsequently getting out of the orchestra; the loss of friends in Eagle Point over that hall from which we lost the Butte Falls job for the 4th; the probability of the Federal Tax Collector getting after us on the dances which will cost me some money; the actions of the K. of P. in giving a dance last Wed. and not engaging me, and my dropping the lodge through this and the fact that not one dance have I played there this year; the disgust over the dance playing; and the loss of pupils or rather the lack tho this is owing to the season.
Then there is Geo. Wilson. Of all the dammed things! He is miffed because I wont spend my time and money on his songs—arranging them and publishing them. They need lots of fixing up. He is a conceited ass. He has kept away from me now for nearly three weeks which really is fortunate. I ought not to feel depressed about this. Then cleaning up this room and sorting out old music each piece of which is a suggestion also helped to down me. All these distressing things coming upon me suddenly, each causing a realization of the other sure pulled me off my perch. But through it all there is one bright picture which I see now before me, in the sacred possession of which I should be the happiest man in the world and I am for that picture will pull me through anything in the strength, beauty and truth of it all.
There are also other things that I have not mentioned—quite a few. One, and after thinking it over I believe it was what started things—this one thing was an act toward X which caused me shame and remorse. This occurred last Thursday. Monday it came up and started things with the disappointment about S.F. Smoking cigarettes—a pack a day is another rotten thing, leading to XX. And the weather has been even depressing also. And last Friday Edna got crying at her lesson which is another thing. So there sure has been some drop from my cockiness the last few days. Eating a lot of cherries helped along the good work. Billy Young saying he is done with us because we did not pay him Saturday night [in Eagle Point, June 25]; Mr. Linn forcing a collection of $14. on the hall for Mrs. McDonald, city tax collector; and my sleeping all day Sunday all left a black mark upon my heretofore cheerful disposition. To sum it all up, the realization that I am not, never was and never will be one tenth of what X expects of me is the whole sum and substance of the trouble.
I thought I had mentioned all the troubles but there is D. [Dorothy] yet. I wrote a letter to her mother and was about to send it but did not.
I guess that is about all my troubles. The real troubles, eyes, hair falling out, catarrh pain in my left side and lower left side and the trouble with my leg and knee—they have all vanished some time ago, giving way to the mental suffering.

July 17th 1921
This being my birthday, and a number of things having occurred in the immediate proximity to it I am prompted to write to commemorate the anniversary and record a few of the occurrances that seem to have arrived about the same time.
The activities of life are chiefly: teaching, playing dances, good health, study[i]ng social conditions, reading Volney's Ruins of Empires, arranging songs for would be composers, hob nobbing with friendly people, keeping good natured, wearing a Hart Shaffner and Marx suit and a nine dollar Stetson hat. Nevermore shall I wear thee O Stetson!
Last night out at Burford's Barn some son of a gun took my hat and politely left an old hat where mine was. I count it as a lost hat. Not accepting the exchange I came in hatless.
It was a beautiful morning—perfectly grand and the dance was a big affair and the music was fine—Witham, Leland Charley, Tiertson [Tierlson?] and Leonard. But this was the last time the Majestic Orchestra in above formation is likely to play. The orchestra has been everchanging the last six months. Witham has been trying to get out to go back to Montana.
Well we came in and Pickle drove the bunch straight up to Withams house. His house was not there! Only the remains. It was evident at a glance that there had been a fire tho one could hardly believe his eyes. I rubbed my eyes to see if I was awake. The house was completely gutted and utterly destroyed, with all the stuff in it, his best violin included. Here was a real calamity which put the loss of a hat as a mere trifle, surely.
We got out and went over the remains. The destruction was complete! We sure felt sorry for Witham but we could do nothing.
The fire occurred thru defective wiring about two A.M. Mrs. Witham and the children got out safely. The strangest part of it was that the fire department was engaged at another fire on the west side of town when this started and could not leave the other to get to this. Such a strange thing has never happened in this town.
Well, I came up here, found an old hat and rode back to the house. Witham was walking along absolutely broken up over the loss of his violin especially. I offered him any assistance and tried to help him keep up his courage.
It is now 8 A.M. and a most beautiful morning but the future of the Majestic Orchestra does look perfectly rotten now but I dont care one damn about it, although I get lots of real amusement out of these country dances. Even though I have been awake now for 24 hours, I am not tired, the dances are a rest.
So I might go on writing about many things that are different now from what they were a year ago but the biggest thing of all is X.
X is bigger than anything that has ever some into my life and I could write pages and not finish for everything I am or do or want to do she is in all and all is good and true.
Sunday was hot. I was well but hatless. Slept all day anyway, so got along without a hat.





This chapter in the flight of time hath ended.


[end of diary]

"A large crowd from all sections of the valley are planning on attending the big New Year's Ball in Orth Hall. The Majestic Orchestra will be there in full force, and there will be surprise features all evening."

"According to present plans, a dance will be given in Orth's hall every two weeks. The music will be furnished by the Majestic Orchestra, which is composed of well-known musicians. A good attendance is expected." ["Town Talk," Jacksonville Post, 1-1-21, p. 3]
"FRED ALTON HAIGHT--Teacher of Piano and Harmony. Composing, Arranging. Studio 318 Liberty Bldg. Phone 72." [classified ad, MMT, August 25, 1922, p. 7]

1927 newspaper profile of Fred Alton Haight:

Meet Mr. Fred Alton Haight
by Con Moran
Recalling the saw of the poet who declared he didn't give a whoop who made the laws of this country so long as he could pipe its ditties, it would appear that citizens of this republic were disproportionately engaged in song writing. To investigate this alarming symptom, Fred Alton Haight Medford music publisher, was interviewed by this department.
It was learned that no fewer than 104 natives of the valley had submitted lyrics for musical arrangement. Oddly enough, for these depressing times, there are no blues singers represented in the collection. Most of the offerings are optimistic, many favouring the tenderer emotion, as seen in the recurrence of the rhyming combination, moon and June; eyes and skys. Only one bard was homesick for elsewhere, and he cried for North Dakota.
The composer of "Beautiful Rogue River Valley" was born at Mt. Vernon, N.Y. His father, a landscape painter, encouraged the boy to study music. Young Haight began composing at 13. He studied under private teachers and in conservatories in New York. After teaching for 30 years in New York, he came West and established a studio successively in Spokane, Seattle, Pasadena and San Jose. While in San Jose he read a press dispatch about Medford which appealed to him and he decided to look the town over. That was 16 years ago. He has been here ever since. He has two children, a married daughter and a 10-months-old boy.
Haight was a warm admirer of the late John Philip Sousa. He exalts Jan Ignace Paderewski as the greatest of living men. Chopin is his favorite composer.
He has composed over 300 pieces. "Beautiful Rogue River Valley," his latest opus, was sung over KNX by the Arizona Wranglers, and to date has sold nearly 500 copies.
In his studio is an old Steinway grand which he bought next door to Tammany hall, 20 years ago. When teaching he admonishes each beginner with "Time, tide and the bass drum wait for no man."

Obituary, May 1966:

FRED A. HAIGHT, SR.
Funeral services for Fred A. Haight Sr., 88, of 525 E. Main St., [Ashland, Oregon], who died at his home Friday, will be held at 3 P.M. Tuesday in the Ashland Mortuary Chapel. The Rev. Charles Mylander of the Ashland's Friends Church will officiate. Committal will be in the Jacksonville IOOF Cemetery.
Fred Haight was born July 17, 1877, in Mt. Vernon, N.Y. He came to Jacksonville in 1910 and operated a music studio in Medford until 1945. In 1943 he moved to Ashland, then moved his studio to his home in 1945 where he was still active in musical education.
He was married June 20, 1925, in Jacksonville to O. Catherine Norris, who survives.
Other survivors include two sons, Fred A. Haight, Jr., Ashland; Stanley Haight, Island of Haiti; three daughters, Mrs. Dorothy Koonce, Bryn Mawr, Penn.; Mrs. Martha Wilkins, Anaheim, Calif.; Mrs. Virginia McClure, Stockton, Calif.; 14 grandchildren, and four great-grandchildren.
Pallbearers will include members of the Ashland Friend's Church.

Fred Alton Haight died May 6, 1966. He was buried in the IOOF section of the Jacksonville Cemetery, block 516.