Medford Pioneers: The Trowbridges

There were actually three E. G. Trowbridges in Medford--Edwin Going Trowbridge (1834-1914) of the Medford Iron Works was the father of Edwin Guy Trowbridge (1873-1935). Everette Going Trowbridge (1881-1943) of the Mission Furniture Works was the nephew of the elder Edwin, cousin of Edwin the younger. The newspapers often didn't bother distinguishing between them.


113 South Holly,
Medford
Mail Tribune,
January 2, 1927.
Mrs. Alice Flynn and family of Palouse, Wash., have arrived at Lake Linden, where they are guests at the home of her brother, Postmaster A. A. Guck. Mr. Flynn died some weeks ago at Palouse, and the family will probably reside in the copper country again.
Copper Country Evening News,
Calumet, Michigan, March 14, 1898, page 4
W. H. Hamlin has sold his residence property in West Medford to Benj. J. Trowbridge, of Douglas County, Oregon, consideration $1050. Mr. Trowbridge was formerly engaged in the mercantile business in Douglas County and will probably follow a similar business here. He expects to arrive in Medford soon with his family. The sale was made through R. T. Lawton's real estate agency.
"City Happenings,"
Medford Mail,
July 12, 1901, page 7
B. J. Trowbridge came down from Medford Tuesday where he is now located. Mr. Trowbridge went to Camas Valley for his children, who are still there.
"Of Local Interest,"
The Plaindealer,
Roseburg, October 3, 1901,
page 3
J. F. White, the sewing machine agent, and B. J. Trowbridge have formed a partnership for the purpose of conducting a real estate business. They have established an office in the White-Thomas block, on the West Side.
"City Happenings,"
Medford Mail,
August 8, 1902, page 7
A change took place in the personnel of the Medford Machine Shops last week, M. M. Gault having disposed of his interest in the concern to E. G. Trowbridge, and the members of the company now are Wm. Cook, C. P. and C. O. Danielson and E. G. Trowbridge. The new member of the firm is a thorough machinist and engineer and has already taken up his end of the work in the shop. Mr. Gault is as yet undecided as to just what he will do, further than that he will do a lot of improvement work around his residence and take life easy for a short time, at least.
"City Happenings,"
Medford Mail,
October 13, 1905, page 5
There has been another change in the management of the Medford Iron Works. E. G. Trowbridge, who last week purchased the interest of M. M. Gault in the business, Monday bought the interest of Wm. Cook, and now owns two-thirds of the capital stock of the concern. The Medford Iron Works and machine shop comprises the most complete and up-to-date plant of its size in Southern Oregon, and the firm is prepared to do anything in their line of work. It is the intention of the management to increase the capacity of the plant from this time on as fast as possible. Several new hands will be employed shortly. Mr. Trowbridge and the Danielson boys are energetic, lively young men, and it is their purpose to make things hum around the shops. Mr. Cook is as yet undecided as to his future movements and may seek a change of climate.
"City Happenings,"
Medford Mail,
October 20, 1905, page 5
Mr. and Mrs. E. G. Trowbridge left Tuesday morning for a few days' stay at Portland. Mr. Trowbridge's special mission is the purchase of a considerable amount of new machinery for the Medford Iron Works, of which he is a member.
"Purely Personal,"
Medford Mail,
December 21, 1906, page 5
Last Thursday afternoon, Florence, the five-year-old daughter of Mr. and Mrs. E. G. Trowbridge, met with an accident which came little short of being fatal. She and her mother had returned from a drive, and Mrs. Trowbridge left the little one sitting in the buggy while she unhitched the horse. One strap was left fastened, and when Mrs. Trowbridge led the horse from the shafts he became frightened and started to run, dragging the vehicle after him. The little girl was thrown out, and it is thought struck on the step of the buggy as she fell. Her left ear was torn almost entirely from her head, and a deep gash cut near her eye. Several stitches were required to close the wounds, but, barring a close resemblance to a defeated pugilist now, she is getting along finely.
"City Happenings,"
Medford Mail,
September 14, 1906, page 5
IRON FALLS THROUGH ROOF
Foundry Employees at Medford Create Rain of Metal.

MEDFORD, Or., March. 3.--(Special.)--While breaking up heavy castings with giant powder at 6:30 this evening by employees of the Medford Iron Works was in progress an overcharge scattered fragments of iron all over the townsite. A piece of casting weighing 25 pounds struck the Hale residence, several blocks from the foundry, and crashing through the roof lodged in the chamber occupied by Mr. Hale. Other particles were carried half a mile to the city park. As the hour was early few pedestrians were abroad and no serious accidents are reported.
Morning Oregonian,
March 4, 1907, page 22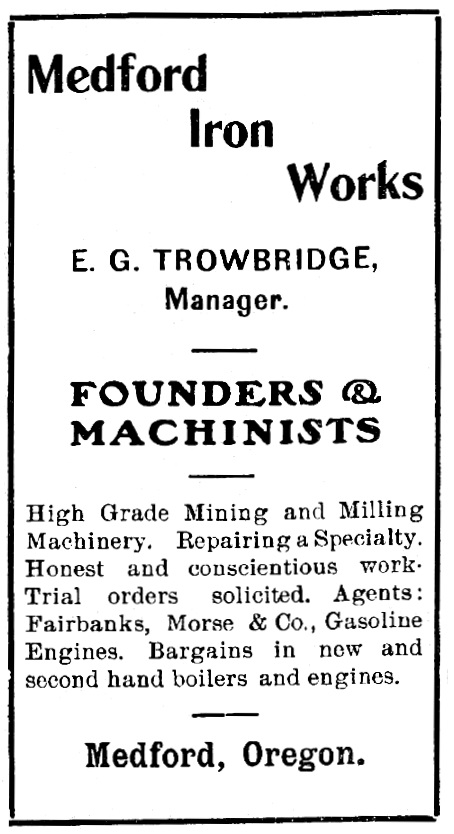 April 20, 1907
Oregon Mining Journal
Dissolution Notice.

Notice is hereby given that the co-partnership heretofore existing by and between E. G. Trowbridge and C. P. Danielson, doing business in Medford under the firm name and style of Medford Iron Works, is by mutual consent this day dissolved, the interests of Mr. Danielson having been acquired by Mr. Trowbridge. All accounts due the said firm are payable to Mr. Trowbridge, who will continue the business, and all accounts owed by the firm will be paid by him.
Dated at Medford, Oregon, this 10th day of July, 1907.
E. G. Trowbridge,
C. P. Danielson.

Medford Mail,
July 19, 1907, page 4
MEDFORD IRON WORKS ENLARGING ITS PLANT
A large erecting department, 14x35 feet in size, is being built alongside and south of the Medford Iron Works in order to enable it to build two bridges for the Gold Hill Canal Company and extensive machinery for other parties.
E. G. Trowbridge, the enterprising proprietor of the iron works, has made many improvements since he became connected with that establshment, so that it is now possible to repair, if not construct, nearly anything in the line of machinery.
Medford has good cause to be proud of its iron works, which draws business from many portions of Southern Oregon and Northern California.
Medford Daily Tribune,
November 8, 1907, page 1
NEW INDUSTRY
Mission F
urniture Works Makes Auspicious Beginning.
Medford has a new industry. It is small yet, but it is growing and shows that Medford is a profitable field for other industries. And they will come. Some are on their way now; others are bound to come. The logic of the situation demands it, for where there is a big scope of rich territory tributary to a town, manufacturing plants, wholesale houses and other business concerns must come there as surely and inevitably as the tides follow the moon.
A couple of months ago a young man who wasn't afraid started in to manufacture mission furniture and cabinet work right here in Medford. His friends told him that he was doomed to failure because the town was too small; but the young man could see into the future and knew that Medford was destined for greater things.
So he built a small and temporary factory on rented ground--for Medford was growing so fast that he was unable to rent a building--and went to work. Already he has more work than he can get out, and his quarters are too small for his rapidly growing business. But he has shown what can be done and has put the fainthearted to shame.
E. G. Trowbridge is the young man's name, and the Mission Furniture Works is the title of the new concern. It is located at Eighth and G streets.
Among other jobs that the Mission Furniture Works has turned out are desks for Gaddis & Dixon, the Page wire fence men, who have recently opened an office here. The concern also made the tables and chairs for the offices of Porter J. Neff, attorney-at-law.
This is but a beginning, but it shows what can be done and presages the Greater Medford when manufacturing concerns will be as common as today they are few.
Medford Mail,
January 15, 1909, page 1
E. G. Trowbridge, proprietor of the Mission Furniture Works, will leave Sunday for Hancock, Mich., his old home, in response to urgent telegrams from his wife and mother. He expects to return in a few days.
"Local and Personal,"
Medford Mail,
January 15, 1909, page 6
E. G. Trowbridge, Sr., of Sheboygan, Wisconsin, arrived in Medford Sunday and will visit for several days with his sons, B. J. and E. G. Trowbridge, and their families. It will be no fault of the boys if the old gentleman does not remain permanently. As a matter of fact, they have promised to "rope him" should he attempt to leave.
"Local and Personal,"
Medford Mail,
March 5, 1909, page 5
THAT CHRISTMAS PRESENT.

A nice piece of cabinet work or mission furniture makes an ideal gift, very appropriate and useful. We specialize in making the "out-of-the-ordinary" pieces. In fact, anything in the mission furniture or cabinet work lines made to your order, any finish you may desire. Drop in and get our prices.
MISSION FURNITURE WORKS,
Shop near corner Eighth and Holly streets.
Medford Mail Tribune,
December 2, 1909, page 6
MISSION FURNITURE WORKS OUTGROWS ITS PRESENT SITE

Only about two years ago a young man came to Medford with the idea of starting a mission furniture works. A great many people discouraged him, saying that Medford was too small. After looking over the field he decided to start a small shop. It was a success from the very first, and in less than a year after starting three additions have been added to the original shop.
Realizing that the present quarters were entirely too cramped and that more room and more machinery was required, Mr. Trowbridge decided to reorganize. In looking around he found I. S. Tuttle of Oakland, Cal., a man of very wide experience in the mission furniture field. Mr. Trowbridge and Mr. Tuttle have founded a company and propose to give to Medford a furniture works that will be a credit to a city twice the size of this.
New machinery has been ordered and will arrive in time to go into the large, new building, plans for which are now being prepared.
The new building will contain large sample rooms, showing [the] complete line of goods made by this company, many of which will be very odd and exceptionally attractive and desirable.
This firm will be prepared to do all kinds of house cabinet work in a first-class manner and giving a much more artistic effort.
Many people will be glad to learn of this addition to Medford's industries and an increase in the payroll.
Medford Mail Tribune,
July 22, 1910, page 8
Mrs. A. H. Trowbridge, of Hancock, Michigan, mother of E. G. Trowbridge, Jr., who has been the guest of Mr. B. J. Trowbridge, left Thursday for her home via Portland, where she will be the guest of Mr. Graham Greer for a few days. Her son accompanied her as far as Portland.
"Society,"
Medford Saturday Review,
October 22, 1910, page 4
RETURN TO HEAR OF MOTHER'S DEATH

Just returned from a visit to their mother in Sheboygan Falls, Wis., and happy in the thought that they had left her so much improved in health, Mr. and Mrs. E. G. Trowbridge and Ben J. Trowbridge were astounded, as they stepped off the train here Sunday afternoon, at the receipt of a telegram informing them of the elder Mrs. Trowbridge's sudden death.
They had made the trip to their former home upon the receipt, some time ago, of news that their mother was ailing. When they left her to return here she was apparently fully recovered.
Owing to the great distance they will be unable to attend the funeral.
Medford Mail Tribune,
January 2, 1911, page 1
Overland Monthly,
December 1912, page xxi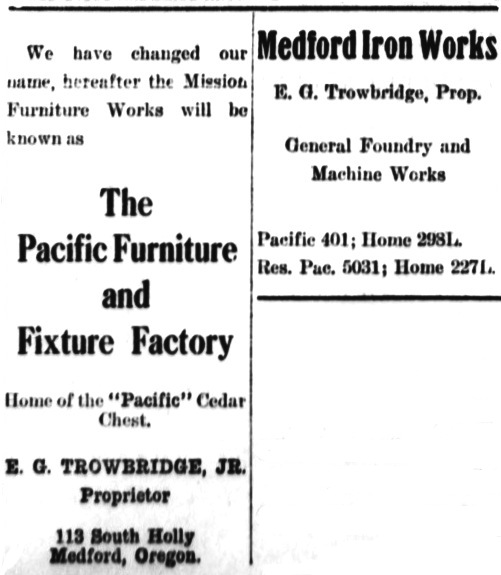 Medford Mail Tribune,
April 6, 1914
NEW FACTORY IS BEING ERECTED BY LOCAL IRON WORKS

TROWBRIDGE MAKES KYLE HOME MATERIAL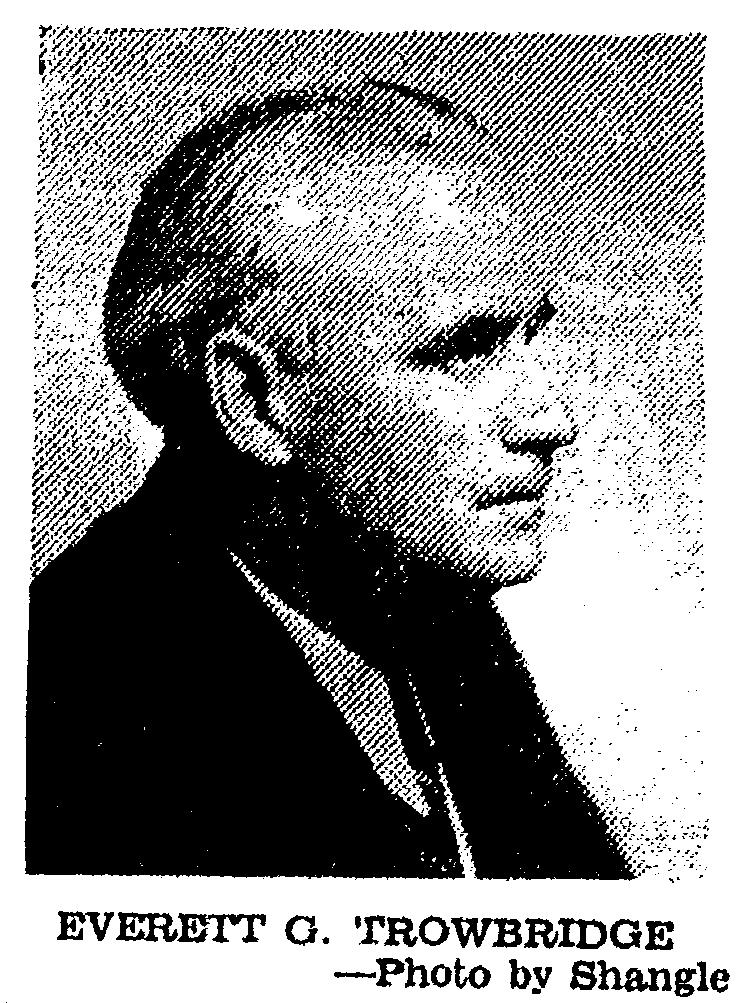 Small Shop Grows to Big Industry
Trowbridge Cabinet Works, Founded by Everett G. Trowbridge
25 Years Ago, Is One of Largest and Most Complete in Oregon;
Business Founded on Enduring Policy Is
Responsible for Continued Success.

A "one-horse" shop started in Medford back in 1908 for the manufacturing of mission furniture has grown into the largest and most modern cabinet works between Salem, Ore., on the north, and Weed, Cal., on the south.
The man who founded the small mission furniture shop, who nurtured it through the years of its infancy and gradually developed it into one of the leading industries of this city, and who has been its directing head through all of the quarter of a century of its existence, is Everett G. Trowbridge, whose name the firm bears today.
Of the veteran businessmen who have been heads of firms in this city continuously for 20 years or more, Trowbridge is the first one noted as having come from Michigan, in which state he was born in 1881. Needless to say, he was quite a young man when he arrived in Medford 25 years ago and engaged in business, and is yet a young man, being only 52.
It was the ambition of young Trowbridge to become a mining engineer. To that end he enrolled in the Michigan College of Mines, where he studied until sustaining a serious injury to his eyes. While awaiting a complete recovery from that injury, Trowbridge started work in his father's cabinet factory. "I always possessed a desire to create things of wood," said Trowbridge, "and my interest for mining soon centered in cabinet making."
Some time before Trowbridge entered his father's cabinet shop his uncles, Ed and Ben, left Michigan and made the long trip out to Oregon, locating here in Medford. The desire to visit his uncles and to get a glimpse of the West induced the younger nephew to start for Medford.
"I had no idea of remaining in Medford when I arrived here in 1908," said Trowbridge. "I intended only to visit Ed and Ben, and then return home. In fact, Medford looked none too good to me at that time. There was no pavement and the streets were either dusty or muddy, as the case might be. People, or some of them, were drinking water from Bear Creek, and altogether the town did not attract me. As the days passed, however, the town and valley grew on me, and it was not long until I decided to remain."
Here Trowbridge relates that there was a marked demand for mission furniture, particularly mission electric fixtures. He rented a small structure on South Holly and opened for business under the name of the Mission Furniture Works.
Trowbridge recalls that his products sold quite readily and soon he was forced to hire a man. Soon after another employee was added and he launched into the cabinetmaking business.
Close attention to business, and following the never-failing policy of turning out high-quality work, resulted in a constant and all but rapid growth of Trowbridge's business. The small shop started in 1908, and in which he was the only workman for a time, expanded until 1919, when Trowbridge erected the plant that is now located on South Grape, and which occupies one-half of a block of ground.
Upon completion of the new plant Trowbridge changed the name of the firm to the Trowbridge Cabinet works, under which it is operated today.
When the Depression swept over the country the Trowbridge Cabinet Works . . .
[remainder of article not on microfilm; original newspapers lost]
Medford News,
August 18, 1933, page 1
E. G. TROWBRIDGE TAKEN BY DEATH

Edwin Guy Trowbridge
, a resident of Medford for the past 33 years, passed away at his home Tuesday evening at the age of 63. He was born at Hancock, Michigan and in 1902 came to Oregon, settling in Medford, where he was united in marriage to Esabelle Boyden. Besides his widow he is survived by one daughter, Mrs. Elbert Farlow, and one grandson, Bobby Farlow, both of Ashland.
Private funeral services will be held from the Conger funeral parlors Thursday at 2 p.m. Rev. W. H. Eaton will have charge of services and interment will be made in the Jacksonville cemetery.
Medford Mail Tribune,
October 23, 1935, page 5
TROWBRIDGE, EVERETT GOING
President, Trowbridge Cabinet Works
b. Hancock, Mich., Dec. 20, 1881; educ., Mich. College of Mines, 1901. Married Katherine Esther Semon, Jan. 27, 1919. Resident of Ore. since 1908. Established and pres., Trowbridge Cabinet Works, Medford. Member, Medford Chamber Commerce. Elk. Pythian. Kiwanian. Mason. Republican. Protestant. Home: Jacksonville Star Route. Office: 10th & Grape Sts., Medford, Oregon.
Capitol's Who's Who for Oregon 1936-37,
page 549
MRS. TROWBRIDGE FUNERAL SUNDAY
Isabel Boyden Trowbridge
passed away at her home, 328 North Central Avenue, early Friday evening at the age of 65 years.
Isabel Loring was born in Chicago, Illinois, February 16, 1871. In 1890 she was united in marriage to Henry E. Boyden at Sheffield, Illinois. In 1986 the family moved to Medford from Illinois where her home for the past forty years has been made. Mr. Boyden preceded her in death in 1918.
October 21, 1920, she was united in marriage to Edwin O. Trowbridge, who passed away in October, 1935. She was an ardent worker in civic affairs, besides being a lovable Christian wife and mother.
She leaves to mourn her passing a son, C. Z. Boyden, and three grandchildren, of Medford; two sisters, Mrs. W. A. Sebolt, Mrs. Geo. H. Martin, and one brother, Will Loring, of Davenport, Iowa.
At her request, strictly private services were held Sunday from the Conger funeral parlors at 1 p.m. Rev. W. H. Eaton conducted the services and interment was made in the Medford I.O.O.F. Cemetery.
Medford Mail Tribune,
July 6, 1936, page 7
News of Mrs. Guck of Interest Here
The many Medford friends of Mrs. Emma Guck will be interested to learn of her latest travels.
Mrs. Guck is the sister-in-law of Mrs. Alice Trowbridge of 905 West Tenth Street in this city, and has visited here frequently.
Until a short time ago she was making her home with a daughter in Sacramento, Cal., and recently went to Detroit to visit friends.
A letter from Mrs. Guck today says that this week she traveled by plane from Detroit to Calumet, Mich., to visit friends. She is 86 years old and often travels by plane. Her son, Homer Guck, who will also be remembered here, is an official of the William Randolph Hearst interests.

Medford Mail Tribune,
June 21, 1939, page 3
Trowbridge to Start Sash & Door Factory

Everett Trowbridge, owner and operator of Trowbridge Cabinet Works for [the] past 32 years, announced in Medford that he will open the Trowbridge Sash and Door Factory located at Tenth and Grape streets, Medford.
The new factory will engage in the manufacture of windows and doors and will carry a complete stock of glass and wallboard. The concern does not plan to do cabinet work but will offer reglazing work, Mr. Trowbridge stated.
Mr. Trowbridge's original concern, known as the Trowbridge Cabinet Works, played an important role in the building of this city, as many homes have been erected in and near Medford since the establishment of the company in 1909. Everett Trowbridge is active in business and club circles here and has taken an active part in civic work during the past many years.--
Mail Tribune.
Central Point American,
January 9, 1941, page 2
V. J. NAMITZ BUYS CABINET FACTORY
FROM TROWBRIDGE

The Trowbridge Cabinet Works, located at 10th and Grape streets, has been sold to V. J. Namitz, well-known Medford resident, according to an announcement today by E. G. Trowbridge, who has owned and operated the plant for the past 33 years.
Mr. Namitz, who has lived here seven years, has been representative of W. P. Fuller & Co. in this territory. Prior to coming here he had twenty years experience in mill work and building supply business. He has changed the name of the pioneer business to the Medford Millwork Co. Mrs. Namitz will have charge of the office.
The plant is equipped to manufacture all kinds of mill work, sash and doors. Mr. Namitz will continue to carry a large stock of glass.
Mr. Trowbridge says he is not retiring, although he has made no future business plans. He says he has plenty of work which needs attention, but first he is going to catch up on some of the fishing and resting he missed during the years he operated the mill works.
Medford Mail Tribune,
July 15, 1941, page 3
ALICE TROWBRIDGE RITES WEDNESDAY, PERL'S MORTUARY
Funeral services for Mrs. Alice E. Trowbridge, long-time Medford resident who died in a local hospital Monday afternoon, will be held at the Perl funeral home at 2 p.m. Wednesday, the Rev. R. W. Coleman of the First Christian Church officiating. Interment will be in Jacksonville cemetery.
Mrs. Trowbridge was born in Hancock, Mich., where she spent her early life. For the past 41 years she had made her home in Medford, where she acquired hundreds of friends who will mourn her departure. She is survived by five children, Ben J. Trowbridge, Thomas K. Flynn and Diamond L. Flynn, all of Medford; Alfred A. Flynn of Portland and Ione Peake of Grants Pass, and by three of her late husband's children, Ronald Trowbridge of Yakima, Wash., Raymond Trowbridge of Medford and Mary Elkins of Van Nuys, Calif.
Active pallbearers will be C. C. Howard, E. Gore, H. W. Hamlin, Ed Mann, Wallace Woods and Ed Robinson.

Medford Mail Tribune,
August 12, 1941, page 10
E. G. TROWBRIDGE DIES OF SUDDEN HEART AILMENT
Everett G. Trowbridge
, 62, prominent Medford business man who founded the Trowbridge Cabinet Works in 1908 and was a resident of this city since that time, died of a sudden heart attack at 10:30 a.m. today at his home in the Oak Grove district. Funeral arrangements will be announced later by Perl's.
Mr. Trowbridge, who was born December 20, 1881, in Hancock, Mich., had been failing in health for the past three years and had retired from the business in July, 1941. He was in his rose garden this morning when stricken, and passed away a short time later in his home.
Mr. Trowbridge was a longtime member of the Presbyterian Church and was affiliated with the Medford Elks lodge, the K. of P., Crater Lake Chapter 32, Royal Arch Masons and No. 13 A.F. and A.M., Hillah Temple of the Shrine, Malta Commandery No. 4 and was a charter member of the Kiwanis Club with a record of 100 percent attendance.
He is survived by his wife, Mrs. Catherine Trowbridge; two brothers, Clyde B., of Royal Oak, Mich., and Earl L., of Lansing, Mich., and one sister, Mrs. William Warmington of Escanaba, Mich.
Medford Mail Tribune,
March 8, 1943, page 3
MILLWORK FIRM ON COURT STREET OPEN TO PUBLIC
The new building at 1105 Court Street housing the factory and sales department of the Medford Millwork Company is finished and ready for inspection by the public, according to an announcement today by V. J. Namitz, owner.
The building covers 25,000 square feet of floor space and 30 employees are required for full operation. Equipment has been installed to handle any job of general millwork.
The complete line of Dutch Boy paints and painting sundries and the builders hardware department is under the management of Garth Johnson. He has had 22 years experience in merchandising paint and hardware.
Namitz purchased the Trowbridge Cabinet Works in 1941. The fire of June, 1946, completely destroyed that plant, and the firm has been operating in a temporary location at the Bruce Bauer Lumber Company since then. Namitz has been in the millwork manufacturing business for the past 25 years.
We are better equipped to give better and faster service," Namitz said in describing the work being done by the various machines. A large stock of doors, windows and millwork will be carried at all times and the firm is now equipped to take care of every window and plate glass need with the exception of auto glass, according to Namitz.
Medford Mail Tribune,
May 19, 1948, page 8
Last revised June 24, 2023