Miksche


Carload of Feed Starts Store Which Serves Valley 53 Years
By MARY ALICE BRUSHA

It was back in 1910 that Leo Miksche after a series of financial reverses picked up his family and moved to Medford.
For a while this practical man worked hard trying to make a go of farming. But somehow he didn't seem to get the feel of the land. He couldn't produce the quantity and quality he felt a more experienced farmer could. Farming just wasn't his trade. So he gave it up.
Miksche was a salesman, a merchant. He could sell anything a farmer could raise and that's what he intended to do. After borrowing a small sum of money, and with a carload of feed and grain on consignment, he was back in business. It was 1913.
The site of the first Monarch Feed and Seed store is now occupied by Lawrence's Jewelers. Miksche purchased the business from a fellow named Schmidt. It was a meager affair with simple and modest furnishings. Heat in the winter was supplied by a potbellied stove fired with wood.
Miksche's oldest son, Raymond, has firsthand knowledge of those days in the feed industry.
The only paved streets in Medford at that time were Oakdale and Tenth. [
This is incorrect.
] And Ray's job was to deliver the numerous customers' orders. The young deliveryman drove a horse pulling behind him sacks of feed over unpaved roads made almost impassable in the winter by the severe rains and snow storms.
As the years passed, the business and the population of Jackson County continued to grow. By 1916, Monarch moved to 317-323 East Main Street. Ray was given a brand-new Model T Ford truck for his delivery rig. The horse and wagon were still the principal means of transportation. And even though the roads were still bad, quite a number of the valley residents were driving cars and trucks.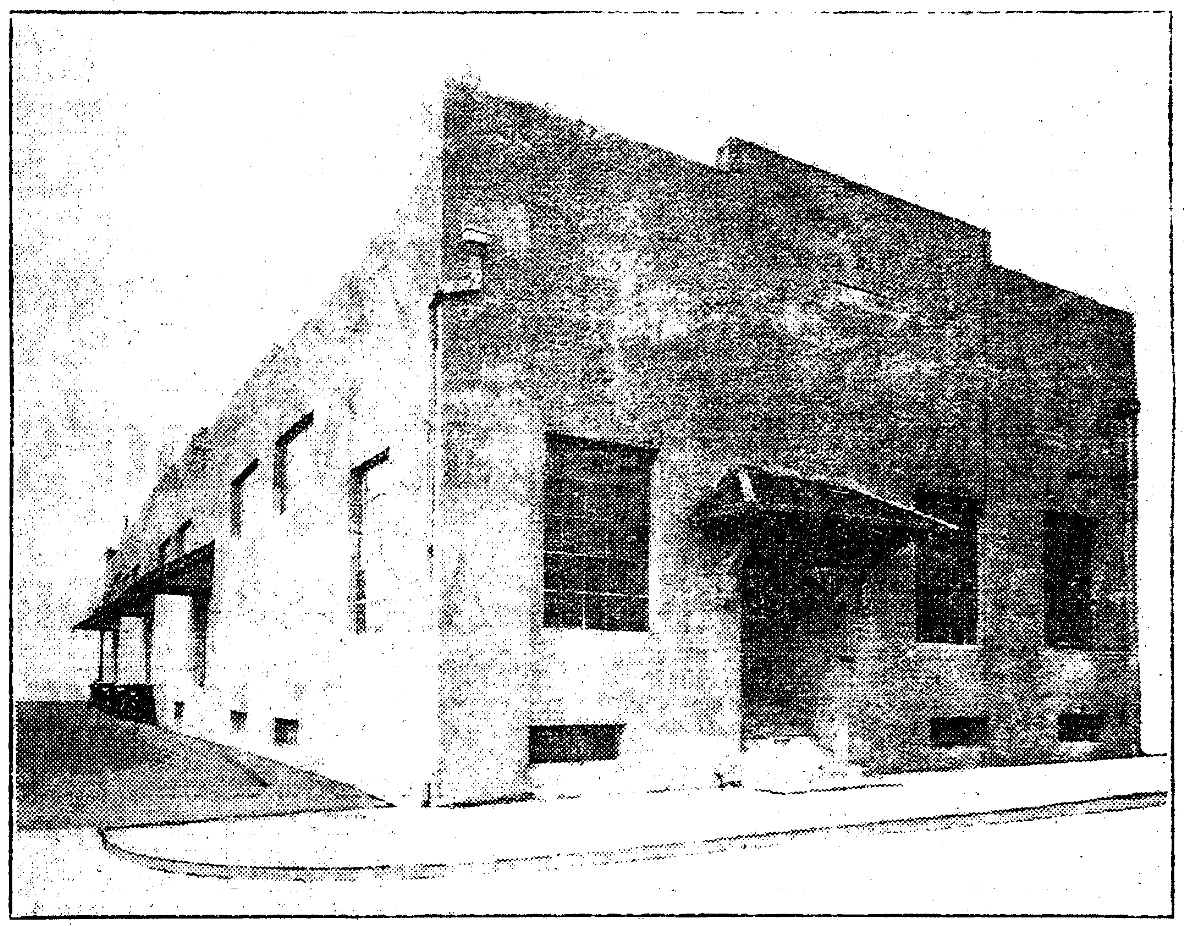 303 South Fir, February 22, 1927
Medford Mail Tribune
In 1921 [
it was May 1920
], Miksche purchased the old Russ Mill, now the location of Skinner Buick and Cadillac. It was in [1926-27] Monarch Feed and Seed purchased the land and built the present building at 303 S. Fir. They added farm implements to their other wares for sale. But their main operation was in the feed milling and seed cleaning division.
The first mixer of commercial feed in the Rogue Valley was Monarch Feed and Seed. Their mixing machine was also a Miksche creation. It was a unique affair, made from an old laundry tumbler. But it served the purpose until a factory model was invented several years later.
Ray Miksche was one of the originators and the first president of the Tri-States Seedsmen's Association.
In the early 1920s Southern Oregon experienced a drought of such proportions that everybody was praying for rain. It was the dominant conversation of the time. The spring planting season prompted Ray to originate the slogan that has been used at Monarch Feed and Seed continuously since that time, "Everything for Your Garden but the Rain."
From 1919 to 1950 the Monarch store will be remembered for its colorful and beautiful window displays. These artistic arrangements portrayed numerous occupations related to a particular period. They were all made by Ray. He used cardboard for the lifelike figures and houses. Various farm seeds and other merchandise provided the covering and decoration for the seasonal and timely exhibits.
By no means was it all smooth sailing for Leo Miksche and his sons. Twice in the history of the firm, since its tiny beginning over 50 years ago, the owners of the Monarch plant stood helplessly by and watched their feed and seed business burn down.
The proverbial farmer who once came to town with a straw in his mouth and a sunbonneted wife by his side would feel strangely out of place today in one of the three Monarch Feed and Seed stores. Gone is the old coal oil lamp, the squeaky wooden floors, the musty smell of rats and the eternally hard benches furnished for the sitting crowd.
Today's customers are greeted in the friendly atmosphere of a well-heated building in the winter and air-cooled in the summer. And like the slogan of the store, they still furnish everything for your garden but the rain, and numerous other items, whether you be on a farm or in the city.
Ray Miksche retired from the business in 1965. His brother Robert is now "keeping the stores."
When Ray finds time from his recent project of cultivating flowers and garden plants at his home, he occasionally drops in at the store for a visit with the many employees of Monarch Company.
Ray Miksche's fair and honest attitude toward the public is contagious. It is shared by many prominent Medford business men.
In 1930, Monarch added the store now being operated on the corner of Sixth and Bartlett streets. In 1965, the firm purchased the Big Y Nurseryland.
Medford Mail Tribune,
March 1, 1966, page 6
- - - - - - - - - - - - - - - - - - - - - - - - - - - - - - - - - - - - - - - - - - - - - - - - - - - -
Matthew Vertin, a nephew of Mr. Maurin, of Elizabeth, and Miss Lena Kraker, of Joliet, Illinois, are to be married at the home of the bride's parents, above city, the 26th inst. The bride-elect is a sister of Mrs. Leo J. Miksche, and Mr. and Mrs. Miksche and parents are invited to be present.--Wahpeton, N.D.,
Times.
Little Falls Weekly Transcript,
Little Falls, Minnesota, March 1, 1895, page 11
CHANGES AT BRECKENRIDGE.
Special to
The Journal.
Breckenridge, Minn., April 13.--The firm of Miksche & Vertin has dissolved. Leo F. Miksche has bought the block and general stock of merchandise owned by Mauskau, Benesh & Mauskau. M. Vertin will enter into partnership with Vertin & Bentley, under the firm name of Vertin Bros. & Bentley.
Minneapolis Journal,
Minneapolis, Minnesota, April 14, 1907, page 14
BUILDING TOTALLY DESTROYED BY FIRE
Heroic Work of Breckenridge Fire Department Prevents Flames from Spreading.
BRECKENRIDGE, Minn., Sept. 25.--(Special.)--The two-story brick building of the Miksche & Benesh company, in which they conducted a general merchandise business, was totally destroyed by fire of unknown origin early this morning. The building was valued at $40,000, with insurance of $31,500. The stock was valued at $60,000 with insurance of $30,000.
Star Tribune, Minneapolis, Minnesota, September 26, 1908, page 13

Ashland for a Home.
Mr. Leo J. Miksche Saturday closed a deal for the purchase of the James Lowe orchard home tract of six acres on Wightman Street, near the east end of Iowa, for a consideration of $4350. Mr. Miksche and family promise to be quite a desirable addition to Ashland. They come from Breckenridge, Minn. Recently Mr. Miksche became interested in some mining properties in Northern California, and after seeing Ashland decided to make his home headquarters here, while looking after his mining interests. With his wife he arrived last week, and they decided to purchase the Lowe place, which is most desirably situated in the eastern suburbs in a district which is developing many nice homes.
Ashland Tidings,
May 10, 1909, page 1
Leo J. Miksche, of Henley, Cal., and his family are here to locate.
"Social and Personal,"
Medford Mail Tribune,
January 5, 1910, page 6
The Polk Hull ranch, in the Meadows district, has been sold to George E. Morse, who recently sold his farm consisting of 157 acres, and lying a mile and a half east of Phoenix, to Leo J. Miksche, of Breckenridge, Minn.
"Morse Sells Property and Then Buys Again,"
Medford Mail Tribune,
March 18, 1910, page 2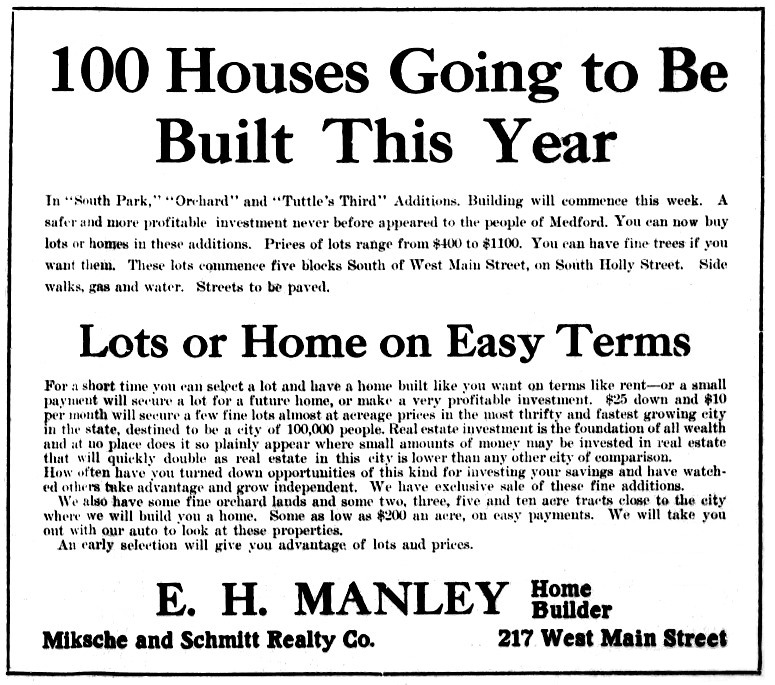 May 21, 1911,
Medford Mail Tribune


The Medford Real Association's regular monthly meeting [was] held last evening in the offices of Miksche & Schmidt Realty Company, at No. 215 West Main Street. . . .
"Realty Dealers Endorse Bureau,"
Medford Mail Tribune,
July 12, 1911, page 6
A splendid time was had by members of the local lodge of Moose Thursday evening, the occasion being the dedication of the new hall in the Miksche and Smith building.
"Moose Hall Is Dedicated,"
Medford Mail Tribune,
September 8, 1911, page 2
Mrs. L. J. Miksche and her daughter are leaving today for Joliet, Illinois, where they will be present at the celebration of the golden wedding of her father and mother. Before returning, they will spend some time in Chicago.
"Week's Happenings in Medford Society,"
Medford Mail Tribune,
October 12, 1911, page 7
FUNERAL OF ANTON MIKSCHE
The funeral of the late
Anton Miksche
was held Saturday from St. John's church, Wahpeton, of which he was a member for 33 years. The pallbearers were five grandsons and one nephew of the deceased. They were: M. J., M. A., and H. J. Kraker, Leo and Anton Miksche, and Peter Fox, the nephew. The attendants from out of town were Leo J. Miksche, a son of Mr. Miksche, of Medford, Oregon; Mr. and Mrs. Mat Kochevar of Eden Valley, Minn. (Mr. Kochevar was a partner in business with Mr. Miksche for 14 years from 1869 to 1883), Will Kraker of Melrose; Mr. and Mrs. Mat Simonitch of Moorhead; Markus Mauren, Bernard Schroeder, and Mrs. Schroeder, Jr., of Elizabeth, Minn.; Mrs. Frank Trampush of Virginia, Minn.
Rev. Fr. Posek of West Newton, Minn., had charge of the funeral and was assisted by Rev. Fr. Gumpher. Rev. Fr. Gaydushek, and Rev. Fr. Ridder.
Mr. Miksche leaves three children, Frank, Leo and Mrs. Kraker; seventeen grandchildren, Leo, Antony, Pauline, Loretta, Valeria, and Frank Miksche of Breckenridge, Geraldine, Raymond, Wilfred, Robert, Petricia, Marcia and Bertill Miksche of Medford, Oregon, M. J., M. A., H. J. and Sophia Kraker of Wahpeton; two great-grandchildren, Cyril Kraker and Gertrude Miksche.
Wahpeton Times,
Wahpeton, North Dakota, July 10, 1913, page 1
Mr. and Mrs. Leo Miksche and Mr. and Mrs. M. Kraker of Joliet, Ill. returned home Thursday from a trip to Crater Lake.
"Society,"
Medford Mail Tribune,
August 14, 1915, page B3
New Retail Store of Medford Firm
Medford and the Rogue River Valley can now boast of one of the finest retail seed and feed houses on the Pacific Coast, as today marks the opening of the Monarch Seed & Feed Company's new retail store at 523 East Main Street, one door east of the location occupied by this firm for the past eight years.
Mr. Miksche's store is strictly modern and one of the most clean and inviting stores in Medford, and by far more attractive than the usual seed and feed stores found today. New fixtures have been built, partitions have been installed to separate the coarser feeds and supplies from the retail room. This will eliminate the odors attendant to poultry and stock feeds and serve to keep their store clean, odorless and attractive. Mr. Miksche invites an inspection and wishes to thank the people of Medford and the Rogue River Valley for the patronage in the past. The same prompt service, high-grade seeds and feeds that have built the Monarch Seed & Feed Company's business will be found in their new store under much improved conditions.
No additional lines have been added, but more varied assortment of lines handled in the past will be found in their stock. They are agents for the Rogue Valley Floral Company, and promise a large stock of plants and cut flowers for Christmas trade.

Medford Mail Tribune,
December 11, 1923, page 3
At a cost of $8,000, Leo J. Miksche, proprietor of the Monarch Seed & Feed Company, is building a new warehouse.
"High Mark Is Made in June by Building,"
Jackson County News,
July 2, 1926, page 1
LEO J. MIKSCHE DIES SUDDENLY; FUNERAL TUES.
Leo J. Miksche
passed away very suddenly at his home, 818 South Peach Street, Thursday, May 10, from heart trouble. He had been ailing for the past year from heart attacks. He was at his store when he complained of not feeling well, and asked to be driven home. At home he lay down to rest and passed quietly into death.
Mr. Miksche was born near Vienna, Austria, in 1864, and came to America with his parents when he was 4 years old. He, with his parents, settled in Minnesota, where he grew to manhood; and it was in Minnesota that he was engaged in the mercantile business to 25 years.
He was married to Anna Kraker in 1892 at Joliet, Ill., and to this union nine children were born, seven of whom are living. He is survived by his wife, Anna; four daughters and three sons--Mrs. John J. Wilkinson, of Medford; Mrs. Thomas Bickerstaff of Mill Valley, Cal.; Misses Mercia and Bertille Miksche; three sons, Raymond, Wilfred and Robert; also one brother, Frank, of Breckenridge, N.D. [
sic
]; and one sister, Mrs. Math Kraker, of Wahpeton, N.D. He came to Oregon in 1909 and in 1910 he established the Monarch Seed and Feed Company, and through this made a marked success of his business. He was a member of Medford Lodge No. 1168, B.P.O.E., and a member of the Knights of Columbus.
Funeral services will be held at the Catholic church, Tuesday morning at 9 o'clock, Rev. Father Black officiating. Interment in Medford cemetery. Funeral arrangements in charge of the Perl funeral home.
Medford Mail Tribune,
May 11, 1928, page 8
MIKSCHE, RAYMOND ANTHONY
President, General Manager, Monarch Seed & Feed Co.
b. Breckenridge, Minn. Aug. 19, 1894; son of Leo John and Anna Marie (Kraker) Miksche; educated grade and high schools, Medford, Oregon, Medford Business College; m. Mazie W. Turpin of Medford Oct. 2, 1920; children Norbert, Leo David, Stephanie and Mary Ann; began as partner of father L. J. Miksche, Monarch Seed Co. 1913; general manager 1928; president and general manager 1941-; partner Ted's Feed & Seed Store, Ashland (extensive operations in milling and seed processing); contributor to trade journals; director Pacific Coast Seedmen's Association; president Tri-State Seedmen's Association (Oregon, Washington, Idaho); Elk; member Chamber of Commerce; Republican; Roman Catholic; home 813 Minnesota Ave.; office 103 N. Bartlett, Medford.
Capitol's Who's Who for Oregon 1948-49,
page 389
Last revised May 15, 2022