Medford Pioneers: Hubbards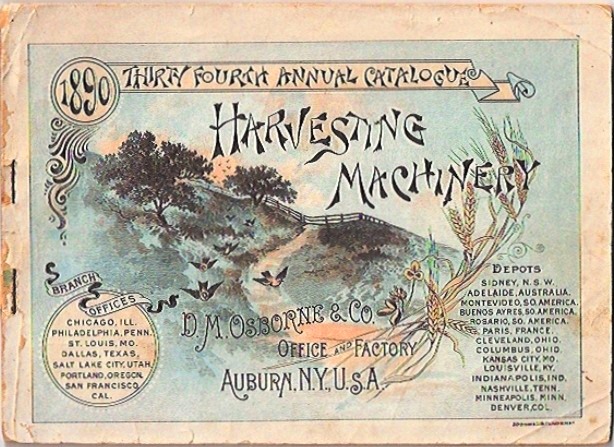 Dallas Centre, Iowa

:

Fortunatus Hubbard, 52, agriculture hardware, born in New York

Sharlotte Hubbard, 47, born in Connecticut, father Connecticut, mother Rhode Island

Olive Hubbard, 15, born in Illinois

Fortunatus Hubbard Jr., 14, born in Illinois

Otis Hubbard, 12, born in Illinois

Alexis Hubbard, 9, born in Illinois

Asahel Hubbard, 6, born in Iowa

U.S. Census, enumerated June 18, 1880




F. Hubbard, agent for D. M. Osborne & Co.'s agricultural machinery, Studebaker's wagons, etc., is having a large warehouse put up at Medford. He will have a branch at this place.
"Here and There,"

Democratic Times,

Jacksonville, February 8, 1884, page 3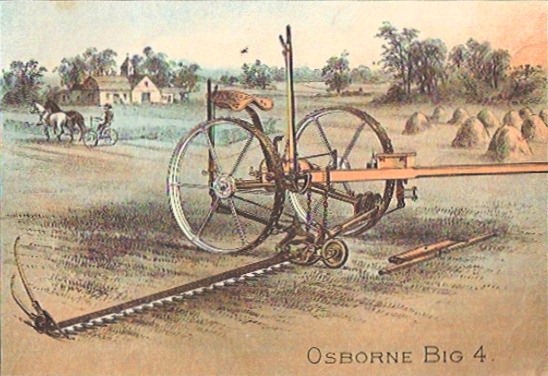 A branch of the D. M. Osborne agricultural machinery establishment will be opened at Medford with F. Hubbard in charge as agent.
"Local Items,"

Oregon Sentinel,

Jacksonville, February 9, 1884, page 3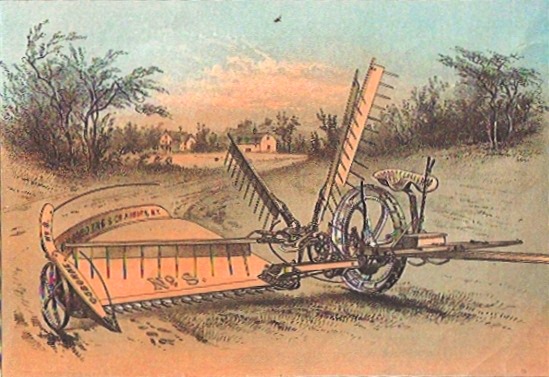 A good-sized building for the Osborne & Co. machinery warehouse is in course of erection.
"Medford Items,"

Ashland Tidings,

February 29, 1884, page 3


Observe F. Hubbard Sr.'s advertisement of farming implements, etc. Mr. Hubbard has succeeded in building up a fine business at Medford in the agricultural machinery line and deservedly stands high among the farmers of the valley for square dealing. His leaders are the Norwegian Plow Co.'s goods and "Standard" mowers. Examine his stock before purchasing elsewhere.
"Here and There,"

Democratic Times,

Jacksonville, May 9, 1889, page 3




Fire at Medford.


Medford had a small loss by fire last Sunday night. The two harness shops and Hubbard's machinery warehouse on [the] south side of the main business street were burned, together with a considerable part of the contents of the buildings. Losses are reported as follows: W. G. Cooper, $2500; F. Hubbard, $600; B. F. Adkins, $100. The buildings were of wood. It took hard work to save the livery stable property adjacent.

Ashland Tidings,

December 13, 1889, page 2

F. Hubbard, app., vs. the town of Medford, resp.; appeal from Jackson County; judgment of the court below affirmed. Opinion by Bean, J.

D. M. Osborne & Co., app., vs. F. Hubbard, resp.; appeal from Jackson County; judgment of the court below reversed and remanded. Opinion by Lord, J.

"Supreme Court,"

Evening Capital Journal,

Salem, January 16, 1891, page 2


F. HUBBARD, Wagons, Carriages, Agricultural Implements. 7th Street, bet. A and B. Among the oldest and best known houses in this trade is that of Mr. Hubbard, whose warehouse is stocked with agricultural implements, wagons, carriages, barbed wire, etc. His trade extends all over this section. Mr. Hubbard came here seven years ago from New York State. He is well known in this community.
P. W. Croake,

The Rogue River Valley, "The Italy of Oregon,"

Glass & Prudhomme, Portland, Oregon. Undated, written March 1891.


F. Hubbard's sons have rented Cooper's brick building on 7th Street and will stock it with agricultural implements and machinery of all kinds.
"Medford Squibs," Democratic Times, Jacksonville, May 8, 1891, page 2


Read the advertisement of Hubbard Bros., of Medford, who carry a full line of standard farming machinery. Their goods are first-class and their prices reasonable. Don't fail to give them a call if you need anything in their line..
"Local Notes," Democratic Times, Jacksonville, June 3, 1892, page 3


Hubbard Bros. have now concentrated their agricultural machinery at this place, and have a full stock on hand of all the lines handled by the Northwest Implement Co., of which they are the authorized agents.
"Medford Squibs," Democratic Times, Jacksonville, July 8, 1892, page 2




MR. F. HUBBARD


The southwest corner of Fourth and B street is owned and occupied by Mr. F. Hubbard. There is one-fourth of a block contained in this gentleman's plat, near the center of which is a large two-story resident house, the general appearance of which has but recently been improved by a coat of paint, both inside and out. Mr. H. was at one time an agricultural implement dealer in Medford, but late years his two sons Asahel and Otis conduct the business, on the southwest corner of A and Seventh streets. Mr. H. is formerly from Dallas County, Iowa, and has been a resident of Medford for nine years.

Medford Mail, July 14, 1893 et seq., page 1


On last Saturday morning your correspondent was called upon by Mr. Fortunatus Hubbard, Jr., to accompany him on a trip to the mountains of Big Butte, as he had a little job to attend to that required the services of a minister. So we started in the driving rain and by the time we had traveled ten miles the rain changed into a heavy snow storm. But that job MUST be attended to if the skies fall, so on we went and by the time we reached his BACHELOR HALL the snow was eighteen inches deep and still snowing. We had a good supper and a good night's rest and the next morning we went to Mr. John McKee's, where we found Mr. John S. Higinbotham with his best girl and in a few minutes Mr. Fortunatus Hubbard and Miss Tressa McKee were joined in wedlock. After spending an hour or so with our old-time friends, Mr. and Mrs. McKee, and speaking a good word for the

Valley Record,

we all repaired to the dinner table. Well, we all tried to do justice to the dinner, which I think we did, and then I bid farewell to, I think, one of the happiest couples it has been my lot to meet for some time..
A. C. Howlett, "Big Butte Items,"

Valley Record,

Ashland, February 22, 1894, page 2


Hubbard Bros., implement dealers of this city, are circulating a great number of handbills among the farmers of the valley, telling of the merits of the several lines of machinery which they handle, particularly the Standard line of mowers and reapers. The boys have a complete stock of first-class goods and are selling reasonable.
"News of the City,"

Medford Mail,

May 11, 1894, page 3


F. Hubbard, Jr. has moved in from near Leeds and is now housekeeping at the corner of A and Eighth streets.
"News of the City,"

Medford Mail,

June 1, 1894, page 3


F. Hubbard, who was engaged in selling agricultural implements in this county some 10 or 12 years ago, died at Medford last Friday.
"The City and Vicinity," Roseburg Plaindealer, August 6, 1894, page 3


On Friday of last week, August 3rd, the sad news of the death of one of Medford's first and most respected citizens, Mr. F. Hubbard, was announced, and much feeling was expressed over the death of one so much esteemed as a citizen and business man.
Mr. Hubbard was born in East Rochester, N.Y., December 13, 1824. He moved from the place of his birth to Orleans County, N.Y., when quite young, and when twenty-five years of age he was married to Miss Eunice Potter, who died ten years later. By this union there were born two daughters, Mrs. Amelia Pollard and Mrs. Hattie Johnson, both now living at Rock Island, Illinois. In Chicago in 1864 Mr. Hubbard was again married; his second wife being Miss Charlotte Otis, who is still living. Five children were born to him by his second wife, one daughter, now Mrs. Olive H. Slocum, living at present in Iowa. The four sons are all living in the Rogue River Valley, and two of them are now engaged in the machine business in Medford. They are Fortunatus, Otis A., Alexis and Asahel C. In the spring of 1883 Mr. Hubbard came to Oregon from Iowa and for a little over a year resided in Jacksonville, but when Medford was first platted, in 1884, he moved here and has been engaged in business until a couple of years ago when he turned his business over to two of his sons, Fortunatus and Asahel. He was a member of the Masonic and Odd Fellows lodges, but did not identify himself with any of the lodges of the valley. For a little over a year Mr. Hubbard had been in quite poor health but not until about the first of July did he seem to realize the necessity of medical attention. His malady was Bright's disease and heart trouble. The funeral was held at the Methodist Church last Saturday, Rev. C. H. Hoxie officiating. The services were attended by a large concourse of friends which told plainly of the great esteem which they had for the deceased. Interment was made in the Odd Fellows Cemetery.


Medford Mail,

August 10, 1894, page 2




HUBBARD BROS.

AGRICULTURAL IMPLEMENTS.

Jackson County has no similar establishment in her midst that is more worthy of note in this issue than that of Hubbard Bros.
This firm has, for many years, done business in Jackson County. Here can, at all times, be found one of the most complete stocks of farm machinery, threshing and harvesting machinery, agricultural and farming implements, including supplies and parts for same. Few establishments are so reputable, and so able to advance the interests of their patrons as this. The length of time they have been in business, their manner of conducting it, that is, upon so honorable and liberal basis, always pursuing a policy which may be styled the only correct one: that of absolute reliability, strict integrity and unwearying enterprise renders this firm as desirable a one to do business with as can be found in Jackson County.
"Our Business and Professional People Briefly Mentioned,"

Medford Mail,

May 28, 1897, page 3


An Austin grader at the

Eastern Washington Agricultural Museum

.

The county court has concluded a contract with Hubbard Bros. of Medford for the purchase of an Austin road grader, said to be one of the most satisfactory machines for such work built. It will arrive about the middle of April and will be the first used in the Talent section. The cost is a little less than $300.
"Local Notes,"

Democratic Times,

Jacksonville, March 28, 1898, page 3\


F. Hubbard is now a traveling salesman for the big firm of Baker & Hamilton of Sacramento, Calif.
"Medford Squibs,"

Democratic Times,

Jacksonville, August 11, 1898, page 3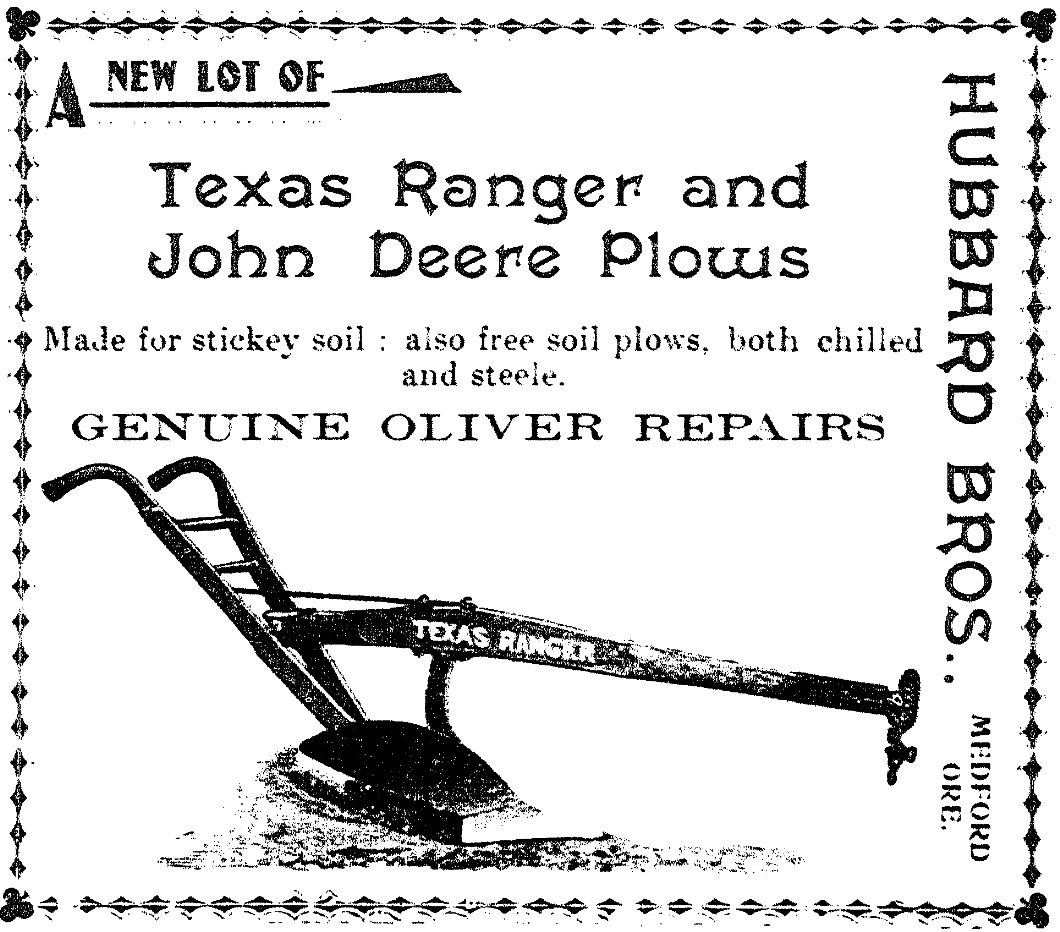 Medford Mail,

October 14, 1898


Mrs. E. J. Kubli has disposed of a lot of farming implements to Hubbard Bros. of Medford.
"Local Notes,"

Democratic Times,

Jacksonville, April 24, 1899, page 3


Fort Hubbard is rejoicing in chunks larger than usual since Tuesday, upon which date there arrived at his home a new boy baby.
"Additional Local Items,"

Medford Mail,

September 7, 1900, page 6


Asahel Hubbard has his new dwelling nearly completed. It is 24x26 feet in size and one story high and is being built by A. W. Bish. Its location is on South A Street, near E. C. Boeck's place, on a 125x200-foot orchard tract which Mr. Hubbard purchased last spring from M. S. Damon. It is a very desirable location, and Asahel, when he gets it made to suit, will have a splendid home.
"City Happenings,"

Medford Mail,

September 21, 1900, page 7


Mrs. Mary Allen Otis, one of the oldest citizens of Chicago, died at her home in that city last week, at the advanced age of 99 years. She has lived in Chicago since 1845, during all of which time she had but one residence, which has been called home by members of four generations. She was a grandmother of the Hubbard boys of this city. Mrs. Charlotte Hubbard, mother of the Hubbard boys, is one of four surviving children of deceased. The others, two daughters and a son, reside in Chicago. Notwithstanding the advanced age of deceased, she had not experienced a day's illness for almost a quarter of a century, until three days before her death, when she was taken with la grippe. Her home was the oldest house in Chicago. When her residence was taken up there, the city was only a hamlet.
"City Happenings," Medford Mail, January 11, 1901, page 7


Asahel Hubbard--"We are expecting a carload of McCormick mowers this week. There will also be rakes and binding twine in the car. Yes, business is good. We handle a staple line of farm implements, and our trade is very uniform on these makes of goods. Oh, yes, we add new customers to our list every year. The new people coming here from the East buy more or less of new implements, and as every farmer in the eastern states is familiar with the goods we handle it is not a difficult task to make these newcomers our customers."
"Echoes from the Street,"

Medford Mail,

May 3, 1901, page 2


A. C. Hubbard left by private conveyance for Lake County Monday morning, to be absent several weeks. He has been employed as salesman for the McCormick Manufacturing Company to thoroughly canvass Lake County in the interest of that company. Hubbard Bros. have been the representatives of this company in Jackson County for several years and have been so successful in the business that the company never lose an opportunity to demonstrate their appreciation of and confidence in the boys. He was accompanied as far as Klamath Falls by Harry Langell, who will spend the summer in Klamath County.
"Purely Personal,"

Medford Mail,

May 17, 1901, page 6


Misses Mary and Sarah Otis, of Chicago, arrived in Medford Monday and will spend a year here visiting their sister, Mrs. C. A. Hubbard [

sic

].
"Purely Personal,"

Medford Mail,

June 7, 1901, page 6


Misses Mary and Sarah Otis, of Chicago, arrived recently and will spend one year visiting their sister, Mrs. A. C. Hubbard.
"Medford,"

Sunday Oregonian,

Portland, June 9, 1901, page 15


Oatis Hubbard is up on Butte Creek this week, erecting a dwelling house on Fannie Haskins' homestead.
"Purely Personal,"

Medford Mail,

June 14, 1901, page 6


Mr. and Mrs. Wallace Woods and Mrs. Asahel Hubbard started for a few weeks' trip into Klamath and Lake counties Wednesday morning. They will meet Asahel over there in the tall timber and the four will camp, fish and hunt in various localities.
"Purely Personal," Medford Mail, July 26, 1901, page 6


Misses Mary and Sarah Otis, of Chicago, who have been in Medford since the first of June visiting their sister, Mrs. A. C. Hubbard, returned to their home Monday evening. The ladies are very favorably impressed with our country, and we would not be surprised should they visit us again another summer.
"Purely Personal,"

Medford Mail,

October 11, 1901, page 6


Misses Mary and Sarah Otis, of Chicago, who have been visiting since June 1 with their sister, Mrs. A. C. Hubbard, returned Monday evening.
"Society: Medford,"

Sunday Oregonian,

Portland, October 13, 1901, page 18


Mr. and Mrs. Geo. R. Long, of Cleghorn, Iowa, were in Medford this week upon a brief visit to their old-time Iowa friends and neighbors--the Whitmans and Hubbards.
"Purely Personal,"

Medford Mail,

November 1, 1901, page 6


Asahel Hubbard has purchased a tract of land 60x108 feet in size from the Minnick property on South C Street. This recent purchase is at the rear of his residence property and gives him opportunity for a driveway from C to B streets. The price paid was $100 and the deal made through the F. M. Stewart real estate agency.
"City Happenings,"

Medford Mail,

March 28, 1902, page 7


Mrs. J. W. McKee, mother of Mrs. Fort Hubbard, is at Ashland this week upon a visit to friends.
"Purely Personal,"

Medford Mail,

April 18, 1902, page 6


A. C. Hubbard has gone to Klamath County to sell machinery, in which he is an adept. He is accompanied by his wife.
"Medford Squibs,"

Democratic Times,

Jacksonville, May 29, 1902, page 6


Hubbard Bros. this week received one of the largest carloads of agricultural machinery ever shipped to Medford, direct from the East. The car contained thirty-one mowers, eighteen rakes and one header. The agricultural implement business in Medford is increasing rapidly each year, and Hubbard Bros. are building up a first-rate trade, which they richly deserve, as they handle a first-class grade of machinery, and themselves are genial, accommodating gentlemen. The freight on the carload of machinery above mentioned amounted to nearly $700.
"City Happenings,"

Medford Mail,

June 6, 1902, page 7


A special train went over the road last Friday bearing R. Koehler, manager, L.A. Fields, superintendent, T. W. Younger, master mechanic, and G. W. Donnell, road master, of the Oregon system, who were on a tour of inspection of their roads. During their stop in Medford Supt. Fields after an examination of the great amount of work to be handled in the Medford office authorized agent W. V. Lippincott to employ additional help for his office. In compliance with this order Mr. Lippincott promoted J. J. Parker from warehouseman to that of freight clerk in his office, and has given the position of warehouseman to Otis A. Hubbard, who has heretofore been extra man in the freight department. Both Mr. Parker and Mr. Hubbard are industrious young men and well liked by the patrons of the Southern Pacific, and their promotion is an honor that their efforts well merit. Medford has the credit of being the heaviest shipping point on the Southern Pacific in Southern Oregon, and agent Lippincott and his efficient force have had, at times, to do some lively hustling to handle the business, but they have always been equal to the occasion and the public has never been put to an inconvenience. But so fast has the company's business in the Medford office increased during the past year, with a greater increase sure to come before this year is at an end, that more office help was an imperative necessity, and Mr. Fields showed his just appreciation of Medford as one of his company's best shipping points by increasing the local office force to keep pace with the growth of this business, that the patrons of the road may have as efficient service in the Medford office as they have had in the past.
"City Happenings,"

Medford Mail,

July 18, 1902, page 7


A. Hubbard, who has been spending several weeks in Klamath County, selling agricultural implements, returned a few days ago. His trip was a successful one.
"Medford Squibs,"

Democratic Times,

Jacksonville, August 7, 1902, page 5


Asahel Hubbard:--"Business has been exceptionally good with us this season. We have sold our sixty mowers and all other farm implements in proportion."
"Purely Personal,"

Medford Mail,

August 15, 1902, page 6


Asahel Hubbard returned Saturday from Portland, where he purchased a large stock of farm implements of all kinds for the fall and winter trade. The Hubbard boys are doing a first-class business, and are telling about some of their stock in their advertisement in the

Mail

this week.
"City Happenings,"

Medford Mail,

September 19, 1902, page 7


Hubbard Bros. received a carload of plows this week--direct from the factory.
"City Happenings,"

Medford Mail,

October 31, 1902, page 7


Fort. and Alexis Hubbard have returned from Big Butte, where they have been several weeks.
"Medford Squibs,"

Democratic Times,

Jacksonville, November 12, 1902, page 4


Mrs. F. Hubbard has been visiting her sister, Mrs. D. King of Ashland.
"Medford Squibs,"

Democratic Times,

Jacksonville, December 10, 1902, page 2


Otis Hubbard:--"Did you see my new mail wagon? I have been using a Wells-Fargo wagon, but it was called in, so I had to have another. This is better than the old one for one reason, at least. The bed of the other one was swung on high wheels, and when I accidentally ran into someone, the bed usually hit him in the small of the back and made him pretty mad. With my new wagon, by elevating the handles a little, the bed strikes a fellow below the knees and naturally lands him in the wagon. By the time he gets out he is in a good humor, which saves lots of trouble."
"Street Echoes,"

Medford Mail,

December 11, 1903, page 1


Hubbard Bros., the implement dealers, are preparing to branch out more extensively in their line of business. They have rented two rooms in the Barnum block, adjoining the Mitchell & Boeck blacksmith shop, and will put in a line of wagons and other vehicles. This week they received a carload of springtooth harrows, plows and other farm machinery.
"City Happenings,"

Medford Mail,

April 8, 1904, page 5


Fort Hubbard:--"Hubbard Bros. this week sold two machines of patterns not heretofore used in this section. One is a patent hay-buck, known in California as a 'go-devil,' which L. Niedermeyer will try on his farm west of town. This machine picks the hay up on long teeth and carries it to the stack or wherever it is wanted. The other is a hay loader, to be attached to a wagon and elevates the hay either from the swath or windrow into the wagon. Will Nicholson will take this machine to his Fort Klamath ranch. They are both of the latest pattern and are in successful use in many sections of the country."
"Street Echoes,"

Medford Mail,

June 30, 1905, page 1


Fort Hubbard:--"Am I going to the hills? Not now. I am too buy setting up binders; but I'd like to go just the same. We have sold more binders this year than for several years previously, showing that there will be a lot of grain harvested in this valley during the season. For the past four or five years we have only averaged about one or two binders a year, as the acreage sown remained about the same and the trade had been supplied. This year we have sold four and are not through. This is principally owing to the increase in grain acreage."
"Street Echoes,"

Medford Mail,

July 14, 1905, page 1


Otis Hubbard:--"I guess I got into too big a hurry to get to the circus, and that's what's the matter with my hand. I was coming along at a pretty good lick when my horse fell down and I struck on my hands and knees, and split the right hand clear across the palm. But I got to the circus just the same."
"Street Echoes,"

Medford Mail,

September 1, 1905, page 1


Asahel Hubbard:--"I notice by your paper that you fellows are having a hard time getting that Taylor silo business straightened out. While you are threshing that out you might say that the ensilage cutter the Taylor boys are using was bought from Hubbard Bros."
"Street Echoes,"

Medford Mail,

September 15, 1905, page 1


Asahel Hubbard:--"Yes, the implement business is pretty good now. We are selling a whole lot of plows, mostly disc plows, which are now taking the place of the old-fashioned gangs. They are better than the old plow in many respects, principally because they can be used no matter whether the soil is wet or dry."
"Street Echoes,"

Medford Mail,

November 3, 1905, page 1


Fort Hubbard:--"I have just returned from a visit of a week with Mrs. Hubbard's parents, Mr. and Mrs. John McKee, on Applegate. No, I wasn't on business, and if anybody had talked business to me on that trip there would have been trouble then and there. Fact is, I haven't been out of town for five years unless it was on business, and then I was always in a hurry to get back, so I made up my mind I was going to take a week off anyway and get acquainted with my own and my wife's people. The people up in that section are all talking about the railroad to the copper mines and the consequent development of the whole Applegate section. The new mining enterprises being projected are attracting a lot of attention, and the people of the Applegate country feel that they are soon going to have one of the most thriving valleys in Southern Oregon. I believe so myself."
"Street Echoes,"

Medford Mail,

January 5, 1906, page 1


Asahel Hubbard:--"Say, there is a whole bunch of Medford people now living in Portland. I met a dozen or more--and the most of them seem to be doing nicely. Saw Al Shearer among the rest. He has a good job--at $10 a day. He is engineering a project for the Lafe Pence Company, in which the celebrated Guild Lake of Lewis and Clark fair fame is being filled with dirt from a nearby hill. I understand the hill is to be washed by water into what is now the lake, and when this is done the level tract of land thus made will become residence property. Giants and hydraulic pressure will be used in moving the earth, and I was told eight years' time will be required to perform the work. John Hardin is also employed on the job--foreman of a gang of workmen, at $4 per day."
"Street Echoes,"

Medford Mail,

January 19, 1906, page 1


Messrs. Hubbard Bros. have plans drawn for the erection of a fine two-story brick and stone building on their present business location, corner of Seventh and A streets. The building will cover the entire lot and will have a frontage of thirty feet on Seventh Street, and 140 feet on A Street, and will be fifty feet across the back, or along the alley. The foundation will be of stone with cross walls in plentiful number to well support the enormous weight which they will have to carry. The front will be of brick and cement, while the side walls will be of brick, seventeen inches thick. The first floor will be used for a show room and for storing the heavier farm implements and wagons, while the second story, which will be reached with an elevator, will be used as a storage and show room for hacks and carriages. The plans were made by architect I. A. Palmer and are very pretty while the detail work indicates strength and special design for the purpose intended. Work will be commenced on the building in early spring.
"City Happenings,"

Medford Mail,

January 26, 1906, page 5


Hubbard Bros. Tuesday of this week commenced moving their stock of implements, etc., to the rooms adjoining Cook & Whiteside's harness shop, preparatory to tearing down their old building and constructing a brick in its place. The new building will be two stories in height, thirty feet wide on 7th Street, fifty feet wide in the rear and 140 feet long. It will be substantially built, with sixteen-inch walls, for the accommodation of the heavy machinery carried by the firm. The work of tearing down the old building has been commenced, and construction work will be commenced next week. Childers Bros. have the contract for the brick work. Wallace Woods will probably tear out the old building next door, the old Merriman blacksmith shop, and put a brick in its place, but has not fully decided upon its dimensions.
"City Happenings,"

Medford Mail,

July 13, 1906, page 5


Fort Hubbard:--"We expect to commence the foundation for our new building this week. Do you know that the building just torn down is one of the oldest in the city? It was built in 1883 or 1884, and was first used as a hotel. When my father and I first came here we boarded in that hotel while the building where George Merriman now is was being built for my father's use. It was afterward remodeled into a saloon, but since 1894 has been occupied by Hubbard Bros. The building next door, now being torn down, was built the year afterward. This corner here is the oldest in town with the exception of the row on D Street, where Dave Miller, J. S. Howard and other oldtimers first located."
"Street Echoes,"

Medford Mail,

July 27, 1906, page 1


The foundation for the buildings of Hubbard Bros. and Wallace Woods is being laid this week, and the construction will be pushed as rapidly as possible. The building--the structure is practically one building--will be 140 feet long by 65 feet wide, the Hubbard building being forty and the Woods building twenty-five feet in width, and two stories high.
"City Happenings,"

Medford Mail,

August 17, 1906, page 5




HUBBARD BLOCK NEAR COMPLETION

Substantial Addition to Medford's Business District.

Will Be Occupied December 15th.

The Hubbard and Woods blocks, now approaching completion on East Seventh street, will be ready for occupancy about December 15th, at which time the Hubbard Bros., whose growing business the larger block was designed to accommodate, will occupy the corner building.
The building is a substantial structure of Oregon brick, with a frontage of 60 feet on Seventh Street and 140 feet on A Street. The Hubbard building has a frontage of 40 feet and the Woods building 25 feet. The entire upper floor of the block will be used by them as a carriage repository, but the first floor of the Woods building is available as a store for the first desirable tenant who applies.
The Hubbard Bros. have suffered much inconvenience during the past summer from lack of suitable store room for their goods, and expect, as soon as the new building is under roof, to employ it temporarily for the storage of a large shipment of vehicles and implements now en route from the factory at Moline, Ill.
The plate glass front will be placed within two weeks, by which time work on the exterior of the building will be completed.
The Hubbard Bros. have been engaged in the implement business in Medford for the past twelve years and the new building they are soon to occupy is a credit, not to Medford alone, but to their industry and business methods. It is a splendid testimonial of public confidence in their business integrity and their faith in the future of Medford.


Medford Mail,

November 23, 1906, page 1


Asahel Hubbard:--"I loaned a step ladder last week to someone, and to save me I can't think who it was. I wish you would ask him to return it. No, we don't really need it any more ourselves, but the truth of the matter is we borrowed it ourselves, and the fellow from whom we borrowed it has a better memory than we have--at least he has intimated that he would like it returned."
"Things Told on the Street,"

Medford Mail,

February 22, 1907, page 1


"Do we prosper?" answered Asahel Hubbard in reply to the reporter's question. "I should say yes. Not only in the city, but everywhere in the valley. I think we in our business have a pretty good line on the well doing of the farmer. It wasn't so many years ago that a farmer who owned a buggy and a good driving horse was regarded as a bloated bondholder by his neighbors, but now they all have them and sometimes more than one. Our buggy sales to farmers have increased wonderfully."
"Medford's Prosperity,"

Medford Mail,

July 5, 1907, page 5


Asahel Hubbard is having a foundation put in for a new residence, on South A Street. The dwelling will be 26x32 feet in size, two stories high with an annex for kitchen, pantry and bath.
"Additional Local,"

Medford Mail,

July 19, 1907, page 2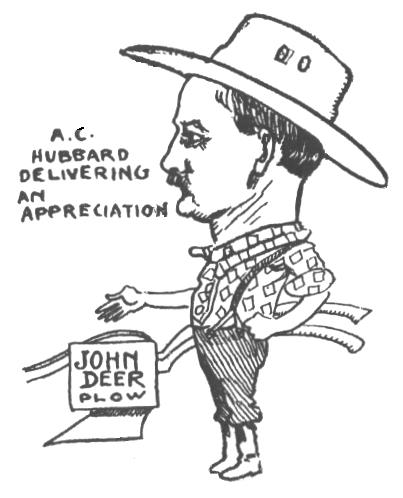 From
The Sketch,
Sept. 14, 1907
Twenty-five years ago Fort Hubbard left Dallas Center, Iowa for Oregon. He has lived in Medford and vicinity ever since. August 22 he will leave for a visit to his old home, but before returning he will visit Chicago, Moline, Ill., and other places. He will be away about a month.
"Local and Personal,"
Medford Mail,
August 14, 1908, page 5
Medford Mail,
May 14, 1909
HUBBARD BROS.

In the development of the country of which Medford is the principal supply center, there has necessarily existed a great demand for farm machinery of all kinds. The pioneer business along this line has been in the Hubbard family for a quarter of a century. The present proprietors are Messrs. F. and A. C. Hubbard, who have had the management since 1894. They are general dealers in agricultural implements and have the exclusive sale of the John Deere plows and buggies and McCormick mowers, reapers, binders, etc. They have a complete stock of harrows, hacks, rakes, headers, sickle grinders, binding twine, etc., Moline wagons and in fact everything on wheels can be furnished from the heavy wagon of the farmer to his light buggy and from the fashionable turnout of the influential citizen to the delivery wagon of the merchant and the handy cart of the horticulturist. They own the large building they occupy, and their immense warehouse, and must have more room the coming season. They are members of the Odd Fellows, K.P.'s, A.O.U.W., Commercial Club and Business Men's Association and are in the front rank of our popular, progressive citizens.
Medford Mail Tribune,
January 2, 1910, page 8
Earl Hubbard, Roland Hubbard, Everett McArthur and Robert Kinleyside started last Monday morning for a month's outing in the mountains east of Medford. They drove from here, but they would pack most of the way as they intended to visit Diamond Peak, Blue Canyon, Crater Lake, climb to the top of Mt. Pitt and then go to Pelican Bay to fish. They will return by the way of Klamath Falls.
"Local and Personal,"
Medford Mail Tribune,
July 12, 1912, page 2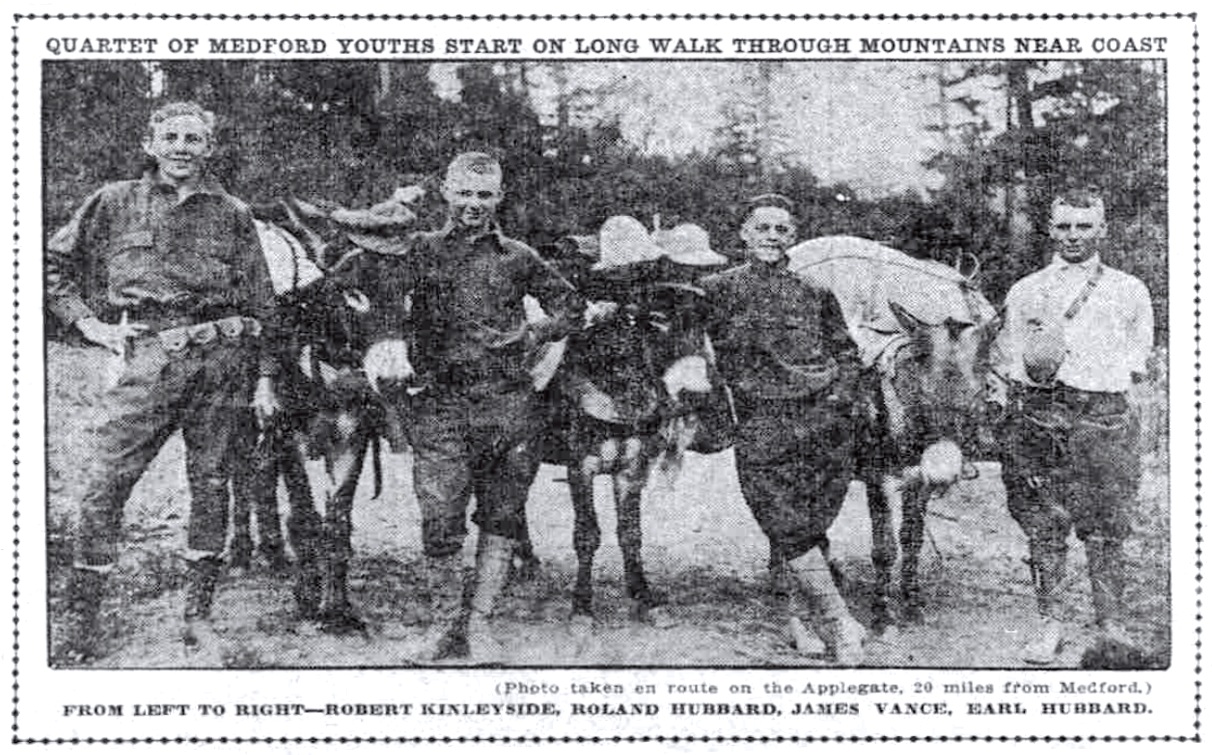 July 27, 1913
Sunday Oregonian

LONG "HIKE" IS BEGUN
MEDFORD YOUTHS TO MAKE 300-MILE TRIP.
With "Pack Train" of Four Burros, Quartet to Walk Over Siskiyous to Coast.
MEDFORD, Or., July 26.--(Special.)--Four Medford youths departed Monday on a 300-mile hike, accompanied only by their burros packed with their camp outfit. These boys are: Robert Kinleyside, Roland Hubbard, James Vance and Earl Hubbard. The route takes them for the greater portion of the distance away from the beaten path, and only on one or two occasions will they encounter civilization.
Leaving Medford, the boys went up the Applegate River a distance of about 25 miles, thence up Beaver Creek to the summit of the Siskiyou Mountains, which they will follow in a general way along the course of the Klamath River to the coast.
There is a trail along this route, which many of the old gold hunters followed in the '60s, when the overflow from the California fields found its way to Southern Oregon. Only one or two points remain on the route where any human beings will be encountered, and not until the "pack train" reaches Crescent City, a distance of about 125 miles, will the boys report.
On reaching the coast the route will be north through Crescent City to the mouth of Rogue River, up which stream they will pick out a trail that will take them in the vicinity of Grants Pass, where they will turn aside to explore the Marble Caves of Oregon. They expect to make the circuit in about five weeks, returning in time to accompany the Seventh Company of Coast Artillery, of which they are members, to Fort Stevens for the annual encampment on August 20.
The boys are all members of the junior class of the Medford High School, and each year take a long hike or outing in the mountains. Last year the same four camped for six weeks on Klamath Lake and explored the surrounding country, including a trip to the summit of Mount Pitt, which was reached only after two attempts and many difficulties.
The boys worked in the orchards after the close of school this spring, and earned sufficient money to buy their burros and camp outfit. They expect to bring back many tales of adventure and stories of the big fish and game bagged on the trip.
Sunday Oregonian,
Portland, July 27, 1913, page 10
Earl Hubbard, Hugo Lundberg and Clinton Purkeypile [of] the Medford High School debating team has [
sic
] returned from Eugene, where they debated the Bandon High School debating team. The local team was defeated.
"Local and Personal,"
Medford Sun,
April 2, 1915, page 6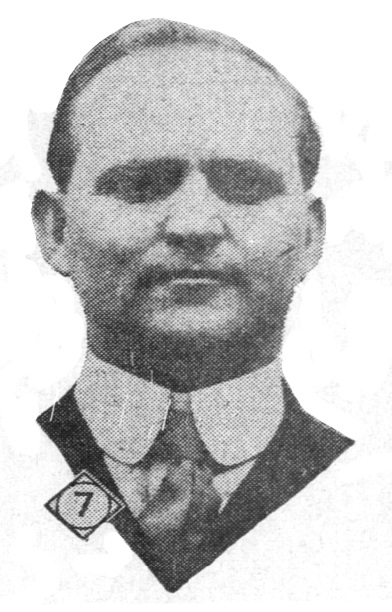 A. C. Hubbard, January 25, 1917
Oregonian


Mr. and Mrs. W. E. Cloney left this morning for Vicksburg, Mich., their former home, where they will locate permanently. They have resided in Medford for the past seven years, much of which time Mr. Cloney was in the agricultural implement business with Hubbard brothers. En route east they will visit at San Francisco, Los Angeles and Chicago.
"Local and Personal,"
Medford Mail Tribune,
September 19, 1917, page 2
DOUBLE WEDDING AT EAGLE POINT SURPRISES FRIENDS
(By A. C. Howlett)
Last Friday, Oct. 11th, about 8 o'clock p.m., Fort Hubbard came and requested an interview with your correspondent and on presenting myself he remarked that I had done such a good job before that he wanted me to try my hand at it again, referring to an incident that occurred 24 years ago the 18th day of last February, when I joined himself and Miss Tressa McGee in marriage, and that he and his intended would be out the next evening sometime between 4 o'clock and 8, owing altogether as to what time he could get off from the store. The next day he phoned over that there would be a party of six out for supper about 7 o'clock. About that time he came accompanied by Mrs. Lida L. Meadows, and her daughter, Mrs. Myrtle Buteau, Dr. J. D. Rickert and Mrs. Carrie M. Headlee. After waiting a few minutes for Mrs. Howlett to arrange the supper she came into the parlor and announced that she was ready to serve supper, whereupon Mr. Hubbard handed me the license authorizing me to join Fortunatus Hubbard and Mrs. Lida L. Meadows in marriage, and as the couple was getting in position to be joined in marriage Dr. Rickert jumped to his feet and asked, "Why not make it a double wedding?" and I informed him that could be easily arranged if he could produce the license, and while I was calling for them he produced a roll containing the necessary paper and in less time than it takes to write it Fort Hubbard and Mrs. Lida L. Meadows were united in marriage and Dr. J. D. Rickert and Mrs. Carry Headlee made husband and wife. There were no guests invited although there were some five or six of the boarders present. The newlyweds and Mrs. Hubbard's daughter, and your correspondent, were seated at a table where a feast had been prepared for the occasion, and after supper and spending a while in a social way with music and singing the company started for their homes in Medford, and while on the way met one of our guests coming from Medford who reported that they said that they were married so quick that she did not hardly know whether they were married or not, but they had the marriage certificate to show that they were. The double wedding was a complete surprise to all, not even the brides or myself knowing anything of the arrangements as it was arranged between Mr. Hubbard and Dr. Rickert and when Dr. Rickert suggested a double wedding Mrs. Meadows simply sat down in amazement.
Medford Mail Tribune,
October 17, 1918, page 4
September 27, 1919
Medford Mail Tribune

HUBBARD BROS. PIONEERS IN COUNTY
Hubbard Brothers is the oldest established implement and tractor house in Southern Oregon, and as their business slogan states was "here before the town started." It was in 1884 that the present business was established on the site now occupied by the Medford Service Station at the corner of Riverside Avenue and Main Street, and in1906 erected their present quarters on the opposite side of the street. The proprietors of the business are A. C. and Fort Hubbard, who enjoy a large acquaintance among the farmers of Klamath, Jackson and Josephine counties.
Hubbard Brothers have handled the world-famous products of the John Deere Company from the inception of their business. They also handle the other standard makes of farm implements, including the Waterloo Boy and Cletrac tractors, Associated gas engines, Bean sprayers, American steel pulleys and Iowa cream separators, besides every accessory a farmer would need from a wagon tongue up.
The employees of the business are Roland Hubbard, Ferdie Hubbard, Bolton Meadows, W. G. Pierce, H. G. Williams and Miss Ella Parks, the accountant.
Development of the lumber industry in Southern Oregon has caused Hubbard Brothers to install a line of pulleys and belting, and are thus prepared for the opening of a new line of trade. This is their latest accession to an already complete stock.
The firm has kept step with the progress of the city and valley, and rank with the leaders in their line in the state.
Medford Sun,
May 2, 1920, page B1
DEMONSTRATE SPRAYER AT HUBBARD BROTHERS
B. J. Doran, representative of the Bean Sprayer Company, is conducting a demonstration every day this week at Hubbard Brothers, their local representative's place of business. The machine being demonstrated is their super-giant sprayer especially adapted to this locality. One of the disadvantages of some sprayers is their small capacity, light engine and low pressure. The Bean super-giant has 300 gallon capacity, 300 to 400 pounds pressure, 10-horsepower four-cylinder motor, pump capacity of 15 to 20 gallons per minute as well as other improvements.
Hubbard Brothers extend an invitation to everyone interested in sprayers to call any day this week, and see this super-giant work.
Medford Mail Tribune,
March 2, 1921, page 3
Earl Hubbard, manager of the John Deere plow company of Bellingham, Wash., has returned after a pleasant visit with friends and relatives in this city. He is the son of Fort Hubbard of the Hubbard Brothers firm and was raised in this city.
"Yourself and Others,"
Medford Clarion,
November 9, 1923, page 7
GASOLINE BLAZE IN MEDFORD HOME QUICKLY PUT OUT
The fire department was summoned to the home of Mr. and Mrs. Fort Hubbard, 440 South Riverside, at 9:30 a.m. today to extinguish a fire in the kitchen which was caused when Miss Aletha Hubbard on her way out of the kitchen with a pan of gasoline passed by the stove and an explosion followed.
Almost miraculously the young woman escaped even slight burns, except on the hands, and her clothing did not catch fire, but was only scorched, according to the firemen.
However, the blazing gasoline set fire to the interior of the kitchen, which was ablaze when the firemen arrived, and while some of them put out the fire with chemicals the other firemen laid 250 feet of hose in case it was necessary.
The flames were kept confined to the interior of the kitchen, which was badly scorched, and some of its woodwork was burned. There was no water damage.
Considering the threatening aspect of the fire when the firemen arrived on the scene the job of so quickly extinguishing the fire with so little damage and no water damage whatever won the fire department much commendation.
"Of course one can always preach after an occurrence of this kind, but this is certainly a solid warning to the women of the city in their cleaning operations not to have gasoline or any other liquid explosive in a room where there is a fire in a stove, even for an instant," said Fire Chief Elliott this noon.

Medford Mail Tribune,
April 9, 1925, page 6
W. T. WRAY JOINS HUBBARD STORE

Hubbard Bros. Incorporated, at the corner of Main and Riverside, headquarters for farmers and sportsmen's supplies for 54 years, announces the formation of the Hubbard-Wray Company, to be housed in its building as an independent institution. The new firm will represent the following famous lines of farm equipment: John Deere, Caterpillar and John Bean.
M. T. Wray, who was formerly associated with the Food Machinery Company in Chico, Calif. for 12 years previous to locating here, will manage the Hubbard-Wray concern. He is well acquainted in southern Oregon and has had extensive business dealings with a large number of Rogue River Valley orchardists.
Approximately 400 Caterpillar track-type tractors are already in use in this valley, giving evidence of the popularity of these machines, which are a major line at Hubbard's store. John Deere wheel tractors and a wide selection of other farm implements made by this pioneer company have been handled by Hubbard's for many years. The third important line featured by Hubbard-Wray is the John Bean Manufacturing Company's spray machinery and fruit equipment. Most of the local fruit packing plants use Bean products.
Medford Mail Tribune, September 15, 1926, page 3

Hubbard Bros.

Hubbard Bros. have the distinction of being the oldest concern in the city. The business was started early in 1884, by F. Hubbard, Sr., when Medford was a "wee infant." In September 1885 Mrs. Hubbard and children came west and joined their father. Four years later the store was completely destroyed by fire. In those days about every other store had pasteboard buckets hanging on their porches for fire protection. In the excitement someone took a stick to knock those buckets down, so they could be used, but the stick was too sharp and he jabbed holes in nearly every one, making them useless.
In 1892 the firm name was changed to Hubbard Bros. Alexis and A. C. Hubbard took over the business. Alexis sold to another brother, Fort, in 1895, and he in turn sold his interest to A. C. in 1925. In 1929 the business was incorporated under the same name, Hubbard Brothers, A. C. taking his sons Roland and Chester into the corporation.
When the company first opened for business wagons sold at $95 that would now cost $200. Buggies ranged in price from $60 to $150, but now they can't even get buggies. Before they added tractors in 1915 everything was horse-drawn and farm implements were the biggest part of their business. They now carry hardware, implements, sporting goods, tractors, etc.
"Brief History of Old-Time Medford Firms Given,"
Medford Mail Tribune,
September 29, 1930, page 8
A. C. Hubbard in Business 42 Years
Senior Member of Firm of Hubbard Bros. Entered Business
With his Father when 17 Years Old in a Firm That
Is Nearing Fiftieth Milestone; Recalls Many
Incidents in Early History of Medford
By LEE TUTTLE

Forty-two years in active and unbroken service with a firm that was founded in this county a half-century ago is the record of A. C. Hubbard, senior member of the firm of Hubbard Bros. implement, hardware and builders' supply dealers of Medford.
Aside from Charley Strang, A. C. Hubbard is the veteran business man of Medford. This does not mean he is an old man. He began his business career at the age of 17 and has not yet attained his sixtieth year.
"Our family arrived in pieces," said A. C. Hubbard, in recounting the coming of his parents and brothers to Jackson County from their home in Iowa. "Father made the trip first, arriving in Jacksonville in 1883. He immediately engaged in the implement business. Fort, the eldest of us boys, arrived in 1884. Otis arrived in the spring of '85, and mother and I, and my brother Alexis, who died later, arrived during the fall of 1885.
"When I arrived Father had moved the business from Jacksonville to Medford, and it was located where Lamport's are now on East Main, having moved there from East Main and S. Riverside, where he first located after moving from Jacksonville. The railroad had been completed through Medford only a short time, and Father joined the 'rush' from Jacksonville here."
Telling of his arrival here when a boy of 12, Mr. Hubbard says: "There were few business buildings, few dwellings and most of that area now covered by Medford was a wilderness of chaparral. The old S.P. depot was located directly in the center of Main Street, and the street veered around the depot to the south."
Hubbard says that he first attended school here in an old two-room frame structure located on what later became known as the Washington school site, now the site of the new courthouse. "Wallace Woods, Mamie Isaacs-Riddle, now employed in Mann's department store, Mrs. Jessie Coss, 'Toggery Bill' Isaacs, Charley Davis, former city superintendent, and George Alford, former county commissioner, were among the pupils enrolled when I first entered school here," he said. "Mary Baker was the first teacher. Later Maggie Sargent was our teacher. I also took a special course under N. L. Narregan, whose death occurred here quite recently."
Hubbard completed the grammar school course and actively entered the implement business with his father when only 17. Fort Hubbard, who remained active in business until a few years ago, was also employed with the firm when A. C. Hubbard began his career with them.
"The only schooling I received, after finishing the public school, was a three-month course in a local business college, which I attended evenings."
Reviewing the history of the firm his father founded, and with which he has been associated so long, Mr. Hubbard said that after a few months at the original location at Main and Riverside, the store was moved to a frame structure where Lamport's are now located. A fire destroyed the building and our stock in 1889. "We were out of business no longer than the time required to get in a new stock," he said.
Hubbard recalls an interesting event that took place the day their store was destroyed by fire. "The only fire department equipment consisted of several fibre-board or pasteboard buckets, which hung suspended on hooks from porches of the business buildings along Main Street. When the fire which destroyed our place broke out some man, whose name I have forgotten, was so excited that he procured a long stick with a sharp end which he poked upward against the bottom of the buckets to dislodge them from the hooks from which they were suspended on the porch of Wood's harness store which adjoined ours. He got the buckets down but about one-third of them were punctured and useless for carrying water from adjoining wells.
"Clara Wood, now assistant cashier in the Medford National Bank, lived with the other members of her family in the rear of the harness shop.
"Following the fire we moved to a building on the location now occupied by Antle's Smokehouse."
"My brother, Alexis, and I took over the complete ownership and control of the business in 1891. My oldest brother, Fort, purchased Alexis' interest about 1896, and continued with the firm until a few years ago. Father died in 1893, at the age of 70. My mother died about 1920 and was 91 years old."
Hubbard relates that after a short time spent in the location of Antle's Smokehouse on East Main, the firm moved to a building on the corner now occupied by Palmer's Music Store [at the southwest corner of Main and Bartlett]. Later they returned to the original location at the [southwest] corner of East Main and South Riverside where the Medford Service Station is. The structure there had originally been a livery stable but had been remodeled to meet the needs of an implement business of that age.
Hubbard tells an interesting sidelight on the matter of the East Main and South Riverside location occupied by the firm. In 1895, "the location was sold out from under us for $450. The deal was closed before we could get around to purchase it. The new owner immediately jumped the rent from $8 to $12 a month. We thought that too high and purchased the building directly across Main, where we are now located. We made a small payment down on the building and lot."
Hubbard Bros. erected the present structure about 1906, and the firm now occupies about 29,000 square feet of space on one of the busiest corners of the city.
After moving to the present location hardware and builders' supplies were added to the implement stock, and the firm is now the largest of its kind in Southern Oregon and carries the largest stock of implement parts between Portland and Sacramento. Ten people are employed by the firm.
Asked to name the cornerstone of the foundation upon which a firm has withstood the test [of] time and has grown and prospered for 50 years, Hubbard said:
"Fair treatment of the public, service in supplying them with the articles of merchandise needed, down to the smallest items, and personal supervision of the business."
Commenting on the phase of personal supervision, the man who has been directing the affairs of the firm, in whole or in part, for 42 years, says: "We have always made it a point for one of the proprietors to be on the job every hour the store has been open."
If the past is any criterion, the firm of Hubbard Bros., which is rounding out a half-century of history and achievements in Jackson County and Medford, will be one of the substantial firms 50 years from now. As A. C., Alexis and Fort Hubbard succeeded their father in the business, Roland and Chester Hubbard, sons of A. C., are paving the way to a successorship of their father. Both are now active members of the firm and are among the progressive young business men of the city.
A. C. Hubbard was married to Miss Rena Knowles of Jacksonville in 1894. The residence of the couple is located at 322 S. Riverside, on which street the two have resided continuously for over 30 years. Roland and Chester are the only children.
Relates Election Incident
Mr. Hubbard relates an interesting historical event in city affairs and in which his brother, Fort, was one of the principals. Fort Hubbard and the late Judge Purdin tied in the race for city recorder many years ago. The council consisted of four members, and in voting to break the tie two voted for Hubbard and two for Purdin. The mayor refused to vote to break the tie in the council. Each candidate expressed a willingness to withdraw in favor of the other, but were dissuaded by their friends. Eventually both withdrew and the council named J. A. Toft to the office.
A. C. Hubbard's life has been a busy one. He has indulged in a few hobbies and only in sports when he fished and hunted as a boy. Yet [the] years have borne lightly upon him. He has given liberally of his time, however, to civic affairs and served as chamber of commerce director, member of the city council, and president of the Retail Merchant's Association.
Medford News,
July 14, 1933, page 1
DEATH ENDS LOG BUSINESS CAREER OF A. C. HUBBARD
A. C. Hubbard
, 69, pioneer Jackson County hardware merchant, prominent and highly respected citizen, passed away yesterday at the family home, 1311 E. Main St., after an illness of five months. Mr. Hubbard, whose father established himself in the hardware business in Jacksonville in 1883, went into his father's firm at the age of 17 years, after the business was moved to Medford. In recent years Mr. Hubbard was less active in the firm because of ill health and had been in semi-retirement since last summer.
Mr. Hubbard came to Oregon in 1885 with his mother and a brother, his father and older brothers having preceded them in 1883 and '84. His father had already engaged in the implement business, first in Jacksonville and then in Medford on East Main Street and Riverside Avenue. The young man attended school first in a two-room structure on the site occupied now by the courthouse, and discontinued his formal education at 17 to enter his father's business.
The store was moved from the first location to that now occupied by Lamport's and in 1889 was destroyed by fire. After several moves the business was at length housed in the present building at Main and Riverside Avenue across from the the original location. Mr. Hubbard and his brother, Alexis, took over active management of the business in 1891.
In 1894 he was married to Rena Knowles of Jacksonville and two sons were born to the couple, Roland and Chester. Mrs. Hubbard and the two sons survive, as well as four grandchildren, Bob and Lola, children of Roland, and Sandra and Susan, daughters of Chester Hubbard. One brother, Fort, also survives and arrived by plane from Seattle Sunday to be with his brother.
Mr. Hubbard was very public spirited and active in civic affairs, having served eight years as a member of the city council, was a prominent member of the Elks lodge and on the board of directors of the Chamber of Commerce. He also had served as a board member of the State Hardware and Implement Association for many years and was for a time president of the Retail Merchants Association when that group was active.
Deceased was a native of Iowa, having been born in Dallas Center in that state May 23, 1874.
Funeral services will be held tomorrow at 3:30 p.m. at Perl's Funeral Home, the services to be conducted by the Christian Science church. Honorary pallbearers will be Victor Bursell, Charles Austin, C. E. Gates, O. O. Alenderfer, Clarence Meeker and Gus Newbury. Active pallbearers are to be Tom Flynn, William von der Hellen, George Frey, R. A. Skinner, Frank Farrell and Al. Littrell.
Medford Mail Tribune,
July 8, 1943, page 1
RITES THURSDAY FOR F. HUBBARD, COUNTY PIONEER
Funeral services for
Fortunatus Hubbard
, 79, Jackson County pioneer and one of the early owners of the present Hubbard Brothers company here, will be held at the Perl funeral home Thursday at 2 p.m., with the Rev. Louis C. Kirby, pastor of the First Methodist church, officiating. Hubbard passed away Sunday at the home of his son, Ferdie A. Hubbard, in Central Point. Interment will be in Medford I.O.O..F. cemetery.
Hubbard, born May 28, 1866, in Illinois, came to Jacksonville in 1883 with his father, who established an implement business in that town. He went into business with his father in 1884 and the firm was later moved to Medford under the name of Hubbard Brothers. Fortunatus Hubbard was the eldest of the Hubbard brothers and the last to survive, Asahel C., Alexis and Otis having all preceded him in death.
The deceased was married in 1894 to Theresa McKee of Jacksonville and three children were born to this couple. All three, Earl of Seattle, Ferdie of Central Point and Aletha of Seattle, survive. His second marriage was to Lydia Meadows, 440 South Riverside, who survives, and other survivors are a grandchild and great-grandchild in Seattle.
Hubbard retired from active business in 1926, and in the interest of his health went to Crater Lake National Park as a ranger. The latter years of his life were spent with his son and daughter in Seattle. He was a lifelong member of the Odd Fellows Lodge and also belonged to the Elks Lodge, Kiwanis Club and Rebekah Lodge while residing in Medford. Mr. Hubbard, active in the city's civic affairs, was widely known as a public-spirited citizen and held in high esteem and regard while in business in Medford.
Medford Mail Tribune,
October 2, 1945, page 8
HUBBARD FUNERAL 2 P.M. TOMORROW
Funeral services will be held Tuesday at 2 p.m. for Mrs.
Lida Lu Hubbard
who passed away Saturday. The Rev. W. A. Dawes of the First Baptist church will officiate and interment will be in Siskiyou Memorial Park.
Mrs. Hubbard, wife of the late Fortunatus Hubbard, was born in Tazewell County, Virginia, January 17, 1881. She was a member of Olive Rebekah lodge and the Baptist Church.
Left to mourn her passing are two daughters, Mrs. Myrtle Smith, Central Point, and Mrs. May Jackson, Rio Vista, Calif.; two sons, Bolton Meadows, Roseburg, and Howard Meadows, Riverside, Calif.; one sister, Mrs. Sam Meadows, Medford, also four grandchildren and four great-grandchildren.
Medford Mail Tribune,
November 26, 1945, page 5
HUBBARD, ROLAND ASAHEL
Hardware Executive; Hubbard Bros., Inc.
b. Medford, Oregon Jan. 30, 1898; son of Asahel C. and Rena (Knowles) Hubbard; educated grade and high schools, Medford; Oregon State College; Sigma Nu; m. Alene Allen of Medford Dec. 30, 1919; children Robert A., Lois N.; with Hubbard Bros. (wholesale and retail hardware firm founded by father in 1884, oldest firm in Medford and one of oldest in Southern Oregon); general manager and vice-president Hubbard Bros. Inc.; partner, Hubbard-Wray Co. dealers in farm implements; treasurer Diamond Lake Resort and Hotel; president Jackson Investment Co. (owners of Sparta and other buildings); operator large hay and cattle ranch near Medford; very active and past board member, Red Cross and Community Chest; ex-director, Oregon State Hardware Dealers Association; served World War I; Legionnaire; member Chamber of Commerce (director 12 years); Rotarian; Elk; Republican; Methodist; home 828 Minnesota; office 335 East Main, Medford.
Capitol's Who's Who for Oregon 1948-49,
page 281
WRAY, (Milbird) THOMAS
Farm Implements and Machinery Dealer.
b. Dodge City, Minn. Jan. 11, 1888; son of Cary and Lucy (Vinacke) Wray; educated grade school Minnesota; high school Silverton; University of California one year; m. Bertha May of Portland, Oregon Sept. 23, 1912; children M. Thomas Jr., Richard (U.S. Air Corps, 2nd Lt. World War II); started on farm, Minn.; various positions, sales department Ford Machine Co. (manufacturers) San Jose, Calif.; sales engineer 1915-35; partner Hubbard Wray Co. Medford, farm machinery and implements 1935 to date; active in all community betterment programs; director Red Cross board, Jackson County; member Chamber of Commerce (president 1943); Izaak Walton League; Rotarian (president 1945-46); Mason; Republican; Christian; home 2425 Hillcrest Rd.; office, 29 N. Riverside Ave., Medford.
Capitol's Who's Who for Oregon 1948-49,
page 603
HUBBARD-WRAY FILES INCORPORATION PAPERS
Salem, Ore., Jan. 8--(U.P.)--Articles of incorporation have been filed here with the corporation commissioner by the Hubbard-Wray Company, Inc., of Medford with a capital of 5,000 shares, no par value, with R. A. Hubbard and others listed as owners. The company is a general merchandising business.
Medford Mail Tribune,
January 8, 1948, page 7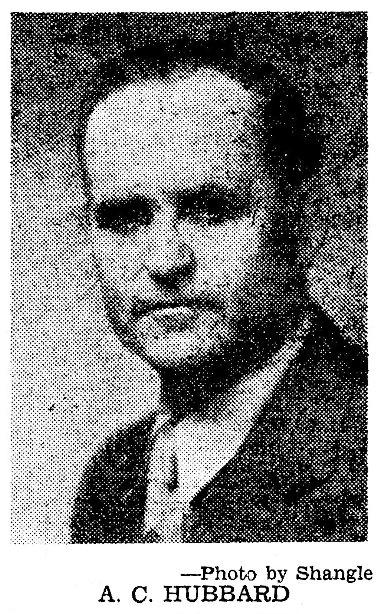 HUBBARD BROTHERS MARKS
73RD YEAR IN BUSINESS HERE

Hubbard Brothers Hardware firm, Main St. and Riverside Ave., is celebrating the 73d anniversary of its founding starting today.
The anniversary will be marked by specially reduced sale prices on merchandise in the store.
Members of the firm are Roland, Chester and Robert Hubbard. It was founded by Fortunatus Hubbard at Jacksonville in 1883 and has remained in the same family since that time.
Fortunatus Hubbard was a personal friend of John Deere, who established the John Deere Implement Company. Hubbard Brothers store is the oldest continuous John Deere dealer west of the Mississippi.
Moved to Medford

The firm was moved from Jacksonville to Medford soon after its establishment. It was set up on a lot at Central Ave. and Main St. The store has been at its present location since 1885. The building originally housed a saloon and general store. In 1933 the firm bought the building next to the present store, and in 1934 the two buildings were adjoined.
Family ownership of the store has included Fortunatus Hubbard in 1883; Fort Hubbard, 1884 to 1891; A. C. and Lex Hubbard, 1891 to 1896; Fort Hubbard, 1896 to 1926; A. C. Hubbard, 1891 to 1943; Roland Hubbard, 1949 to the present; Chester Hubbard, 1930 to the present; and Robert Hubbard, 1948.
The anniversary sale will end Saturday, April 27.
Medford Mail Tribune,
April 18, 1957, page 11
Hubbard Brothers Opened Store 100 Years Ago
By JOE COWLEY


Mail Tribune

Staff Writer
Hubbard Brothers Hardware, one of Rogue Valley's last "old-fashioned" hardware stores, will celebrate its 100th anniversary this spring on the corner of Riverside Avenue and Main Street.
The store has been in that location most of its 100 years. Brothers A. A. and A. C. Hubbard started the hardware company in Jacksonville early in 1884. [
The business was started by their father, Fortunatus Hubbard.
] The Hubbard Brothers came to Medford with the railroad later in 1884.
The Hubbards first rented, for a short time, a building (where Lamport's Sporting Goods used to be) across Main Street and a block west from the present hardware store location. The Hubbard family built the present store and moved out after the rent increased 50 percent to $12 a month.
John and Kathi Ehrlich have tried to preserve much of the store's history since they bought out Chet and Roland Hubbard, sons of A. C. Hubbard, on Feb. 1, 1972. Chet Hubbard died four days after signing over the store. However, Chet's widow, Mary, and Chet's brother, Roland, continue to live in Medford and continue to show interest in the store, Ehrlich said.
Store displays will represent much of the store's history when the Ehrlichs hold a series of anniversary activities in the old building this spring.
The two-story brick building literally marks a transition from horse and buggy sales to computerized orders.
The second floor in Medford's early days was a buggy and farm implement display area and provided warehousing for hardware supplies hauled off the nearby train.
The second-story floor still shows painted lines and numbers for warehousing goods.
"In those earlier days if you didn't have it you wouldn't get it for awhile," Ehrlich said. "Now computers transmit the orders in minutes back to the Chicago headquarters of our co-op supplier--Ace Hardware--and a truck leaves the Yakima, Wash. warehouse the next day."
So the former warehouse space consists now of a restaurant, Digger O'Dell's Country Steakhouse, and various leased-out office space.
The Caterpillar and John Deere farm implement dealership separated from the hardware store building in the 1930s, according to Paul Culbertson pear growers and shipper and local historian. The late Tom Wray was implement sales manager.
"John Deere himself came to Medford to set up the dealership with the Hubbards," Ehrlich said he learned from old newspaper accounts. [
John Deere died in 1886 at age 82. It seems unlikely he was traveling the country in his 80s, setting up accounts. Hubbard's doesn't advertise being a John Deere dealer until 1898.
]
Despite the big surge to power tools and sophisticated gardening equipment, individual hardware items such as screws, bolts and fasteners continue as the "bread and butter" of the business, Ehrlich said.
"People can still come and buy a single screw or bolt. That's what keeps this an old-fashioned hardware store. Of course, people have to go to the bins and pick those items out, but they don't seem to mind," Ehrlich said.
Another change in recent years is packing of plumbing, electric and carpentry supplies for the do-it-yourself person.
"Besides selling those items we gladly tell people now to use them," Ehrlich said.
The separately operated and owned "Hobby Tree" hobby shop and Rogue Small Engine Repair in the basement also keep up with modern trends: more leisure time for hobbies and more engine-powered gardening implements.
The sporting goods section also caters to the people with more leisure time.
Allied to the hobby trend are pool table sales, installation and repair--a major hardware store activity now.
Some automotive supplies long ago replaced buggy and buggy part sales. This category, too, aims at the do-it-yourself person.
The role of the hardware store manager has broadened. Ehrlich also calls himself a property manager, since he leases out both second floor and basement space to various individuals and companies.
Perhaps Ehrlich's background ideally prepares him for his expanding role. He has a college degree in business and industry management. Also, he worked for Johnson & Johnson, the pharmaceutical company, as traffic services manager.
Ehrlich, a native Oregonian, was born in Portland and grew up in Newport.
As a historic Medford business Hubbard Brothers has its roots deep into the community, and Ehrlich plans to continue meeting the needs of modern customers.
Medford Mail Tribune,
February 19, 1984, page C11
Hubbard Recalls Days of Buggies, Wagons
Century-Old Firm Became Hardware Store

Buggies and wagons were the main stock in trade in the early days of the century-old firm that evolved into Hubbard's Hardware.
But would one of the longtime owners of Hubbard Brothers, now retired, like to go back to Medford's horse and buggy days?
"Nothing doing," exclaims Roland A. Hubbard, 87-year-old Medford native, who as a boy had the task of dusting off the buggies on Saturday mornings before the farmers, prospective customers, arrived in town.
"Those were pleasant days," recalls Hubbard, whose grandfather, Fortunatus Hubbard Sr., founded the business in 1884. "I had a lot of fun. But that's too slow. Buggies would get you only 30 miles a day."
The son of Asahel C. and Rena Knowles Hubbard, Roland was born on Jan. 30, 1898, in a home not far away from the store. Roland's formal association with the firm began in the 1920s after service in the Army and 1½ years at Oregon Agricultural College (now Oregon State University).
He was a partner with his father, and eventually with his younger brother, Chester, (now deceased) and his son Robert, retiring from active participation about 25 years ago.
The Hubbards sold the hardware store at the corner of Main Street and Riverside Avenue to John and Kathi Ehrlich in 1972.
The store has been at the same location for most of the century of its existence. Fortunatus, however, began business in a rented frame building on the other side of Main just a little farther west.
Buggies and wagons would arrive in oak and hickory crates, which would be lifted in a hand-operated elevator to the second floor, says Roland Hubbard. Saturday was the busiest day of the week at the store.
The Hubbards also sold farm implements. Roland notes that the firm weathered the depression of the mid-1890s and that the early 1900s were prosperous years.
At Klamath Falls, the Hubbards traded wagons, mowers and rakes for horses and brought the animals to Medford to break and sell.
Roland says the big turning point for Hubbards came with introduction of the automobile. Touring cars replaced buggies, and wagons gave way to trucks, he says.
A jeweler named
Elwood
brought the first auto to Medford in [1903]. Hubbard says the three-cylinder Lamport [
sic
] was the object of some derision. [
Though Elwood did later become a Lambert dealer, an early photo reveals Medford's first car to have been a Baldner.
] It was labeled "Elwood's pushmobile" because it often had to be pushed home.
The Hubbards themselves acquired a four-cylinder Buick in 1908.
When Henry Ford came out with the $450 Model T in 1911, that was the end of the buggy business, says Hubbard. Wagon sales remained good until World War I, but as they dwindled business became seasonal, Hubbard says, because most farm implement trade was in spring and summer.
To fill the gap and create year-round sales, the Hubbards began to add hardware to their stock. When hardware sales began to outstrip farm machinery, the implements were relegated to the basement, Hubbard says. The upstairs, where buggies and wagons had been, was used for other storage.
The implement business was moved to a nearby location on South Riverside Avenue and became Hubbard-Wray Company. The Hubbards and partner Tom Wray sold out in 1962.
Of his early years, Roland recalls that the Hubbard families in town were among the first to install electric lights and that the firm was the first Medford store to have a telephone--even though their customers didn't.
He tells of swimming in Bear Creek in the late spring. The water was too polluted later on. He attended movies at the [Savoy] nickelodeon on Front Street. He attended the Washington and North (Lincoln) grade schools and the high school at Fifth and Bartlett streets. When Merrick's Natatorium was built there was swimming in the summer and bowling, dancing and skating for entertainment. Hubbard remembers the first airplane here. It took off and landed at a field west of town.
When Hubbard's acquired the Shell Oil franchise, Roland and a cousin, Earl Hubbard, required an entire day to hand-pump gasoline from the railroad tank car into storage located where Timber Products Company is now. They would distribute the fuel to local garages.
Once they rounded up pigs in the Table Rock area in payment of a debt and fattened them at the storage site.
Fortunatus Hubbard decided to come to Oregon when his store in Dallas [Center], Iowa, failed. A son-in-law had extended too much credit and spent too much money on liquor, Roland Hubbard says. He adds that the stigma of bankruptcy was "like going to prison."
As a clerk in a Jacksonville store in 1883, Fortunatus saw a market for farm machinery and wagons in southern Oregon. He got his old acquaintance, John Deere, Moline, Ill. to ship the wagons, harrows and plows on credit. [
Hubbard's was started in 1884 as an agency for D. M. Osborne implements and Studebaker wagons. John Deere products go unmentioned in Hubbard's frequent ads until 1898.
]
Fort Sr. died in 1894, leaving the business to his four sons. That's when it became Hubbard Brothers. Sons Alexis and Asahel assumed the management. Fortunatus Jr. found other employment in California, then returned in 1899. The other son, Otis, never was active in the business.
Alexis later gave up management to work his timber claim and to farm. Fort Jr. sold his interest in the early 1920s.
Medford Mail Tribune,
June 6, 1985, page 36
Hubbard's Will Bring All its Operations Under One Roof
By GREG STILES
Mail Tribune
Hubbard's Hardware will consolidate its operations into one store on Crater Lake Highway this summer.
The store on South Pacific Highway will close in July, and the building will be leased to CDS Publications, which operates next door. All of the employees will move to the north Medford store, which has accounted for the majority of the company's approximately $10 million in sales in recent years.
"This has been something in the works for quite some time," said general manager Bob Seus, who leads the family business.
"CDS has been talking with us on and off, and the timing became right for them and us," he said. "We couldn't refuse; it was a no-brainer."
History of Hubbard's Hardware


Hubbard's was founded in 1884 in Jacksonville by Fortunatus Hubbard Sr. In 1898 it moved to 335 E. Main St., in Medford.

Around 1906, the brick Hubbard-Woods building was built at the corner of East Main and North Riverside Avenue.
Three generations of Hubbards owned the business until the family sold it in 1972 to John and Kathi Ehrlich. The business was sold to Kent and Tish Cohee in 1987, and the Seus family acquired it a year later.
The retailer is one of the largest lawn mower sellers on the West Coast and transferred all those operations to the Crater Lake store three years ago.
"There are a lot of lawn mowers and tractors in Jackson County, and we sell most of them," claimed Seus, the oldest of four brothers running the business.
Lawn mowers generate about 30 percent of the company's revenue, and the north Medford store accounts for 85 percent of the company's sales.
"We normally add seven to nine people in February or March, but in anticipation of this move we didn't do that this year," Seus said. "I feel like we can displace zero people in doing this, plus we'll have a number of people moving inventory and clearing things out."
Hubbard Brothers, which is celebrating its 130th anniversary this year, was located on the northwest corner of Main Street and Riverside Avenue for more than a century before closing in 2006. In 1990, the Seus family opened a Hubbard's store at 2655 S. Pacific Highway. The 16,000-square-foot store, with a 7,500-square-foot outbuilding and lumber yard, had previously housed Northwest Printed Circuits.
In 2000, Hubbard's acquired the former Pat & Mike's Builders Service location on Crater Lake Highway and immediately proclaimed it would be the most successful of the three stores. A $2.5-million remodel was done in 2007.
The company sees 1,400 to 1,500 customers daily, Seus said.
"We're going to move a lot of inventory, but there's a certain amount of product and fixtures we'll be selling," Seus said. "We'll be holding a moving sale in the next week or so."
Medford Mail Tribune,
May 2, 2014, page 1
Last revised August 29, 2023