"True Tales of Pioneers,"
Jacksonville Post,
July 10, 1920, page 1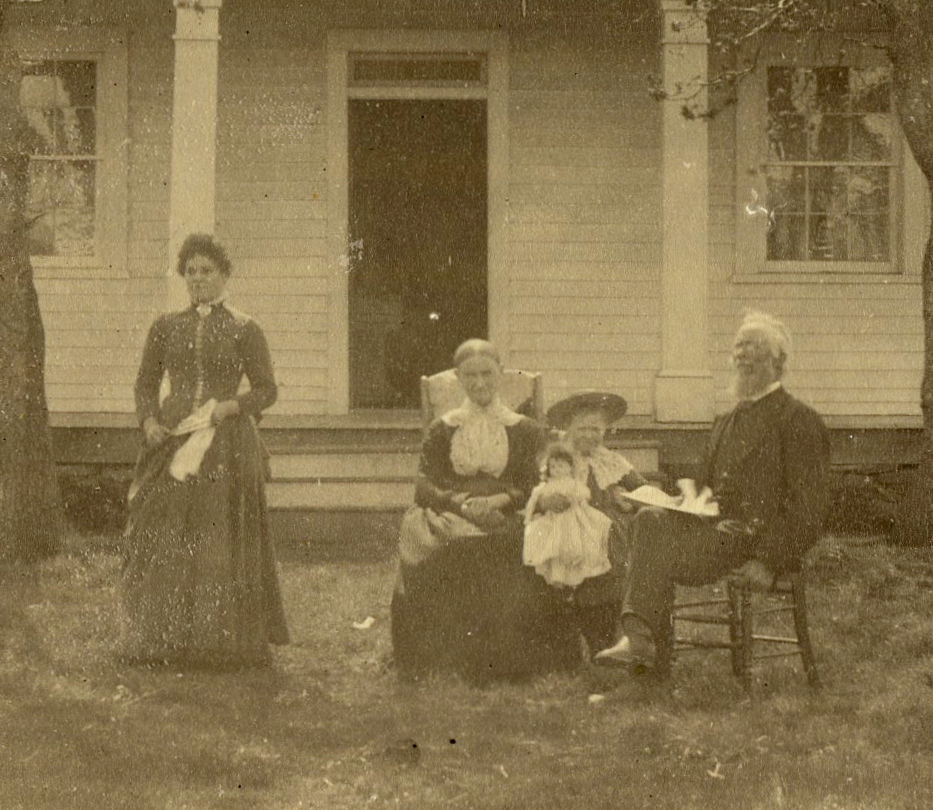 Emerson Elijah Gore and Mary Elizabeth Gilmore Gore, circa 1890, in a detail of the above photo.
The younger people are unidentified.
The stockade was finished and used by settlers for miles around at times of Indian excitement. For example at one time a band of Indians came up the north bank of Rogue River killing the scattered settlers. Word came that they were crossing the river. Just at break of day next morning there was pistol firing near where Medford now stands which could be plainly heard for some miles across the valley. People hearing the shots jumped from their beds and rushed for the stockade for safety. A deputation went to investigate into the cause of the excitement and found that a couple of men on horseback had discovered a bear out in the prairie grass near the Wright Grove, now the Hill Grove, and were giving chase. Then the people went leisurely to their homes rejoicing that it was only an Indian scare.
I think the greatest value of the stockade in Rogue River was to induce a feeling of security. But the greatest source of security was in treating the Indians fairly. The Rogue Rivers were not wantonly savage, there were isolated cases in which it might seem they were, but in most cases it was a result of harshness on the part of the settlers. On father's claim in a bend of Bear Creek was one camp of Chief Sam of whom I have already spoken, under the shade of the great spreading red oak trees just across from our home. There he and his people spent much time. One morning the Chief came over and told my mother that his boy was going to die, very sick. In sympathy for a sick boy she went with Sam, entered the Tepee and there found not a boy but a grown man, who was as Sam had said very sick. He was starving. They could prepare no food that he could assimilate. She prepared food that was suitable, gave him medicine, visited him two or three times daily for a time, and one day the Chief came to express his gratitude saying that his boy was well and also saying to father "she has a good heart." And when the war of 1854-55 [
sic
] broke out they killed a man who had always treated them harshly, then took up their luggage, went past Father's home, took the trail over Jacksonville hill, and the war was on. While they might have easily waylaid our people who were working near the creek, they passed them by.
I have never learned of the death of a child in the stockade though there might have been such an occurrence. Will's memory is far better than mine but I think there was never any occasion demanding such care. For as far as I know there was never a time in our part of the valley when men couldn't work in the field with reasonable safety so far as Indians concerned.
Walter Scott Gore 1852-1943, manuscript memoirs in the possession of great-great-granddaughter Marty Mielen Monroe
The house stands on the site of a stockade made of a double row of logs set on end in the ground and twelve feet high in which the nearby settlers with their stock and possessions spent the winter of 1853-54 because of the hostility of the Indians. Most of the persons were men, there being two or three women and some children. Kate Hoffman, who died at Jacksonville 1934, was one of these.
Mrs. Gore was always kind to the Indians, and as their camp was on Bear Creek near the Gore home she visited them and ministered to them when they were sick, so that in the Indian rising of 1855 the Gore family was not molested.
Information furnished by John G. Gore, 422 Laurel Street, Medford, Ore., and W. H. Gore, N. Central Avenue [at Third Street], Medford. These are sons of E. E. Gore.
Mr. Will. Gore, who was born on his father's donation land claim three miles south of Medford on the Pacific Highway, in a recent interview related some facts of pioneer days in the Rogue River Valley.
His father Elijah Emerson Gore came from his birthplace in Pennsylvania (with short residences in Ohio, Illinois and Iowa) to Oregon by wagon train in 1852. Elijah E. and his twin brother Elisha E. Gore cut some lumber with a whipsaw and from it made furniture in Jacksonville during the winter of 1852-53.
The next summer was spent on the homestead where, with the help of neighbors, they built a stockade for protection against the hostile Indians. The first dwelling was a log house about 200 feet north of this stockade and the house, now standing, in which Will Gore was born, April 23, 1860, was later built on a part of the old stockade, remains of which were still visible when Will Gore was 14 years old.
In this stockade, which was very substantially built, the settlers of the neighborhood spent two winters with their stock, implements and household goods (1853-1856). He tells of the people fleeing here for shelter, particularly of Kate Hoffman, who was about six years old, lamenting the loss of a rag doll which was forgotten when the family started for the stockade about one-half mile distant. Probably because it was so well built and defended, the refugees were never attacked in this stronghold.
Alfred Segsworth, Works Progress Administration Survey of State and Local Historical Records, 1936-1937
Dardanelles was at the home of G. W. T'Vault. He was editor and proprietor of the Jacksonville
Sentinel,
a Democratic newspaper. He and family had moved into town [by 1856]. My night station was a few miles farther down the river at Rosenstock's. This house like all others between Dardanelles and North Canyonville was surrounded by a stockade, which was constructed by digging a trench four or five feet deep around the house, generally in a square, and then setting timbers twenty or thirty feet long upright so as to make a bullet-proof wall and then tramp them solid with earth, and cutting loopholes through for the purpose of firing on an approaching foe. Generally there was a small bastion at each corner with loopholes so that the sides could be protected. A majority of all the houses in southern Oregon were so protected.
Memoirs of William H. Byars, "Pioneer Day Pony Express Rider Led an Eventful Life," undated
Roseburg News-Review
article, DAR scrapbooks vol. 18, RVGS
Mr. and Mrs. [Emerson] Gore always were on friendly terms with the Indians who lived near them, Mrs. Gore often caring for their sick and Gore frequently playing his violin for them.
At one time when the Indians were camping on the Gore farm there was much unrest, and all the settlers feared open violence. One day the Gore family saw a single file of Indians coming up the path to the Gore house, all carrying their weapons. They gathered around Gore, then squatted on their heels, and the chief made the motion of playing the violin. Gore played for them until he was exhausted, but he did not dare stop before the chief gave him permission. Finally the chief got up, grunted, and he and the Indians went peacefully back to their camp.
"Family of Emerson E. Gore Arrived in Valley in 1852,"
Medford Mail Tribune,
June 20, 1954, page 6