I was born October 23, 1912 in Bainville, Montana, the second child of Leon Dale Forncrook and Bertha Anne Hruska. My nationality is Bohemian and German on my mother's side and English and Holland Dutch on my father's side. My brother who was born before me, Virgil Wayne, died Sept. 11, 1911.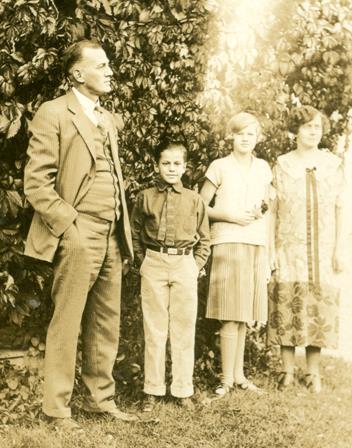 Leon D., Dale, Verna and Bertha Anne Forncrook circa 1927.
Bainville is a very small town; the population at that time was about 250 people. My father was an agent for the Great Northern Railroad then. We lived in a section house furnished by the railroad. My parents had a horse and buggy for transportation.
When I was quite young I was entered in a baby contest and won a prize of a locket and chain and a movie film of me. I have both of these prizes in my possession now.
When I was a year old my parents and I moved to Plentywood, Montana. Both small towns are located in the northeastern part of the state. I do remember the very cold winters there. There was lots of snow. Our house was heated with a coal-burning stove and a wood-burning cook stove in the kitchen. Storm windows and doors were put up in the winter. The summers were hot and dry with tumbleweeds blown against the fences. Plentywood had very few trees. It was a prairie country where sheep were raised.
In 1921 we moved to Medford, Oregon. Many of our friends from Plentywood, the Dietricks, the Wiselys and Uncle Roy's family, had moved out West, so it was time for a move. Dad must have had a job already in Jacksonville, as he went to work right away. He was deputy sheriff from 1921 to 1927.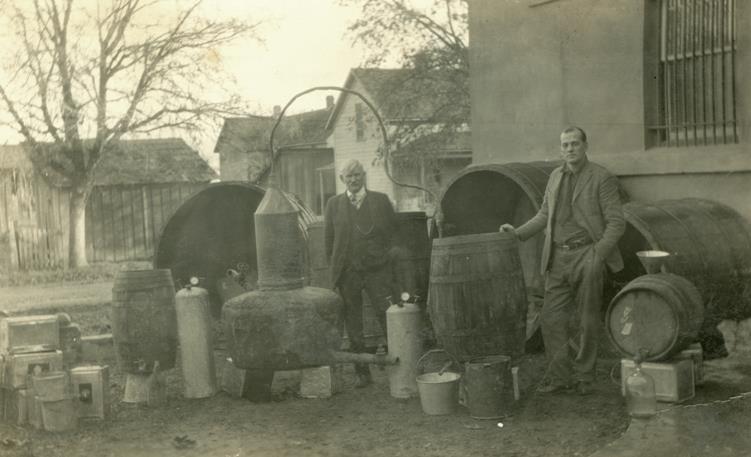 Sheriff Charles Terrell and Deputy L. D. Forncrook behind the county jail in Jacksonville, circa 1922.
We traveled by car, an Overland touring car, and it took us two weeks to make the trip. The roads were not paved and were so dusty. The car tires in those days had inner tubes. We were always having tire trouble. All cars carried tire repair kits, and the tires were repaired on the spot. Our car had no windows, just side curtains, canvas with isinglass for winter use. There was no heater in the car. We always had blankets to cover our legs when it was cold. The windshield wipers were hand operated. There were running boards on each side, and one side had an expanded grill for carrying luggage. We camped out along the way--slept on the ground in a tent, and Mother cooked over an open fire. Many times we got stuck while crossing a creek and had to be pulled out by a team of horses. My mother kept a diary of this trip which helps me to remember. We landed in Medford July 4, 1921. I was 8 years old, and my brother Dale was five. We were amazed at all the things Oregon had to offer, with lots of fruit.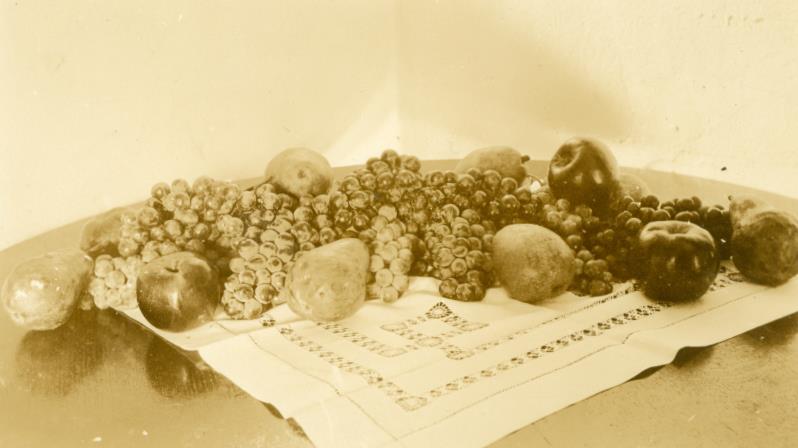 The amazed Forncrooks photographed this still life on their kitchen table in 1921.
We lived in Medford, as there was nothing available in Jacksonville. Besides, the night we landed in Jacksonville Mother and Dad went up to the hotel room. When the light was turned on, bedbugs and critters were crawling around. Mother said, "Let's go to Medford," which we did.
Our first house was in Madame Jefferies house. Then we moved to 529 South Grape Street, 1921 to 1929 or so. This was a one-bedroom house, but later a big back porch was built--great for summer sleeping but very cold for the winters, as it wasn't fully enclosed. It just had drop canvas over the screened-in windows.
Growing up on Grape Street was great. I remember so many things about this place. Oregon was so different from Montana--so many fruit trees--the land of plenty.
In the summertime we played until morning until night. Dad shaved Dale's head--real cool--and Dale went barefoot all summer long. He had homemade guns and swords, stilts, scooters made from apple boxes and skate wheels. We put tin cans on the bottoms of our shoes to make a lot of noise. With shoes on, just press hard on an empty can and make it stick to your shoes. We didn't have many store-bought toys.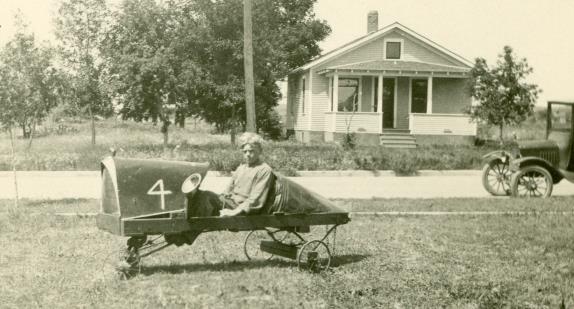 Verna's cousin Ralph Twight.
All of us girls in the 1920s wore dresses--long stockings, button or lace-up shoes and long underwear in the wintertime--no jeans or slacks. I remember the infernal "bloomers" we girls wore. The elastic in the legs was forever loose, and we had a time keeping them up. We wore long cotton stockings held up by rubber bands cut from tire inner tubes. We wore our shoes until they had holes in them. Then we had them half soled at the shoe repair shop.
We always had new clothes for the beginning of the school year. My mother always got our clothes way too big or too long for both Dale and me. She said we were growing so fast that we would grow into them. And we did. I remember a middy blouse I wore for many years. Also I had a cape with a pretty lining--one does not outgrow a cape.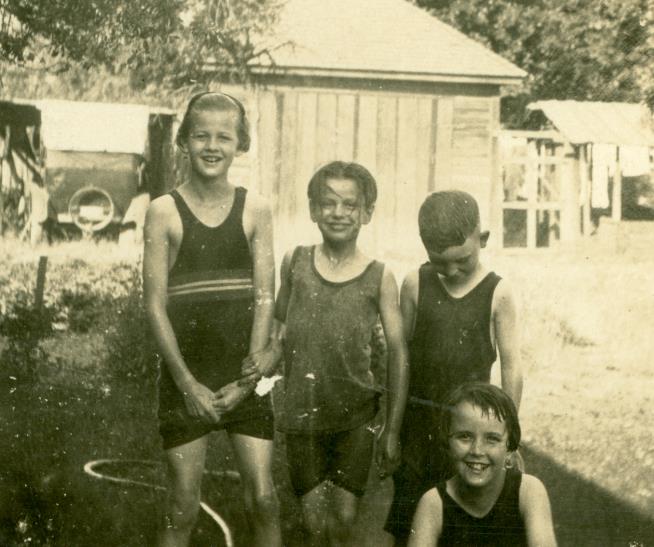 From left: Verna and Dale Forncrook with Elmo and Virginia Dunlava, circa 1925
One of the fun things we did in the summertime was to put on our bathing suits and run through the sprinkler on the lawn. Cooled us off for sure. Dad pitched a tent in the yard, and Dale and I slept out there in the summer months. That was before the big back porch was built.
We kids looked forward to the ice man, who came around about once a week in the summertime. Mother would put out an ice card showing how many pounds of ice we needed. The ice man in his truck would chip off the amount needed with an icepick, then put a burlap sack on his shoulder and use ice tongs to carry ice into the house. There were no electric refrigerators at this time. We kids would gather the bits of ice in his truck and make an iced drink out of it by pouring juices over it. Real great.
Some of the games were played were Hide and Seek, Run Sheep Run, Kick the Can, Ante Over (throw the ball over the house). We played Cops and Robbers, but I didn't like this game, as the boys were too rough.
When it got to be dark outside in the warm summers we would sit on the curb under the street lights and tell ghost stories, and watch the bats fly near the streetlights. One by one we were called in to get ready for bed.
Our house at that time was on a dead-end street--about ten kids were in that one block. I'll bet we were a noisy bunch. The open fields were a fun place. At times it was a wheat field and had a haystack--we played king of the mountain. At other times it was a place for a circus or a carnival. This was great so close to home. After the circus pulled out, the next day we kids would case the place for money or anything left there.
We saved everything: String, cigarette foil, paper sacks and cigar bands for rings. Nothing was wasted. Entertainment in these early days was family gatherings, picnics and going to dances.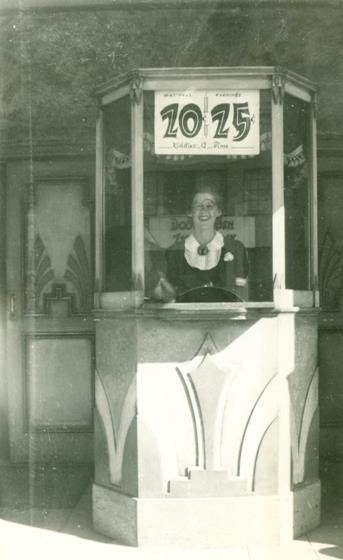 I graduated from high school in 1931 and attended Medford Business School. The last two years of high school I worked in the
Isis Theater
, in silent picture days. I was the record changer (dual disks), that furnished music. No talkies then. In 1932 I worked for the
Roxy Theater
as cashier until 1938. I also worked in a government loan office, typing. Other work places were Snider's Dairy and Consolidated Freightways.
In 1947 I moved to Canyonville, Oregon, a quaint little town. There were no doctors, hospital, bank or lawyers here then. One had to go to Myrtle Creek or Roseburg for these services. The Pacific Highway came right through town, and many of the sidewalks were made of wood. Logging and farming was the main industry. Alcan Lumber Mill was just off Main Street.
Over the holidays Christmas of 1948 I was hired as a temporary worker, which became permanent--thirty years. The first post office was in the Mesick building, having moved from a corner in Gordon's Drug Store. All mail came by train to Riddle, then by a small truck to Canyonville. Our office heat was a wood stove. The outgoing mail was tied by string. Later the post office moved to the back of Binders Store, then to the present place on 2nd St. I retired after 30 years of service. "I served my time."
Looking back, oh, times certainly have changed in my 90 years. All these technology gadgets I don't understand. We kids didn't use the phone as they do now.
Compiled from several brief autobiographies by Verna Forncrook Wilson, circa 1997-2002. See also Verna's reminiscences of the Isis and Roxy theaters.