HOME


The Urschel Kidnapping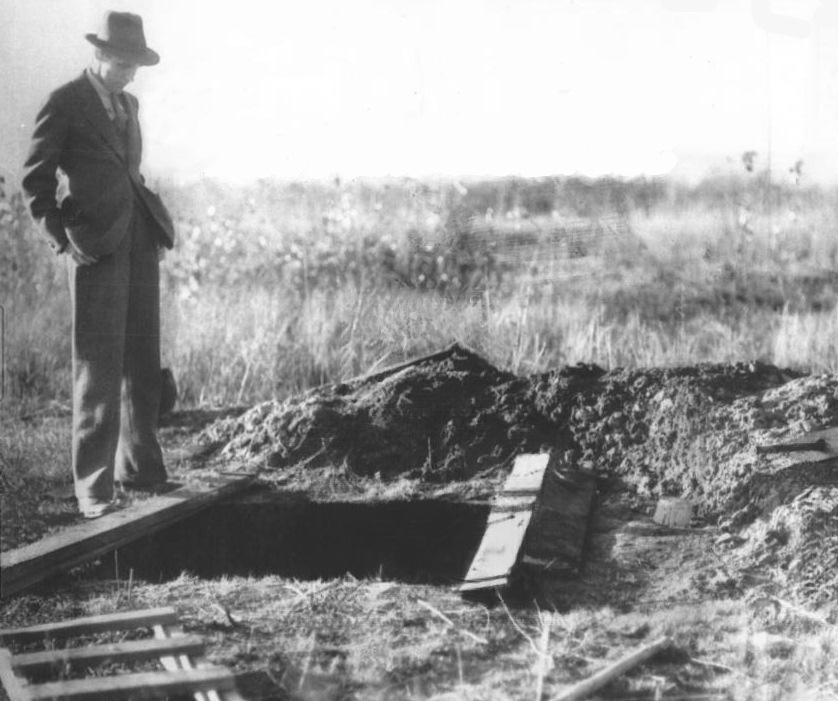 The Urschel ransom hole on Stewart Avenue, 1934.
U.S. AGENTS FIND NEW KIDNAP LOOT
----
Medford Search Yields $5460 Bills, Drafts
----
MONEY HID IN OUTBUILDING
----
Scott's Daughter Quizzed by Federal Officers
----
FURTHER CACHE SOUGHT
----
Pair Taken at Roseburg to Go Before
Federal Magistrate for Arraignment Soon.

LATE DEVELOPMENTS IN KIDNAPPING CASES


Arrest of two suspects in Oregon brings list of persons held in connection with Urschel kidnapping to 17.

Bond for Oscar H. Robson of Phoenix, Ariz., held on charge of extortion in June Robles kidnapping, increased from $50,000 to $100,000.

Vernon Clark, California youth, arrested and charged with attempt to extort $2700 from prominent banker.

Thomas H. Robinson Sr. ordered to Louisville to face indictment in connection with Stoll kidnapping.
ROSEBURG, Or., Nov. 8.--(Special.)--The investigation into the distribution of Urschel ransom money, traced by federal officers to Alvin H. Scott and Margaret H. Hurtienne, under arrest here on federal charges of conspiracy, shifted to Medford today, as special agents of the Department of Justice searched there for more of the ransom payment.
With Scott, who is in critical condition at the hospital here, under armed guard and Miss Hurtienne in the Douglas County jail, C. C. Spears and his group of operatives from the Portland bureau of the Department of Justice left Roseburg early this morning for Medford, where agents last night found $5460 believed to be a part of the payment made for the release of the millionaire oil man of Oklahoma City in July, 1933.
Federal and state officers were searching tonight for a carpenter who fled the premises when the Medford home of Scott was raided last night and a large sum of Urschel kidnap money was found, according to the state police.
The carpenter, whose identity was not learned, was working on the addition being built on the back of the house on the outskirts of Medford. In the addition is a small room, wired for electricity, and with a ventilating system which is absolutely soundproof, according to officers. The room in the tower of what appears to be a pump house is just large enough to allow a full-grown man to move about.

Jack Summerville, United States marshal, who arrived in Roseburg last night, took charge of the prisoners this morning and announced that Miss Hurtienne will be taken before the United States commissioner at Eugene within two or three days and from there will probably be removed to Portland. Later, it is expected, she will be transferred to Oklahoma City. It will not be possible to move Scott from the hospital, where he is suffering from a fractured skull as the result of an automobile accident November 2, for a week or more, it is stated. In the meantime officers from the United States marshal's office at Portland are maintaining a close guard over him.
Prior to his departure from Roseburg, Special Agent Spears stated that he hoped to recover more of the money believed to have been received by Scott and Miss Hurtienne.
Before the discovery of ransom money on Scott, following his automobile accident here, none of the payment allegedly made to Albert L. Bates, sentenced to life imprisonment for participation in the Urschel abduction, had been found.
Bates, federal officers state, is supposed to have received $50,000 as his share of the ransom, and is believed to have given the money to Clara Feldman, sister of Miss Hurtienne, who posed as the wife of Bates. Mrs. Feldman, in turn, is thought to have delivered the ransom bills to Miss Hurtienne and Scott for safekeeping. It is believed that Scott has placed some of the money in circulation.
In recent months Scott and his woman companion have been residing at Medford, and the search made there last night at the home occupied by them near the outskirts of the city is said to have yielded $1460 in $20 federal reserve notes, with which the ransom was paid, and $4000 in bank drafts, said by the federal officers to have been secured by Mrs. Feldman at Denver, and made payable to herself.

Oregonian,
Portland, November 9, 1934, page 1
SOUNDPROOF ROOM PUZZLE
Officers Conduct Minute Search of Medford House and Yard.
MEDFORD, Or., Nov. 8.--(Special.)--Discovery last night of a large amount of the currency paid in the ransom of Charles F. Urschel of Oklahoma City, Okla, in a house on the outskirts of Medford recently occupied by Alvin H. Scott, 46, and Margaret Hurtienne, led federal officers one step nearer the final solution of one of the nation's greatest kidnapping cases.
Although the exact amount of the money found was not divulged, C. C. Spears, federal investigator in charge of the case here, said that a "considerable" amount had been discovered and that federal officers and state police are still searching for more of it. Officers had been credited with reporting $5460 in currency and bank drafts recovered here.
The money, officers said, was not found in the large two-story house in which Scott and Miss Hurtienne have lived since last June, but in one of the outbuildings in the yard. It is believed to have been buried under the floor.
Scott and Miss Hurtienne have been under investigation since they were in an auto wreck near Roseburg November 2 and $1380 of the Urschel ransom money was found in their possession. They were arrested and placed under $25,000 bond.
Since Scott and Miss Hurtienne moved into the property, considerable improvements have been made to the house. Additions have been built on the back which are of great interest to the federal men, according to local officers, because in one of the small buildings is a room that is soundproof, is ventilated, and is electrically heated.
"A man could yell at the top of his voice in that room and never be heard beyond the walls," one officer said.
A well has recently been dug back of the house, but the house has Medford city water piped throughout it.
The money found here is thought to be a part of the reputed $50,000 "cut" received by Albert L. Bates in the kidnapping of the oil millionaire. Bates is now serving a life sentence in prison.
Family connections brought the money into this region. Clara Feldman, said by police to have posed as the wife of Bates, is reported to be a sister of Margaret H. Hurtienne, housekeeper for Scott.
While state and county police were methodically shoveling about on the Scott place, federal agents were in the house minutely ransacking all the belongings. If any further discoveries are made they will be reported to C. C. Spears, Department of Justice agent, the federal men said. Spears is in Roseburg.
Oregonian,
Portland, November 9, 1934, page 6
Last revised January 7, 2017