Tinseltown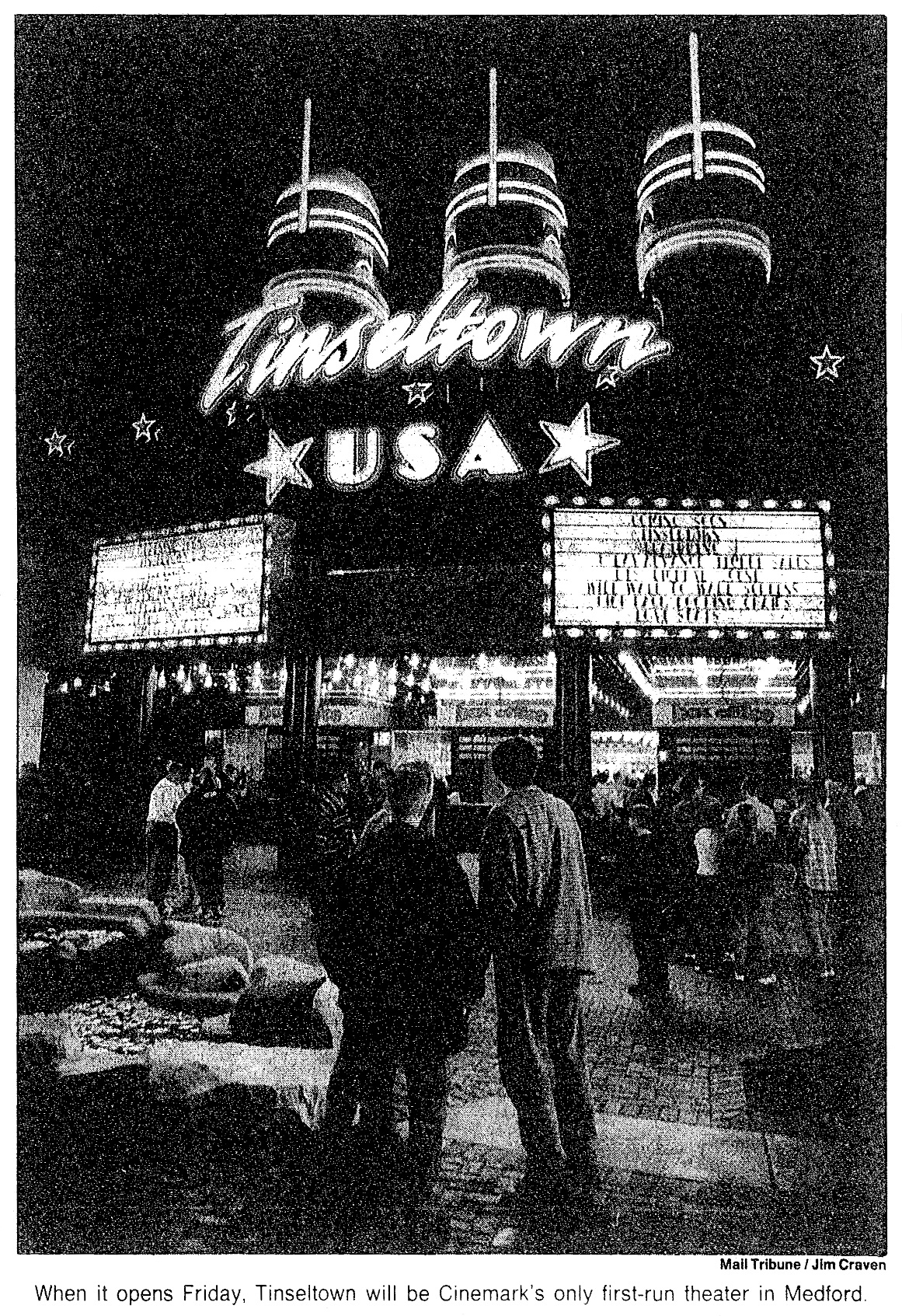 December 11, 1997 Medford Mail Tribune
New Theater Offers Viewers a Different Look
Big Movie Complex Opens Friday
By CLEVE TWITCHELL

Moviegoing in Medford will change dramatically on Friday with the opening of Tinseltown, the new 15-screen theater complex in the Medford Center.
First-run movies will play there. The Medford 4 will close, and Movies 5 at the Rogue Valley Mall will become a "discount house," showing second-run movies at prices as low as $1.
Tinseltown opens to the public at 10:30 a.m. Friday [December 12], with 12 movies scheduled on its 15 screens.
The new building is one of the city's largest, covering 54,000 square feet and seating about 2,800 people--more than the population of Shady Cove or Gold Beach.
Individual theater capacities range from 110 to 295, and seating is stadium style, meaning each row is 16 inches higher than the one in front of it.
"Hakeem Olajuwon could sit in front of you, and you could still see," says Joe Blair of Dallas, Texas, promotions coordinator for Cinemark USA Inc., owner and operator of Tinseltown and the other Medford theaters.
The purple chairs are of the high-back rocking lounger type, with cup-holder armrests. Screens stretch from wall to wall. Theaters are equipped with Sony Dynamic Digital Sound, and all are wheelchair accessible.
Tinseltown occupies much of what used to be the Medford Shopping Center, approximately the area where PayLess, Safeway and Newberry's once stood.
Finding the entrance may be tricky for a first-time visitor. It's on the west side, in a courtyard-walkway between the theater complex and the new Circuit City store.
Three box offices, each with two stations, await patrons.
Doors open onto a spacious lobby with checkered floor and green and red, star-adorned walls.
People waiting in line at one of the complex's three concession areas can watch TV. Actually, what's on the tube is a so-called trailer loop, says Blair, with previews of coming attractions.
There's also a video arcade.
The theater was lighted and staffed Wednesday night for a "friends of family" night, an invitational event for friends and family of Cinemark employees. It drew hundreds of curious residents.
Another invitational, a VIP party, takes place tonight.
Of the 12 movies opening Friday, three are new. One, "Scream 2," is in three theaters, a second newcomer, "Home Alone 3," in two. The other premiere this week is "For Richer or Poorer."
Seven of the other movies--"Starship Troopers," "Mortal Kombat Annihilation," "Anastasia," "Flubber," "Alien Resurrection," "The Jackal" and "The Rainmaker"--are holdovers, having played this past week at the Movies 5 or Medford 4.
Two others--"Fairy Tale: A True Story" and "Midnight in the Garden of Good and Evil"--make their Medford debuts but have previously opened in Ashland or Grants Pass.
"Titanic," possibly the most expensive movie ever made, opens there Dec. 19.
"We are going to try to play art films here, subject to print availability," Blair added, updating remarks he made in a phone interview last week.
Ticket prices at Tinseltown will be $5.50 for adults ($3.50 for matinees before 6 p.m.), and $3.50 for children and seniors anytime.
The Movies 5 at the mall will join the Cinemark-owned White City 6 in showing second-run films. The price will drop accordingly. At the mall, it will be $2 in the evening, $1 for matinees.
The White City 6 will have an admission price of $1, 50 cents on Tuesdays.

Medford Mail Tribune,
December 11, 1997, page 1
Last revised October 24, 2013