Medford Pioneers: Richard Irwin Stuart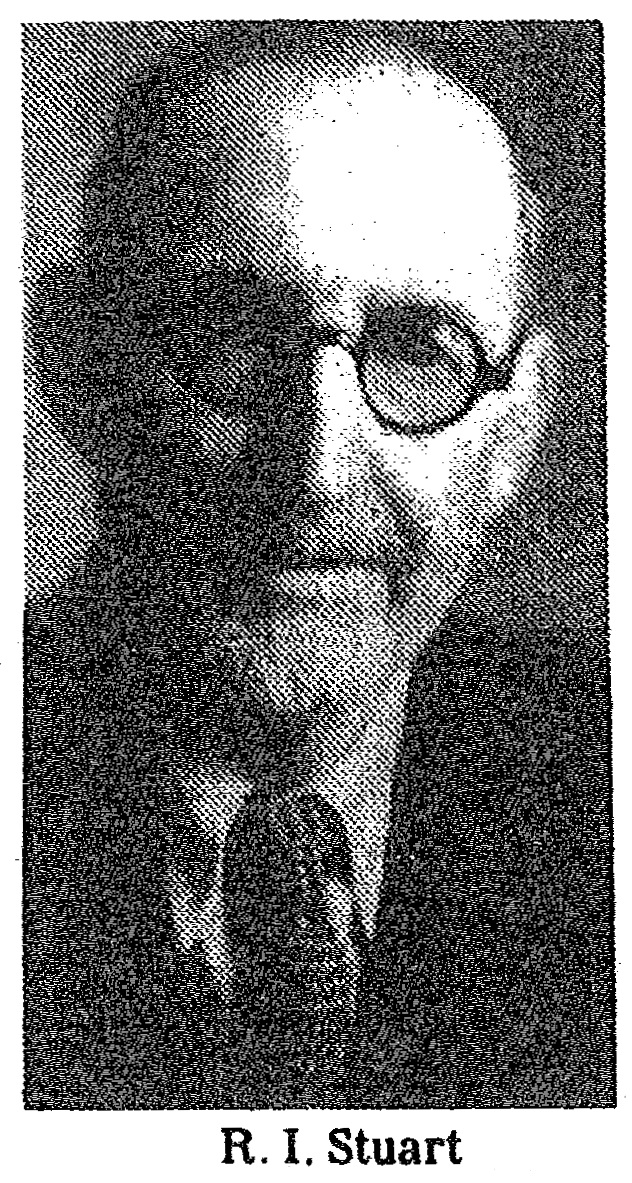 Probate Judge Staehle yesterday granted a license to wed to Richard I. Stuart and
Clara Hood. Both parties are residents of Miles City, Mr. Stuart being a partner in the well-known builders firm of Maples & Stuart. The wedding will take place at an early day.
"Local Items,"
Yellowstone Journal,
Miles City, Montana, December 28, 1887, page 3
Colonel Stuart's Career Is Eventful
Richard Irwin Stuart, the well-known contractor and builder, came to Medford from California in 1910 and was soon directly connected with structural development of the city.
His first big contract was the Natatorium, which is today one of the largest frame buildings in the state, and cost $85,000. The owners were F. E. Merrick, Jess Enyart, John Orth and H. C. Kentner. The property is now owned individually by Mr. Merrick.
Mr. Stuart, better known as "Colonel," has associated with him his two sons, Miles and Gilbert, and among the splendid structures erected by them in the city are the Sparta Building, Elks Temple, Armory, Cargill Court, Hotel Jackson, Craterian Theatre or Cooley Building and the new city hall, just completed, as well as many smaller structures.
They are now remodeling the two-story building recently purchased and occupied by the J. C. Penney & Company firm.
"Colonel" Stuart was born July 28, 1858, in New Jersey. Attaining to the stage of early manhood and with the spirit of adventure, he first came as far west as Iowa. It was the centennial year, 1876, that Colonel Stuart migrated to Miles City, Montana, and there conducted a lumber yard and planing mill for some time.
Kills Fifty-Three Buffalo
Colonel Stuart's hobby was hunting, and in one day he shot 53 buffalo, more than "Buffalo Bill" had to his credit in one day. In one winter, Colonel Stuart with three companions bagged 3000 animals and shipped their hides to Omaha, Nebraska for the market. He was also quite chummy with the Indians, and especially Chief Black Kettle, of the Crow tribe. In 1876 the Indians were causing the government much concern. Young Stuart did not do much fighting, but he was one of the first defenders. His brother, Robert, was a Cody scout and saw service with General Custer.
Richard Irwin Stuart was married while a resident of Miles City. To them were born six children, four of whom are living: Miles and Gilbert Stuart, both associated with their father in the Stuart firm, Mrs. T. J. Fuson and Miss Isobel Stuart of Medford. The parental home of Mr. and Mrs. Stuart is at 217 Apple Street.
The sons saw service overseas for two years in the World War, and during that period Gilbert, who graduated from the University of California, was editor and artist for the regimental publication,
The Skirmisher
. Many of the sketches in
The Skirmisher
produced by "Stuart" were so masterly they had happy acclaim wherever shown. Miles Stuart, elder of the two, while a student in the old Ashland Normal, became acquainted with "Red" Logan, then editor of the A
shland Tidings,
who was later with the Stuart boys in the service.
July 28, 1928, Mr. Stuart will have attained his 70th birthday, and while always a worker, he is still in excellent health. Only for a brief period of two years ago when receiving special treatment has he ever known serious illness.
Medford Mail Tribune,
January 1, 1928, page 7
STUART AND SONS DO ALTERATIONS

Much credit for the attractiveness of the new Penney store is due to the excellent work of the contractors who handled the remodeling work, R. I. Stuart & Sons, well-known Medford builders. Since 1910, when the Natatorium was built in this city, Colonel Stuart and his sons have maintained an enviable reputation for excellent building work, and many well-known local structures have been built by them, including the Sparta Building, home of KMED, Elks temple, the Armory, Cargill Court, Hotel Jackson, the new city hall and the Craterian Theater building.
Colonel Stuart, although over seventy years of age, is actively engaged in the management of the business with his sons and personally supervises all building work. "I have been exceptionally well pleased with the service and excellent work R. I. Stuart and Sons have given in the remodeling work on our new store," William Bolger said Saturday. "I cannot recommend this firm too highly. Their personal interest in the remodeling and cooperation with the building department of the J. C. Penney Company has been very gratifying to me."
Medford Mail Tribune,
March 25, 1928, page C1
Col. Stuart Works on 75th Birthday
Veteran Contractor Who Began Life As New York Newsboy
Has Been Active in Construction and Contracting
For 50 Years; Many of Medford's Best Buildings
Are Monuments to His Ability

People who visit the scene of the construction of the new home of Fluhrer's Bakery at the corner of Sixth and Grape streets and observe the rather tall, straight form of the man who is actively superintending that construction know, or most of them know, he is Col. R. I. Stuart, of the firm of R. I. Stuart & Sons. But none of them would believe that Col. Stuart "celebrated" his 75th birth anniversary directing the construction work on that new building.
Not any one of the men on the job, unless it was Col. Stuart's two sons, knew as he moved with confidence and action in and out of the modern new structure of steel and concrete July 28, that that day marked his 75th birthday.
Not only did Col. Stuart spend all of the daylight hours of his 75th birthday "on the job" but he let it be known to the writer Tuesday that he expects to continue "on the job" for some years to come.
Incidentally Mr. Stuart is not a colonel. The title was applied to him as a nickname many years ago while he was engaged in the contracting business in Miles City, Mont., and while he was engaged in construction work at Fort Keogh, near that city, which was then under the command of the officer who later became well known as General Miles.
Col. Stuart has been engaged in construction work for a half century, 24 years of that time being spent here in Medford. There are many monuments here to his construction ability. They include the Craterian theatre, the new high school building, Jackson Hotel, Elks Club building, the Armory, Medford National Bank, City Hall, and many other structures.
Col. Stuart first saw the light of day in New York City, July 28, 1858. His first job was that of selling newspapers on the streets of that city. Later he began his apprenticeship as a carpenter and finished his training in New York and New Jersey.
At the age of 29, Stuart was possessed of an urge to "go West," and he struck out for Sheldon, Iowa, where he joined a brother. He followed construction work in and near Sheldon for three years, working principally on grain elevators.
Moves to Western Frontier
The year 1880 found the young builder on his way to Miles City, Mont. His first work there was on winter quarters for the construction crew that was building the Northern Pacific into Montana. Later Stuart was employed in the construction of several units of Fort Keogh, then under the command of General Miles, who had been sent into Montana to quell the last disturbances of the Blackfeet and other Indian tribes.
It was in Miles City that Col. Stuart branched out into the contracting business, in which he was engaged during the greater part of 17 years he resided in that city.
Located Here 24 Years Ago
Col. Stuart left Miles City in 1897 and went to Southern California, where he continued contracting and construction work. He gradually drifted northward and arrived in Medford in 1909. For 24 years he has headed the firm that bears his name. During recent years his two sons, Miles and Gilbert, have been associated with him, and will carry on the work when the years finally begin bearing down on the veteran contractor and builder with a weight that will induce him to retire.
There is not a more active man of his age in Medford than Col. Stuart. It is doubtful if there is one in Oregon . He attributes his splendid physical condition to the active outdoor life that he had led for more than a half century, much of it being on the frontier in Montana.
Col. Stuart not only had a personal acquaintanceship with General Miles, but thought so much of the general that he named one of his sons after him.
"Miles City, into which the railroad was being constructed when I arrived there in 1880, was a typical western frontier town in all that those words imply," said the colonel in commenting on his experiences there. "You never had to walk far to find all the trouble, excitement, and wild life you wanted."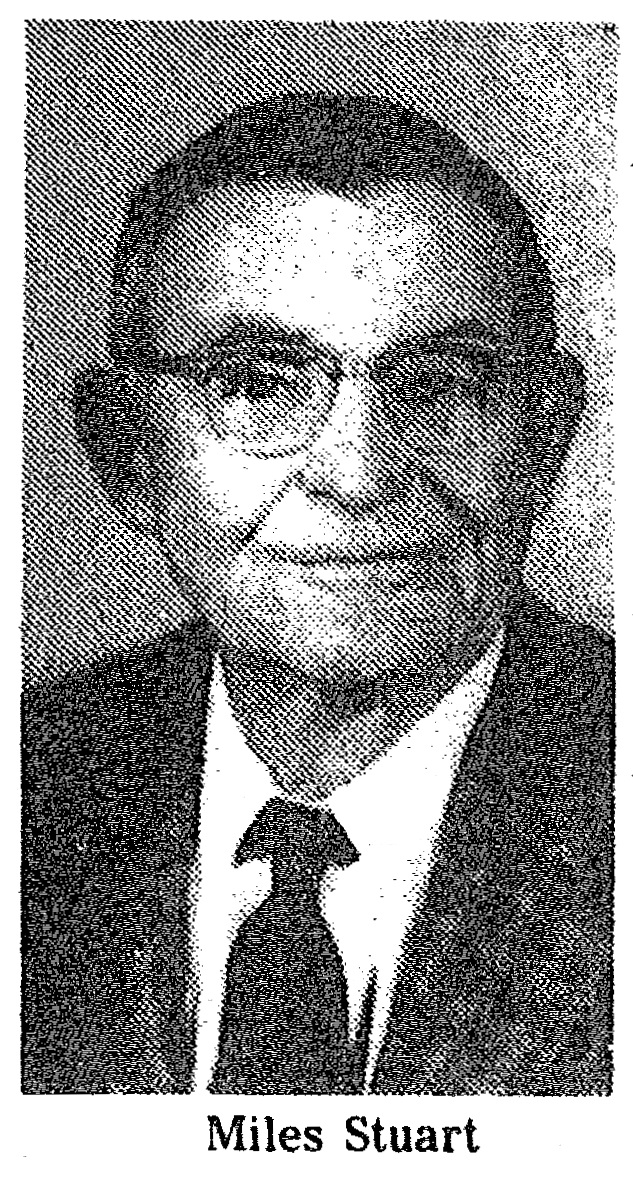 It was in Miles City that Col. Stuart met and won Miss Cora Hood, and the two are now rounding out their years together in a comfortable home at 217 Apple Street. Of the five children born to Col. and Mrs. Stuart, four are living, including the two sons, Miles and Gilbert, who are associated in construction with the father. Robert, a third son, died while in an officers' training camp at Eugene during the World War. There are two daughters: Mrs. T. J. Fuson of this city, and Miss Isobel Stuart, who is in the executive officers of the Paramount Corporation at Hollywood.
Col. Stuart says that he learned soon after his arrival here to have confidence in the future of Medford and Rogue River Valley, and the years have not dampened that confidence. He predicts that the coming decade will witness the greatest era of development in the history of Medford and Rogue River Valley.
Medford News,
August 4, 1933, page 1
Richard Irwin Stuart
, well known throughout the Valley as "Colonel" Stuart, the founder of the general contracting firm R. I. Stuart and Sons and one of Jackson County's pioneer builders, died in his home in Medford on Sunday afternoon following a short illness. He was 82 years of age.
Funeral services were held Wednesday in the Perl chapel with the Medford Lodge 103, A.F. and A.M. in charge. Colonel Stuart was long a member of the lodge. The Rev. Herald G. Gardner officiated, and concluding services were held in Grants Pass. Honorary pallbearers were Frank Quigley, Walter Michael, John Grantham, Allen Smith, Frank Clark and Eugene Thorndike.
Among major local buildings constructed by Mr. Stuart's company during his lifetime were the Natatorium, the Sparta Building, Medford Armory, Jackson Hotel, Craterian Theatre and the new Medford High School, in addition to hundreds of miles of highways in Southern Oregon and Northern California.
The Stuarts moved to Medford in the boom days of 1910, coming from Ashland. They had previously lived in Fresno, Calif. Mr. Stuart was born in New York City and when a young man moved to New Jersey and on to Montana, where he became one of the famed buffalo hunters. He possessed the record of killing 53 in one day. In Miles City, Montana, he was mayor for a time and there entered the contracting business. During the World War he was one of the civilian heads here of the Spruce Division.
He is survived here by his widow, Clara Wood Stuart; four children: Mrs. Ann Fuson, Isobel Stuart, Miles Stuart and Gilbert Stuart. He also leaves six grandchildren: Thomas Fuson of Cincinnati, Ohio; Mrs. Clara Mary Davis of Newport; Mrs. Ann Redfield of Los Angeles, and Richard, Gracia and Robert Stuart of Medford.
Medford News,
April 8, 1941, page 3
STUART, MILES
Contractor.
b. Miles City, Montana Dec. 12, 1890; son of Richard I. and Clara (Hood) Stuart; father, pioneer buffalo hunter; educated public schools of California; m. Jean Parker of Scott Valley, California June 20, 1917; child Robert; entire activity in contracting, began in California in 1908; contracting business in Medford since 1926; partner R. I. Stuart and Sons until 1941; owner Tru-Mix Concrete Co. 1941-, and other business interests; corporal, 25th Engineers, World War I; member Associated General Contractors; member Chamber of Commerce; Elk; Republican; Protestant; home 1029 Queen Anne; office McAndrews Road, Medford.
Capitol's Who's Who for Oregon 1948-49,
page 541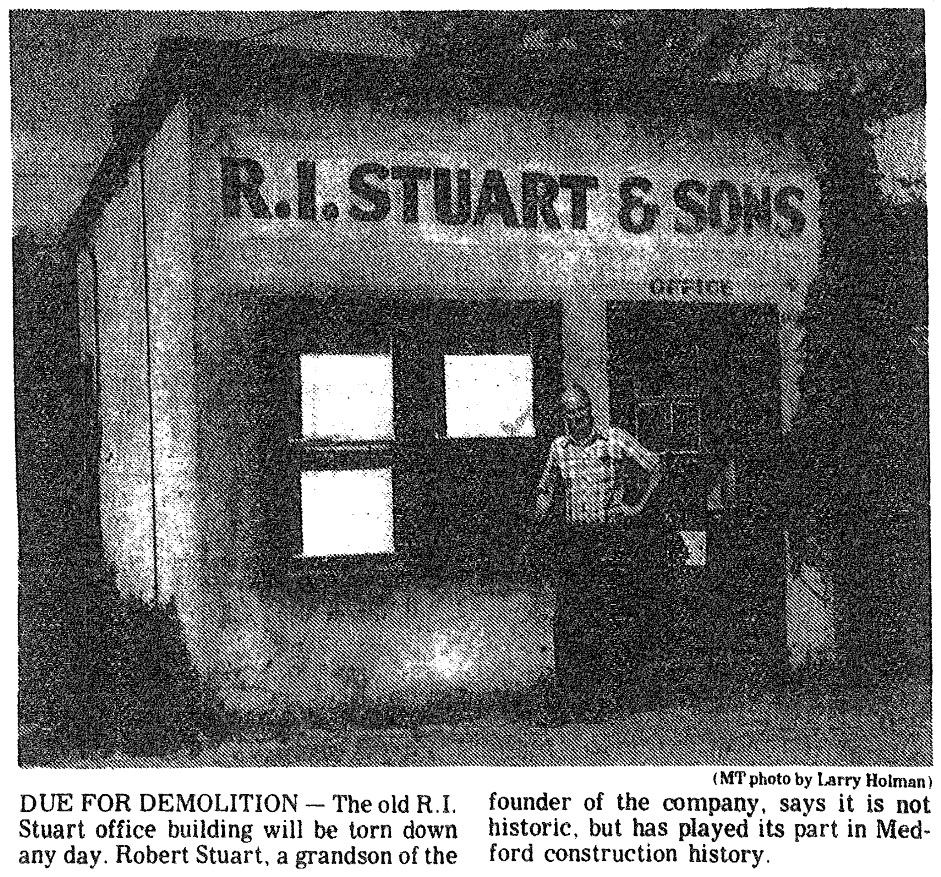 Building, About to Be Torn Down, Was Monument Office
By BETTY MILLER
Mail Tribune
Staff Writer
The R. I. Stuart and Sons building on North Fir Street is about to be torn down. It has been condemned as an attractive nuisance, and demolition, according to city officials, must be completed by June 15.
The little one-story former office building is sandwiched in between larger buildings. Vines and a red rambler rose grow along one side. It has been empty for some time.
This has not always been the case, for, in a sense, it is the "parent" of many of Medford's more important buildings.
Richard Irwin Stuart came to Medford about 10 years after the turn of the century.
It was a time of rapid growth and boom days. A Medford Commercial Club, forerunner of the Chamber of Commerce, brochure published in 1909 gives the population as [9,000], serving an area of 25,000. Twenty thousand acres had been planted to new orchards in the past two years. A railroad offering a direct line to the East had 14 miles of track laid. Spur lines to the coal lines were to be connected with the Southern Pacific. Medford was the eastern terminal of the line to Jacksonville, the county seat, and scheduled to be a terminal for the proposed railroad to the Blue Ledge copper mine.
To care for the wants of those already here and those expected to come, buildings were needed to house government, schools, business firms and to provide for the city's social life.
The first Stuart was such a builder and so was his son Miles, who joined the company after graduation from normal school in Ashland. Both are dead, but grandson Robert Boyd Stuart is still building as a partner in Tru-Mix Construction Company, a successor to R. I. Stuart and Sons.
The list of structures built by the elder Stuarts is long. Many are still in use, some have been remodeled to new uses, and others have been torn down.
Medford has had at least three city halls. It was the second to last [for] which the R. I. Stuart Company was responsible. It was built in [1927] at a cost of $52,000.
After serving the city administration, police department and as a jail for 36 years, the facilities were moved to their present location. Demolition in June 1973 cost approximately $30,000.
Among the remaining landmarks are the Elks Temple, the Federal Building, the Craterian Theater, the Sparta Building. Medford High School has become the Mid High. Community Hospital is the Century Building. The International Order of Odd Fellows Mausoleum exists. The old Armory burned. The Jackson Hotel at Eighth and Central was torn down to make way for a parking lot.
Everyone knew the automobile would replace the horse someday, but parking was no problem to be recognized in planning. There were only 150 automobiles registered in Medford and the vicinity in 1909. Contractors still used horse-drawn equipment.
Grandfather Stuart often told the tale of building a bridge culvert in northern California. The horse pulling the Fresno scraper fell into the unfinished project with consequent disaster to horse and culvert.
Many of the Stuart projects were in Siskiyou County. One was the school at Montague, another the Foulke ranch home in Gazelle. Siskiyou County farmers were in the process of irrigating the Shasta Valley. The Stuarts built miles of ditches and pipe lines and many ponds.
Sheep were raised extensively in the Shasta Valley. It was customary for contractors to borrow a flock and drive it into the pond bottom so that the animals could compact the soil with their sharp hooves. This is thought to be the origin of the term "sheep's-foot" roller for more modern compacting equipment.
The company has had other interests related to building construction.
It has crushed rock on Bear Creek near what is now Witham's Truck Stop, on the Rogue at Flounce Rock Ranch in the vicinity of Lost Creek Dam, and at numerous locations on the coast.
It once worked a gold mine on Elk Creek below Cave Junction and has acted as a steel supplier for many projects. It built Twin Plunges in Ashland.
Robert Stuart remembers his first "real" job with the firm. It was an elaborate irrigation dam on a ranch near Selma. Miles Stuart told the foreman not to allow the boy to lift anything heavier than 94.6 pounds. That is the weight of a bag of cement, and Robert Stuart says "thousands" went into the project.
He is sorry to see the little office building go, but proud that the plans born there gave birth to "monuments" which should be a reward for the part a family has played in valley history.
Medford Mail Tribune,
May 30, 1976, page C2
Last revised December 6, 2019