Eastwood Cemetery Stones
A cemetery map can be found of page 41 of Where Stones Talk.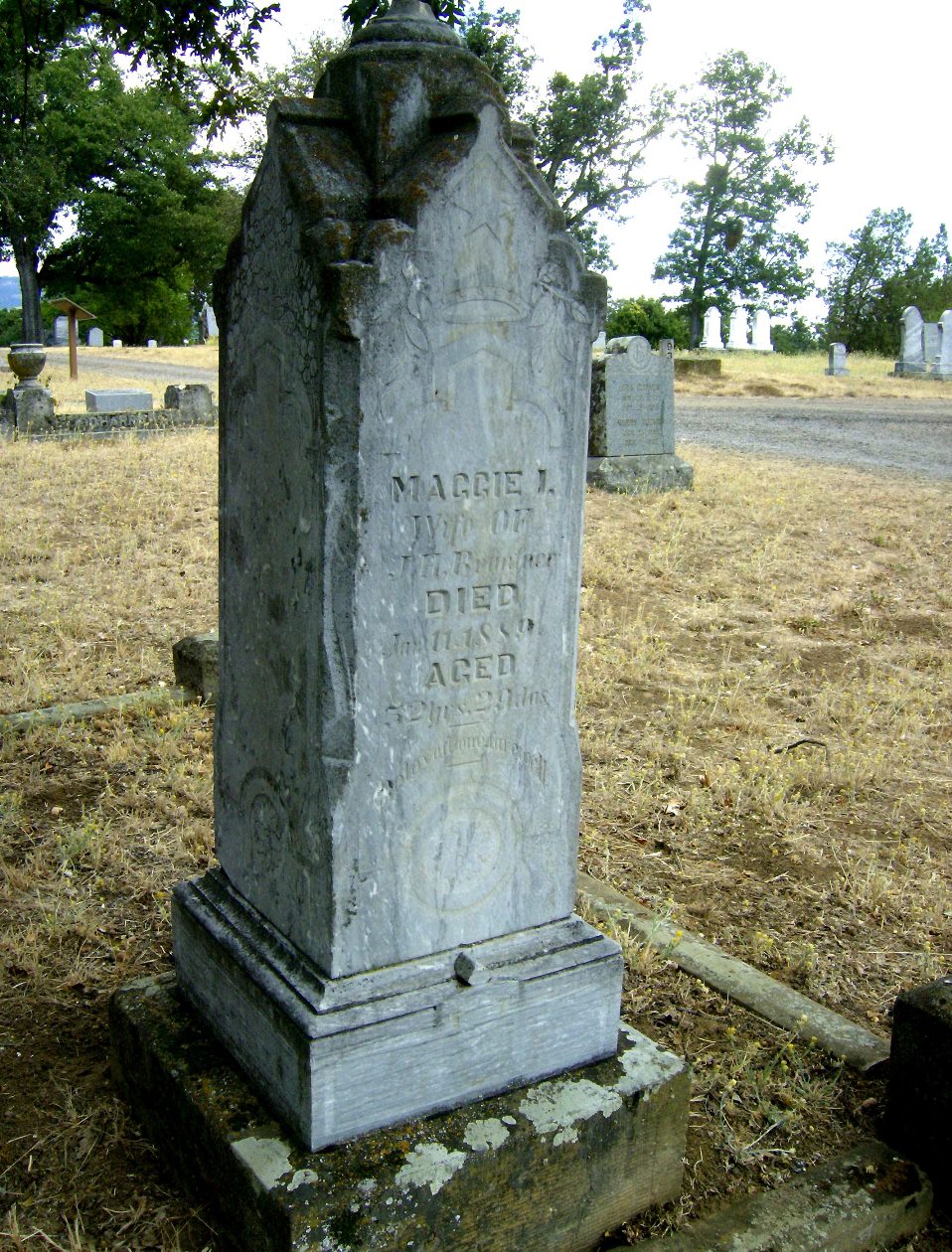 Maggie J. Brantner, d. 1889, block 22, lot 1, space 3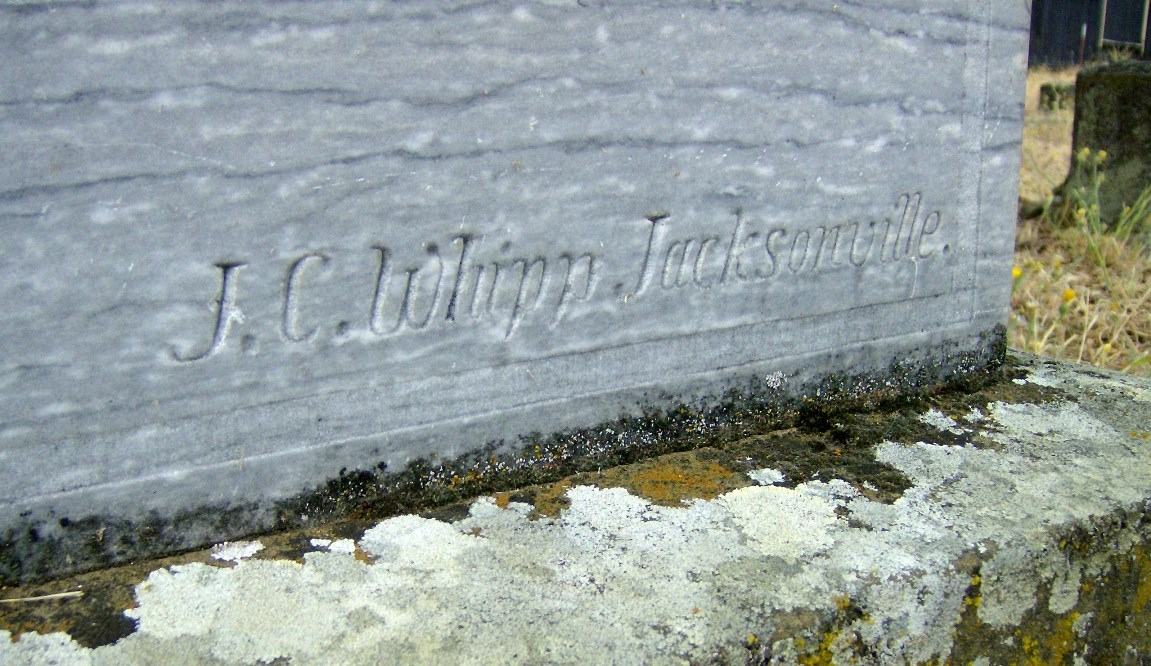 A neat monument was last week placed over the grave of Mrs. J. H. Brantner, in the I.O.O.F. cemetery. J. C. Whipp did the work.
"Medford Squibs," Democratic Times, Jacksonville, August 26, 1892, page 2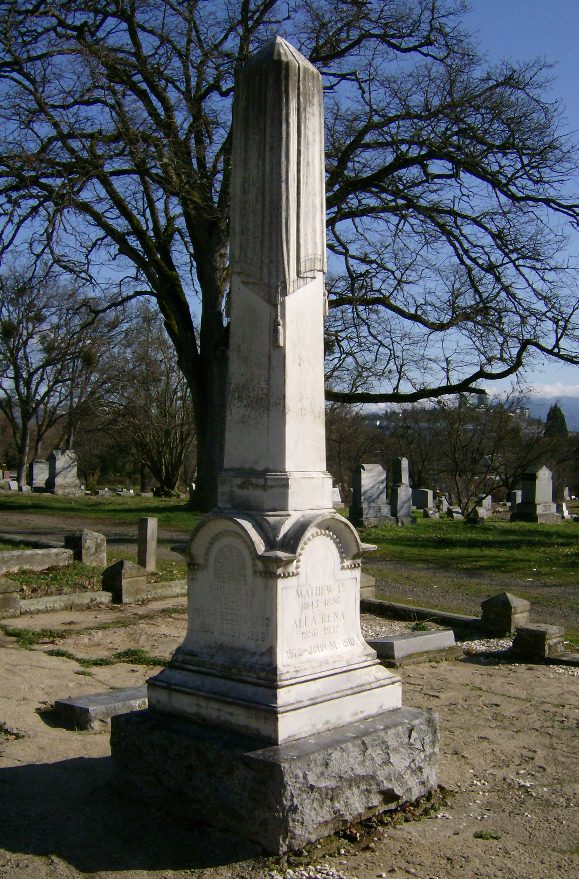 Mathew P. Phipps 1843-1896, block 28
Frank Wait is engaged right now in getting out stone for the new sidewalk to be put down in front of Mr. Lindley's large, beautiful brick store building. Mr. W. is also putting up coping and a monument on the M. P. Phipps cemetery lot.

"News of the City,"
Medford Mail,
September 18, 1896, page 7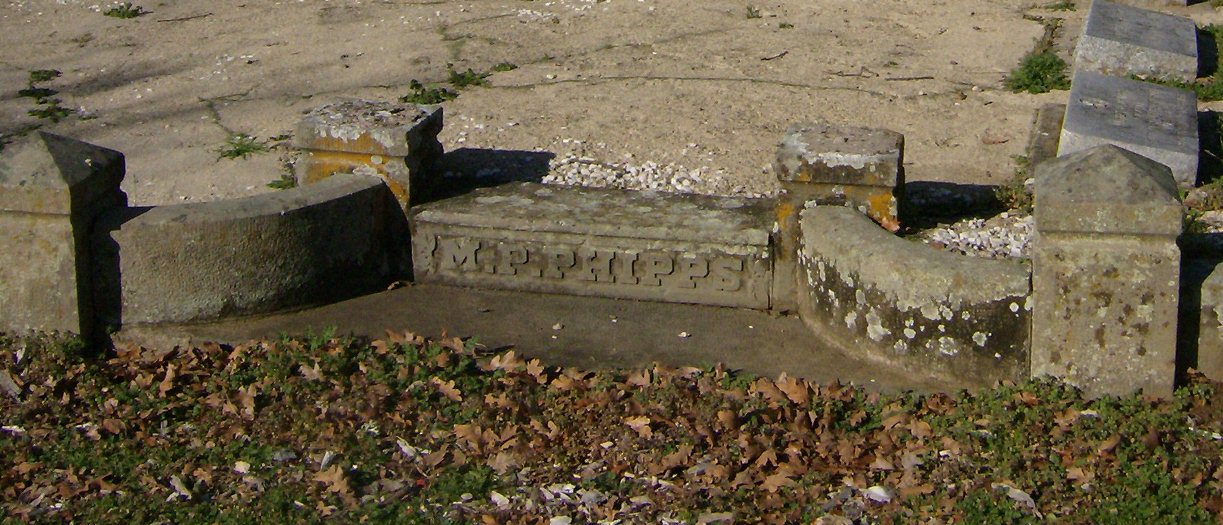 F. M. Wait is engaged this week in placing in position the fine Sutherland Falls marble monument, which Mrs. M. P. Phipps has purchased for her family burying grounds in the Medford Odd Fellows Cemetery. It is eleven feet high and cost about $500. She is having the remains of her three children who were buried in the Jacksonville Cemetery removed therefrom and reinterred in her lot. The monument is of a most artistic design, the lettering inscription being particularly meritorious.
"News of the City,"
Medford Mail,
November 20, 1896, page 7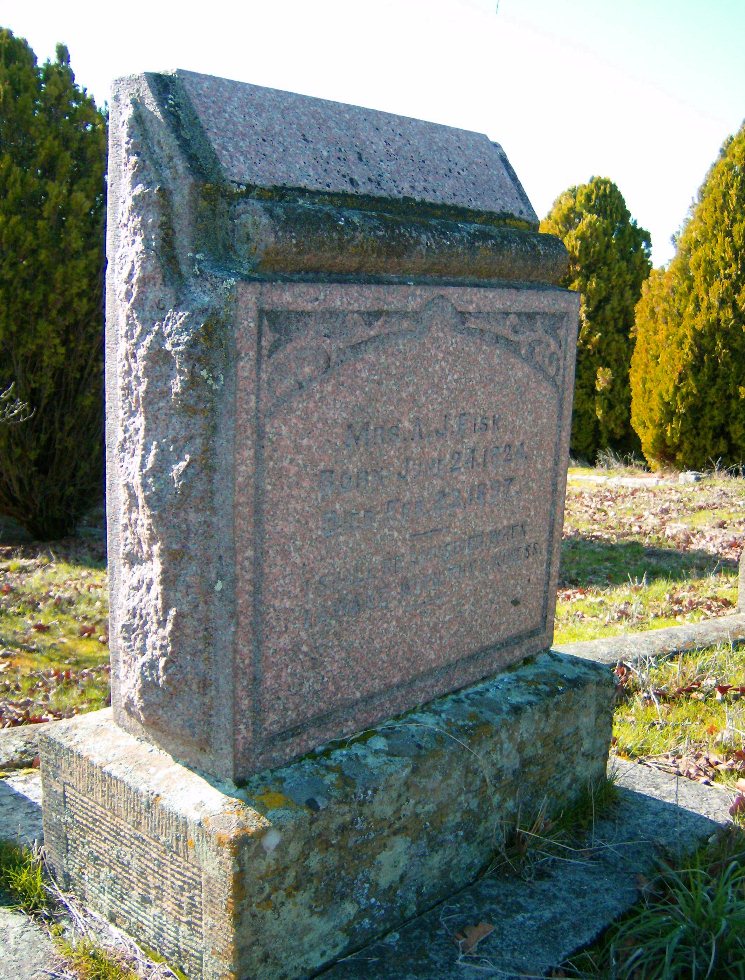 Mrs. A. J. Fisk 1824-1897, southwest circle, lot 4, space 4
The Jacksonville Marble Works last week furnished a handsome monument for the grave of Mrs. Jane Fisk, whose remains lie in the Medford cemetery.
"Local Notes,"
Democratic Times,
Jacksonville, March 16, 1899, page 3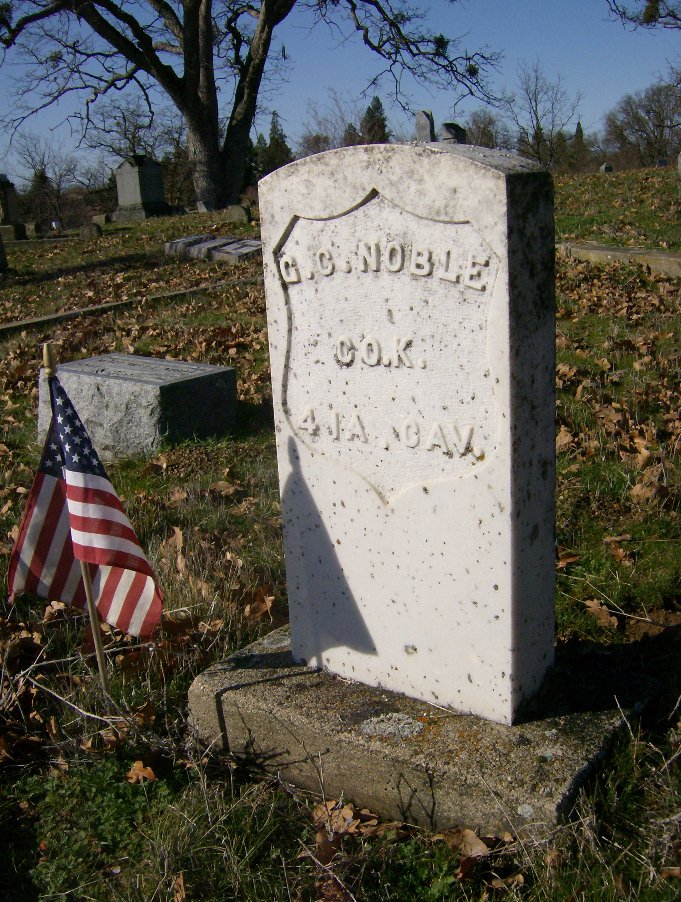 G. C. Noble, southwest circle, lot 6, space 4
M. S. Damon:--"I wish you would say for me that on Wednesday of next week the members of Chester A. Arthur post, G.A.R., will erect monuments over the graves of departed soldiers buried in the Odd Fellows Cemetery, Medford. These monuments have been sent to the post by the government for the purpose of marking the last resting places of the old boys in blue. There are seven of them to be put up in the cemetery at this place. I wish you would say further that we expect all members of the post to be present and assist in the work, and we would like to have the relatives of our dead comrades present if they can make it convenient to be there."
"Additional Local,"
Medford Mail,
November 1, 1901, page 6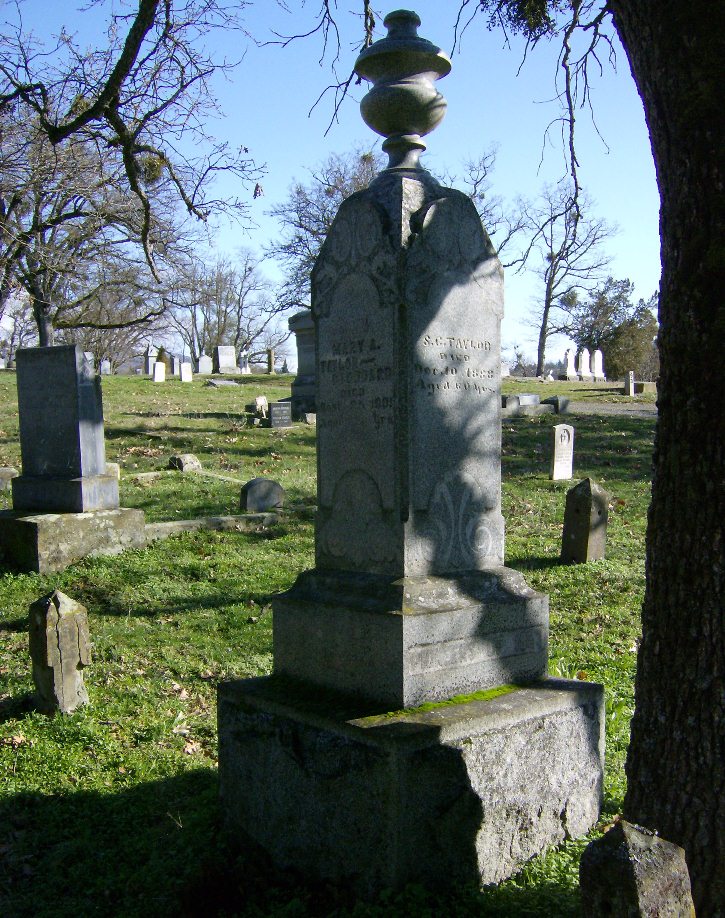 Stephen C. Taylor 1828-1888, block 21, lot 1, space 2. Note deterioration of sandstone corner piers.
The Oregon Granite Co. is at work this week putting up a new granite monument base for the Taylor boys. The base, when completed, will weigh 4000 pounds and takes the place of a sandstone base. They are also placing a granite foundation for Scott Davis' new residence. They have ordered a large stock of marble that is being shipped via Cape Horn to San Francisco. When this shipment arrives they will place a large marble monument in Medford cemetery for
D. H. Miller
. [
Miller is buried in the Jacksonville cemetery.
] The company has worked up an excellent trade in Southern Oregon, and their work is always in demand.
"City Happenings,"
Medford Mail,
April 4, 1902, page 7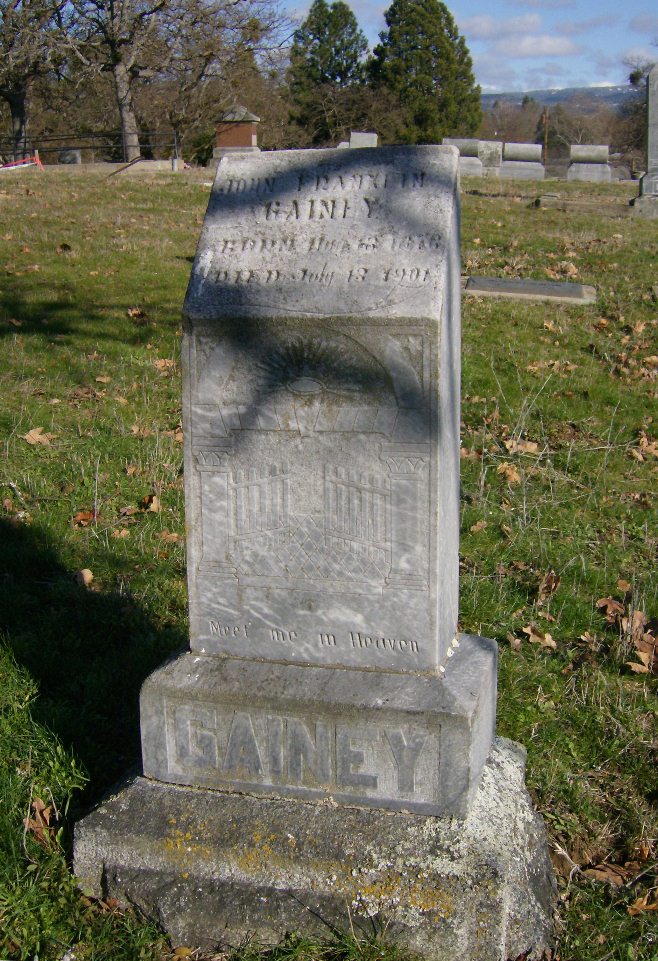 John F. Gainey 1876-1901, block 133, lot 2, space 2
The Oregon Granite Company has men at work putting the finishing touches on to some fine specimens of Oregon granite monumental work that will be placed in position this week. One is for Mrs. F. O. Short and is erected in memory of her husband in the Phoenix Cemetery, and the other is for Mrs. Gainey, of this city, for her son, John F. Gainey.
"City Happenings,"
Medford Mail,
May 9, 1902, page 7

Enoch and Prudence Walker, block 96, lot 4

The Oregon Granite Company has one of the busiest workshops in Medford, and their force of hands are doing some hustling to get out on the time agreed a number of orders for rock and monument work now on the company's books. The company has eight tombstones and monuments to go to Waldo and Kerby, and they are getting out a fine monument to place above the graves of Enoch and Prudence Walker, two well-known pioneers of Jackson County, who are buried in the Odd Fellows cemetery here. This monument is being erected by Mrs. T. J. Goodwyn, of this city, and her brothers, Harry Roberts, of Warner, Lake County, and Edmond Roberts, of Jerome, Arizona, who are grandchildren of Mr. and Mrs. Walker.
"City Happenings,"
Medford Mail,
July 18, 1902, page 7
Neil monument, IOOF Cemetery, 1912.
MARKERS PLACED ON VETS' GRAVES
According to plans made last year, the Daughters of Union Veterans of the Civil War, last week, placed bronze markers on the graves of ten Civil War veterans in the Medford cemetery.
So far, twenty graves have been marked. It is the intention of the Daughters to place ten markers each year, until every Civil War veteran's grave in Jackson County will have a bronze marker to hold the flag on Decoration Day.
The graves that are not otherwise marked or cared for will be the first to have this little token of gratitude for their service, dedicated to their memory by the Daughters of Union Veterans of the Civil War.
Medford Mail Tribune,
May 22, 1926, page 16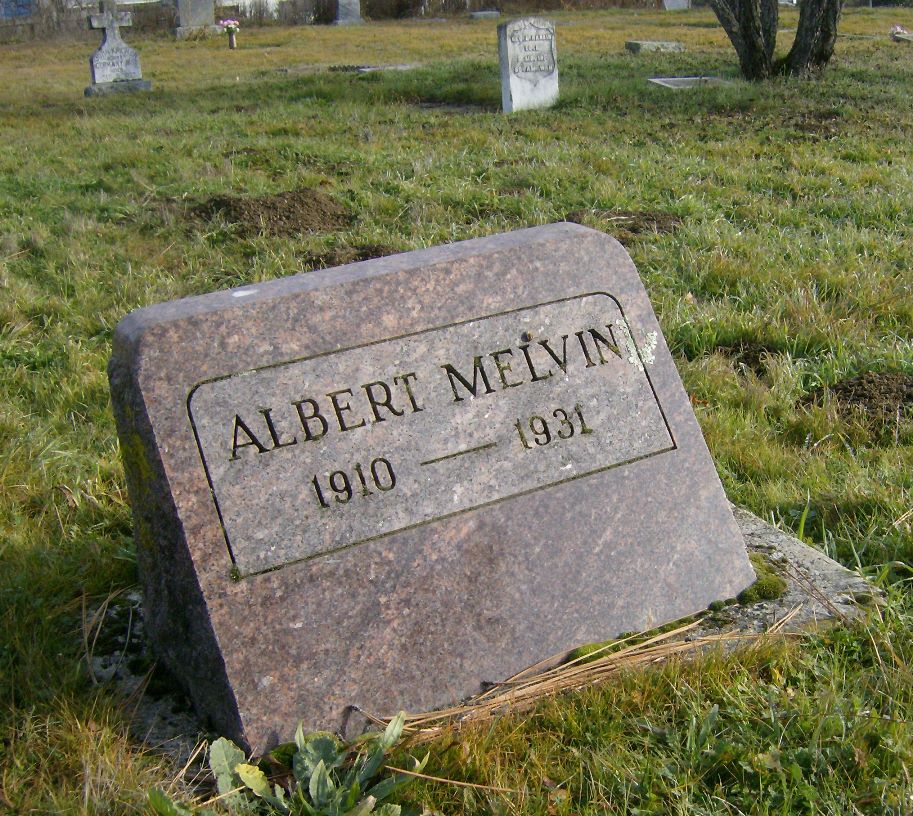 Al Melvin, block 303, lot 14, space 1
MELVIN MEMORIAL MARKER
IN PLACE EARLY THIS WEEK

A fine-looking granite headstone will be placed on the grave of Al Melvin in I.O.O.F. cemetery early this week, testifying to the high esteem in which the great Medford High athlete of the late 1920s was held by friends, local fans and teammates.
Voluntary contributions by Medford citizens, former schoolmates and the Order of the M. high school lettermen's society made possible the purchase of the headstone from the Oregon Granite Company, which did its part by furnishing a marker listed at a considerably higher price than the $37 raised could have bought.
The marker is of the new slope-faced style, and in twenty inches wide and ten inches thick at the base. The color is carnelian, a deep red, and is of channeled, polished granite from the Cold Springs Granite Company in Minnesota.
Al Melvin, who died on May 2, 1931, of injuries he suffered while diving over a high-jump standard at Marysville (Cal.) Junior College, was considered the greatest athlete ever developed at Medford High. He was twice all-state basketball forward, and played in the backfield on two of Medford High's state championship football elevens.
Medford Mail Tribune,
June 7, 1942, page 2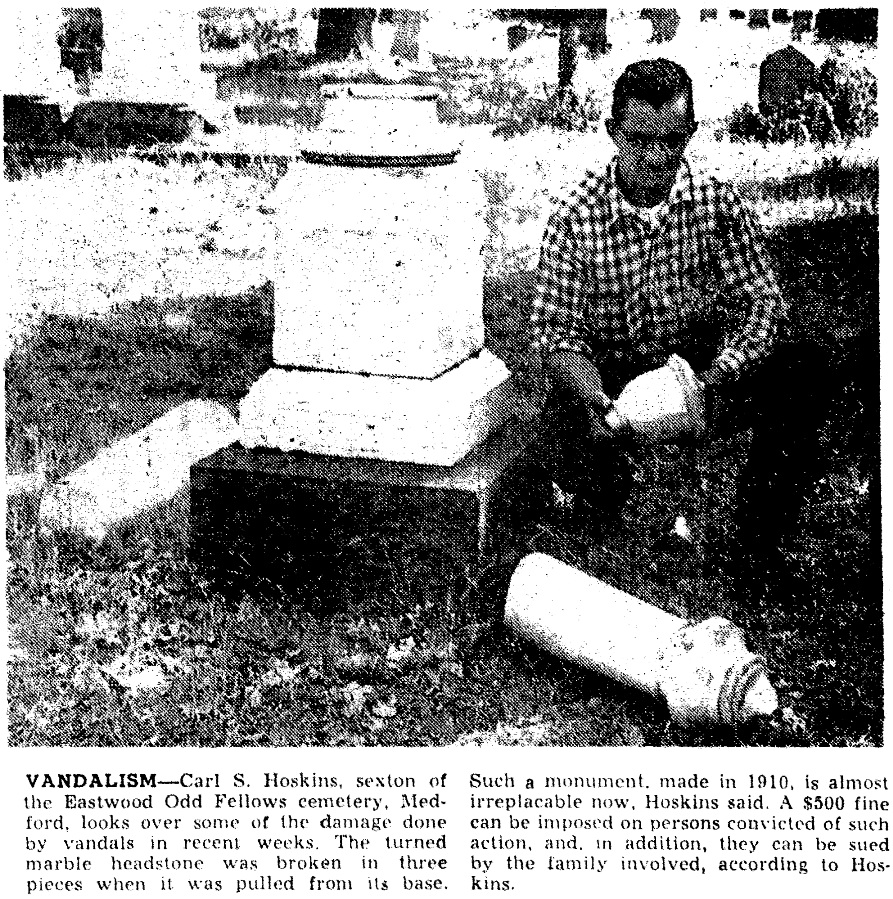 August 30, 1960
Medford Mail Tribune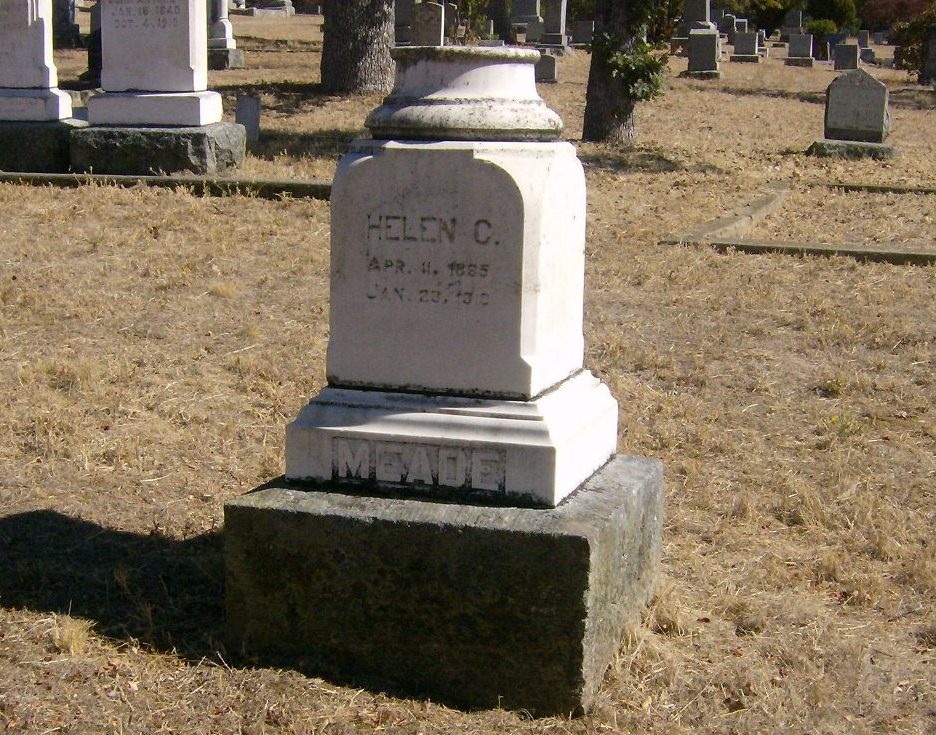 Helen Meade's stone 52 years later. No one seems to know where the pieces are.
Last revised September 8, 2018