HOME


Ive McKinney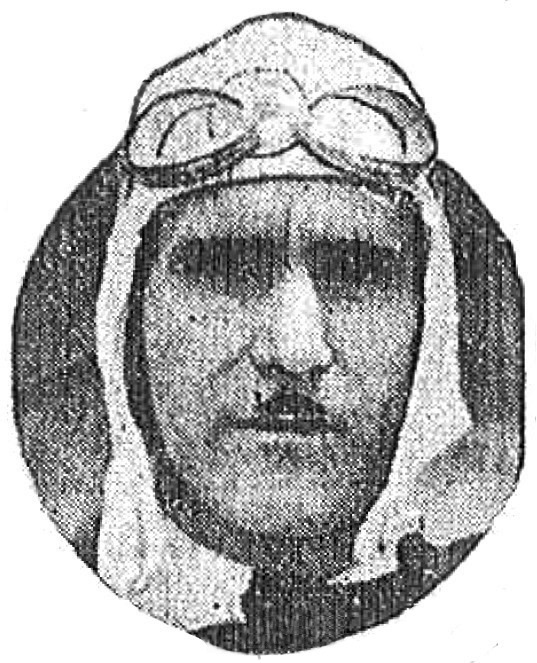 Ive McKinney, June 9, 1929
Brooklyn Daily Eagle


Following the three horse races a ten-minute stunt exhibition was given by Bill [
sic
] McKinney, who came up yesterday from Sacramento with a Curtiss JN-4. He is to give daily exhibitions at the fair. McKinney was formerly a resident of Medford. The plane did numerous graceful stunts including the loop, several wingovers and a spinning nose drive just before landing.
"2000 People Attend Opening of Fair, Race Program Good; Medford Day Sees Big Crowd,"
Medford Mail Tribune,
September 14, 1922, page 8
It was announced yesterday afternoon that Ive McKinney and Ray Carpenter, who are carrying passengers in their airplane at the fair, would make an exhibition flight, with McKinney piloting and Carpenter performing some aerial acrobatics. This exhibition was postponed because of the delay in running the horse races and the short interval between scheduled events, but will probably be made this afternoon.
Ive McKinney and Ray Carpenter, pilot and aerial acrobat respectively with the passenger-carrying aeroplane at the fair, who arrived Tuesday from Sacramento and are carrying passengers and making exhibition flights at the fairgrounds, are donating their services to the Fair Association in making the exhibition flights. They are depending upon the revenue derived from the carrying of passengers to make their expenses and allow them a profit.
Carpenter and McKinney will make an exhibition flight each afternoon and will carry passengers at any time of day. McKinney, a former resident of Medford, is the pilot of the plane, a
Curtiss JN4-H
.
Seely V. Hall
, former well-known air serviceman, took a ride with McKinney yesterday morning and pronounced the plane in good shape and the pilot an excellent one. Passenger-carrying flights of from ten to fifteen minutes are made at a uniform and reasonable charge.
"All Records for Crowds in Southern Oregon Broken by Attendance at Fair Medford Day; Races Thrilling,"
Medford Mail Tribune,
September 15, 1922, page 8
I. McKinney left Barber Field Sunday morning in a Curtiss airplane for Sacramento, Cal., where he is connected with the Sierra Aircraft Co. after spending two weeks with his parents, Mr. and Mrs. W. L. McKinney, and attending the races the 15th and 16th.
"Local and Personal,"
Medford Mail Tribune,
June 18, 1923, page 2
Fee Demanded from Flier.
MARSHFIELD, Or., July 7.--(Special.)--Traffic officer Williams may have been out of his line of duty when he asked an itinerant flying machine operator, I. McKinney, for a fee of $10 as license for operating in Oregon, but McKinney will not fly at Bandon until the license is presented, unless he should hop off when Williams isn't looking. McKinney has been doing a commercial business at Myrtle Point for several days. Officer Williams' duties are on the ground or highways, but he looks after the air routes as well.
Oregonian,
Portland, July 8, 1925, page 6
AVIATOR FLIES FROM LAW AND MAKES ESCAPE
Arrested for No Pilot's License, Ive McKinney Sails Away

MEDFORD, July 9--Ive McKinney, aviator formerly of Medford, is being sought by local state traffic officers to answer to charges placed against him for operating an airplane without a proper pilot's license. McKinney was in the city shortly before the 4th of July, and at that time he was arrested and told to appear before Judge Taylor the following morning after arrest, but instead of doing so left for Myrtle Point, Oregon to take part in a celebration there. Upon his arrival there he was apprised of the fact that the officers of Jackson County had informed Coos Bay officials to apprehend him. Forthwith he put up $50 bail at Myrtle Point for his appearance at the local justice court.
According to late reports, instead of coming to Medford he went onto Montague, thence to Mount Shasta city, Calif., and then to Wallace, Idaho, where it is said he has a contract for transporting iron pipe by airplane.
Ashland Daily Tidings,
July 9, 1925, page 1
Planes Replace Nine Burros
Medford, Ore.--One hundred and seventeen thousand pounds of iron piping and fittings will be transported by airplane from Iron Mountain, Mont., to a placer mine in the Clearwater region of Idaho. Ive McKinney, ex-Medford boy, who has the contract, has announced. Mr. McKinney explained that he will use two planes to transport the metal over the high mountain range to the placer mine. This is being done by the mining company to save six months' time by avoiding slow-going pack trains.
Park County Republican and Fairplay Flume,
Fairplay, Colorado, July 19, 1929, page 2
AIRPLANES FLY OVER FULTON IN STUNT EXHIBITS
Many Citizens Take Opportunity of Going for Aerial Trip.

FULTON, Aug. 4.--While the less fortunate were busily acquiring stiff necks from watching the antics of the aviators with the Gates Flying Circus yesterday and last night, their more fortunate brothers and sisters were enjoying the thrill of a lifetime amid the clouds.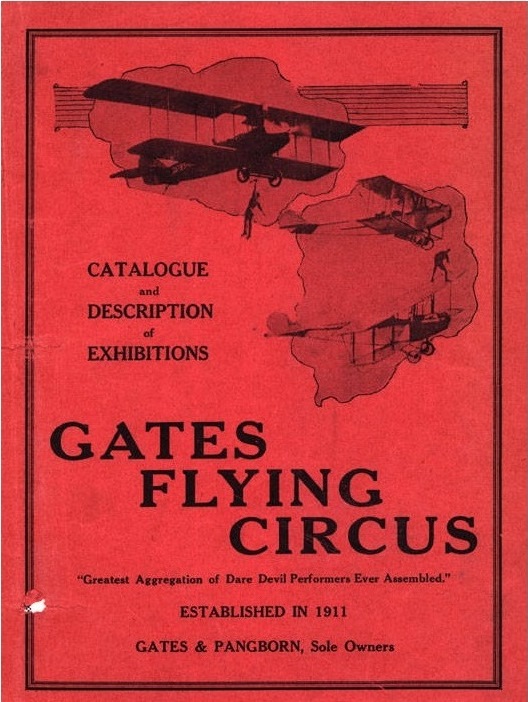 More than 500 automobiles were parked on the flying field last night, as the announcer raised his familiar chant, time and time again, "High, low, fast or slow, any way you want to go, but hurry." Barely had the plane touched the ground, and the passengers alighted from the cockpit, than others were scattered in the machinery, and it was again soaring through the air above the city.
While the aviators furnished their passengers with thrills galore and brought near heart failure to many through the medium of the tailspin, the nose dive, the loop, and many other familiar tricks to the denizens of the air, those on the ground, straining their necks and eyes to keep the plane in view, also received their share of the thrills.
A staff of stunt aviators including
Jack Ashcraft
, flying commander; Harold McMahon, Eddie Brooks, Ive McKinney, Diavolo Krantz brought the planes to this city yesterday morning from Auburn. Upon the close of the show here tonight the circus will leave for Oneida.
Many of the city's most prominent residents had their opportunity of "being in the air" and doing it literally through the circus. The shows have been in Florida all last winter. Since their start north the fliers have shown through Georgia, Alabama, Kentucky, Ohio and Pennsylvania to New York.
Oswego (New York) Palladium-Times,
August 4, 1926, page 9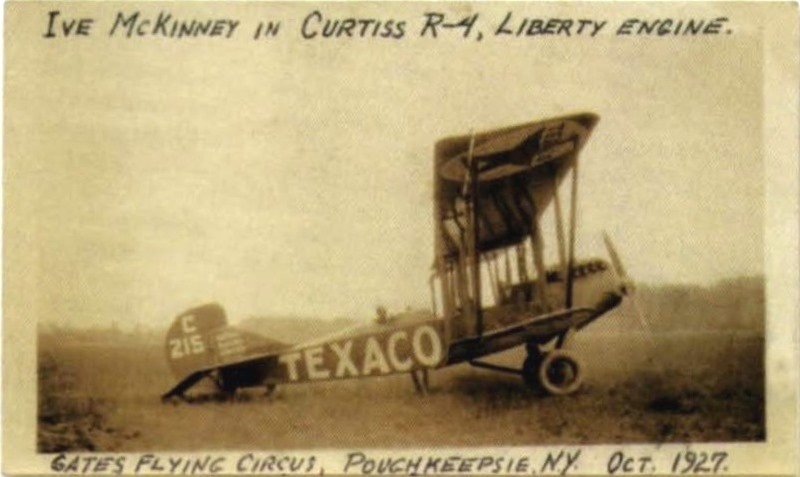 Local Merchant to Be Passenger in Air Derby

Local interest is attached to participation of the Pacer Aircraft Co. of Perth Amboy, N.J., in the southeastern air derby at Macon, Ga., Friday, Saturday and Sunday, and also in the Tampa air derby February 22.
The machine, one of the type of "Pacer Wonders," will be piloted by Ive McKinney, who was among the aviators of the Gates flying circus, which exhibited here last summer under the auspices of
The Troy Times,
while one of the passengers will be Herbert Strasser, proprietor of the Vogue Shoppe of Troy.
A long flight, to cover approximately 4,000 miles, will be a feature, and the planes will visit Pensacola, Atlanta, Cleveland, Youngstown, Pittsburgh, Troy and Albany.
The Troy, (New York) Times,
February 17, 1928

Ive McKinney, September 8, 1928
Brooklyn Standard Union


Death-Defying Aerial Stunts to Be Staged at Circus Here
Exhibition stunt flying, daring wing-walking, dead-stick landings and numerous other thrilling events comprise the program of the free air show and circus which will be presented to the public of Richmond and its environs at the Comp Airport by the Gates Flying Circus, starting today and continuing until December 26, under the auspices of the American Society for the Promotion of Aviation.
The Gates aggregation, which on two other occasions has thrilled Richmond with its unique aerial antics, has been reorganized this year and has a far more elaborate series of events to present to the South as part of the American Society for the Promotion of Aviation's campaign to make the public more air-minded, it is said.
The first evidence of the organization's arrival in town will be given at noon today when the Gates squadron of sleek planes will hurtle across the skies over the city in battle formation, giving Richmond its first glimpse of the intrepid fliers in action.
Leading the daredevil cloudsmen is Major William C. Brooks, the Nicaraguan flying ace, who holds the world's record of performing 269 loops in one flight.
Captain Ive McKinney, famous army flying instructor, will thrill those who gather at the Comp Airport with his unique stunt flying antics and dead-stick landings.
Captain Jack Ashcraft, another veteran birdman having more than 10,000 flying hours to his credit, and Lieutenant Homer Packler will also "do their stuff."
"Diavolo" Matthews, wing-walker, will present an entirely new repertoire of stunts.

Richmond (Virginia) Times-Dispatch,
December 19, 1928, page 3
FLYING FANS WATCH AVIATORS' STUNTS
AT NEW HOLMES AIRPORT
25,000 Brave Chilling Blasts While Daring Pilots Do Their Tricks

Holmes Airport in Jackson Heights, the first flying field in operation within the city limits, which was officially opened on Saturday, was visited by 25,000 flying fans yesterday, who watched Ive McKinney, a Gates pilot, go up 5,000 feet in the air and then take a nose dive to the 2,000-foot level. Because of a strong northwesterly wind which made trick flying of any sort a difficulty, the air circus stunts and the parachute jumping were called off.
The field is but one quarter finished and will not be available for commercial planes until September. The section used yesterday was in the center of the 220-acre plot covering about 50 acres. The Gates Flying Service had six planes on the field and took up about 450 persons at $5 a ride--Miss Asia Patrick, of Manhattan, had the honor of being the first passenger from the airport.
Brooklyn Union Standard,
March 18, 1929, page 22

Three Musketeer Airmen Who Barnstormed Country
in Flying Circus Now Settled as Commercial Pilots
at Jackson Heights
Brooks Put Paper in Shoes to Bar Cold in "Lean" Days--
Ashcraft, with Broken Arm, Did Stunts; McKinney a War Flier.

Introducing the "Three Musketeers" of Holmes Airport, Jackson Heights, L.I.--Veterans of a thousand stubble fields from which they flew together during the rollicking, romantic days of aerial barnstorming, these modern prototypes of Porthos, Athos and Aramis have set down their winged steeds and await some new adventure.
The men, William C. (Whispering Bill) Brooks, John W. (Big Jack) Ashcraft, and Ive McKinney, who have piled up thousands of hours of flying as they have flown side by side across the nation and back again, are graduates of the same stern school.
For 10 years their lives have been pledged to the famous musketeer motto "One for all, and all for one." During the lean days they shared their profits, helped repair each other's planes and, in some cases, risked their lives in saving each other.
Baling wire and a pair of pliers at times were their only repair equipment. Their fields were cow pastures on the sloping sides of hills; marsh lands, dry of water for a moment; sandy beaches, and Western plains.
Now, they've settled down.
They boast of an airport with modern equipment on it. They have supply sheds, an operations office, and other hitherto unknown advantages.
They've abandoned the rickety, sluggish barnstorming planes of ancient vintage, and now take the controls of modern ships.
Brooks, chief pilot of the organization, recalls the old days wistfully. Bill, in the course of vagrant wanderings, has had motors fall out of his airplane--has had them burn on him, when he didn't have a dime with which to check out of his hotel--has been made an Indian chief, and has dodged rebel bullets in Nicaragua.
"McKinney, Ashcraft and I became acquainted through the same medium," he declared. "That was the old Gates Flying Circus, which barnstormed from coast to coast and from border to border.
"It was founded by Ivan R. Gates back in 1911, but we didn't play much part in it until after the war.
"I joined after my old
Standard J-1
burned while I was repairing it, and the proprietor of the hotel wouldn't let me check out until I had paid my bill. I'd still be living in the same place if it hadn't been for 'Van' Gates and his flying circus, who arrived at just the right time.
"Van gave me $100 and a job."
Brooks is not at all reticent about discussing the "lean days" of aviation.
"I didn't have an overcoat," he declared, "and it was very cold. I had newspapers packed into my shoes, for the soles were gone and the streets were cold and wet."
Brooks' life has not been all adversity, however. In 1926 and 1927 he was flying in Nicaragua. Ostensibly he was conducting a flying school, but actually he was in the pay of the Nicaraguan conservatives, who were trying to quell uprisings organized by the rebel general Augustino Sandino.
Did Nicaraguan Scout Work.
"I did scout work and bombing," he declared. "My chief duties were to see that conservative generals did not pad their payrolls, by flying over their troops and counting them and dropping bombs made of gasoline cans, bolts and dynamite."
At one time in his gypsy career, Brooks flew an Indian boy--grandson of Sitting Bull, of the Sioux--to a hospital, after the lad had been bitten by a rattlesnake. For this he was made a chieftain, and a trip into the West is not complete for Brooks unless he visits the reservation and has a powwow.
His closest call came in Allentown, Pennsylvania, when a blade of his propeller snapped off, and the twist of the other blade tore out his motor. He was almost half a mile over Allentown. With 700 pounds off the nose of the ship, it slid onto its tail and started falling like a leaf in an autumn breeze.
Bill worked his controls frantically and managed to land on the tail and a wing
His cheek was scratched.
He received his original training in flying during the World War. He has carried more than 100,000 passengers into the air, and has stunted over more than 2,000 towns and cities throughout the United States.
Jack Ashcraft also received his training during the World War. To his comrades he has shown a remarkable devotion.
When at Daytona Beach three years ago he gave an example of this. The Gates Flying Circus was doing well, financially, but a series of slight accidents had caused considerable repair expense.
There was very little money in the cash register, and there was some question as to where additional funds were coming from. Gates signed a $3,000 contract, promising to have four planes in the air over a given spot at a given time.
Three planes were started successfully.
"Stunts" with Broken Arm.
The fourth balked. The call went out for "Big Jack," who stands well over six feet. He twisted the propeller of the balky plane. It backfired and broke Jack's arm.
In spite of the pain, rather than see his pals go hungry, Jack climbed into his own cockpit and for forty-five minutes led a stunt flight. Then he landed and collapsed in his cockpit.
Ive McKinney, the third "musketeer," has had a checkered career. He first appeared with Gates, after leaving the United States Army Air Corps with the rank of first lieutenant. He had barnstormed, had sold planes, and had flown with the Forest Patrol in Washington and Oregon.
Gates gave him a
Curtiss-R
biplane with a Liberty motor and told him to fly it. He flew it whenever he could get it flying. Then, one day, the Department of Commerce inspectors "grounded" it at Youngstown, Ohio. He was told it wasn't safe and that he couldn't fly passengers until he had repaired it.
"This is a good plane," he said. "I'll prove it."
He gassed up and made a non-stop flight to northern New Jersey. He made the mistake of starting too late in the afternoon, however, and he got over Teterboro Airport after dark. He couldn't find it. His gasoline ran out, and he landed in the meadows. The ship went on its back, Gates got a box of matches, and that was the end of the Curtiss-R.
Gates forgave McKinney. Then Ive built a
Pacer monoplane
, and was leading the Class B field across the United States in the New York-Los Angeles air races last summer. He had a forced landing, but with hard work and pluck got into the air again and finished eighth.
Then he rejoined Gates. The "Three Musketeers" are together again, now, and that's all that really matters.
Brooklyn Daily Eagle,
June 9, 1929, page F2
While Viola Gentry was fighting for life today at Nassau Hospital, Mineola, with one chance in three of recovery, the funeral of Captain John W. Ashcraft, 33-28 Seventy-Second Street, Jackson Heights, her co-pilot on an endurance flight which ended in a crash in Old Weatherbury, L.I., yesterday, was taking place from Campbell's funeral church, Broadway and Sixty-Sixth Street, Manhattan. . . .
Among the pallbearers at Ashcraft's funeral were Major William C. Brooks, manager of operations for the Gates Flying Service at the Holmes Airport, Jackson Heights, where Ashcraft was chief pilot. Interment will be in Protection, Kansas.
Other pallbearers, all pilots, were:
Wilmer Stulz, Ive McKinney, Clyde Pangborn, Warren Smith, Carl Dixon, Ivan L. Gates, Freddie Land, Edward Churchill, Homer Fackler, Harry Bangler, George Daws and Abraham Greenberg.
Queens Borough (New York) Daily Star,
June 29, 1929, page 1
Dangerous Flying Has Been McKinney's Career in Air

He received his training, like Clyde E. Pangborn, his chief pilot, in the United States Army. He flew for two years with the Forest Patrol in Oregon, Washington and California, flying over country where a mishap meant death. He entered commercial aviation and barnstormed all over the country. He varied monotony with the federal forces during the revolution in Mexico, and when the trouble was over he was second in command in the federal air forces.
That, briefly, serves to convey an idea of the career and accomplishments of Ive McKinney, copilot of the plane that will attempt to better the world's endurance record during the state fair.
McKinney learned to fly in 1917. He was at the United States Army School in Rockwell Field, San Diego, Calif. He received his commission as a lieutenant. He was stationed at March Field in Riverside, Calif. and Mather Field in Sacramento, Calif.
He was an instructor during the World War.
"Would you like to get across and fly combat, Mac?" a fellow pilot asked him.
McKinney looked him over with amazement upon his face.
"Who wouldn't?" was his only comment.
McKinney resigned from the Army flying service after the World War and flew commercially for a short time. Then he was back in the service, and in the most dangerous branch peacetime aviation could offer. That was doing forest patrol work on Oregon, Washington and California.
His job consisted of flying low over immense forests and watching for the slightest wisp of smoke that might denote a fire which would destroy timber worth fabulous sums and probably endanger human life.
It was a dangerous job. A forced landing meant death or serious injury.
McKinney stayed in the service two years. Then he had exhausted its thrills.
He couldn't and wouldn't leave flying, so he turned to commercial aviation.
He became a member of the Gates Flying Circus, the organization that offered more thrills than any other. He joined the organization while it was giving exhibitions in Fulton. He came with an established reputation as a stunt pilot. The veterans of the organization didn't think he could be quite as good as they were.
He showed them the first afternoon. He tried and accomplished everything they could do in the way of acrobatics, and then showed them a few stunts all his own.
The Mexican Revolution before the last one appeared to offer more thrills than any flying circus, so McKinney departed bound for it. He joined the federal flying forces. He figured in scores of thrilling escapades.
He, like Pangborn, is modest. He refuses to talk about his adventures.
He was and is head of a concern that manufactured the Pacer Monoplane. He and Cy Bittner piloted a Pacer in Class B of the New York to Los Angeles Air Derby last year. Engine trouble forced them into 19th position at the end of the first day. When the race ended they had crept up to finish in the money.
McKinney entered the employ of the New Standard Aircraft Corporation while his own factory is being equipped to manufacture Pacers in quantity.
His official log with the United States Army shows 4,700 hours of flying time. He has added about 2,800 hours to that figure in his commercial work.
Physically, he is perfect. He is ready and willing to undergo what all the pilots connected with the flight hope he will be a long and exhausting grind.
Syracuse Herald, July 21, 1929, page 14
PILOTS READY FOR RECORD TRY

Undisturbed by the fact that they will have to remain in the air nearly three weeks to break the present world's refueling endurance record held by Dale "Red" Jackson and Forrest O'Brien and the
St. Louis Robin
, Ive McKinney and Clyde Pangborn, who have been booked to stage an endurance flight State Fair Week, have assured Secretary J. Dan Ackerman they are going after the record in earnest.
As a result of a different financial arrangement made after the St. Louis Robin landed with 420 hours of continuous flight to its credit, McKinney and Pangborn have given Secretary Ackerman positive assurance that they will go after the record over the State Fair grounds. Start of the State Fair endurance flight, originally scheduled for the Saturday before the opening of the fair, has been postponed until the first day of the fair, Monday, Aug. 26.
McKinney and Pangborn will take off from the race track oval on the fairgrounds at 5 o'clock on the first day of the exposition. They will then attempt to remain in the air for more than 420 consecutive hours. All of the refueling contacts will be made over the fairgrounds.
Weight of gasoline carried will prevent operation of the refueling ship which Cy "Shorty "Bittner, Syracuse air mail pilot, will fly from the racetrack oval [
sic
]. The refueler will operate from the municipal airport and fly to a point over the fairgrounds for refueling purposes.
McKinney and Pangborn have promised Secretary Ackerman to stage a stunning exhibition with the endurance plane during the week of the fair or until they become too tired to think it safe. This, they say, will break the monotony for them and create added interest in the flight.
Pangborn will fly the New Standard endurance plane upside down as his stunt, while McKinney will walk the wings. Both endurance fliers are former Gates Air Circus stars and veterans at stunt flying.
If the endurance fliers remain aloft from 9 a.m. on Syracuse Day until 9 a.m. Saturday, the last day of the fair, they will fly 120 hours. They will still have 300 hours flying ahead of them when the fair ends to break the record.

Syracuse (New York) Journal,
August 4, 1929, page 28
With Ive McKinney, who was to have been co-pilot with Clyde E. Pangborn in the airplane endurance flight planned as the main attraction of the State Fair, in a hospital suffering from injuries received in a crash yesterday, it was announced today that his place will be taken by Carl Dixon, who was to have operated the refueling craft. . . .
McKinney was injured when a homemade plane he was testing at Teterboro airport yesterday plunged to the ground. He is reported suffering from a fractured leg and possible internal injuries.
"Crash Disables Fair Record Aspirant,"
Syracuse (New York) Journal,
August 19, 1929, page 4
FLIERS TO SEEK REFUELING RECORD
(By Associated Press)
SYRACUSE, N.Y.--An attempt to break the world's record for a refueling endurance flight set recently by the St. Louis
Robin
[
420 hours
] is to be made here in conjunction with the New York State Fair by Clyde E. Pangborn and Ive McKinney.
The two pilots will take off in a biplane from the infield of the state fair grounds at 9 a.m., August 26, and will circle over the grounds until forced down either by engine trouble or physical exhaustion. Cy Bittner, air mail pilot for the Canadian Colonial Airways, and Carl Dixon, veteran stunt flier, will handle the refueling plane, making two contacts a day, one early in the morning and the other late each afternoon.
Special gasoline tanks and a duplicate oil system have been installed in the plane which will be used in the test, while a bunk, six feet by three, will enable the pilots to snatch some rest when off duty. Catwalks have been built around the outside of the pile so that the pilots may make minor repairs and change spark plugs when necessary.
Daily Messenger,
Canandaigua, New York, August 24, 1929, page 3
Fliers Pass 100 Hours.

SYRACUSE, N.Y., Oct. 10--(AP)--Having conquered fog, wind and rain in their attempt to set a new refueling endurance record, Ive McKinney and Aaron Krantz, Piloting the "Empire's Own," passed the 100-hour mark at noon today. They took off at 8 a.m. Sunday. The fliers reported everything going well.
They hope to break the 420-hour record of the St. Louis Robin.
Richmond (Virginia) Times-Dispatch,
October 11, 1929, page 6
AIR PILOTS NEAR END OF FIRST WEEK ALOFT
(By the Associated Press)
Syracuse, N.Y., Oct. 12.--With 157 hours of flying behind them at 9:13 p.m., Ive McKinney and Aaron Krantz, pilots of the endurance plane Empire's Own, tonight were approaching the end of their first week aloft.
Times-Picayune, New Orleans, Louisiana, October 13, 1929, page 8

ENDURANCE FLIGHT ENDS

SYRACUSE, N.Y., Oct. 13.--(AP)--A broken piston early tonight ended the second attempt to bring the endurance record to this city when the Syracuse fliers were forced down after 177 hours and 17 minutes in the air. The ship was landed safely in a field several miles north of Syracuse and both fliers, Ive McKinney and Aaron Krantz, were uninjured.
Evansville (Indiana) Courier and Press,
October 14, 1929, page 9
Minimum Speed Races Are Held at Hadley Port
Winner Stays in Air at Twenty-Eight-Mile Rate Over Five-Mile Course

Slow races for airplanes to demonstrate low landing speeds are rapidly coming into vogue, according to manufacturers. In one of these "slow" races held recently at Hadley Airport the Gates
RSV
, a convertible mono-biplane, flown by Capt. Ive McKinney, covered the five-mile course in 10.68 minutes, an average speed of 28.1 miles per hour, according to officials of the National Aeronautical Association, who timed and checked the race.
The Gates RSV, which is able to sustain flight at 28.1, has a landing speed of 25 and a high speed of 107 miles per hour, it is claimed.
"It is the first time that a speed ratio of 4 to 1 has ever been heard of," said C. L. Ofenstein, former chief engineer for the Aeronautics Branch of the Department of Commerce, adding, "Even the finest pursuit ships have a speed ratio of only 3 to 1."
Many of the 20 planes entered in the race barely averted crashing when the pilots tried to stay aloft at stalling speeds.
The cash prize awarded to Captain McKinney in the Gates RSV was accompanied by a silver loving cup.
Brooklyn Daily Eagle,
December 1, 1929, page F2
FLYER NEAR DEATH AFTER AUTO CRASH
WILMINGTON, Del., Dec. 14.--(I.N.S.)--"Ive" McKinney, well-known aviator and a member of the crew of the airplane "
Question Mark
," which established an endurance record a short time ago, is in a critical condition today in the Delaware hospital. He sustained a fractured skull in an auto-truck collision near here last night. Physicians plan to operate today in an effort to save his life. Alexander Gagnon, of Wilmington, driver of the truck, is held in $5000 bail to await the outcome of the aviator's injuries.
Evening Tribune,
San Diego, December 14, 1929, page 29
McKinney is not known to have been on the flight, ground or support crew for the Question Mark. This was apparently a misapprehension on the part of the reporter.
CRASH IN RACE FATAL TO PILOT
Famous Stunt Flier Dies after Wind Overturns Plane in N.J.
(Special Dispatch to
The Herald
)
TETERBORO, N.J., May 31--In an involuntary sideslip on one of the turns of an airplane race here today, Capt. Ive McKinney, former army flier and widely known stunt pilot, crashed to earth on the edge of the Teterboro airport and received injuries from which he died within a few hours in the Hackensack Hospital.
The race was one of the closing events of a two-day air carnival which was held for the benefit of the Passaic chapter of the Veterans of Foreign Wars. McKinney, who has thrilled thousands with hair-raising stunts over airports near New York for several years, was flying the race in his most spectacular manner, barely skimming the treetops and cutting all the corners sharply. On the second lap of the short course of the race, he pulled the new Standard plane which he was flying into a vertical bank to round the south pylon, when a sudden gust of wind flipped the plane upside down.
The pilot struggled to right the ship by a maneuver known as a half roll, but the loss of altitude which always accompanies the trick carried him so low that his wing tip caught the rough ground below. The plane cartwheeled over end on end and came to rest near the airport boundary a complete wreck.
The unconscious pilot was dragged from the wreckage. When first brought to the hospital his injuries were diagnosed as fractured legs, a broken jaw and possible internal injuries. Hope was held for him, but internal complications set in shortly after his arrival. He died at 8:30 p.m.
Boston Herald,
June 1, 1930, page 2
IVE McKINNEY, LOCAL AIRMAN, DIES IN CRASH
Plane Hit by Gust of Wind During Race in New Jersey--Was Pioneer of Medford Flying.

TETERBORO AIRPORT, Hasbrouck Heights, N.J., June 2.--(AP)--Captain Ive McKinney, Hasbrouck Heights, died Saturday night of injuries received when his plane was turned over by a gust of wind during a race, and crashed from a height of 50 feet.
----

Captain Ive McKinney, 35, pioneer Oregon aviator and former Medford resident, was killed at Teterboro, N.J., Saturday when his plane crashed in an air race, according to word received here yesterday by relatives. Captain McKinney lived here for several years and is remembered by many southern Oregon residents.
He was born in Harriman, Tenn., April 15, 1895, and came to Medford with his family in 1918. He joined the air corps in 1919 and was stationed at the local airport for some time while in the service. Later, he engaged in flying service and was one of the first to carry passengers here.
Mr. McKinney is also remembered for his stunt flying at local fairs and celebrations. He crashed at the fairgrounds once in 1926, but was not injured. For several years he has been in the airport and flying business at Teterboro, N.J.
He is survived by his parents, Mr. and Mrs. W. L. McKinney, two brothers, John and Huse, and a sister, Mrs. Sam Colton, all residents of Medford. The funeral will probably be held here.
Medford Mail Tribune,
June 2, 1930, page 1
OREGON AVIATOR KILLED
Medford Parents Learn Captain McKinney Dead in East.

MEDFORD, Or., June 1.--(Special.)--Captain Ive McKinney, 35, pioneer Oregon aviator, was killed at Teterboro, N.J., Saturday, when his plane sideslipped on a turn in an air race there, word received by his parents here states.
Captain McKinney had been in the flying business at the New Jersey airport for several years. He joined the air service here in 1919 and for several years his headquarters were in southern Oregon. He is remembered by many local residents for his daring stunt flying. He attended flying school in California after coming to the Pacific coast from Harriman, Tenn., where he was born April 15, 1895. Surviving are his parents, Mr. and Mrs. W. L. McKinney, two brothers, John and Huse, and a sister, Mrs. Sam Colton, all of Medford. The funeral will probably be held here.
Oregonian,
Portland, June 2, 1930, page 14
FORMER LOCAL MAN HONORED

Of interest to local people is a recent article in a Teterboro, New Jersey paper, which tells of a special tribute which was paid Capt. Ives McKinney, former Medford man, who was killed May 31, 1930, in a special exhibition race at the Teterboro airport during a benefit performance for a New Jersey V.F.W. post when his plane sideslipped and cracked up on a bank in a race.
The article stated that three planes piloted by Capt. Richard White, William Jones and Ned Smith took up the flowers which were strewn over the airport as a testimonial to the dead aviator.
In conclusion the article stated, "Capt. McKinney was considered one of the safest stunting pilots in aviation, and his death, which followed the crash by only a few hours, was mourned by a host of pilots throughout America.
"The ceremonies yesterday were especially arranged by a group of the flier's friends, Captain White being a copilot with McKinney on many trips.
"Thousands of people witnessed the take-off of the flower-laden planes."

Medford Daily News,
June 7, 1931, page 2
FINAL RITES FOR McKINNEY HELD IN CITY SUNDAY

Funeral services for
Ive McKinney
, Medford aviator killed in an air crash at Teterboro Airport, Eastbrouck, N.J., were held Sunday at the Perl Funeral Parlors at 2:30. The American Legion post of Medford was in charge of the services.
McKinney was president of the New Standard Flying Service, which he had purchased last March, and was associated with Russ Brinkley, who brought the body to Medford for the services.
The aviator was well known in the east, and 36 airplanes circled in the sky when the body was placed on the train at [Newark] for its long westward journey. Saturday an air circus was in progress at Teterboro as a benefit for the purchase of a fitting memorial to be placed in the Medford cemetery. Such well-known pilots as Col. Charles Lindbergh, Chamberlain and many others took part.
When the crash took place, costing McKinney's life, he was completing the last lap of a five-airplane race. He was leading four other planes and just as he was making a wing-over turn after leaving the last pylon, he crashed into the ground. He was traveling at a rate of 110 miles per hour and was only three feet from the ground when he started and due to lack of altitude was unable to complete the turn, which was more or less a fancy bit of flying.
Before crashing, in the twinkling of an eye, McKinney had removed his goggles and turned off the switch to prevent fire.
He lived for two hours and died from a fracture of the skull. He had sustained a fracture in the same place in an auto crash sometime before and the airplane mishap affected the same portion of the skull.
McKinney's fiance, Grace Ayres, along with 9,000 other spectators, saw the crash. Her condition was critical as a result of the shock. She was to have married McKinney July 17.
McKinney was known as a "big shot" in the aviation world and known by all the leading aviators of the nation. His success in aviation had not been generally known in this section, where he had spent many years of his life. He is also credited with having flown with more passengers than any other pilot in the business.
His parents, Mr. and Mrs. W. L. McKinney, reside in Medford, as well as his brothers, Huse and John, and his sister, Mrs. Sam Colton.
Medford Mail Tribune,
June 9, 1930, page 3
Last revised November 11, 2019