Medford's first tailor.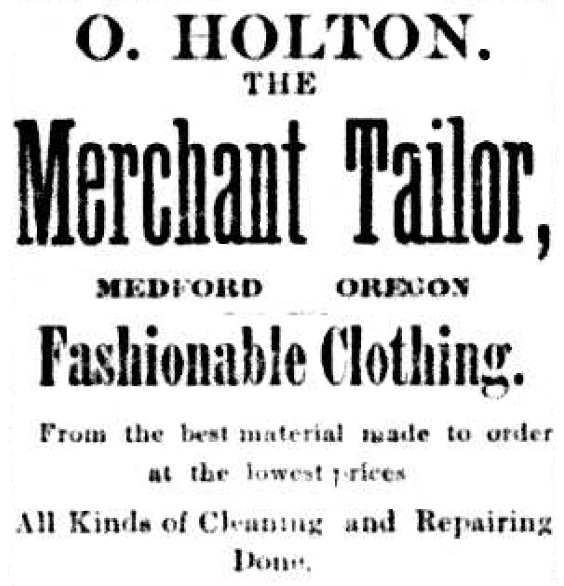 March 13, 1888
Southern Oregon Transcript
The Holtan Family History

Story of Ellen Hellena Holtan
1837-1928

Researched and Written by
Marguerite and John Black
Jan.-March 1977

Introduction

The sources of information for writing and compiling this history of the Holtan family consists mainly of a trunk full of old letters, bills, and household account books, dating back to the 1890s. There is a large family Bible, with names and dates recorded in it. A large Norwegian Bible has only the name of Ellen Hellena Holtan on the flyleaf. In a small Norwegian date book, there are a number of family names and birth dates. There is a collection of old photographs, most of which are identified, but not dated.
Reliable information regarding their property transactions and other business affairs was researched from the deed and mortgage records in the Jackson County Courthouse.
Stories handed down by family members and friends have been quoted where pertinent. It is inevitable that there are some discrepancies, and inaccuracies, but every effort has been made to authenticate the material as far as possible at this writing.
The First Generation – Norway

The earliest ancestor for whom records are available is Ellen Hellena Hansen. She was born August 8, 1837, in the village of Leksviga, near Trondeheim, Norway. Her mother was Ingebor Anna Hansen, whose birth date is given as October 14, 1809. Hansen was her married name. Her husband's first name is not given in any of the records. An old photo of an elderly couple is labeled "Ingebor Anna Hansen and husband." It is said that she was married "several times." Ellen Hellena was one of eight or nine children in the Hansen family.
It is believed that the Hansens were farmers, and living was not easy. When she was old enough to work, Ellen Hellena was hired out to a neighboring farmer. Here she worked long hours doing rough, hard outdoor tasks, including cutting trees for wood. It was while she was felling trees that she was injured by a log rolling on her, and she suffered a broken hip. The hip was not set properly, and as a result she walked with a limp all her life.
The story is told that when she became of marriageable age, the man she was promised to marry, according to Norwegian custom, unexpectedly jilted her to marry another woman who had a larger dowry. After this humiliating experience she left home and became an indentured servant on a farm, where life was even more difficult.
She was in her early twenties when she married a man named Nels Nelson. He was older than she, had been married before and had a family of older children. Nothing is known about them. To this union was born a son, John Nelson, on March 25, 1860. While the baby was still very young, Nels Nelson died, leaving his wife and her child a small estate.
Within two years, Ellen Hellena Nelson married Magnus Grumdahl. Their first child, a daughter, was born on January 26, 1864. She was named Neklina and was called Lina.
It is understood by family descendants that there was another baby girl born, but there is no mention of her birth date or name in any available records at this time.
The marriage was apparently a stormy one. It came to an end when Ellen Hellena left Grumdahl, taking the baby girl and her son, John Nelson, with her. Daughter Lina remained with her father. It would be most interesting to know the details of this arrangement. A letter from Norway in response to family history research in 1948 states that "Hellena was a willful and independent woman. She could not stand the life with Grumdahl, as he was a miser and selfish (egotist). I can remember my parents saying about this, that she left him because he was impossible to live with."
Letters from Cesilie Waterloo, Oct. 10, 1948.
The Second Generation – America

Some time in the next four or five years the Hansen family came to the United States. It is believed that they came as a family group: Ingebor Anna Hansen and her husband; Ellen Hellena, her son John Nelson, and infant daughter; a Hansen brother, and two sisters. One sister, Christina, is mentioned in the "birthday book." Their married names are given as Mrs. Andersen and Mrs. Oleson. We are told that the journey took six weeks, and the baby girl was sick most of the way. Soon after they reached their destination in Wisconsin, the baby died.
One family story has it that John Nelson worked his way to America alone, when he was 14 years old. Another descendant remembers being told that Grandmother Holtan sold John's patrimony to help pay their way, and he came with her. Research is presently under way to establish the correct information on this story.
It is not known when or where she married Olaus Holtan. It is possible that they knew each other in Norway, but it is more likely that she met him in Wisconsin. He was born in Norway, near Bergen, on March 22, 1842. He was a tailor by trade and had some education. Ellen Hellena had no formal education, since she could not write even her own name in Norwegian. She was probably self-taught to read, as it is known that she enjoyed a Norwegian newspaper in later years.
The Holtans' first child, a son, was born May 16, 1870 in Black River Falls, Wisconsin. The story is told that when the birth of this child was imminent, Olaus Holtan wanted to obtain the services of a midwife, but Ellen Hellena refused, saying that she could take care of herself. He went off to work, reluctantly leaving her alone. She sent young John outdoors to play, with strict instructions not to come in until called, whereupon she delivered her baby herself, got up and took care of him, and had the midday meal on the table when Olaus came back. They named him Henry N.
Two years later, in Rockton, Illinois, on January 1, 1873, another boy, named Martin, was born. In Garner, Iowa, a girl, Helen, was born on February 4, 1876. The last child, another girl named Olena, was born in Rockford, Iowa on September 22, 1878. Thus Ellen Hellena was the mother of seven children, six of whom lived to adulthood.
Since each of these children was born in a different town, it may be assumed that the family moved frequently, and for some reason did not seem inclined to settle down very long in one place.
Their next move was to Oregon. They came west on the train from St. Paul, Minn. to Portland, Oregon on November 10, 1884. (There is some question about this date.) There is some evidence that part of the Hansen family came to Portland also, and made their home there for a number of years. It is possible that they all came at the same time.
The railroad to Southern Oregon had been finished as far south as Medford that year. Medford was a booming "end of the line" railroad town, which had been platted by the land owners. To promote rapid development, alternate lots had been given to the railroad company for sale to business people and residents. The railroad company advertised widely, and people came by the hundreds to take advantage of the opportunities promised. Among them was the Holtan family. They found a home, and Olaus Holtan opened a tailor shop.
In the Jackson County deed records, we found that Olaus Holtan bought a lot on Main Street, between "B" and "C" streets, for the sum of $275.00. This was dated November 2, 1885. It is not known if there was a building on this lot, but records show that he sold it on June 20, 1888, for $1000.
The tailor shop was located in a residence on Central Street in the first block south of Main, about where the Craterian Theatre presently is located. Helen and her sister Olena, told their children, many years later, about watching the construction of a large brick store and office building across the street from their home. A contractor named Halley built it, and for many years it was known as the Halley Building.
School records show that the girls, Helen and Olena, attended the Medford public school in 1893, 1894 and 1896. Among the photo collection is a large picture of this school building, with the students grouped in front of it. None of the people are identified, and there is no date, but it is believed to have been taken before 1893. We have Helen Holtan's report cards dated January 1890 and February 1891. There is a Promotion Card from Grade "B 7th" to "A 8th," dated May 19, 1893. She graduated from the eighth grade in 1894. Sister Olena graduated a year later.
It has been said of Grandmother Holtan that she did not consider higher education important for women. She thought a woman's place was at home with a husband and children, on a farm if possible. She also did not approve of some of the lady customers who came to Olaus' tailor shop. As far as we know, none of the three grown sons had any training for a specific trade or profession. Farming was all they knew, so they did what many other people were doing at that time. They located and filed on a 160-acre homestead under the Homestead Act of 1862. This land was located on upper Long Branch Creek, which flows into Rogue River near the present town of Shady Cove. It was about 25 miles from Medford, and five miles off the county road. It lies in a saddle overlooking the Shady Cove area to the east; the Dry Creek-Beagle country to the south. Back toward the north and west are higher timber mountains. To this day, there are clearings which reveal where the farm fields and building once were situated.
Since it requires between three and four years to "prove up" on a homestead, it is believed that they filed on this land sometime in 1890 or 1891. The requirements for "proving up" on a homestead included the following:
To build a dwelling house, and live in it a certain length of time; to cultivate at least five acres, and raise a crop on it within five years. Soon after this claim was filed, they decided to purchase an eighty-acre tract lying about ¼ mile to the south. On the 29th of June 1891, a deed is recorded for the purchase of 80 acres, by Olaus Holtan according to the Land Act of 1820, at $2.50 per acre, a total of $200.00. It is understood that Olaus Holtan put up the money needed for these transactions. We are told that he closed his tailor shop and moved to the homestead when they first went up there.
In an old account book is found the following entry, in Henry Holtan's handwriting:

Etna, Oreg. Nov. 15, 1892
Commenced farming this day with the following
Resources and Liabilities
Resources,
Cash on hand $1.50
1 span horses 50.00
Farm implements 8.20
Seed wheat 3.50

Liabilities,
O. Holtan acct. $30.00
Farm implements 4.50
Cash 5.00
Grocerys 5.30

It appears certain that Grandmother Holtan stayed on the homestead, and her sons did the farming. John Nelson married Anna Estelle Martin on December 21, 1892 and brought her home to live with his mother. A story is told about Grandmother Holtan that may have happened during these years. One night, she heard a commotion in the hog pen; the hogs were squealing in terror. She rushed out ahead of everyone else, with a fence picket in her hands, to find out the cause of this ruckus. In the dark, she could make out a large animal mauling a struggling pig. Entering the pen, she attacked the intruder with her stick so furiously that it leaped over the fence and disappeared into the woods. After daylight they found the tracks of a brown bear. She had thought it was a dog.
Olaus Holtan did not share his wife's opinion that girls did not need an education. He borrowed $800.00 to reopen his tailor shop, and in six months had paid off the loan and had a good business. The girls stayed in town with him and attended school. At that time, Medford High School was a two-year course. Part of the curriculum was a teacher training course, which prepared students to take an examination for a teaching certificate.
In the school census records, it was found that Helen Holtan taught a three-month term in the summer of 1895 at Etna, District 64, the school being in her home area of Long Branch. Among the six pupils listed on her annual report to the County School Superintendent was her own sister, Olena, age 16. Her salary was $19.00 per month and board. She was teaching on a Third Grade Certificate issued on February 13, 1895. Her brother, Henry Holtan, was a member of the school board.
Martin Holtan

Nothing much is known about the son Martin Holtan. It is said that he was a good worker, and devoted to his mother. He died on April 29, 1890, 17 years, 3 months and 28 days. The cause of his death is not known, nor where he is buried. Undoubtedly his loss was a great blow to the family, and may be the reason why they never talked about him much in later years. He is not mentioned in any of the old letters or account books. There is a large photograph of him in an old-fashioned ornate frame, probably taken shortly before his death.
Lina Grumdahl

Daughter Lina, who had remained in Norway with her father, Magnus Grumdahl, married Andreas Waterloo, and they came to the United States in the early 1890s. They lived in Portland, where Andreas had a watchmaker's shop. It was here that their two boys were born: Oskar in 1893, and Halfdan in 1899. Lina wrote to her mother, and may have come to Southern Oregon to visit her during those years. Eventually, they returned to Norway, where the boys grew up. Andreas outlived Lina by many years. She passed away in 1910. He remarried, to a woman whose first name was Cesilie. He died in 1930. Halfdan Waterloo married, but had no children. Oskar married and had four children. Their descendants now live in Oslo and Trondheim.
Olaus Holtan

It is apparent that Olaus Holtan did not share his wife's opinion on a good many other things besides education for women. The difficulties of their life together finally became too much for him. In late 1896, or early 1897, he disposed of his tailor shop and left town. He went to Yreka, California, where he started another tailor shop. Among the old papers is a letter that he wrote to daughter Helen at Beagle, Oregon, dated Dec. 20, 1897, from Yreka. Translated from the Norwegian, the letter follows:
Good Family,
It has been a long time since I have written you… but I never was much of a writer. It has not snowed yet, but it is now cold. And times are bad and everything is expensive… wood especially. Wood is pretty dear here. I have not much new work but I think I will get more after I become more known. Merti is sending after all my clothes. I am sending you $25.00 in express order. I have nothing new to tell you. Write me soon and often. Olina has not written to me yet.
A fleeting greeting to all
O. Holtan
The patent to the 160-acre homestead was issued on December 7, 1894, granting the claim of Olaus Holtan, "having been established and duly consummated in conformity to the Law." It was signed by President Grover Cleveland. This gave Olaus Holtan sole title to the 240 acres of farm and timber land on Long Branch Creek, where his family was trying to make a living.
In June of 1898, he went to the courthouse in Yreka and had a deed made out conveying to his wife, "Hellena H. D. Holtan, to and for the term of her natural life, and after her death to her child or grandchildren . . . or their descendants, share and share alike . . . for the sum of one Dollar to him and hand paid . . . and divers and other good and valuable considerations the 80 acre parcel and the 160 acre homestead, free and clear of all incumbrances whatsoever."
Nothing more is known about Olaus Holtan. It is assumed that he lived out his days in Yreka, and may be buried there. Research on this remains to be done in the near future.
Helen and Olena Holtan

According to a journal of household expenses kept by Helen dated Sept., 1896, she set her other up in housekeeping with $20.00 cash. Among the items listed is $5.00 per month for house rent, each month until March, 1897. Since Olena graduated from high school on May 28, 1897, it is believed that they lived in town that winter. Olena was valedictorian of her class of 12 students. A copy of her speech has been preserved among the old papers. She was granted a teaching certificate, but it is not known when or where she taught school. On March 11, 1900, she was married to Edward Briscoe, and went to live with him on a homestead on Trail Creek.
Helen taught school, a three-month term, at Sterlingville in 1897, receiving $75.00. In 1898, she taught five and a half months at Trail for $144.00. During the next several years, she taught school and contributed to the support of her mother.
Henry Holtan and John Nelson

In August of 1897, Henry Holtan was married to Geneva Selena Ingram, in Jacksonville, Ore. She was called Lena. They went to live with his mother on the place up Long Branch. It is understood that John Nelson and his growing family were living there also. By October of 1897, there was Will, Jake, Carrie and John Jr. Baby Jane was born Jan. 3, 1899. Within a week Martin Henry Holtan was born to Lena and Henry, on Jan. 14, 1899. Baby Jane lived only a few weeks. She died on Feb. 17, 1899.
The Threshing Machine

Early in 1899 the family became involved in a deal that affected their lives for several years. John Nelson became acquainted with one Isreal Harris of Sams Valley. They planned to enter into a partnership to purchase a brand-new steam traction engine and threshing machine, and go into the business of threshing grain for the farmers of the entire Rogue River Valley. Grain was the principal crop on most of the farms and ranches at that time, and there were few, if any, steam threshing rigs in the country. Threshing was done by horse power, and was very slow and laborious. A steam threshing rig should be able to make money.
Accordingly, the machine was ordered from the Portland office of Aultman and Taylor Machinery company of Mansfield, Ohio. The total price of the rig was $2260.00, delivered to Medford.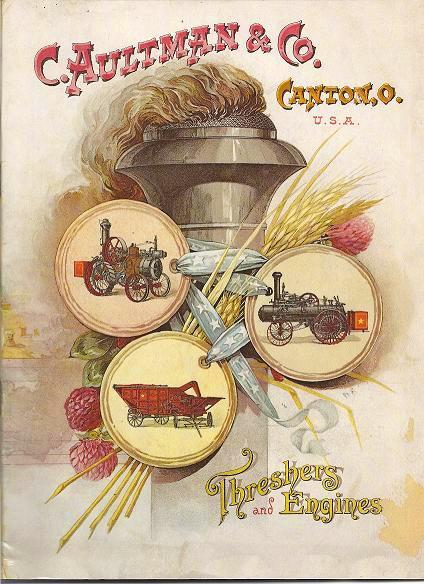 1893 Aultman & Taylor Catalog
The following letter explains the Holtans' part in financing this project:
Isreal Harris Esq. Portland, Oregon
Sams Valley June 12, 1899
Dear Sir: Yours rec'd. In reply will say the property statement was such that I had to submit it to the factory, and today received their reply—which is as follows; If Mrs. Helen Holtan will give a mortgage on the land, we will furnish the rig all OK – and will say I have one here just as you order & can ship it any time. So let me know at once and I will get it ready for you.
I enclose a letter for Mrs. Holtan to sign & return it to me at once and oblige. Yours truly,
D.C. Munroe Collector and Sales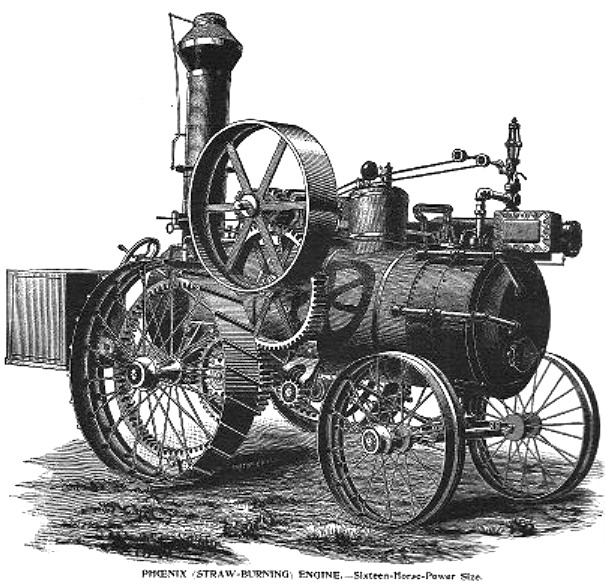 An Aultman Phoenix engine from their 1893 catalog.
In July, Mr. Munroe came to Medford to draw up the mortgage with Hellena Holtan. This document consigned the 240 acres of land to the Aultman and Taylor Company, as security on the purchase of the steam threshing rig, for the sum of $2260.00. Payments were to be made in eight installments as follows:
Nov. 1, 1899 - $200.00, plus interest at 6%.
Jan. 1, 1900 - $200.00, " " "
Nov. 1, 1900 - $200.00, " " "
Jan. 1, 1901 - $200.00, " " "
Nov. 1, 1901 - $380.00, " " "
Jan. 1, 1902 - $300.00, " " "
Nov. 1, 1902 - $380.00, " " "
Jan. 1, 1903 - $300.00, " " "
Each of these were written out in the form of promissory notes, within the body of the document, and signed by John Nelson, Isreal Harris, and Hellena Holtan (her X mark), then the entire paper was signed by Hellena Holtan with her mark. It was dated July 22, 1899.
A few days later, July 26, 1899, Aultman and Taylor obtained from Hellena Holtan, John Nelson and Isreal Harris a chattel mortgage as follows:
the Aultman and Taylor separator, complete with the straw stacker, belts and all fixtures, with or belonging to same, also Truck wagon under same, #19219. Also one Aultman and Taylor "Columbia Jr. Engine, complete #5481." Also 150 ft. Belt, one Jackson #8 long feeder, two Jackson forks, ropes and pulleys complete.
Together with all the increases and issue of all animals described. The above named chattels are free from incumbrances, are now owned by me, and in my possession on the farm now occupied by me in Township 34 in Jackson County.
No list of the "animals" is available. The notes are listed, and the amount, $2260.00, is the same as in the other mortgage. So, in addition to the land, the threshing rig itself was tied up, too. Aultman and Taylor could not lose in any way.
The machine arrived in the Rogue Valley around the middle of July. After a brief trial run, it was found that some of the equipment had to be exchanged. A letter from Mr. D.C. Munroe, dated July 31, 1899, states that the curtains, bagger, pulley, auger, and conveyor sections had been shipped. He instructed them to have a big iron fork made, also a rod for the smoke stack, as these items were not in stock in Portland.
Nelson and Harris were soon in business. They started threshing in July, and continued into November, 1899. There is a day-to-day account of the farmers for whom they threshed, and the amount of grain for each. At first, they charged 3½ cents a bushel, but soon raised it to 4 cents. Some farmers paid cash, but many paid with labor, at an average of $1.50 per day.
For reasons not fully understood, the season's work just barely paid expenses. As far as can be determined, they were not able to pay anything on the first $200.00 note due Nov. 1, 1899.
By the summer of 1900, the family found it necessary to renegotiate the mortgage with Aultman and Taylor. The name of Isreal Harris no longer appears. The new mortgage is on the same 240 acres of land, and it provides for a slightly different schedule of payments. The total amount of the mortgage is now $2379.00. It was signed on June 12, 1900, by Mrs. Helen Holtan (her X mark), Mrs. Olena Briscoe, H. N. Holtan, John Nelson, and Helen Holtan. They also signed eight separate promissory notes, with payments to be made as follows:
July 15, 1900 - $263.35
Sept. 1, 1900 - $210.50
Nov. 1, 1900 - $263.25
Jan. 1, 1901 - $210.50
Sept. 1, 1901 - $400.00
Jan. 1, 1902 - $315.75
Sept. 1, 1902 - $400.00
Jan. 1, 1903 - $315.75
It is assumed that the interest rate of 6% is included in the above amounts. Each one of these notes was signed by all five members of the family. The notes were held by the Jackson County Bank for Aultman and Taylor. They are still among the family papers.
During the summer season of 1900, Henry Holtan kept a set of books on the threshing operation. They worked all over the valley, threshing for many of the same farmers as the summer before. Their names, the type and amount of grain harvested are neatly recorded. There is an entry showing that Henry worked 57 days for John Nelson at $2.00 per day. They started charging $10.00 for a setting on a place, if the amount of grain to be threshed totaled less than that, at 4½ cents a bushel. The season before, they had set up some places for as little as $1.50. There is evidence that they had a cook house, as a list of supplies, including fruit and vegetables, was kept for July and August.
With hard work, experience, and better management, it is believed that enough money was made to pay the $263.35 that was due July 15, 1900, as this particular note is missing. The second one, due Sept. 1, 1900, has a notation that a partial payment of $86.40 was made on Oct. 24, 1900. No further payments were made that year or the next.
The result was that someone else took over the threshing machine, leaving the Holtans with the debt. The rig passed through several ownerships, and research is currently under way to trace these through the mortgage records in the Jackson County Courthouse.
1901-1903

There is no doubt that some members of the family, at least, were worried about the unpaid balance on the mortgage, with its threat of losing the ranch by foreclosure.
Helen Holtan taught school steadily during these years, and lived at home with her mother part of the time. She taught at Long Branch three terms; one each at Meadows, Elk Creek, Upper Trail, and the Black District. Entries in her personal account book show that she frequently gave money to her mother. Her teaching income was supplemented by selling butter, eggs and cream to neighbors.
In 1901, John Nelson took up a homestead at the head of Dry Creek, within walking distance of his mother's place. He moved his family there to begin "proving up" on the homestead.
We are told that Henry Holtan studied for the county teacher's examination, and was granted a certificate to teach. Among the schools he taught were Wimer and Sams Valley. In 1898, the school census records for Sams Valley District 41 list Lena Holtan, age 19, and as guardian, Henry Holtan, her husband. They must have lived in Grants Pass for a time, as their daughter, Annice Bertha, was born there on March 2, 1903.
On August 13, 1902, the second and third notes on the threshing rig totaling $387.00 were marked paid. Further payments were made in Oct. and Dec. of that year on the fourth note. It was marked "Paid in Full" on July 29, 1903. It is not known who provided the money for these payments, but a good guess would be that it was Helen Holtan and her brother Henry. However, no more payments were made for four more years. They still owed approximately $1695.00 plus interest.
The Sawmill 1903-1904

The next project we find Hellena Holtan and her family involved in was the establishment of a sawmill. It is believed to have been located somewhere on the ranch. An old letter head gives the address of "The Holtan Sawmill" as Dry Creek, Agate, Oregon.
A neighbor named L. J. Marck was in charge of this operation. He was the sawyer and directed a crew of four or five men. Logging and hauling of lumber was done by John Nelson, Edward Briscoe, Henry Holtan and others.
There were three sets of books kept in this business. One, by Helen Holtan, began as follows:
Agate, May 19, 1903
Commenced business this day with the
following resources and Liabilities:
Liabilities
Notes Outstanding:
L.J. Marck, acct.
Aultman and Taylor
The resources were not listed. There follow. several pages, listing supplies purchased for the mill and groceries for the household. One entry, dated May 19, 1903, reads simply: "Cash for John Nelson . . . $500.00." It is probably no coincidence that Hellena Holtan borrowed this sum of money from L. J. Marck, by giving him a chattel mortgage on the sawmill. This document was dated June 1, 1903, "for the sum of $500.00 to be paid one year after date, together with 8% interest to L. J. Marck." It was signed by Hellena Holtan with her mark, and witnessed by daughter Helen only.
It is not known exactly why John Nelson was paid this money at this time. Possibly it was a loan, or payment for his right, title and interest in the threshing machine and sawmill. Whatever the reason, we do know that in late 1903, John Nelson left his homestead and moved with his family, far across the valley, to the old Spaulding place on Forest Creek. It was about ten miles from Jacksonville, on the Applegate watershed, four miles up the creek from the main highway. The property was partly farm land and partly mining ground.
As far as we know, John Nelson was not interested in mining. He and the older boys made a living farming. The 1904 school records show the four older children attending Forest Creek School. They lived here until 1909, when they moved to a place east of Medford.
The second set of records on the Holtan sawmill was kept by Henry Holtan. It lists the amounts and kinds of lumber sawed, and the people to whom it was sold. The third set of records is in Mr. Marck's handwriting and is much the same as the other two.
That fall, 1903, they obtained the use of a planer from Welch Lumber Company of Spikenard, a pioneer community on Evans Creek. They moved it to the location of their mill and started producing finished lumber, such as flooring, sheathing, siding, shiplap and beaded ceiling. Lumber was sold and hauled to the Iowa Lumber and Box Company in Medford as well as the Welch Lumber Co. and other individuals. Records for 1904 show that business was good, and the operation appeared to be a success.
However, in early 1905, trouble reared its ugly head, in the form of a disagreement between the Holtans and Mr. Marck. The following letter explains the nature of this difficulty:

Beagle, Ore. Feb. 16, 1905

Mr. L. J. Marck
Sir: I have had my account with you looked over and find that I do not owe neither you nor Mrs. Marck.
I shall be ready to compare my figures with yours on Monday Feb. 27, 1905 to see on what you base your claim of my indebtedness to you of three hundred dollars.
Yours and Mrs. Marcks presence is requested at my house on the above date, that we may settle matters to the satisfaction of all concerned if possible.
Yours truly,
Mrs. O. Holtan per H.H.
In order to be ready for this meeting and to have proof of her claim, Helen wrote the following letter:

Beagle, Ore. Feb. 18, 1905

Mr. Edgar Hafer
Manager of Iowa Lumber and Box Co.
Medford Ore.
Dear Sir:- In looking over the books kept by Mr. L. J. Marcks for my Mother while running her sawmill from April 18, 1904 to October 23, 1904, I find no statement of the number of feet or grades of lumber he delivered to the Iowa Lumber and Box Co. during the time given.
Will you please send me a statement of the Iowa Lumber and Box Co. account with Mr. Marcks, giving the number of feet of lumber received of the different grades and the price paid. The above information will be of great value to me in settling with Mr. Marcks. Also send bill of cost for your trouble and oblige.
Yours truly,
Helen Holtan
P.S. A prompt answer will be appreciated.

Mr. Marck's reply to Helen's summons for a meeting was negative, as shown by the following letter:

Beagle, Ore. Feb. 18, 1905

Mr. L. J. Marcks
Agate, Ore.
Sir:- As you refuse to meet me at my residence to settle, I will ask you to meet Helen at Mr. J. A. Houston's house on March 6, 1905.
Our determination not to set foot within one another's door is mutual.
Yours truly,
Mrs. O. Holtan per H.H.
P.S. Leave answer to the above at Mr. J. A. Houston's.
The end of this matter is found in a brief penciled note in Helen's handwriting:
Agate, Ore. March 6, 1905
Received from Mrs. O. Holtan, payment in full of all demands to date.
(Signed) L. J. Marck (His signature)

It was also the end of the Holtans' sawmill business. Mr. Marck took possession of the mill and moved it to Trail Creek, where he continued to operate it for a number of years.
1905-1907
The year of 1905 was an important one in the life of Helen Holtan and her mother. Helen taught a three-month term at the Betz District, and a two-month term at Trail.
The following handwritten formal document shows what she may have done with part of her salary.
Know all men by these presents, that I, Mrs. O. Holtan of Beagle, Jackson Co. Oregon, in consideration of One Hundred and Fifty-five Dollars ($155.00), paid by Helen Holtan of Beagle Oregon, Hereby sell and convey to said Helen Holtan the following personal property,
To wit:
1 cow and calf @ $25 $25.00
1 steer 2 yr. old @ $10 $10.00
1 heifer 2 yr. old @ $10 $10.00
1 steer 1 yr. old @ $7 $ 7.00
1 mower @ $30 $30.00
1 2-horse rake @ $30 $30.00
1075 ft. galvanized iron
pipe, ¾ in. @ 4 cents per ft. $43.00
Total $155.00
Warranted against adverse claims.
Witness my hand this seventh day of March,
in the year of our Lord, Nineteen Hundred
and Five.
Witnesses: Mrs. O. Holtan
(her X mark)
J. A. Houston
(his signature)
Since this paper was made out and signed just one day after the above settlement with Mr. L. J. Marck, it is believed that it was Helen's purpose to protect her mother's personal property, in case he might try to retaliate. It is not likely that she actually paid her mother $155 at the time, but she may have later on. It seems that responsibility for her mother fell mostly on Helen, and may be one reason that she was 29 years old before she was married.
On November 29, 1905, in Jacksonville, she was married to Lee Black. They had known each other for several years. He was born and raised on a ranch across the river from the mouth of Long Branch, near Shady Cove. He too, was responsible for aging parents, Mary Louisa and John M. Black. He was 36 years old. He brought his bride to make her home with them for the next three years.
Two daughters were born to them during this time, Olena Martha, on Sept. 29, 1906; and Lottie Myrtilla, on Feb. 8, 1908. We are told that Grandmother Holtan served as midwife for these babies, as well as many others.
During these years, it appears that Henry Holtan left his family on the ranch, while he went off to work various places. His mother made her home there until 1908. Another son was born to Henry and Lena Holtan on Jan. 29, 1906. They named him Noel J.
The Aultman and Taylor Settlement
In 1907, it appears that Aultman and Taylor were preparing to foreclose on the Holtan ranch for the balance due on the threshing rig. This was avoided by the following series of transactions:
1. On May 11, 1907, a chattel mortgage was granted to Benjamin H. Perry by Aultman and Taylor for the sum of $1530.00 on the separator and all its fixtures; on "one Aultman Taylor 16 horse straw burner engine, with all fixtures attached, second hand known as the Talent Brothers engine." Also four horses to the value of $400.00, together with all the increase and issue of said animals. This document was witnessed by one H. D. Kelly and T. M. Jones, Justice of Peace for the Central Point District. Incidentally it is recorded that this mortgage was paid off and released by Aultman and Taylor on Feb. 24, 1911.
2. A few days later, May 16, 1907, a quit claim deed for the Holtan ranch was made out to Hugh D. Kelly. It was signed by Henry Holtan, Lena Holtan, Helen Black, Lee Black, Olena Briscoe, Edward Briscoe and Hellena Holtan (her X mark). For the sum of $1.00, they relinquished all rights to the property.
3. In similar document, signed the next day, May 17, 1907, John and Estella Nelson relinquished their rights to the ranch.
4. On May 18, 1907, Hugh D. Kelly made out a quit claim deed for the ranch to Henry Holtan for the sum of $600.00.
And across the face of the last four Holtan-Aultman and Taylor notes is scrawled "May 18, 1907 PAID H. D. Kelly."
Two questions regarding this deal would be fascinating to know. Who was Hugh D. Kelly, and who put up the $600.00? One theory is that Mr. Kelly represented Aultman and Taylor, sent here to effect a settlement for them, although their name is not mentioned in the Holtan documents.
Since Henry Holtan received full title to the ranch, he is probably the one who had the money at the right time, to keep it in the family. It has been told that he was hurt in an accident, and after the ranch was cleared of debt, lived there for a number of years. The children are listed on the school census records every year until 1913, when he sold the ranch to C. V. and Emma Beeler. The deed was made out and signed on March 10, 1913. The price paid was not stated. The property passed through many owners over the years. Today it is owned by Boise Cascade Corporation as part of their vast timber holdings and tree farms.
Lee and Helen Black 1908-1928

The year 1908 was important in the lives of the Black family. After the death of John M. Black on Feb. 2, 1907, the home place was divided up between Lee and his sisters, Myrtilla Black and Martha Betz. The two girls established homes on their respective acreages, and lived there for many years. They took care of their mother till she died June 20, 1911.
Lee, however, knew only too well the disadvantages of trying to make a living farming on the banks and bottom lands of the Rogue River. First of all, there was the problem of malaria, a common complaint of the people who lived along the river in those days. Someone was sick with the "chills and fever" of this disease most of the time. Second, there were frequent devastating floods, when the river would rise up over the fields and wash away the topsoil, tear out fences and leave great piles of logs and debris on the fields.
He and Helen started looking for a new location as far from this environment as possible. He sold his share of the place on April 6, 1908. A month or so later, in early May, Lee and Helen took a trip over to Forest Creek to visit the John Nelson family. It was during this visit that they learned about a ranch for sale, located about a mile up the road from the Nelsons. They went to look at it and talked to the owner, Mr. E. P. Vickroy. William Bostwick had the place rented, and was living with his family in the small board and batten four-room house. There was a log barn and several other small buildings. The crop was already in and growing well. It was for sale because Vickroy and Bostwick had a disagreement over some detail of running the place. Lee and Helen lost no time in taking an option on the place, and the deal was closed in the next few weeks. Lee paid Mr. Bostwick for the grain crop of about 35 acres. The entire property consisted of 268 acres, mostly timber land.
On June 8, 1908, Lee and Helen and two small daughters, Olena and Lottie, moved to their new home on Forest Creek They brought cattle, horses and farm machinery, needed to get started farming on their own. Shortly after they were settled, Grandmother Hellena Holtan came to make her home with them. She stayed for twenty years.
When she came to live with Lee and Helen, Grandmother Holtan was still active and vigorous enough that she was a great deal of help with the household tasks and cares of the children. She was full of advice and opinions for son-in-law Lee. She influenced their lives and decisions in many ways. She delivered the babies as they came along. A son, John M., was born June 14, 1911; a baby girl, Ruth, was born on March 14, 1915. They lost her when she was four years old. The last child, another girl named Helen Isabella, was born on April 16, 1918.
As the years went by, and Grandmother Holtan advanced into her eighties, she became a semi-invalid. But she still knitted stockings, pieced quilts, and made rag rugs to keep herself busy and useful.
For years, she had a subscription to a weekly newspaper,
The Decorah Posten,
published in Decorah, Iowa. There are several small Norwegian books still among her things. The large leather-bound Bible, previously mentioned, was published in Christiana in 1840. On the outside cover, in faded gold letters, is the name "Nils J. Grumdahl." Her own name "Eln Hellena Holtan, Lixviga, Norway" is written on the fly leaf, in what is believed to be daughter Helen's handwriting. There is no other writing of any kind in it, no family record pages as there are in many big Bibles.
Helen could speak Norwegian, and conversed with her mother when necessary, especially in her last year or so. None of the grandchildren learned the language, except for a few Norwegian nursery rhymes. They all remember their Grandma as a part of their happy childhood and youth.
In the early twenties, Helen, who had always been a small frail woman, began to suffer failing health. She was under a doctor's care frequently, but she still expected her children to go to school and get an education. When Olena and Lottie finished the eighth grade at Forest Creek school, they went to Medford and worked for their room and board and attended Medford High School. The loss of their helping hands put the increasing burden of caring for Grandmother Holtan on Lee and Helen. By the summer of 1926, she was completely bedfast.
Olena and Lottie graduated from high school in June 1926. That fall, Lottie entered normal school in Ashland, and Olena married Lawrence W. Hill on Sept. 4, 1926.
When John was ready for high school, his mother helped him buy a Model T Ford, and he drove to Medford the winter of 1927-28. Four neighbor students rode with him, Hazel and Mary Davies, Rosalie Madsen and Earnest Armpriest, who went to Jacksonville High School.
The situation at home became really critical in the spring of 1928, when Helen's health broke down completely. She went to stay with Lee's sister, Martha Betz. Olena and Ed Briscoe came over and took Grandmother Holtan to their home near Ft. Klamath, Ore. They took care of her till she passed away on June 19, 1928. She was 91. She was buried in the Briscoe family plot in the little country cemetery near Ft. Klamath. Helen Black outlived her mother by eighteen days. She passed away on July 4, 1928 and was buried in Logtown Cemetery.
Conclusion
Her descendants are numerous and far-flung. There are babies being born into the seventh generation as of this writing. Relatives live in Norway, and in the United States, Oregon, Washington and California.
Daughter Lina Grumdahl and Andreas Waterloo had two sons, Oskar and Halfdan. Both married, but only Oskar had children. Their descendants live in Norway.
John and Estella Nelson had thirteen children, six girls and seven boys, as follows in order of birth: Will, Jake, Carrie, John , Jane (died in infancy), Bert, Carl, Helen, Bernice, Henry, Frank, Ora and Lizzie. They all married and had children of their own except Carl. Many of them still live in Jackson County, Oregon.
Henry and Lena Holtan had three children: Martin Henry, called "Little Henry," Annice and Noel. Little Henry married and had children, also Annice, but Noel remained single. Their descendants live in Portland, Ore. and Vancouver, Wash.
Olena and Ed Briscoe had eleven children, six girls and five boys: Helen, Jack, Millard, Bess, Ida, Frank, Floyd (died in infancy), Vinnie, Peggy, Bob and Ruby. They all married and had children, except Bob and Ida. Some live in Klamath County, others live in other parts of Oregon and Washington.
Genealogy charts are being prepared for each of these families, their children and grandchildren. A brief explanation is planned to go with the charts, if enough information can be obtained.
Many questions remain unanswered about the lives and activities of Hellena and Olaus Holtan and their children back in the 1890s and early 1900s. There is still research to be done, but we have done the best we could with the information available at this time.
- - - - - - - - - - - - - - - - - - - - - - - - - - - - - - - - - - - - - - - - - - - - - - - - - - - - - - -
Mrs. Holtan is severely ill with typhoid fever; this is the third week. Mr. H. is obliged to shut up shop and take care of her, much to the inconvenience of the public and his finances.
"Rockton Items,"
Daily Register,
Rockford, Illinois, October 24, 1873, page 2
Mr. O. Holtan, an excellent tailor, has purchased a lot on Main Street, and is building a large house to be used as a shop and dwelling.
"Medford Brevities,"
Ashland Tidings,
November 13, 1885, page 3
O. Holtan, lately from the East, is putting up a tailor shop at Medford.
"Here and There,"
Democratic Times,
Jacksonville, November 20, 1885, page 3
O. Holtan's family arrived from Iowa last week. They are well pleased with our town and have come to stay.
"Medford Brevities,"
Ashland Tidings,
December 4, 1885, page 3
O. Holtan, tailor shop and dwelling . . . . . . . . . . . . . . . . 1,000
"Medford's Improvements,"
Ashland Tidings,
January 7, 1887, page 3
O. Holtan, tailor shop and dwelling, $1,000
"Medford's Improvements,"
Democratic Times,
Jacksonville, January 14, 1887, page 3
O. Holtan, our tailor, has removed to a rancho on Rogue River.
"Medford Squibs,"
Democratic Times,
Jacksonville, July 1, 1887, page 2
O. Holtan has sold his store building on Seventh Street to E. Russ for $1000, through R. T. Lawton & Son's agency. Mr. H. is engaged in stock raising on Dry Creek.
"Medford Squibs,"
Democratic Times,
Jacksonville, April 27, 1888, page 3
O. Holtan, our tailor, has been detained at his mountain ranch on Long Branch for the past six weeks, owing to a fall sustained by Mrs. Holtan.
"Medford Squibs,"
Democratic Times,
Jacksonville, October 25, 1888, page 3
O. Holtan, our tailor, has removed to his farm on Dry Creek.
"Medford Squibs,"
Democratic Times,
Jacksonville, January 17, 1889, page 3
O. HOLTAN, Merchant Taylor, Opera House Block, has been in this business for thirty-five years. He is a native of Norway, and has lived in the United States for twenty-two years. He started business here five years ago, and is recognized as a practical cutter and tailor of ability. Aside from the excellence of his work, he has gained a reputation for fair dealing.
P. W. Croake,
The Rogue River Valley, "The Italy of Oregon,"
Glass & Prudhomme, Portland, Oregon. Undated, written March 1891.
O. Holtan has removed his tailoring business to the front room of the Wood & Jackson building.
"Medford Squibs,"
Democratic Times,
Jacksonville, September 18, 1891, page 2
O. Holtan's daughters are attending school in this city. Mrs. Holtan is visiting friends in Portland.
"Local and General,"
Southern Oregon Mail,
September 16, 1892, page 3
O. Holtan's daughters arrived lately from Long Branch, and are attending school in Medford.
"Medford Squibs"
Democratic Times,
Jacksonville, September 23, 1892, page 3
"We ARE carpenters," said "Old Nick," standing off and surveying the partially constructed engine house which is being built next to Holtan's tailor shop.
"Local and General,"
Southern Oregon Mail,
October 14, 1892, page 3
O. Holtan, the merchant tailor, has recently gotten in a fine line of goods and is well prepared for the holiday trade. Give him a call.
"Medford Squibs,"
Democratic Times,
Jacksonville, December 16, 1892, page 2
O. Holtan is now prepared to accommodate his patrons with the latest in fits and styles at his clothing parlors.
"Medford Squibs,"
Democratic Times,
Jacksonville, February 24, 1893, page 3
O. Holtan is now equipped with one of the choicest and largest assortments of cloths for gentlemen's wear ever seen in southern Oregon.
"Medford Squibs,"
Democratic Times,
Jacksonville, April 21, 1893, page 3
Report of Medford Public Schools

School report for the school year ending May 19, 1893.--Total enrollment 437; average attendance 306; number days taught 173, cases corporal punishment by principal 4; number of suspensions or expulsions, none; number of visitors 200.
Class leaders, Fourth Grade B class--Francis Davis 98; Mary Hanson 97; Gertie Beaver --.
A Class, Fourth Grade--Fannie Hall 96; Frank Crouch 95; Alex. Anderson 93.
Grammar Grade, A Class--The names of all this class deserve honorable mention for the percentage won, Grace B. Davis leading with 100 percent.
The following named pupils, together with their general average percent on the final examination of the 7th grade, N. A. Jacobs, teacher, were promoted, and which required an average of 75 percent to pass:
B Class, 7th Grade to A Class, 8th Grade--Helen Holtan, 100 percent; Katie Fries, 98; Lula Newton, 97; Jessie Wait, 96; Herbert Crouch, 95½; John Gainey, 91½; Alfred Walter, 93½; Brace Skeel, 93; Ida Weaver, 92; Iva Purdin, 91½; Della Surran, 91; Charles Higinbotham, 89½; Alvin Squires, 89½; Archie Fries, 89; William Isaacs, 88; Emma Engledow, 82½; May Phipps, 76½.
A Class, 7th Grade to B Class, 7th Grade--Prudie Angle, 100 percent; Ollena Holtan, 100; Abe Bish, 98½; Gracie Odgers, 98½; Oley Oviatt, 98; Edgar Van Dyke, 97½; Virgie Parsons, 96¾; Cora Bates, 96; William Griffis, 95½; John Johnson, 95; Frank Tryer, 94¾; Archie Sargent, 94¾; Scott Davis, 91½ ; Bert Brown, 91½; Eva Bunch, 90¾; Charles Culp, 88½; John Plymale, 83½.
In the A Class four prizes were offered. Prudie Angle was awarded the first prize, having stood 100 percent in all her studies--written arithmetic, geography, mental arithmetic, and language--and her papers being the neatest and best. Ollena Holtan the arithmetic written and mental prize, 100 percent in each. Gracie Odgers the language prize, 100 percent, which requires seven pages of legal cap to write out the examination. Virgie Parsons the geography prize, 100 percent, which included a map of the southern and southwestern states to be drawn from memory.
Helen Holtan received the prize in the B Class for excellence in scholarship, having attained 100 percent in all her studies--physiology, history, geography, language, written and mental arithmetic.
Medford Mail,
June 2, 1893, page 2
Mrs. O. Holtan and daughters, Helen and Ola, are out spending the summer on Mr. Holtan's ranch near Etna, and at which place the girls are attending school. In the meantime Mr. H., the C Street merchant tailor, is delving into the depths of the culinary department.
"Purely Personal,"
Medford Mail,
June 2, 1893, page 3
The family of O. Holtan, the tailor, are spending the summer at Mr. H.'s ranch on upper Rogue River.
"Medford Squibs,"
Democratic Times,
Jacksonville, June 9, 1893, page 2
H. Oviatt and O. Holtan are spending a few weeks in prospecting in Josephine County.
"Medford Squibs,"
Democratic Times,
Jacksonville, August 25, 1893, page 3
The family of O. Holtan moved to Medford last Saturday from their Etna ranch. They are occupying the John O'Conder dwelling on North C Street. The girls will begin school next Monday.
"All the Local News,"
Medford Mail,
September 8, 1893, page 3
O. HOLTAN
MERCHANT TAILOR

With many years' experience in the merchant tailoring business, Mr. Holtan possesses many advantages which cannot fail to commend his establishment to favorable notice. He started business here in 1885, and has with the aid of a thorough knowledge of the business, backed up with energy, push and enterprise, largely increased his resources and secured a good and prosperous trade. He is prepared to turn out work at most reasonable prices. Mr. Holtan has a judiciously selected assortment of foreign and domestic fabrics, from which customers may choose to suit their different tastes. He is highly esteemed by his fellow citizens for his honorable dealings and sterling integrity.
Medford Mail, December 1, 1893, page 1

O. Holtan, the C Street tailor, made proof on his fine homestead last Saturday. This land is located near Etna, this county, and is as fine a piece as any of the boys have--and better than some of them.
"News of the City,"
Medford Mail,
June 1, 1894, page 3
Mr. Holtan's family moved to the farm, near Etna, this week where they will remain until school resumes next fall. Mr. H. has a fine place over in that locality, all of which is being carefully looked after by his son--while the paterfamilias does tailoring in this city.

"News of the City,"

Medford Mail,

June 26, 1896, page 5


O. Holtan, the merchant tailor located in the Morrison & Lash building, is prepared to make suits of every grade to order in the best style of the art. Cleaning and repairing will be promptly attended to. Satisfaction guaranteed.
Siskiyou Daily News,
Yreka, California, November 6, 1897-May 28, 1898
Henry Holtan of Trail Creek called at the
Times
office yesterday. He is an applicant for a teacher's certificate.
"Local Notes,"
Democratic Times,
Jacksonville, February 10, 1898, page 3
Miss Olena Holtan, a clever teacher, is in charge of the Dry Creek school.
"Local Notes,"
Democratic Times,
Jacksonville, June 30, 1898, page 3
At the examination held last week the following applicants for teachers' certificates were successful: Misses Olena Holtan, Frankie Barnes, Maggie Miller and Mary Dawson. Four young ladies failed.
"Local Notes,"
Democratic Times,
Jacksonville, August 15, 1898, page 3
O. Holtan, the tailor, formerly of Medford, later of Yreka, is reported to have suddenly taken his departure from Yreka a few weeks ago. His goods and tailoring implements were shipped to Portland, but his family, living in Jackson County, have been unable to locate him in that city, neither can they learn in which direction he went if he has left there. No reason is assigned for the hasty move.
"City Happenings,"
Medford Mail,
October 7, 1898, page 7
The following deeds have been recorded in the office of the county recorder since the last report of
The Times
:
O. Holtan to Helena Holtan; 240 acres in secs 14 and 24; tp 34s, r2w . . . $ 1.00
Excerpt,
Democratic Times,
Jacksonville, October 27, 1898, page 1
Harris & Nelson of Table Rock precinct, who invested in a fine, new threshing machine this season, are doing good work and much of it. They are now at work on Jones & Son's big crop, raised on the Bybee farm near Jacksonville.
"Local Notes,"
Democratic Times,
Jacksonville, September 15, 1899, page 3
Henry Holtan, who is teaching at Wimer, was a visitor Saturday. He went to Applegate the same day.
"Local Notes,"
Democratic Times,
Jacksonville, September 21, 1899, page 3
Henry Holtan has closed a winter term in No. 64.
"County School Notes,"
Ashland Tidings,
January 18, 1900, page 1
Mr. Edward Briscoe and Miss Olena Holtan, of Trail Creek, were quietly united in the holy bonds of matrimony at the home of J. M. Rodgers, of this place, last Sunday morning, Elder A. J. Davis officiating. The happy couple started the next morning for Trail Creek, where they will begin housekeeping in the near future. Both bride and groom are well known in this vicinity and have many friends who are wishing them success.
"Beagle Items,"
Medford Mail,
March 16, 1900, page 3
Helen Holtan is to teach a second term in No. 64, beginning April 9th.
"County School Notes,"
Medford Mail,
March 23, 1900, page 2
Henry Holtan of Trail Creek, who was severely injured in Josephine County, while working with a S.P. bridge gang, went to the hospital at Portland for treatment Tuesday.
"Local Notes,"
Democratic Times,
Jacksonville, March 21, 1901, page 5
Henry Holtan, of this city, who has been employed with the Southern Pacific bridge gang in the Cow Creek canyon for about six weeks, met with a painful accident Monday, which will incapacitate him from work for some time. While handling a heavy piece of bridge timber he lost control of it, in some manner, which fell on his foot, crushing it badly. He was taken to the hospital at Portland Tuesday evening, where he will remain until the injured member is well.
"Additional Local,"
Medford Mail,
March 22, 1901, page 6
Henry Holtan of this city, one of the S.P. bridge crew, returned on Wednesday's southbound train. He met with an accident recently which will lay him off for some time, having had his left foot crushed by heavy timbers.
Medford Enquirer,
March 23, 1901, page 5
Miss Lulu Briscoe visited her friend, Miss Helen Holtan, of Long Branch, last week.
"Trail Creek Items,"
Medford Mail,
April 18, 1902, page 5
John Nelson, of Sams Valley, was in Medford Monday. Mr. Nelson is one of the leading threshing machine men of Jackson County, having a large steam thresher which he runs each season and employs a crew of eighteen men. Mr. Nelson expects to start his machine about August 1st, which is about the date he begins each year, last year he beginning on July 30th. Mr. Nelson states that grain has filled perfectly and that the yield promises to be a record-breaker for Southern Oregon--the land of big crops. He does not expect to finish this season threshing before the first or middle of October.
"Purely Personal,"
Medford Mail,
July 11, 1902, page 6
John Nelson has finished his threshing work for this season. His machine, in a run of thirty-eight days, threshed 52,000 bushels of grain.
"City Happenings,"
Medford Mail,
October 10, 1902, page 7
Last revised January 10, 2015