Eads
J. T. Eads and family, of Minneapolis, Kansas, arrived in Medford last week. Mr. Eads has taken the initiatory step towards [becoming] a permanent resident by buying a house and lot, the same being the W. F. Shawver property, corner South B and Eighth streets. The price paid was $650, and the sale was made through the W. T. York real estate agency. Mr. Eads is a brother-in-law of merchant G. L. Davis, of this city, and is well to do, owning two good farms in Kansas, which he will undoubtedly dispose of when he has become fully convinced that Oregon is a better place in which to live than Kansas. In Mr. Eads' family are two grown sons, Clarence and George, and the former is a married man.
"Purely Personal,"
Medford Mail,
September 21, 1900, page 6
Clarence Eads, nephew of G. L. Davis, who arrived in Medford a couple of weeks ago from Kansas, has purchased the J. S. Hagey residence property, on South B Street, consideration $450. This property is just south of the Shawver property, which Mr. Eads' father purchased last week. J. R. Erford is credited with having made the above-mentioned sale.
"City Happenings,"
Medford Mail,
September 28, 1900, page 7
J. T. Eads has purchased a half interest in the Medford second hand store, and the business will hereafter be conducted under the style and firm name of Wiley & Eads. Mr. Eads has been a resident of Medford since last spring, his former home being Minneapolis, Kansas. We are glad to learn that the gentleman has decided to remain permanently, and wish the new firm abundant success.
"City Happenings,"
Medford Mail,
January 11, 1901, page 7
J. R. Erford has sold his residence property in this city to A. D. Eads, one of the proprietors of the second-hand store. Mr. and Mrs. Erford will leave soon for Boulder, Colorado, where they may locate permanently. They have been residents of Medford for twelve years and are among our most highly respected citizens. We regret to see them leave Medford, but wish them much success wherever they decide to locate.
"City Happenings,"
Medford Mail,
March 8, 1901, page 7
J. T. Wiley has purchased G. L. Davis' delivery team and wagon and is now doing a general delivery business about the city, he having sold out his second-hand business a few weeks ago to his partner, Mr. Eads.
"Additional Local,"
Medford Mail,
April 12, 1901, page 6
C. G. Johnson has sold his residence property, on South D Street, to J. T. Eads, the second-hand man. The price paid was $800. The purchase of this property makes this family a permanent fixture for Medford--and that's good--they are good citizens in any town.
"City Happenings,"
Medford Mail,
May 2, 1902, page 7
Callie Palm to John Eads, lots 3, 4, 5 and 6, blk 31, Medford . . . 700
A. Clagg Jr. to Clarence Eads, lot 4, blk 49, Medford . . . 250
I. J. Phipps to Geo. Eads, lots 5 and 6, blk 9, Medford . . . 350
L. R. Lane to J. T. Eads, lots 4 and 5, blk 45, Medford . . . 800
"Real Estate Transfers,"
Medford Mail,
May 9, 1902, page 5
H. S. Brumble has been appointed a special policeman by Mayor Crowell, which will make two men on the day force, C. E. Eads being the other man. These special officers serve without a regular salary, they being paid like constables, for the arrests they make, the fee being one dollar. Having two men on the day force makes it more certain that an officer is at hand in case of any disturbance, as both of the men are draymen and are on the main streets much of the time. The night service is looked after by Marshal C. J. Howard, though the special police can make arrests at night as well as for the day.
"Local News Notes,"
Medford Success,
February 10, 1903, page 2
A Store Robbed.

The mercantile establishment of J. C. Eads & Son, located in West Medford, was burglarized Sunday night. Entry was made through the rear of the building. The thief or thieves made away with about $30 worth of goods. There is no clue to the culprits, although certain hoodlums are suspected.
Democratic Times,
Jacksonville, February 11, 1903, page 1
J. M. Eads has returned from Lake County and is looking after his mining interests on Reuben Creek, Josephine County.
"Local Notes,"
Democratic Times,
Jacksonville, April 22, 1903, page 1
Revolvers Stolen at Medford.

MEDFORD, Or., May 15.--(Special.)--The second-hand store of J. T. Eads was entered by burglars Sunday night and several revolvers and other articles were taken. Two strangers who were seen in town Sunday have disappeared and are suspected.
Morning Oregonian,
Portland, May 16, 1905, page 7
J. T. Eads this week sold a dwelling on Clark Street, in northwest Medford, to A. Louise Beacom; consideration $1800. This sale was made by the Cusick, Meyers & Sharp Real Estate Company.
Medford Mail,
May 14, 1909, page 2
MORDOFF & WOLFF--Cook Stoves and Ranges. New and Second Hand Furniture. Eads' old stand, 18-20 F St. South. Phone 91, Medford, Or.
Medford Daily Tribune,
May 14, 1909, page 5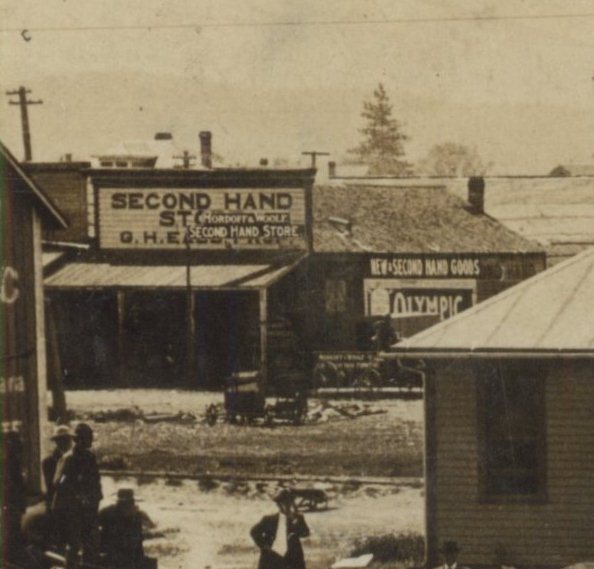 Eads Second Hand at 18-20 South Fir in 1909, after its sale to Mordoff & Woolf
DIED.

EADS--In Medford, Friday morning, June 17, 1910, Ulice, son of Mr. and Mrs. Clarence Eads, aged 10 years. The funeral will be held from the residence of the parents, 921 West Ninth Street, Sunday, June 19, at 2:30 p.m.
Medford Mail Tribune,
June 19, 1910, page 7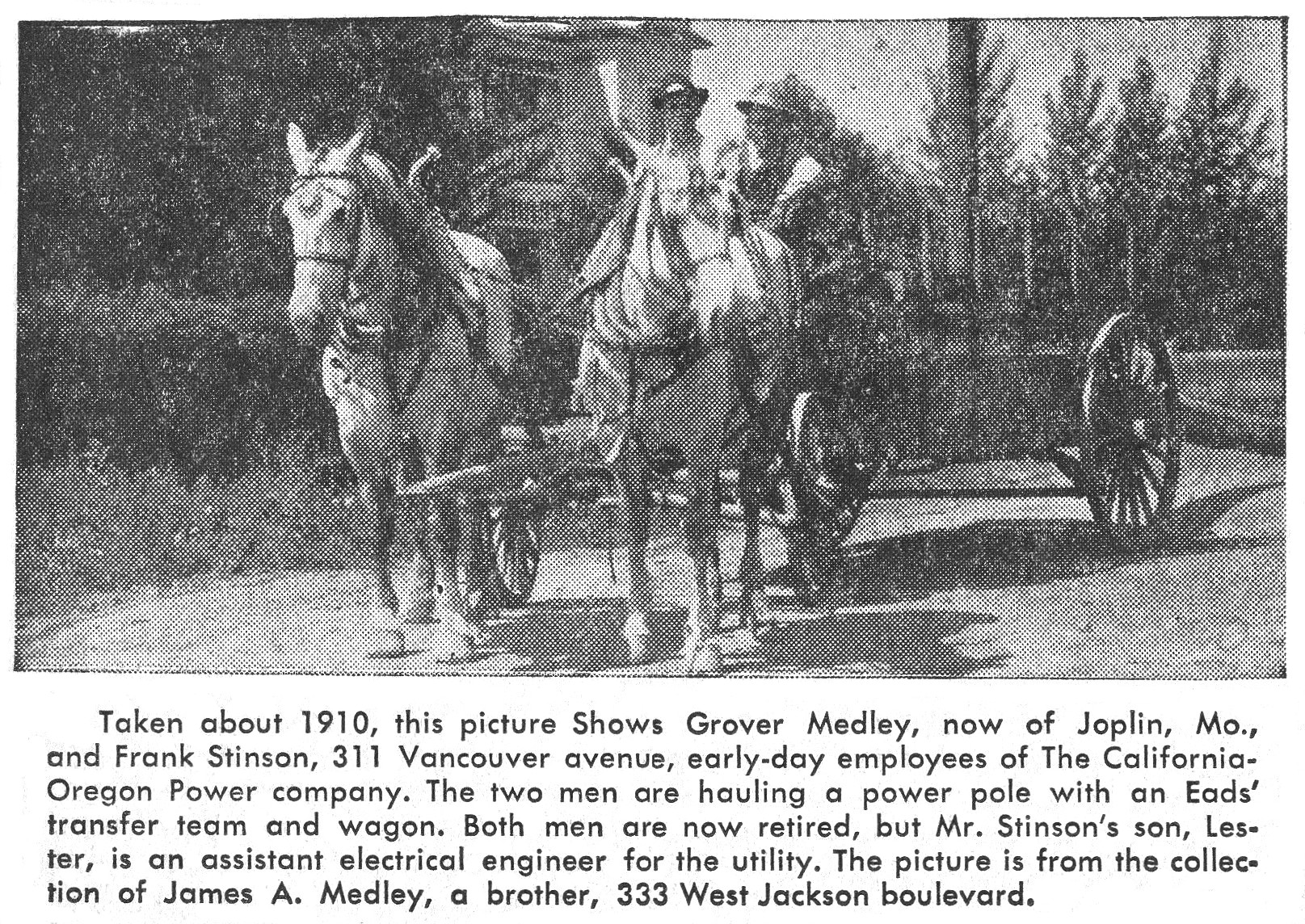 February 27, 1955
Medford Mail Tribune
Clarence Boyd, who came to Medford a few weeks ago from Cottage Grove, has purchased the J. G. Davis home on West Ninth Street. Mr. Boyd and Everett Eads have also purchased the interests of George and Clarence Eads in the Eads Bros. dray and transfer business. The name and style of the new firm will be the Eads Transfer and Storage Company.
"Local and Personal,"
Medford Mail Tribune,
February 12, 1912, page 2
G. H. Eads has purchased the coal and fuel business formerly conducted by J. W. Burbidge and will at all times have in stock a full and complete line of fuel of all kinds, including mill block wood for summer use.
"Local and Personal,"
Medford Mail Tribune,
May 11, 1912, page 5
Mrs. C. H. Eads and Mrs. George H. Millar left Thursday to spend a month at Camp Nick above Butte Falls.
"Local and Personal,"
Medford Mail Tribune,
July 18, 1912, page 2
George Eads, who recently purchased the Holmes new and second-hand store business on South Fir Street, has increased the stock fully one-half and now has the most complete line in the city. The Eads & Holbrook Coal Company has desk room in this store building.
"Local and Personal,"
Medford Mail Tribune,
September 29, 1913, page 2
FATAL ACCIDENT AT MEDFORD
Oxygen Tank Explodes Killing Jay Davis

Medford, Or., July 24.--Jay Davis, aged 31 years, a truck driver for the Eads Bros. Transfer Company of this city, is dead as a result of an explosion of an oxygen tank at the Pacific Highway garage in this city Saturday evening. J. L. Davies, proprietor of the garage, was welding a part of a motorcycle belonging to Davis, who was assisting him, and Davis had his arm on the tank while bending down near it when the tank exploded, driving a piece of the metal container into Davis' brain, while another piece of the metal nearly severed one arm. Davis was rushed to the hospital, but lived less than an hour. Davis leaves a mother, a wife and two children, aged 12 years and 4 months respectively.
Jacksonville Post,
July 29, 1916, page 1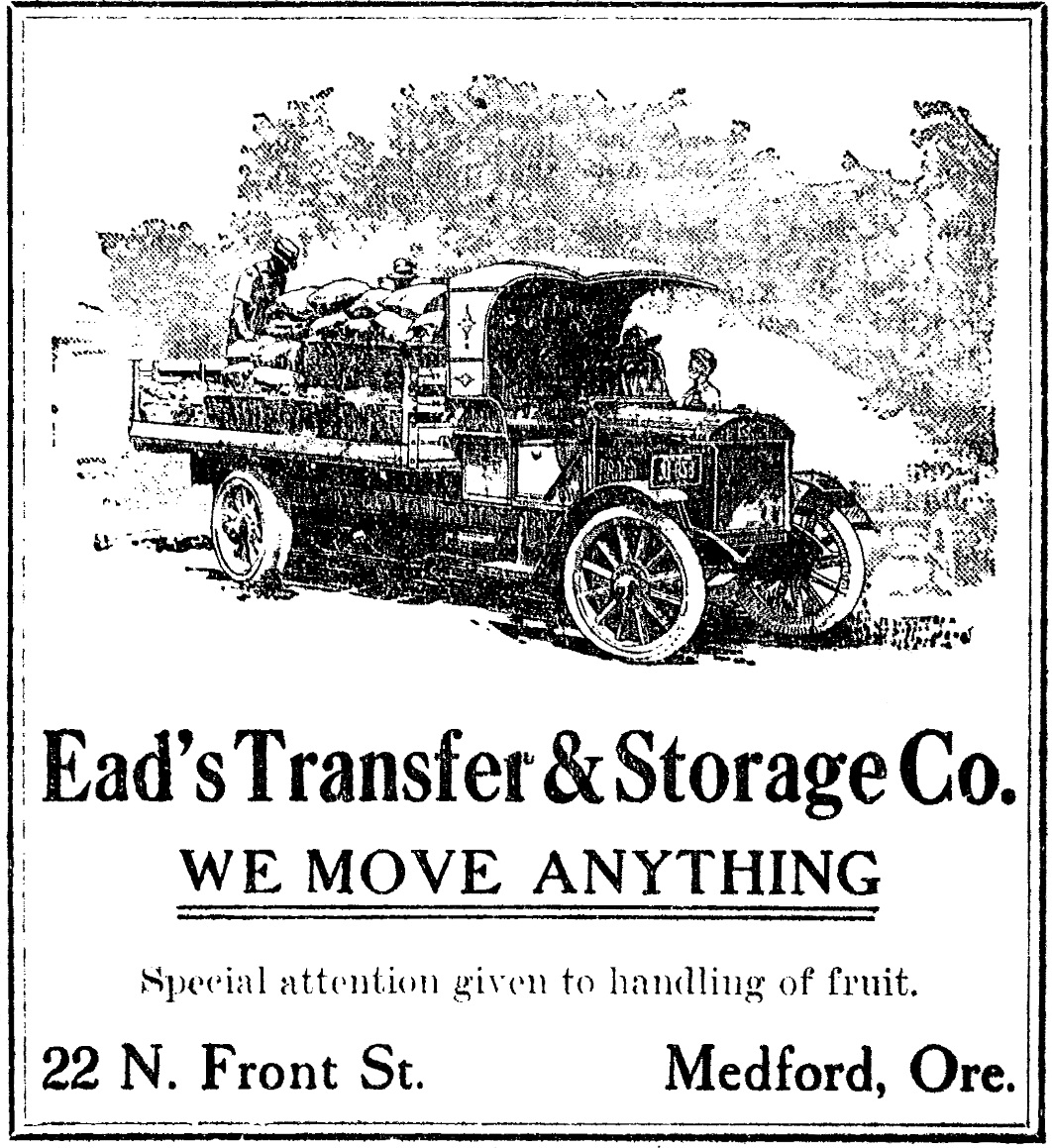 August 12, 1919
Medford Mail Tribune

EARLY MORNING FIRE FIR ST.
The first fire in the business district for several months occurred at 8:15 o'clock this morning, and while just a small blaze doing minor damage, it was very serious in its threatening menace, but fortunately was discovered in time to enable the firemen to quickly extinguish it.
The excitement was caused when a quantity of old papers was thrown in the stove with draft open in the Eads second hand store, 32 South Fir Street, and a burning paper flew out of the chimney onto the roof of the old frame structure, also used by the store, adjoining, igniting it. Had the flames had a little more of a start, a fire might have resulted which would have destroyed at least this structure and the main second hand store building. As it was, the firemen put out the blaze with chemicals after a portion of the roof had been burned over, but had laid out 300 feet of hose as a precaution.
The fire department was called out at 6:45 p.m. Thursday to extinguish a peculiar blaze outside a dwelling on Jay Street, where the gas meter apparatus had caught fire in some unknown manner. The flames were quickly and easily put out and little damage resulted.
Medford Mail Tribune,
February 27, 1920, page 8
EADS WAREHOUSE BURNS, LOSS IS PLACED $100,000
Medford had a $100,000 spectacular fire, the largest for years, at midnight last night when the Eads Transfer Company storage warehouse on South Fir Street, with its contents, owned by 300 persons, was totally destroyed. Two woodsheds in the alley in the rear were also destroyed, and the roof of the Andrus home on an adjoining lot caught fire, but was extinguished before much damage had been done.
For a time the fire threatened to develop into a conflagration, but the efforts of the firemen, which of course centered on saving the surrounding property in this thickly settled neighborhood, were successful. Three lines of hose were used, and there was a very strong water pressure, so much so that three firemen were required to handle each hose. The firemen were helped by many volunteers from the hundreds drawn to the scene of the fire.
The main loss is divided among the 300 individuals from Medford and former Medford people scattered all over the state and various parts of the United States. It was up to each individual to insure his own furniture and other property in storage, and the Eads company has no way of knowing how many carried insurance.
The Eads company loss is mainly the loss of rentals and storage business, for the company merely rented the structure, which was owned by Clarence Eads, whose loss on the building is estimated at about $10,000.
The cause of the fire was undoubtedly spontaneous combustion, and it is known that the fire smoldered for at least an hour before it broke out and was discovered. An hour before residents as far as two blocks away detected the odor of a smoldering fire and investigated around their own homes and neighborhoods to see what it was.
The frame building was covered with corrugated iron and 50 by 100 feet in dimension and filled with household goods and other effects, among which the fire developed due to the intense heat of the past few days in the iron-covered structure, smoldered four hours and then spread rapidly until finally it burst out from the eaves of the building at midnight. When the firemen arrived the interior of the structure was a seething mass of flames, and of course the firemen were powerless to do anything except to protect the surrounding buildings.
However, two woodsheds along the alley and a small frame dwelling occupied by Mrs. Orem Whitman caught fire and were destroyed. The most of Mrs. Whitman's house furniture was saved. A vacant lot on the south side of the warehouse and the 50 feet of space and some trees between the warehouse and the Andrus home, the nearest dwelling on South Fir Street, prevented the fire from spreading in that direction. Only the roof of the Andrus house caught fire, but it was quickly extinguished.
Gus the Tailor had a fine garden in the lot adjoining the warehouse, which was destroyed by the intense heat of the fire.
It was impossible this forenoon to learn who the individual losers were. The Eads brothers were out of the city at the time of the fire. Clarence and Everett Eads are at Crescent City, and George Eads and family were all at the Josephine caves. George first learned of the fire when he arrived home this morning.
One of the losers is George Trana, who first learned of the fire this forenoon. His loss of household furniture valued at present prices of furniture is $1200, and he also lost $1500 worth of fine tools including a set of carpenter tools left him by his father and his own set of machinist tools. Mr. Trana was uncertain this forenoon as to whether this loss was partially covered by insurance, but thinks that it is, as he had made application for permission to remove the furniture into storage, which was no doubt granted, he thinks.
George Eads this noon estimated the loss of the 300 people who had goods in storage at not less than $100,000.
Another loser in the warehouse fire was Mrs. Ira Dodge, daughter of W. H. Folger, who had $1500 worth of furniture stored. Mr. Folger on looking up the matter this forenoon discovered that when the goods were moved into storage Mrs. Dodge had neglected to have the insurance transferred.
Taking the losses of Mr. Trana and Mrs. Dodge as a criterion to go by, together with the fact that among the stored goods were a number of pianos and other costly furniture, fine china and dishes, books, fine rugs and carpets, etc., the $100,000 total loss can easily be realized.
Medford Mail Tribune,
July 26, 1920, page 6
EADS TRANSFER SUED FOR FIRE
An echo of the fire last July that destroyed the Eads Brothers warehouse on South Fir Street is the suit of Kearney Robinson for the recovery of $1260 for goods lost in the blaze and stored in the building on July 18, a week before the fire.
The suit is directed against the Eads Transfer Company, and asserts that George and Everett Eads are the proprietors. The defense sets forth George Eads as the proprietor.
The work of selecting a jury in the case began yesterday afternoon, and the taking of testimony will begin in the morning.
There were no sessions of court today in honor of Armistice Day.
Medford Mail Tribune,
November 11, 1920, page 6
Eads Brothers are clearing the lot on the first block of South Front and will erect a two-story concrete building to be occupied by the Eads Brothers Transfer & Storage Co., and Eads Second-Hand Store.
"Building Activities in Medford Greater Than for Many Years,"
Medford Sun,
May 10, 1925, page C2
Eads Boys Started with One Team,
Now Leading Transfer Company

Eads Brothers, Clarence, Everett and George Eads, started in the drayage business in Medford in 1905 with only one team and did all of their own work. Later they had three teams, one each. This was when the town had a population of about [2500], and there were but five or six buildings on the west side of the railroad track.
They had their office on the street corner by the old depot, and the people used to watch for the three brothers to get together on Saturday night and divide their profits of the week.
They bought about the first truck that came into the valley, an old chain drive Federal.
There were three other draymen in town at the time they started operations, and whenever the fire bell would ring all the men would drop their work and run their horses in a race to the fire hall, for the first one there received the job of pulling the fire truck to the fire, for which they received one dollar whether the fire was located one or eight miles out of town. Later they had difficulty in holding the horses, for if they heard the fire bell they would run away and head for the fire hall without any driver.
Clarence Eads was the policeman here for some time, and he found his team in good use to haul culprits to jail if they were not able to walk.
The roads were in such bad condition that it would take a day and a half to haul a load of household goods to Gold Hill. Now the trip is made in three and a half hours, showing progress in a great measure.
One evening late, a Mr. Wortman came running up to their office on the street corner and wanted the Eads brothers to get his horse out of a well 40 or 50 feet deep. This was finally accomplished by borrowing 150 feet of fire hose and pouring water in the well until the horse came to the top and they could get a halter on it and pull him out. The horse was at work the next day.
Everett Eads was in the grocery business in Cottage Grove for about three years, but sold out and returned to Medford and is again in partnership with George Eads.
Clarence Eads started in the coal business here and later sold out to Harry Hansen of Eugene. Later he bought a second-hand store and is now in that business.
In comparison with the old days Eads Transfer now has fifteen trucks and ten steady men. During the fruit season they employ 50 and 60 men and hire from one to five extra trucks.
This year they built a new galvanized fireproof storage plant on North Central, between McAndrews and Clark Street with floor space of 120x50 feet. They have in addition two other buildings for storage, 20x60 and 20x40.
Their new office location is at 111 North Fir Street, where the old Gitzens' livery barn owned by Doc Helms was located. This old building was torn down completely and a new one erected with stalls for seventeen trucks and large parking space besides. They employ their own auto mechanic and maintain a workshop on the premises. A space 25x100 feet is used here for short-time storage. The office is large, modern and well equipped for service.
Eads Transfer Co. has grown with Medford and consider it a fine place to live and conduct a business. The Hansen Coal Co. moved with Eads Transfer Co. at the same time and is to share the same office as before. Harry O. Hansen bought the coal business from Clarence Eads in 1923 and has steadily increased the business each year. Mr. Hansen was in the coal business with his brother before coming here, so it was not an unfamiliar venture for him. Mrs. Hansen is in the office, and Jack Moshier drives the truck.
They have built up a good business on briquets for orchard heating. Many of the orchardists have changed their equipment and now burn briquets exclusively. Other larger orchards have half briquets and plan to use all briquets just as soon as they can dispose of their other equipment. The valley used twenty-three cars of briquets last season for orchard heating only, and the Hansen Coal Co. already have booked many new orders with old for next spring.

Medford Mail Tribune,
October 31, 1926, page 6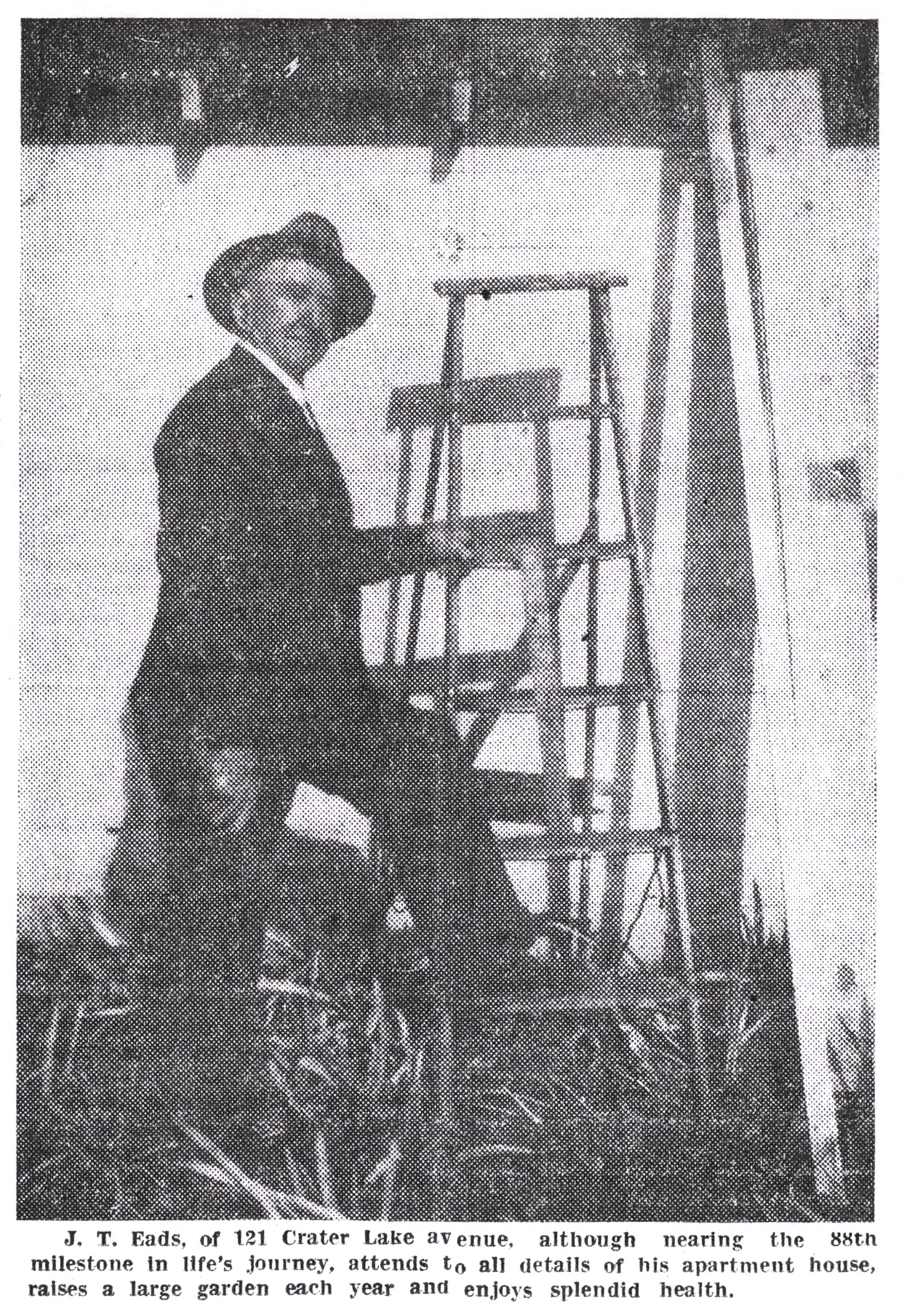 J. T. Eads, Medford's Grand Old Man,
Continues Active Life at Age of 88

Takes Entire Care of Big Apartment;
Enjoys Traveling

By Elsie Ragsdale

Though J. T. Eads of 121 Crater Lake Avenue will be 88 years old January 10, he is not old. Absolutely not!
He recently returned from a motor trip to San Francisco and Berkeley, Calif. and was greatly impressed with the magnificent buildings, beautiful homes and artistic landscapes. The rich black soil in the orchards there reminded him of the splendid soil on his father's Iowa farm many years ago, he declared.
Mr. Eads has traveled in many states, but the recent trip was the first he had taken so far down in California. He enjoys traveling, and is quick to grasp the important details of anything which really interests him. "Yes," mused Mr. Eads, "California is mighty fine, but even so, it doesn't look as good to me as Oregon. Especially the fertile valley around Medford, which attracted me to Oregon 38 years ago."
Thirty-eight years ago, Mr. Eads, together with his wife and three sons and two daughters, moved here from Minneapolis, Kansas, in which vicinity he had been actively engaged in farming for many years. Mr. Eads mentioned an incident which occurred there which almost cost him his life. While engaged in cleaning out a well, the air became stale, and he lost consciousness. But for the fact that his wife missed him, and going to the well discovered his plight and pulled him out, he probably wouldn't be enjoying life now. He always tested the air in the wells which he cleaned afterwards.
Soon after arrival in Medford, Mr. Eads opened a second-hand store on Fir Street. He was in this business about twelve years, at which time he sold his business to his son, Clarence, who is still running a similar business on Fir Street at this time. He also has another son, George, owner of the Eads Transfer Company in Medford. Another son, Everett, passed away last April. Two daughters, Mrs. Arthur Johnston and Mrs. Leland Holbrook, live in Medford.
Mr. Eads says that when they came to Medford, the town was quite small, population and size being similar to Central Point as it is today. He has greatly enjoyed watching the growth of the town.
Twenty-five years ago Mr. Eads purchased the house that he now owns, turning it into an apartment house. The house has five apartments including his own, and since the death of his wife, two years ago, he lives along, assuming the entire responsibility of care of the apartment house. This he enjoys doing, and the apartment is noted for its harmonious atmosphere. He has the knack of picking out desirable tenants from his applicants.
Mr. Eads, unlike most elderly folks, dislikes talking about the past but gets great enjoyment out of discussing his plans for the future. Early next spring, he is planning on building an addition to his house. This addition will give him another apartment for rental purposes.
Recently, when his roof sprung a leak, he took his trusty ladder and proceeded to repair it. Height has never affected him in any way. During the past summer, he picked cherries from the top of his 18-foot ladder, and thought nothing of it. This was in no way unusual for him, as he is accustomed to picking fruit.
Each year he raises a large garden, doing all the work himself, including the spading. He also keeps chickens, which he delights in caring for. During September he built a garage for one of his tenants, and he is always making handy little cupboards and gadgets for the house.
Scarcely a day passes that he doesn't walk to town. He visits with his son's customers, and besides he has spent too many years in business to be satisfied sitting at home.
He has the distinction of being one of the charter members of the Free Methodist Church, and is an active member at the present time.
He is a friend to everyone, and prefers to give his charity donations personally instead of through the medium of organizations. His friends say he is noted for his honesty, and that his word is as good as his bond.
He attributes his splendid health and upright physique to the fact that he has never taken intoxicating liquors or smoked. He has always worked hard, still enjoys his meat, and above all, lets the other fellow do the worrying. "Maybe," he remarked slyly, "the climate around here has something to do with it."
He keeps up with two daily papers, and can talk intelligently on almost any subject of general interest.
He is an enthusiastic advocate of the old adage, "Early to bed, early to rise," sometimes rising at 5 o'clock.
Medford Mail Tribune,
December 3, 1937, page 11
Sgt. Eads Writes About Landing on Philippine Beach

A letter recently received here from Sgt. Johnnie Eads, from somewhere in the Philippines, gave a short account of initial landings on the islands. Sgt. Eads wrote that it was "rough and miserable in places--the whole show simply staggers the imagination."
The sergeant's letter went on to say he experienced "plenty of thrills" when he neared the beach, near enough to be within range of Japanese artillery and mortar fire. Sgt. Eads wrote that at times during the landings they fairly waded through small arms fire.
He enclosed three pieces of Japanese invasion money in denominations of five, ten and 50 centavos.
His mother, Mrs. Susan K. Eads, resides at 29 Kenwood, and his wife lives at 729 W. Second.
Medford Mail Tribune,
November 19, 1944, page 10
Last revised July 6, 2021