James J. (Jimmy) Dunlevy, 60, manager of the Rogue Valley Country Club and former Medford mayor, died of an apparent heart attack Friday afternoon while driving in Ashland.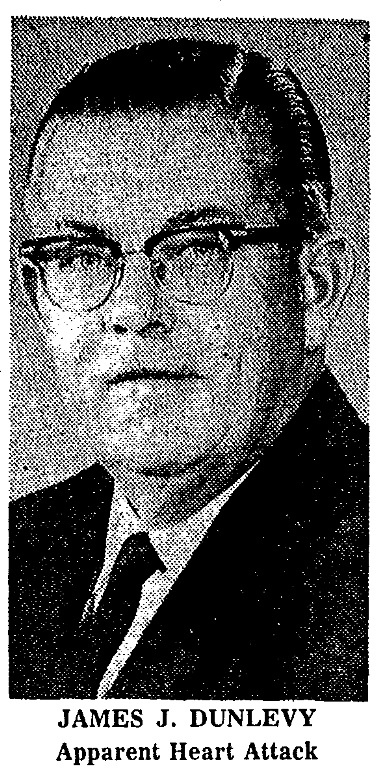 Mr. Dunlevy was manager of KMED Radio 1949-1952 and of radio station KYJC 1952-1956. He left that position in 1957 to become manager of the country club, the position he held at the time of his death.
He was elected to the Medford City Council in 1956, serving for six years, and was mayor 1962-1968. He was president of the League of Oregon Cities during the 1967-1968 year.
In 1967 he was appointed to the State Board on Police Standards and Training. The term was four years.
He was a member of the board of directors of Rogue Valley Hospital from 1958 until the time of his death. He was a member and past president of Medford Rotary Club, a member of the Elks Lodge, Medford; American Legion Post in Medford; Rogue Valley Council, Boy Scouts of America; Rogue Valley Council on Aging, and the board of directors of the Salvation Army.
He was a member of Sacred Heart Catholic Church, Medford.
Mr. Dunlevy was honored at the conclusion of his third term as Medford's mayor when Jan. 9, 1969, was proclaimed Jimmy Dunlevy Day by the Medford City Council. He was presented a silver bowl by the Medford Chamber of Commerce "in appreciation of his many years of dedication and capable service to the city of Medford."
Later that day a Norway maple tree was planted on West Eighth Street just west of Oakdale as a "living tribute" to him. It is visible from the mayor's office on the third floor in Medford City Hall.
During the council ceremonies which honored him that day, D. Lorin Jacobs, chairman of the day's events, noted that Mr. Dunlevy had spent more than 12,000 hours serving the citizens of Medford 1957-1968 and had attended 275 council meetings while in office.
When Mr. Dunlevy presented the gavel to incoming Mayor Bill Singler, he said: "With this gavel come trials and tribulations, but there are those who will give you much help. God bless you and good luck."
When he became councilman in 1957 Medford had a population of 22,222; by 1969 when he left city service the population was 30,600.
He served on the executive board of the League of Oregon Cities 1964-1966 and as its vice president before assuming its top office. He was a member of the National League of Cities Transportation Committee.
Mr. Dunlevy was active in the Medford Chamber of Commerce, serving on its board 1951-1953, 1956-1958, and as vice president in 1954. He resigned when elected to the city council.
As a member of the National Conference of Mayors, he was scheduled to attend the national meeting of the group in Washington, D.C., in 1968, when the session was canceled due to the riots which followed the death of Martin Luther King.
Due to his interest in law enforcement, he had arranged an appointment with FBI Director J. Edgar Hoover during the planned trip east. This he had to cancel. Later he received an autographed photograph of Hoover and a personal letter from the federal officer.
Mr. Dunlevy was born Oct. 3, 1911, at Pittsburgh, Pa., the son of the late James and Rita Dunlevy.
On Aug. 1, 1942, at Akron, Ohio, he married Margaret E. Malley, who survives. The family home is at 408 Ardmore Ave., Medford.
He came to Oregon in 1942 with the 353rd Engineers located at Camp White. He was later transferred to Post Command Unit 1913, where he was a writer and public relations director for the post. He entered the service Nov. 18, 1942, at Akron, Ohio, and was discharged at Ft. Lewis, Wash., Feb. 13, 1946. He then returned to Medford to reside.
The Office of the Dead for Mr. Dunlevy will be read at 7:30 p.m. Monday at Sacred Heart Catholic Church, with the Rev. Cathal Brennan, formerly of Medford, officiating.
A requiem Mass will be held at 10:30 a.m. Tuesday at Sacred Heart Church with Father Brennan officiating. Interment will follow in Siskiyou Memorial Park.
The body will lie in state from noon until 8 o'clock tonight at the Chapel in the Trees Mortuary in Siskiyou Memorial Park.
Survivors include his wife, Margaret Dunlevy, Medford; one son, Patrick J. Dunlevy, Medford; two daughters, Mrs. Judy A. Woodley, Medford, and Miss Betsy Dunlevy, Salem; one brother, H. C. Dunlevy, Niles, Ill.; two sisters, Miss Betty Dunlevy and Miss Rita Dunlevy, both of Akron, Ohio, and three grandchildren.
Honorary pallbearers will include Robert (Bob) Duff, Jack Dumas, Lorin Jacobs, Bob Cunningham, Joe Hosick, Terry Green, Robert Baccus, Jack Edson, John Snider, Don Hansen, Fred Conrad, Al Bradford, Roy Bashaw, Steve Mosher and Robert Ross. Active pallbearers will include Fred Holmes, Glen Watson, Jack Batzer, Charlie Ely, Nellie Gallant and George Johnson.
Friends who wish may make memorial contributions to the Jackson County Association for Retarded Children, 857 Valley View Drive, Medford.
Funeral arrangements are entrusted to Siskiyou Funeral Service directors of Chapel in the Trees Mortuary.