HOME


A Brief Biography of Pinto Colvig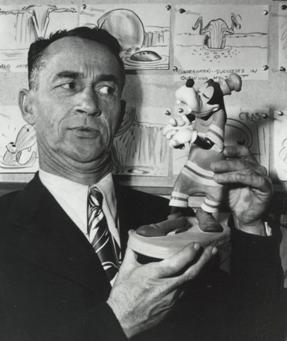 Vance DeBar "Pinto" Colvig, 1892-1967

Medford, Oregon is much better known for pear orchards than showbiz, but that doesn't mean that we in Southern Oregon haven't had our own brushes with the big time.
Vance DeBar Colvig was just one local product to make an impact on the entertainment industry. Born in nearby Jacksonville in 1892, his schoolboy compatriots, inspired by young Vance's abundant freckles, dubbed him "Pinto, the human leopard." The freckles eventually faded, but the name stuck and helped launch Colvig on a trajectory that would leave an impact on several of the lively arts.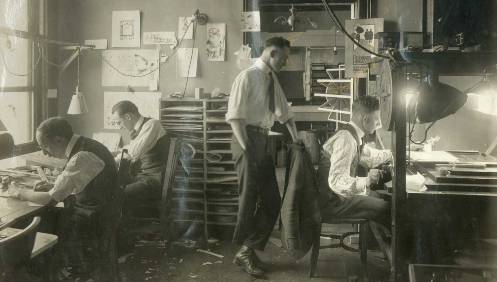 Animated Film Corporation, San Francisco, circa 1916. From left: Angel Espoy, Tack Knight, Pinto Colvig, Byington Ford.


After attending Oregon Agricultural College in Corvallis, the first of Pinto's many careers was with the circus, performing as a clown and "squeaky clarinet player." Pinto then found work as a newspaper cartoonist, first in Nevada and later with the San Francisco Bulletin and Chronicle, which led to a partnership producing animated cartoons. In 1915 his Animated Films Corporation produced the world's first feature-length cartoon,

Creation.

AFC didn't survive World War I, so Pinto began his own studio; Encyclopedia Britannica credits this studio with the world's first color cartoon, 1919's Pinto's Prizma Comedy Review. After moving to Southern California, in 1928 Pinto along with Walter Lantz produced one of the world's first talking cartoons, Blue Notes, with Bolivar the Talking Ostrich. All three cartoons are now apparently lost, though five frames of Creation survive among Pinto's papers at the Southern Oregon Historical Society in Medford, Oregon.
1924 had brought Pinto to Hollywood and live-action film. Pinto worked in the comedy factories as a gag man, scenarist and title writer for Mack Sennett, Jack White, Harold Lloyd and many others; he also often appeared before the silent camera in small comic roles. Then, as Pinto tells it, Mack Sennett gave him the go-ahead to a suggestion for a cartoon gag in one of his short subjects. This introduced animation into live-action comedy and brought Pinto back to pen and ink, hand-drawing explosions or swarms of bees onto frames of celluloid to bedevil the live comedians.
The advent of sound drove Pinto from silent comedy to Walt Disney Studios, where he continued as a gag man, co-wrote "Who's Afraid of the Big Bad Wolf," and found yet another career in sound effects and character voices. He barked for Pluto and spoke for the Practical Pig, Grumpy and Sleepy, and was the voice of Goofy for the next thirty-five years. Pinto also voiced Popeye's Bluto for Fleischer Studios and for decades produced a broad range of freelance voice work for radio, cartoons and film. Several Munchkins in "The Wizard of Oz" speak and sing in Pinto Colvig's voice, including the one who sounds exactly like his Gabby from Fleischer's Gulliver's Travels.
In 1946 Walter Livingston contracted Pinto to write and record the original Bozo the Clown record albums; three years later he starred as the first TV Bozo, on KTTV in Los Angeles. The distinctive voice and delivery used by every Bozo since (including Pinto's son, Vance Jr., who took up the role in 1959) has been in imitation of Pinto Colvig.
As a side note, in 1906 Pinto's father decided to move the five miles from Jacksonville to the burgeoning boom town of Medford. Pinto was 14 and about to graduate from primary school, so Judge Colvig bought a house across the street from the high school. He hadn't anticipated, though, that his son would fail the required high school entrance exam--miserably. So at the age of 14 Pinto was a free man: His father was rich and powerful, he had no responsibilities, and he was living in the largest and liveliest town in the area. Young Pinto became well known in Medford; among the many he befriended was Frank Willeke, the Main Street railroad flagman. Willeke was mildly retarded and known as the happiest man in town; Pinto later remarked that he "admired his simplicity." Decades later Pinto told Walt Disney of his happy-go-lucky friend and imitated his distinctive laugh, and Medford's Frank Willeke became the inspiration and model for Goofy.
Pinto left his mark on Medford literally, as well: On a brick of the old 1910 railroad station is Pinto's name along with an arrow pointing toward his home town of Jacksonville, written in ink in an oddly familiar style. The handwriting is that of the Walt Disney logo—which itself is patterned after the hand lettering Pinto developed during his newspaper cartooning days. After the adoption of that logo, Walt Disney found it necessary to imitate Pinto Colvig's penmanship to sign his own autographs.


Last revised December 27, 2012