Jackson County 1888

SOUTHERN OREGON.
Its Country Described and Progress of Improvement--
How a Prohi Revivalist
Rakes the Democrats into His Net.
Ed.,
Capital Journal
:--Here are a few hasty notes of travel. The state central committee having arranged for a tour through Jackson County, (a Democratic stronghold), to wind up with a nominating convention for a county ticket at Medford, I started on the 25th inst., at 6:30 p.m. on the California express, for Gold Hill. The Democrats not having furnished any money for election purposes (no, I mean the Republicans, because now we shall be called "a Republican aid society,'' since our converts are from the Democratic party), I could not afford a sleeper, but took a nap by spells, cramped up on my seat. Passed Oakland and Roseburg by night, and will do so on return, so cannot see that part of the country.
Morning revealed Grants Pass, much grown and improved during the last few years. The busy sugar pine mill has been removed, the timber having been worked out in this neighborhood. For early breakfast arrived at Gold Hill; this is a railroad and mining town, rather dull because the best producing quartz mine, that was paying well, has been temporarily shut down, a game of freeze out, as I understand, between the co-owners. The farming land around here is limited in space but good in quality. A large farm with considerable improvements is under negotiation for $40,000, for a number of New Yorkers to settle on.
Fruit does well here. A large ditch, sixteen feet at the base, is being surveyed to bring water to town for mining and manufacturing purposes. A cannery is also seriously talked of by Lusk, of San Francisco. The spirit of enterprise in this little place, as in all Southern Oregon, is commendable. It should be imitated by Salem, which has so many more advantages, and is surrounded by so large an area of tillable and fertile soil.
I spoke in the school in daytime and to adults at night. Rev. J. R. Roberts, a Southern M. E. preacher, took me on to Sams Valley, a very attractive little strip of country. A Californian has recently bought a farm here of a few hundred acres, for $10,000, and he is raising large fields of alfalfa for his fine stock of cows and horses. Stopped at the school and gave the children half an hour's talk on education and prohibition. (Our party is after the coming voters.) Also gave a political address at night.
Drove next day through a gravelly and chaparral country, with very little grass this dry season. Many settlers have taken up land, who have built rather poor shanties; but occasionally good patches of land are seen, which, under cultivation, look well. Peach trees look thrifty, no curl leaf, and as yet uninjured by frost, except the very early kind of that fruit. But the growers never feel quite safe here till the middle of May. The apples are said to be blooming quite shyly.
Talked thirty minutes to a large and interesting school called Antioch, out in the chaparral. Also addressed a large audience in the evening, who were so slow in getting together that we did not begin till 9 o'clock. My audience so encouraged me by their close attention, that I continued my address till nearly 11. Drove ten miles and reached bed by 2 a.m. Here my excellent friend Mr. Roberts left us, affirming his allegiance to the prohibition party, and severing his lifelong connection with the Democrats. Rev. E. G. Jones, Baptist, a southerner and Democrat, and Rev. N. C. Howlett, ditto, also joined their ranks. They will be delegates to the county convention. Elders Martin, Peterson and Fleming, also old Democrats, took this step some time ago.
I was introduced to a one-day-old Democratic convert to the prohi party, and was congratulating my self that my "burning eloquence" had won him over, when, lo! it turned out that instead of attending my meeting he had been to the Democratic primary, where the sight of so much drinking and inebriety had caused a political divorce right then and there. Of course, he could not reconcile himself to going into the Republican fold, and so he enlisted under the temperance banner. He was nominated by the prohis for county commissioner.
On Saturday evening spoke at Eagle Point to a crowded house, and obtained a number of names for the club. Spent Sunday at Mound school house with Elder Peterson, preaching thrice. Here I visited some newcomers from California who have bought a home. They report very dry weather in Central California, and predict short crops. They say that along the railroad line towards Oregon, beyond Redding and Shasta, land is being taken up rapidly and settled where irrigation is possible. Marion County ought to advertise down there our marvelous cheap lands, considering its excellent quality, never-failing crops, and its many other advantages. An old neighbor of mine, in Santa Barbara, an extensive merchant, has just bought a home here, ten miles from a railroad, on the ragged edge of "the desert," for his wife's health.
Dined at Medford with one of my church members, whom I knew in California, Mr. Fowler, who has come up with his family and expects to stay. For a specimen of a red-hot, ex-Democratic prohi, commend me to him. And if you want to wave a red rag in his face and make him indignant, just intimate that not many Democrats turn prohibitionists, or express a doubt of their sincerity when they do. Whew! A full ticket was nominated today, and an active canvass is to be made.
It is very dry here, and a north wind is blowing. Grass and grain will suffer soon if rain does not come. The signs are not promising. Mr. Walker was lately visiting his brother in Salem, and expressed surprise at the low price of land there. He believes the boom will reach Willamette Valley, and land will advance to $100 an acre.
J. W. WEBB
Medford, Or., May 1, 1888.

Capital Journal,
Salem, May 2, 1888, page 1
ROGUE RIVER VALLEY.
IN THE HEART OF SOUTHWESTERN OREGON.
Where Apples Weighing Two Pounds Each Are Common--
Mineral Wealth, Never-Failing Crops, Fine Water Privileges,
and a Climate Without Extremes.
Ashland, Ore., Nov. 5, 1888.

The heart of Southwestern Oregon is the Rogue River Valley, the isolation of which is now happily ended by the building of two railroads--the Oregon and California from Portland, and the Southern Pacific from San Francisco--the two forming a junction at this place.
This section of Oregon has been settled some thirty years, the first comers being attracted by the finding of gold, the mining of which is still carried on to some extent.
The mineral wealth of this section is not, however, confined to gold, as good indications of coal in paying quantities have been recently discovered, also, copper, iron, lead and cinnabar--all of which only await development to become the source of wealth.
Of late years, however, the growing of stock, cereals, vegetables and,
particularly, fruit
of all kinds, is proving far more remunerative than mining. Such a thing as a failure in crops of wheat, barley, oats and corn is unknown--wheat often yielding forty bushels per acre, and, while corn does not grow to the proportions attained in Nebraska and Iowa, this is the only portion of Oregon in which it is raised with fair success. The agricultural capabilities of this valley, however, have been recently tested in many ways, and it is proven that sweet potatoes of fine quality, melons of unsurpassed sweetness and size (often weighing fifty pounds), and all the vegetables common to the temperate zone can here be raised to perfection, but the crowning superiority of this valley, as has been fully proven the past three years, is its peculiar adaptation to the profitable growing of fruit. Here, the peach, apple, plum, prune, pear, nectarine, cherry and all small fruits and berries grow to proportions and in quality not excelled, if equaled, on this continent. Apples weighing one and one-half pounds each are very common, and occasionally specimens may be found weighing over two pounds each; peaches weighing one-half pound each are very common, and specimens are often found weighing twelve ounces. Apples will sometimes hang on the trees half the winter, and keep in good condition, and their keeping qualities are remarkable, and San Francisco is already making demands for more than can be supplied. Peach trees have been known to bear fruit one and one-half years from the seed, and the short time in which all fruit trees bear fruit from the seed is remarkable.
The profit to be realized from fruit culture in this valley has been fully demonstrated during the past two years, there having been instances fully substantiated of a gross return from one acre in peaches, four years from the seed, of $250; while the profits from apple orchards fully grown will range from $500 to $1,000 per acre.
Fruit trees and fruit are comparatively free from insect pests of all kinds, and I do believe this valley must certainly attain celebrity as a fruit region. A large area of the Northwest must look to it for a supply; indeed, California is already making demands for apples, and a carload of pears is just now being shipped to Sacramento packed in boxes carrying a California brand. Canneries and evaporators are necessities of the near future from which good profits must be realized.
So far as all grain crops are concerned, irrigation is not at all necessary, the rainfall being sufficient, averaging about 22 inches annually.
The climate of this section is another strong point in its favor. It has neither the wet of the Willamette on the north nor the drought of the Sacramento Valley on the south, but seems to be the happy medium so seldom found, and enjoys the warmth of summer and the frosts of winter without any extreme in either. One characteristic at all seasons is the remarkable evenness of temperature. Often for a month at a time observations taken at the same hour day after day will show scarcely a degree of variation. The absence of wind is notable, and such a thing as a gale or a cyclone is unknown. The mountains cut off the fogs from the ocean, which lies one hundred miles to the west. It certainly has one of the finest "all-the-year" climates to be found on the globe, and as to health this valley has no peer on the continent.
Ashland is 341 miles south of Portland, and 415 miles north of San Francisco. Mountains are nearby on every side--in fact, you can't get away from fine scenery anywhere in this section. Ashland is the chief town in the Rogue River Valley, and has a population of about 2,500, and is 2,000 feet above sea level. It has fine water privileges, a stream rising in the snow-capped peaks furnishing power for a fine woolen mill, a roller flouring mill, two planing mills, and one sawmill, beside one mill site not now used. Well water of good quality is obtained at easy depths, and mineral springs of many varieties abound, principally, however, of iron, soda and sulfur.
The railroad has just completed a fine eating-house and hotel at a cost of about $35,000, besides building a roundhouse. As this town has been made the end of a division, prospects for machine shops in the near future are flattering.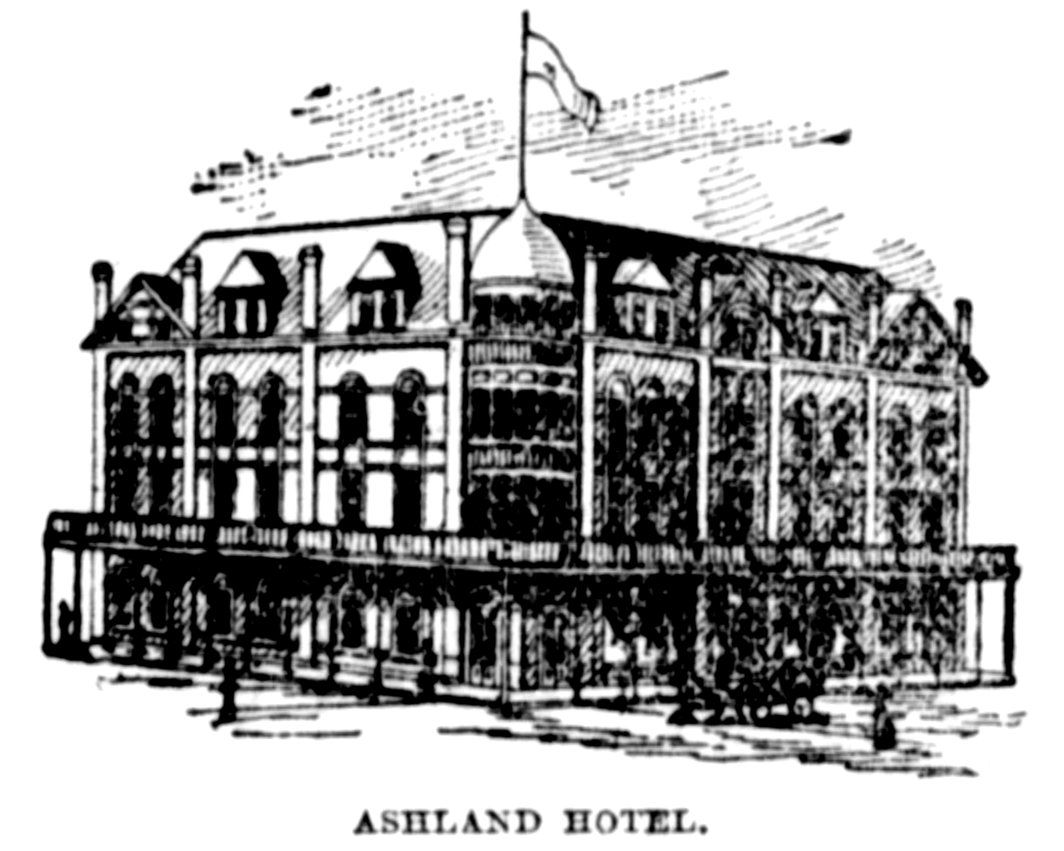 The new year will greet the completion of a fine brick hotel, now in process of construction, of which the accompanying cut will give a fair idea, and it will be one of the finest to be found in any town of its size on this coast. There are two newspapers published in the place, the
Tidings
and the
Record,
with schools, churches, and an excellent class of citizens. There are more evidences of growth and activity here at this time than in any other town in Oregon, and we have no doubt the population will double within the next two years.
The True Northerner,
Paw Paw, Michigan, November 14, 1888, page 3
See article of November 21, below.
"Eden of America."
Many of our readers were delighted with Mr. Folsom's Oregon letter, in our last issue. All who know of the famous Rogue River Valley, in Southern Oregon, say that one looking for a pleasant home--where health, climate, fruits, freedom from severe cold, cyclones and blizzards, will find no place nearer being perfect. Parties desiring further information can address, with stamp, G. F. BILLINGS, Ashland, Oregon.
The True Northerner,
Paw Paw, Michigan, November 21, 1888, page 7



Oregon As It Is.


ED. ENTERPRISE:--I promised you when I left Iowa that I would give you a few lines about my trip and the country in general. On our way we visited Wm. Miller at Center City, Nebraska. We were delayed 15 hours on account of the burning of [the] snow shed 8 miles west of Rock Creek in Wyoming. The shed was one-half mile long, and all had to burn before we could leave [

before the train could pass through the ruins

]. We soon reached Sisson [

now Mount Shasta City

], 3,000 [

feet

] above the sea level on Mt. Chasty [

Shasta

]. This mountain is 14,000 ft. high and covered with snow the year round. The timber belt is about one mile below the top, above this line nothing can grow as the ground there, if there be any, never thaws out. We then passed down into Chasty Valley. Good wheat is raised here and where water can be let on they raise timothy, clover, or anything else, but the good country is very limited. At 4 o'clock we reached the summit of the Ciseque [

Siskiyou

] Mountain. To get down we had to run down the side of the mountain, turn back, form a loop passing through a tunnel, then threble the track, making three tracks within 200 yards of each other. Now we get down into Rogue River Valley and find Ashland, population 1,500; 8 miles further on we find Phoenix, a small but old town; 4 miles further we come to Medford, the haven of rest. Here we are dumped off at the hind end of the train on the ground, our goods to be carried 100 yards to the depot or anywhere one thought best. The railroad company is done with you now. This is the nice treatment you will receive after traveling over the Great (on paper) Overland Route. It is now 6:15 p.m. We pinched ourselves to see if we were alive, called the roll of workmen, picked up our rags and bedding which we had used to keep our hipbones from hurting the bed slats, and carried them 100 rods to a house selected for us by one who went ahead to prepare a place that we might come. There we found venison for supper. I will not say we ate--you can imagine what you would have done.
The next morning at 9 o'clock we were brought to light, not by removing the mountain, but by the sun rising above it. That night it rained and kept it up until the roads got passable--I mean downwards as far as the wheels could go and bringing up a black gumbo or doby [

adobe

] soil that had not seen the light of day since last spring. Do not understand that this is all doby land, for there is a greater variety of land here than in any country I ever saw. First, all these towns stand on a strip of gravelly desert land from one-half to a mile and one-half wide, in some places so poor that tickle grass and chaparral brush refuse to grow; with small potholes all over it where water will stand till the sun, if it ever shines, draws it up; for it cannot get down as this is underlaid (I should say top-laid except about 4 in.) with a hardpan, or granite substance, in which, if you should dig a hole 6 feet deep, you would not have to set any sprig or mark the place in any manner so the place might be known, should future occasion ever require it, for it would stay just as you left it. But should you live after digging this hole and conclude to dig a well, you would proceed as before with a pick and shovel to go down gradually to a depth of 18 to 20 feet, where you will find plenty of water. The other hole can be used for burial, should you fall a victim to the typhoid fever which is raging here.
This strip of desert is bounded on the west by a great variety of land, consisting of gravel, knolls of timber and stony land that cannot be farmed. Passing through a strip of timber we came into nice, level farms. Walking through this, which is no small job by reason of the sticky soil, you find an entirely different variety. First a good deep black free soil where wheat, corn, oats, or anything will grow equally as well as in any other country. Here you find yourself getting happy and even start to sing, "The happy land of Canaan!"--but before you get to the Canaan part you look down and find your feet covered with putty or black mud. You stop to clean your feet, but fail. Your first thought is to swear; but on second thought--what is best when all attempts fail? The answer comes, Pray. You then proceed to perform that devotion standing, as you dare not kneel--if you could have held out a few steps farther you would have found a nice gravel bed free from dirt. In Iowa you have someone to pray for you; here you must pray for yourself. This sticky land if you succeed in getting it plowed will generally yield a good crop. The more general way of farming here is to raise one crop in three years. I mean farming one-third--letting one-third come up from the old seed and cutting that for hay; then leaving that part to grow up to a weed that looks like mustard, but no good on earth. The next year this part in wheat and so on.
The crops here last season were the best known for years, fruit not excepted. The fruit sunburns considerably here, as it gets very hot--rising to 118 last season in some localities. Potatoes cook in the ground if not dug early and covered deep. West of this strip of good land at the foot of the mountain stands Jacksonville, an old mining town. In this town Elasha [

sic

] Hammer of Iowa started the first store in Jackson County and sold goods in a tent. Back of these mountains there are farms and orchards on every patch of roller or side hill that can be worked. Some haul their produce 40 miles to Medford, passing through Jacksonville. The railroad missed Jacksonville 5 miles to the east, so it looks rather dead.
On the east side of Medford runs Bear Creek, passing just at the edge of town. Crossing the creek we find a strip of good land ½ mile in width, then widening as we go. Two miles west it is one mile wide. Then we come to the great desert, which divides the valley and leaves a narrow strip at the foot of the mountain and one along the creek. This desert is the playground of the wild goose. What they can want there I can't see, as there is neither water nor grass. On the east in the mountains there are farms on all that can be worked and on each and every one there are young orchards ranging from ½ acre to 300 acres. The fruit will be immense here in a few years. As it is cheap and plenty now, the future can only say what will become of it when the new orchards increase it ten times.
I have now been here nearly one month and shall start home soon. In conclusion I will say that there are more Iowa people here than of any 3 other states. So when you meet a man it is not necessary to ask what state he is from, just inquire what county. These men have sold all they possessed on earth to come to this foggy, web-footed country, where clouds, mist, and typhoid fever prevail, and invested all they have left after paying the exorbitant freight bill for carrying their scant supplies to their new home. After making the first payment (which is always small) they mortgage themselves, wives and children, and in some cases their dogs for the back payment on a few acres of poor desert land. In behalf of these people, when I cross the river at Omaha, I am authorized to give three whoops for Iowa, the land that will bless, clothe, feed and warm and give you a chance to work in fine weather to carry you through the storm--and not be compelled to plow in the rain to eke out a miserable existence in the fine climate of Rogue River and Willamette valleys, where, should you attempt to buy a farm, you would have to pay $100 per acre. You ask, how can they charge such a big price for such poor land? The man will remark that this is a good fruit country, and we have a most excellent climate. You ask, how is it divided? He will make it something like this: $60 for the climate; $39.75, fruit, and $0.25 for the land. This would be very cheap so far as the land is concerned--if you wished to secure a small plot, say 6 feet east and west, where you could dig a hole 6 feet deep to bury some of your family if they fell a victim to the typhoid fever. You could select a dandy place on a high, dry knoll, where the ground is so hard that no wild animals could penetrate. But the writer, not being of a dying nature, although the temptation was ever so great to secure so cheap an inheritance forever, would most humbly ask to be excused and pass out at the east gate, which I will do now.


JOSEPH MILLER


Kellogg

(Iowa)

Enterprise,

December 14, 1888, page 3


Jackson County, from Andrew Jackson, president, was created January 12, 1852, out of the territory lying south of Douglas, comprising the Rogue River Valley and the territory west of it to the Pacific Ocean. Its boundaries have been several times changed, by adding to it a portion of Wasco and taking from it the county of Josephine, with other recent modifications. Its present area is 4,689 square miles, one-third of which is good agricultural land, about 91,000 acres of which is improved. Corn and grapes are successfully cultivated in Jackson County in addition to the other cereals and fruits. The valuation of its farms and buildings is over $1,600,000, of livestock half a million, and of farm products over half a million annually. The valuation of taxable property is nearly two millions. The population is between eight and nine thousand. Mining is the most important industry, the placers still yielding well to a process of hydraulic mining. Jacksonville, founded in 1852, was established as the county seat January 8, 1853, and incorporated in 1864. It owed its location, on Jackson Creek, a tributary of Rogue River, to the existence of rich placers in the immediate vicinity, yet unlike most mining towns, it occupies a beautiful site in the center of a fertile valley, where it must continue to grow and prosper. It is now, as it always has been, an active business place. The population has not increased in twenty years, but has remained stationary at between eight and nine hundred. This is owing to the isolation of the Rogue River Valley, the ownership of the mines by companies, and the competition of the neighboring town of Ashland.
Bowles'
New
West,
449;
Hines'
Or.,
78-9;
Bancroft
(A.
L.),
Journey
to
Or.,
1862, MS., 44. The town of Ashland, founded in 1852 by J. and E. Emery, David Hurley, and J. A. Cardwell, and named after the home of Henry Clay, has a population about equal to Jacksonville. It is the prettiest of the many pretty towns in southern Oregon, being situated on Stuart Creek, where it tumbles down from the foothills of the Cascade Range with a velocity that makes it a valuable power in operating machinery, and overlooking one of the most beautiful reaches of cultivatable country on the Pacific coast. It has the oldest mills in the county, a woolen factory, marble factory, and other manufactories, and is the seat of the state normal school.
Cardwell's
Emigrant
Company,
MS., 14;
Ashland
Tidings,
May 3, 1878. The minor towns in this county are Barron, Phoenix, Central Point, Willow Springs, Rock Point, Eagle Point, Big Butte, Brownsboro, Pioneer, Sams Valley, Sterlingville, Thomas' Mill, Uniontown, Woodville, and Wright.
A pioneer of Jackson County is Thomas Fletcher Beall, who was born in Montgomery Co., Md, in 1793, his mother, whose maiden name was Doras Ann Bedow, being born in the same state when it was a colony, and dying in it. In 1836 his father, Thomas Beall, removed to Illinois, and his son accompanied him, remaining there until 1852, when he emigrated to Oregon,
settling in Rogue River Valley. In 1859 he married Ann Hall of Champaign Co., Ohio, then living in Douglas Co., Or. They have 12 children--8 boys and 4 girls. Beall was elected to the legislature, and served at the regular session of 1864, and at the called session of 1865 for the purpose of ratifying the 15th amendment of the U. S. Constitution. He was again elected in 1884. He has served as school director in his district for 25 years, less one term.
John Lafayette Rowe was born in Jackson Co., Or., in 1859, his parents being pioneers. He married Martha Ann Smith, Jan. 1, 1883.
Mrs John A. Cardwell, widow first of William Steadman, was born in Ireland in 1832, removed to Australia in 1849, married Steadman in 1850, removed to San Francisco in 1851, and was left a widow in 1855. She married Cardwell, an Englishman, the following year, and they removed to Sams Valley in Jackson Co., Or., where Cardwell died in May 1882. Mrs. Cardwell has had 5 sons and 6 daughters, one of whom died in 1868. Cardwell wrote the
Emigrant
Company,
MS., from which I have quoted.
Andrew S. Moore, born in Susquehanna Co., Ohio, in 1830, emigrated to Oregon in 1859, settling in Sams Valley, Jackson Co., where he has since resided, engaged in farming. In 1864 he married Melissa Jane Cox, of Linn Co., Iowa. They have 7 sons and 4 daughters.
Arad Comstock Stanley, born in Missouri in 1835, was bred a physician, and emigrated to California in 1864, settling near Woodland. He removed to Jackson Co., Or., in 1875, settling in Sams Valley where he has a farm, but practices his profession. He married Susan Martin in 1862. Their only child is Mrs. Sedotha L. Hannah, of Jackson Co.
John B. Wrisley, born in Middlebury, Vt., in 1819, removed to New York, Michigan, and Wisconsin, where he married Eliza Jane Jacobs of Iowa Co., in 1843. He came to California in 1849, and to Rogue River Valley in 1852. His daughter Alice was the first white girl born in the valley. She married C. Goddard of Medford, Jackson Co. Wrisley voted for the state constitutions of Wisconsin, California, and Oregon; has been active in politics, but always rejected office.
Joshua Patterson was born in Michigan in 1857, immigrated to Oregon in 1862, and settled in Rogue River Valley. He married, in 1880, Ella Jane Fewel, and resides at Ashland. Has 2 children.
Thomas Curry, born near Louisville, Ky., in 1833, removed with his parents to Ill., and came to Or. in 1853, settling in the Rogue River Valley, where he has since resided. In 1863 he married Mary E. Sutton, who came with her parents to Or. in 1854. Of 5 children born to them, 2 are now living.
Jacob Wagner, an immigrant of 1851, was born in Ohio in 1820, and removed with his parents first to Ind. and afterwards to Iowa. Settling in Ashland, he has been engaged in farming and milling during a generation. He married Ellen Hendricks of Iowa, in 1860, by whom he has had 7 children, 2 of whom are dead.
Franklin Wertz, born in Pa. in 1836, married Martha E. V. Beirly of his state, and the couple settled at Medford, where 5 children have been born to them.
The Works of Hubert Howe Bancroft: History of Oregon, 1848-88,
vol. 30, 1888, page 712
ROGUE RIVER VALLEY.

There is no question about the fair prospects in store for the beautiful valley of Rogue River when it shall fulfill its ultimate destiny as a fruit-producing region. The climate partakes of the best qualities that belong to Oregon on the north and California on the south, and its soil is quick and responsive with production where one not well acquainted with its attributes would suppose there was little capacity or fertility. For instance, on the foothills near Ashland, where the foot sinks in granite gravel that seems without fertilizing ingredients, yet it is on such hillsides that peaches reach perfection in the greatest profusion.
Around Jacksonville the hills produce table grapes, and these are easily converted into an excellent dinner wine. At J. N. T. Miller's one can taste wine ten years old of generous quality, resembling much the best clarets of Europe. This wine, too, seems to have generous qualities without being intoxicating. If Oregon is to produce wine it is well to have it as harmless as possible. Then the wonderful growth of alfalfa on the bottoms or lower prairies is a source of wealth of great importance and must render any country prosperous that improves it properly. The value of Rogue River Valley cannot be appreciated by anyone that merely goes through upon the railroad. This route does not nearly show the country in its best light. There is a stretch of gravelly prairie that is probably high enough to grow fruits, but the foothills offer the best sites for successful work. This region is not to be judged by casual observation, for many uninviting localities will be found suitable to grapes and other fruits. The fruit land should be cut up in small farms and support a large population. The greatest profit will lie in every man farming what he can tend with little help and cost. The man who plants largely and hires many people is in constant worry and fear and has far more care and responsibility than the man who does a safe and prudent business that he can easily handle.
The table grapes of this region will find a good market all along the lines of railroad to the eastward and in eastern cities within reach. The peaches grown here will command a good market along the same route, and canners will begin their work as soon as production will justify their enterprise. The apples of Rogue River Valley will go south to fill the growing demand from California. It is conceded by fruit men there that their state cannot grow apples to advantage and must look to Oregon for a supply. The beautiful fruit of Southern Oregon will therefore naturally go that way.
Fruit growers are enthusiastic over their pears and claim to have a climate and soil especially suited to pear culture. Some large pear orchards have been already planted and more of them will be.
The plum and prune are hardly as fine in Southern Oregon as in the Willamette. The soil is of granite origin and though quick and responsive, does not perfect all fruits as well as the basaltic soil of other parts of Oregon. Still there is inducement to grow prunes for curing, and they can produce better fruit of this variety than California does.
As development shall progress the area of fruit growing will be found to widen and include many spots and valleys among the hills that are not now understood. Vineyards will grow on many sunny slopes and orchards be planted far and near. The delightful climate is one of the features that must attract, and the quick growth and rich products of the country ensure its prosperous future.
There will be good towns all through that region, and in time manufacturing will get a foothold, as there is power from many streams. It is strange that while California fills up with people and develops such prosperous communities, that this state makes but slow and quiet advance, while it can offer the highest inducements for the prosecution of the same industries that succeed so well there. This year the yield of fruits in all western Oregon has been prodigious, especially as to peaches and other fruits in Rogue River. Correspondence from that country lately gave the success of Mr. Gove, who lives three miles south of Medford. He planted trees in 1860, and for twenty-five years they have borne fruit. For that quarter of a century apples and pears have borne unfailing crops, and peaches have failed but twice in that time. This year these trees twenty-eight years old have borne so heavily that they had to be propped. The apple and pear are young at that age and have a long life before them.
It is pleasant to recognize the value of any region and show what it is certain to demand of the future. The state of Oregon has so many changes of soil and climate that a study of the producing capacity of each is a constant surprise and source of interest. There is not a region of equal extent on this continent that afford the same variety of resources and has the radical difference in character that mark the different portions of the state of Oregon, over half of which is comparatively unknown and undeveloped.
Morning Oregonian, October 11, 1888, page 6

Last revised October 13, 2017