Notes on Fred Alton Haight

A very pleasing sketch was rendered by Haight and Dean, entitled "A Misfit Meeting." Both Mr. Haight and wife are exceptionally good actors. They handle their comedy in a manner that never gives offense. They kept the audience in a roar of laughter from first to last, and, by the way, Mr. Haight is also a Medfordite, and the owner of a ranch out near the 401. We don't have to go outside of Medford for anything in the way of talent. Mr. Haight is living in Medford at the present time, and Mrs. Haight's mother is a member of their family. Mrs. Taylor is one of the veteran actresses, having supported Booth and Barrett in the old stock days. She has also played with Thomas Keen and John McCullough. She is a well-preserved lady and a most interesting conversationalist.
"Concert Was High Grade Performance,"
Medford Mail Tribune,
December 27, 1909, page 2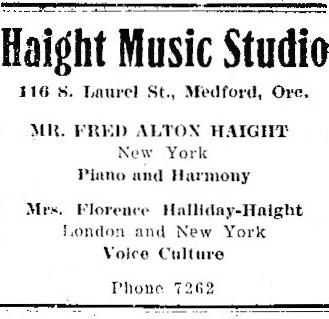 Medford Sun,
February 7, 1912
CONCERT SINGER LOCATES IN CITY

Medford has become the home of one of the leading church soloists in the country and a prominent concert singer, Mrs. Florence Halliday-Haight. Mrs. Haight has been soloist at the St. George's Episcopal, New York, the Warburton Avenue Baptist, at Yonkers, and the St. Ignatius Episcopal in New York and has sung in concert and grand opera in London and New York and also in some of the western states. She has been given many very favorable criticisms by the London and New York papers, and her coming to Medford means an addition of note to the city's musical circle. Mrs. Haight has announced that she will accept pupils in vocal culture at her home, 403 S. Oakdale Avenue.
Medford Mail Tribune,
November 12, 1912, page 6
Talented Artist, Mrs. Halliday-Haight,
Newcomer to Medford's Musical Circles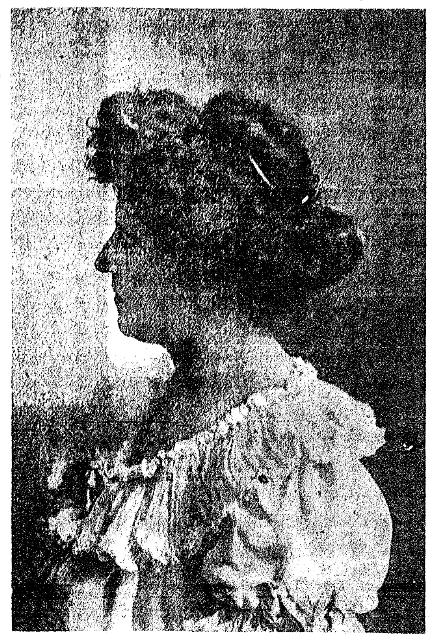 Mrs. Florence Halliday-Haight, whose singing in opera and the concert fields has won her enthusiastic comments by the press of New York, Brooklyn, Pittsburgh, San Jose, Portland and other cities from the eastern to western coast, has won a high place in local musical circles in the short time that she has been here. Mrs. Haight is making her home in this city, and among the musical events of the season will be her recitals.
Mrs. Haight's musical career is interesting and successful. As a little girl she sang ballads in England, which was her home until she reached womanhood. Sir Andrew Halliday, the composer, is her uncle. On her first coming to America she was engaged to sing as contralto soloist at the St. George Episcopal Church, New York; since then she has been soloist in several of the large churches, notably the Warburton Avenue Baptist of Yonkers and the St. Ignatius Episcopal. In San Jose her recitals were personal triumphs. The New York Herald's paper, that never praises where praise is not due, has given her unstinted commendation.
Sunday morning, Dec. 22, Mrs. Haight will sing at the Baptist Church, and it is likely that a great many will take this opportunity to be among the first to hear her. At the evening service, by request, she will sing "He Was Despised, " from "The Messiah."
Medford Mail Tribune,
December 21, 1912, page 3
Mrs. Halliday-Haight, pupil of Marchesi (Paris), Oscar Saenger (New York), teaches the art of singing, tone placing and correct breathing a specialty. Exponent of pure "bel canto" of the Italian school concert, opera, oratorio. Individual lessons or in class (three in class). Residence studio 403 Oakdale Avenue South, phone 7262.
Fred Alton Haight (National Conservatory New York), teacher of piano and harmony, specialist in correct principles of touch and technique. Residence studio 403 Oakdale Avenue South, phone 7262.
"Local and Personal,"
Medford Mail Tribune,
January 8, 1913, page 2
MEDFORD BOY MAY GO TO ANNAPOLIS

WASHINGTON, March 15.--Senator Chamberlain today nominated Stanley Martin Haight of Medford, Oregon as an alternate at Annapolis.
Young Mr. Haight took his examination some time ago. He is the son of Mr. and Mrs. Fred Alton Haight of this city and has resided here since last October. They reside at 116 Laurel Street.
Medford Mail Tribune,
March 15, 1913, page 1

Mrs. Florence Halliday-Haight will sing at the Methodist Episcopal Church this Sunday evening. All who heard this noted singer when she appeared here recently will be anxious to hear her again, as she is a singer of rare ability and pleasing personality. At the conclusion of the evening service Mrs. Haight will give a cycle of song. All are most cordially invited.


Central Point Herald,

September 11, 1913, page 3


Fred Alton Haight, teacher of piano and harmony, National Conservatory of New York. Specialist in the correct principles of touch and technique in all grades of study. Careful attention given to young children and beginners. Faults acquired through wrong ways of practicing corrected. Fall term September 3. Haight Music Studios, 116 S. Laurel Street, Phone 176-R.
"Local and Personal,"
Medford Mail Tribune,

September 11, 1913, page 5
PIANO RECITALS BY HAIGHT PUPILS

Two piano recitals by pupils of Fred Alton Haight, assisted by Mrs. Florence Halliday-Haight, will be given at the Haight music studios, 116 S. Laurel St., Thursday and Friday evenings, May 14 and 15. Admission is by invitation, which will be forwarded upon request. The following programs cover a wide range and should prove interesting to all who attend:
"To the Playground" (4 hands), Miss Cleone Pottenger and Mr. Haight; "Waltz of the Flower Fairies," Miss Cleone Pottenger; "Spinning Song," Miss Bernice Lewis; "Alone" (4 hands), Miss Dorothy Palmer and Mr. Haight; "At Home," Miss Dorothy Palmer; (a) "Dance of the Marionettes," (b) "Curious Story," Miss Violet Bass; "Bagpipes," Master David Wilcox; "Little Curly Head" (4 hands), Masters Richard Stockam and David Wilcox; (a) "Twilight Song," (b) "Haymakers' March," Master Richard Stockam; "Twinkle, Twinkle" (4 hands), Miss Margaret Holmes and Mr. Haight; "Polonaise," Miss Margaret Holmer; "Lolita" (4 hands), Misses Jean Loomis and Violet Bass; "Sonatine," Miss Jean Loomis; contralto solo, Mrs. Florence Halliday-Haight; "Melody of Love," Miss Edna Marquis; "Under the Leaves (two pianos), Misses Edna Marquis and Thelma Radcliff; "Minuet in E Flat," Miss Thelma Radcliff; "Alpine Hut," Miss Opal Stacey; "A May Day" (six hands), Misses Thelma Radcliff, Edna Marquis and Opal Stacey; March from "Faust" (four hands), Miss Neva Samuels and Mr. Haight; "New Spring," Miss Neva Samuels; "Throwing Kisses," Miss Florence Trowbridge; Overture, "Lustspiel" (six hands), Misses Margery Reynolds, Elizabeth Blackford and Mr. Haight.
"Sequidilla," Miss Elizabeth Blackford, "Murmuring Zephyrs," Miss Stella Kribbs; "Cabaletta," Miss Marion Palmer; vocal solo, Miss Margery Reynolds, pupil of Mrs. F. H. Haight; "The Flatterer," Miss Margery Reynolds; "March" (two pianos, eight hands), Misses Mildred Black, Lucille Messner, Leah Walther and Marion Palmer; "Titania," Miss H. Purcell; "Valse Arabesque," Miss Callie Vogeli; "Salut a Pesth," Miss Lucille Messner; "Fifth Valse," Miss Genevieve Wortman; "Military Polonaise," Miss Emma Drew; (a) "Rustle of Spring," (b) "Etude in A Flat," Miss Mildred Black; "Invitation to the Dance" (four hands), Miss Mildred Black and Mr. Haight, "Concerto in G Minor," solo part, Miss Emma Drew; orchestral part on second piano, Miss Genevieve Wortman; contralto solo, Mrs. Florence Halliday-Haight.
Medford Mail Tribune,
May 14, 1914, page 3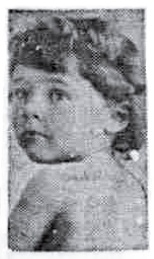 Lillian Haight, June 21, 1914
Sunday Oregonian
139 BABIES IN CONTEST
LEADERS IN SHOW AT MEDFORD HAVE HIGH PERCENTAGE.
Dozens of Fond Mothers Wheel Babes in Rain
to Compete for the Prizes. Judging Is Not Completed.
MEDFORD, Or., June 6.--(Special.)--War, a national sorrow or a devastating visitation of the wrath of nature perhaps, could not have overcast the interest and rivalry manifested among the proud and anxious mothers of the 139 entries in Medford's second annual Baby Show, which opened today.
With 60 more babies to be judged, the leaders in their respective classes tonight are: Class A, Dorris, daughter of Dr. and Mrs. J. R. Bundy; percentage, 99.8. Class B, Norma Chinnock; percentage, 99.4. Class C, Helen Porter, percentage, 99.7. Class D, Carol Bunco; percentage, 99.2. Class E, Lillian D. Haight; percentage, 99.7.
These babies are not final winners, but are the leaders in their respective classes to date.
The percentage is considered remarkably high, and it will take nearly a perfect baby to win over any of those now in the lead.
Scores of telephone calls were received at headquarters all day from fond parents wanting to know the results.
At noon today, despite the inclemency of the weather, dozens of mothers came to the show wheeling their hopefuls through the rain.
Sunday Oregonian,
Portland, June 7, 1914, page 6
MUSICALE GIVEN MONDAY BY MRS. HALLIDAY-HAIGHT

The song recital given by Mrs. Florence Halliday-Haight at the First Baptist Church Monday evening in which she presented Miss Margaret Jacks of Albany, assisted by Miss Florence Trowbridge, Mr. Forrest Edmeades and Mr. Louis Bennett, pupils of Mrs. Haight; also Miss Genevieve Wortman, piano, and Miss Carolita Jacks, reader, was a pronounced success. The audience was large and most appreciative.
Miss Jacks has studied under Mrs. Haight seven months. In that comparatively short time she has by her aptitude and studiousness accomplished what the average vocal pupil takes at least two years to attain. In every number she rendered, whether oratorio, songs or opera, the beautiful quality of her lyric soprano voice showed to advantage. Her last solo, the difficult polonaise form "Mignon," by Thomas, was almost faultless in execution, the most difficult passages being sung with the greatest ease and facility. There was some doubt expressed by one or two persons in the audience as to the high note in the foregoing number--E flat in alt. Miss Jacks sang it with such clearness of attack that it sounded even to some musicians present more like the average soprano high C.
Miss Jacks' excellent training was again shown in the beautiful duet "Quis est Homo" from "The Stabat Mater" by Rossini, sung with Mrs. Haight.
Miss Jacks, though the stellar attraction, divided the honors with those who assisted. Mr. Louis Bennett, who possesses a splendid bass voice, sang with fine feeling the Dudley Buck number "Judge Me, O God." Mr. Forrest Edmeades, a popular singer and successful choir director, caused considerable comment by his rendering of the exquisite tenor solo "Ah! Moon of My Delight," from "In a Persian Garden," and McDowell's "Thy Beaming Eyes." His high tones were rich and velvety, another example of well-placed upper tones, while his interpretation was excellent.
Miss Florence Trowbridge, a young girl of thirteen, offered the real surprise of the evening's recital. She has the necessary requisites, besides a fine voice, to become a successful public singer, namely, modesty and assurance, individuality and tractability, [and] a good physique. Her solo, "A Gypsy Maiden I," by Parker, was given in a manner worthy of a mature singer. These pupils have studied only a short time with Mrs. Haight but already show the stamp of the masters. Mrs. Haight's experience as a successful concert vocalist since the age of fifteen combined with her years of study under four of the greatest European and American vocal teachers enables her to impart not experimentations but positive knowledge of the great art of singing.
The program was agreeably varied with a piano solo by Miss Genevieve Wortman, "Impromptu," by Rheinhold and readings by Miss Carolita Jacks. Miss Wortman is certainly coming forward as one of our best local pianists; while Miss Carolita Jacks was so well received that she responded with an encore. Mr. Fred Alton Haight acted as accompanist in his usual artistic manner.
Medford Mail Tribune,
May 29, 1915, page 6


Fred Alton Haight has just returned from a vacation spent at Eugene. Mrs. Haight will teach at the university at Eugene and will not return until February.


Medford Mail Tribune,

September 14, 1915, page 4



HAIGHT MUSIC COMPANY STARTS IN MEDFORD

A music publishing company has been launched in this city by Fred Alton Haight and Edwin Charles Root, to be known as the Fred Alton Haight Co., Music Publishers, Medford, Ore. The first issues will be "Crater Lake March" by Edward Charles Root and dedicated to Will G. Steele, and a song, "The Valley of the Rogue," by B. J. McPhee. These pieces will appear in about one week and will be followed at once by four compositions for the piano by Mr. Haight, "A Memory," "An Indian Romance," "Pleading," and a new edition of the popular "Our Navy March."
"Valse Serenade," by W. Carleton Janes, will appear some time in August. Also a song by Fannie Townsend Pierce and a song by B. Hopkins Bryant. The company invites all musicians who have written music in any form or have written words suitable to be set to music to present the music or words for the company's consideration. An arranging and copying department will be a feature of this company.
Medford Sun,
July 23, 1916, page
2



TURKEY TROT AND ANGLEWORM WIGGLE BARRED
No turkey trot, no angleworm wiggle, no Texas Tommy, no bunny hug, in brief none of your fancy, painful in their vulgar suggestiveness ragtime dances for the sturdy farmers of the Upper Rogue River country. Such was the ultimatum delivered to the belles and beaus of Medford's younger society set at a recent house party attended by a score or two of the village elite.
The gathering was a mixed affair at first, and ranchers and country lasses mingled harmoniously with the townspeople in Virginia reel dances and old-fashioned round dances. Then came the turkey trot and other up-to-date terpsichorean contortions unknown to our Puritan ancestors. The country folk drew aside and lined the walls of the dance hall, looking on as if at a vaudeville performance.
After a few variations first introduced by the Apaches of the slums, the swelling indignation of the farmers found words. Declaring that they would not permit their families to witness such exhibitions, they demanded the cakes that they had brought for refreshments back, and left the city dancers alone in their ragtime glory.
A few weeks before, at a public dance at Trail, two society belles who had attempted to give an exhibition of the turkey trot were ordered off the floor by the manager, who declared such exhibitions immoral. This time, however, the raggers were in the majority and kept it up until the wee sma' hours.


Medford Mail Tribune

weekly edition, September 5, 1921, page 4



Medford Mail Tribune,
December 20, 1927
Haight Writes Patriotic Song
Patriotic songs are becoming more popular throughout the nation, and Fred Alton Haight, Medford composer and music teacher, has contributed such a song to the growing list. Haight's song, "Our Land Our Flag," is being sung in many parts of the nation.
Words of the first verse are
In your land and my land,
From ocean on to ocean,
For ever and ever
May freedom's banner wave.
While eastward and westward
The storms of wrath are raging.
The cry of the eagle
Is calling the brave.
Your land and my land,
Sweet land of Liberty,
We pray God Save America,
The Home of the Brave.

Medford News,
January 17, 1941, page 4
Last revised January 15, 2013